Test Kitchen (Los Angeles, CA) [10]
Test Kitchen
9575 W Pico Blvd, Los Angeles, CA 90035
310.277.0133
www.testkitchenla.com
Fri 09/17/2010, 07:35p-10:25p
Two months ago,
it was confirmed
that Executive Chef Shelley Cooper had left her post at First & Hope. For the most part, the Chef's brand of haute, modern American comfort food with Southern touches had been positively received at the Downtown supper club, and it wasn't immediately clear what prompted her and Sous Chef Jenny Selden to leave the restaurant. Joseph Panarello, formerly of La Vida and
Rivera
,
has since taken over
the reins, but I've heard precious little from Cooper and her crew, until now.
About the Chef
: Born and raised in Memphis, Tennessee, Cooper didn't set out to be a chef initially. However, while pursuing a degree in psychology at Christian Brothers University, she waited tables at a local restaurant. The Executive Chef there encouraged her to consider culinary school, and Cooper eventually enrolled at the prestigious Johnson and Wales Culinary Institute in Charleston, South Carolina (
Jeremy Fox
also went here). She also attended the San Francisco Baking Institute to hone her pastry skills. Afterward, Cooper served as consulting chef for The Old Church in Hawkes Bay, New Zealand. She then moved back to the States, working as Executive Pastry Chef at Chef Paul's, then as Executive Chef at 30° Blue, both in Panama City Beach, Florida. From here, Cooper moved to Bluffton, South Carolina in November 2008, where she took on an Executive Chef role at Belfair Country Club before joining the team at First & Hope in early 2010.
Previous Test Kitchen posts:
John Sedlar
(9/15),
Amanda Baumgarten-Dylan Hallas-Dan Moody
(9/14),
TiGeorges Laguerre
(9/6),
Vartan Abgaryan
(9/4),
Neal Fraser
(8/31),
Michael Voltaggio
(8/29),
Walter Manzke
(8/25),
Ricardo Zarate
(8/24),
Jordan Kahn
(8/18).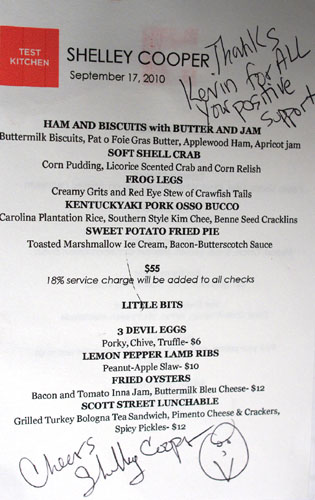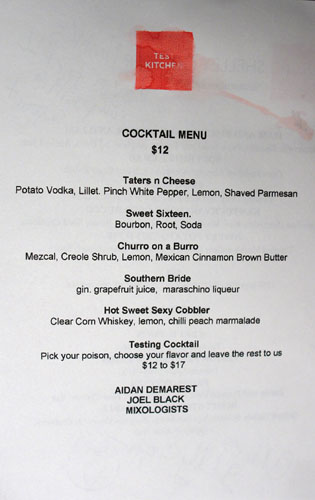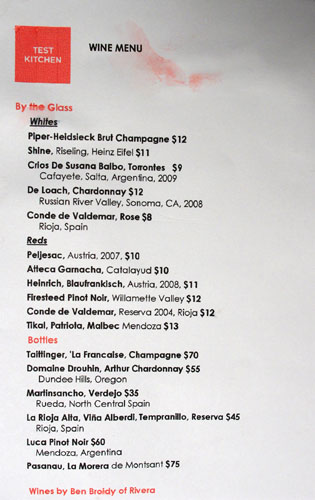 Cooper's five-course menu was priced at $55, and like many other previous chefs, she also offered up a small selection of bar-friendly "Little Bits." Meanwhile, Aidan Demarest (First & Hope, The Edison, The Doheny, Seven Grand), aided by Joel Black, was in command of the Southern-inspired cocktail program. Click for larger versions.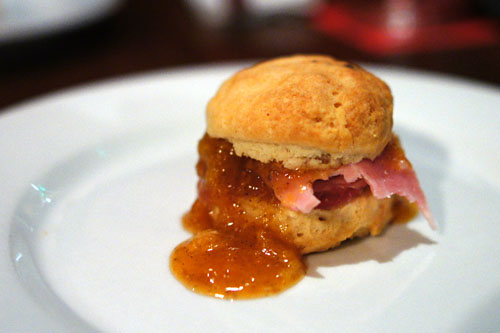 1: HAM AND BISCUITS with BUTTER AND JAM
| Buttermilk Biscuits, Pat o Foie Gras Butter, Applewood Ham, Apricot Jam
Our meal began with an amuse bouche of sorts, a high-class take on a classic Southern ham biscuit. Flavor-wise, this reminded me of a butter cookie, with a lovely bit of jammy sweetness to complement the ham. Very good, though I would've liked to have seen a touch more from the foie.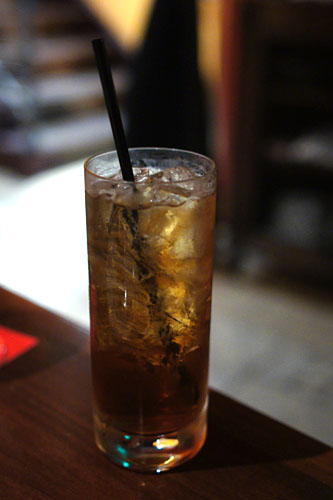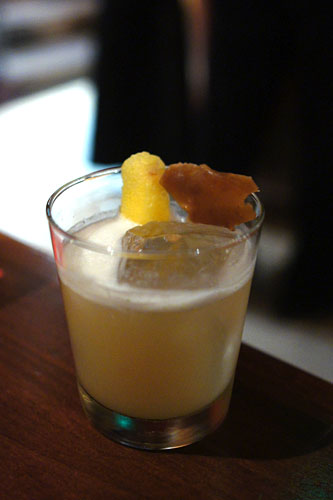 Of course, we had to sample all of Demarest's concoctions. We began with the Taters n Cheese (Potato Vodka, Lillet, Pinch White Pepper, Lemon, Shaved Parmesan), which represented the first time that I've seen
cheese
used in a cocktail. The Parm really gave the drink an aptly savory nose, which transitioned nicely to the almost salty body of vodka, tempered by a bit of sweetness from the Lillet. Next up in the collins glass was the Sweet Sixteen (Bourbon, Root, Soda), which I liken to a boozy root beer! The table favorite was the Churro on a Burro (Mezcal, Creole Shrub, Lemon, Mexican Cinnamon Brown Butter), with its great, spicy nose leading to a heavy, viscous body imbued with smoke and the profound flavor of brown butter.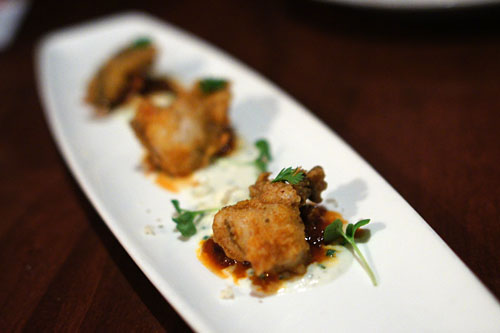 FRIED OYSTERS [$12.00]
| Bacon and Tomato Inna Jam, Buttermilk Bleu Cheese
I'm a sucker for fried oysters, and these were probably among the best examples that I've had. They had a perfect, crispy texture, and I really appreciated how the molluscs' brine was so forcefully preserved. Great bit of piquancy from the bacon-tomato, as well.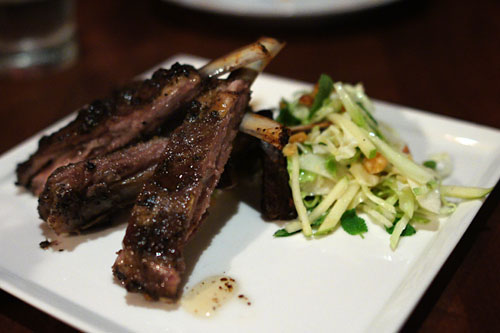 LEMON PEPPER LAMB RIBS [$10.00]
| Peanut-Apple Slaw
Falling-off-the-bone
is a term that's tossed around far too often these days, but Cooper's ribs literally were. They also had a delectable tart-sweet sapor intertwined with a great touch of bitter char to counteract the luscious ovine relish of the meat, and I liked the moderating effect of the crisp, peppery, yet almost tropically-flavored slaw.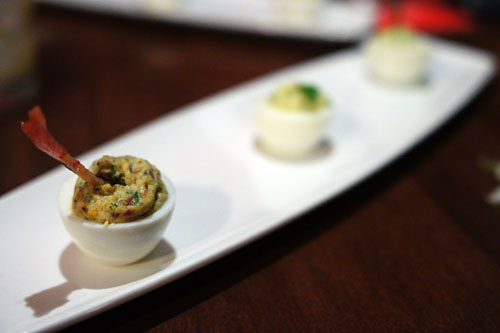 3 DEVIL EGGS [$6.00]
| Porky, Chive, Truffle
I'm known to be quite the egg slut, unable to say "no" to deviled eggs if I see them on a menu. Certainly then, the trio presented here comprised the best that I've ever had (yes, even better than
Jar's
famed examples). I began with the bacon version, which had a great bit of salty savor (and a lovely crunch) to go along with the dollop of creamy, slightly vegetal egg. The
œufs aux truffes
, on the other hand, showed off the heady, earthy aromas of the fungus that deftly matched the lusciousness of egg; classic, but delicious. My favorite of the troika, however, was the chive, which had a superb, bright, herbaceous tartness that perfectly balanced the dish.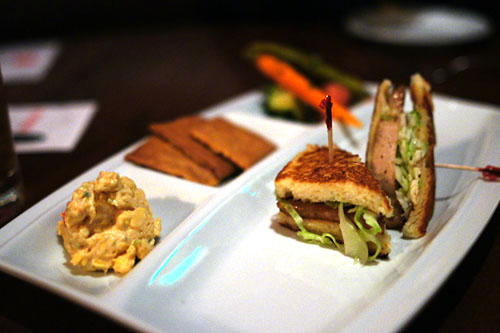 SCOTT STREET LUNCHABLE [$12.00]
| Grilled Turkey Bologna Tea Sandwich, Pimento Cheese & Crackers, Spicy Pickles
During my childhood years, I often was forced to bring
Lunchables
to school to serve as my lunch. Cooper's version here, needless to say, was infinitely better. I quite enjoyed the taste and texture of the bologna sandwich, while the amalgam of gouda, Tillamook, and cream cheeses added a palpable weight to the dish. The pickles (okra, radish, cucumber, carrot), meanwhile, served as a fantastic crisp, tart counterpoint. Very nice!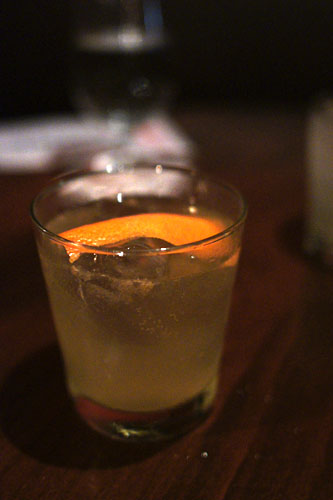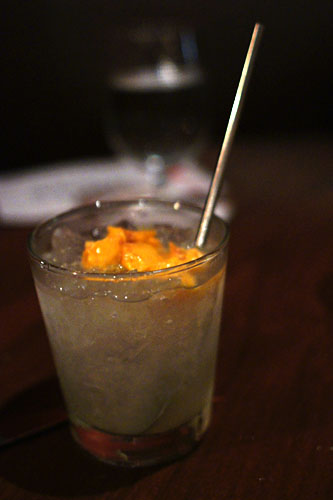 The second round of cocktails brought us the Southern Bride (Gin, Grapefruit Juice, Maraschino Liqueur), which had the potency of its gin base superbly moderated by the application of the citrus-maraschino. On the other hand, the Hot Sweet Sexy Cobbler (Clear Corn Whiskey, Lemon, Chili Peach Marmalade) showed off a distinctly lemon-y attack, transitioning beautifully to sweet-spicy flavors to countervail the gravity of the whiskey. We concluded with a custom cocktail from Joel Black, one that we requested be "interesting". He came back with a libation of vodka, peach brandy, bitters, simple syrup, and lime. It was pretty delicious, demonstrating a good amount of heat from the vodka, which was subsequently tempered by overarching notes of peach sweetness.
2: SOFT SHELL CRAB
| Corn Pudding, Licorice Scented Crab and Corn Relish
Soft shell crab seems to be a popular ingredient at Test Kitchen, having had it with both
Michael Voltaggio
and
Amanda Baumgarten
previously (and all three times with corn!). Unfortunately, this was my least favorite iteration, as I found the crab's texture rather off-putting, and its flavor, especially when paired with the rather saccharine corn, a bit disconcerting. I did, however, appreciate the use of fennel pollen and young fennel in the dish, which helped to balance things out a bit.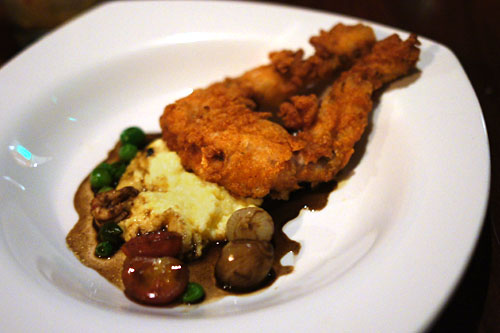 3: FROG LEGS
| Creamy Grits and Red Eye Stew of Crawfish Tails
It seems like every chef in this City has done his or her own version of fried chicken, so Cooper decided to go with fried
frog
tonight instead. Coated with a buttermilk batter, these legs were easily the largest examples that I'd ever eaten. Supremely succulent and suitably tender (with a perfectly crisp coating), the frog was actually quite mild in savor, yet heightened by a noticeable bit of brininess. I also appreciated the complexity contributed by the accompanying grits and stew, which was comprised of crawfish, fava, peas, pearl onions, and cherry tomatoes.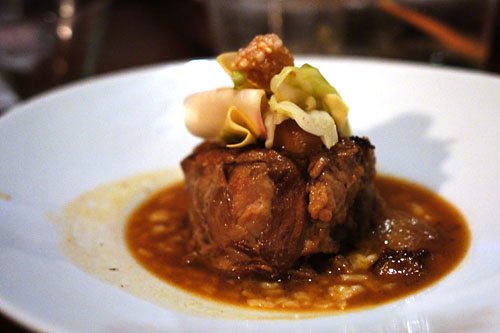 4: KENTUCKYAKI PORK OSSO BUCCO
| Carolina Plantation Rice, Southern Style Kim Chee, Benne Seed Cracklins
Our final savory course of the night gave us a Southern style interpretation of the legendary Italian dish
ossobuco
. Bathed in a Kentucky-style teriyaki sauce (replete with bourbon), the pork was, again, falling-off-the-bone tender, with a profound porcine sapor intensified with just a touch of sweetness and a trace of ginger tang. It went beautifully with the pickled veggies (rutabaga, turnip, cabbage, carrot), while the use of Carolina rice served as a wonderful temper to the dish. The sesame seed cracklins, meanwhile, gave the course a great crunch, as well as a lovely tinge of nuttiness.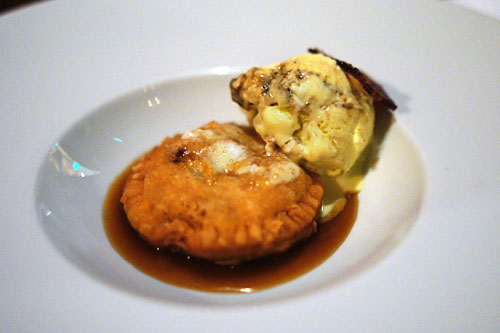 5: SWEET POTATO FRIED PIE
| Toasted Marshmallow Ice Cream, Bacon-Butterscotch Sauce
We closed things out with Cooper's sweet potato pie, which showed off a heavy, rich, almost churro-like flavor with a subtle hint of savoriness. Meanwhile, I loved the heft added by the marshmallow, as well as the saltiness of the candied bacon. Everything just went together perfectly, making for a wonderful end to the meal.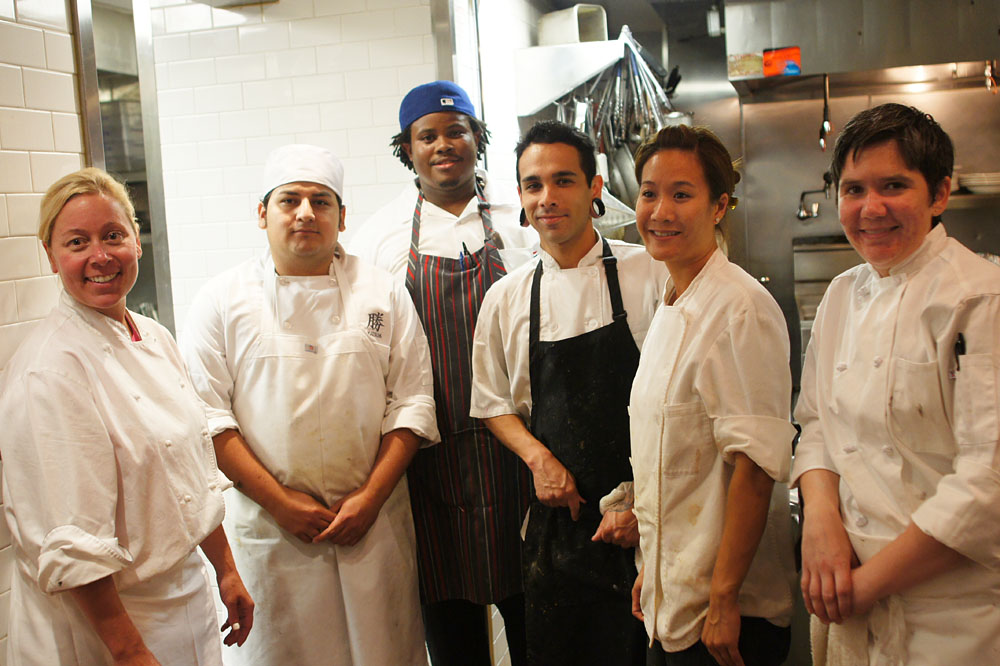 Shelley Cooper with her team: Jairo Romero, Stuart Eubanks, Eddie Perez, Pastry Chef Samantha Choy, Chef de Cuisine Jenny Selden.
I never got the chance to experience Cooper's cuisine at First & Hope, but based on the strength of this meal, it's clear that the denizens of Downtown are missing out! The food was certainly heavy, but at the same time, it represented a refreshing change of pace for me. I enjoyed the Chef's take on American Southern classics, and how she imbued the rustic, hearty, homey cuisine with her own unique culinary flourishes. Hopefully then, Cooper can find a new home soon, and get cookin' again!