Test Kitchen (Los Angeles, CA) [11]
Test Kitchen
9575 W Pico Blvd, Los Angeles, CA 90035
310.277.0133
www.testkitchenla.com
Mon 09/20/2010, 07:30p-10:15p
Balls.
BALLS
. One simple, provocative word, yet strong enough to draw out scores of Test Kitchen aficionados last night. The faithful were hinging on that one suggestive utterance, but their confidence was rewarded with balls of meat--
meatballs
if you will--from none other than
Chef Amy Pressman
. Pressman is perhaps best known for working alongside Nancy Silverton at
Spago
, and in fact, the Chef is partnering with Silverton (as well as
Rivera's
Bill Chait) for her new hamburger concept, Short Order, which is slated to debut later this year. Pressman will be handling the menu for the most part, so it was fitting that she (and The Huntley's Seth Greenburg), and not Silverton, was behind the stoves tonight.
The guest list tonight was extensive: Executive Chef Adam Horton and Pastry Chef Kasra Ajdari from
Saddle Peak Lodge
(who will be doing their own night here next week); Chef Akasha Richmond from her eponymous
Akasha
; Bill of
Street Gourmet LA
; Chef/Owner
Eddie J. Caraeff
from NewsRoom; the inimitable Chef Gino Angelini from
Angelini Osteria
; Jackie of
A Peek into Citynitz's Sentiments
;
Golden State
co-owner Jason Bernstein; Jo of
My Last Bite
;
Mozza
manager
Kate Green
; Lucy of
Ladles and Jellyspoons
; Max Sussman, one half of
Freshman in the Kitchen
; Nguyen and Thi Tran, the lovable duo behind
Starry Kitchen
; Ryan of
Epicuryan
; omnipresent food photog
Ryan Tanaka
; Chef Sergio Penuelas of
Mariscos Chente
fame; Stephanie of
Stuffycheaks
; Chef Suzanne Tracht from
Jar
; Tomoko of
Tomostyle
; longtime
kevinEats
reader Vince (whom I ran into in the bathroom at
Hatchi
); and lastly, a gaggle of chefs from
XIV
.
Previous Test Kitchen posts:
Shelley Cooper
(9/17),
John Sedlar
(9/15),
Amanda Baumgarten-Dylan Hallas-Dan Moody
(9/14),
TiGeorges Laguerre
(9/6),
Vartan Abgaryan
(9/4),
Neal Fraser
(8/31),
Michael Voltaggio
(8/29),
Walter Manzke
(8/25),
Ricardo Zarate
(8/24),
Jordan Kahn
(8/18).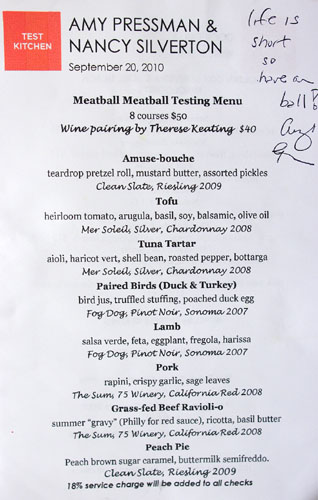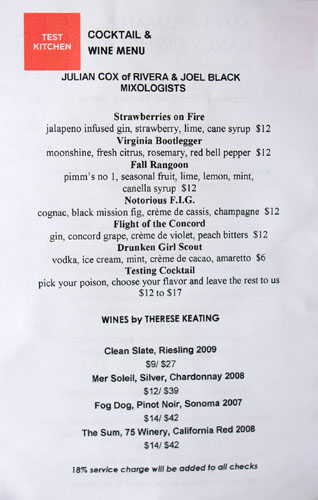 Pressman's eight-course, meatball tasting menu was featured at $50, with additional wine pairings by Therese Keating adding another $40 on top of that. As usual, cocktail duties were the charge of bartenders Joel Black and Julian Cox. Click for larger versions.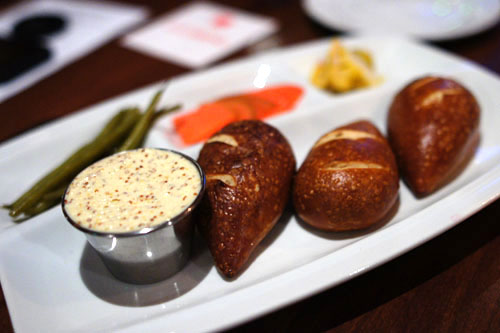 1: Amuse-bouche
| teardrop pretzel roll, mustard butter, assorted pickles
Clean Slate, Riesling 2009
Fittingly, we began with bread, some rather cute pretzel rolls in fact. They were tasty enough alone, but the key here was the Dijon mustard butter, which had a mouth-puckering tang that cut right through the monolithicity of the bread. The pickles, meanwhile, added further points of palpable piquancy.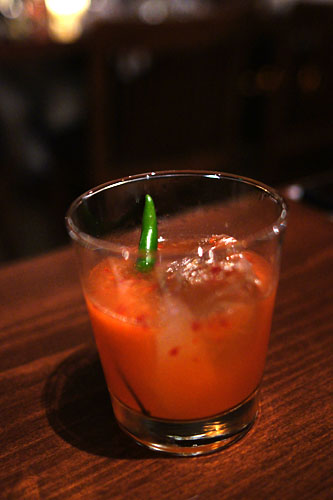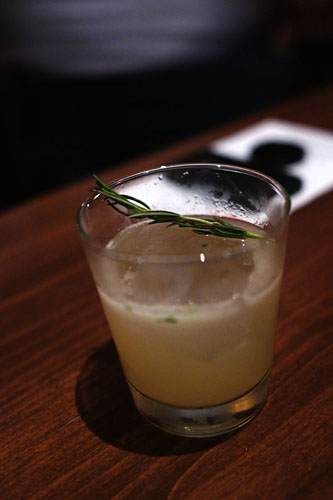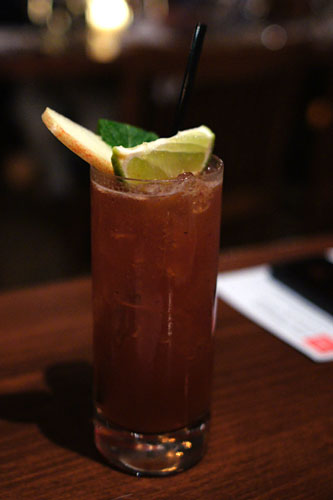 Naturally, we went with a trio of cocktails to start. Our favorite of the bunch was the Strawberries on Fire (jalapeno infused gin, strawberry, lime, cane syrup), which showed off juicy notes of strawberry paired with a positively bracing, undeniably lingering jalapeno heat--potent stuff, that! The Virginia Bootlegger (moonshine, fresh citrus, rosemary, red bell pepper) was also quite delish, with a sweet, citrus-y attack leading to a tasty, herbaceous body intertwined with the weight of moonshine. Rounding out the troika was the Fall Rangoon (pimm's no 1, seasonal fruit, lime, lemon, mint, canella syrup). This one demonstrated green, refreshing, spicy fruit flavors with a pleasant effervescent tang; one of my dining companions even likened it to root beer!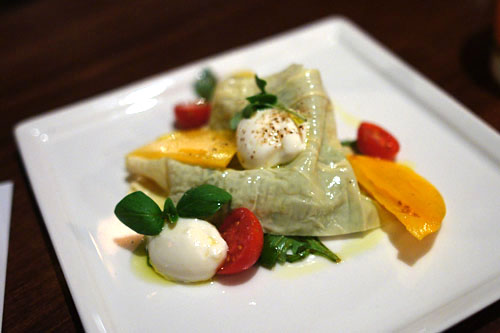 2: Tofu
| heirloom tomato, arugula, basil, soy, balsamic, olive oil
Mer Soleil, Silver, Chardonnay 2008
Next up, a salad or sorts, to whet our palates before the gauntlet of balled meat to follow. The tofu was surprisingly effective here, forming a mild base on which the succulent tomatoes, tangy basil, and bitter arugula could really sing. I quite liked the textural component provided by the yuba as well. The overall effect was reminiscent of a classic insalata Caprese--nice!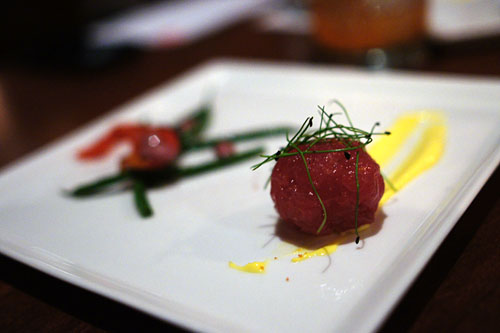 3: Tuna Tartar
| aioli, haricot vert, shell bean, roasted pepper, bottarga
Mer Soleil, Silver, Chardonnay 2008
Tuna tartar in balled form--this was a first for me. The bigeye didn't have much zing of its own, so its topping of peppery microgreens was an apt accoutrement, as was the aioli. The crux of the dish, though, was the "salad" of haricot vert, beans, bell pepper, olive oil, and bottarga, which lent lovely hues of earthy, sour, and briny to the fish.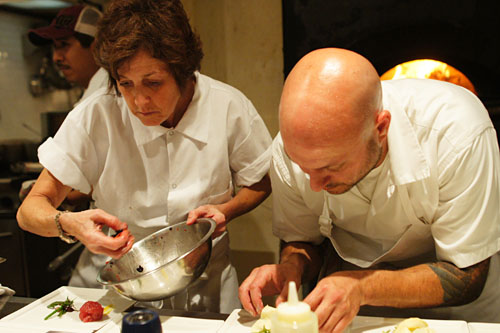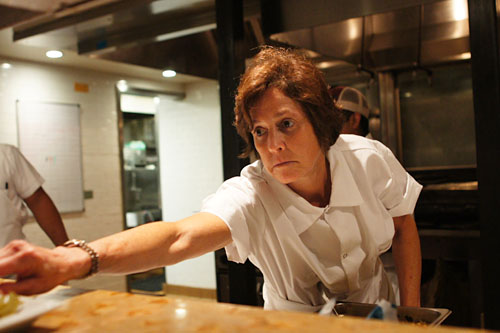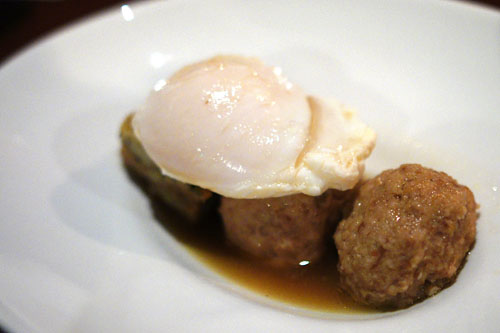 4: Paired Birds (Duck & Turkey)
| bird jus, truffled stuffing, poached duck egg
Fog Dog, Pinot Noir, Sonoma 2007
Here we have my favorite course of the meal. The turkey meatball was rather subtle vis-à-vis the duck, which I found more savory, more toothsome. Easily the best part of the dish, however, was the stuffing; imbued with the undeniable quintessence of truffle, it was the best version that I'd ever had, lending a lush, earthy note to the entire dish. This was then joined by the poached egg, with its gooey, runny, creamy goodness serving as an overarching factor integrating everything together. Interestingly, had there been a chicken meatball present, we could've had a sort of deconstructed turducken!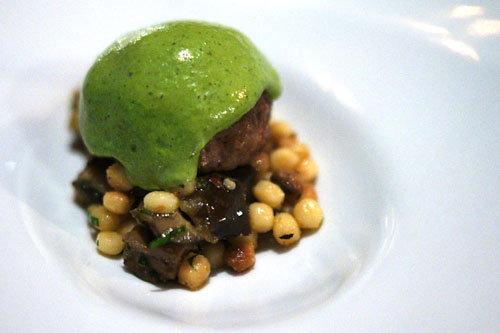 5: Lamb
| salsa verde, feta, eggplant, fregola, harissa
Fog Dog, Pinot Noir, Sonoma 2007
Lamb, augmented by the power of a feta cheese stuffing, showed off its characteristically rich, luscious savor, which was superbly balanced by the tangy dollop of salsa verde dressing. The fregola, meanwhile, did a great job in tempering the gravity of the dish, and I appreciated the tinge of heat on the finish, courtesy of the harissa. Unfortunately, I found the lamb a bit dry, and would've much appreciated a more succulent meatball.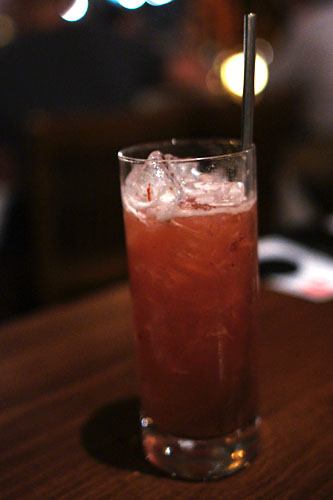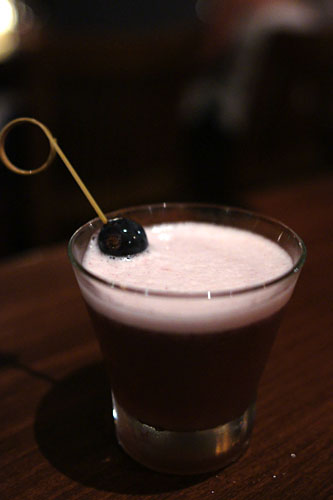 Next up in terms of cocktails was the Notorious F.I.G. (cognac, black mission fig, creme de cassis, champagne), which put forth a saccharine, herbaceous tang that cut right through the potency of the brandy, all leading to a jammy sweet finish. It was almost medicinal in nature. The Flight of the Concord (gin, concord grape, creme de violet, peach bitters), on the other hand, showed off overarching floral notes, backed by a load of boozy grape character.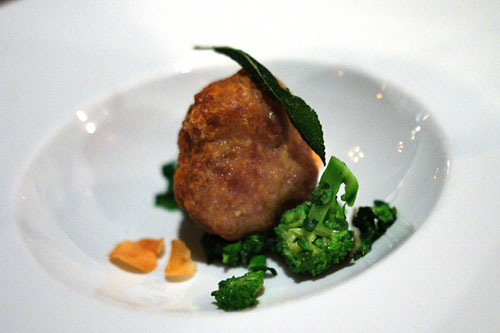 6: Pork
| rapini, crispy garlic, sage leaves
The Sum, 75 Winery, California Red 2008
Next were pork balls with their heady, intoxicating aroma that got my mouth watering even while I was still busy snapping photos! Brazenly juicy and redolent of porcine sapor, the meatballs were delectable, yet so forcefully moderated by the unabashed bitterness of broccoli raab. I was somewhat fond of the sharp tang of the rapini, but it was arguably
too
astringent.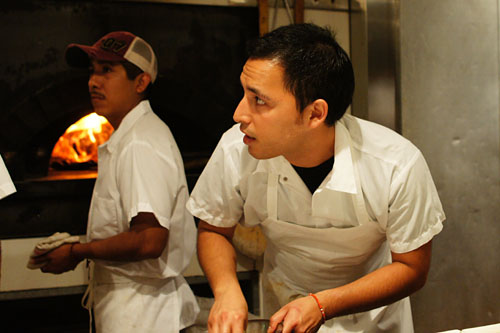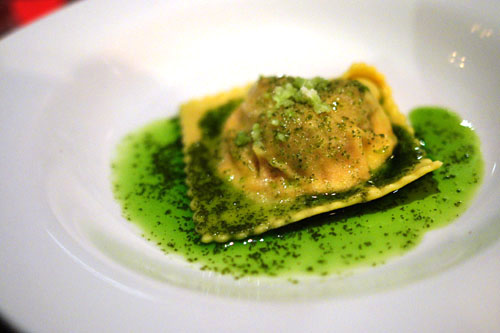 7: Grass-fed Beef Ravioli-o
| summer "gravy" (Philly for red sauce), ricotta, basil butter
The Sum, 75 Winery, California Red 2008
Our final savory course brought us a singular raviolo, stuffed with an amalgam of beef, tomato sauce, and ricotta cheese. The flavors were somewhat textbook, though they did meld together well. My favorite item here, though, was the basil butter, and how it lent a lightening, counterbalancing element to the dish.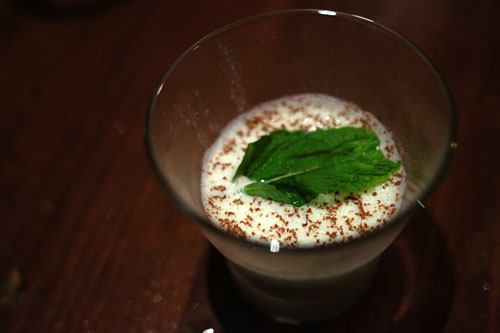 At this point, we were brought the Drunken Girl Scout (vodka, ice cream, mint, creme de cacao, amaretto), which Joel Black had
created earlier
to celebrate when Test Kitchen surpassed
Urasawa
as the most blogged-about restaurant on
kevinEats
. As before, the drink was
mah
-velous, drinking like a adult mint chocolate chip ice cream (or rather, Thin Mint).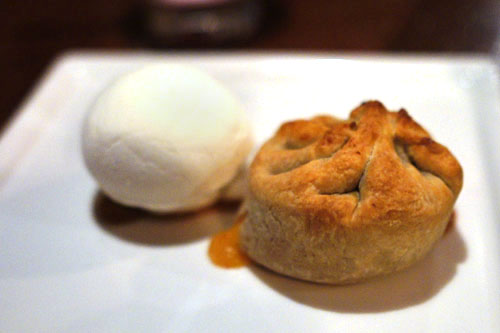 8: Peach Pie
| peach brown sugar caramel, buttermilk semifreddo
Clean Slate, Riesling 2009
For our dessert course, Pressman seemed to have channeled the likes of
Michael Voltaggio
, presenting a
nitro
semifreddo to accompany her peach pie. The semifreddo had a delightfully frozen exterior, breaking apart nicely to reveal a creamy custard within. It actually had an almost savory tinge to it, and did well in balancing the jammy sugariness of the pie.
Overall, a fun meal and a solid showing from Ms. Pressman. I was especially interested in the Chef's balls, which will, in some way or another, make their way into the meat patties to be served at Short Order. With a few minor tweaks, they should translate well, and I look forward to trying out her full-fledged burgers in the coming months!