Test Kitchen (Los Angeles, CA) [12]
Test Kitchen
9575 W Pico Blvd, Los Angeles, CA 90035
310.277.0133
www.testkitchenla.com
Tue 09/21/2010, 07:05p-09:05p
When we last heard from
Chef Joshua Smith
, he was taking over the reins at Downtown's
Church & State
, replacing departing Executive Chef
Walter Manzke
. Prior to his stint there, Smith was the Chef de Cuisine at Alain Giraud's Anisette bistro in Santa Monica, and was Corporate Executive Chef for KOR Hotel Group before that. Smith's time at C&S began in February 2010, but his tenure would only last until September 15, when he was
replaced
by Jeremy Berlin (Payard,
Le Bernardin
,
Gordon Ramsay
).
Apparently, Smith parted ways with C&S because his food was at odds with the restaurant's very Franco-centric menu, a sentiment that was echoed on September 13, when he cooked a North African- and Mediterranean-inspired dinner right here at Test Kitchen (sadly, I was out of state on business, and missed the meal). That dinner, seemingly, was the last straw for Smith, and he was out the door just days later. Tonight, the Chef's goal was to present his version of barbecue fare, a perfect menu for the last days of summer.
In the house: Charlie of
Clayfood
; Christine Matsuda of
Lilikoi & Thyme
(and who's also helping Josh with his PR);
David Haskell
; Matt of
Mattatouille
;
Rachael Narins
from supper club
Chicks with Knives
; Ryan of
Epicuryan
; resident TK photographer
Ryan Tanaka
;
Shawna Dawson
from
Sauce LA
.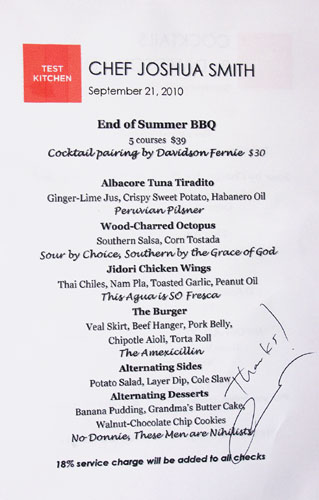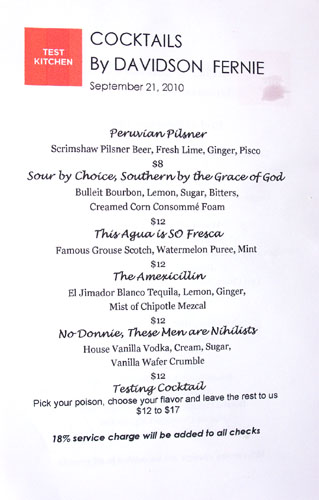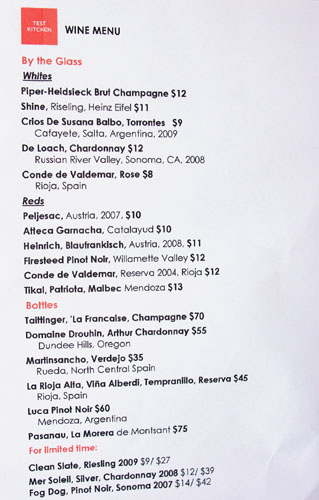 Smith's offering was for five courses, priced at a reasonable $39. What was interesting, though, was the choice of a (whimsically named) cocktail pairing by Davidson Fernie (Library Bar) for an additional $30. The small, individually-sized portions of drink worked out really well, and I hope that future TK participants will embrace this concept. Click for larger versions.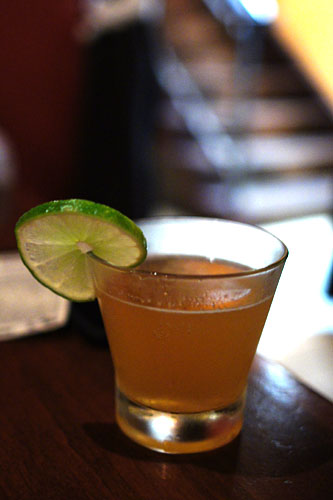 Peruvian Pilsner
| Scrimshaw Pilsner Beer, Fresh Lime, Ginger, Pisco
Our first cocktail pair was a beer-based concoction, showing of a great herby-floral hoppiness tarted up with a great bit of citrus-ginger tang, though I would've liked more from the pisco. One of my dining companions even liked the drink to a Corona!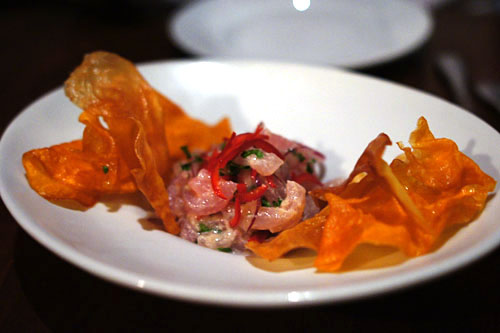 1: Albacore Tuna Tiradito
| Ginger-Lime Jus, Crispy Sweet Potato, Habanero Oil
You can't think of pisco without thinking of Peru, so it was fitting that our first course of the night was a Peruvian-inspired dish of raw fish. It was delectable, with its bright, acidic, pepper-tinged flavors beautifully complemented the relative levity of the tuna. The habanero oil, meanwhile, provided a great hint of spice on the finish, and the potato chips added a fantastic bit of crunchiness to the dish.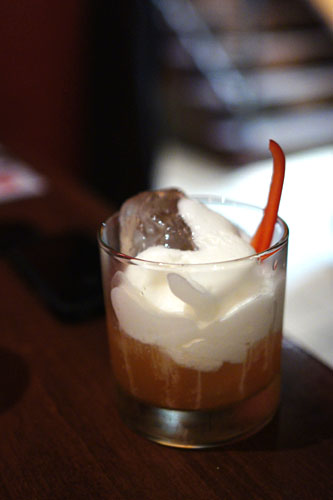 Sour by Choice, Southern by the Grace of God
| Bulleit Bourbon, Lemon, Sugar, Bitters, Creamed Corn Consommé Foam
I quite liked this next cocktail, which showed of plenty of bitter-sweet notes intermixed with the zesty flavor of bell pepper. The whiskey was superbly tempered here, and I really appreciated the additional gravity contributed by the corn foam.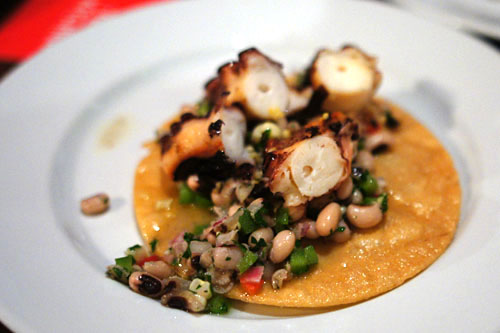 2: Wood-Charred Octopus
| Southern Salsa, Corn Tostada
This was my favorite course of the evening, and one of the best preparations of octopus that I'd ever experienced. The consistency was spot on for me, and I loved the how the subtly saccharine savor of the cephalopod was so deftly accented by a touches of bitter char. What took the dish over the top, though, was the salsa, with its sweet-spicy-earthy flavors that beautifully balanced the octopus. The tostada, meanwhile, grounded the dish, and served as a point of textural interest.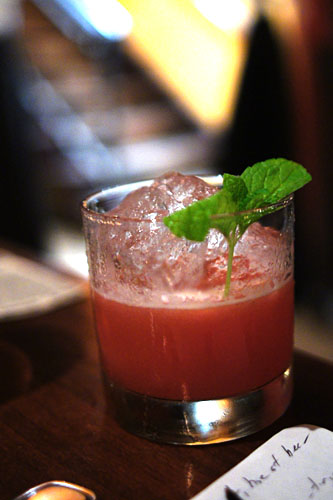 This Aqua is SO Fresca
| Famous Grouse Scotch, Watermelon Puree, Mint
Think of this as a boozy
agua fresca
, perfect for summer sipping--strong notes of juicy watermelon sweetness, with just a hint of heat.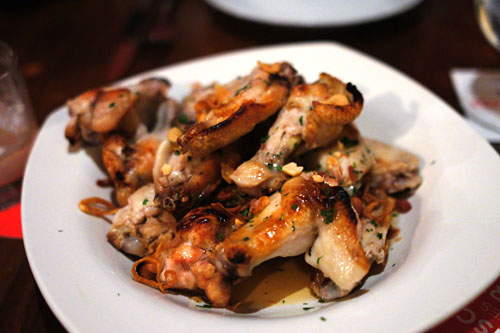 3: Jidori Chicken Wings
| Thai Chiles, Nam Pla, Toasted Garlic, Peanut Oil
Next up was a healthy portion of grilled Jidori wings and drumsticks. I went straight for the legs, and enjoyed their succulent, savory relish, perked up by hints of heat from the chiles, and a palpable briny-salty tang from the fish sauce. Nice!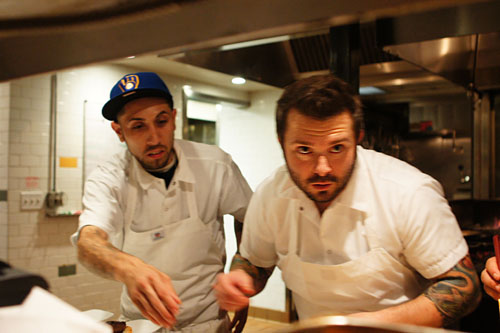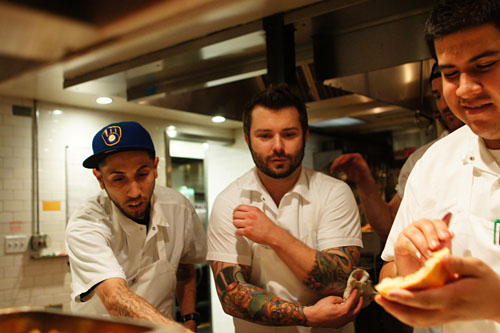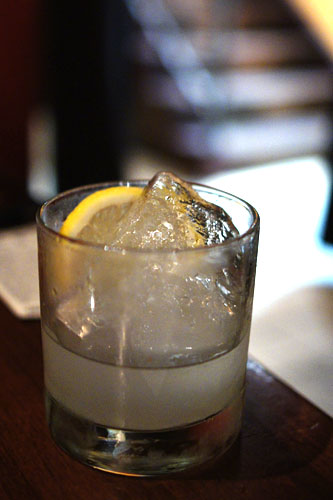 The Amexicillin
| El Jimador Blanco Tequila, Lemon, Ginger, Mist of Chipotle Mezcal
Here, think sour, savory, and smoky--an overarching essence of citrus, with a slight bitterness tinged with a touch of sweetness, finishing smoky with mezcal. Quite good.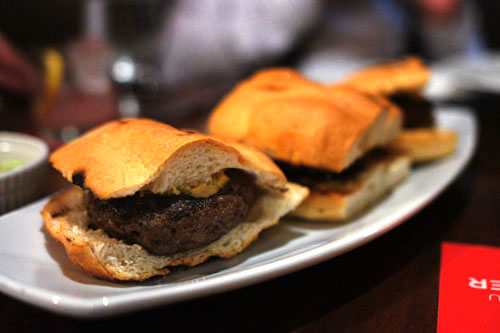 4: The Burger
| Veal Skirt, Beef Hanger, Pork Belly, Chipotle Aioli, Torta Roll
Smith's burgers utilized a blend of veal skirt, hanger steak, and pork belly, cooked medium. The result was an unabashedly flavorful, succulent, almost falling-apart tender patty, tarted up nicely by the application of a zesty chipotle aioli. I would've appreciated the addition of some veggies (e.g. lettuce or tomatoes) to add some additional complexity to the dish, though.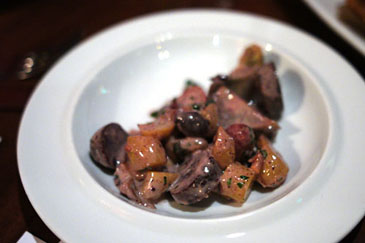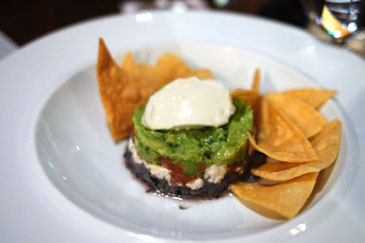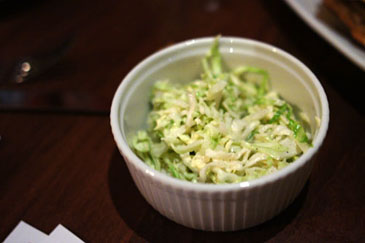 Alternating Sides
| Potato Salad, Layer Dip, Cole Slaw
With the burger, we were also presented with a trio of side dishes. I'm a sucker for potato salad, but the version here wasn't for me, as I found that the addition of artichoke made the salad overly acerbic. I did, however, enjoy the layer dip, with its hefty, weighty bean base accented gorgeously by the additional strata of guacamole, cream, and salsa. Finally, we had coleslaw, which was a bit heavy on the bleu cheese unfortunately--I wanted something more acidic.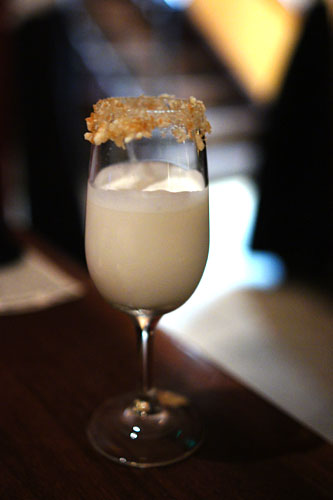 No Donnie, These Men are Nihilists
| House Vanilla Vodka, Cream, Sugar, Vanilla Wafer Crumble
Our final libation of the night brought us a delightful dessert cocktail. I loved the drink's luscious, buttery nose, but its bouquet belied its potency--sweetly vanilla tinged at first, but backed by the power of vodka.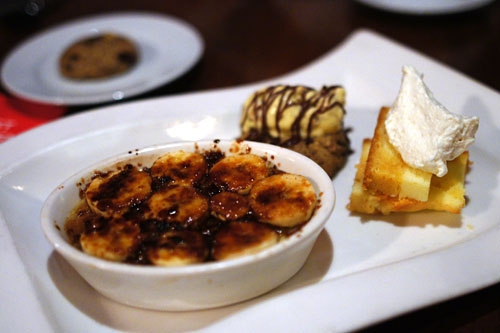 5: Alternating Desserts
| Banana Pudding, Grandma's Butter Cake, Walnut-Chocolate Chip Cookies
We ended our meal with a troika of desserts. Clearly, the best item on the plate was the banana pudding, which was probably the best version of the dish that I'd ever had, showing off a great interplay of creamy and banana flavors, all balanced by a tinge of bitterness. The cake was also quite delectable, with its cream cheese frosting provided a nice lactic tang to complement the sheer butteriness of the dessert. The weakest of the trio were the cookies, which I found rather tough, with perhaps too much walnut; I did, however, enjoy the topping of toasted marshmallow ice cream.
All in all, quite an enjoyable meal, one that gave me a glimpse of what the Chef is capable of when freed from the confines of French bistro fare. Smith is currently looking for new opportunities, with the end goal of opening his own place--I can't wait!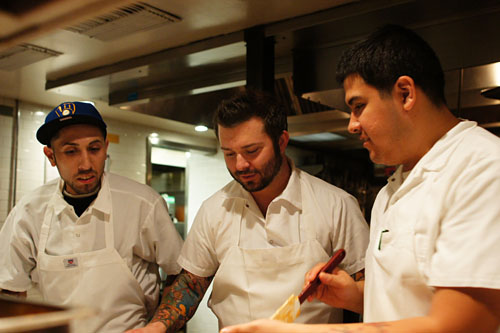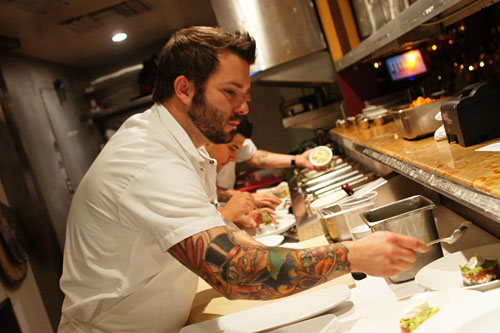 Previous Test Kitchen posts: Amy Pressman (9/20), Shelley Cooper (9/17), John Sedlar (9/15), Amanda Baumgarten - Dylan Hallas - Dan Moody (9/14), TiGeorges Laguerre (9/6), Vartan Abgaryan (9/4), Neal Fraser (8/31), Michael Voltaggio (8/29), Walter Manzke (8/25), Ricardo Zarate (8/24), Jordan Kahn (8/18).