Cleo (Los Angeles, CA)
Cleo
1717 Vine St, Los Angeles, CA 90028
323.962.1711
www.cleorestaurant.com
Wed 11/03/2010, 07:00p-11:25p
Whenever I travel on business to DC,
Zaytinya
is almost always one of my go-to places. I'd been hoping for an upscale, modern Middle Eastern/Mediterranean restaurant in the same vein to appear in Los Angeles, and Cleo looks like it just might be the ticket. Located in Hollywood's Redbury hotel, the SBE-owned Cleo is an all-day affair, but clearly, the main draw for me was dinner. Designed by Chef Danny Elmaleh, the menu is distinctly
mezze
-focused, with a wide array of small plates meant for sharing.
About the Chef
: The product of a Japanese mother and Moroccan father, Elmaleh was born in Israel, but moved to Japan as a child (where his family operated a North African restaurant). He eventually made his way to the States, enrolling at the acclaimed Culinary Institute of American in Hyde Park, graduating in 1995. Following, the Chef returned home to Japan, working at the French eatery Jean Moulin (closed ca. 2002) in Kitano, Kobe. He then moved to Italy, cooking at Ristorante Giannino in Milan. In 2001, Elmaleh returned to the US, working at the kitchens of Josiah Citrin's
Melisse
, and later at his more casual lunchery Lemon Moon, where he stayed until 2005. In December 2006, he teamed up with Louie Yang and opened up Celadon, a well-regarded Medi-Eurasian tapas place that shuttered in 2008. Afterward, Elmaleh hooked up with SBE, overseeing all the Katsuya kitchens before taking on a Corporate Executive Chef role. He was subsequently tapped, of course, to head things here at Cleo, a restaurant with a menu that should be close to his heart.
Note that this dinner was organized by Social L.A. (or Twitter), a newly-founded social/dining club. The event served as the soft launch of the organization, which is focused on hosting exclusive members-only events at some of the Southland's hottest venues. Co-founder Marian describes the group as "Groupon meets Ideeli and Gilt but for restaurants." We were provided a small selection of discounted items to choose from, though we ended up ordering mostly off the regular menu.


The space is inspired by "Old Hollywood" and is cozy enough, basically one large room surrounded by a bar on one side and the open kitchen on the other. Noise levels are lively, and potentially even more deafening in the lounge area outside (where we were unfortunately seated).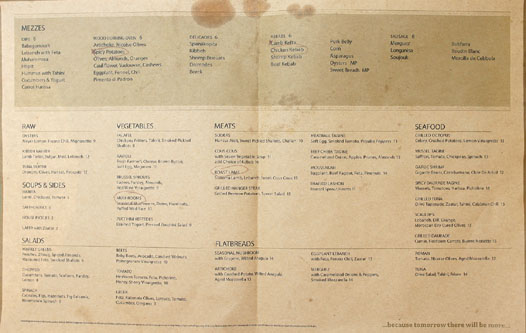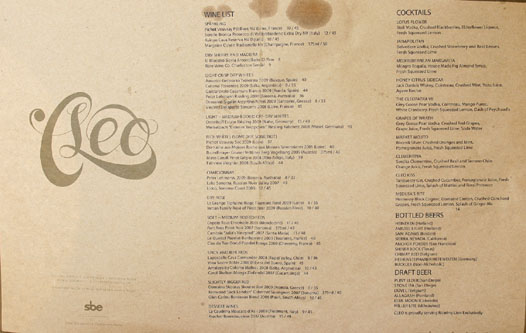 Elmaleh presents a small plates-centric menu with a large selection of fare from around the Mediterranean region. Vegetarians should have an easy time here. Click for larger versions.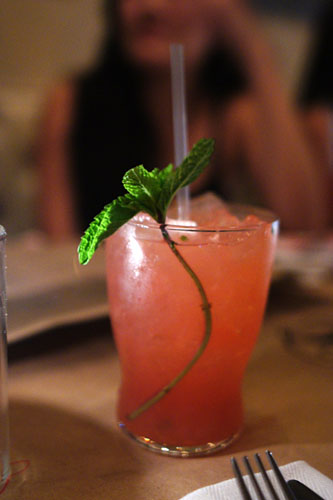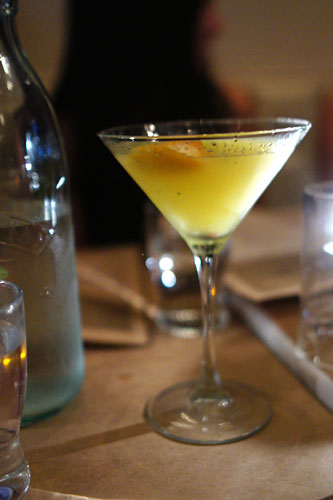 Market Mojito [$10.00]
| Bacardi Silver, Crushed Oranges and Mint, Pomegranate Juice, Fresh Squeezed Lime
Clementina [$10.00]
| Svedka Clementine, Crushed Basil and Serrano Chile, Orange Juice, Fresh Squeezed Lemon
The Market Mojito was a solid rendition of the classic, showing off a light, tangy sweetness to countervail the rum. The Clementina, on the other hand, was awash in strongly citric and herbaceous notes, all with a marked boozy tinge--pretty nice.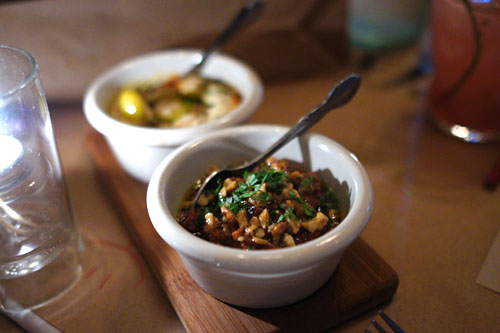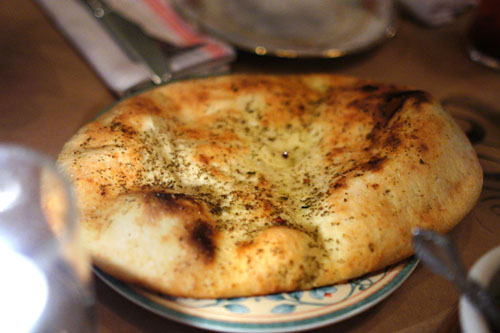 Muhammara [$6.00]
Hummus with Tahini [$6.00]
We started with two dips, both served with wonderful lavash flatbread. The muhammara hails from Syria and is a spicy pepper condiment with walnuts, demonstrating a sweet nuttiness with a light hint of spice. The hummus with tahini (chickpeas and sesame paste), meanwhile, was one of the best preparations of the dish that I'd ever had, with a perfect interplay of tart, nutty, and earthy flavors--superb.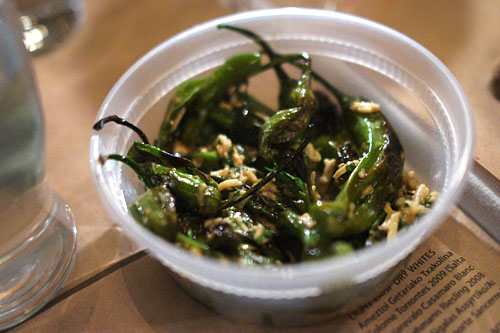 Pimientos di Padrón [$6.00]
Next up was a Spanish dish of peppers, fried in olive oil and salted. They had a marked smoky spiciness that really reminded me of Japanese-style shishito peppers. Note, oddly, that the dish was served in a plastic bowl. For some reason, the restaurant was convinced that we were ordering things to go, and thus brought out a large number of items in takeaway packaging. This was, unfortunately, in addition to the dozen or so items incorrectly brought to our table (we were not charged for 'em, thank god).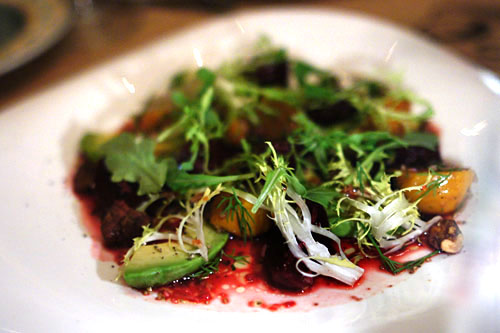 Beet Salad [$6.00]
| Baby Beets, Avocado, Candied Walnuts, Pomegranate Vinaigrette
Regular readers will know that I'm no fan of beets, but the beet salad here wasn't offensive at all. The vegetable was restrained in its sweetness, and was expertly tempered by the application of creamy avocado and light frisée.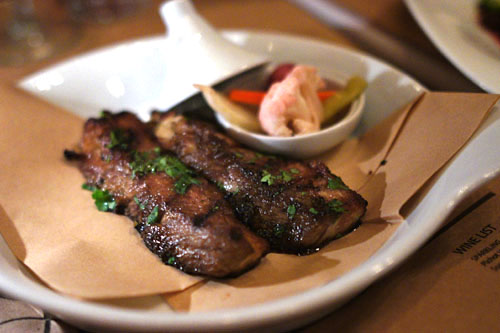 Pork Belly Kebab [$6.00]
Pork belly came out suitably tender, with a sweet smoky savor aptly balanced by a bit of bitter char. At the same time, the included pickles did a great job in offsetting the pork's considerable heft.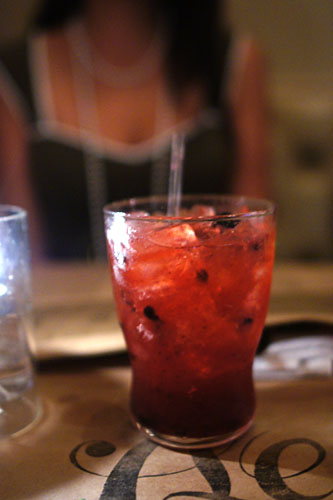 Honey Citrus Sidecar [$10.00]
| Jack Daniels Whiskey, Cointreau, Crushed Mint, Yuzu Juice, Agave Nectar
Lotus Flower [$10.00]
| Stoli Vodka, Crushed Blackberries, Elderflower Liqueur, Fresh Squeezed Lemon
The Honey Citrus Sidecar substituted whisky for brandy and yuzu for lemon, but the effect was still the same, with complex sweet-sour notes deftly balancing the JD. The Lotus Flower, as the name implies, was a much more feminine drink, a sugary (but not overwhelmingly so) concoction with light berry flavors to counteract the vodka.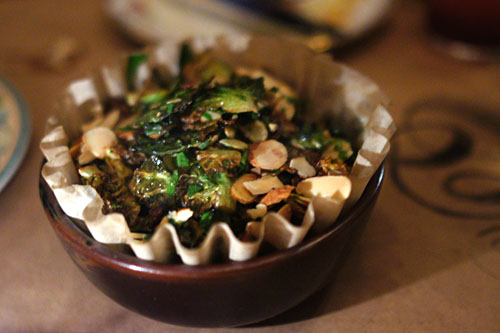 Brussel Sprouts [$6.00]
| Capers, Parsley, Almonds, Red Wine Vinaigrette
The signature bitterness of Brussels sprouts was on display here, bound by some fitting garlicky, nutty notes and a subtle piquancy from the capers. I would've liked more of the focus of the dish to be on the sprouts, though.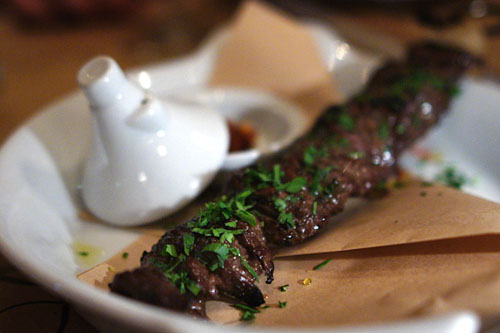 Beef Kebab [$6.00]
The beef kabob was delectable, quite tender and still showing off a great bit of beefy sapor. I really appreciated the accompanying spicy condiment as well (though unfortunately its name escapes me).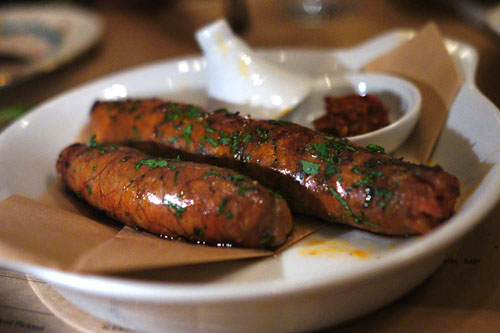 Merguez [$6.00]
Longanisa [$6.00]
More fodder for the carnivores among us. The shorter of the two encased meats, the merguez was fantastically flavorful, with a delightful spicy tinge that I adored. The longaniza, on the other hand, was snappier in consistency, with a grittier chew and a spicier, more aromatic flair.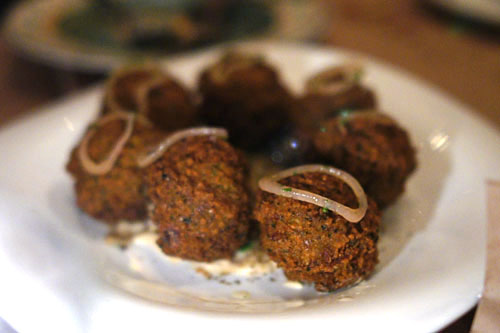 Falafel [$8.00]
| Chickpea Fritters, Tahini, Smoked Pickled Shallots
Falafel is basically a fried chickpea fritter, served here with sesame paste and shallots. The spheres were quite nice--crunchy, mild, albeit a bit dry--and went well with combination of tahini and smoky shallots.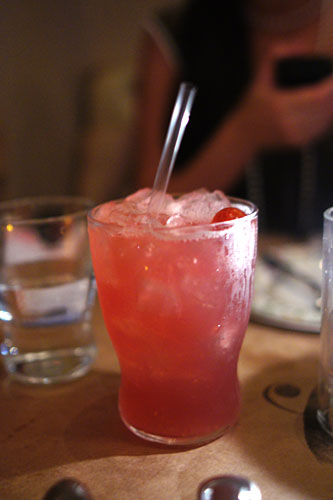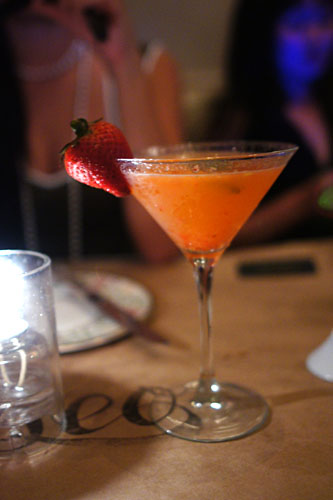 Grapes of Wrath [$10.00]
| Grey Goose Pear Vodka, Crushed Red Grapes, Grape Juice, Fresh Squeezed Lime, Soda Water
Janapolitan [$10.00]
| Belvedere Vodka, Crushed Strawberry and Basil Leaves, Fresh Squeezed Lime
I wasn't a fan of the novel
Grapes of Wrath
, so fortunately, the drink was much more agreeable, conveying a delicious interplay between pear and grape flavors. The Janapolitan wasn't too bad either, with tasty notes of strawberry-basil finishing with the power of the Belvedere.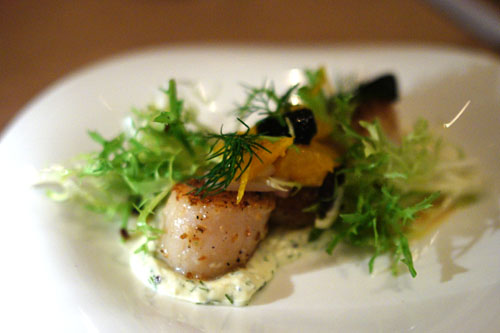 Scallops [$13.00]
| Lebaneh, Dill, Orange, Moroccan Dry Cured Olives
Scallops came out expertly cooked, with their inherent sweetness wonderfully accented by the labneh (a sort of yogurt) and dill. The olives, meanwhile, provided sharp pricks of piquancy to go along.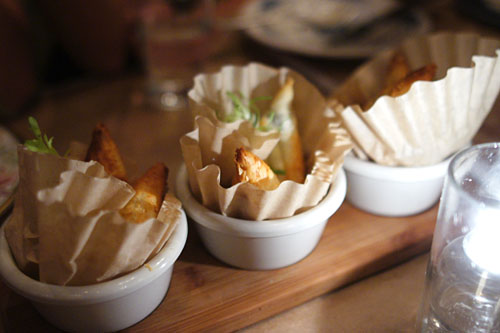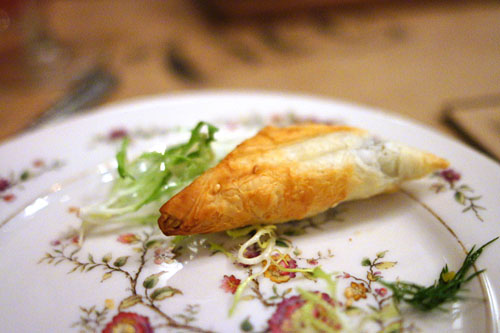 Spanakopita [$6.00]
Spanakopita is basically a spinach and cheese pie in a phyllo pastry. Cleo's version was probably the best version that I've ever had, with a perfect interplay between the cheese and spinach, all encased in that delightfully flaky crust.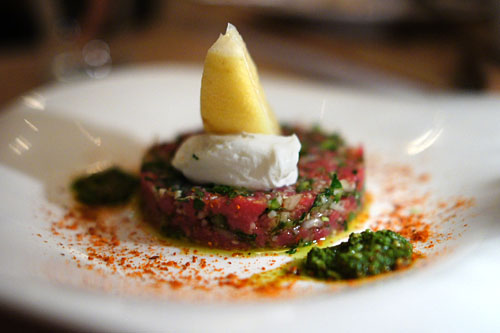 Kibbeh Nayyeh [$12.00]
| Lamb Tartar, Bulgar, Mint, Lebaneh
Kibbeh refers to a dish of diced meat and bulgur rice, typically served as a fried croquette, with kibbeh nayyeh being an uncooked version. I rather liked it, finding the lamb beautifully moderated by vegetal hints of mint and creamy lebaneh.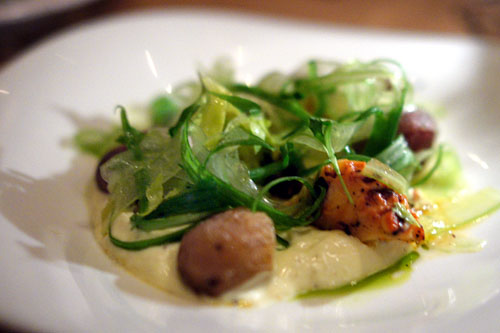 Grilled Octopus [$13.00]
| Celery, Crushed Potatoes, Lemon Vinaigrette
Octopus was tender and nicely savory, with the lemon vinaigrette serving as a tart counterpoint to the cephalopod. I also appreciated the tempering effect of the potato. A solid rendition, but not as good as I'd hoped for.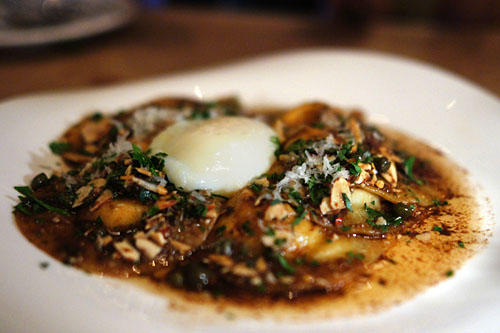 Ravioli [$11.00]
| Fresh Farmer's Cheese, Brown Butter, Soft Egg, Marjoram
Ravioli was a bit of a letdown unfortunately, as I found the pasta's cheesiness a bit discordant with the brown butter. The egg, though it did lend a certain amount of creaminess to the dish, lacked the lusciousness that I was expecting.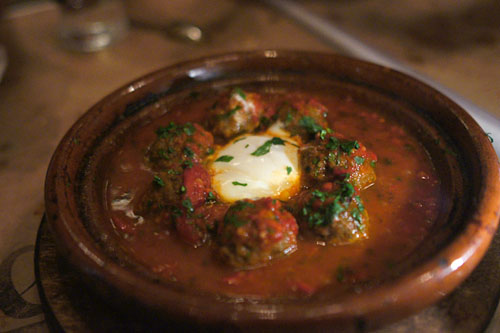 Meatball Tagine [$13.00]
| Soft Egg, Smoked Tomato, Piquillo Peppers
Meatballs had a very fine-grained consistency that I found disconcerting. I appreciated the herbaceous, nutty, and peppery flavors in the dish, as well as the poached egg, but the tomato was a bit overwhelming.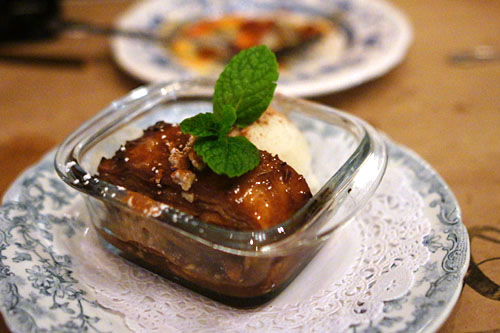 Apple Strudel [$6.00]
| Spiced French Vanilla Ice Cream
For our first dessert, we had a classic apple strudel that showed off crisp, sugary apple flavors that were beautifully balanced by the creamy, spicy ice cream. Straightforward, but thoroughly effective.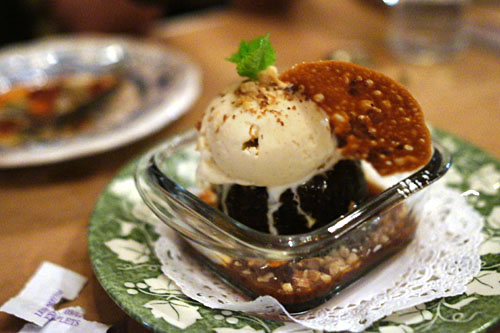 Toffee Sticky Pudding [$6.00]
| French Vanilla Ice Cream, Butterscotch
The toffee pudding was even better, with unabashedly dark, rich, toffee flavors perfectly countered by the ice cream. Love the tuile for texture, too.
Despite a handful of subpar courses, I was generally quite pleased with the food here. We're talking about a great sampling of pan-Mediterranean fare with bold, lusty flavors that are true to their roots. Be forewarned, though, that Cleo is a bit of a scene. Hopefully, SBE doesn't let that get in the way of the food, which unfortunately they're wont to do (I'm looking at you,
XIV
).