Blanca (Solana Beach, CA)
Blanca Restaurant
437 S Hwy 101, Solana Beach, CA 92075
858.792.0072
www.dineblanca.com
Sat 07/30/2011, 07:30p-01:45a
The story of Blanca begins with Debbie Hugonin and her son Seth Baas, nephew of San Diego Padres owner
John Moores
. Hailing from Houston originally, the two started out owning and operating fast food restaurants (such as Sonic Drive-In) in the Southwest, and Baas later studied culinary arts in San Francisco. They eventually relocated to the San Diego area, and in May 2006, the mother-and-son team debuted Blanca in Solana Beach's
Beachwalk Center
, occupying a 4,400sqft space formerly held by a bicycle shop.
Michael Mina protégé Wade Hageman served as the first Executive Chef, but would leave in 2009 to open up Blue Ribbon Artisan Pizza in Encinitas with wife Kristi. He was summarily replaced by New York import Jason Neroni, who, interestingly enough, began his career at Disneyland's
Club 33
, and also worked at the legendary
Chez Panisse
. Despite positive reviews from critics, Neroni left Blanca in mid-2010, after just seven months, and is currently employed at LA Italian standby Osteria La Buca. That brings us to new toque Gavin Schmidt.
A Seattle native, Schmidt cut his teeth at some of San Francisco's most well-known establishments. He worked at Restaurant Elisabeth Daniel, the failed joint venture between Elisabeth Ramsey and Daniel Patterson, in the early 2000's. Schmidt then moved to
Aqua
, and later
Fifth Floor
, serving as a Sous Chef at both eateries. In 2006, the Chef secured a post at the famed Campton Place, where Bradley Ogden first made a name for himself prior to branching out on his own. The following year, he was named Executive Chef there, replacing Peter Rudolph. In 2008, Schmidt rejoined Dan Patterson at his Michelin two-star
Coi
, taking a slight demotion to Chef de Cuisine. He would stay at Coi until 2009, when he was tapped to head up the kitchens at both the Burlingame (now shuttered) and SF locations of Nectar Wine Lounge. Schmidt subsequently left Nectar in 2010 to take over the kitchens at Blanca.

Blanca means "white" in Spanish, and the decor tries to live up to that moniker with its subtle, soothing, monochromatic palette. In addition to the main dining room, there's also a separate bar/lounge area with a standalone menu, as well as a private dining room accommodating 22 diners.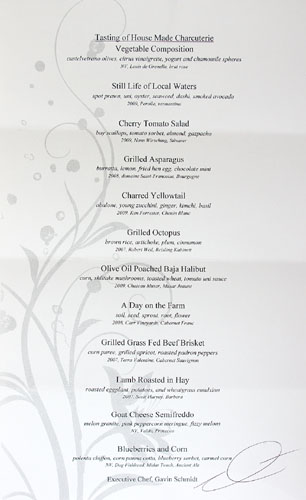 Blanca's menu is more reasonably priced these days, and can be described as French-inflected farm-to-table Californian fare. Chef Schmidt is a big proponent of local, sustainable cooking, baking his own breads and curing his own meat, and even going as far as to forage for his own nasturtium and harvest his own seaweed from nearby beaches. There are a number of enticing à la carte selections here, as well as a lovely seven-course tasting menu at $80, but local San Diego blogger Bobby of
Gourmands Review
set up a special extended degustation for us: 13 courses at $100, plus $60 for wine pairing. Click for a larger version.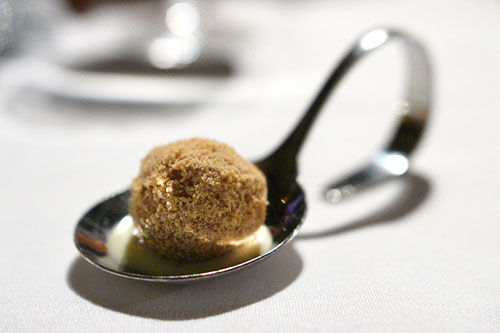 Our meal got off to a sweet start with a miniature bacon-flavored doughnut with maple-whisky sabayon. The rich, sugary smack of the doughnut was front and center here, with the slight saltiness of the bacon coming in late on the palate. I wouldn't have minded a half-dozen more!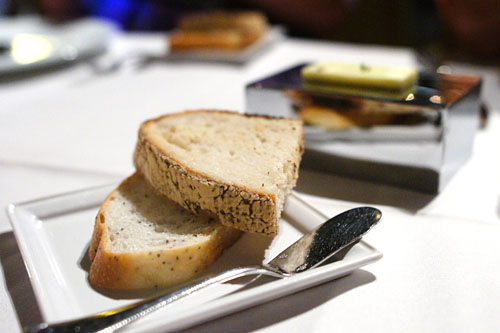 Bread, baked in-house, came in poppy seed and sourdough varieties.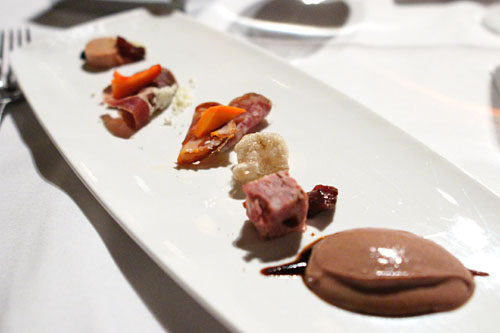 1: Tasting of House Made Charcuterie
NV, Louis de Grenelle, brut rose
Chef Schmidt loves making his own charcuterie, and we were treated to a sextet of such. Going from right to left:
Duck Liver Mousse with Balsamic: Decadent, yet restrained at the same time, with a superb countervailing piquancy from the balsamic and a long, lingering, liver-y finish.
Pâté de Campagne with Fig Mostarda: A gritty, rustic country pâté with a lovely, lip-smacking savor, beautifully balanced by the sweetness from the mostarda.
Chicharrón with Honey and Espelette: Here, the honey and espelette played perfectly off of the pork-y goodness of the rinds. I could've eaten an entire bag.
Coppa & Soppressata with Pickled Carrot: A classic presentation of Italian salumi, salty and spicy in essence, with a wonderful offsetting tanginess and crunch from the carrot.
Lamb Speck with Lamb Powder and Strawberry: The speck deftly showed off its prototypical juniper notes, while the ovine sapor of the meat was heightened by the application of lamb powder. At the same time, the strawberry actually worked surprisingly well in balancing out the bite.
Foie Gras Torchon with Artichoke, Licorice, and Cherry: A tasty, textbook preparation of foie, with a lovely kick of sweet spice from the cherry and licorice combination.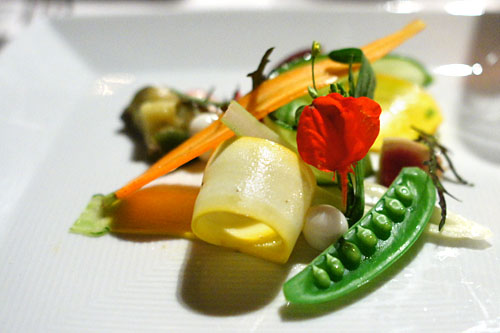 2: Vegetable Composition
| castelvetrano olives, citrus vinaigrette, yogurt and chamomile spheres
NV, Louis de Grenelle, brut rose
A bevy of veggies--Mexican gherkin cucumber, Japanese eggplant, turnip and breakfast radish from Blanca's own garden, peas, and carrot, among other items--greeted us here. It was an appealing-looking plate, and I appreciated how each of the components were unique and distinct, with their own particular tastes and textures. At the same time though, the yogurt-chamomile provided floral overtones to the dish that just bound everything together.
3: Still Life of Local Waters
| spot prawn, uni, oyster, seaweed, dashi, smoked avocado
2009, Perolla, vermentino
The so-called "Still Life" is oft considered Schmidt's signature dish, and I can definitely see why. I found it reminiscent of
David Kinch
's "Autumn Tidal Pool" and
Dan Patterson
's "Oysters Under Glass." The seafood--Santa Barbara sea urchin, Santa Barbara spot prawn poached in olive oil, Carlsbad Aqua Farms oyster--was just so forcefully and faithfully presented here, conveying the essence of the sea perfectly. The whole amalgam was well integrated, yet distinct, and was perfectly tempered by the dish's base of smoked avocado panna cotta, yet linked together by its dashi veil, while the apple, ice plant, and cucumber added a refreshing textural variation. The course was a table favorite, and to quote one of my dining companions, was "retarded good."
4: Cherry Tomato Salad
| bay scallops, tomato sorbet, almond, gazpacho
2009, Hans Wirsching, Silvaner
After the intense brine and umami-laced goodness of the previous course, this next dish was a refreshing change of pace. The essence of a traditional gazpacho was nicely conveyed here. I especially appreciated the addition of the almond, as well as the tangy sweetness of the melon and tomato, while the scallops, perfectly cooked, added a well-placed heft to things.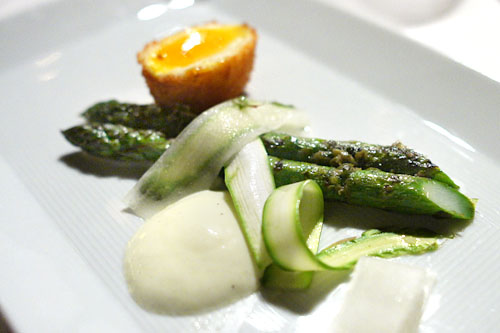 5: Grilled Asparagus
| burrata, lemon, fried hen egg, chocolate mint
2008, domaine Saint-Francoise, Bourgogne
Asparagus and runny egg--hard to go
too
wrong with those two ingredients, and indeed, this course did not disappoint. I appreciated the smoky, astringent flavor of grilled asparagus, and well as the lighter, purer taste from the sliced raw asparagus. The lemon provided a counterpoising sourness to things, but the real star of the show was that egg, boiled then deep fried to perfection. It added a certain lusciousness to the dish that tied all the elements together beautifully.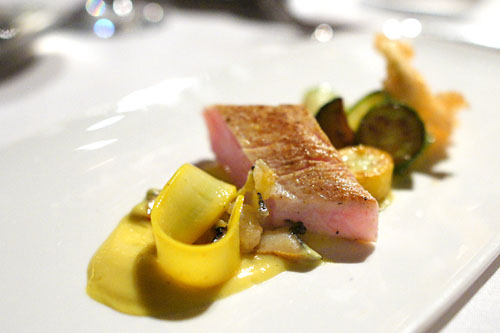 6: Charred Yellowtail
| abalone, young zucchini, ginger, kimchi, basil
2009, Ken Forrester, Chenin Blanc
When our server announced that vadouvan was in this dish, I was a tad concerned that the spice blend would overwhelm the fish. There was nothing to fret about really though, as the yellowtail was still clearly the hero. The belly, seared rare, actually worked flawlessly in concert with the combination of vadouvan and kimchi, and I liked the textural contrast from the tempura'd squash blossom. One of the best vadouvan-centric dishes that I've ever had.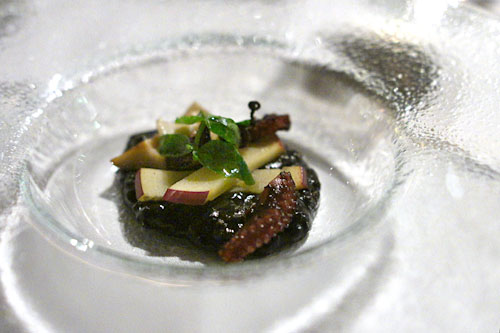 7: Grilled Octopus
| brown rice, artichoke, plum, cinnamon
2007, Robert Weil, Reisling Kabinett
Octopus was prepared sous vide, then grilled, resulting in a pleasant consistency and a satisfying sapor tinged with a touch of spicy sweetness from the use of cassis and cinnamon. The plum and watercress, meanwhile, served to balance out the heady flavors of the cephalopod. My concern here was that the rice (which is milled in-house) was rather soft; it got a bit lost, and I would've liked something with more chew.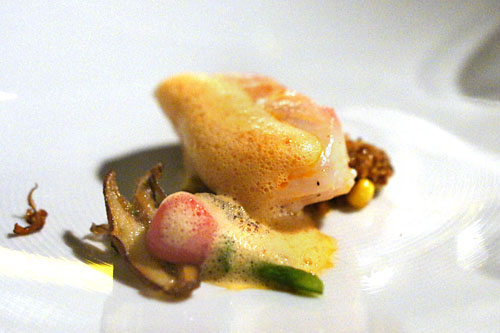 8: Olive Oil Poached Baja Halibut
| corn, shiitake mushrooms, toasted wheat, tomato uni sauce
2009, Chateau Musar, Musar Jeaune
Halibut was poached in olive oil, making for a soft, supple, delicate-tasting fish. It may have been too mild for some, however, as one of my dining companions felt that more salt was needed. Nevertheless, the corn added a restrained sweetness into the fray, while the shiitakes contributed a touch of earthiness. The tomato-uni sauce, though, was the key here, serving as a deft complement to the halibut that adroitly accented the fish's flavor.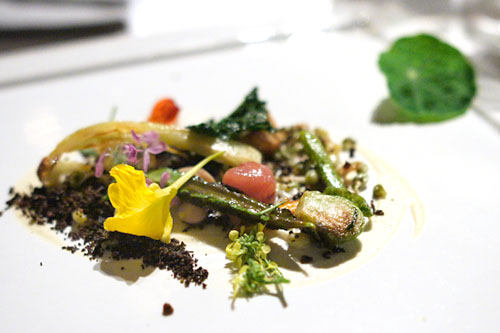 9: A Day on the Farm
| soil, seed, sprout, root, flower
2008, Carr Vineyards, Cabernet Franc
This high-concept course brought together cauliflower-sunchoke purée, kale, puffed farro, watercress, nasturtium, argan oil, carrot, cauliflower, spring onion, Brussels sprout, and cherry tomato, among other ingredients. The result of all this, I must say, was quite appealing. I enjoyed the individual contributions of the various veggies, and loved how their distinct characteristics melded together in a panoply of flavors, all linked together by the earthy astringency of the "soil."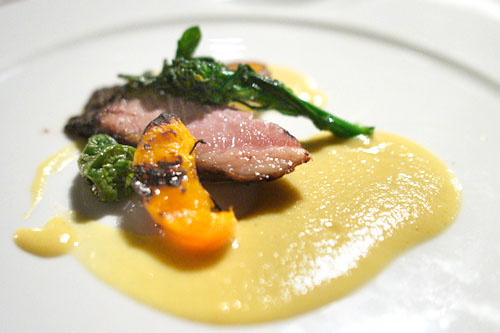 10: Grilled Grass Fed Beef Brisket
| corn puree, grilled apricot, roasted padron peppers
2007, Terra Valentine, Cabernet Sauvignon
Beef brisket arrived smoked with mesquite, cooked sous vide for 72 hours, then charred on the grill. As such, the meat showed off a fantastic smokiness, along with a lovely fattiness and a thoroughly satisfying bovine relish. I liked the countering heat from the peppers, but I was a bit thrown off by the corn purée, which bordered on overly saccharine for me.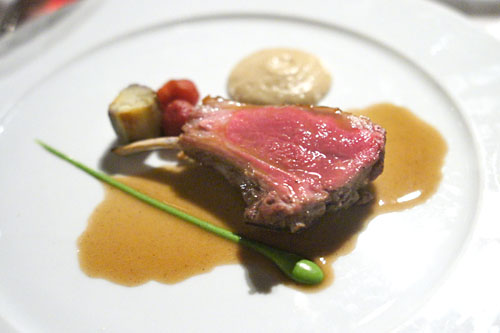 11: Lamb Roasted in Hay
| roasted eggplant, potatoes, and wheatgrass emulsion
2008, Ispiri, Cabernet Sauvignon
(graciously provided by James of
Gastro Bits
)
Our final savory course of the evening brought us lamb, roasted rare in hay. The meat showed off a profound depth of flavor that I just deemed irresistible, and I certainly found myself gnawing on the bone near the end there. There was a touch of counteracting zestiness from the wheatgrass-olive oil emulsion, but the potatoes really did a great job in subduing the dish.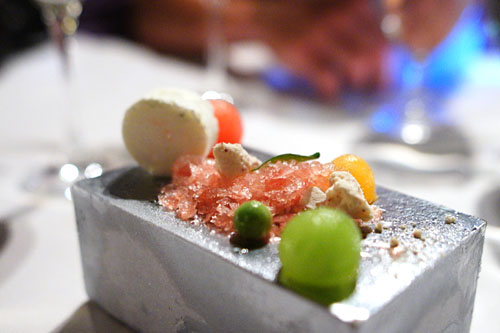 12: Goat Cheese Semifreddo
| melon granite, pink peppercorn meringue, fizzy melons
NV, Valdo, Prosecco
Functioning as a sort of pre-dessert palate cleanser was a disc of goat cheese semifreddo, served with a melon granita. This was a cool, refreshing intermezzo that paired the richness of the semifreddo with the lightness of the melon ice, while the avocado spheres and melons served to moderate the dish.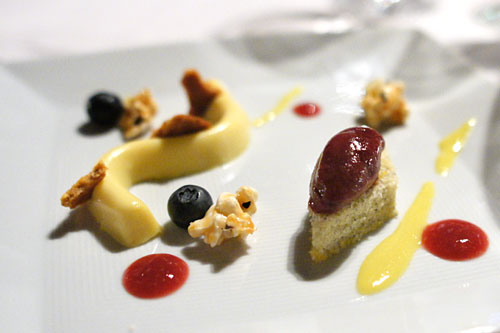 13: Blueberries and Corn
| polenta chiffon, corn panna cotta, blueberry sorbet, caramel corn
NV, Dog Fishhead, Midas Touch, Ancient Ale
Dessert came courtesy of Blanca's new Pastry Chef, Laguna Beach native Jasana Singer. I appreciated the subtly savory base of the corn panna cotta, as well as the polenta chiffon cake, while the blueberry-tequila sorbet and blueberry fluid gel added touches of neutralizing saccharine goodness. The caramel corn, meanwhile, provided lovely accents of sugary sweetness to the tumult while also mixing things up texturally.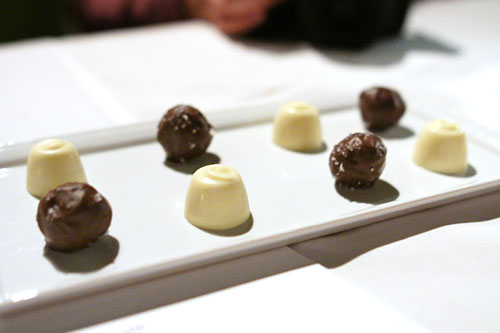 To close out the meal: Maldon white chocolates with kaffir lime and lemongrass, plus dark chocolates with peach liqueur and sea salt.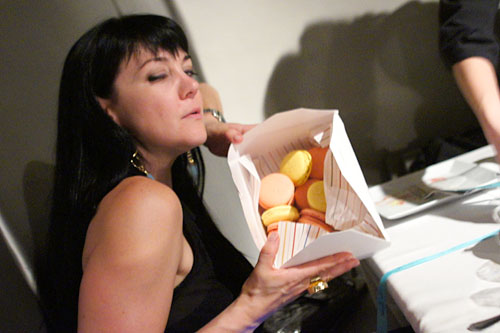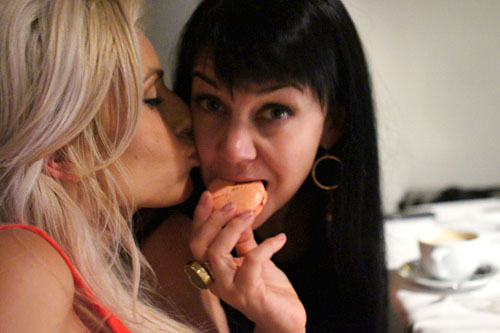 As a special treat, Stephanie of
Gourmands Review
brought along some of her homemade macarons for us to enjoy. Done up in lemon and strawberry flavors, they were some of the best I've had, with suitably sugary, jammy centers between melt-in-your-mouth layers of cookie.
Among local food cognoscenti, Blanca is often regarded as the best restaurant in the San Diego area. After this meal, I can understand why. The Chef's devotion to top notch, sustainable, local produce is key here to be sure. However, Schmidt goes one step above your typical farm-to-table fare and is not afraid to imbue his food with an avant garde touch here and there. The end result is cuisine that's a bit more adventurous compared to the modern American cooking that's typically available in the vicinity, but which doesn't offend the sensibilities of the restaurant's clientele base either. It's a happy medium that seems to be serving the Blanca well.