Fifty Seven (Los Angeles, CA)
Fifty Seven Restaurant
712 S Santa Fe Ave, Los Angeles, CA 90021
213.816.8157
www.fiftysevenla.com
Fri 04/11/2014, 08:10p-12:00a

One of the most highly anticipated, and significant openings this year is Fifty Seven, an Arts District space situated in the old Heinz '57 loading dock, right next to Bread Lounge and just a stone's throw from
Bestia
. A project of Beau Laughlin's Cardiff Giant, the restaurant bowed on March 27th, and features a revolving roster of chefs from across the country, each showcasing his or her menu for a season. Kicking things off is Chef-in-Residence David Nayfeld, who was tasked with laying the foundation for the people and processes that'll hopefully be used to execute the concepts of all future chefs.
About the Chef
: The 30-year-old Chef was raised in Oakland, CA, the son of Jewish immigrants who had fled their native Belarus. He started off in the biz as a teenager, washing dishes at a Greek eatery and working an organic produce stand. His first real job came in 2000 at the Harbor Bay Club in Alameda, and after graduating from the Culinary Institute of America in 2002, Nayfeld took on a position at Max's Bistro & Bar in Fresno. The following year, he became a
stagiaire
at Nobu in New York, and in 2004, secured a line cook position at
Aqua
in San Francisco. He stayed there for two years before transitioning to
Joël Robuchon
in Las Vegas. This was followed in 2007 by a stint at VOX Wine Lounge in Henderson, Nevada, as well as a year at Cru in New York starting in '09.
In 2010, Nayfeld made the big move to Daniel Humm's Eleven Madison Park, where he served as senior sous for three years, during which time the restaurant became one of the most recognized in the world, garnering three Michelin stars, six Beard awards, and a rare four-star review from the
New York Times
. He left EMP in 2013 and spent six months touring Europe,
staging
with Philippe Rochat (Philippe Rochat at L'Hôtel de Ville in Crissier, Switzerland), Albert and Ferran Adria (Tickets & 41 Degrees in Barcelona), Mauro Colagreco (Mirazur in Menton, France), David Toutain (l'Agapé Substance in Paris), Clare Smyth (Restaurant Gordon Ramsay at Hospital Road in London), Gregory Merchand (Frenchie in Paris) and chocolatier Jacques Genin (Jacques Genin in Paris). After this grand excursion, Nayfeld relocated to Los Angeles in search of a project before starting work on Fifty Seven.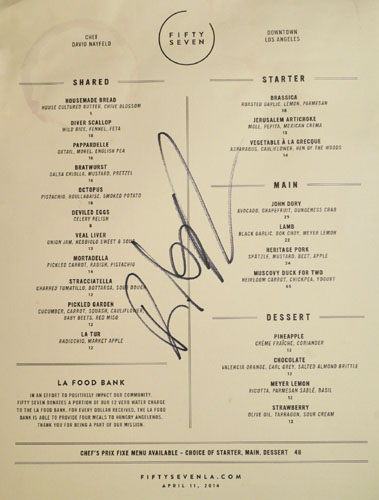 The menu at Fifty Seven lists a number of à la carte, bar-type dishes on the left, joined by a three-course prix fixe option on the right at $48 (though all the plates are available separately as well). From what I understand, it's the stuff on the right that'll be changing with each chef. Click for a larger version.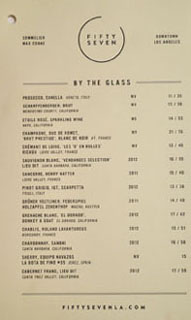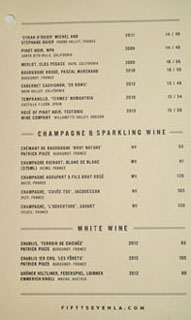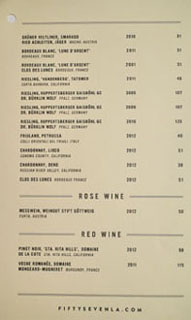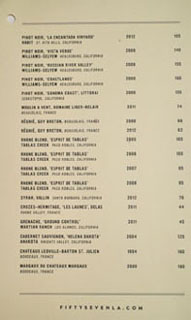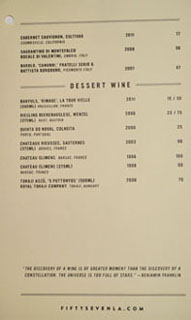 To drink, you'll find a fairly formidable California-centric wine list as well as seasonally-changing cocktails by bartender Jeronimo Medina, who comes to Fifty Seven following stints at The Foundry and Las Perlas. There were no beers listed, but I'm told they're coming. Click for larger versions.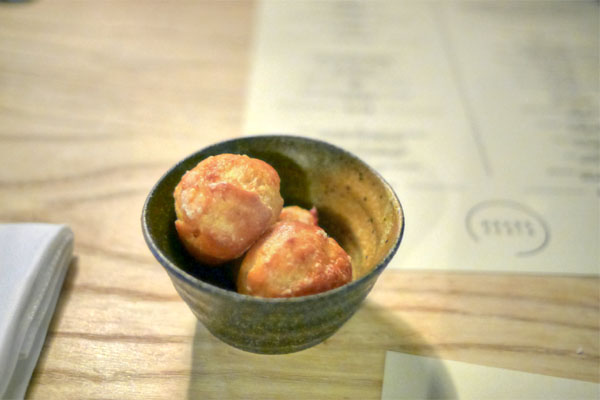 Kicking things off were Gruyère gougères, fluffy, soft, cheesy little bites that whetted the appetite, though they've could've stood to be warmer.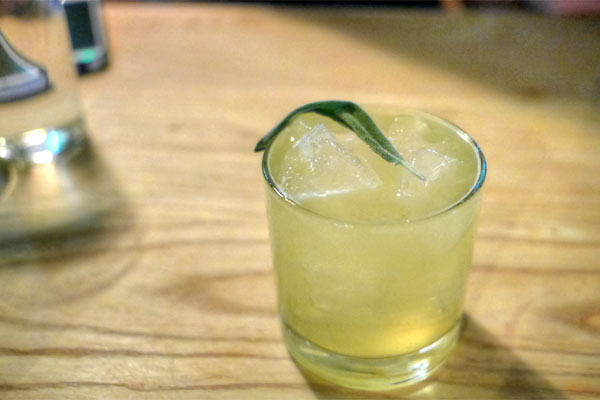 3 Sheets [$13.00]
| Belvedere Vodka, Chamomile Grappa, Lemongrass, White Balsamic, Lemon, Honey
Cocktails were a must of course, and we began with this vodka-based concoction. It was a fantastic use of the oft beleaguered base spirit, a mysterious, multifaceted drink that conveyed overlapping, contrasting shades of savory, herbaceous, tart, and tangy all rolled into one.
Rusty Beam [$15.00]
| El Jimador Anejo, Pierde Almas Mezcal, Cinnamon Tincture, Chocolate Chili & Orange Bitters
This next cocktail, on the other hand, was much boozier, with the smoky, woody essence of the mezcal/tequila combo working in tandem with the spicy-sweet nuances in the drink, the whole amalgam underpinned by a persistent bitterness.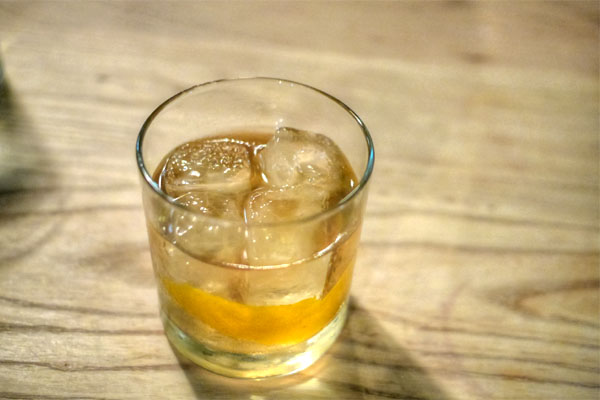 One of my dining companions ordered up an Old Fashioned as a gauge of the bar, and the cocktail delivered did not disappoint, offering up an utterly classic, undoubtedly balanced presentation of bittersweet, boozy, and citric flavors that was spot on. Unfortunately, when it came time for a second round, the bar seemed to falter, sending out an almost completely different drink that was far sweeter, heavy-handed, and garnished with a cherry (though they did end up remaking the drink properly).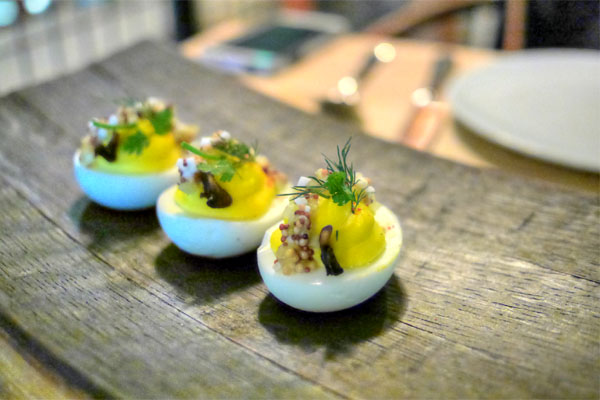 Deviled Eggs [$8.00]
| Celery Relish
Being the egg enthusiast that I am, these beauties were a must-order, blending lush egg, tangy mustard, astringent celery, and savory mushroom duxelles in an elevated package.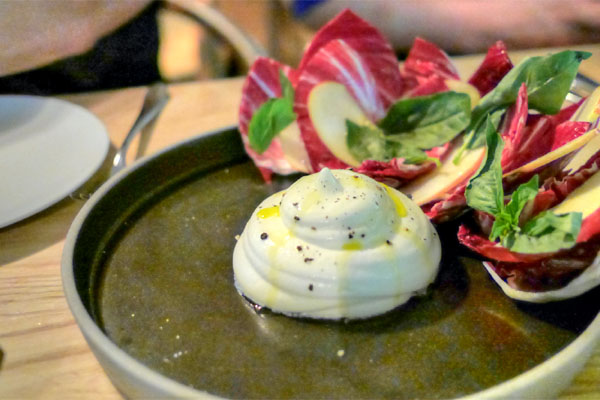 La Tur [$12.00]
| Radicchio, Market Apple
A tri-milk cheese from Piemonte, La Tur was put to great use here, iSi-aerated to an ethereal consistency and served with shards of radicchio, apple, and basil. The elements combined to form an almost
caprese
-like character, the commixture of sweet, bitter, and herb-y flavors a superb complement to the lactic tang of the cheese.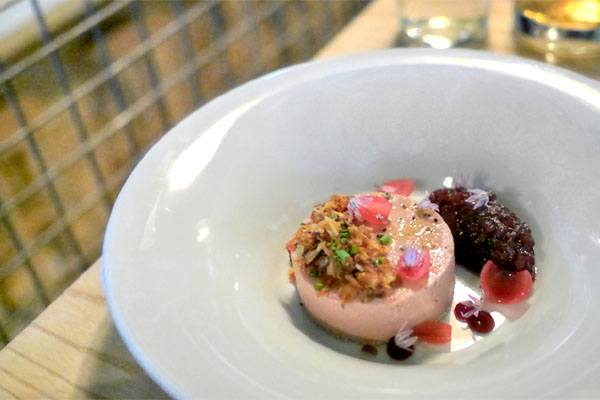 Veal Liver [$13.00]
| Onion Jam, Nebbiolo Sweet & Sour
A stout cylinder of veal liver was delightful, arriving in the form of a finespun, silky smooth mousse, its earthy, yet restrained relish perked up by the sweet onion jam and Nebbiolo gel. Fantastic when taken with the included bread. It might not be foie gras, but it gets awfully close.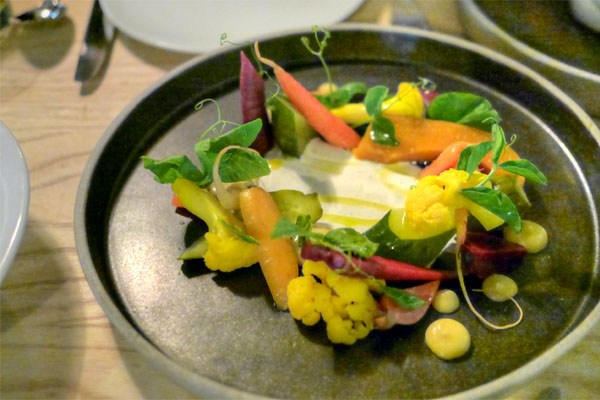 Pickled Garden [$12.00]
| Cucumber, Carrot, Squash, Cauliflower, Baby Beets, Red Miso
I'm a big, big fan of pickled things, and was definitely a fan of this next course, which is like what would happen if someone went and pickled an entire
gargouillou
. It was a real celebration of acidity, crunch, and tang, a bevy of disparate ingredients all tied together by the earthy depth of that
akamiso
.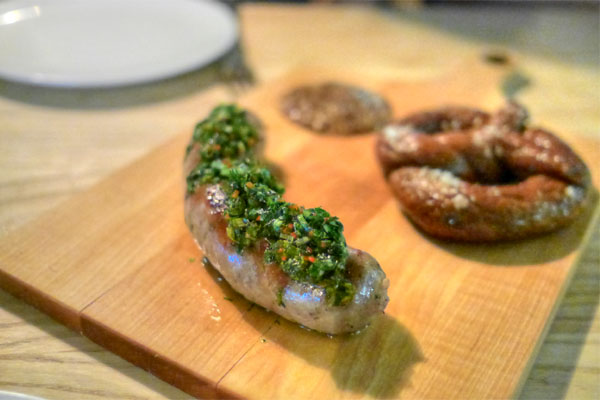 Bratwurst [$16.00]
| Salsa Criolla, Mustard, Pretzel
I had to try the Chef's take on bratwurst given my penchant for tubed meat. It was easily the most elegant version of the sausage I've had, giving up comparatively light, graceful flavors duly complemented by the tangy salsa. Delicious when taken with the salty, buttery pretzel on the side and a dab of spicy mustard.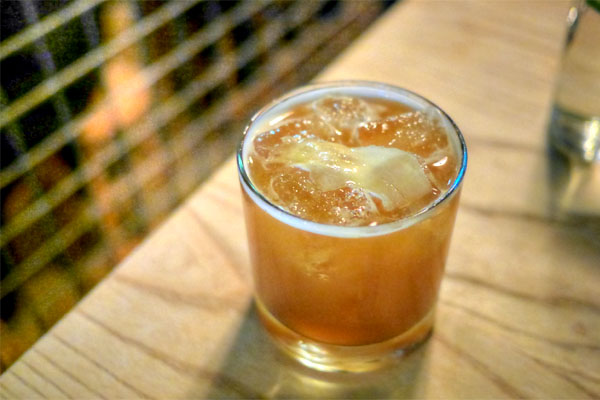 Contraband [$14.00]
| Old Grandad Bourbon, Amontillado Contrabandista, Averna Amaro, Ginger, Lemon, Pecan Bitters
Our next round of cocktails got started with this full-flavored preparation, which had a savory, almost curry-esque profile to it that I found quite fascinating, especially when combined with the subtly oxidative quality of the amontillado.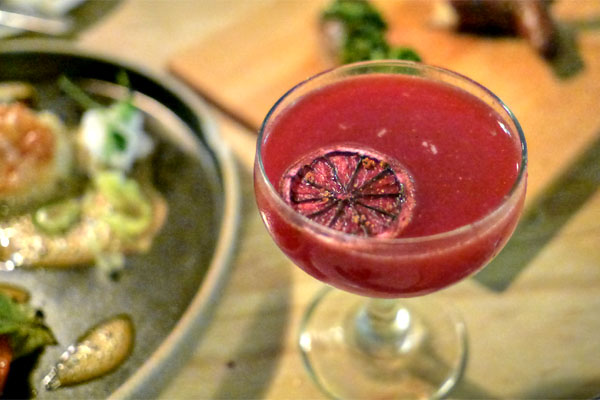 El Sanguinello [$15.00]
| Jalapeño Infused Pierde Almas Mezcal, Agave, Averna Amaro, Blood Orange, Lemon, Sal de Gusano
This robustly-colored cocktail, meanwhile, brought us a real jolt of smoky, spicy flavors joined by counterbalancing nuances of citrus that made this one eminently balanced and easy-going with the food.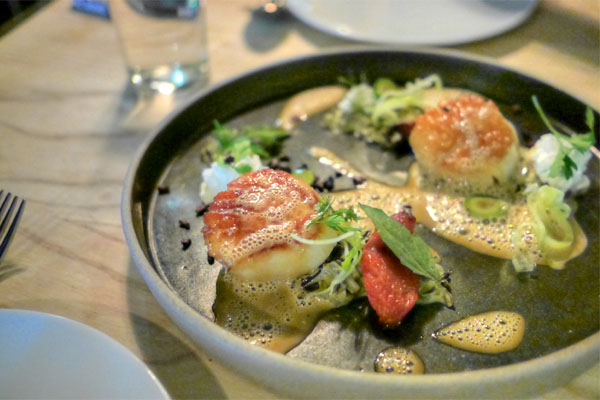 Diver Scallop [$18.00]
| Wild Rice, Fennel, Feta
Scallops arrived perfectly cooked, supple yet superbly seared and caramelized, their softly saline flavors complemented by the opposing forces of feta and fennel while the crisped rice added a fantastic textural component to the fray. However, a couple of the elements didn't seem quite as necessary, and there was just a bit too much going on here as a result.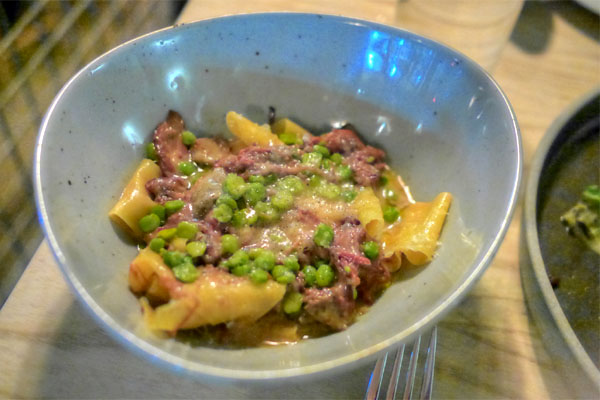 Pappardelle [$16.00]
| Oxtail, Morel, English Pea
Pappardelle was homey and comforting, yet somehow refined, a buttery sort of pasta that deftly balanced the richness of the meat and mushroom against the brightness of pea. Egg was used here for the noodles (as is traditionally done), resulting in pasta that has a softer consistency than you might expect.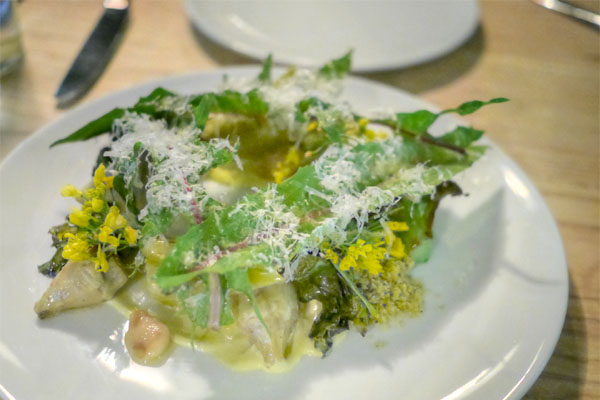 Brassica [$18.00]
| Roasted Garlic, Lemon, Parmesan
Moving on into the prix fixe portion of our meal now, I'm a huge proponent of
Brassica
, and this was a real showcase of the genus, a mélange of bright, bitter flavors and crisp, invigorating textures brought together by the combo of salty Parm and zesty, overarching citrus. Ostensibly a play on the classic Caesar.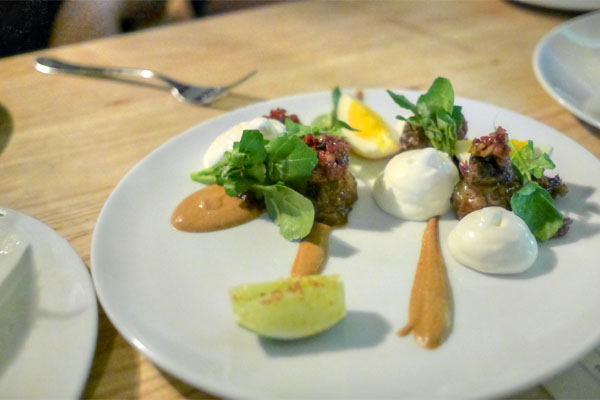 Jerusalem Artichoke [$13.00]
| Mole, Pepita, Mexican Crema
Up next was one of the strongest preparations of sunchoke I've had. Texturally, I loved the root vegetable's meaty, snappy crunchy while its sweetness was augmented by the cinnamon-y mole, the crema adding a tangy counterbalance to things. Fantastic pickled egg here, too.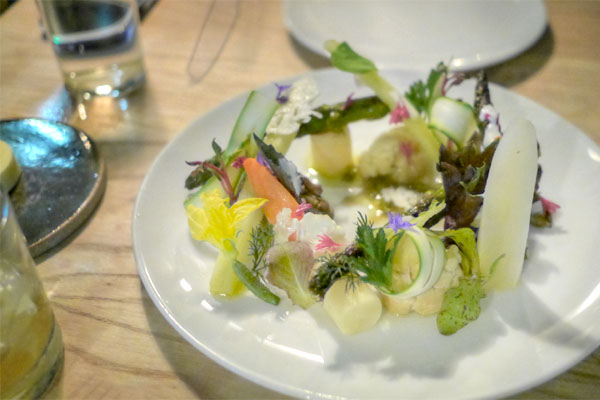 Vegetable à la Grecque [$14.00]
| Asparagus, Cauliflower, Hen of the Woods
Veggies done in the Greek style were wonderfully piquant, a beautiful composition of differing tastes and textures brought together by a common, underlying acidity. I particularly enjoyed the earthy mushrooms, as well as those gorgeous dry-seared spears of asparagus. A real display of the Chef's facility with vegetables.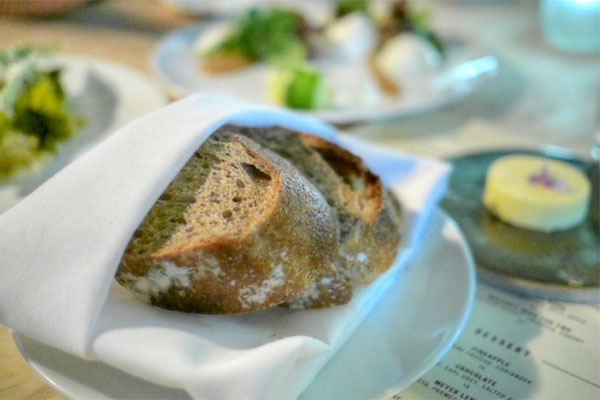 Bread was subtly spicy, and came with disk of sweet, creamy butter that really fit the bill.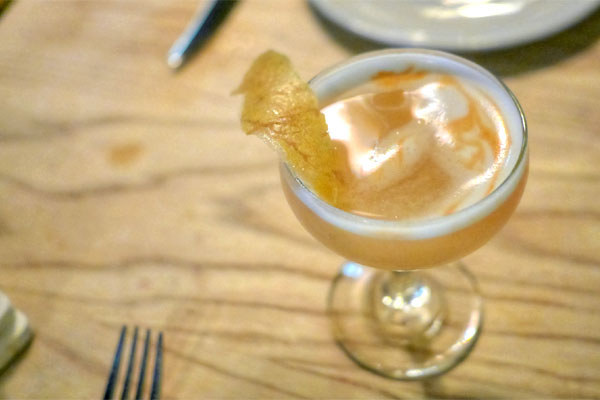 Spanish Crown [$12.00]
| Kappa Pisco, Luxardo, Grapefruit, Lime, Angostura Bitters
Our final cocktail was a winner as well, a creamy, silky beverage that balanced contrasting notes of tartness and astringency over a hefty base of pisco.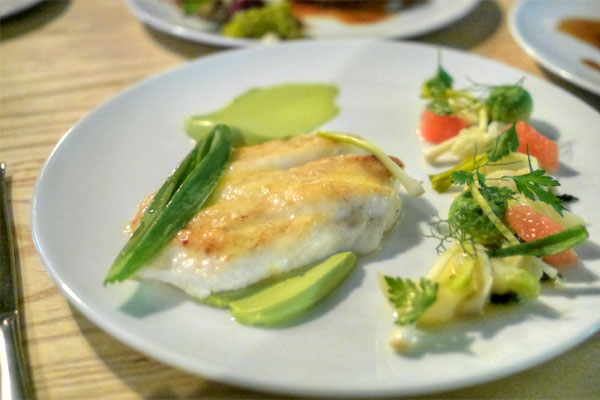 John Dory [$29.00]
| Avocado, Grapefruit, Dungeness Crab
The first main of the night brought out John Dory, and it managed to be one of the best presentations of the fish I'd tasted. Think firm, flaky, and with a refined savoriness, amplified by the wondrously sweet brine of the included crab while the greenery and avocado gave up a countervailing complexity.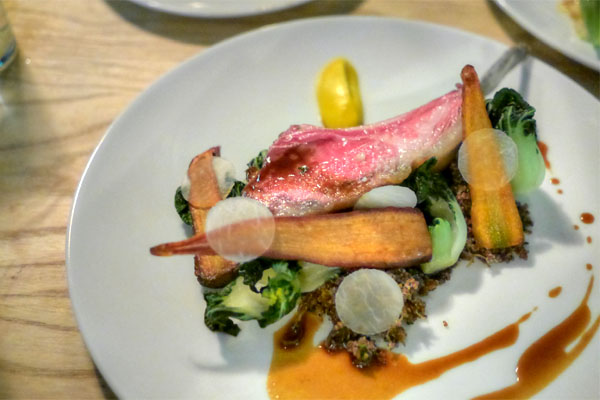 Lamb [$22.00]
| Black Garlic, Bok Choy, Meyer Lemon
Lamb was up next, and done properly rare, its rich, unabashedly ovine flavors enhanced by the zing of black garlic while bok choy offered up a wonderfully bright, bitter counterpoint. I was a fan of the carrots, too, but the Meyer lemon didn't seem strictly necessary.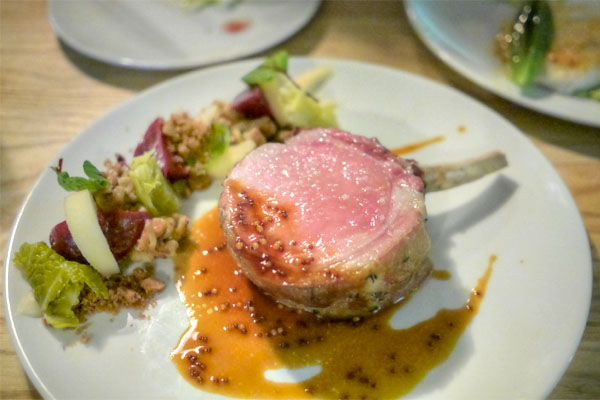 Heritage Pork [$24.00]
| Spätzle, Mustard, Beet, Apple
Our final savory was a play on the classic combo of pork and apple, and quite simply the largest meat "lollipop" that we'd ever encountered. The meat was cooked suitably rare, its surprisingly delicate flavors heightened by the use of mustard, while the veggies did their job in moderating the heft of the pork. Some more char, more sear would've been nice, though.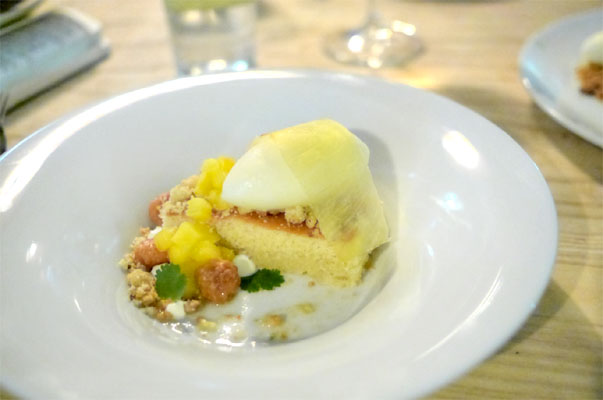 Pineapple [$12.00]
| Crème Fraîche, Coriander
Getting into the sweet stuff now, the pineapple dessert came out light and fruity, with a classic tartness to it that was dutifully paired with a caramel-y crunch and the herby zing of coriander.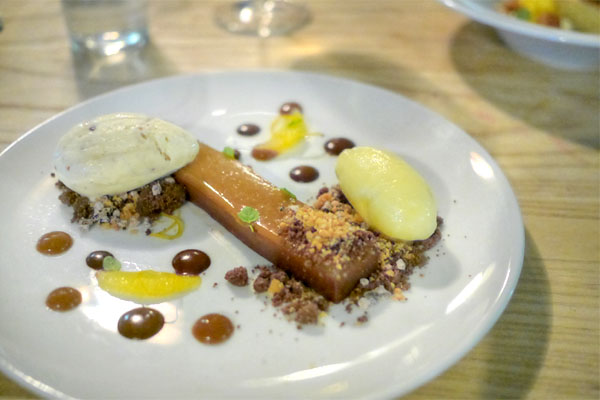 Chocolate [$12.00]
| Valencia Orange, Earl Grey, Salted Almond Brittle
The classic combo of chocolate and orange was presented here in the form of a dark chocolate ganache topped with a layer of Valencia gelée, an effective pairing made even better by the floral, tea-like essence of Earl Grey. That salted almond brittle ice cream was much appreciated as well, adding some further lushness to the mix.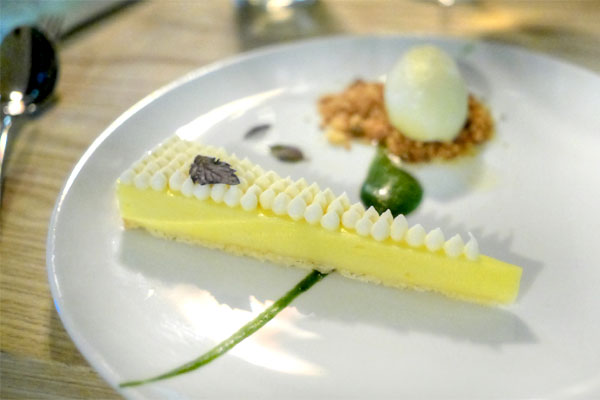 Meyer Lemon [$12.00]
| Ricotta, Parmesan Sablé, Basil
My favorite of the desserts was this Meyer lemon cake of sorts, which really played the tartness of the citrus beautifully against the richness of ricotta, all while the crumbles provided a savory bent to the dish. Lovely use of basil, too.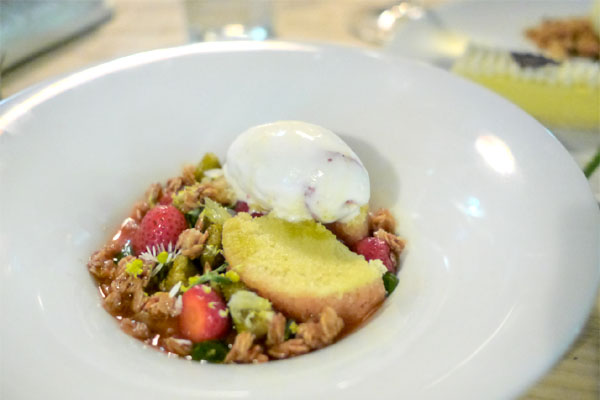 Strawberry [$12.00]
| Olive Oil, Tarragon, Sour Cream
Lastly, strawberries were smartly paired with olive oil and tarragon, the tart sweetness of the fruit an effective match for the savory, herbaceous tastes at play. Great incorporation of the cake too as a moderating element.
Fifty Seven's a welcomed, important addition to the scene here in LA. Nayfeld brings a thoughtful, progressive approach in his food, resulting in plates that are unique, polished, yet at the same time satisfying. I would really like to see a longer, tasting menu format implemented though (it would suit the cuisine much better), but length notwithstanding, it's some of the most promising cooking I've had in a while. But perhaps more crucially, the restaurant could be a key step in the development of Los Angeles from a culinary perspective, and I'm very curious to see how this all evolves and plays out, to see how permanent the Chef's (and by extension, Fifty Seven's) mark here will be. Nayfeld should be serving his menu until the July/August timeframe, so you still have plenty of time to check things out.