Commissary (Los Angeles, CA)
Commissary Restaurant at The Line Hotel
3515 Wilshire Blvd, Los Angeles, CA 90010
213.368.3030
www.eatatpot.com
Thu 08/07/2014, 10:30p-12:20a
Following in the footsteps of
POT Lobby Bar
,
POT
, and POT caFe, the final chapter of Roy Choi's revamp of The Line Hotel debuted on August 7th. Located in a "country club" greenhouse on the property's second floor pool deck, Commissary represents a departure from the type of cooking you might typically associate with the Chef, an ostensibly produce-driven eatery meant to highlight fruits and vegetables in various ways. Choi stresses, though, that this is
not
a vegetarian restaurant.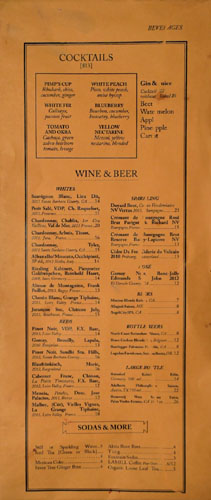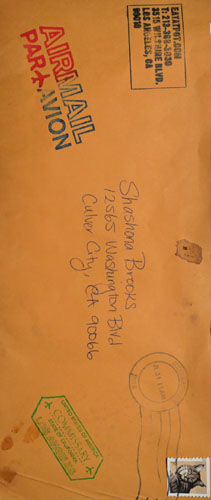 As for Commissary's menu, it too is unconventional. Instead of words, diners chose from hand-drawn pictures of various types of main ingredients, though there is an accompanying "cheat sheet." Besides the menu, people are also going to be talking about the cocktails, which are the handiwork here of the inimitable Matt Biancaniello. The drinks, served in big-ass plastic cups with ice, are based on fruit and vegetable juices, rather than spirits, and are infused with different types of aromatics, and a bit of booze too of course. Finally, if wine is more your thing, there's an affordably-priced list by The Line's F&B GM Hayden Felice (ex-Craft NY). Click for larger versions.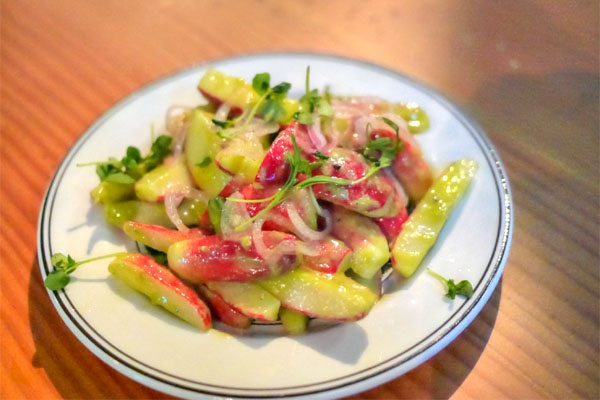 Radish [$8.00]
| butter, chilies, parmesan, lemon, green sauce
I'm quite the fan of radishes, and here they were nicely presented, their bitter-hot character apparent, yet balanced by the combo of Parm and garlic sauce. I also appreciated the underpinning of heat in the dish, but the individual slices of pepper were uncomfortably jarring at times given their spiciness.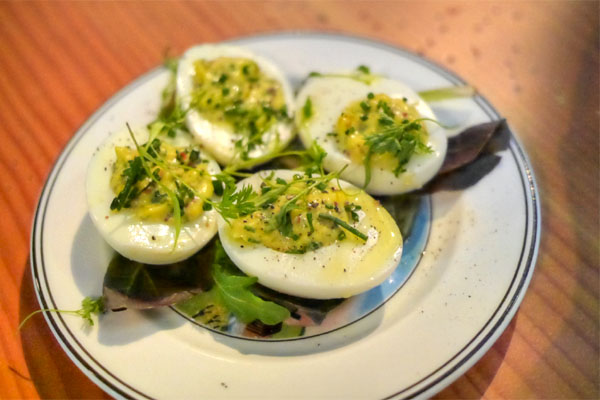 Deviled Eggs [$8.00]
| chives, cayenne, sweet relish, red onion
Regular readers will know that I can't resist ordering the deviled eggs on a menu, and the ones here didn't let me down. Think classic flavors, but with just a smidge of heat and a lovely bit of piquancy from the relish to even out the lushness of that yolk.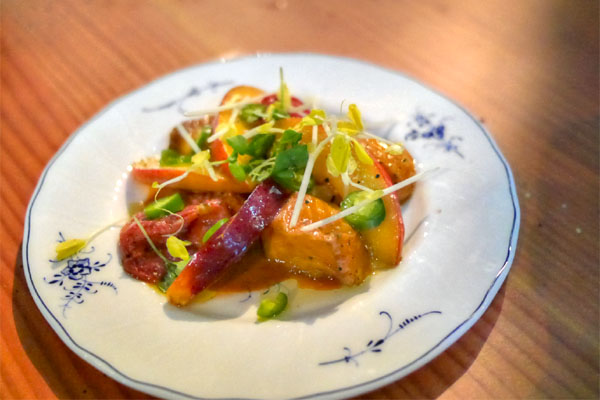 Tomato [$8.00]
| confit, nectarines, chiles, garlic, red sauce
The pairing of tomato and nectarine was smart here, resulting in a sweet-n-tangy sort of character that was surprisingly effective, and which paired beautifully with the palpable touch of heat in the dish. One of the highlights of the meal.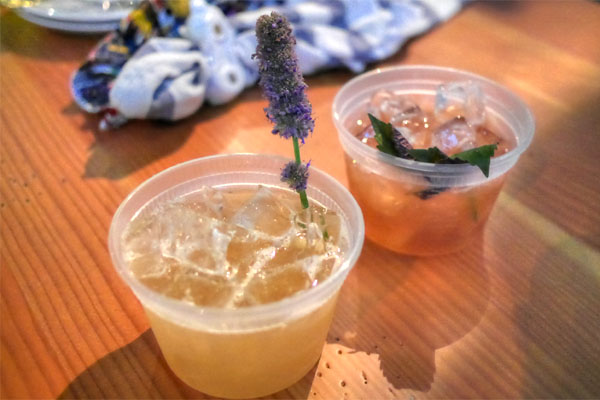 Pimp's Cup [$13.00]
| Rhubarb, shiso, cucumber, ginger
White Peach [$13.00]
| Pisco, white peach, anise hyssop
We actually ran into Biancaniello on the way up to the restaurant, and he recommended a few cocktails for us, so unsurprisingly we went with his suggestions. The
Pimp's Cup
was nominally a play on the classic Pimm's Cup, with a refreshing mix of fruity, subtly spicy flavors overarched by the aromatics of lavender. The
White Peach
, meanwhile, was jam-packed with the essence of the stone fruit, the pisco adding the right amount of weight to the cocktail while the anise hyssop imparted just a tinge of zippiness to round things out.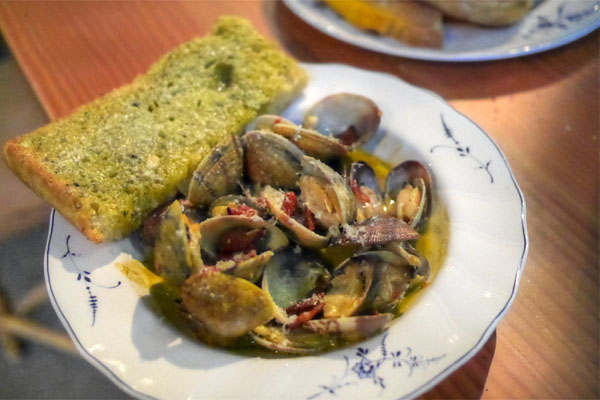 Clams [$12.00]
| chicken stock, chiles, lemon, bacon, sambal, green sauce
Clams were appropriately briny, their ocean-y flavors complemented by the potency of bacon and a great whisper of heat from the sambal.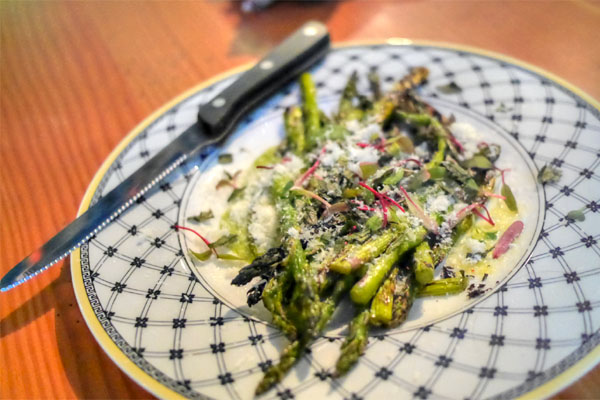 Asparagus [$12.00]
| grilled, parmesan, lemon, green sauce
Asparagus also made a strong showing for itself, a smoky, astringent preparation amped up by the salty Parmesan while lemon offered up a good amount of countervailing tartness to the mix.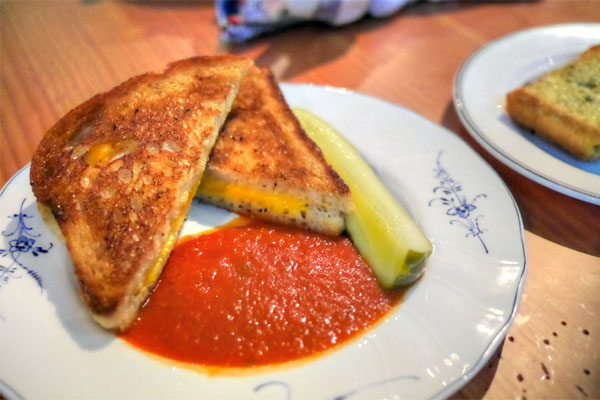 Grilled Cheese [$8.00]
| sourdough, cheddar cheese, tomato sauce
Next was a dish supposedly inspired by the movie
Chef
and its main actor Jon Favreau, whom Choi taught to make grilled cheese. The sandwich was classic in essence, giving you the satisfying flavors you'd expect with the cheese and bread involved. The tomato sauce, meanwhile, stood in for the dish's traditional accompaniment of tomato soup, and added a much appreciated tartness to things.
Schnitzel [$20.00]
| lemon, dijon, wild arugula, yellow sauce
Our most substantial dish of the night was a take on the traditional Austrian
Wiener Schnitzel
, and one of the standouts for me. Choi's version was made with pork, a tender, surprisingly juicy cutlet that showed off a delightfully crisp panko-based crust. The use of mustard and
mirin
gave up a sweet-n-sour sort of combo that paired superbly with the meat, and the brightness of the greens up top finished out things beautifully.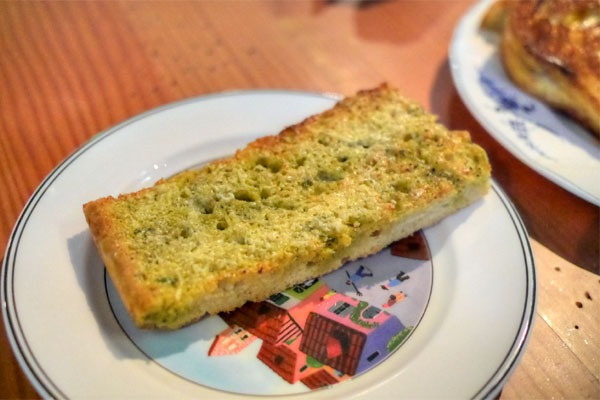 Garlic Bread [$3.00]
Commissary's garlic bread was certainly enjoyable: nicely crisp, suitably garlicky, and not overly oily as it can sometimes get.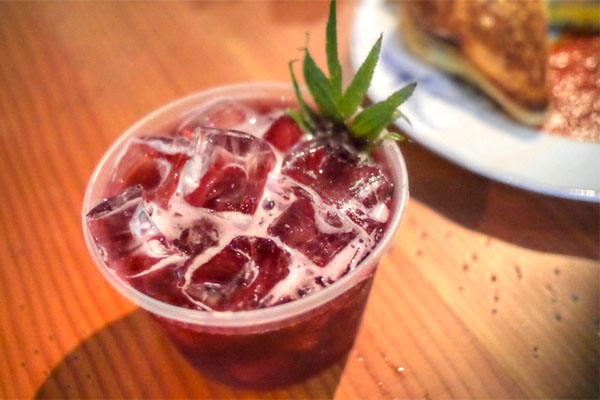 Blueberry [$13.00]
| Bourbon, cucumber, huacatay, blueberry
The
Blueberry
cocktail was also to my liking, the disparate qualities of the fruit and whiskey nicely commingled here, set off by the brightness of the cucumber and black mint.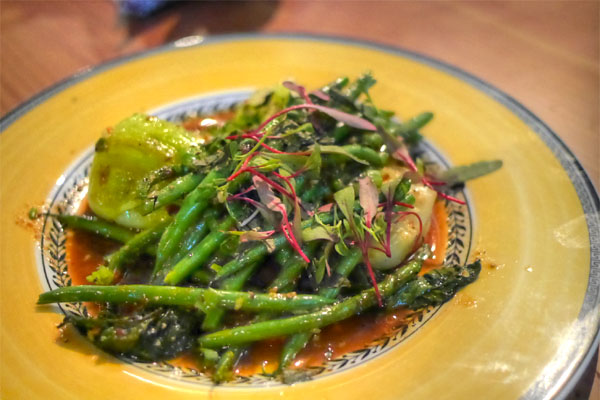 Bok Choy [$12.00]
| garlic, ginger, green onion, chilies, brown sauce
I was sort of diggin' a dish of Chinese cabbage as well. You had the light, crunchy bok choy as a base, joined by green bean, with the combination of garlic-ginger-onion-chile-soy imparting an spicy, savory, Asian-y flair to things.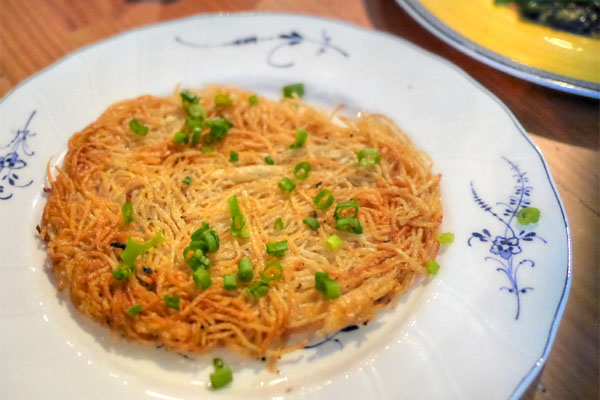 Hashbrowns [$3.00]
Given my penchant for breakfast foods at night, I just had to try the hash browns. Commissary's was an extra crispy version, and was particularly tasty when taken with a dab of the included ketchup.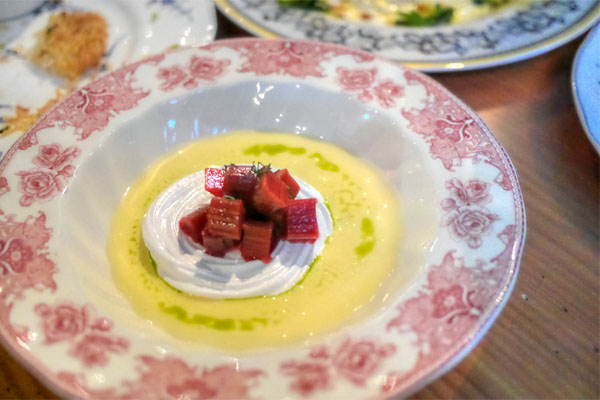 Rhubarb [$8.00]
Commissary's sole dessert featured rhubarb, the veggie's sweet-tart nature complemented by the comparative lightness of the meringue while a citrus-y custard tied everything together. Taken all at once, the whole thing was a bit reminiscent of key lime pie.
I don't think any of us were really sure what Choi and company were planning with Commissary, and I'm still not sure if I do, but the meal I had was quite a good one. Drinks were exactly what they set out to be, and the cooking was satisfying in a classic sort of manner, but was also kept interesting and fresh enough. Veggies, and to a lesser extent, fruits, are meant to be the stars here, and they were for the most part, but that schnitzel was
damn
tasty at the same time. This is probably the most intriguing, perplexing food Choi's done since he ascended to fame in '09, so I'm curious to see where he goes from here.