Kato (Los Angeles, CA) [2]
Kato Restaurant
11925 Santa Monica Blvd, Los Angeles, CA 90025
424.535.3041
www.katorestaurant.com
Wed 05/13/2020, 06:05p-07:00p
One of the more noteworthy success stories of the LA food scene over the past few years has to be that of Jonathan Yao's contemporary Taiwanese-Japanese spot
Kato
. Since debuting in June 2016, the restaurant has racked up more than its fair share of accolades.
GQ
put Kato on its "
Best New Restaurant Lists
" in April 2017, while Yao scored
Food & Wine
's "
Best New Chef
" award the following May. The Chef even landed on
Forbes
' "
30 Under 30
" list, and was ranked #1 on the
LA Times
' "
101 Best Restaurants
" list for 2019. James Beard has been paying attention, too, having bestowed "Rising Star Chef of the Year" semifinalist nods in 2018/2019/2020, and finalist status for the same award in 2019/2020. Perhaps most importantly, the restaurant landed a star in Michelin's inaugural California guide back in June last year.
Fanfare aside, I last reported on Kato back in April 2017, and was long overdue for a revisit. In fact, I was planning on dining there earlier this year, but the coronavirus scuttled those plans. The restaurant was one of the first to shut down, announcing its closure on March 15th. However, it was recently revealed that the place would be back in action serving takeout, and I soon made plans to visit on opening night. "Kato Homestyle To Go" officially kicked off on May 13th, with tickets available
on Tock
. The pricing was $60 a person, plus 9.5% tax and an optional 22% gratuity.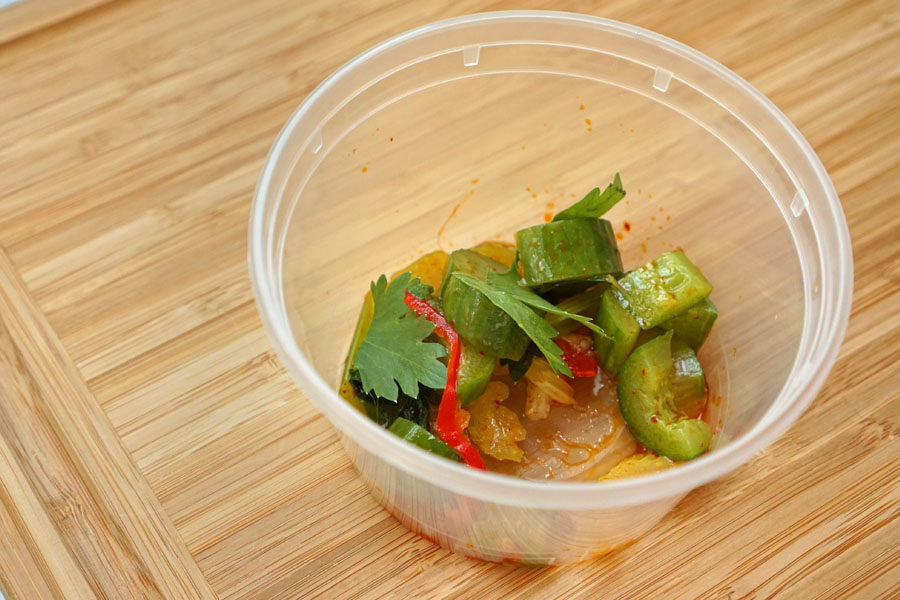 1: Smashed cucumber, celery and lovage salad
Up first was Kato's take on
pai huanggua
. I found it particularly aromatic due to the use of lovage, while the dish's overall tart flavors were smartly countered by the astringent nature of the celery.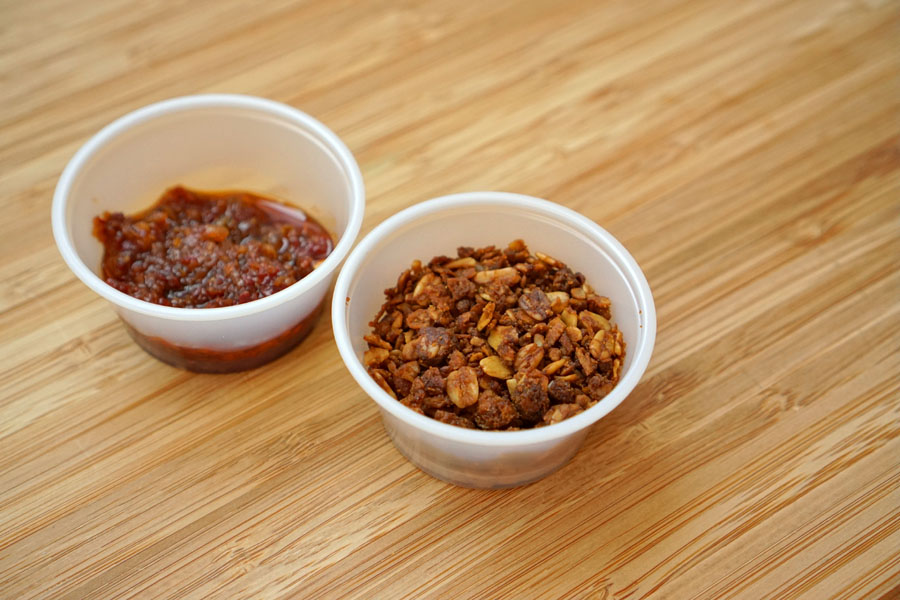 I was provided these two accompaniments, which I used mostly for the "noodles" below.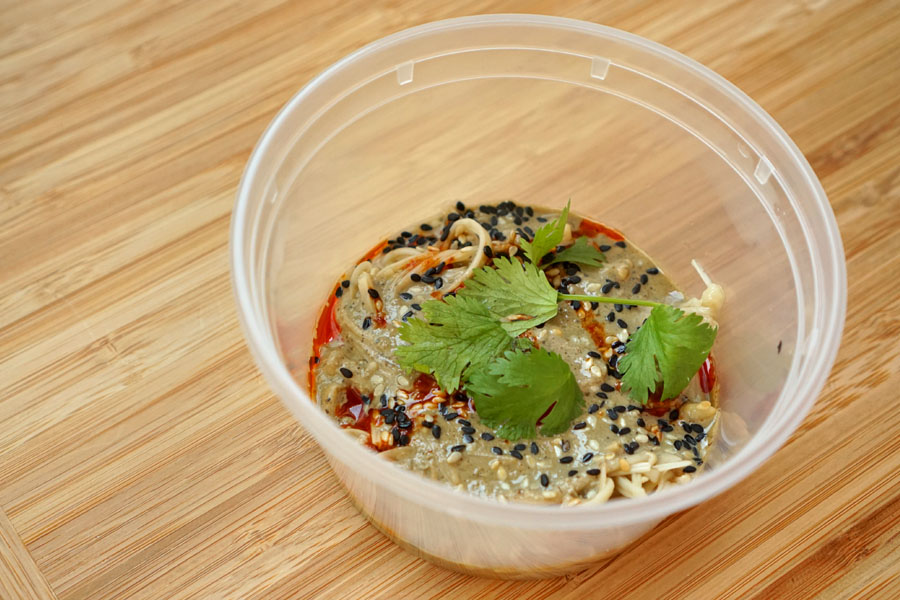 2: Enoki dan dan, Kato chili oil
Here we see an ingenious reimagining of
dandanmian
.
Enokitake
replaced the usual noodles, resulting in a wonderful crunch from the mushrooms. Even better was the intense, in-your-face nuttiness present, and how that incorporated a deep, lingering savor from the sesame that played perfectly with the chili oil.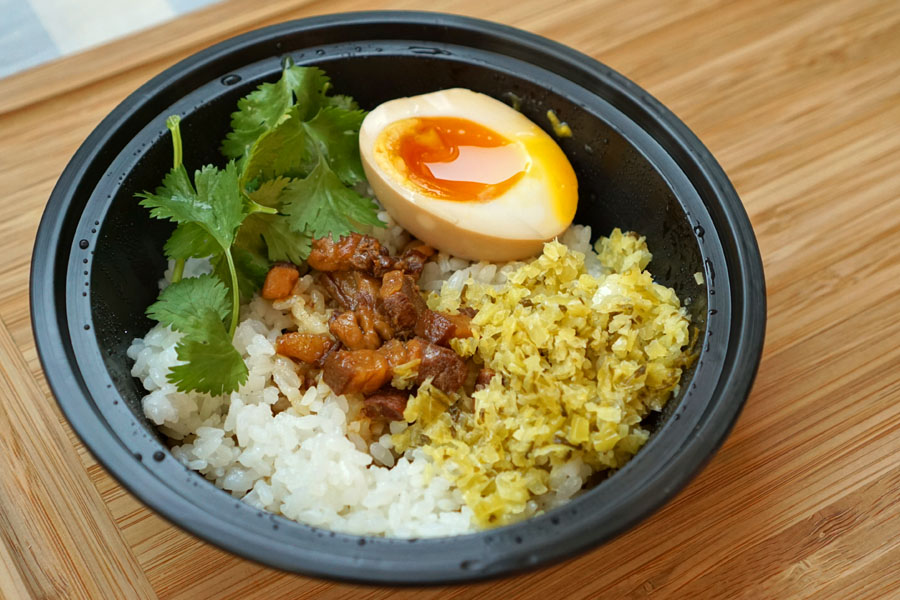 3: Lu rou fan - braised pork rice
Yao's become somewhat known for his
luroufan
, so it was no surprise to see it on the menu tonight. Think cozy, savory-sweet flavors, perked up by zesty bits of
suan cai
, the cilantro serving as a refreshing accent piece. And yes, the rice
just felt right
given all the other food I was having.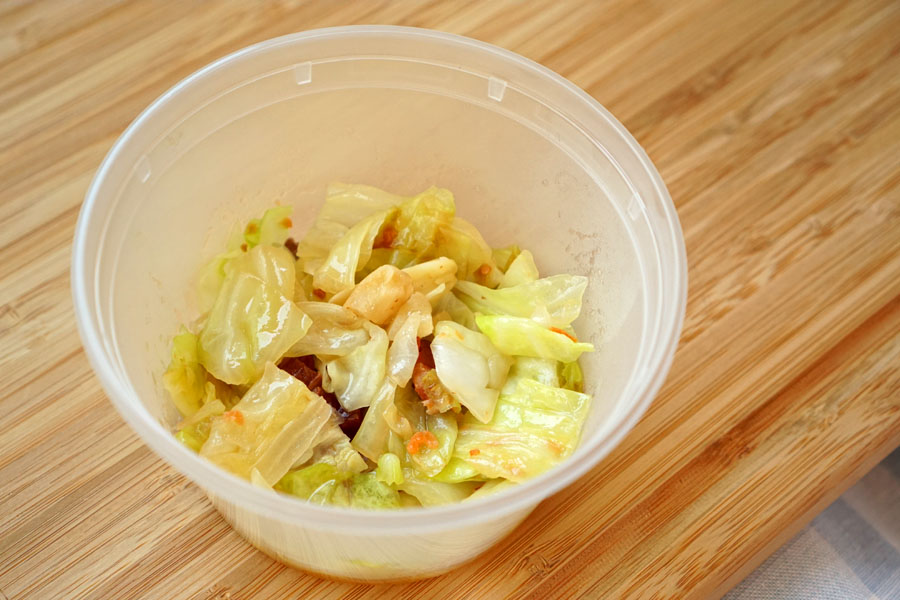 4: Garlic cabbage, dried shrimp and Nueske's bacon
I'm actually quite a fan of cabbage in general, and this version hit the mark. I really appreciated the crunch of the veggie here, and how its relatively subdued flavors were boosted by plenty of garlic, salty dices of pork, and especially the pungent, long-lasting brine of
xia mi
.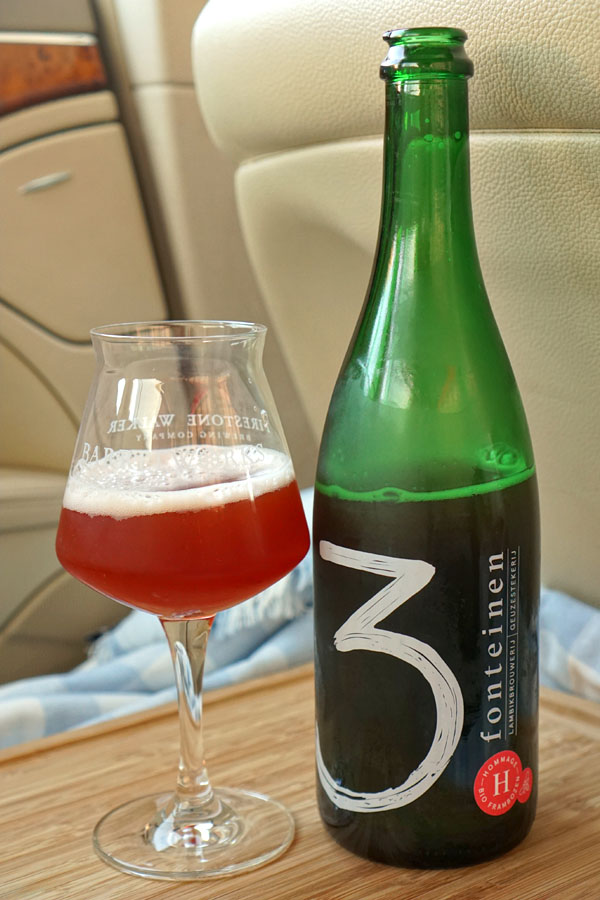 To drink, I went with a bottle of the
2018 Drie Fonteinen Hommage Bio Frambozen with Honey
, created by macerating sour cherries and organic raspberries on young lambic for six months, then blending the resultant beer with more lambic as well as local honey. The nose here veered tart and yeasty, as expected, with plenty of red fruit of course. Tasting it, I found sour, crisp, earthy notes up front, leading to juicy berries and plenty of balsamic on the finish. The funk on this one definitely intensified as the beer warmed.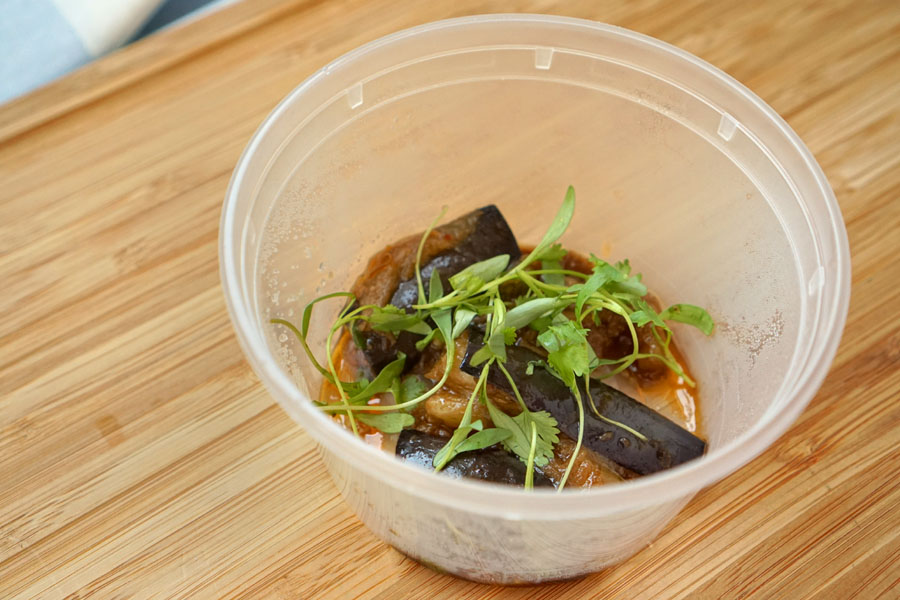 5: Fish fragrant eggplant
Next came a version of
yu xiang qiezi
, which featured a familiar commingling of savory 'n' sweet flavors, deftly freshened up by the herbs up top. I just wish that the eggplant had a bit more texture to it.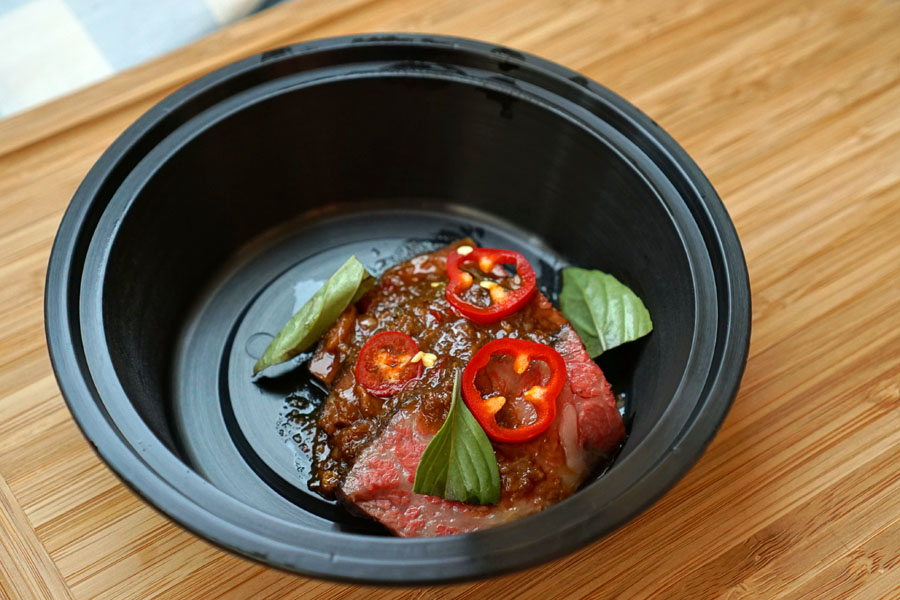 6: American wagyu short rib, 3 cup style
Though the
sanbei
-style preparation is usually reserved for chicken, it was applied to beef here with pretty stellar results. As you can see from the photo, the short rib was heavily marbled, resulting in an utterly lush, fatty eating experience dutifully enhanced by that umami-laden three-cup sauce, all while the basil added a wonderfully fragrant element.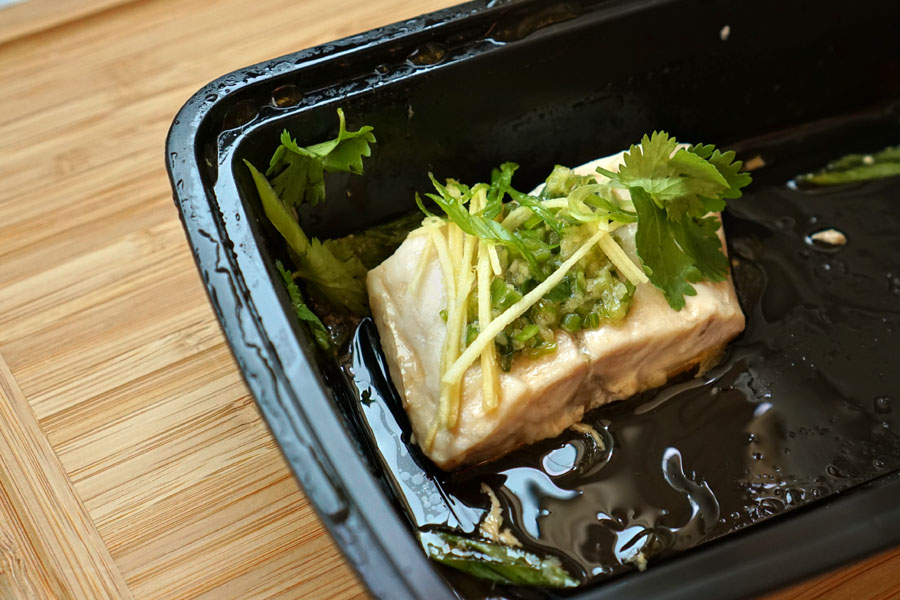 7: Steamed fish, ginger, scallion
For our final savory, we had here Yao's interpretation of
qingzheng yu
. The fish ate juicy, tender, and just flaky enough, but what struck me here was its absolutely delightful aromatics. I was a big fan of the piquant slivers of ginger too, but even better was the marriage of scallion and cilantro, which just complemented the fish beautifully.
8: Buttermilk pudding, kaya, pineapple, coffee brown butter oats
Time for dessert. Here, coconut utterly pervaded the entire dish in a couple forms. The richness of brown butter made itself known as a contrast, while pineapple provided a necessary tartness. I found this very reminiscent of something I've had before, but I couldn't quite put my finger on what exactly.
Kato was worth the wait. Yao's cooking tonight was like a homier variant of what he typically serves at the restaurant. I found familiar, comforting flavors for sure, but remixed and reworked just enough to keep things fun. Once COVID-19 passes, I'm definitely looking forward to returning to Kato for a proper meal. However, even more exciting is the prospect of another restaurant from the Chef, one that's much more ambitious. Tentatively titled "Yao," the place is ostensibly going to be a seafood-centric Chinese spot that's aiming for three Michelin stars. It's something LA has simply never seen before, so I'm really hoping that he can make it happen.