APL Restaurant (Los Angeles, CA) [2]
APL Steakhouse
1680 Vine St, Los Angeles, CA 90028
323.416.1280
www.aplrestaurant.com
Fri 06/26/2020, 08:35p-09:55p
My latest coronavirus takeout meal brought me back to Adam Perry Lang's
APL
. If you recall, I last visited the Hollywood steakhouse back in June 2018, not too long after the place opened. As we all know, the Chef is well known for his barbeque, but he actually didn't serve it at the restaurant initially. He only started offering BBQ last April as a summertime, daytime-only sort of affair. I didn't make it out last year, so when I discovered that Lang was now selling 'cue to-go, I decided to check it out.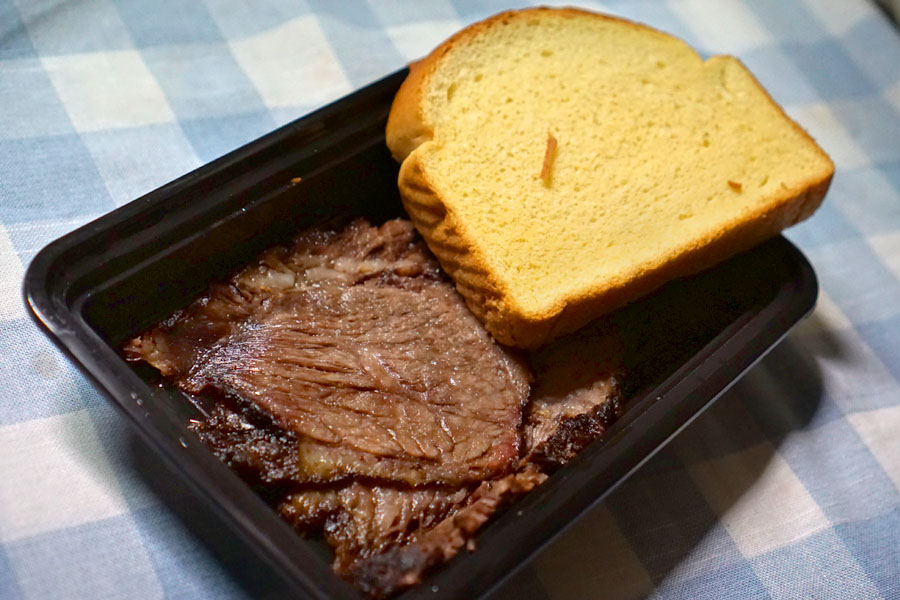 BBQ Brisket [$9.00]
| by the Quarter Pound
My go-to item for barbecue is brisket, so naturally this was a must-try for me. The meat demonstrated a concentrated sort of beefiness I'd say, and had this swelling spice that tingled the lips a touch. I found a decent amount of smoke character, though I wouldn't have minded more. I also would've preferred a thicker cut.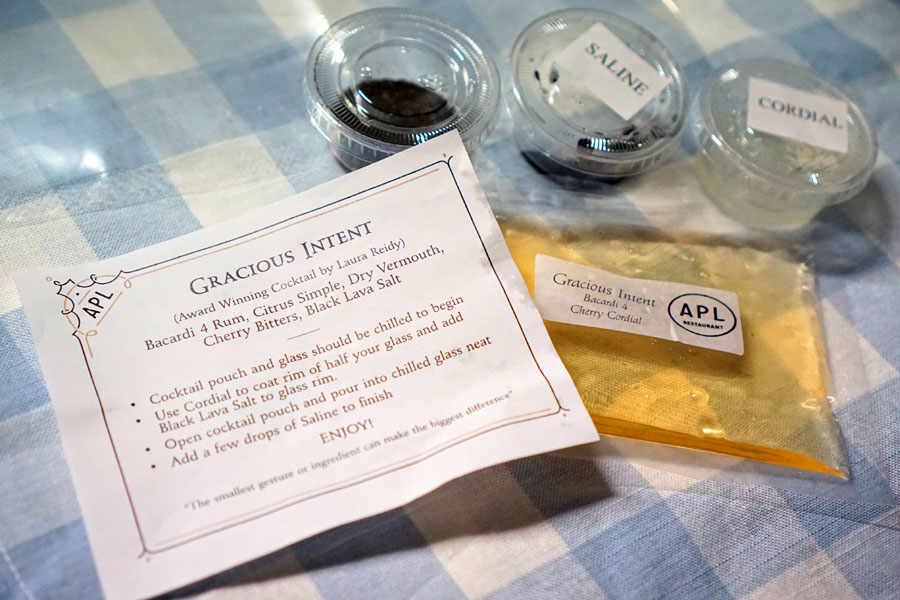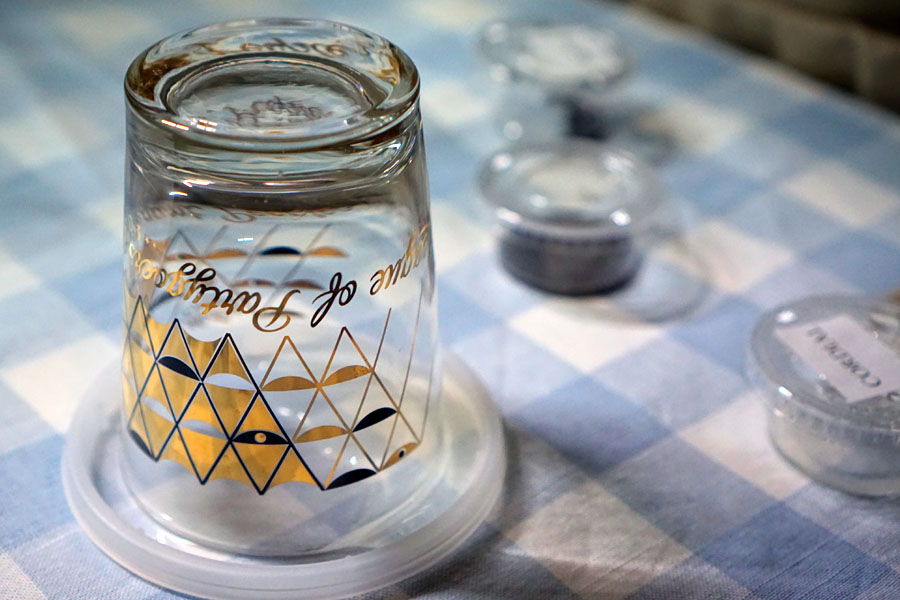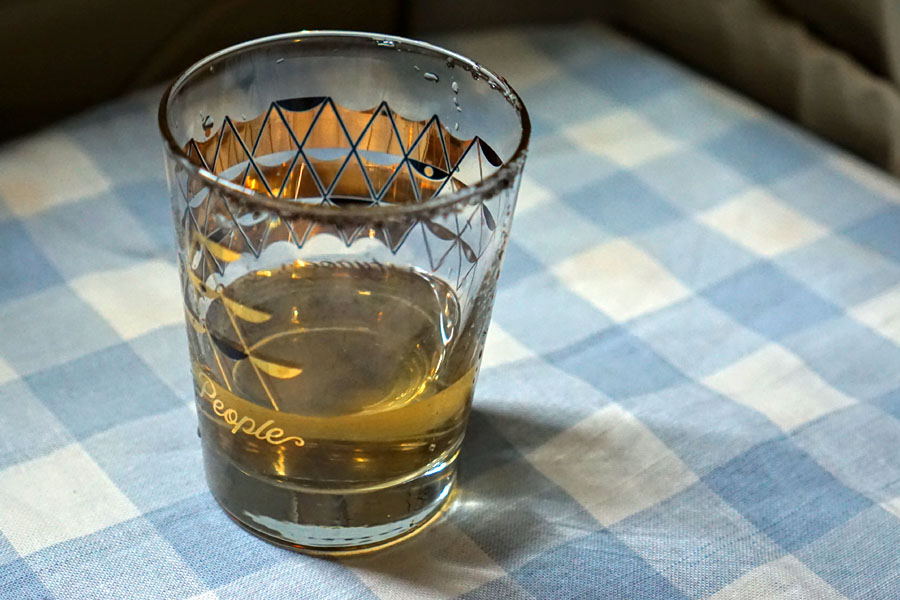 Gracious Intent [$13.00]
| (Award Winning Cocktail by Laura Reidy) Bacardi 4 Rum, Citrus Simple, Dry Vermouth, Cherry Bitters, Black Lava Salt
Over the past couple months, I've had a good number of cocktails packaged for take-out, but seeing the drinks presented in sealed plastic pouches was a new one for me. The method was probably more sanitary, but was also a pain in the ass to deal with, as I ended up having to puncture the pouch with a table knife I'd brought (invariably spilling some of the liquid in the process). Speaking of being a pain in the ass, the included instructions called for salting only
half
of the rim before coating in salt, which required me to repurpose a plastic container lid, making sure to keep the sticky cordial contained to only one half of said lid. In any case, I finally got it done, and ended up quite enjoying the cocktail. Nose here was sweet, cherried, and rather appealing overall. Tasting it, I got a marked fruitiness at first, leading to a floral sort of heat and a somewhat nutty element. As for the PITA salt rim, it was relatively subdued, and melded surprisingly seamlessly with the drink.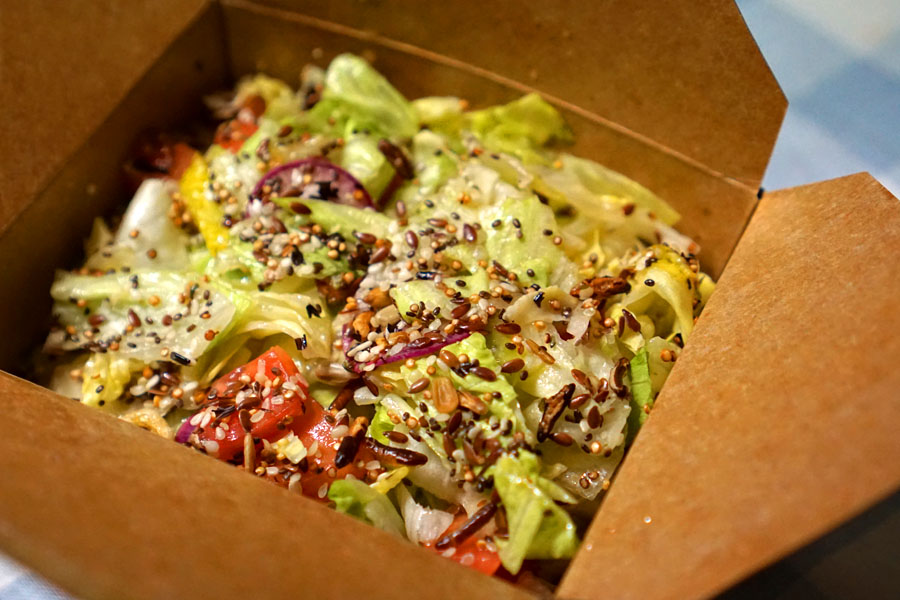 Small Chopped Salad [$10.00]
| 7 Grains & Seeds, Tomato, Shallot Vinaigrette
The salad met the mark thanks to its plethora of savory, nutty flavors that married well with the bright, crisp greens. The tomato imparted a juicy element to the dish, and the shallot-laced dressing was key in bringing it all together.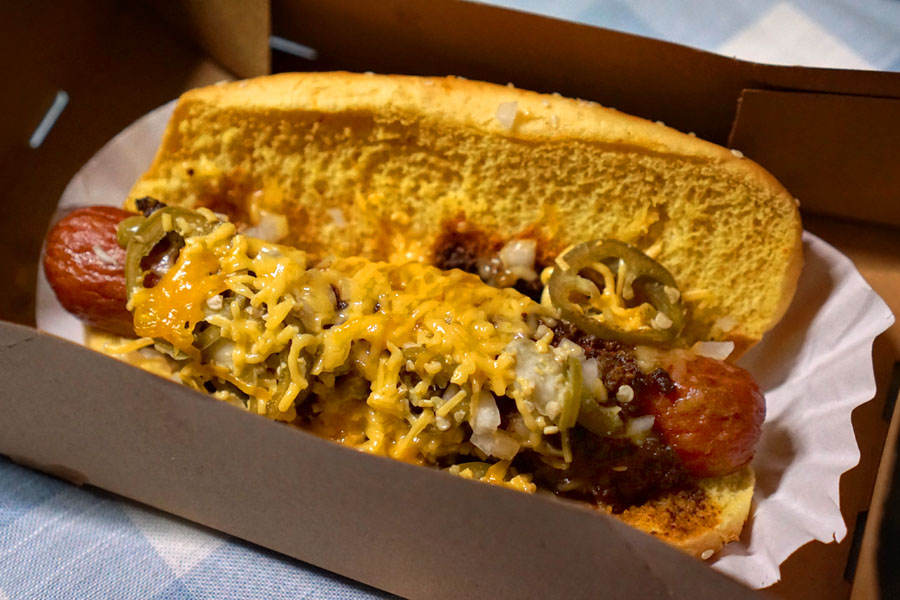 Double Beef Chili Dog [$8.00]
| Hatch Chili, Pickled Jalapeno, Cheddar, Onion
Back in August 2018, Lang launched APL Hole in the Wall, a daytime-only takeout window attached to the restaurant. One of the items sold from the window was a chili dog, so I'm assuming that this is basically it. It was pretty damn tasty. The sausage itself ate juicy, and had a good balance of savory and sweet that went well with the sweet-ish bun. Onion and pepper provided a crucial lightness, while chili imparted a familiar, homey finish. Interestingly enough, I found the overall effect reminiscent of the Pizza Hut supreme pizzas of my childhood.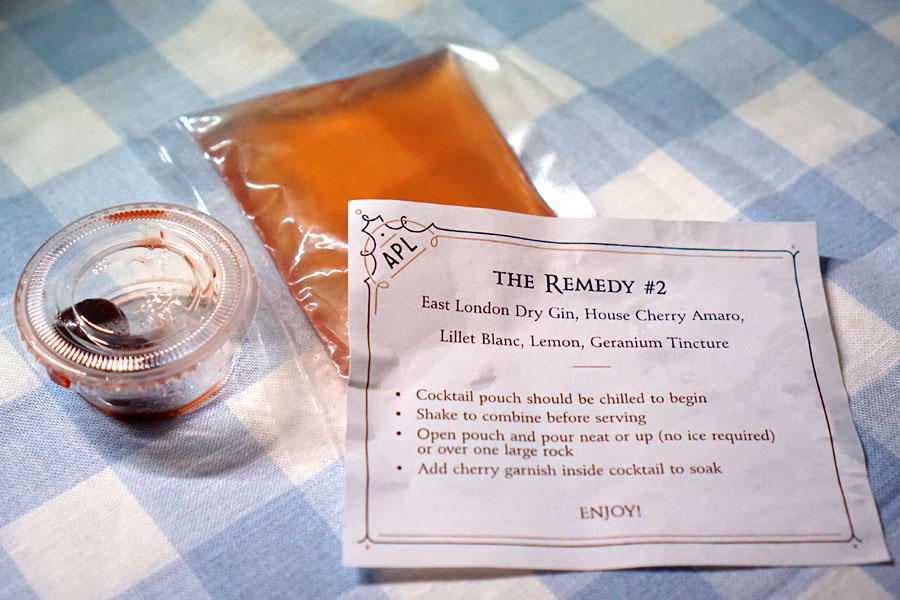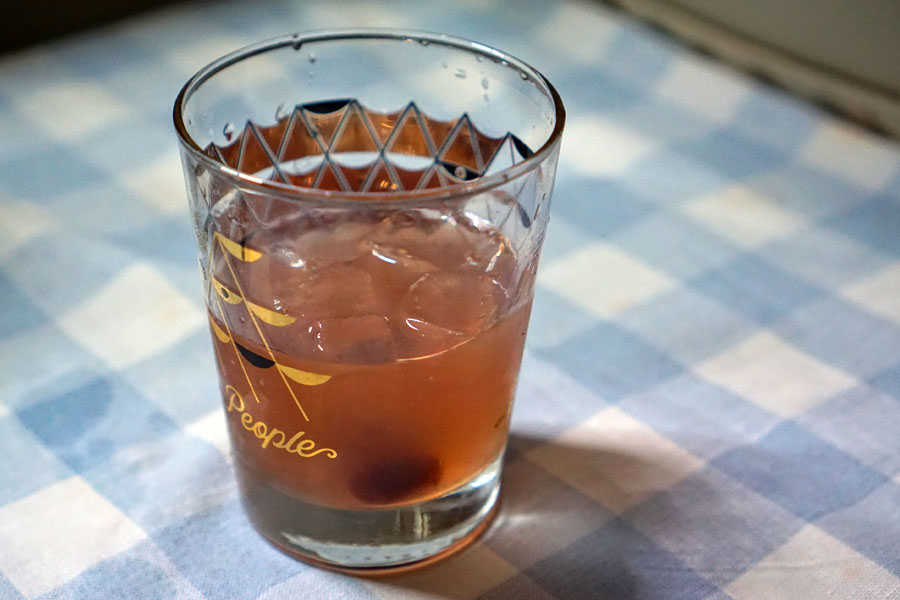 The Remedy #2 [$13.00]
| East London Dry Gin, House Cherry Amaro, Lillet Blanc, Lemon, Geranium Tincture
Thankfully, the night's second cocktail was far less of a pain in the ass to assemble. I actually had a Remedy #2 on my last visit here, but the bartenders have apparently changed things up a bit, replacing the maraschino with a cherry amaro, making the drink a bit more assertive. The nose here conveyed an elegant floral quality, with traces of what seemed like lavender. In terms of taste, I got massive floral, almost potpourri-like notes up front, while tart, astringent elements came in later and made for some balance. Do note that the staff was gracious enough to provide ice for these cocktails, which was a welcomed touch.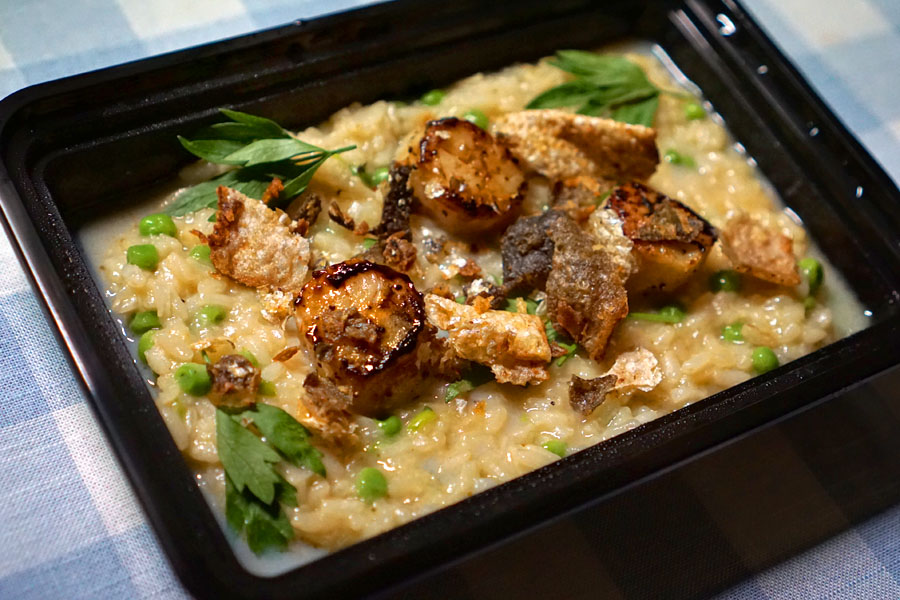 Crispy Salmon Skin Risotto [$14.00]
| Spring Onion, Sweet Peas
Given my well-documented penchant for risotto, I just had to get this. To me this was a heavier, richer, almost "buttery" example of the dish, but one that had its heft effectively contrasted by the peas. I was also a fan of the salt and crunch provided by the salmon skin, while the scallops were nicely caramelized to boot.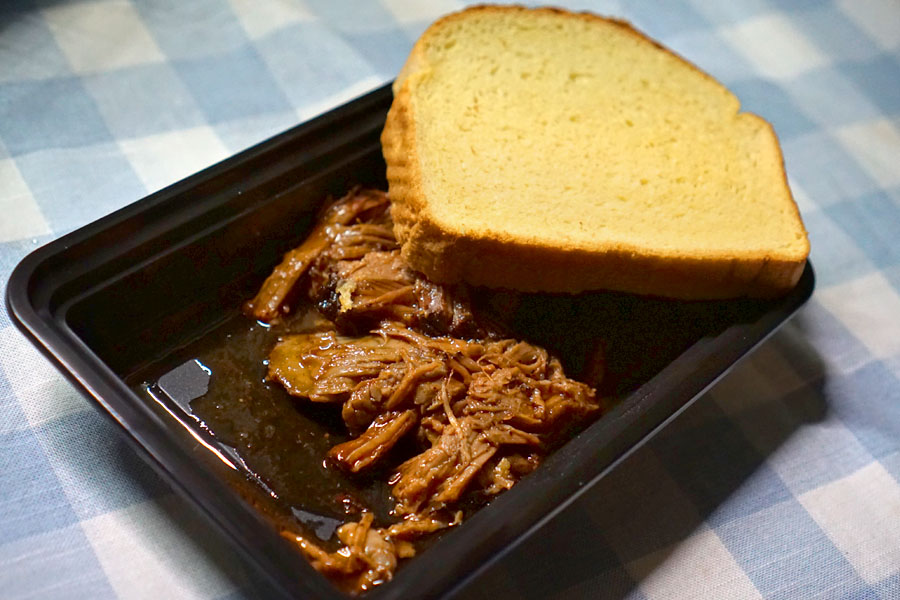 Pulled Pork [$8.00]
| by the Quarter Pound
Pulled pork arrived soft and succulent, its considerable sweetness evened out by an omnipresent tang and the slightest touch of heat. I quite liked the accompanying bread, a dense, cushion-y example that really helped moderate the potency of the meat.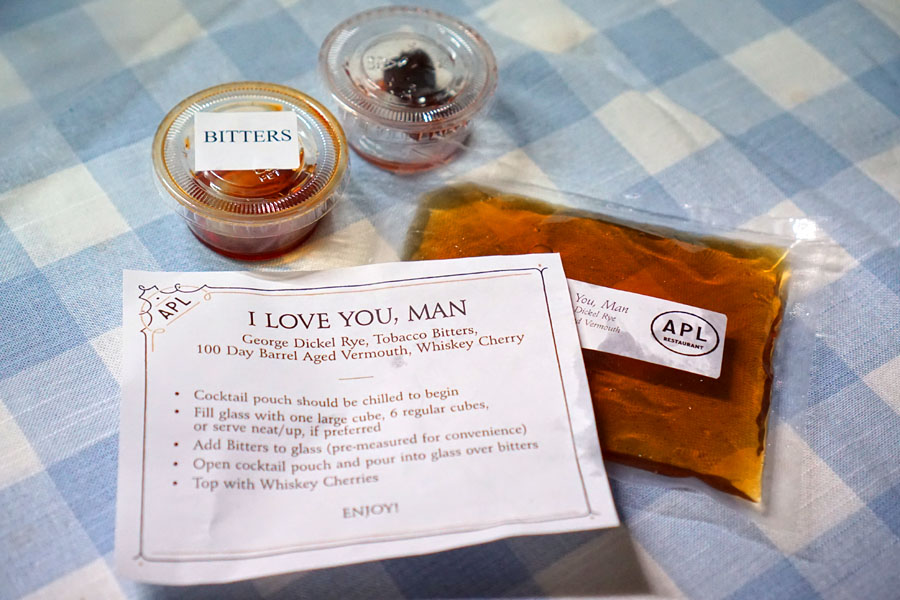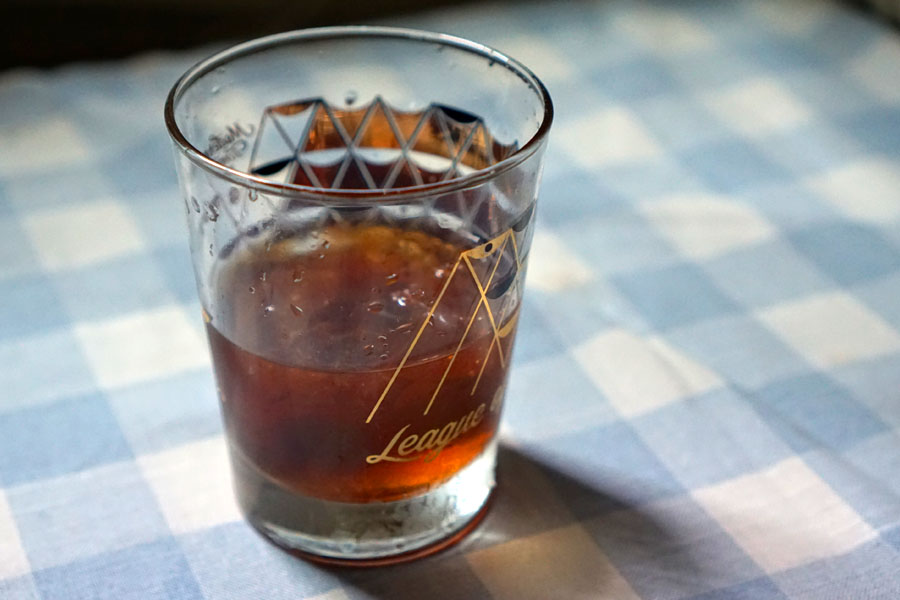 I Love You Man [$13.00]
| George Dickel Rye, Tobacco Bitters, 100 Day Barrel Aged Vermouth, Whiskey Cherry
My third and final cocktail was also relatively simple to construct. This one smelled decidedly bitter and boozy, but also showed off traces of brown sugar and what seemed like cinnamon. The taste displayed the spicy heat of the whiskey, balanced by a noticeable fruitiness and numerous zesty, bitter, herbal components.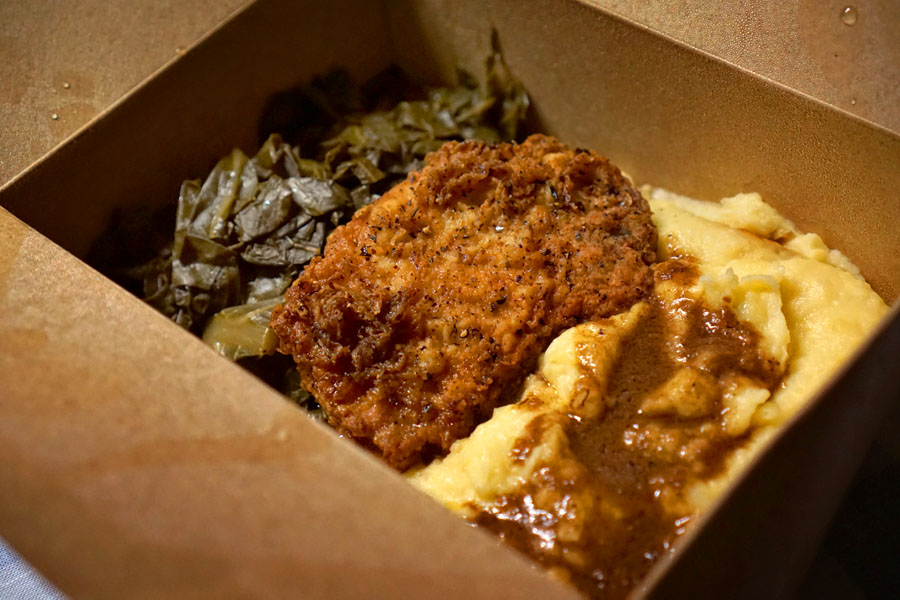 Fried Pork Chop Plate [$19.00]
| Mashed Potatoes, Gravy, Pork Braised Greens
The pork chop was a surprise standout thanks to its juiciness and spot on seasoning. Accompaniments included tart, bitter, earthy greens and a smooth, buttery, gravy-boosted preparation of mashed potatoes.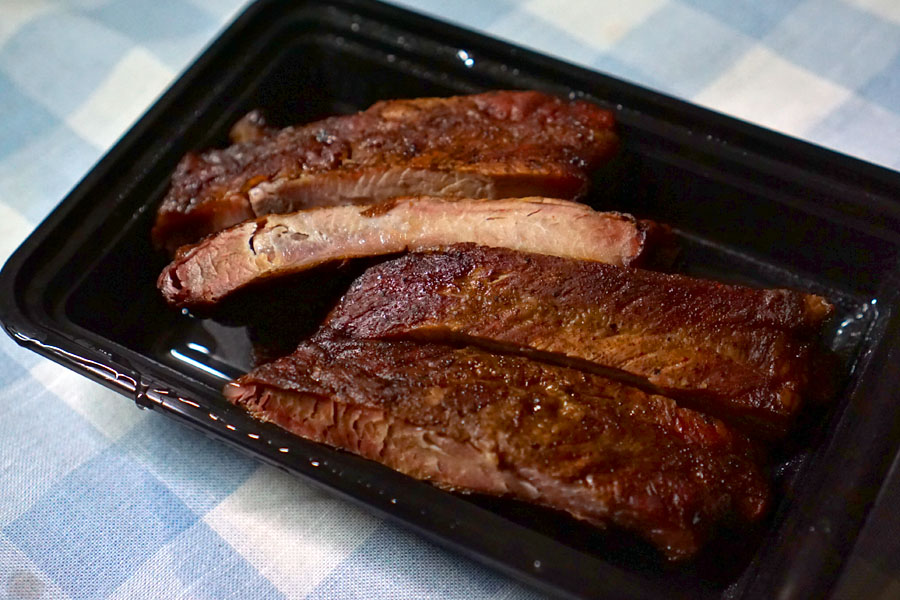 Smoked Pork Ribs [$18.00]
| by the Half Rack
Last up were the ribs, which tore particularly cleanly off the bone while offering up a rather satisfying chew. Lang was able to develop a pretty good smoke character here to go along with the meat's savory sweetness, and overall this was my favorite of the BBQ items I tried.
APL is a pretty highfalutin sort of place in normal times, so it was somewhat refreshing to see a more casual side of the restaurant tonight. The barbeque largely met expectations given the circumstances, though I think I actually preferred the non-BBQ dishes.