Mezquite Tacos & Fuego (Tustin, CA)
Mezquite Tacos y Fuego
14075 Newport Ave, Tustin, CA 92780
714.760.4441
www.mezquitetacos.com
Mon 01/25/2021, 06:20p-07:55p

At this point, I think it's safe to say that
Mexicali
's one of the most iconic taco spots in the Los Angeles region. Many of us probably know the story of Esdras Ochoa, who started out with a cart on the corner of 1st and Beaudry before expanding to a brick-and-mortar location in 2012. The success of Mexicali then led to the launch of
Salazar
, as well as a number of other international projects for the Chef.
However, many people probably aren't as familiar with the name Javier Fregoso, who's actually Mexicali's co-founder. A friend of Ochoa's, he also grew up near the border and had an affinity for northern Baja style tacos. He later studied at Southwestern College in Chula Vista from 2002 to 2004, and during his time there, found work at a Pizza Hut. After further schooling in political science at Imperial Valley College (near his hometown), Fregoso moved to the LA area in 2007 and worked for Network Management Group, a local firm that supplies casino employees, while also attending Glendale Community College. He would of course leave the casino job and start Mexicali with Ochoa in 2009, but actually sold his share in the business in 2016. With some cash in hand, he soon started work on Mezquite, and the restaurant debuted in June 2019.

Mezquite takes over the former home of Chronic Tacos (and Arukas Hair Resort before that). Not too much has changed since the Chronic days. The basic layout is identical, though some of the finishes and furnishings have been updated. Of course, the interior was closed for dining purposes due to coronavirus regulations.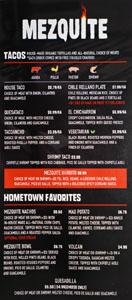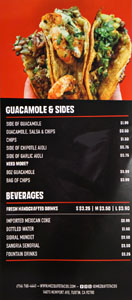 The menu features the usual suspects, along with a couple more atypical items. Click for larger versions.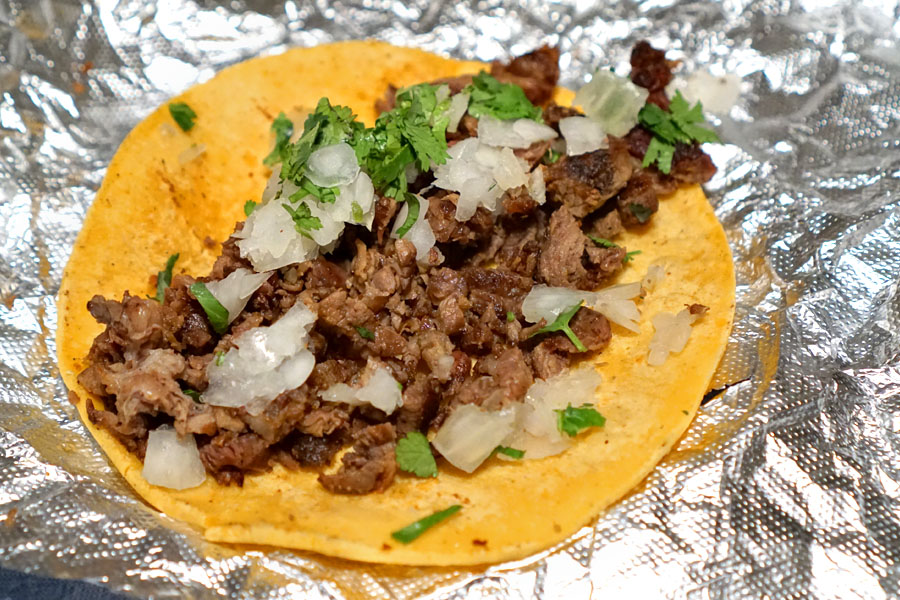 House Taco - Asada, Corn [$2.75]
| choice of meat, with onion, cilantro and guacamole
I kicked things off with the most fundamental form of taco consumption, and it was actually a tad more interesting than I expected. The somewhat chewy meat had a reasonable amount of sear and smoke, but what really struck me was how earthy the beef was; it reminded me a bit of dry-aged steak in fact. The pliant housemade tortilla did its job admirably, as did the onion and cilantro, but to really open things up, be sure to apply some salsa, or even better, guacasalsa.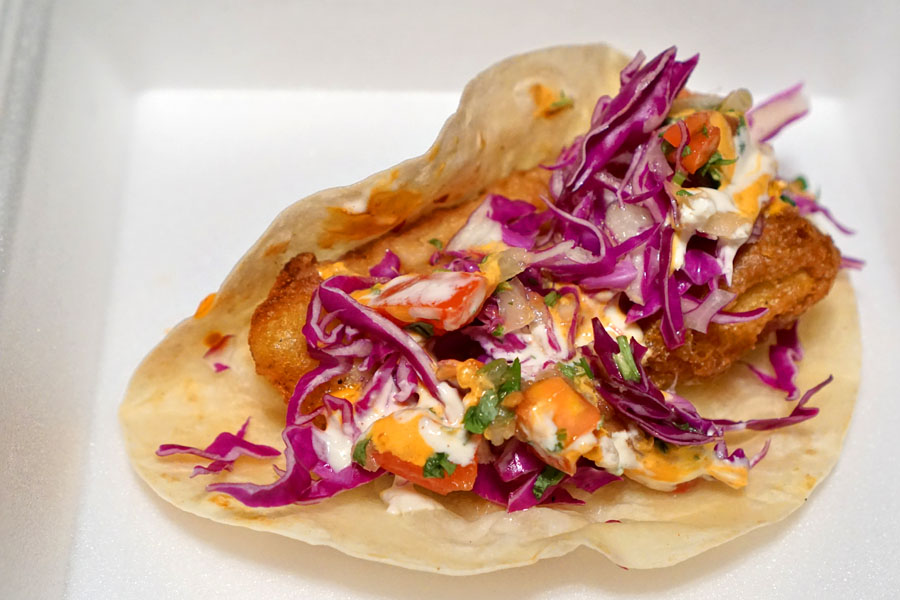 Fish Taco - Flour [$3.50]
| topped with red cabbage, pico de gallo and chipotle aioli, Mexican cream
The fish taco was an unanticipated standout, and one of the better versions I've had as of late. I really appreciated the light, airy nature of the batter here, and how it highlighted the supple, succulent fish inside. Cabbage functioned as crunchy counterpoint, as expected, and the crema helped bind it all together.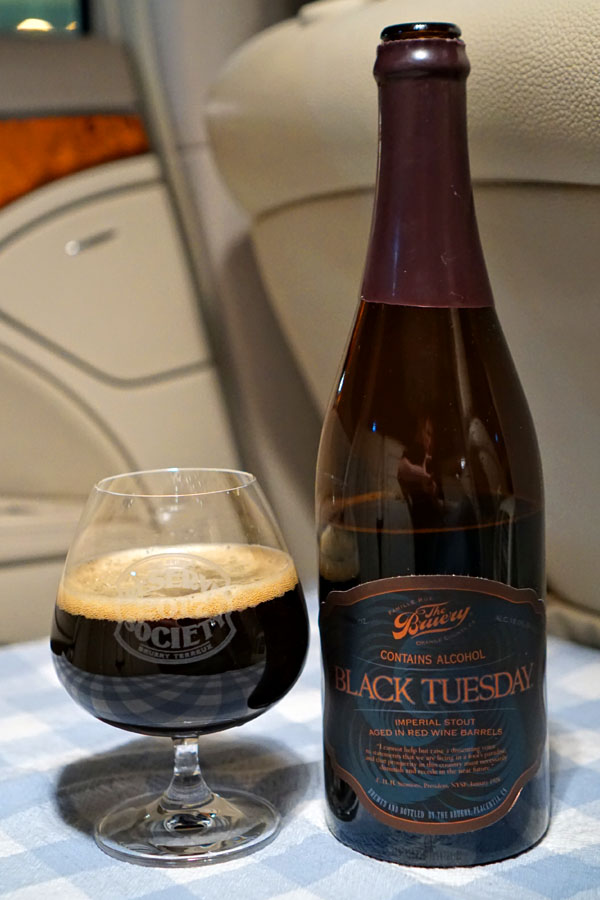 To drink, we had here the
2018 The Bruery Red Wine Barrel-Aged Black Tuesday
, an imperial stout aged in California red wine casks. The beer had a rich nose teeming with chocolate and tart, dark fruit. This led to a thick-ish palate filled with tangy raisin-like notes, sweet cacao, and a layer of funk that was a bit surprising.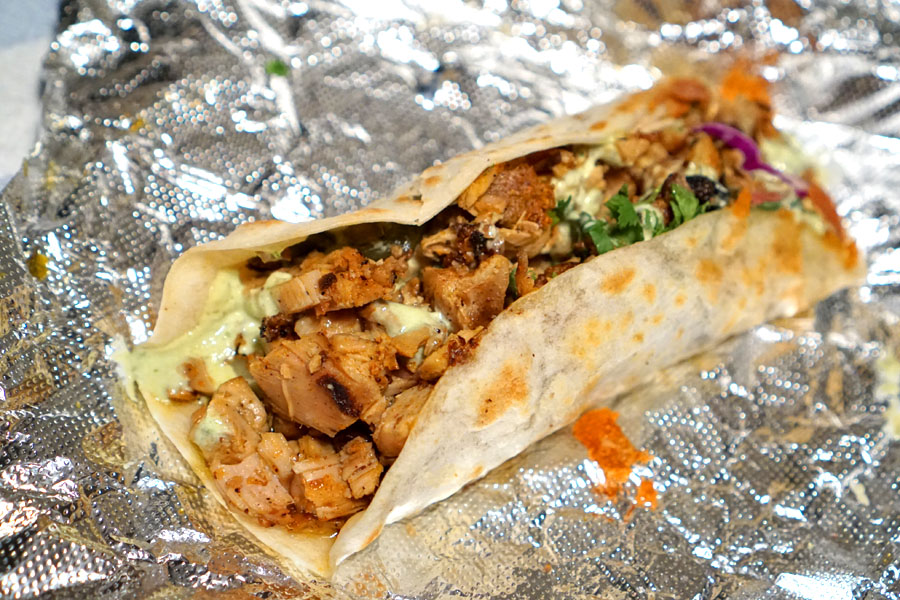 Tacoancho - Pollo, Flour [$2.99]
| choice of meat with melted cheese, roasted pasilla peppers and cerrano aioli topped with cilantro
Next was what I must assume is a new taco creation from the Chef. The mesquite-grilled chicken came out tender and well-charred, but what I liked the most were the nutty, peppery flavors at play, which I'd never encountered before in a taco. These flavors paired well with the bird, and in fact, salsa wasn't even needed. I also enjoyed the slight crispness of the flour tortilla here.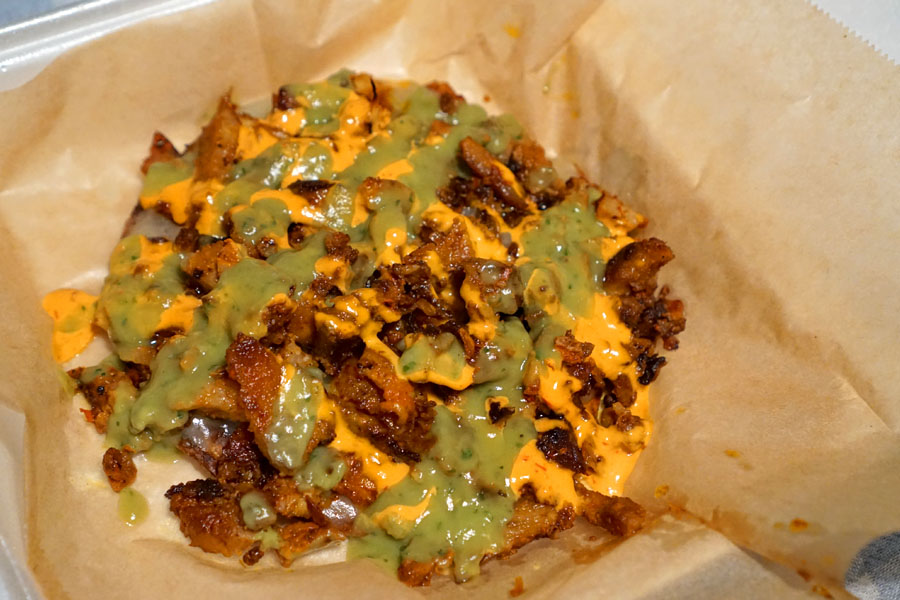 Volcan - Pastor [$4.99]
| choice of meat on a crispy tostada, melted cheese, topped with chipotle aioli sauce and guacamole
I imagine that this is Fregoso's take on the cachetadas served at Mexicali, and it worked out pretty well. The al pastor itself was well spiced and seasoned, and melded easily with the layer of cheese present. The hero here, though, was that stiff, super crunchy tortilla, which showed off some superb char flavors.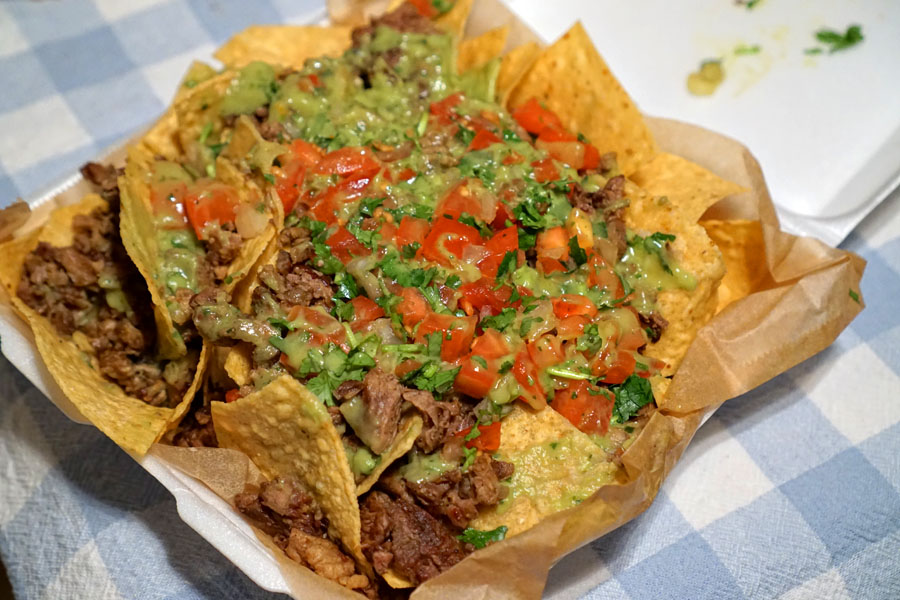 Mezquite Nachos - Asada [$8.65]
| choice of meat with in-house made all-natural corn chips, nacho cheese, topped with pico de gallo, guacamole and optional sour cream
I'm a sucker for nachos, so this was a must-order for me. It didn't disappoint. I loved the back-and-forth between the beef and the brightness of the pico and guac, while the chips were right on the money as well. It was a rather gratifying combination. The dish included a side of semi-trashy nacho cheese, but was actually fine without it.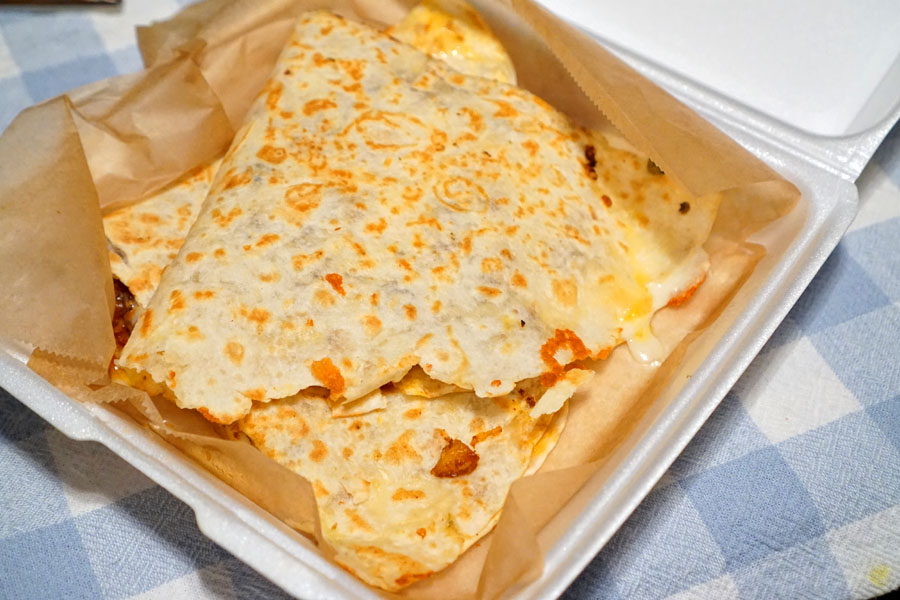 Quesadilla - Pastor [$6.75]
| choice of meat, melted cheese, pico de gallo and guacamole
We had here a mash-up of full-flavored pastor and melty cheese, all wrapped up in a large griddled crisp tortilla. This one delivered just what I expected.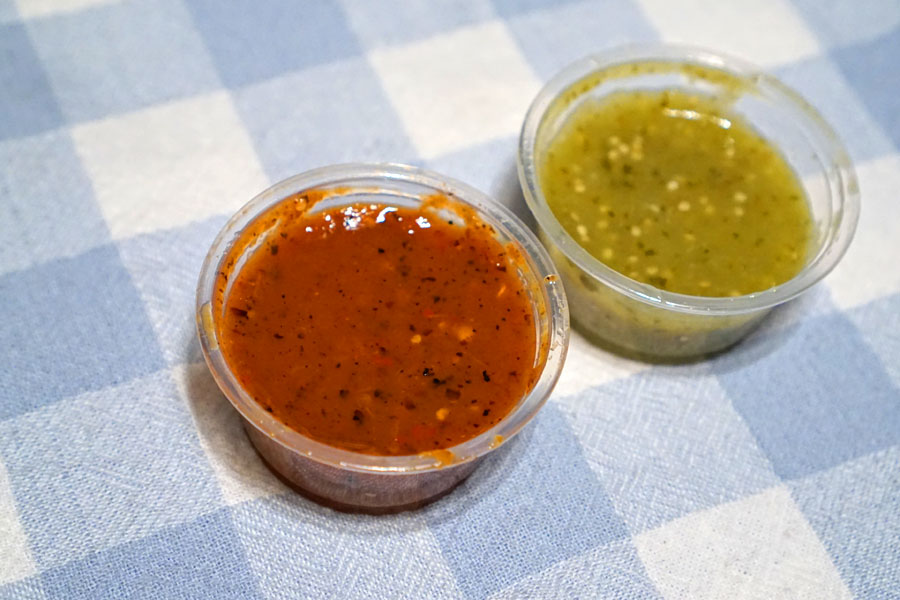 I was provided two complimentary types of salsa: a tart, slightly smoky, quite spicy rojo (with had an almost Asian-y flair to it); and a milder, zippy, herbaceous verde.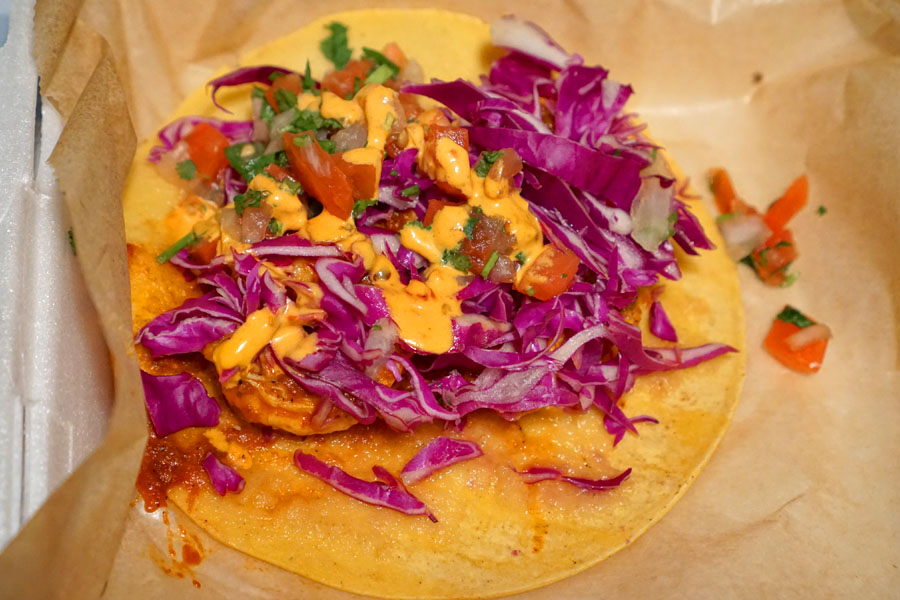 Shrimp Taco - Corn [$3.50]
| topped with red cabbage, pico de gallo and chipotle aioli
The shrimp were a touch more cooked than I would've liked, but fortunately this didn't distract from the taco too much. Chipotle aioli offered up a smoky, creamy character, while the cabbage and salsa really lightened things up. The corn tortilla, meanwhile, served as a moderating force.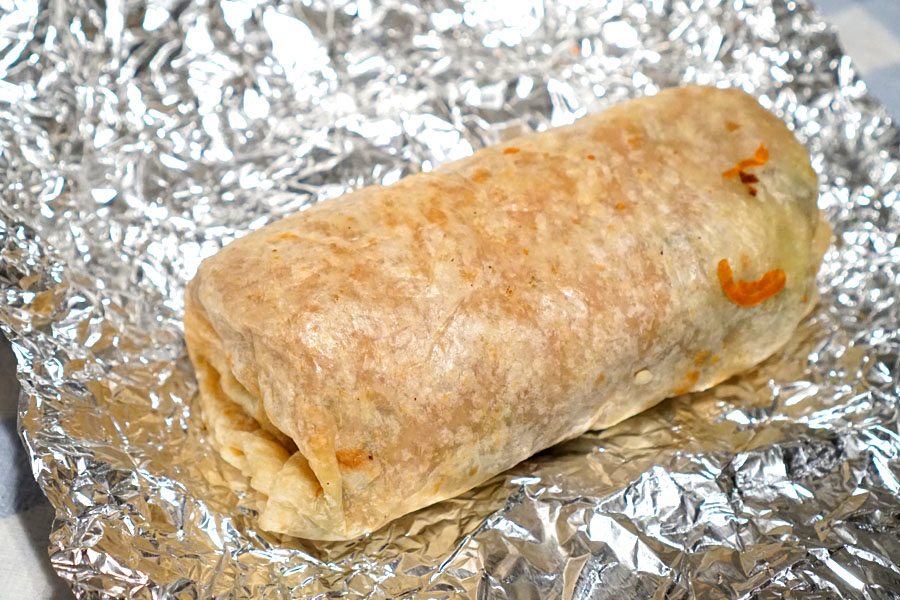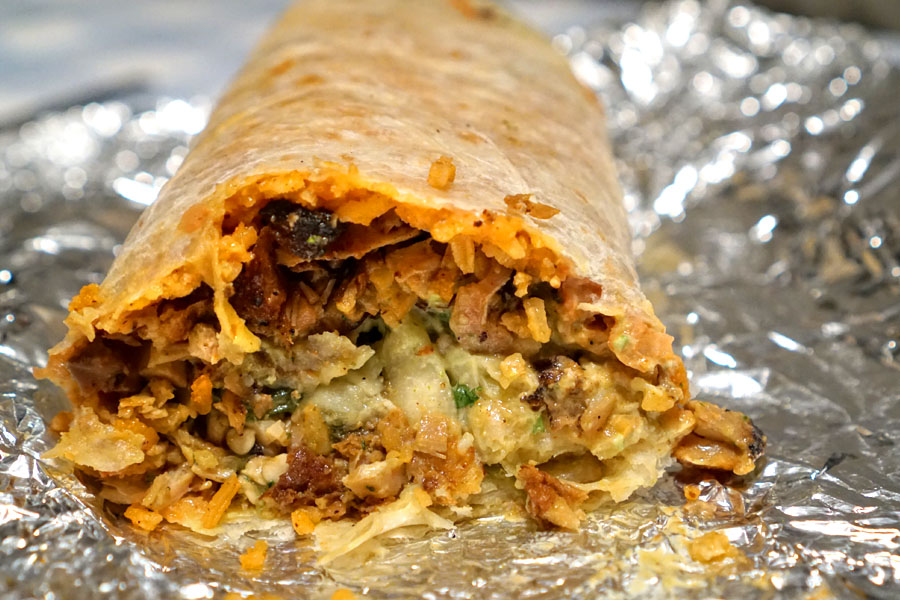 Mezquite Burrito - Pollo [$8.99]
| choice of meat, rice, beans, a luscious chile relleno, guacamole, pico de gallo, topped with a delicious spicy cerrano sauce
The burrito was a massive brick of a thing, but thankfully never felt monotonous. I opted for chicken as a filling, and the meat ate well, especially in concert with the pico and serrano dressing, while the rice and beans added the expected heft. The star of the show, though, was clearly that chile relleno, which was a smart addition that imparted both lushness and a vegetal heat to the burrito.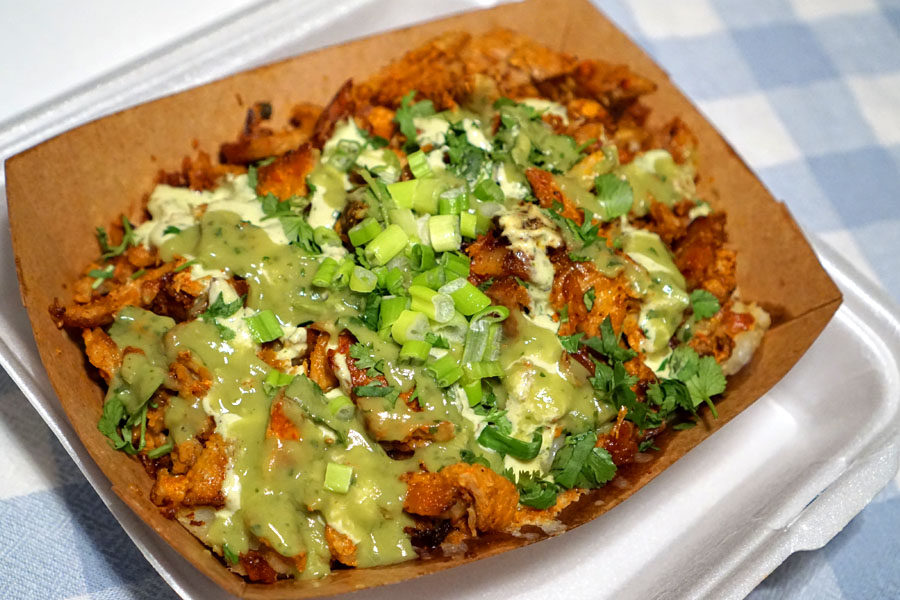 Mad Potato - Pastor [$6.99]
| choice of meat, baked potato, melted cheese, topped with cilantro, chives, cerrano aioli sauce and guacamole
Last up was what must be the most untraditional item on the menu. It was also one of the best things I had. I was especially impressed by how well the pork married with the zestiness of the scallions and cilantro, all while the stringy cheese conveyed a lusciousness that enveloped the fluffy chunks of potato. You can think of this as the most loaded baked potato ever.
I was quite content with my dinner tonight. The food actually has a pretty different feel compared to what I've experienced before at Mexicali, and is a bit more on the creative side. From what I understand, Fregoso designed this place to be a replicable concept, and I could see it working out for him. I certainly wouldn't mind a Mezquite closer to me.