World Seafood Restaurant (Alhambra, CA)
World Seafood Restaurant
1412 S Garfield Ave, Alhambra, CA 91801
626.282.3888
www.worldseafoodusa.com
Mon 05/31/2021, 01:30p-02:35p
Some readers are surprised that I don't have dim sum more frequently, and a major reason for that is because I'm just not in the SGV during the daytime very often. That being said, I did find myself in Pasadena recently for a wedding rehearsal, and afterward, I did take the opportunity to enjoy some
diǎnxīn
. The choice of establishment today was World Seafood, otherwise known in Chinese as 鴻豐尚品, or
hóng fēng shàng pǐn
.
The history behind this place is a bit interesting. If you recall, 1412 South Garfield was previously home to
Shi Hai
, another Cantonese spot that was opened in July 2014 by Li Feng and Yanhui Gong. Shi Hai was pretty well received, and even appeared on
GQ
's list of "
25 Most Outstanding Restaurants of 2015
." However, apparently the place wasn't doing all that great financially, and ownership decided to reposition the restaurant a bit more downmarket. World Seafood was thus incorporated in the late 2015/2016 timeframe, and later debuted in September 2016 with the Chinese name 同德樓, or
tóng dé lóu
. It appears that Feng left the business sometime in 2017, though Gong remained on board and brought on other partners; this appears to be what caused the change in World's Chinese signage to the current 鴻豐尚品.
If you're wondering about what happened to some of the team behind Shi Hai, they supposedly went down to Hacienda Heights and opened Pleasure Ocean in December 2015. Its Chinese name was 悦海酒家, or
yuè hǎi jiǔjiā
, while Shi Hai's was 世海酒家, or
shì hǎi jiǔjiā
, so very similar.

Inside, things haven't changed much since the Shi Hai days, which isn't necessarily a bad thing. Do note that the tables were spaced farther apart than I remember, a coronavirus-related concession I imagine.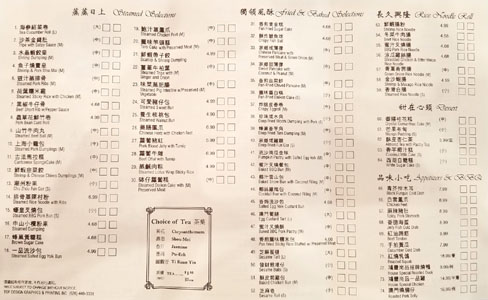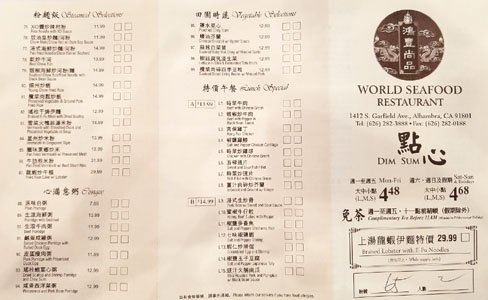 The dim sum menu is pictured above, and is about par for the course for a place like this. There's nothing too unusual or creative. Click for larger versions.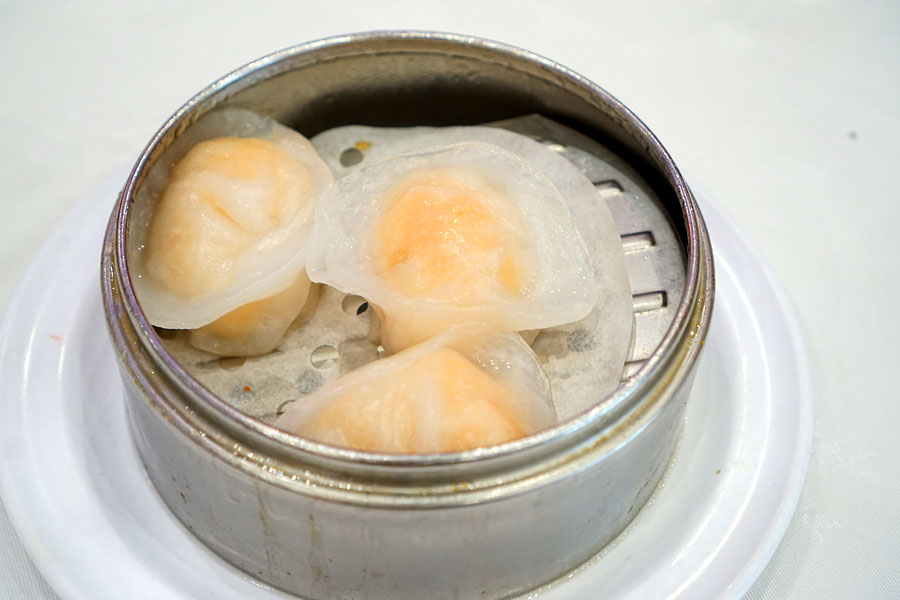 鮮蝦帶子餃 / Scallop & Shrimp Dumpling [$4.99]
First to arrive at the table were plump dumplings containing a sweet 'n' saline blend of supple scallop and snappy shrimp. They were tasty, but I was concerned about the skins, which were overly sticky and nearly impossible to handle without breakage.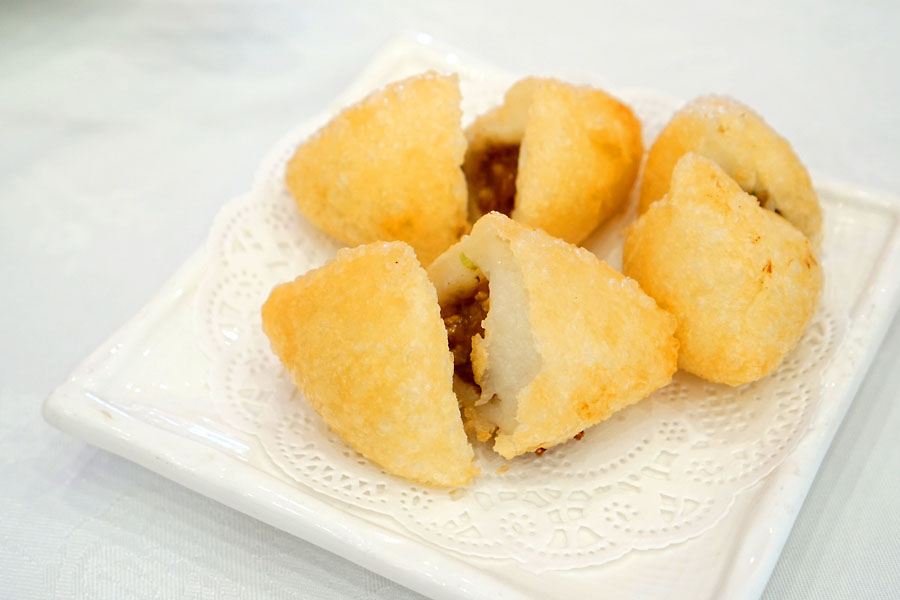 珍珠咸水角 / Deep Fried Mochi Dumpling with Pork (S) [$4.48]
Xián shuǐ jiǎo
are typically one of my favorite dim sum items, but the examples today seemed a bit under-fried. The dumplings did indeed show off that classic sweet-savory interplay I was looking for, but their sugary glutinous rice wrappers were thicker and gummier than I would've liked.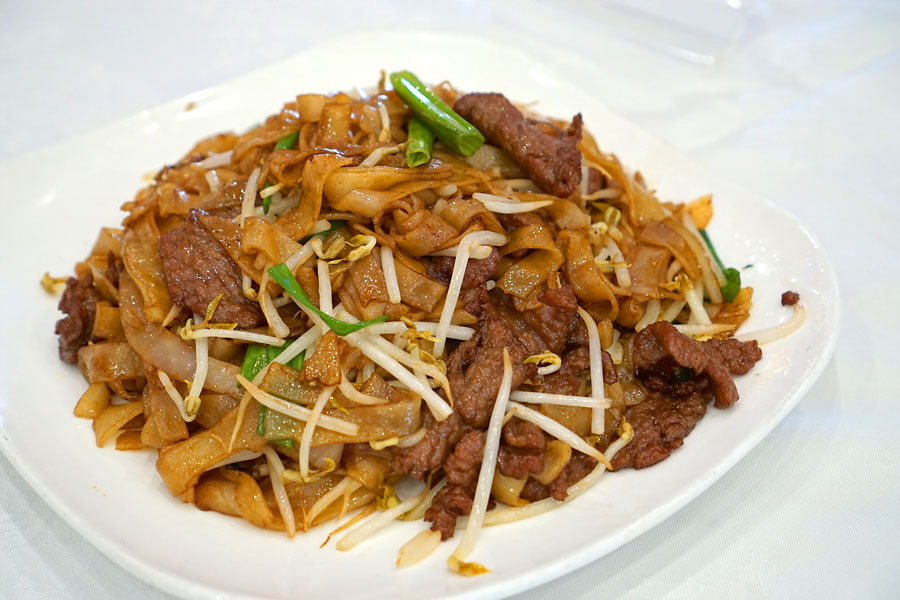 乾炒牛河 / Beef Chow Fun [$13.99]
Gān chǎo niú hé
is an icon of Cantonese cookery, so we were curious to try it here. The beef itself had the tenderness I wanted, but could've used more
wok hei
. Meanwhile, the rice noodles were properly supple and deeply savory, and were joined by a great bit of brightness from the bean sprouts and green onions. Quite enjoyable overall.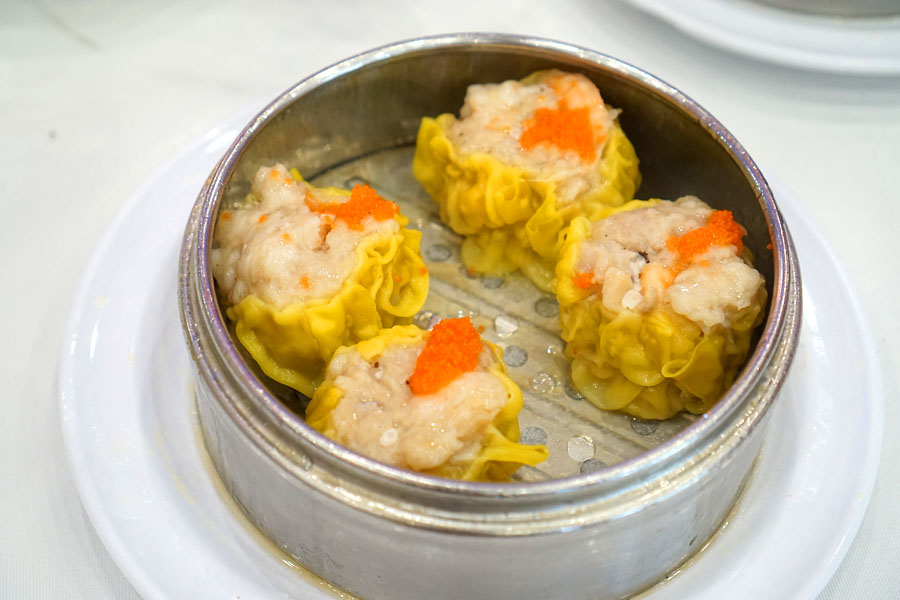 魚子燒賣皇 / Shrimp & Pork Shiu Mai (M) [$4.48]
Fish roe-topped shumai dumplings possessed a satisfyingly textured filling that did a nice job marrying the sweetness of shrimp with savory chunks of ground pork. A dim sum staple, so you should probably try it.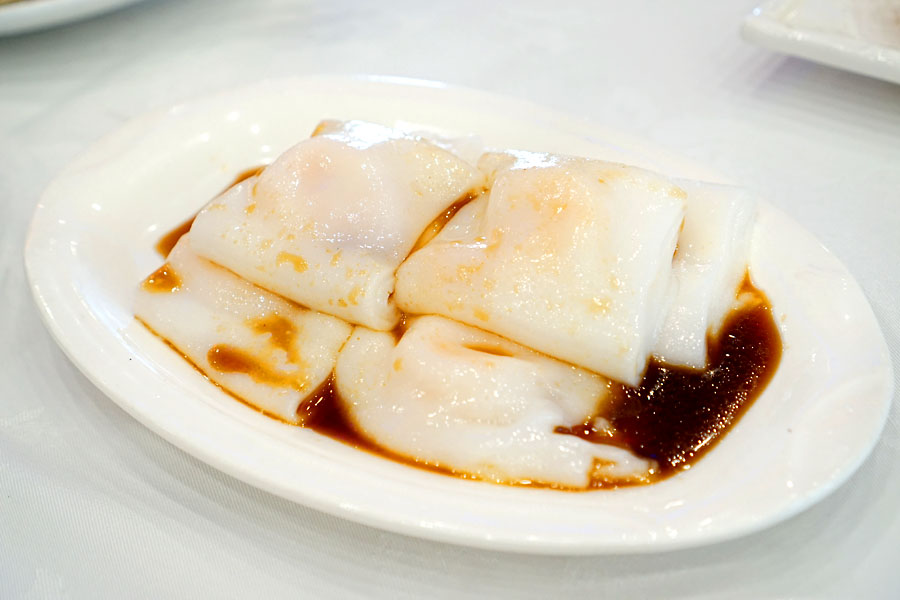 鮮蝦腸粉 / Shrimp Rice Noodle [$4.99]
I also felt the need to sample the
cháng fěn
. The actual rice noodles conveyed a subdued sweetness that I didn't mind, and I enjoyed the shrimp, but the ratio between the two seemed a bit off, as there was simply too much noodle.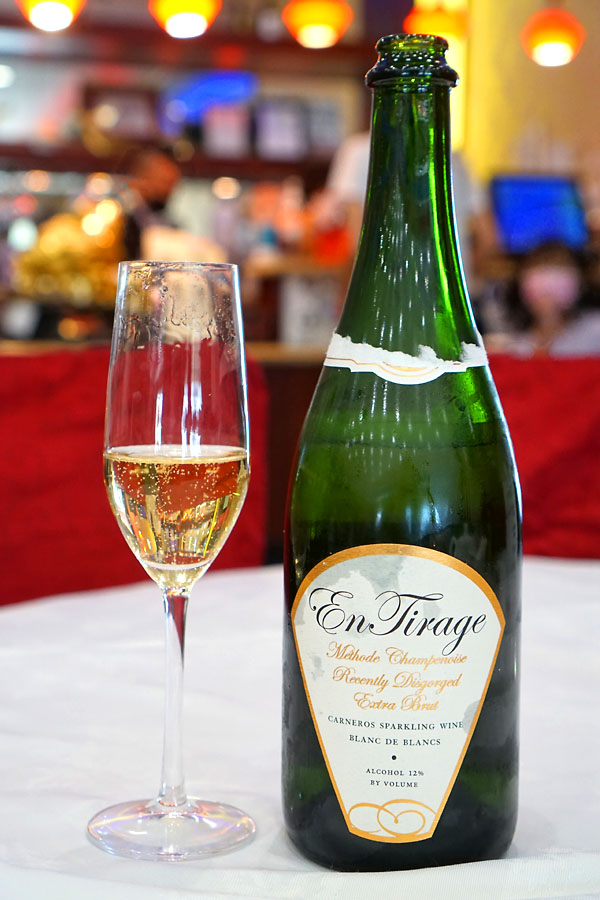 To drink, we had a bottle of the
2010 En Tirage Recently Disgorged Extra Brut Blanc de Blancs
, which I last drank back in 2018 at
Chateau Hanare
. The wine has evolved quite a bit since then. The nose here was teeming with a sweet salinity that actually recalled shellfish. Tasting it, I got plenty of mature, deep, complex flavors, with a particular nutty funk coming to the fore, joined by an omnipresent citric tartness.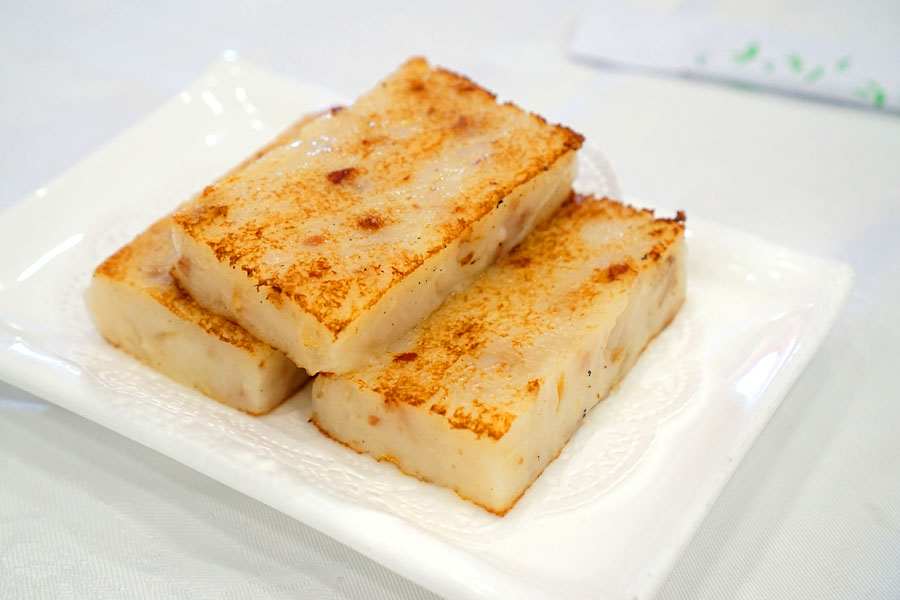 臘味蘿白糕 / Pan-Fried Daikon Cake (S) [$4.48]
The
luóbo gāo
managed to be a standout. The key was the back-and-forth between the mild shredded radish and pungent brine of dried shrimp, and I also appreciated the sear and crispy bits going on.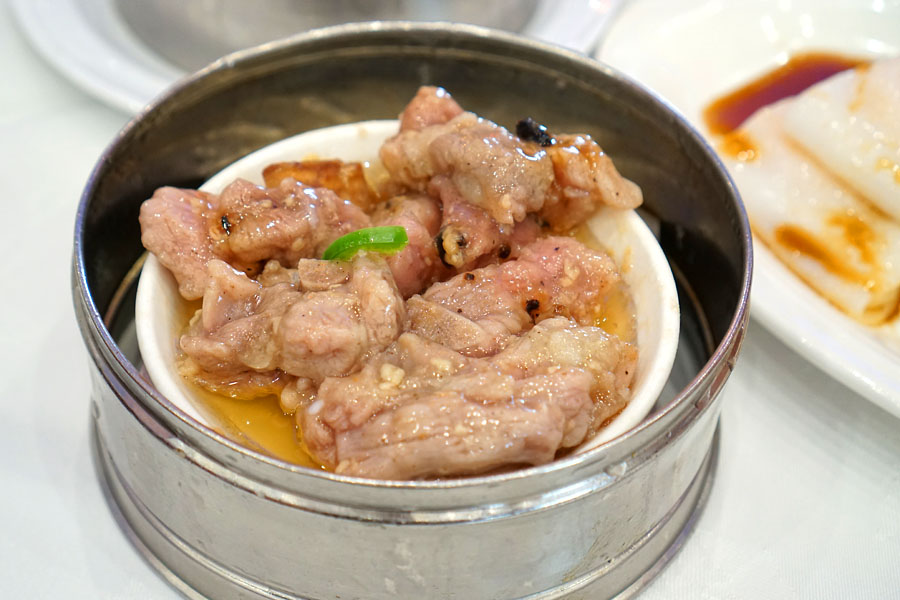 豉汁蒸排骨 / Steamed Pork Ribs (M) [$4.48]
Spare ribs are another one of the dim sum dishes I tend to order. The meat arrived tender, but with enough chew, and displayed the porky savor I wanted, combined with the punch of black bean. Notably, there was also a more apparent sweetness than usual, but it sort of worked for me.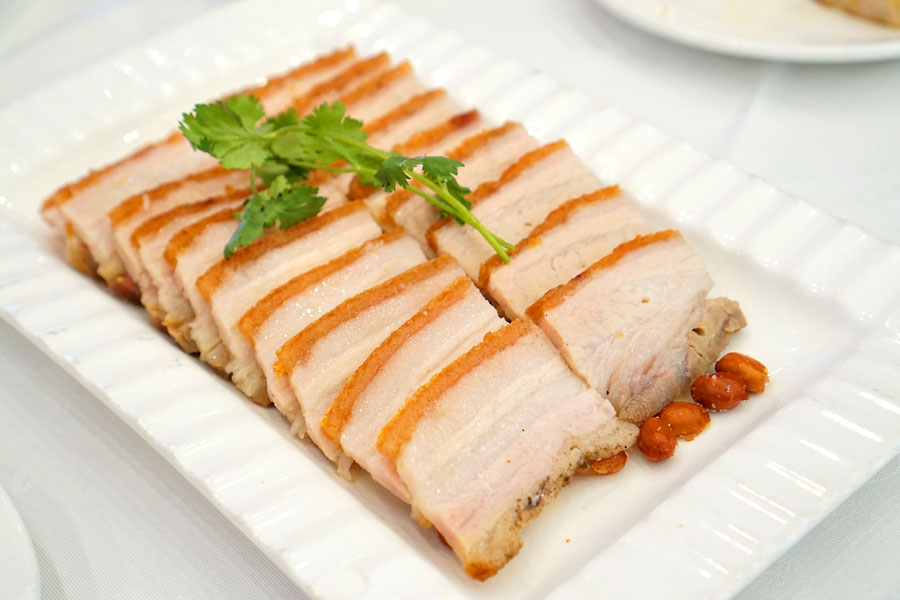 澳門燒腩仔 / Roasted Pork Belly [$16.99]
The Macau-style pork belly was another favorite. I loved its super crispy, savory skin, which worked hand-in-hand with the soft, succulent layers of lean and fat. Also a surprise hit was the wonderfully salty crunch of the accompanying peanuts.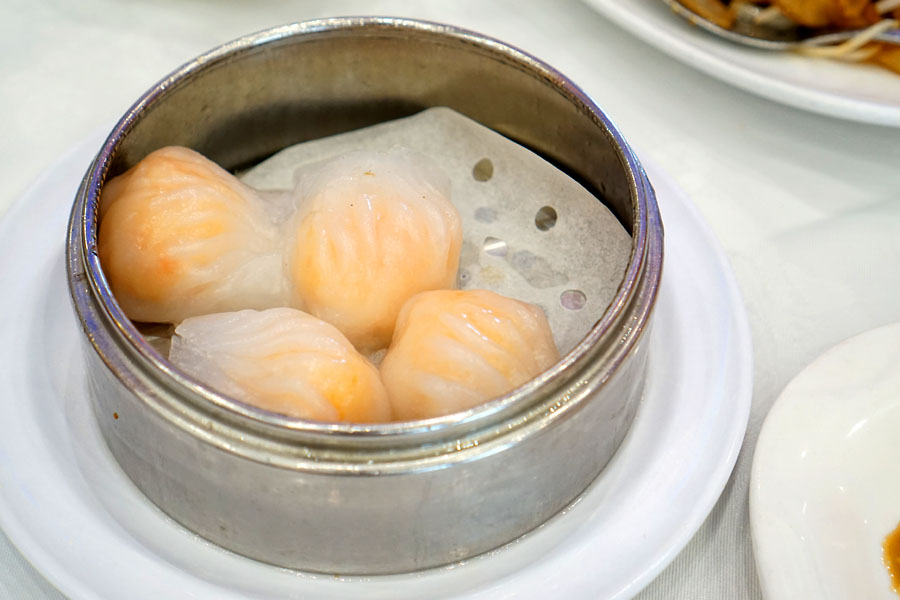 水晶蝦餃皇 / Shrimp Dumpling (M) [$4.48]
Last up were the
xiā jiǎo
. Again, the wrappers here tended to disintegrate way too easily, and the actual shrimp were a bit too dense. The flavors were there, though.
I was a fan of Shi Hai, and was bummed that it closed. World Seafood isn't at the same level, but did manage to serve me some solid dim sum. Overall, this seems like a mid-tier sort of place, though I am somewhat curious about what dinner here is like.