LA Cha Cha Chá (Los Angeles, CA)
Cha Cha Chá Restaurant
812 E 3rd St, Los Angeles, CA 90013
213.548.8487
www.chachacha.la
Fri 07/02/2021, 08:15p-11:15p

One of Downtown's most hotly-anticipated openings dropped on March 19th. LA Cha Cha Chá comes to us from Alejandro Marin, Javier Hernandez Pons, and Jorge Salim Vilches' Grupo Palmares. The Mexico City-based hospitality group operates a number of upscale Mexican eateries: Terraza Cha Cha Chá, Palmares Azotea, Suuway, and Brasa Fina in CDMX, as well as
Ceviche Project
right here in Silver Lake. The company had been reportedly scouting a location for an LA outpost of their flagship Terraza Cha Cha Chá since 2017, and announced their intent with this Arts District spot back in the middle of 2019.
Heading up the kitchen here is Executive Chef Alejandro Guzmán, whom I last encountered over at the
Fabby's
pop-up at Cassell's Hamburgers almost exactly a year ago. Back then, he was still planning on making Fabby's permanent in the DTLA Cassell's space, but that obviously fell through, and he ended up joining the Cha Cha Chá team in September. Second-in-command, meanwhile, is CdC Francisco Moran, a
Patina
veteran who'd actually been with PRG since late 2008.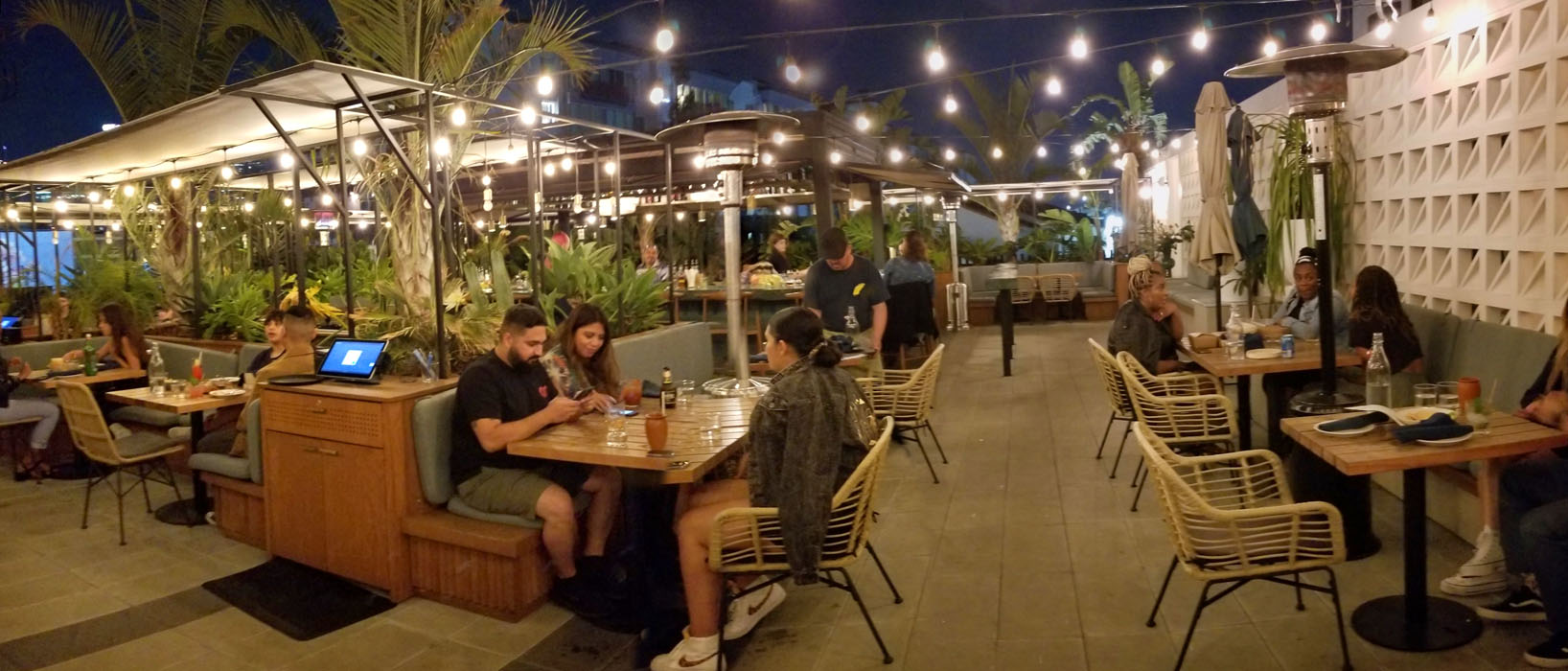 The inside part of the restaurant resides in the same building that houses
Death & Co
, while the expansive, verdant patio takes over an adjoining rooftop. The space's laid-back, somewhat resort-y look was penned by
Lena Kohl
.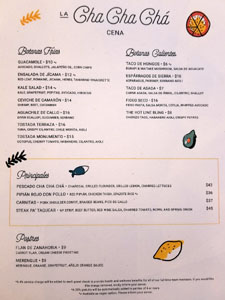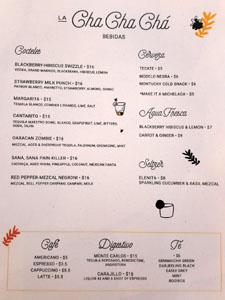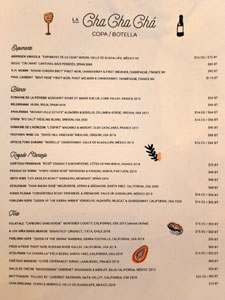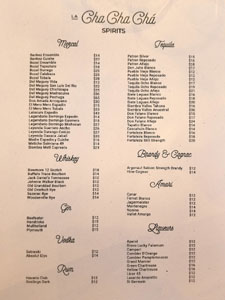 The menu's of a manageable size, and comprises Guzmán's interpretations of modern Mexican cuisine, filtered through his experiences cooking in LA. It's actually quite different than the menu back at Terraza Cha Cha Chá in Mexico City. As for the drink situation, you get a small wine list, a smattering of beer, and some generally lighter, concept-appropriate cocktails from Bryan Tetorakis (Cole's/The Varnish, Polite Provisions,
Rogue 24
). Click for larger versions.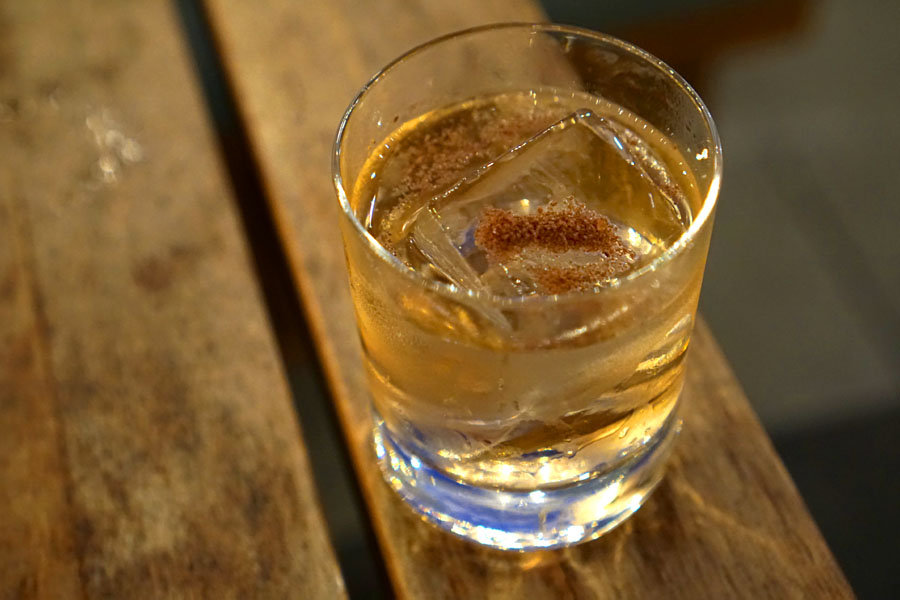 Strawberry Milk Punch [$16.00]
| patron blanco, amaretto, strawberry, almond, sumac
Speaking of those cocktails, we began with the milk punch, which showed off a surprising amount of depth due to what I assume was the incorporation of amaretto. Sweet-n-sour strawberry flavors were also displayed, then accented by the sharp tang of sumac.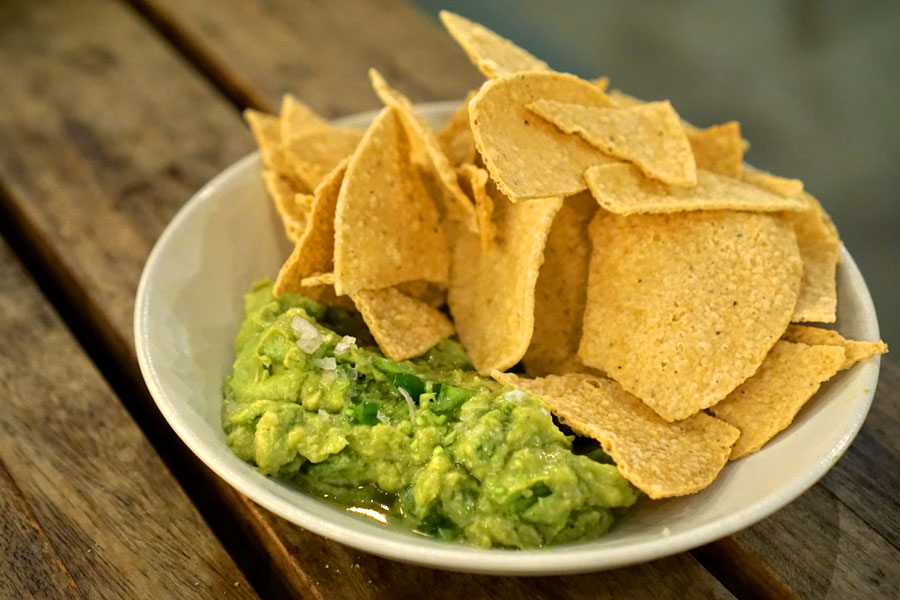 Guacamole [$10.00]
| avocado, shallots, jalapeño oil, corn chips
The guac had a relatively smooth, "wet" consistency, along with a distinct hit of salt on the finish. It did an admirable job conveying the essence of the avocado, but I would've preferred more acidity, more herbs. As for the chips, they were an interesting change of pace, coming out quite a bit thicker and heftier than what you typically find.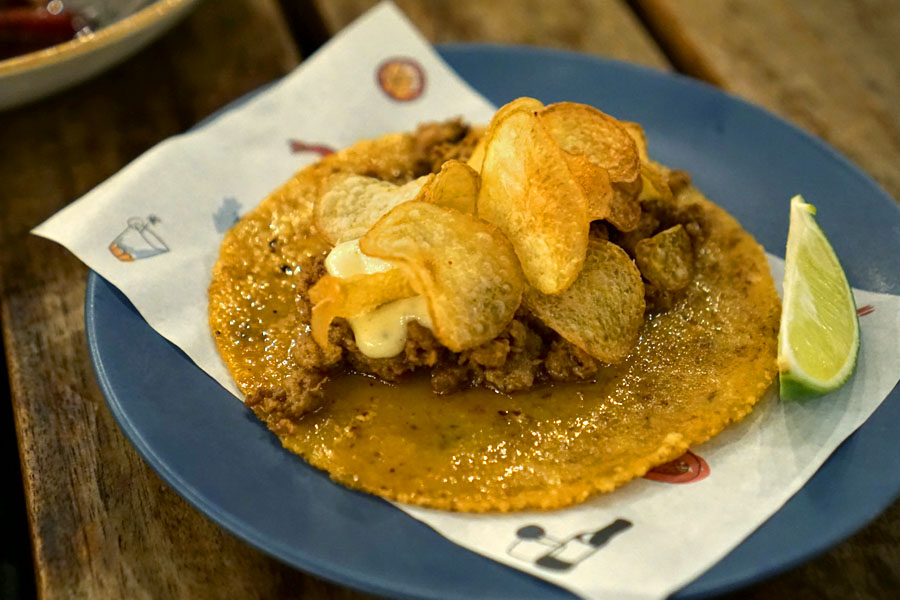 The Hot Line Bling [$8.00]
| chorizo taco, habanero aioli, crispy potato
The night's first taco was this perplexingly named number. Odd moniker aside, I did appreciate the combination of spicy, sweet, and sour flavors from the sausage, while the aioli and hearty tortilla softened the flavors at play. Nice crunch from the potato chips, too.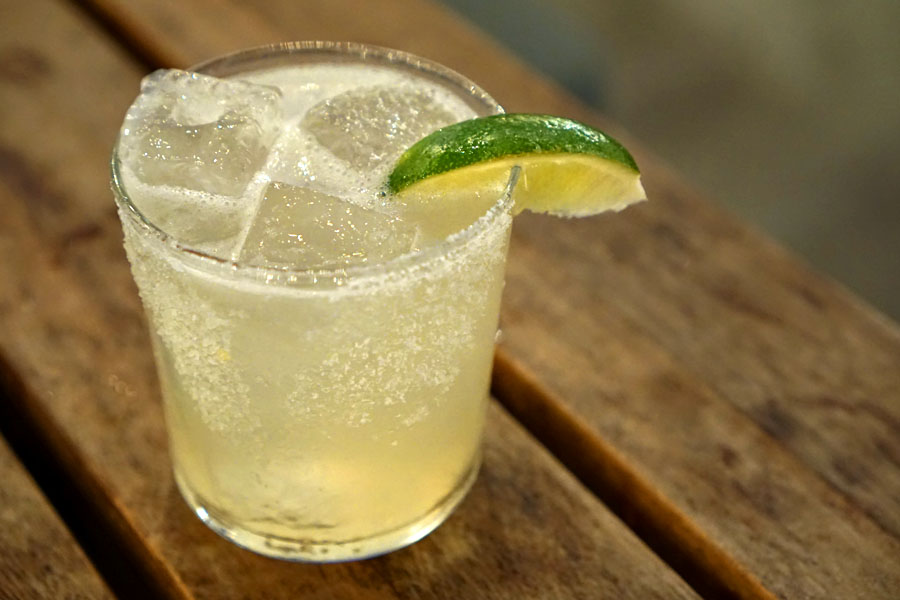 Margarita [$15.00]
| tequila blanco, combier l'orange, lime, salt
Our next cocktail was a pretty straightforward take on the classic margarita. In fact, it was one of the best I've had in a while, with a spot-on balance of sweet and sour backed by the oomph of tequila.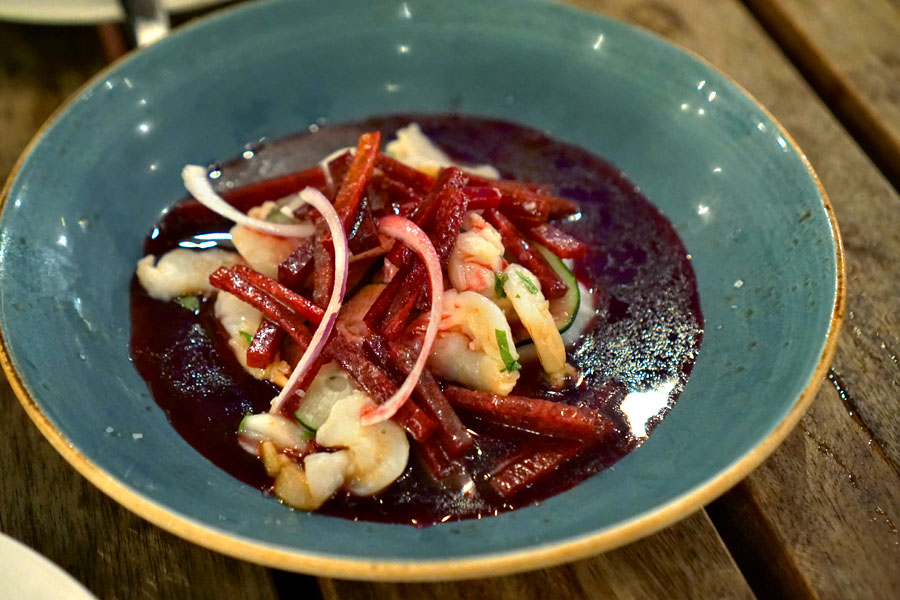 Ceviche de Camarón [$14.00]
| shrimp, beet, cucumber
I'm a sucker for ceviche, but this rendition didn't quite meet the mark. Although I did appreciate the texture of the beet batons, the beet
leche
seemed a bit one-note, and I wanted more herbaceousness, more acidity, more heat. In addition, I was hoping for larger shrimp, since the examples here simply weren't gratifying in terms of texture.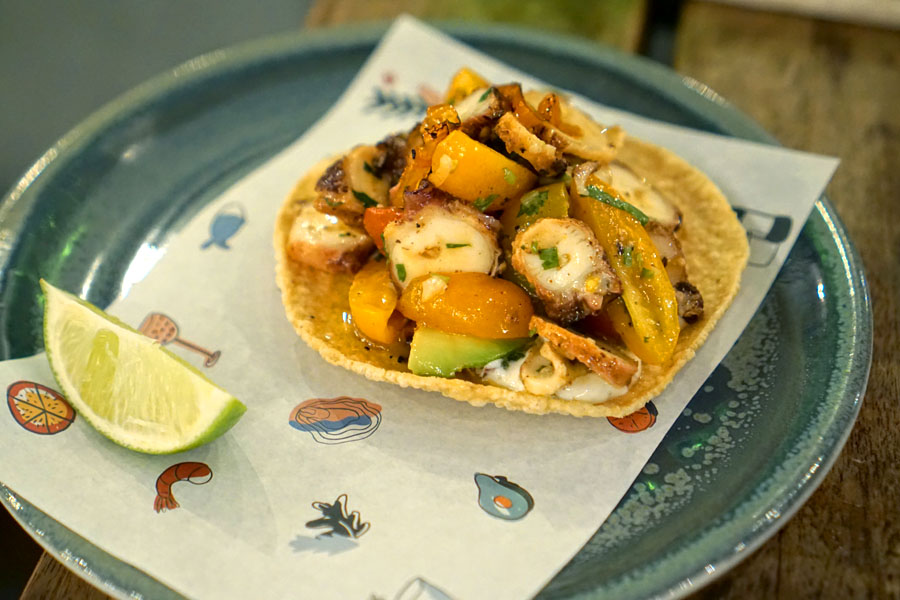 Tostada Monumento [$15.00]
| octopus, cherry tomato, habanero, cilantro, aioli
This tostada was definitely a favorite. I was a fan of the unabashed salinity of the octo, and how it meshed with the tart juiciness of tomato while that herby aioli helped tie everything together. Great crunch from the tortilla, too.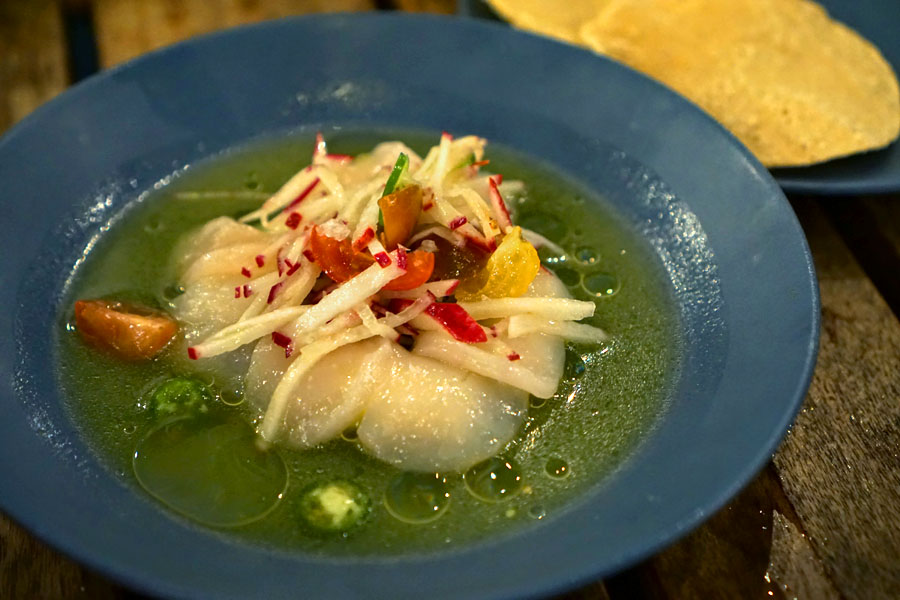 Aguachile de Callo [$16.00]
| diver scallop, cucumber, serrano
Scallops came out supple and refreshing, their mix of sweet and saline playing well with enveloping notes of cucumber. Meanwhile, serrano peppers added a pinch of heat, though I wouldn't have minded more.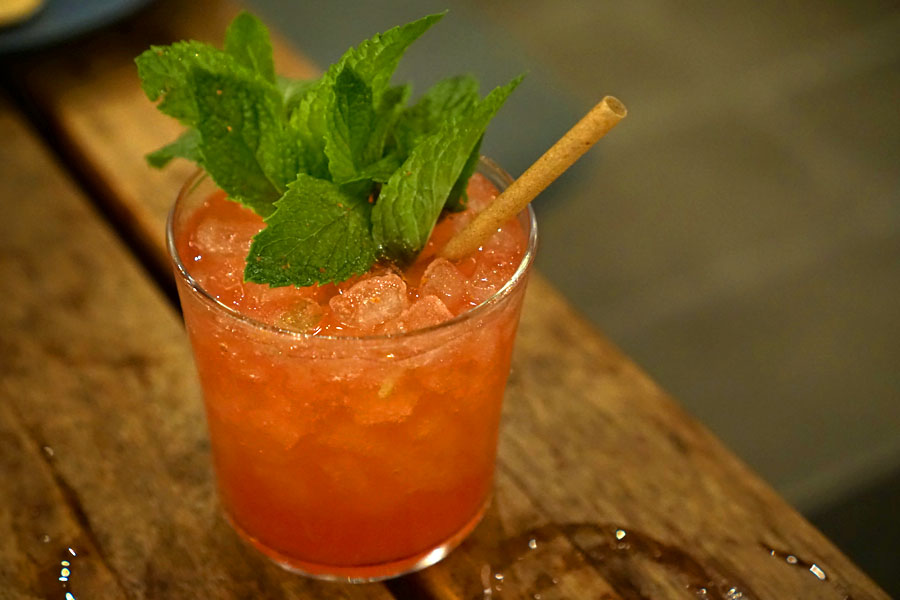 Oaxacan Zombie [$16.00]
| mezcal, aged & overproof tequila, falernum, grenadine, mint
A riff on a classic tiki cocktail placed the earthy, smoky essence of mezcal at the forefront, but offset by an underlying fruitiness and hints of mint.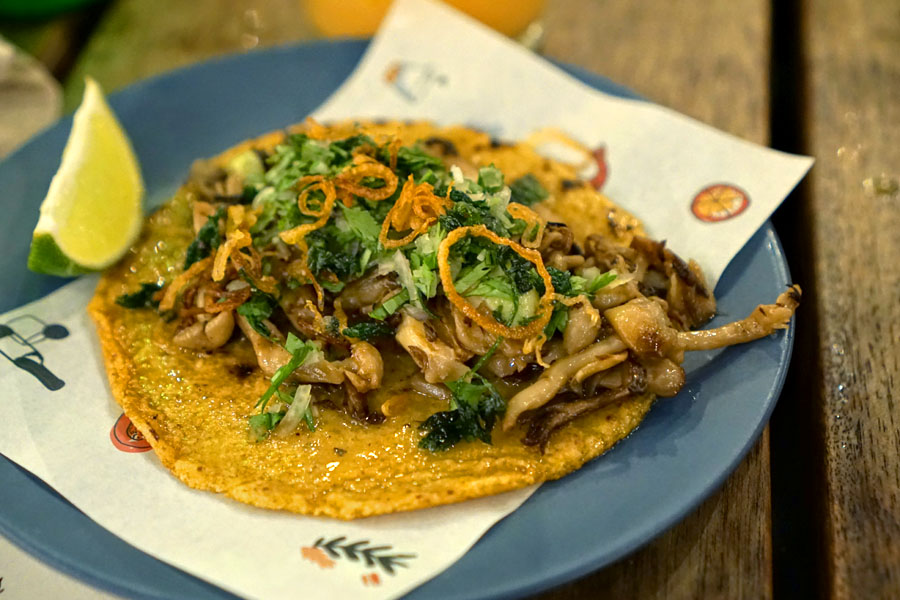 Taco de Hongos [$6.00]
| bunapi & maitake mushroom, salsa de aguacate
This next taco was a favorite thanks to how clearly it imparted the woodsy, umami-laden depth of the 'shrooms. I also enjoyed the sheer brightness from the cilantro, which provided a crucial counterpoint and really completed the dish.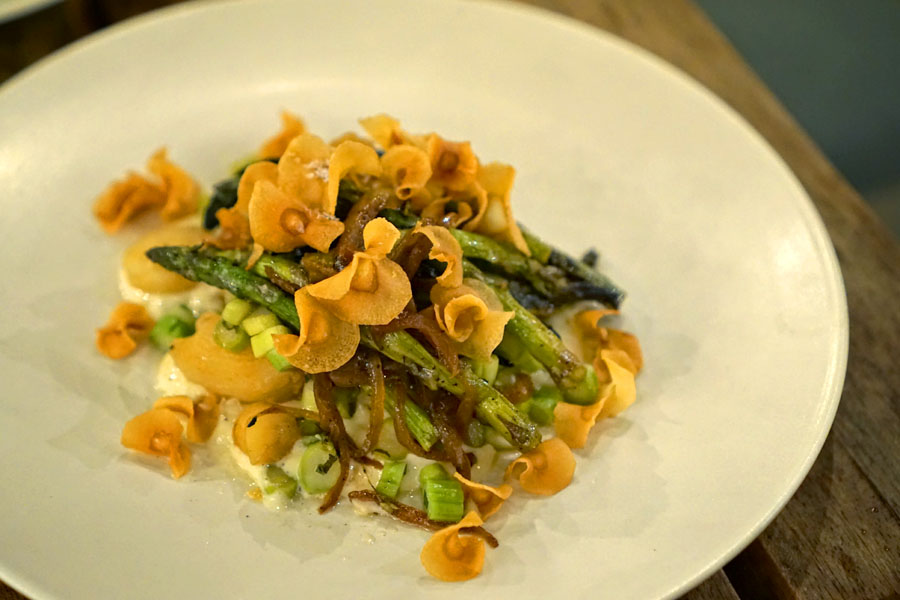 Espárragos de Sierra [$16.00]
| asparagus, parsnip, serrano aioli
Now here was one of the more interesting preparations of asparagus I've had in a while. I liked how the bitterness and char of the vegetable was expressed, and how it married with the creamy heat of that serrano aioli. At the same time, hearty cuts of parsnip imparted a sweetness to the dish that sorta made it special.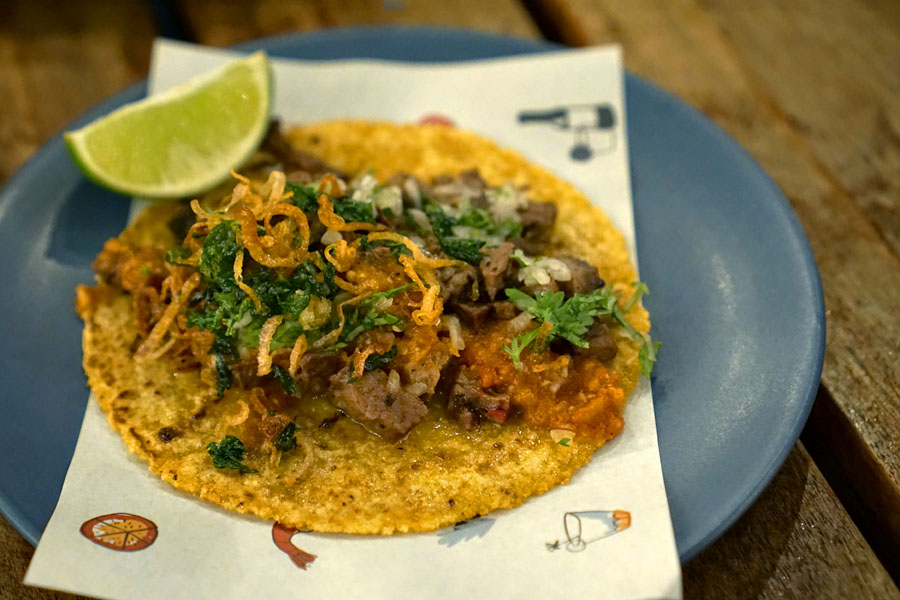 Taco de Asada [$7.00]
| carne asada, salsa de árbol, cilantro, shallot
I just had to try the restaurant's take on the ubiquitous asada taco. The meat itself had a pretty proper smoke to it, but was a bit tougher than I would've liked. The salsa imparted a nice sourness to the mix, though I do wish that the kitchen were more generous with the cilantro.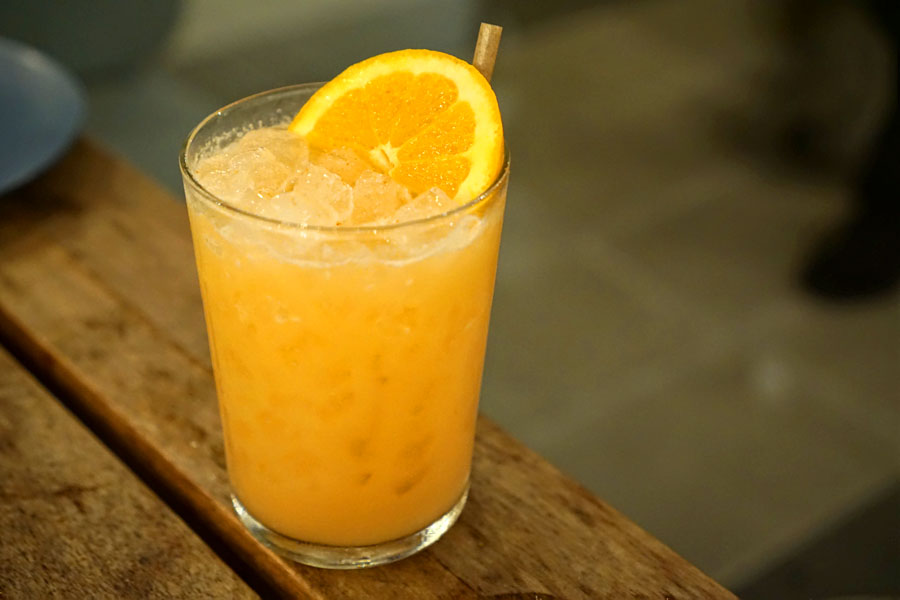 Sana, Sana Pain Killer [$16.00]
| cachaça, aged rhum, pineapple, coconut, mexican fanta
Here was a variation on another tiki cocktail classic, the Painkiller. The drink was soft and almost "fluffy" on the palate, with flavors that blended creamy orange with tropical notes and nary any hint of booze. This one went down way too easily.
Tostada Terraza [$16.00]
| tuna, crispy cilantro, chile morita, aioli
Our second tostada featured thick, satisfying cuts of tuna, combined with a delightfully creamy, spicy aioli and savory fried bits on top. Taken together, the whole thing was actually a bit reminiscent of a poke bowl.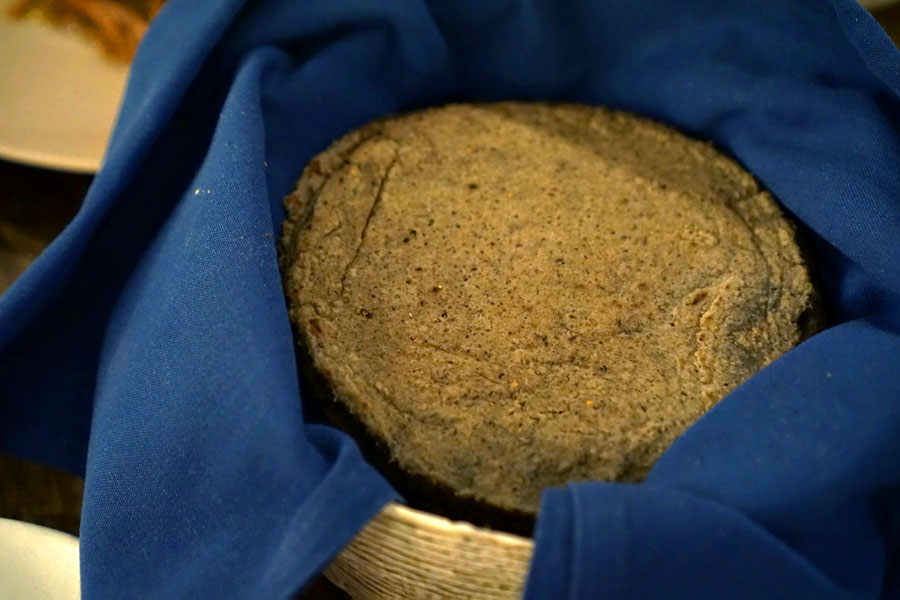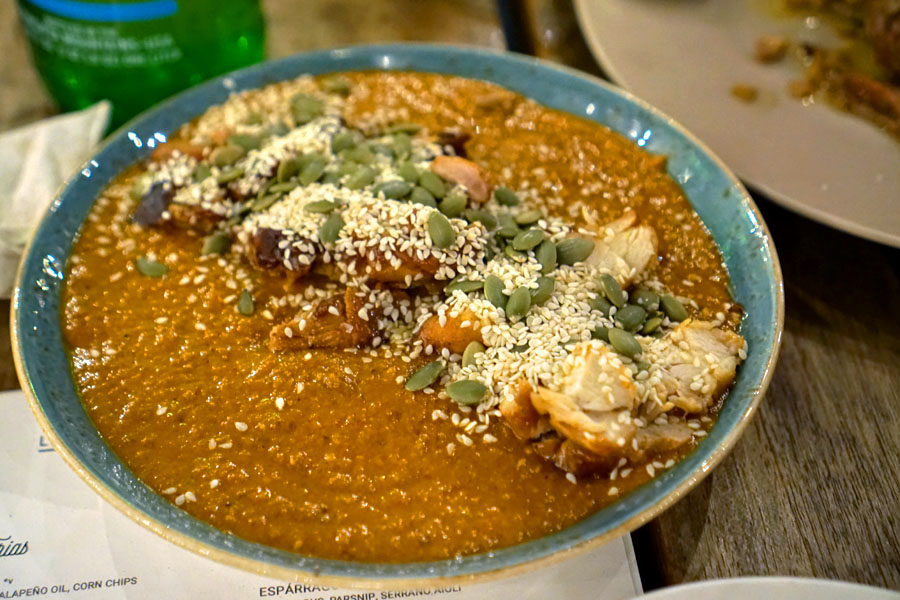 Pipián Rojo con Pollo [$36.00]
| red pipián, chicken thigh, epazote rice
I was quite the fan of Guzmán's mole pipián over at Fabby's, so it was good to see it tonight. The sauce ate super nutty, but also showcased complex, complementary notes of sweet spice, heat, and savory depth. Unfortunately, the accompanying chicken was on the dry side, and the rice was basically lost in the dish.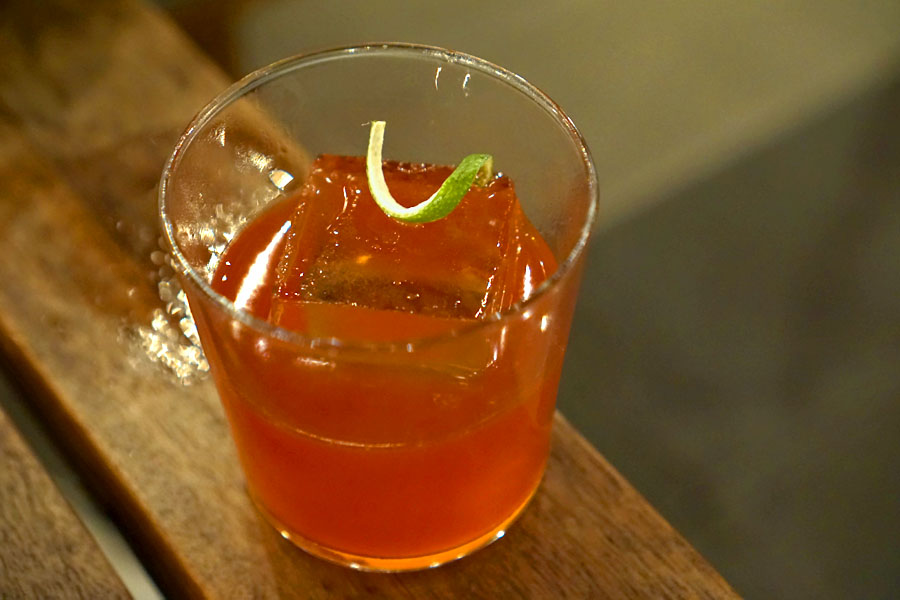 Red Pepper-Mezcal Negroni [$16.00]
| mezcal, bell pepper carpano, campari, mole
My final cocktail blended the classic bittersweet notes of a Negroni with the smoky depth of mezcal, all in effective fashion.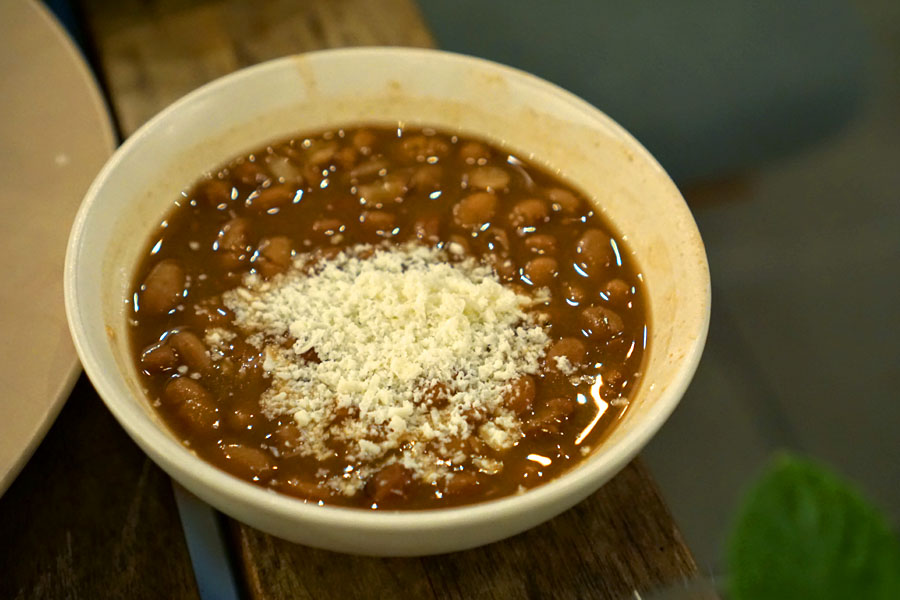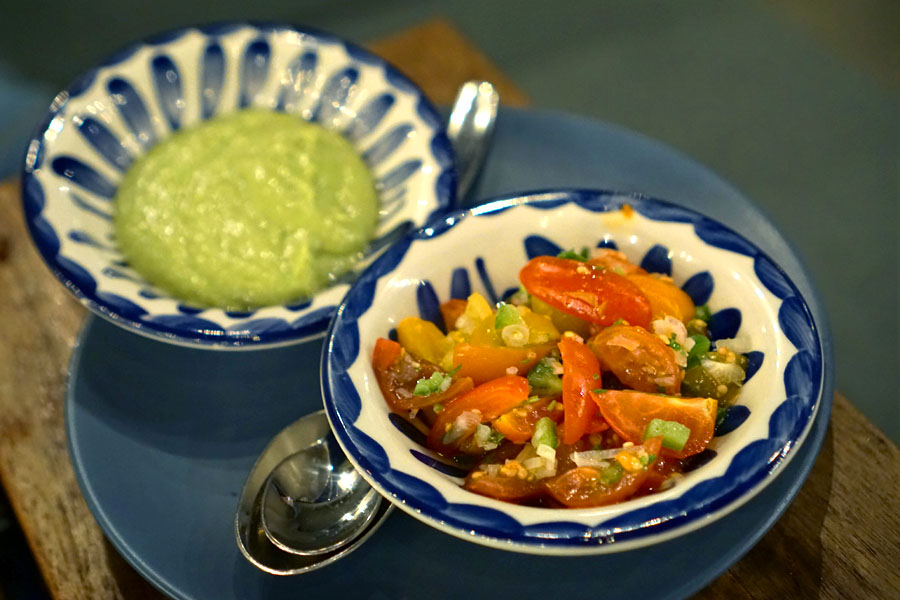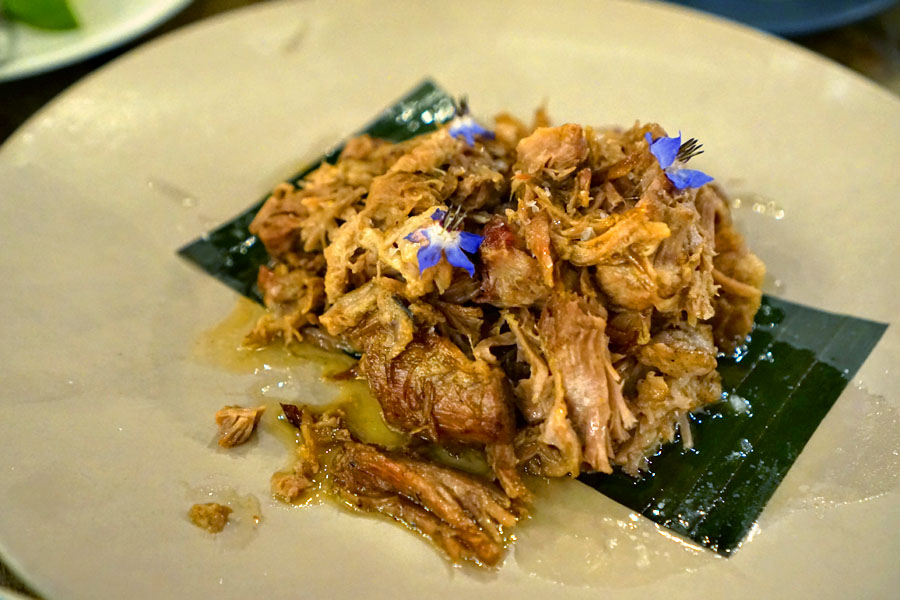 Carnitas [$37.00]
| pork shoulder confit, braised beans, pico de gallo
The carnitas certainly made for the most substantial dish of the night. The meat was intensely flavored, with a palpable depth of savor that matched up superbly with the accompanying salsas. It was all very tasty when wrapped up in one of those hearty blue corn tortillas, though I did miss the crispy bits of pork I was expecting.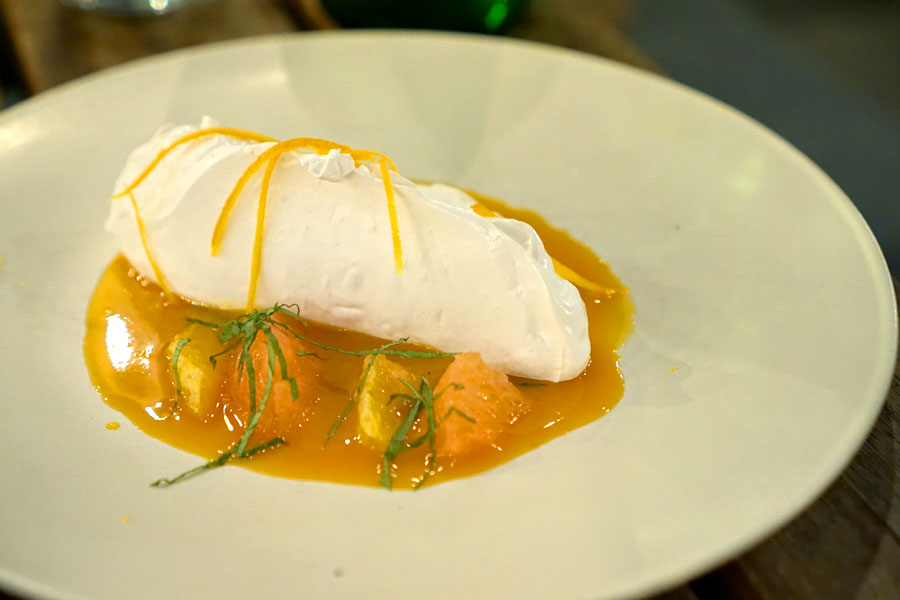 Merengue [$9.00]
| meringue, orange, grapefruit, añejo orange sauce
There are but two options for dessert, and we picked the meringue, which had a combination of crisp and chewy textures and a very "eggy" flavor profile meant to pair with the citric, bitter, herby elements on the plate. However, the flavors here didn't meld as well as I would've hoped for, and overall, the dish seemed like a bit of an afterthought.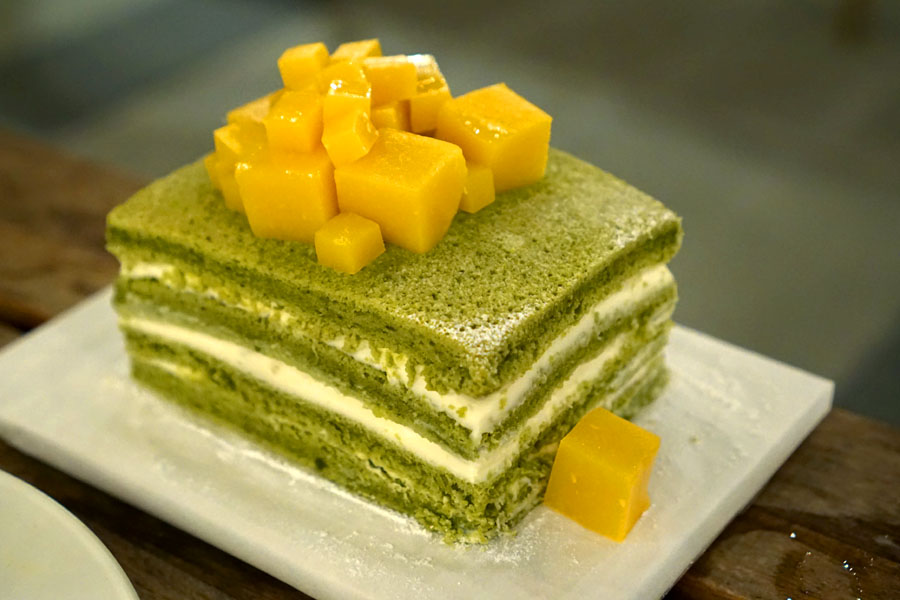 Much better was the homemade green tea cake with mango that we brought (we were celebrating a birthday). Do note that there's a $3 per person cake cutting fee.
Even though it's a relative newcomer, LA Cha Cha Chá is already one of the most (perhaps the most?) popular dining spots in the Arts District, and I can see why. It's hard to fault the environs, which do make for a lovely dining experience, and the service was surprisingly on point as well. The food was also solid for the most part, though I did identify a number of concerns above. The place is still new though, so Guzmán and his team have plenty of opportunity to refine and rework the menu, and I'm pretty sure that I'll be back.