Chuy's Tacos Dorados (Los Angeles, CA)
Chuys Tacos Dorados
1335 Willow St, Los Angeles, CA 90013
323.686.6272
www.chuystacosdorados.com
Fri 12/03/2021, 09:10p-10:25p

One of the things I do when I'm bored is to explore LA via Google Maps, and during one of my virtual excursions into the Arts District, I happened upon Chuy's Tacos Dorados, a small walk-up taquería just south of
Bavel
that I was previously unaware of, but which piqued my interest thanks to its focus on hard-shell tacos. Chuy's is the creation of Robert Donovan, who actually runs a hydroponics business in the same building. He began work on the restaurant in 2017, and the place opened the following January. Back then though, the joint was known as Medtillas, and sold hemp-laced tortillas in addition to normal tacos.
However, in July 2018, regulators banned the sale of cannabis-enriched foods, so Medtillas got rid of the CBD and changed its name to Chuy's a month later. Now if you're wondering who Chuy is, it's apparently the nickname of the father of a Betsy Leon, who's in charge of the menu. She grew up in the city of Tecate in Baja, and learned the recipes for the taco dorados here from her dad, who in turn learned them from his grandparents, who reportedly ran a restaurant in the Sinaloan capital. Leon's goal here, thus, is to present a bit of her family's cooking to her fellow Angelenos.

Chuy's dining area is situated in the former loading dock of the old Morrell Meats building, which I believe might've been where the original Dodger Dogs were made back in the late 1950s/early 1960s. As usual with these sort of places though, I opted for takeout and ate in the car.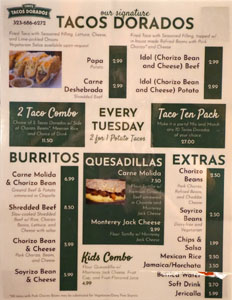 Centered of course on fried tacos, the menu at Chuy's is refreshingly compact. Click for a larger version.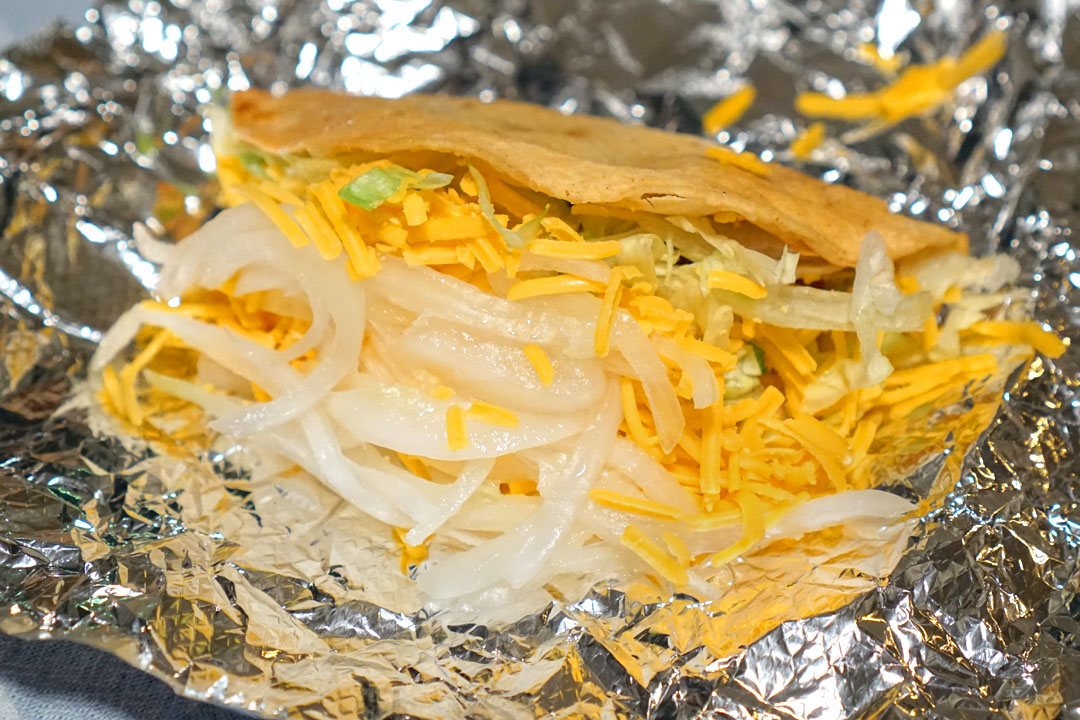 Carne Deshebrada (Shredded Beef) Taco [$2.99]
| Fried Taco with Seasoned Filling, Lettuce, Cheese, and Lime-pickled Onions
Let's get started with the deshebrada taco, the most basic unit of consumption here at Chuy's. Stuffed in a crunchy, brittle shell was a filling of soft, delicately spiced slow-cooked beef. The meat really opened up with a dollop of salsa, while the surprisingly tangy pickled onions offered a palpable acidity. At the same time, I found the sharp cheddar quite substantial, and in fact, the cheese actually served to moderate the flavors at play.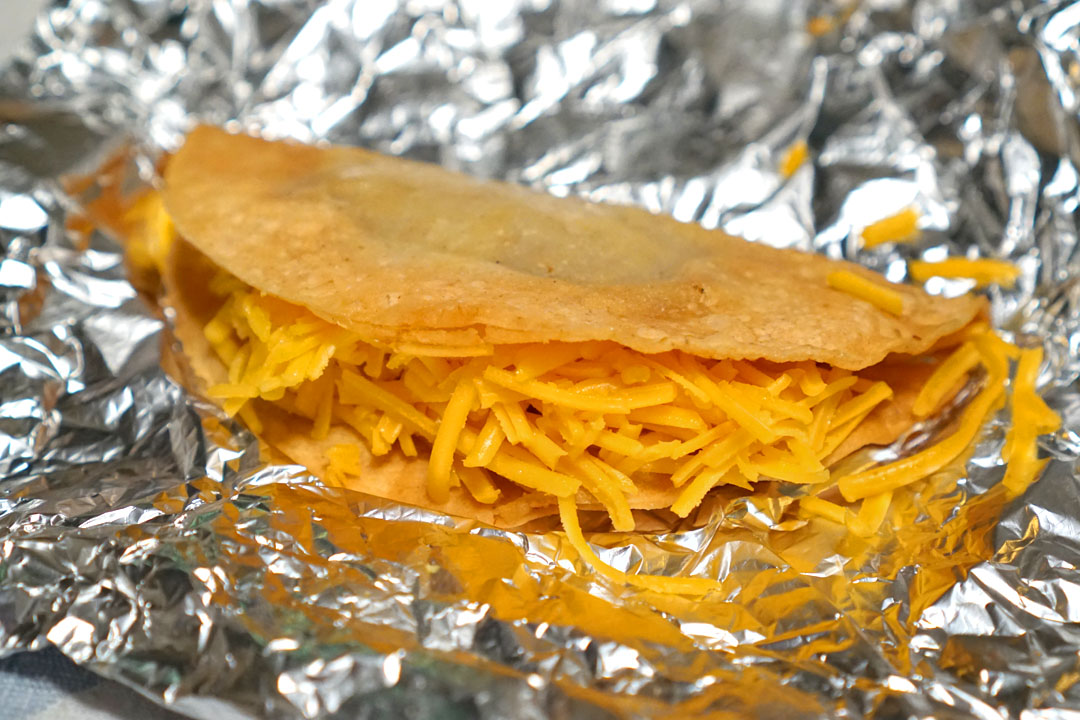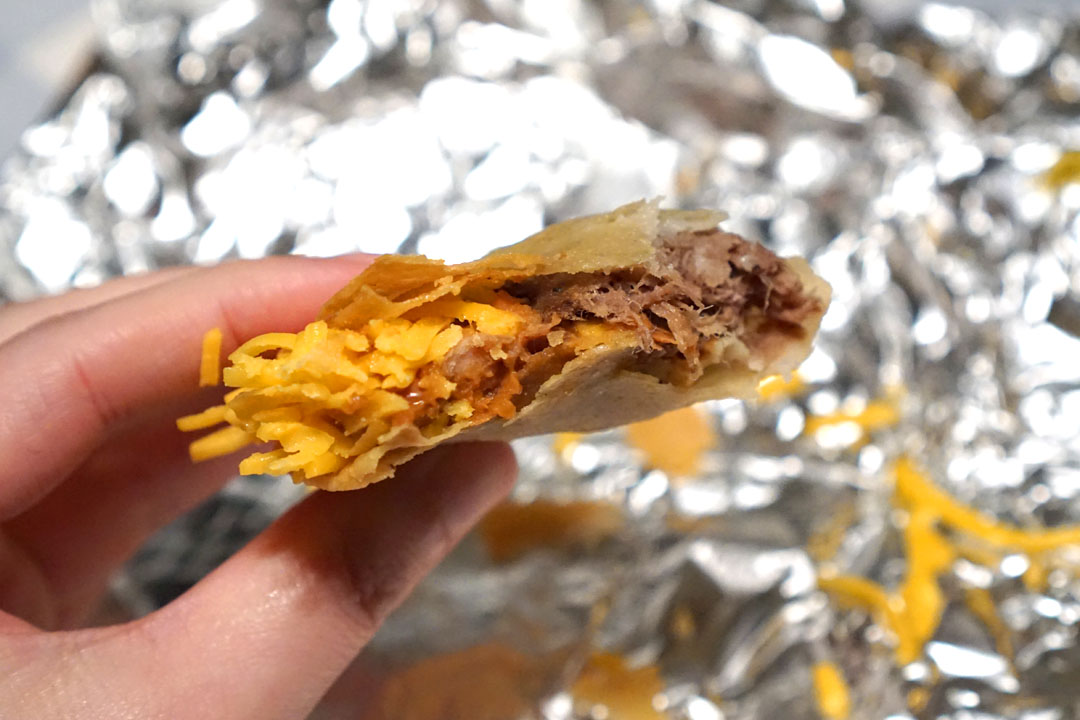 Idol (Chorizo Bean and Cheese) Beef Taco [$2.99]
| Fried Taco with Seasoned Filling, topped w/ in-house made Refried Beans with Pork Chorizo and Cheese
In Chuy's' second beef taco option, the meat meshed effortlessly with the potency of frijoles puercos, while the cheese actually took a back seat. The tortilla shell here was also crunchier, more robust, and more maize-forward, while the more aggressive flavors called for green sauce over red. Overall, a bit more cohesive than the taco above.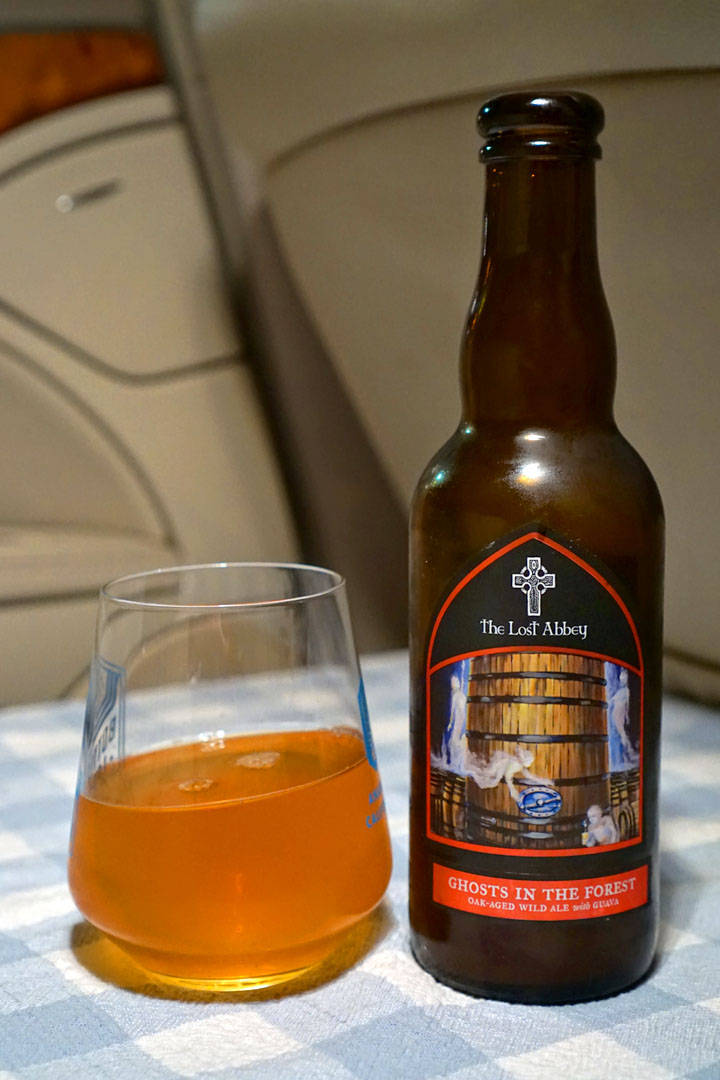 Our first beer was the
2021 The Lost Abbey Ghosts in the Forest
, a blended French oak-aged wild ale with guava. The nose was super fragrant, its yeasty funk inextricably commingled with notes of candied stone fruit. On the palate, this one went in a decidedly tart, crisp, citric direction at first before flavors of sweet exotic fruit (not necessarily guava) and oak brought it all back together.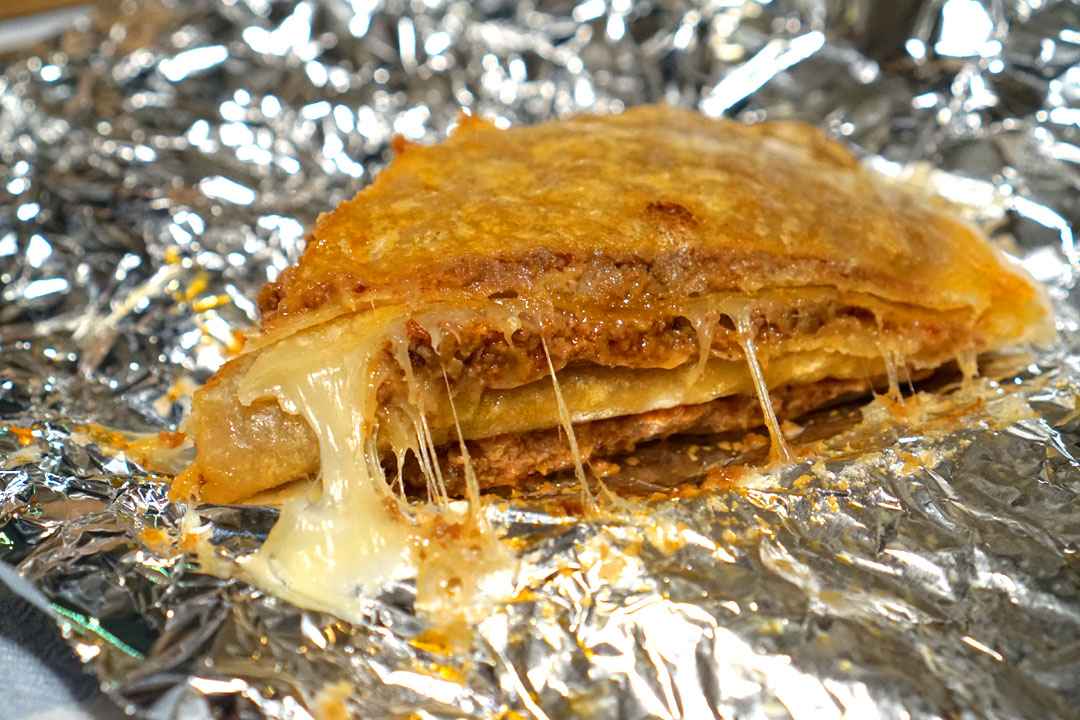 Carne Molida Quesadilla [$7.50]
| Flour Tortilla w/ Premium Ground Beef simmered in Chipotle and Monterey Jack Cheese
Next came what must be the most lasagna-esque quesadilla I've ever had. The ground beef was assertively spiced and very familiar, but didn't overshadow the robust nature of the Monterey Jack, while that meat-cheese combo melded unusually seamlessly with the flour tortilla utilized. Also key were the potatoes, which smoothed things out a bit, and I do have to give credit to the salsa verde as well, which imparted a welcomed zip to the dish.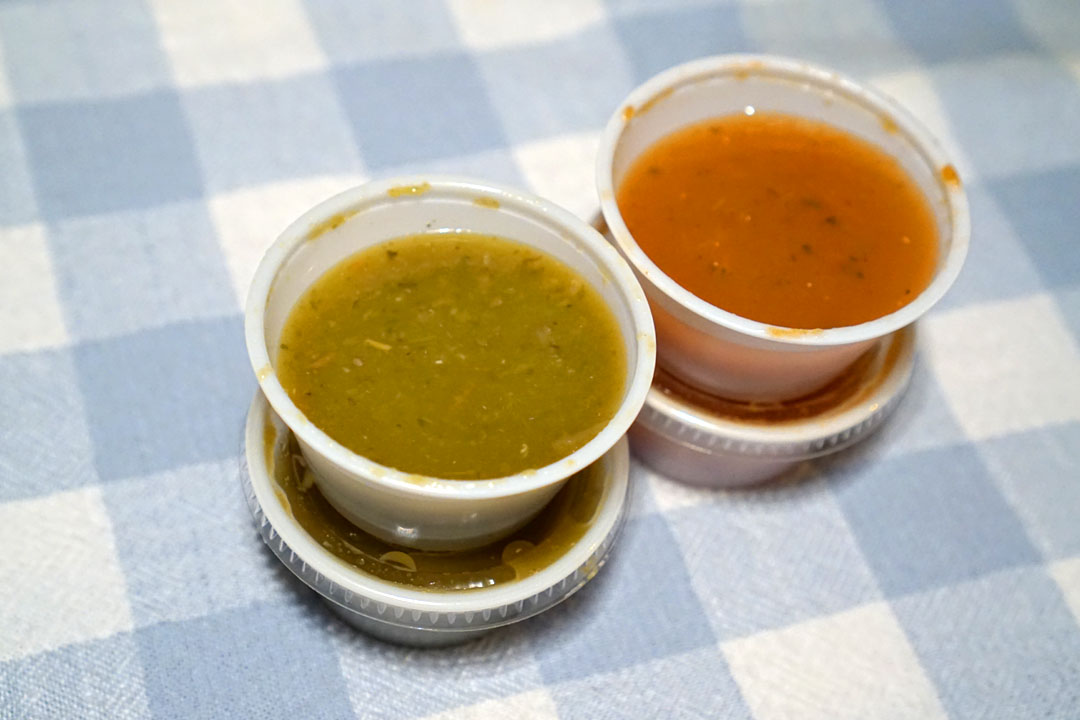 Two types of salsa (both served warm-ish) were provided. The red was on the thin, soupy side, with an herbaceous spice and generally homey disposition that certainly worked for me. On the other hand, the green was thicker, and showed off a much more pungent, earthy, vegetal, lingering heat.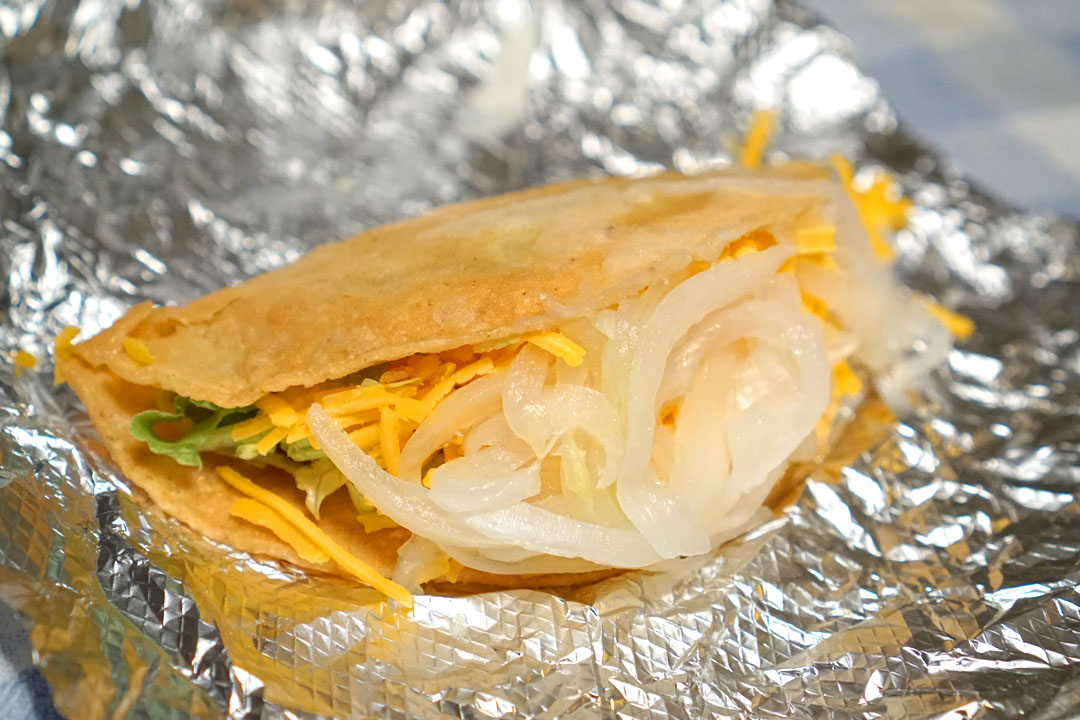 Papa (Potato) Taco [$2.99]
| Fried Taco with Seasoned Filling, Lettuce, Cheese, and Lime-pickled Onions
My next taco came stuffed with smooth, softly spiced potato, and the filling really called for the application of some salsa roja. However, the papas didn't quite stand up to the onions and especially the cheese, so overall the taco was a bit more disjointed than I would've liked. Instead of the cheddar, I think that some milder queso fresco would've worked better here.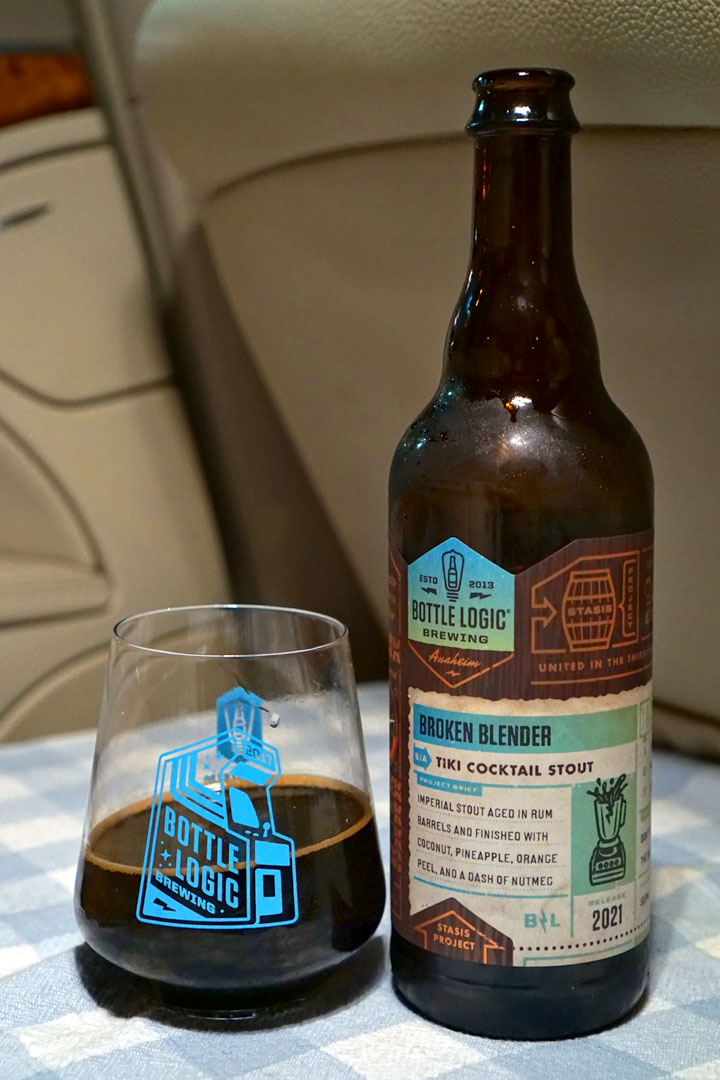 Our second beverage of the night was the
2021 Bottle Logic Broken Blender
, a Jamaican rum barrel-aged imperial stout finished with coconut, pineapple, orange peel, and nutmeg that was actually based on the classic Painkiller cocktail. I got aromas of sweet coconut and pineapple that I found wonderfully in-your-face. On the palate, the beer was definitely on the viscous side, and gave up huge flavors of toasted coconut and baking space, making for a decadent drink that really did do justice to its tiki inspiration.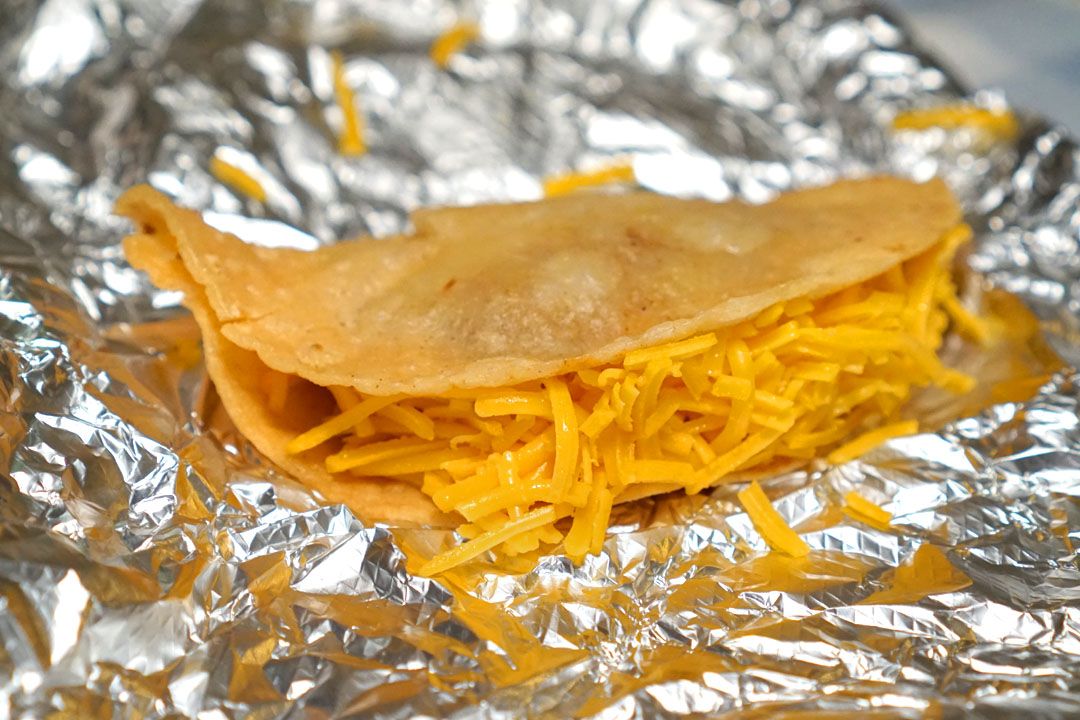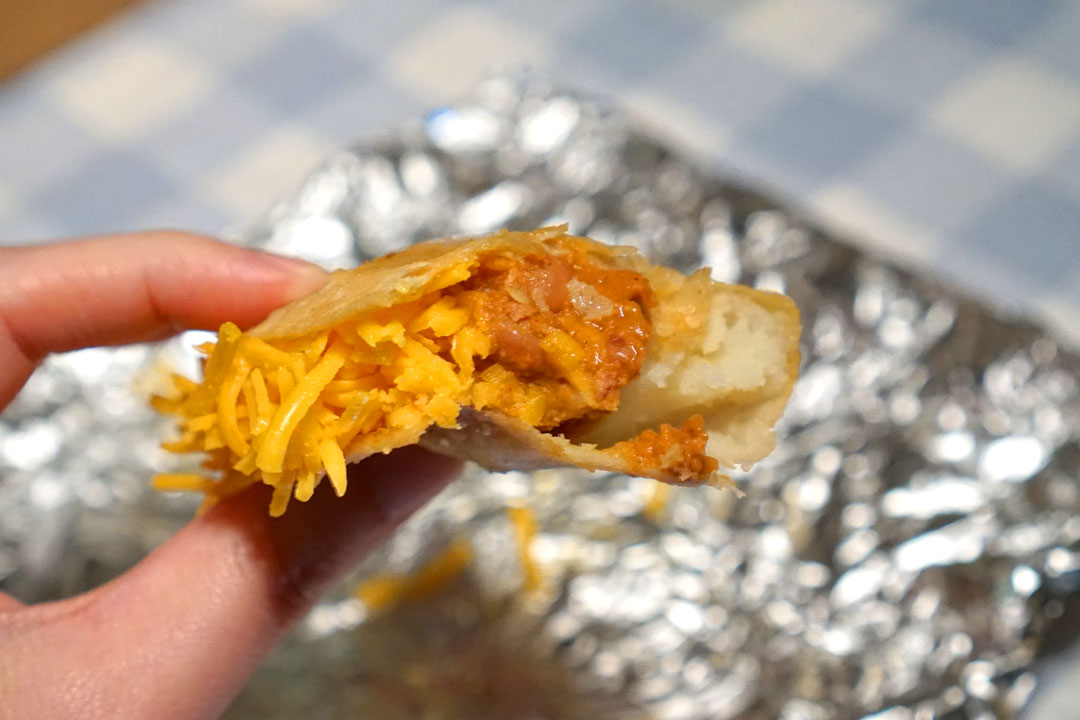 Idol (Chorizo Bean and Cheese) Potato Taco [$2.99]
| Fried Taco with Seasoned Filling, topped w/ in-house made Refried Beans with Pork Chorizo and Cheese
In my second papas taco, the pork-boosted beans were absolutely crucial, really doing a great job amplifying the inherent goodness of the potatoes. I also found the cheese much more well-integrated, and the flavors just married better with this one. But again, a dash of salsa (take your pick) really did elevate things.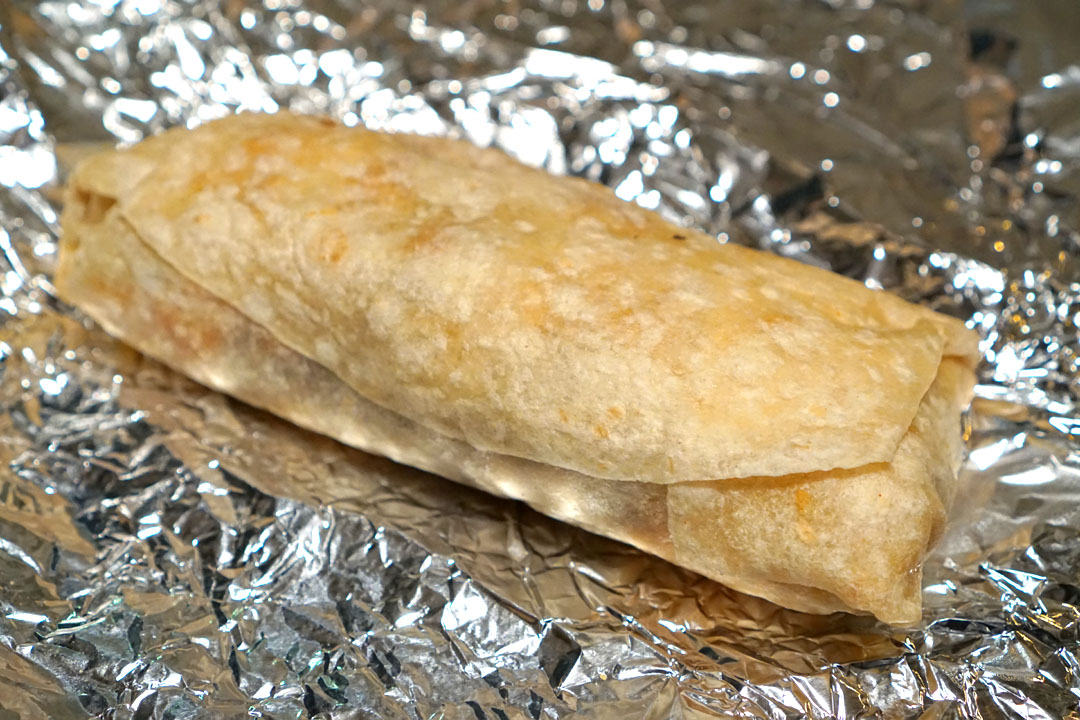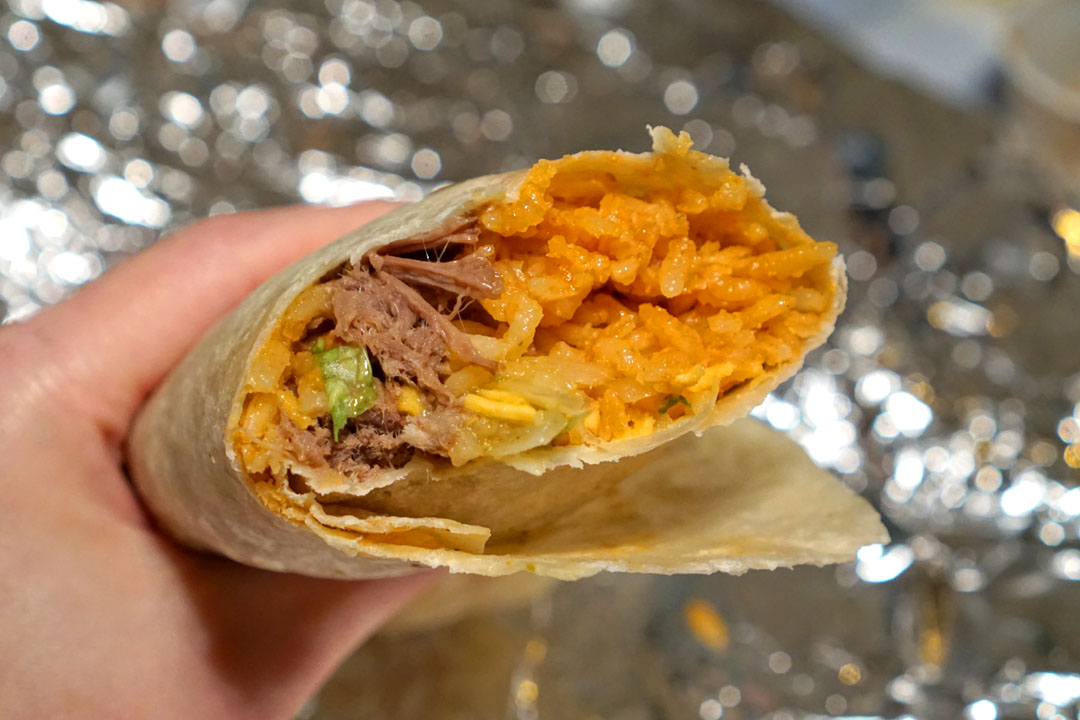 Shredded Beef Burrito [$8.50]
| Slow-cooked Shredded Beef w/ Rice, Chorizo Beans, Lettuce, and Cheese with salsa
We'll end with Chuy's' deshebrada burrito, which was classic, almost nostalgic at its core. The beef itself was on point, but I also have to give credit to the rice, which made utter sense here, as well as the lettuce, which did an admirable job brightening things up. As for the salsa, I'd go with the red to really pull together all the various elements.
I feel that hard-shelled tacos don't get much respect--probably due to the proliferation of Americanized versions popularized at chains such as Del Taco and Taco Bell--so it was nice to find a place so keenly focused on them. The team here already opened up a second location of Chuy's up in Van Nuys at the end of September 2019, and I wouldn't mind more of them strewn around the Southland. This certainly seems like a replicable sort of concept.