Hayato (Los Angeles, CA) [4]
Hayato Restaurant at ROW DTLA
1320 E 7th St, Los Angeles, CA 90021
213.395.0607
www.hayatorestaurant.com
Sat 10/08/2022, 06:30p-10:40p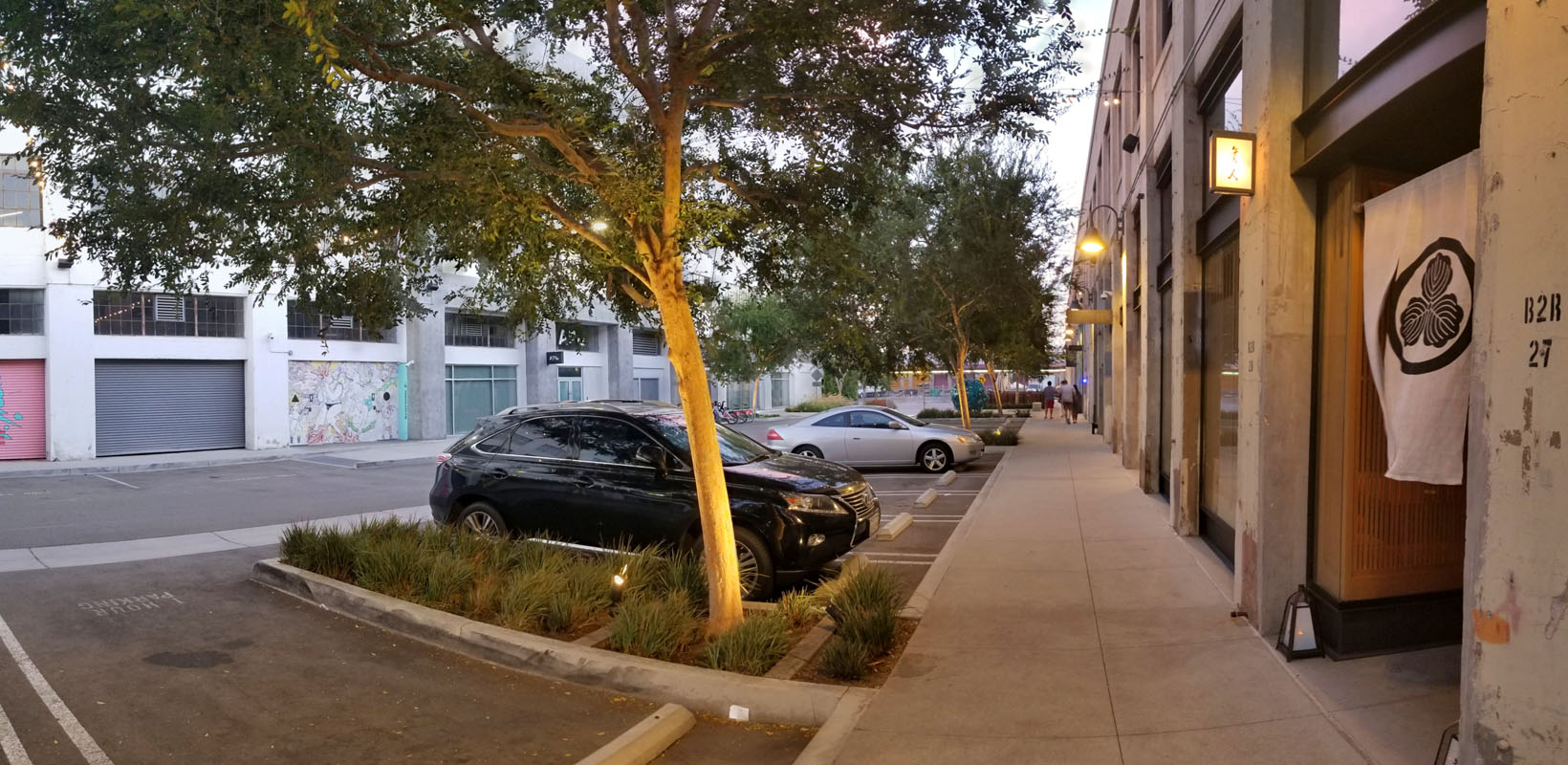 I first visited Brandon Hayato Go's eponymous
Hayato (隼人)
back in 2018
, not too long after it opened. After the meal, I remember thinking to myself that the place was truly something special for LA, and that it was going to explode in popularity once enough people discovered the Chef's top-notch kaiseki cooking. And sure enough, Hayato quickly became one of the most lauded restaurants in town, as well as one of the most difficult-to-secure reservations in town (maybe
the
most difficult?). Thus, when an unexpected opportunity came up to dine here recently, I jumped on it.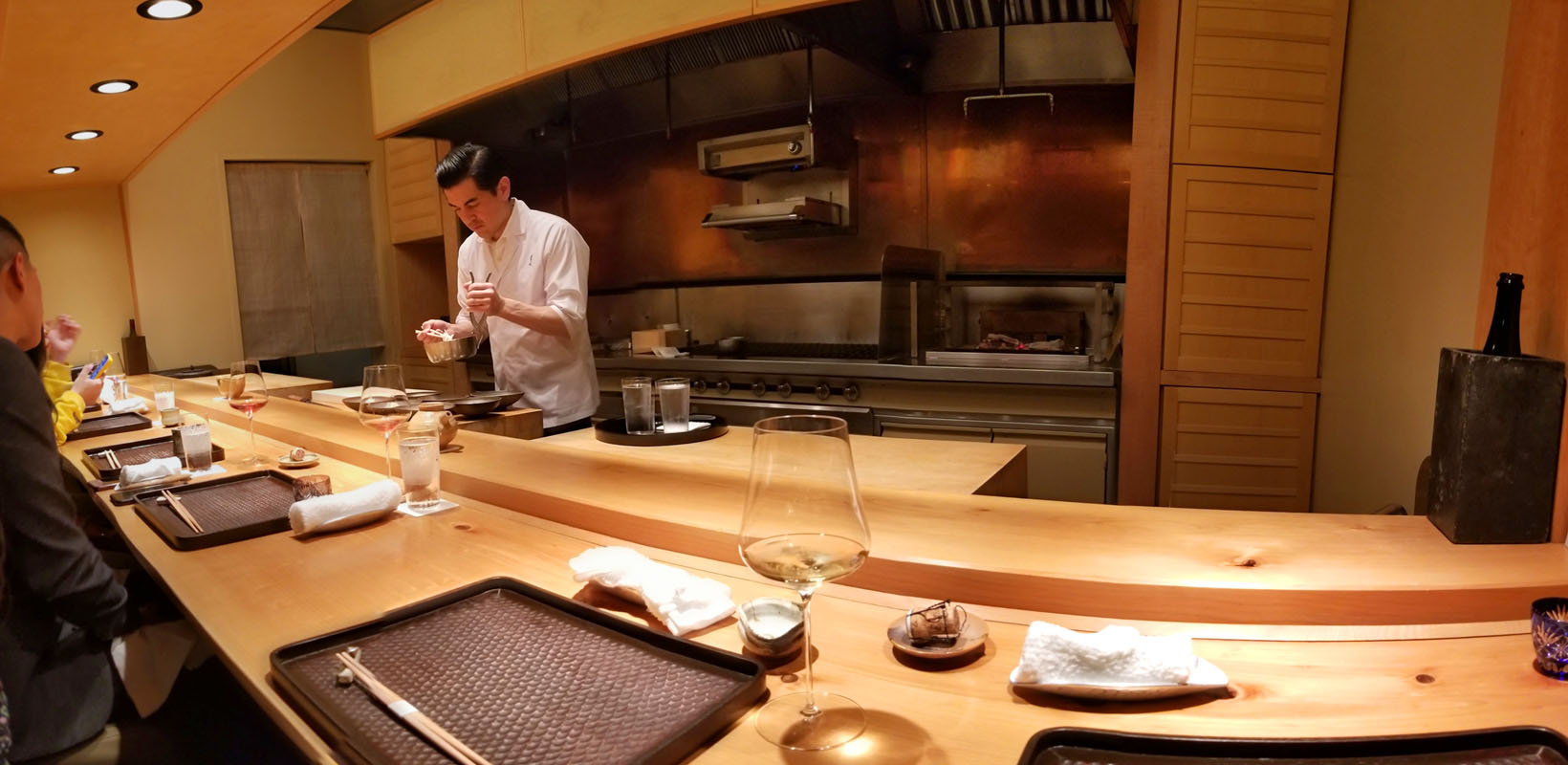 Hayato's dining counter offers a mere seven seats, and pictured above is the view from the rightmost of the septet.

Currently, Hayato is priced at $350 a head (plus 18% service), up from $260 during my last visit. One much-appreciated addition is the inclusion of a hand-written menu, beautifully penned by Yuki Shibata, who runs the front-of-the-house here. In fact, this might be the most memorable menu that I've ever received, and it also lists the restaurant's full staff, which is a nice touch; in addition to Go and Shibata, the team includes Rainier Xie, Moe Kamali, Fujie Suzuki, and Franco Carcamo. Click for a larger version.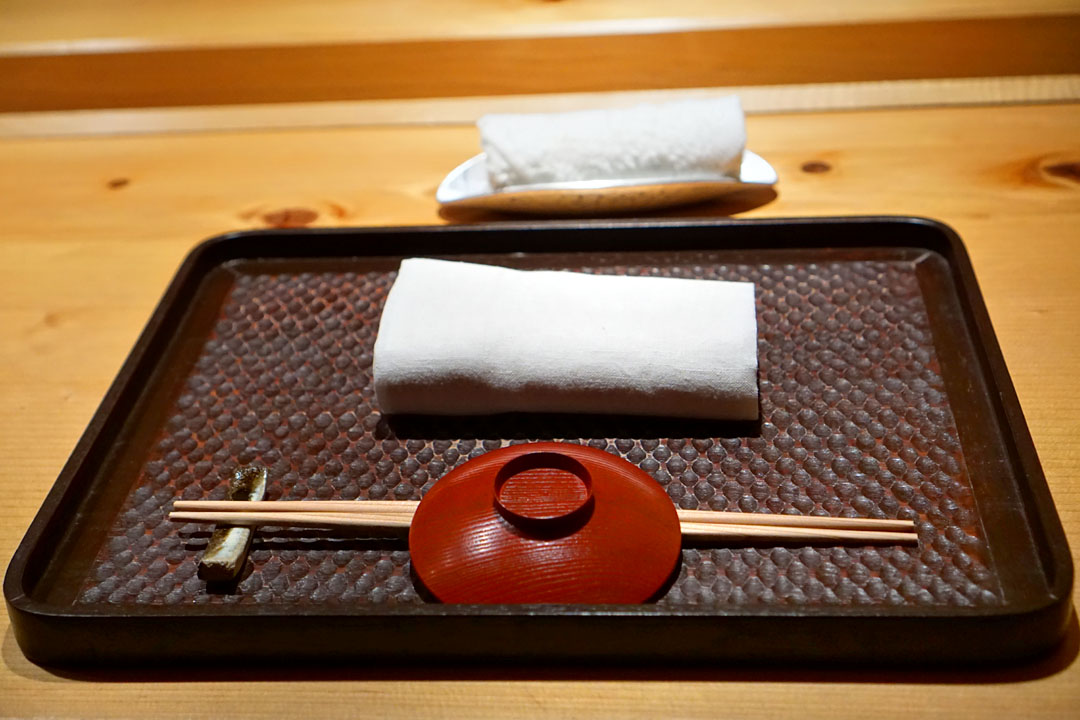 Here we see the place setting upon my arrival. Note that the
oshibori
was warm this evening, thus signaling the start of the fall season in a sense.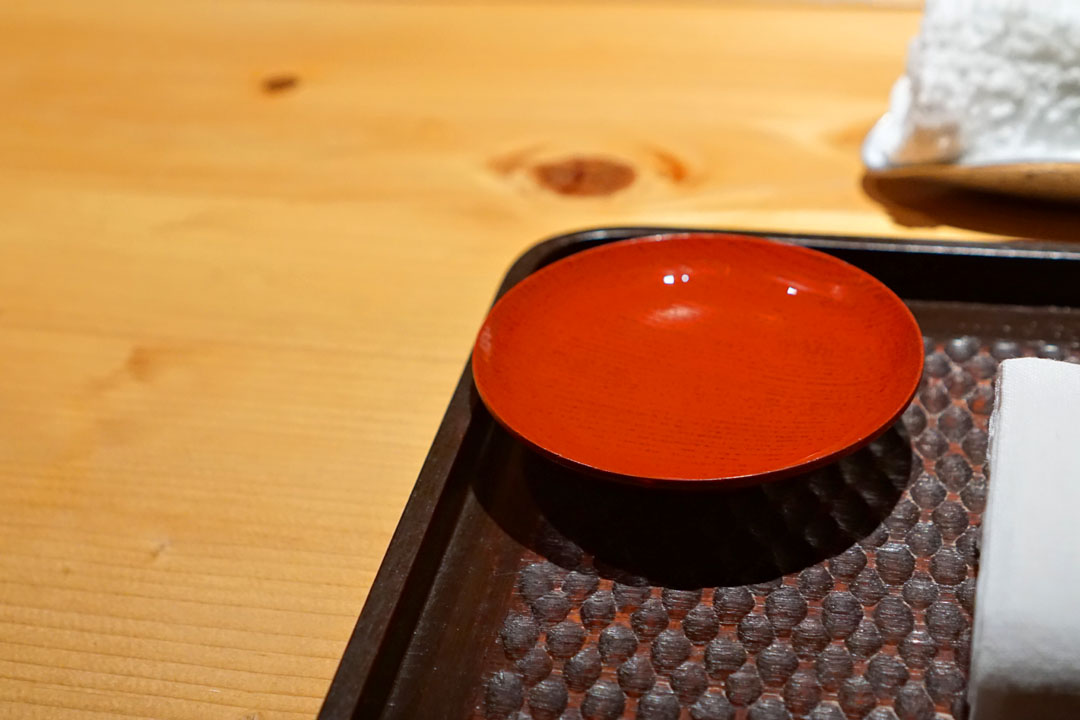 As usual, I was quickly welcomed with a pour of sweet-smelling, palate-awakening sake, served in a ceremonial
sakazuki
.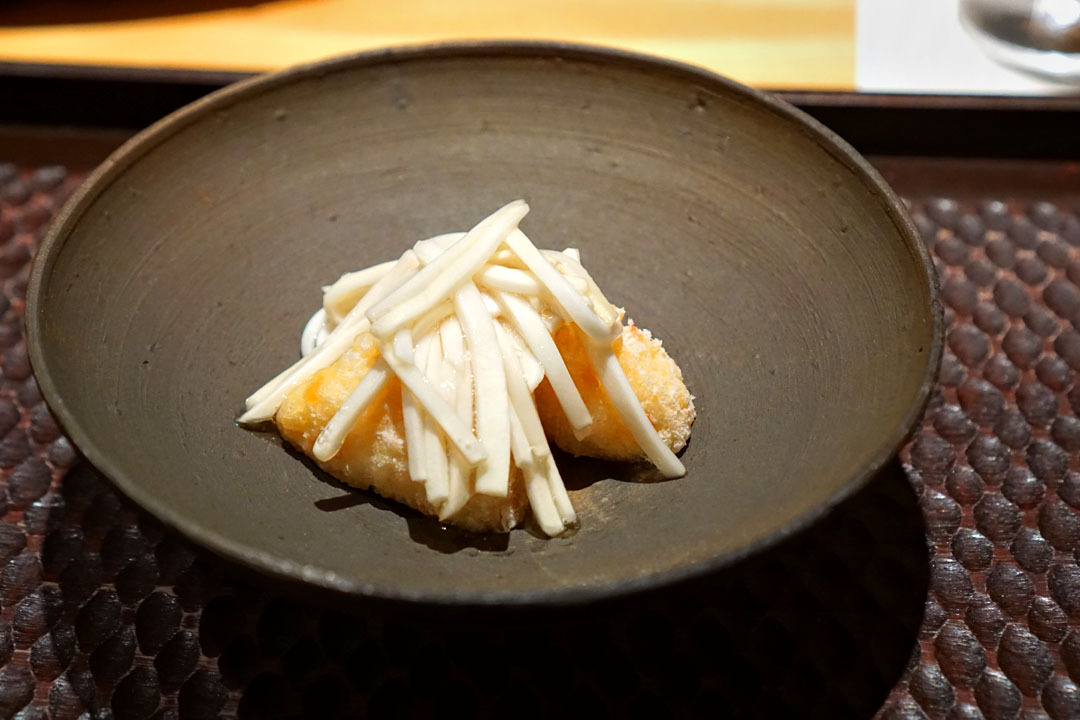 1: 先附: 海老真薯 松茸素麺 (Sakizuke: Ebi Shinjo, Matsutake Somen)
I've sung the praises of Go's shrimp balls before, but they were even tastier than I remember tonight. The beauty here is the perfect union of egg and shrimp, profound in its simplicity. Batonnets of matsutake contributed both texture and a woodsy astringency, and really sang when functioning as a complement to the sweet salinity of the prawns. A delicious start.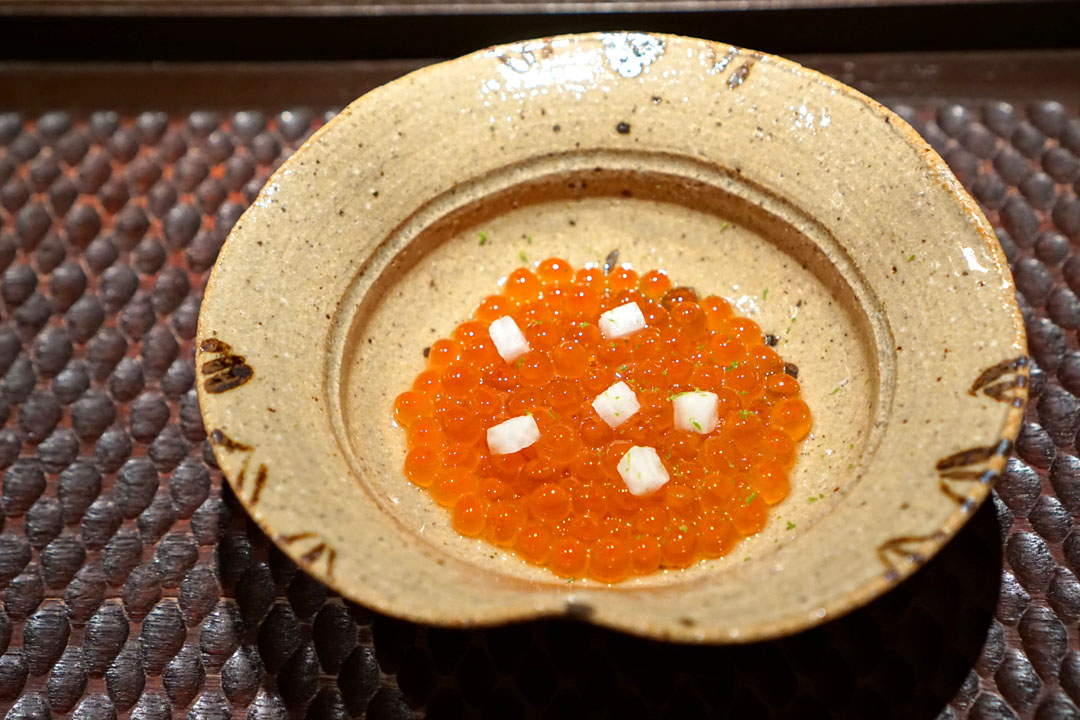 2: 出汁 筋子 (Dashi Sujiko)
Autumn is salmon egg season, so it wasn't surprising to see the
sujiko
(the more prized, immature version of your everyday ikura) on the menu. What really caught my attention here was the roe's substantial, satisfying texture, which stood in juxtaposition to the crunchy-yet-mucilaginous quality of the
yamaimo
. The mildly-flavored mountain yam also worked as a counterpoint to the clean, refined brine and smoky umami notes in the dish, all while a sprinkle of yuzu zest perked things up.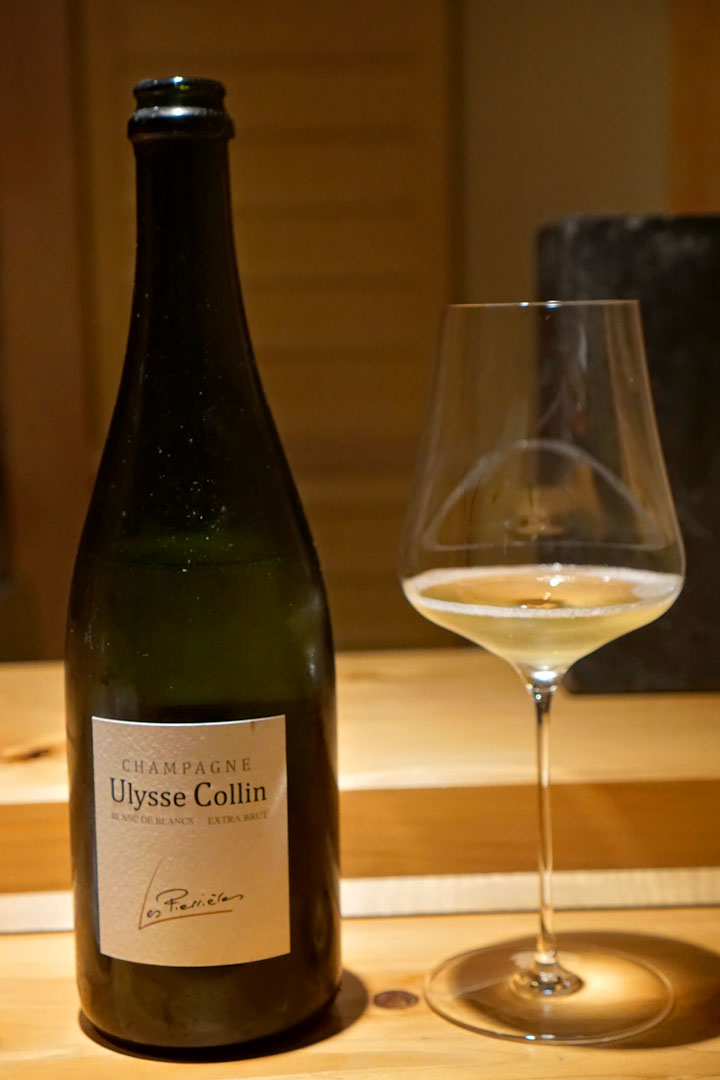 To drink, I ordered a bottle of the very well-priced
NV Ulysse Collin "Les Pierrieres" Blanc de Blancs [$285]
(2016 base, 36 months, Nº224, disgorged March 2020). This one had a decidedly heady nose rife with florals and a distinct apple-like quality that only intensified as the wine warmed. The palate here was about as lush as you'd reasonably expect to find with a Champagne, and showcased balanced notes of toast, orchard fruit, and minerals, along with a sweetness that almost veered honeyed on certain sips. Simply lovely.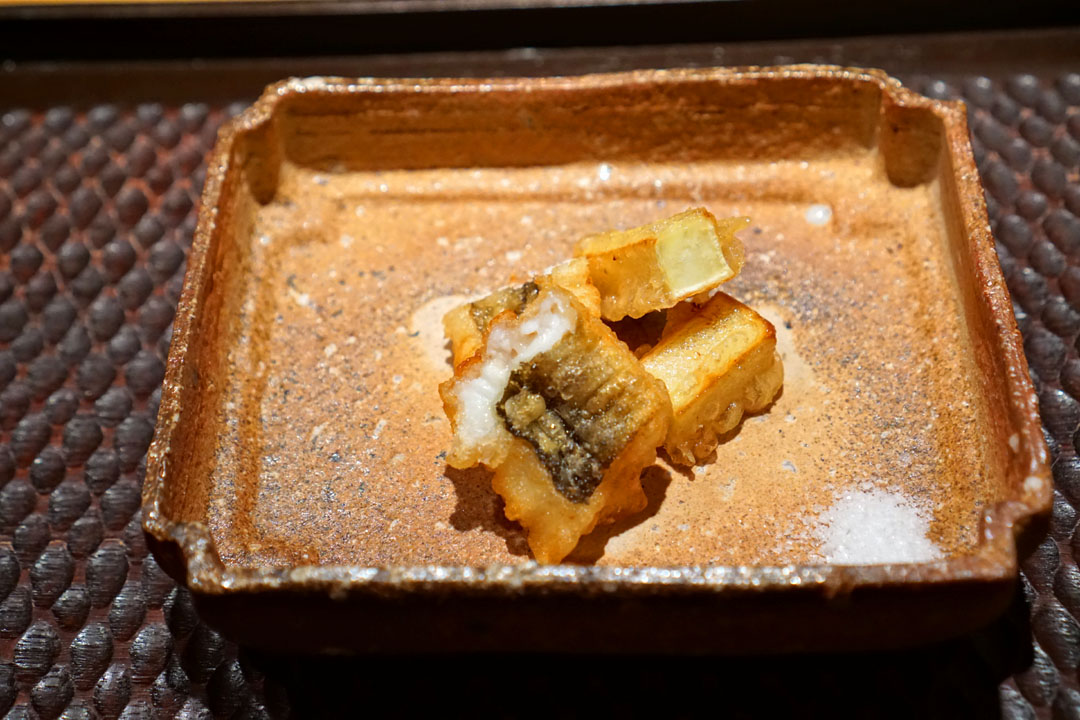 3: 穴子 丸十 天ぷら (Anago and Satsuma Sweet Potato Tempura)
Agemono
duties were handled by a duo of tempura. I stated with the sea eel (made from an extra-large specimen according to the Chef), which was mild-mannered at first blush, but soon conveyed a building, prickly salinity that was evened out by the fish's delicate, yet quite apparent batter. The
maruju
, meanwhile, was even better. I loved how the potato's sweetness was so deftly accented by its crispy caramelized bits, while a dab of salt served as the perfect finishing touch.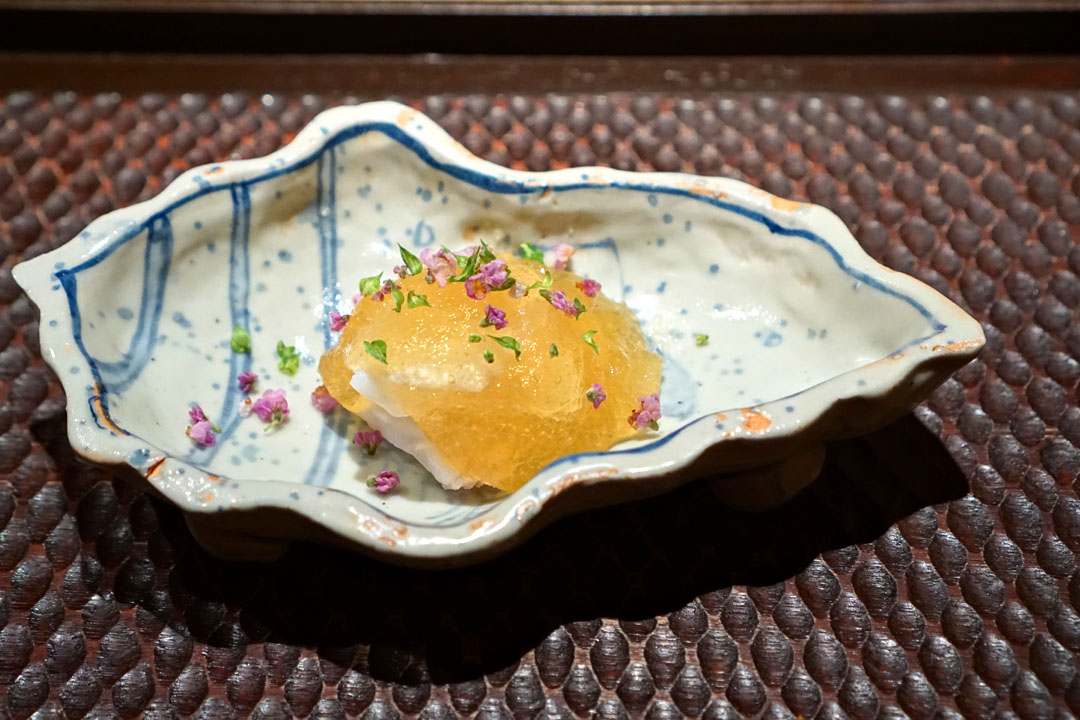 4: クエ しゃぶしゃぶ 土佐酢 ゼリー (Kue Shabu Shabu, Tosa Zu Jelly)
According to Chef Go, longtooth grouper is best in the fall-winter time frame, and tonight's example from Kyushu showed off a firm, meaty, yet supple texture made possible by shabu-shabu-ing the fish for just a few seconds. The delicately sweet taste of the
kue
linked up well with the sour-n-savory
tosazu
jelly, and I really enjoyed the hint of herbaceousness imparted by those shiso blossoms.
5: 凌ぎ: 鯵棒寿司 (Shinogi: Spanish Mackerel Bo-Zushi)
Tonight's
bozushi
highlighted the delectably elegant brine and texture of aji. It was a spot-on example of the fish, one that melded seamlessly with the gingery, citrusy nuances in the bite, while the chive-boosted rice toned things down a notch.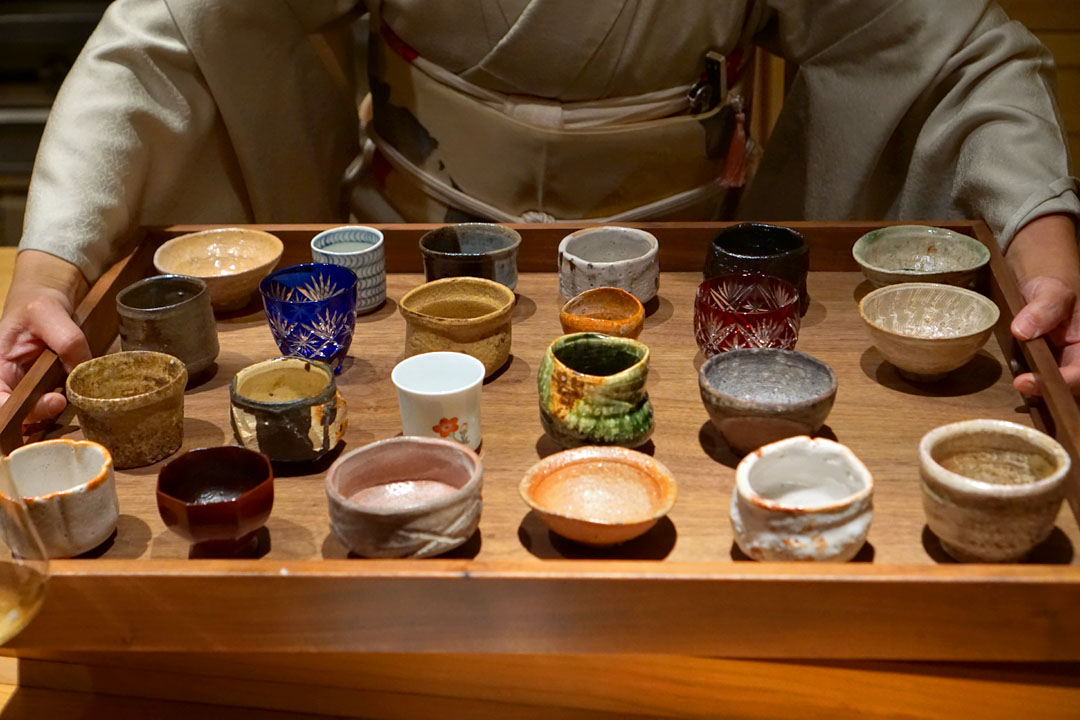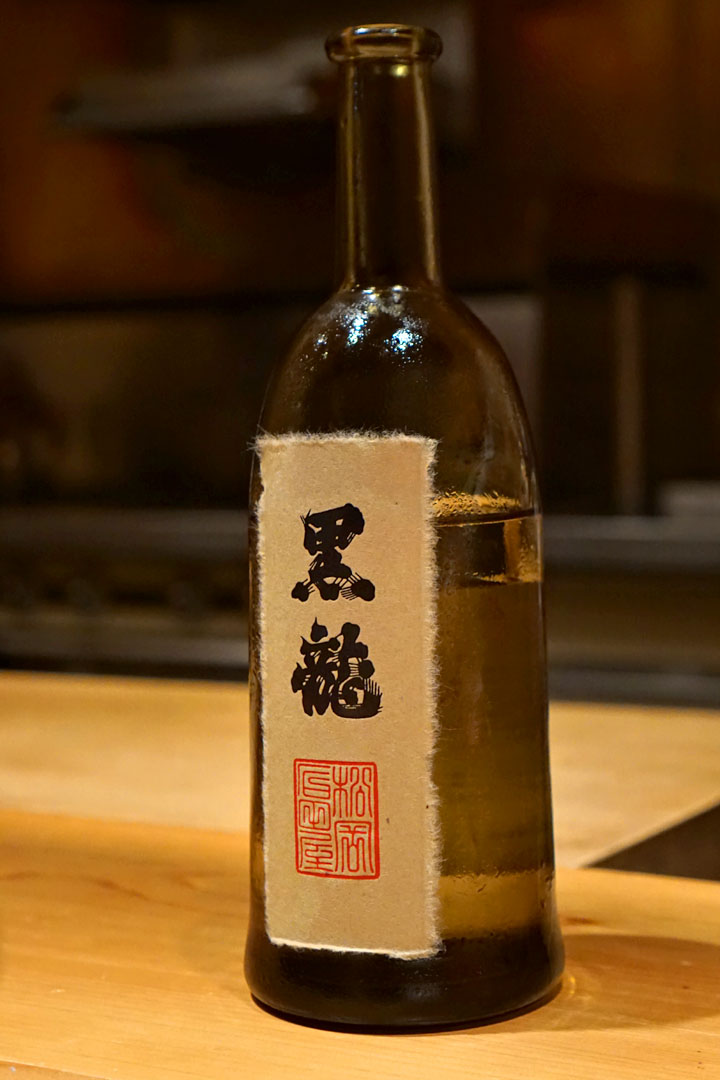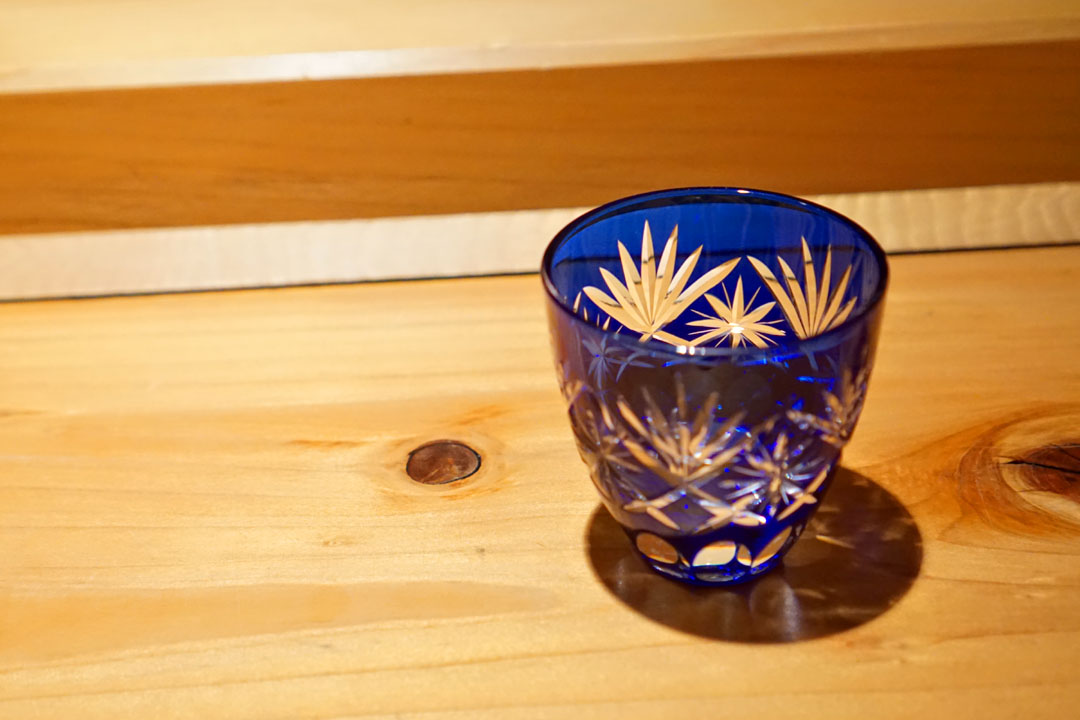 One of my fellow diners was kind enough to share a pour of the limited-edition
Kokuryu Junmai Daiginjo (黒龍 純米大吟醸)
. Hailing from Fukui Prefecture, the 35%
seimai-buai
sake had this uncommonly fragrant aroma that combined sweet and saline in expert fashion. Tasting it, this was on the silky side for sure, and demonstrated boatloads of honeydew backed by a ricey spice, finished by more of that melon. Powerful but sophisticated--yum.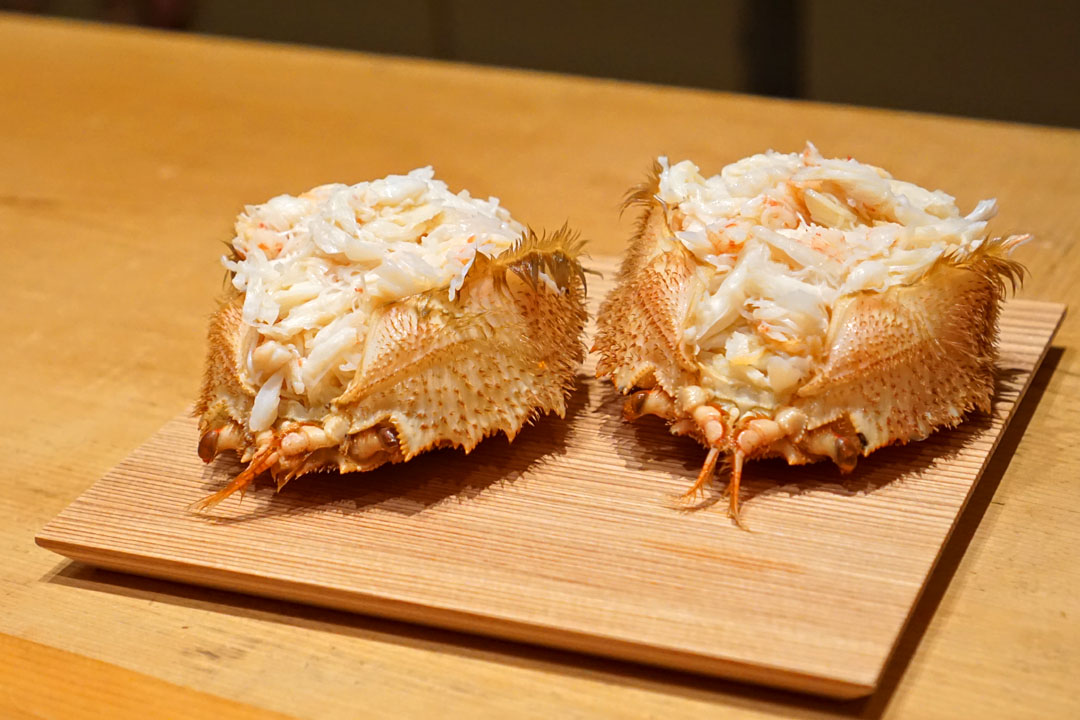 An inviting presentation of horsehair crab for our next course...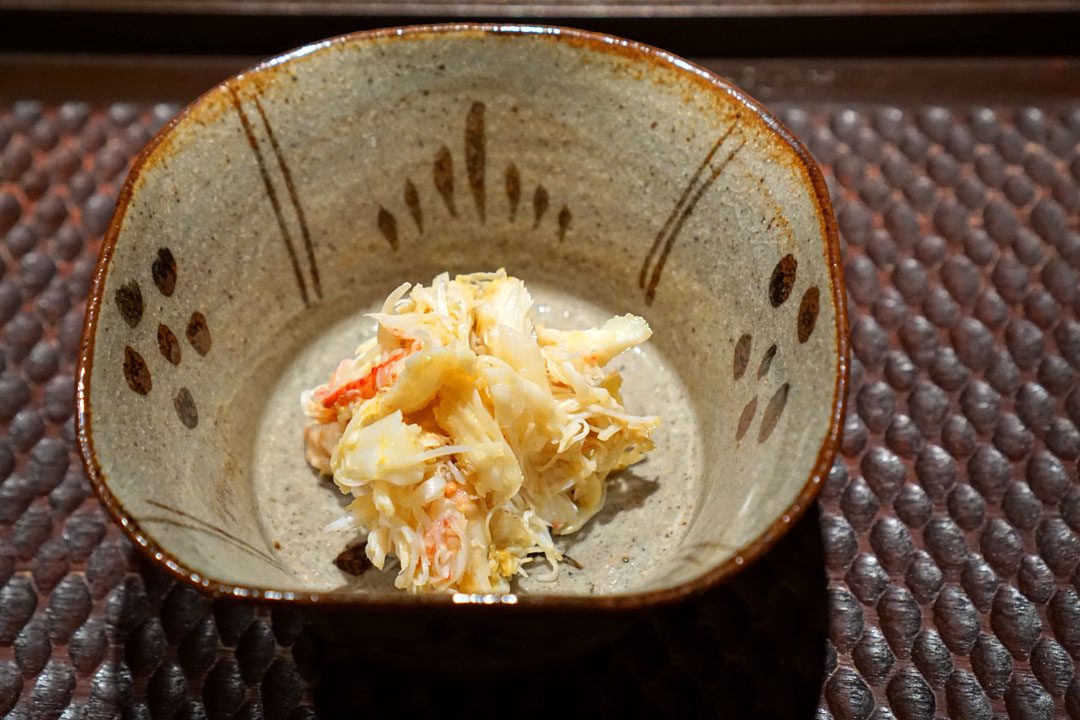 6: 毛蟹 (Hokkaido Hairy Crab)
...Which was simply the best crab I've had all year. The
kegani
was steamed, left to mature in its shell for two days, picked, mixed with
kanimiso
, and served slightly chilled. The end result had this remarkable focus and concentration, with the sweet-n-saline character of the crab meshing perfectly with the pungent depth of its innards.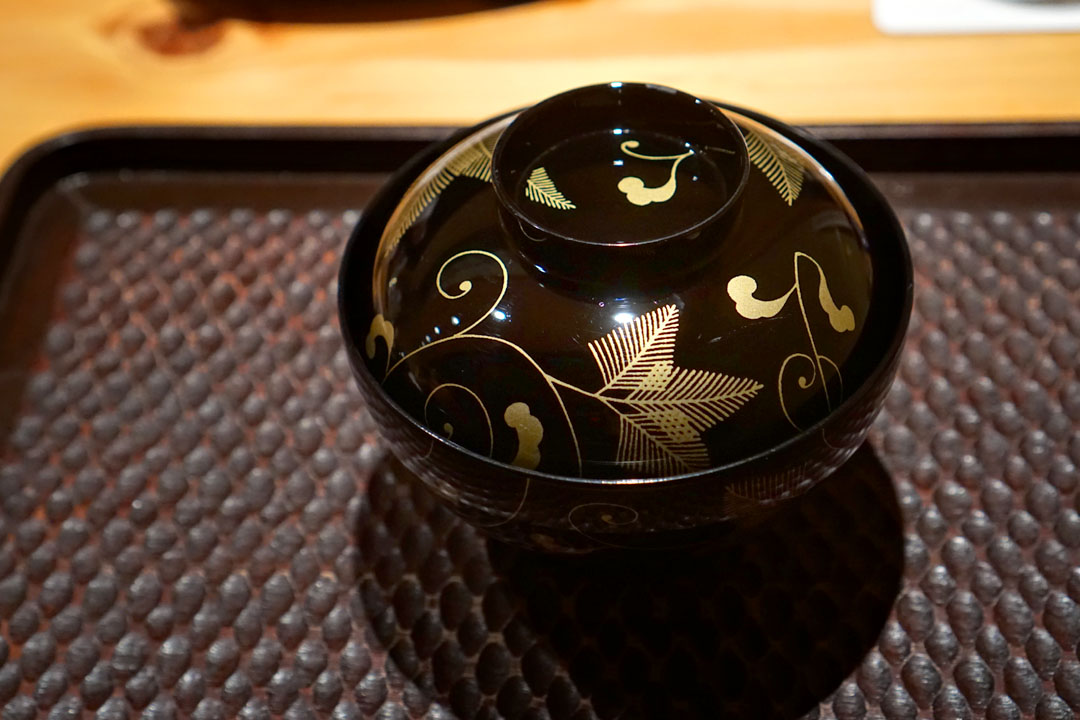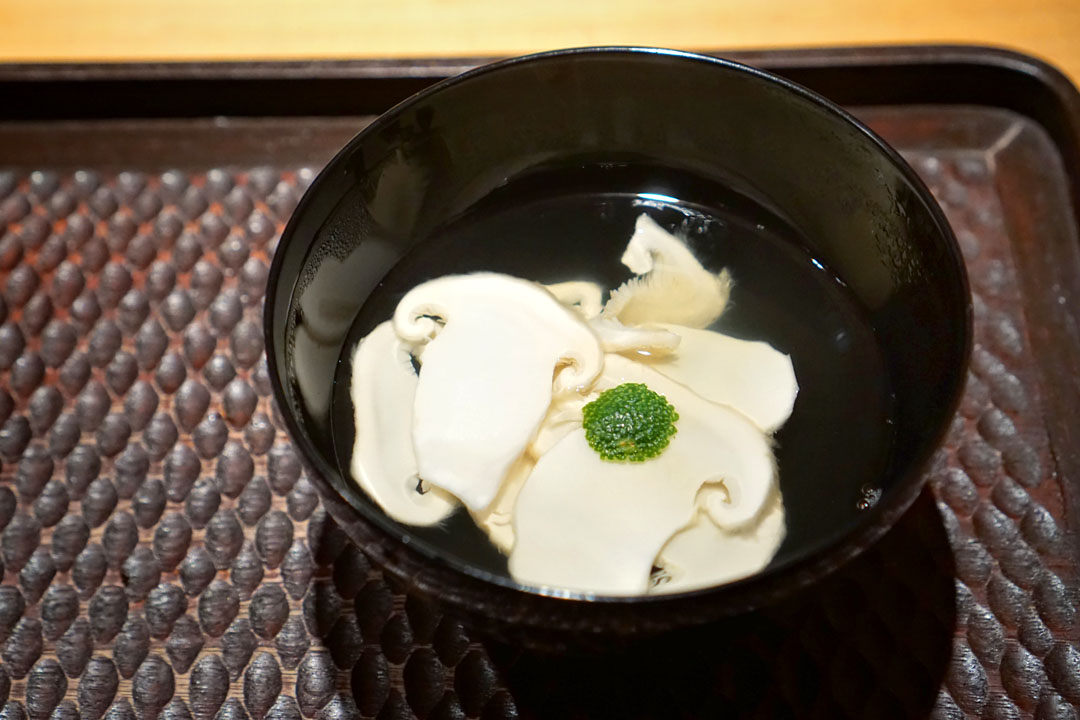 7: お椀: 松茸 吸い物 (Owan: Matsutake Suimono)
Matsutakes are a prized year-end treat in Japanese cuisine (one that I often look forward to), and thus made their second appearance of the night in soup form. The mushrooms had this dainty, snappy sort of texture, while they were relatively restrained in terms of taste, as they'd been used to flavor the broth, which possessed this cozy, autumnal sort of depth, redolent of smoke, spice, and earth, but accented by just a smidge of citrus.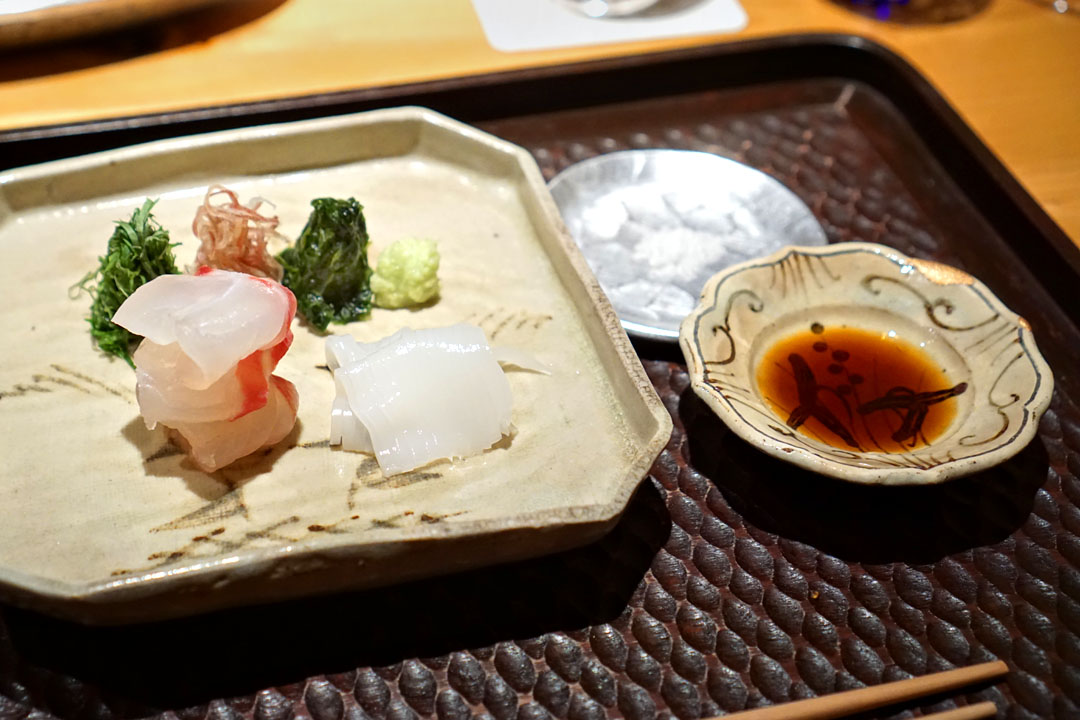 8: 造り: 鯛 新イカ (Otsukuri: Sea Bream, Baby Cuttlefish)
Given the importance of madai in Japanese culture and celebration, I wasn't surprised to see this
ikejime
-dispatched, two-day-aged example on the menu tonight. It was a beautifully-textured cut of bream, one with a delicacy that made it pair better with the lighter nature of the salt than the soy. We also enjoyed a whole middle-of-the-season baby squid, cut into fine strips, making for a unique, semi-sticky sort of mouthfeel. The
shin
ika worked with the salt as well, but I found that the soy, along with a bit more wasabi, made a lot of sense, too. Also on the plate were mounds of shiso, myoga, and nori, which we were instructed to use as palate cleansers.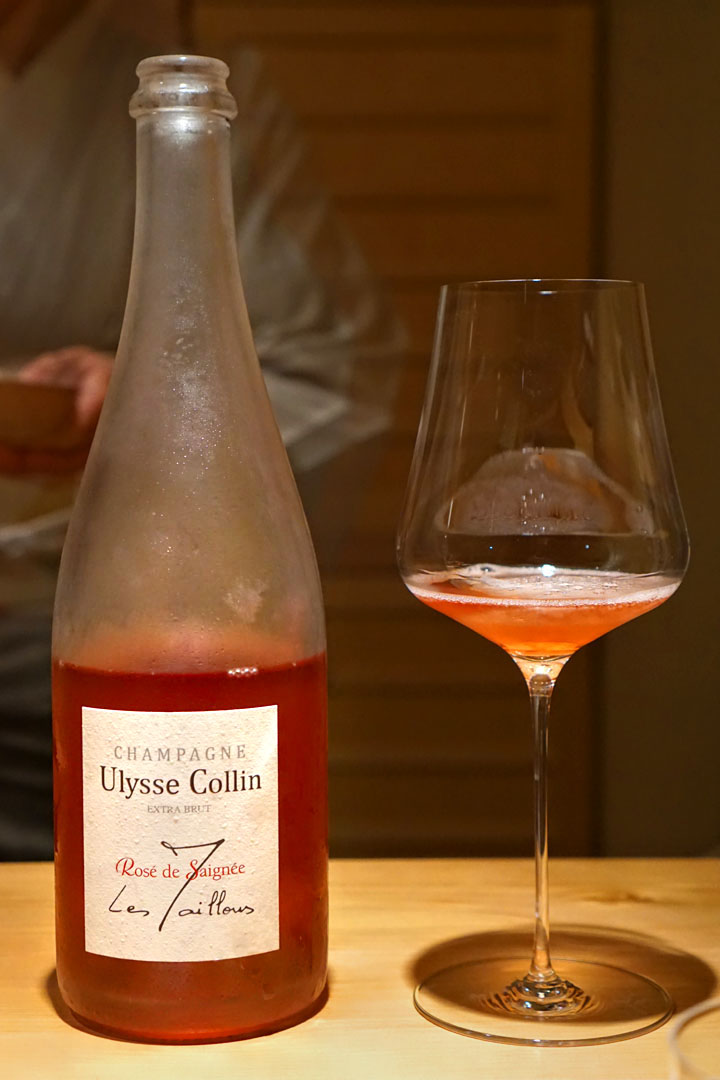 The person who offered me a taste of sake above also proffered me a pour of the
NV Ulysse Collin "Rosé de Saignée - Les Maillons"
, which I'd actually considered ordering myself. This was perhaps the most vibrantly-tinted rosé Champagne I'd ever seen, and its aroma was similarly vivacious, with super bright red berries layered on top of pert minerals and a smidgen of funk. Taste-wise, I got more of that rich, luscious, juicy red fruit, with a bit of floral, set over a tempering backbone of saline. A fun one and a crowd-pleaser for sure.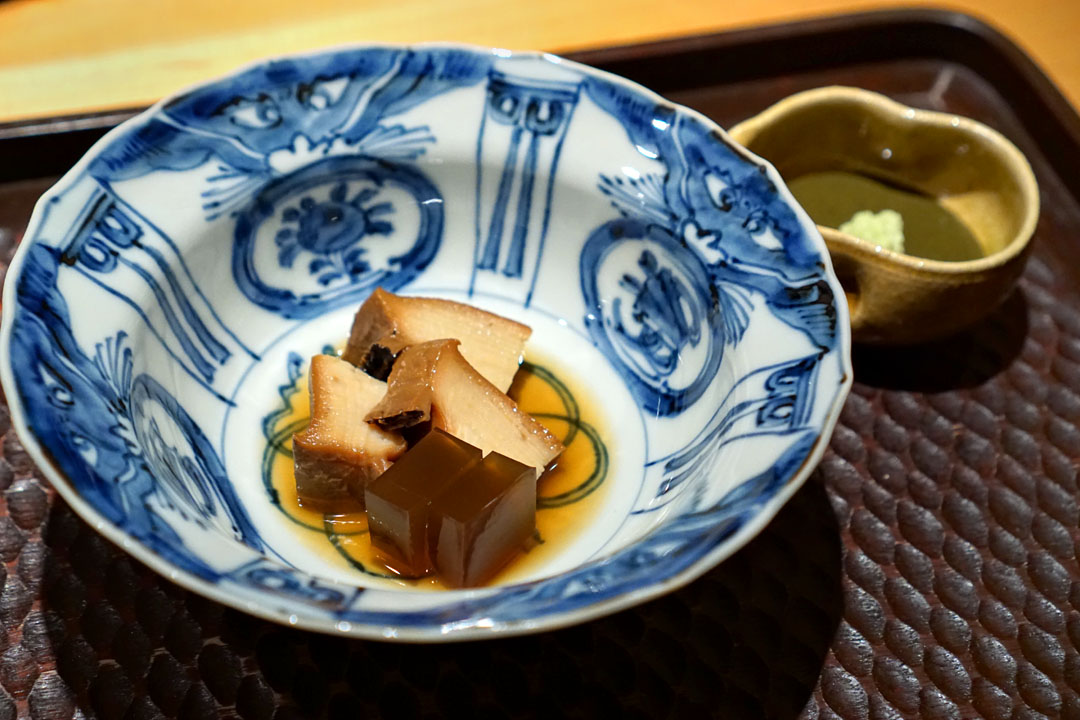 9: 蒸し鮑 肝ソース (Steamed Abalone with Liver Sauce)
Awabi has been a staple on Hayato's menu since the beginning, so its appearance tonight should come as no shock. The abalone was a joy texturally thanks to its meaty, gratifying, yet yielding consistency, while it offered up boatloads of umami (augmented by cubes of abalone stock) alongside an almost "hammy" smoke. The dish was further heightened by the complexity of the accompanying
kimo
sauce, not to mention the wasabi's sharp heat.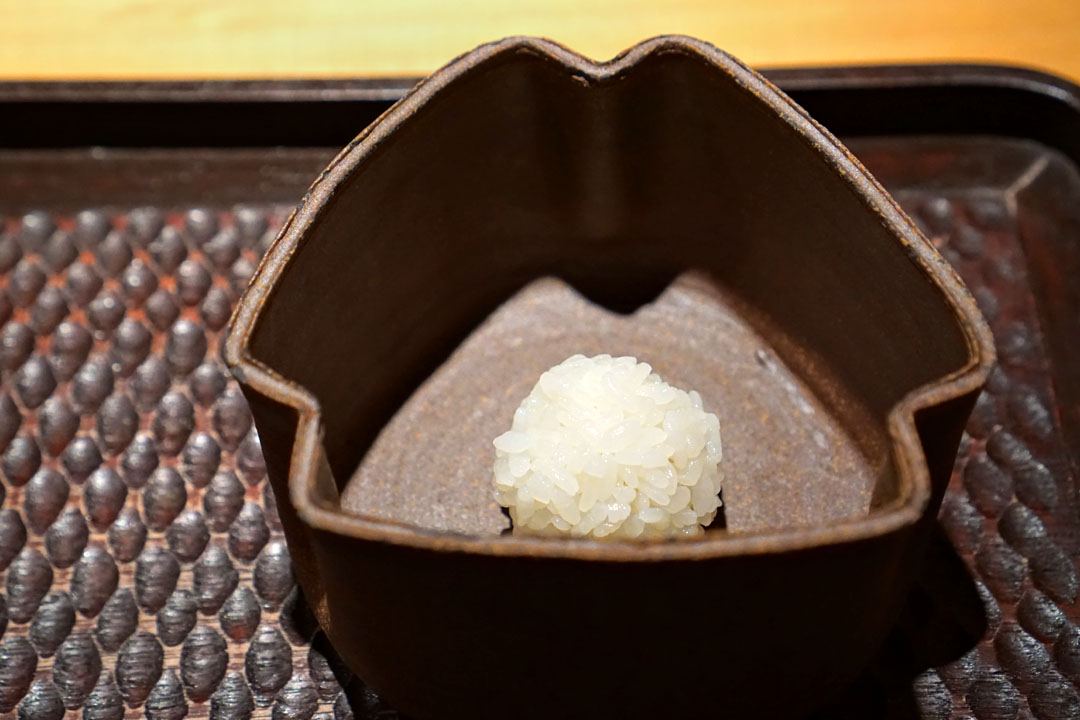 Given how tasty that innards sauce was, we request some rice to soak up the remainder with (à la
Takeda
).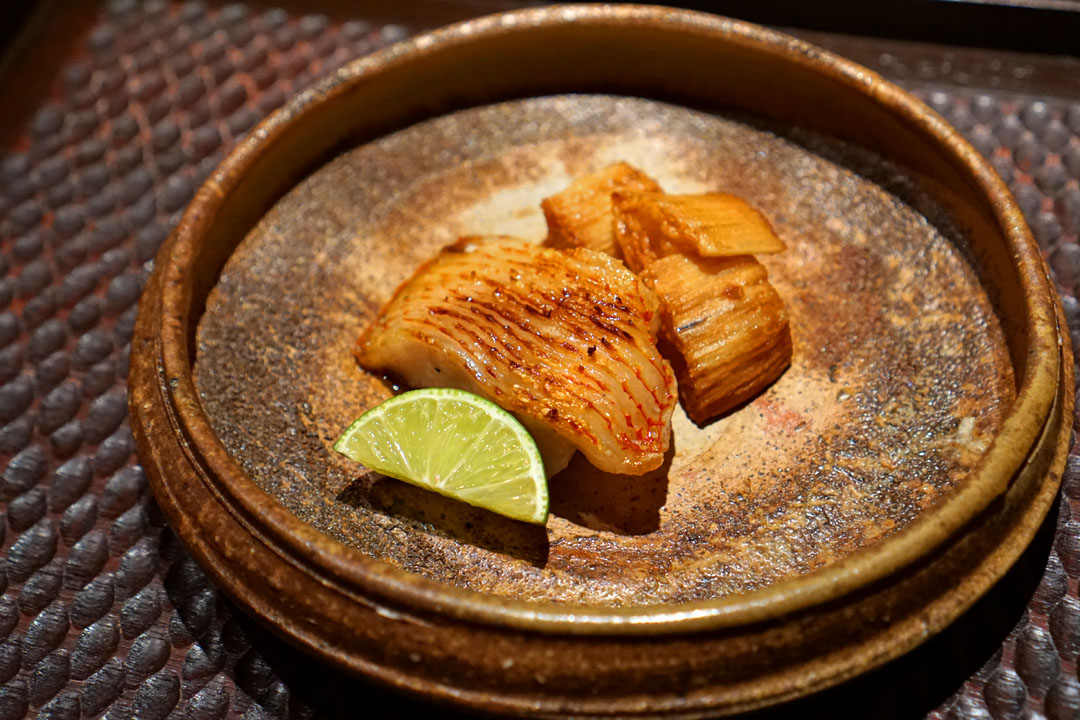 10: 焼物 キンキ 蓮根 (Charcoal Grilled Hokkaido Kinki, Lotus Root)
According to the Chef, he only likes to grill two kinds of fish: blackthroat seaperch and tonight's channel rockfish. I consider the
nodoguro
my favorite fish, in part due to the amazing grilled preparation I had on my first visit to Hayato, though I might have liked this
kinki
even better. In fact, I'd place it among the top cooked fish dishes I've ever eaten, and this was largely because of its flawless, showstopping marriage of smoke and fat, of crispy charred skin and sweet, succulent, luxurious flesh. A squirt of sudachi was appreciated, but not strictly necessary. Accompanying the thornyhead were lotus roots that'd been slow-roasting over the fire since the start of service. They were also a delight, and I relished their chewy bite and caramelization.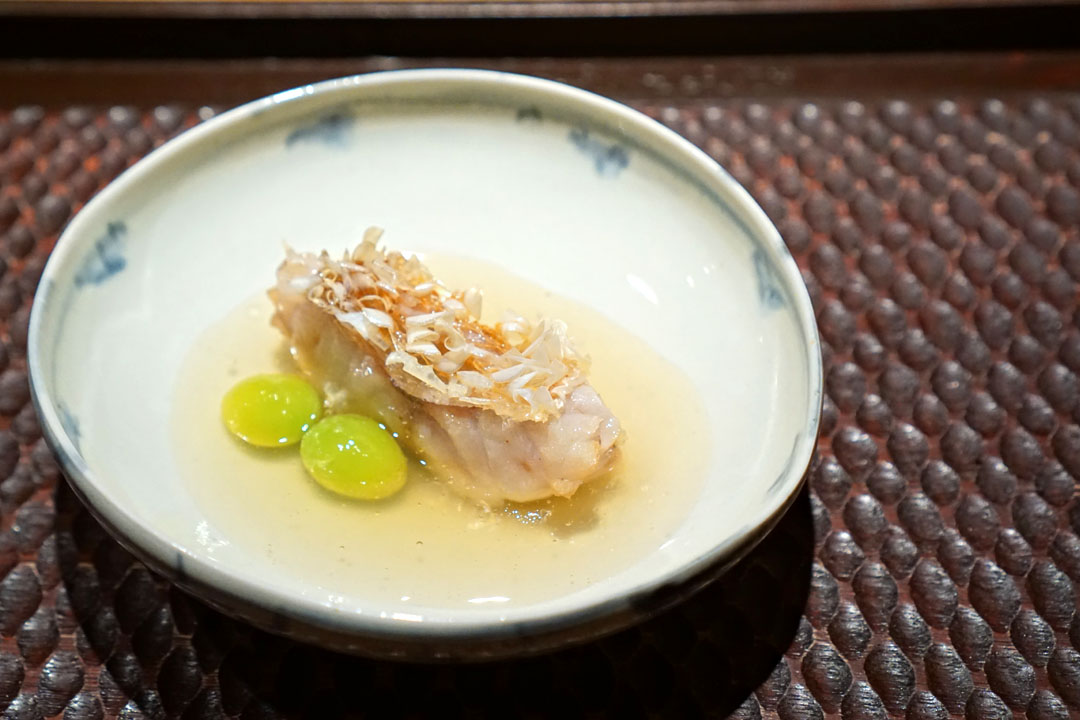 11: 甘鯛 松笠揚げ 銀杏 (Fried Amadai with Crispy Scales, Fresh Ginko Nuts)
Next up was another excellent presentation of cooked fish. What grabbed my attention was the tilefish's
matsukasa
-style skin and scales, which, thanks to a dousing of hot oil, had this fantastic, super delicate crunch. Meanwhile, the flesh was properly supple, revealing both finesse and vigor, and took well to the sweet savor of
ankake
, all while ginkgo nuts provided both texture and offsetting bitterness.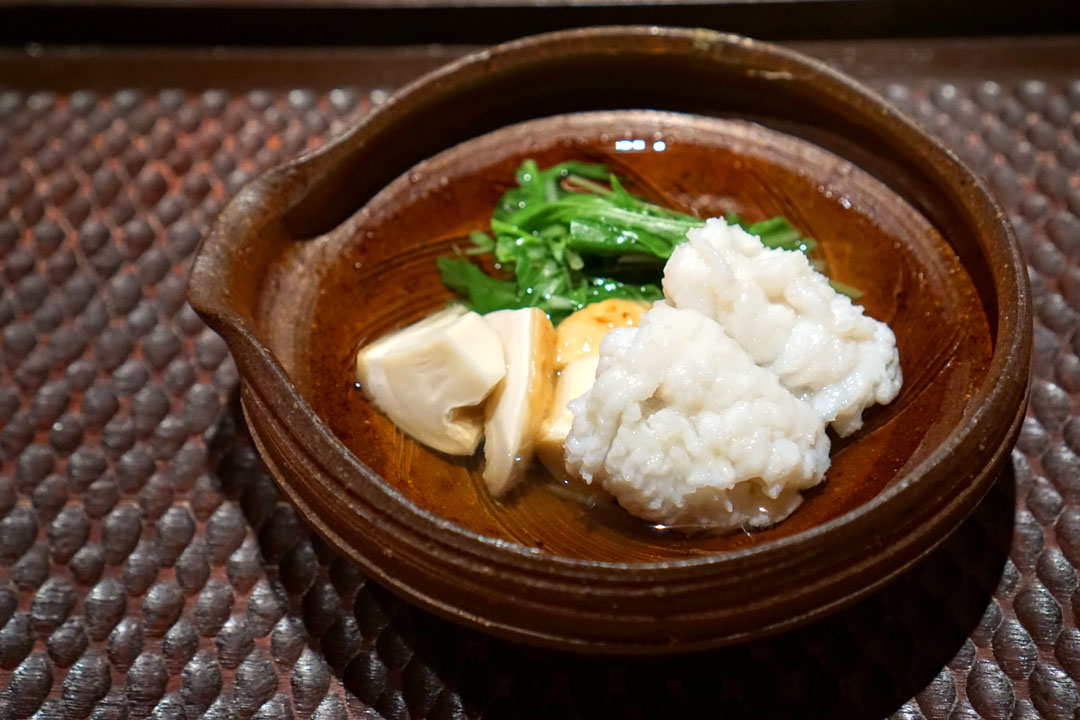 12: 鍋: 鱧 松茸 水菜 (Nabe: Hamo, Matsutake, Mizuna)
The evening's
nabemono
course combined end-of-season pike conger with start-of-season matsutake, as we happened to be in that brief period of the year where the two ingredients overlap. The eel had an especially exquisite, almost "fluffy" texture with almost no discernable bone fragments thanks to deft application of the
honekiri
process. At the same time, the musky, meaty, thick-cut mushrooms worked great for contrast, and I was a big fan of the bitter accent from those greens, too.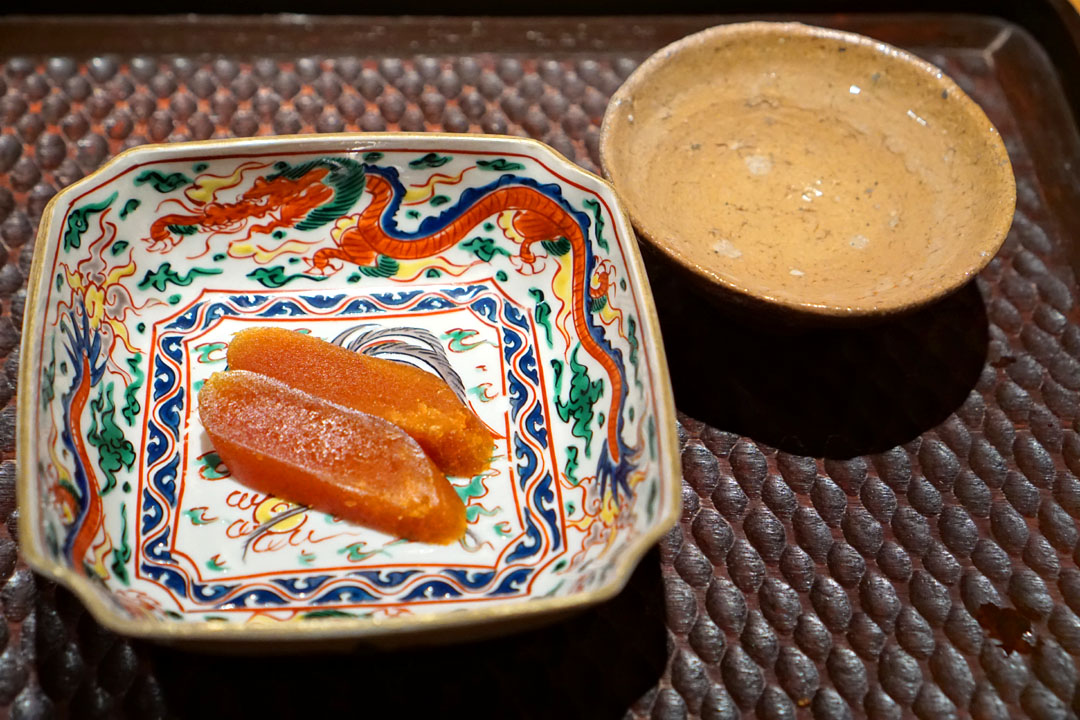 13: 珍味: 焼唐墨 (Chinmi: Grilled Karasumi)
Fire-roasted mullet roe indicated that we were nearing the end of our meal. The two persimmon-hued blocks featured soft centers but firmer exteriors, and exuded a healthy dosing of salt and smoke that was balanced out by a saucer of sweet-scented Koshi no Kanbai Muku sake.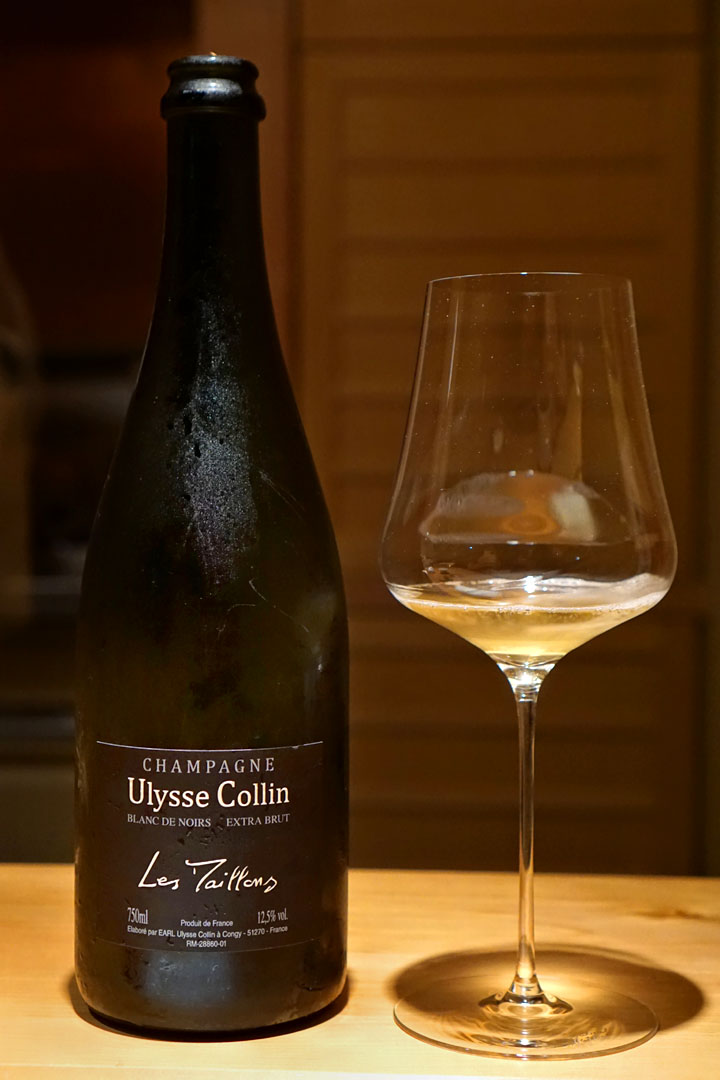 Our final beverage was the
NV Ulysse Collin "Les Maillons" Blanc de Noirs
(36 months, Nº62, lot 15/2, disgorged March 2019), which also came courtesy of the same fellow diner above. The wine had a rather in-your-face nose brimming with this lively, nearly lactic funk laced with touches of preserves. Tasting it, I found the Champagne assertive with its acidity, with a balance of bready, mineral-driven notes taking center stage over its fruitier nuances. Overall, a brasher, yet still eminently delicious expression compared to the Les Pierrieres.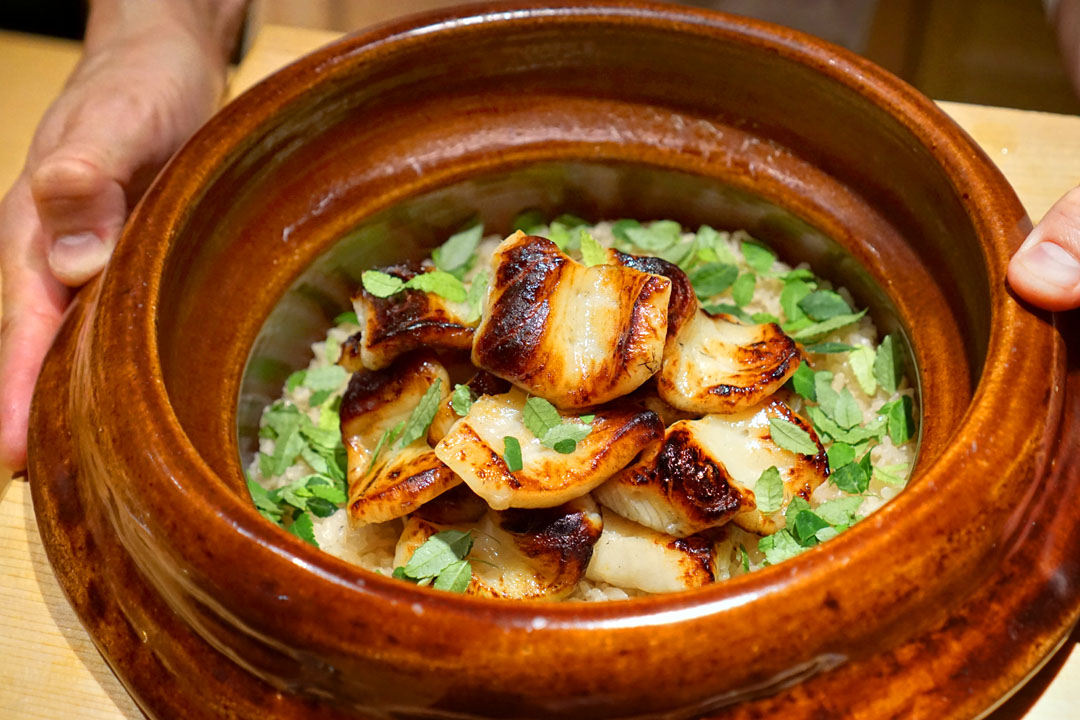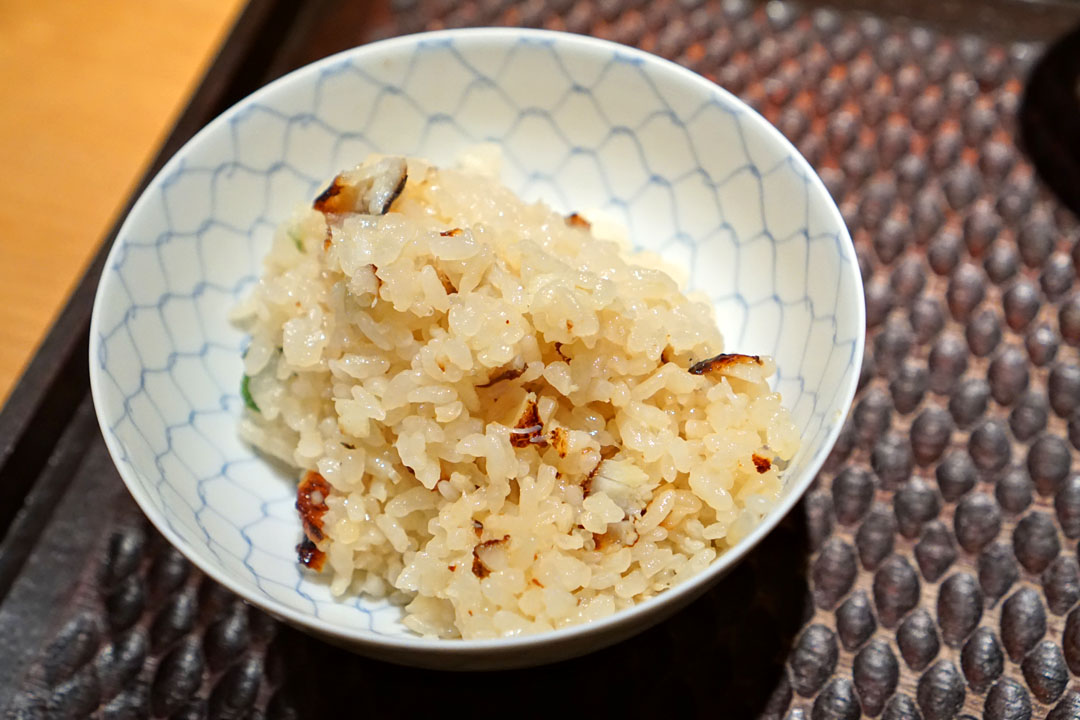 14: 銀鱈 西京焼 ご飯 (Saikyo Yaki Gohan)
I always look forward to the
kamameshi
course at Hayato, and tonight's featured black cod. The fish came imbued with a plethora of sweet and smoky flavors, which combined like a dream with its fatty, flaky flesh. We also had
kinome
leaves and a ginger-y element that was superb as a counterpoint to the richness of the gindara, while the rice itself was just what I wanted in terms of softness/stickiness. I ate four bowls (and could've done more).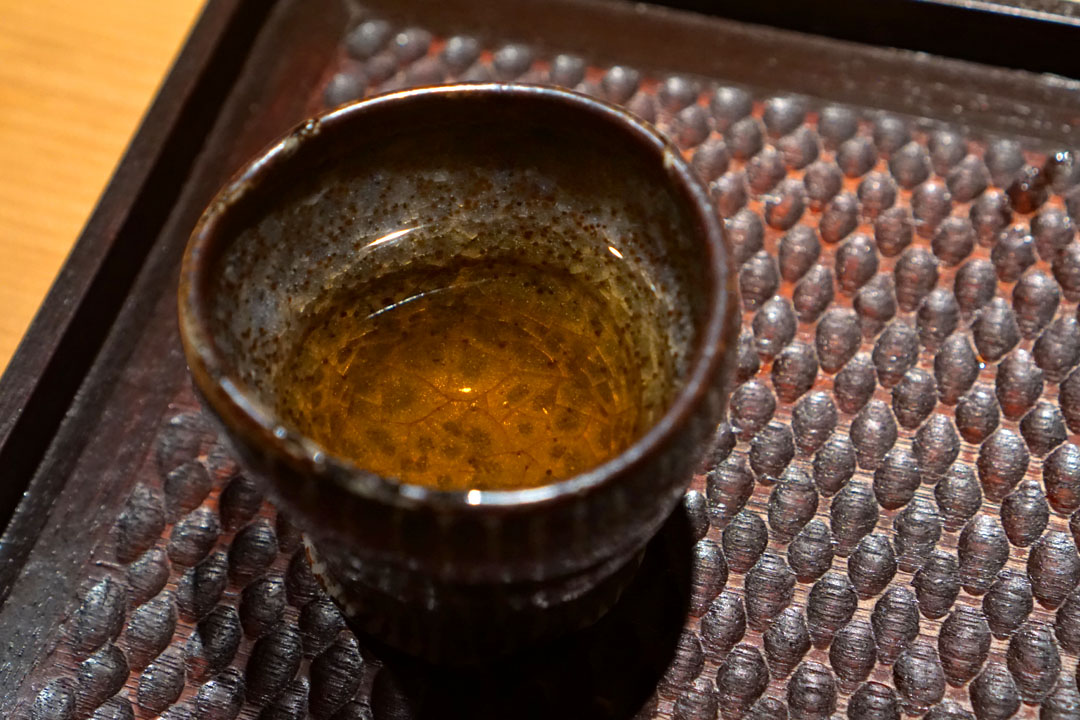 Accoutrements to the kettle rice included a hot, nutty, roasty cup of hojicha that really hit the spot.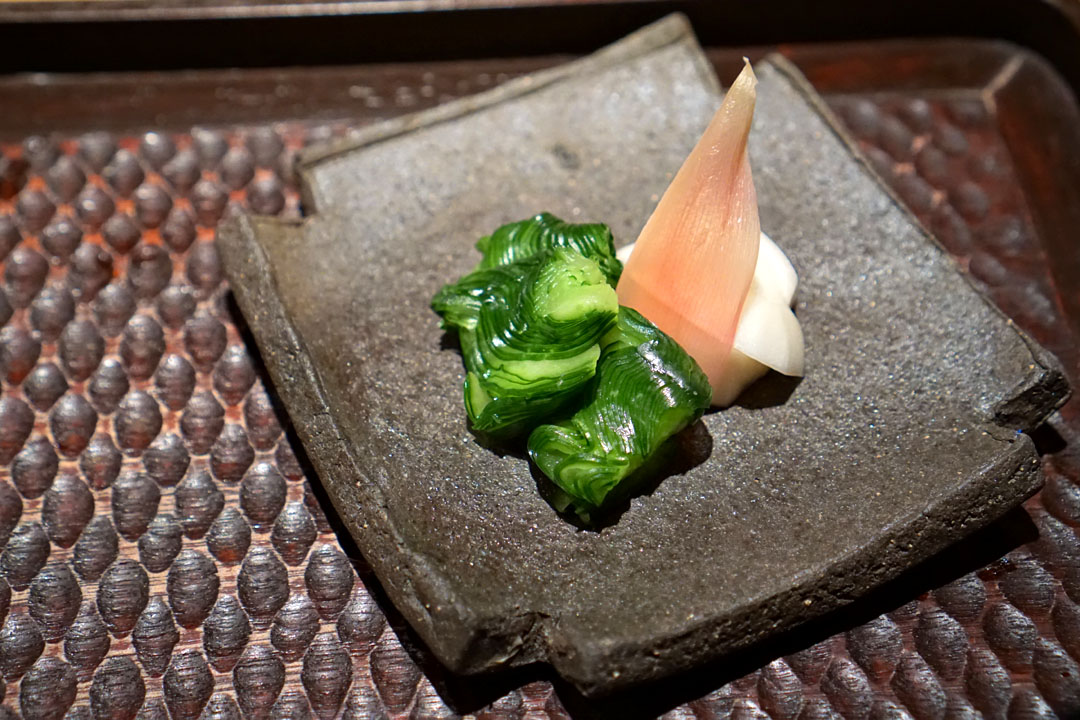 In addition,
konomono
pickles of cucumber, myoga, and turnip supplied crunch and acidity.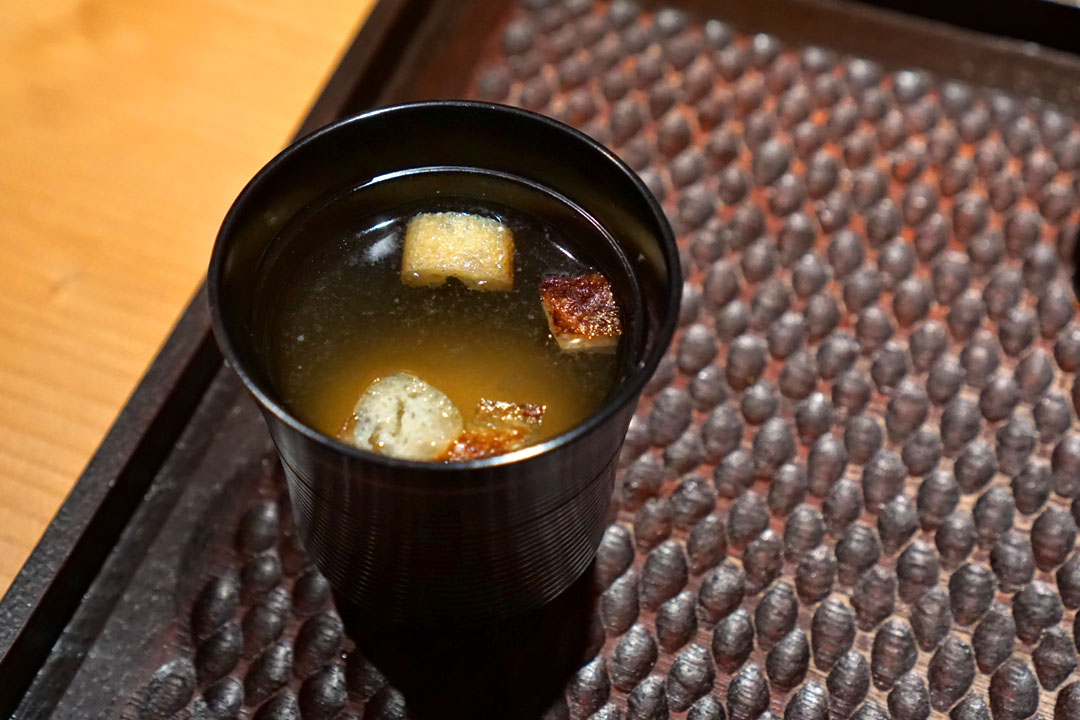 The rice also came with a cup of classic, comfy miso soup, one made even more enjoyable by those cubes of roasted tofu.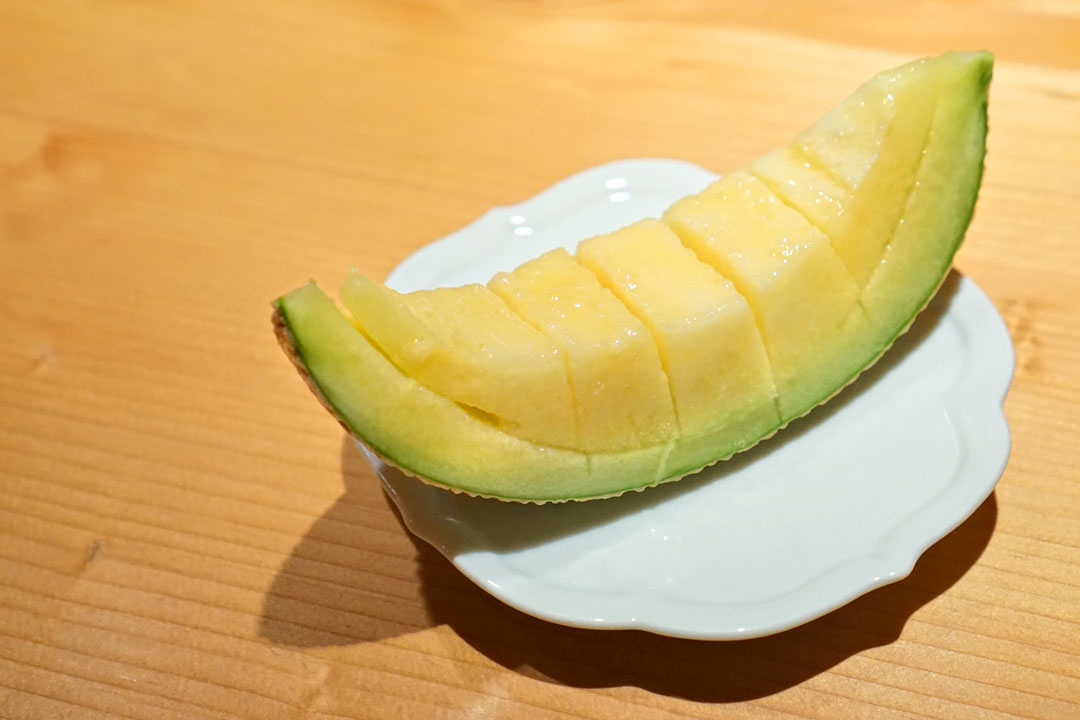 15: 水物: マスクメロン (Mizu Mono: Shizuoka Musk Melon)
A chilled slice of muskmelon from Shizuoka Prefecture was likely the best I've ever had thanks to how over-the-top juicy and sugary it was. I could've easily eaten the entire fruit.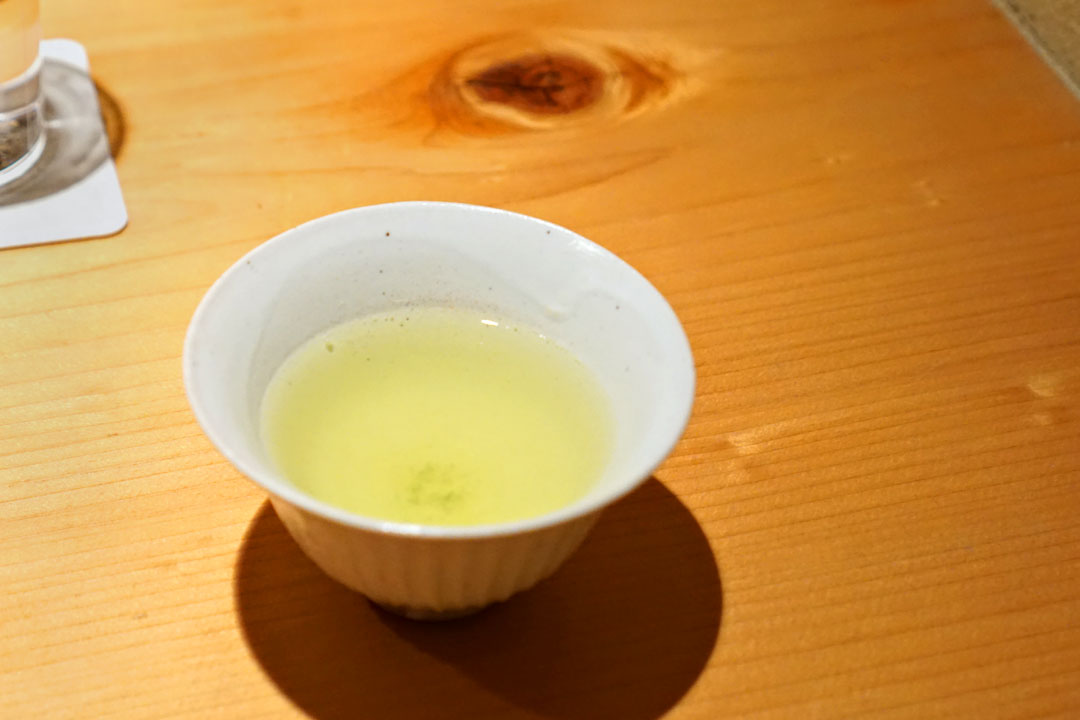 We were then served sencha from Uji, Kyoto. The tea expressed a homey bittersweetness that did a great job counteracting the sheer sugariness of the melon. Do note that the hojicha above is also made from the same tea leaves, but roasted every day before service.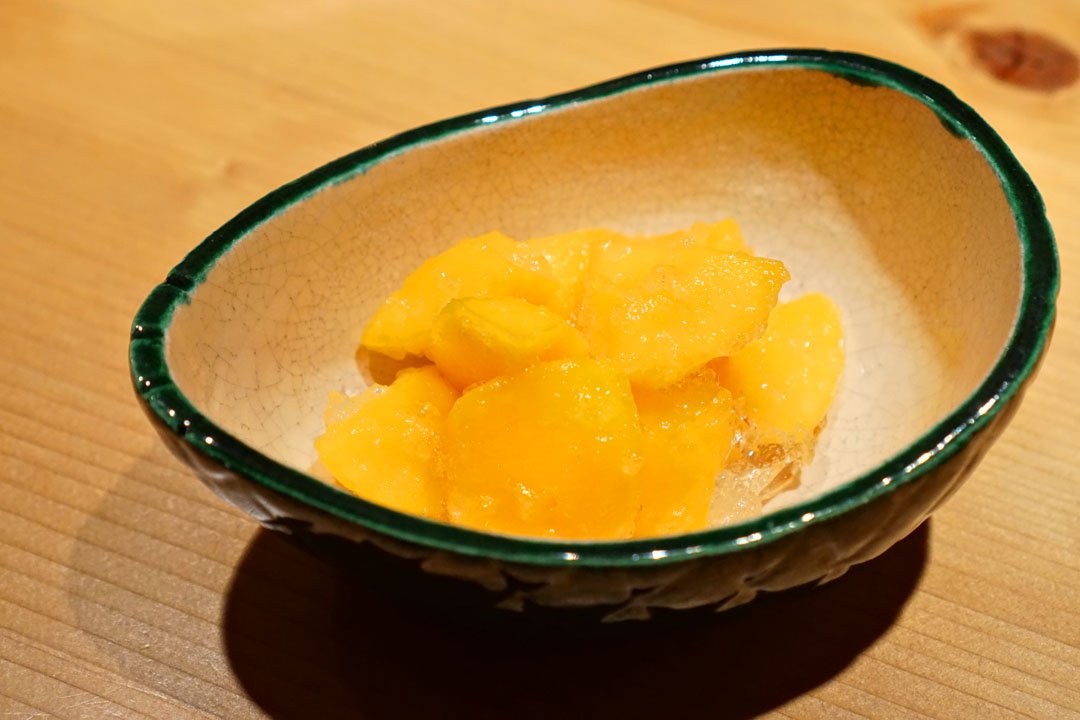 The peaches were also among the best I've had as a result of their unmitigated sweetness and succulence. However, the fruit was even better when taken with its sea salt-sake jelly, which had a marked salinity that helped even out the sugariness of the fruit.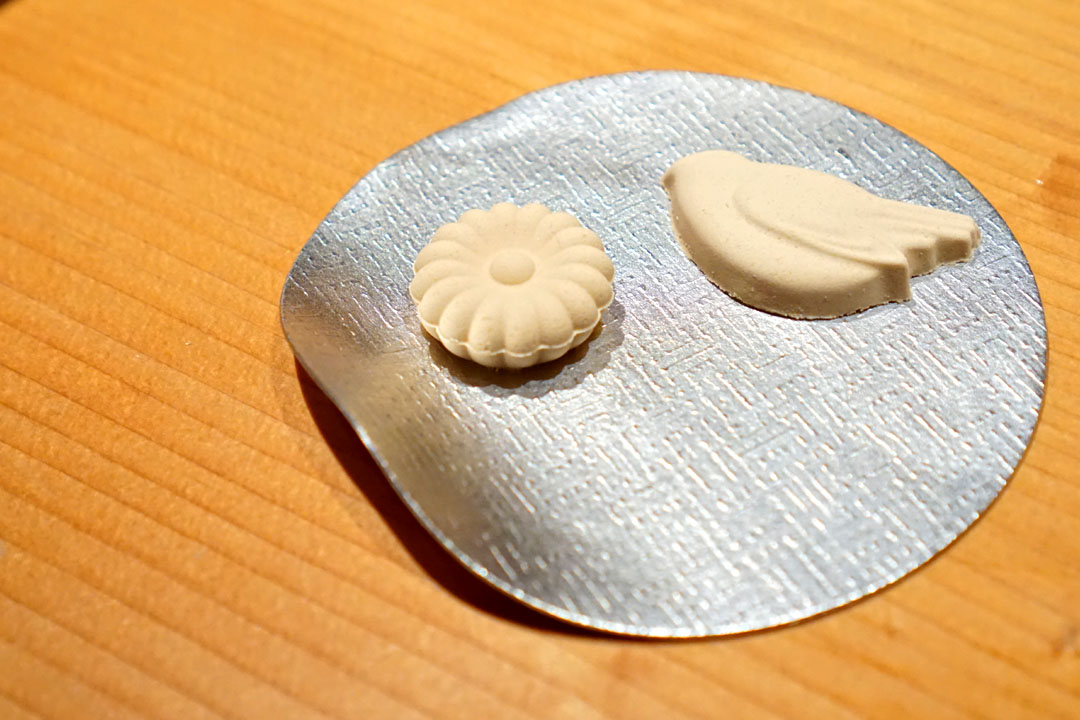 Our final bites comprised these fine-grained, melt-in-your-mouth
wasanbon
sugar treats.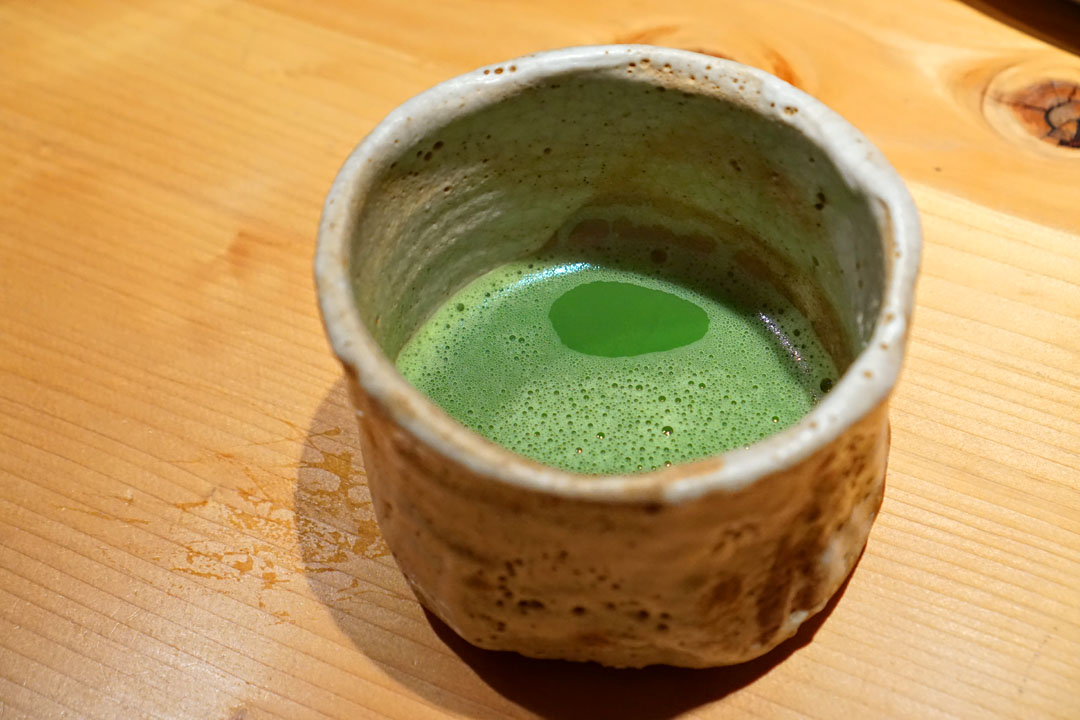 The candies were served with a traditional pairing of matcha, which had a fresh, grassy bittersweetness that worked hand-in-hand with the sugariness of the
wasanbon
. A fitting end to our dinner.
As expected, this was yet another outstanding meal at Hayato. I'm always impressed by Go's deeply personal, uncommonly thoughtful, unquestionably seasonal
washoku
cooking, presented in a uniquely serene, gracious environment. There's nothing else quite like it in LA, and I think this singular nature makes the place feel even more special. After the conclusion of my last visit, I commented this it was my best dining experience of 2021, and that may very well be the case this year, too. You should definitely come here if you can (but I'm sure you already knew that).