Birdsong (San Francisco, CA)
Birdsong Restaurant
1085 Mission St, San Francisco, CA 94103
415.369.9161
www.birdsongsf.com
Wed 10/12/2022, 06:45p-09:55p

I recently found out that I was going to be visiting the Bay Area on short notice, and of course, the first thing I started thinking of was where I'd be dining. I whittled things down to about a dozen or so options, and after making some tough decisions, chose Birdsong for the first of three meals. The place is the creation of Executive Chef/Owner Christopher Bleidorn and wife Aarti Shetty, and opened back in May 2018. Birdsong's cuisine is inspired by the Pacific Northwest region, and aims to highlight wood-fired "heritage" cooking, with an emphasis on seasonality, locality, and traditional techniques of food preservation and preparation.
About the Chef
: Christopher John Bleidorn was born in December 1981 and grew up in the town of Hingham, Massachusetts, not too far from Boston. After graduating from Hingham High School in 2000, he began studying at Johnson & Wales University the following year, and attained an associate degree in restaurant management in 2003. During this period, he also landed his first proper cooking gig at a local Italian eatery called Tosca, but in October 2003, he moved to the San Diego area to work at Nine-Ten at the Grande Colonial Hotel in La Jolla. There, he cooked under Chef Jason Knibb for six years (achieving the rank of sous) before leaving in November 2008.
The following August, Bleidorn was able to secure employment at Grant Achatz's groundbreaking
Alinea
in Chicago. He didn't stay long though, as by the following autumn, he was in SF to start a new job at
Benu
, but in pastry, interestingly. It was here where the Chef would meet Aarti Shetty, Corey Lee's Director of Operations who would later become his partner in both business and life. At the start of 2013, Bleidorn became CdC at
Atelier Crenn
, and in February 2015, decamped for a similar post at
Saison
. He was there until the start of 2016, served a stint at In Situ (thus reuniting with Lee for a bit), and then began working on Birdsong the next year.
The restaurant was announced in the middle of 2017, and ended up debuting at the start of May 2018 to considerable anticipation. In November that year, the place was awarded its first Michelin star, while its second arrived in September last year. During the pandemic, Bleidorn offered takeout in the form of a fried chicken sandwich, but with the bird's claw attached. The sando became a bit of a sensation, and actually resulted in the creation of Birdbox, a fast casual chicken joint that opened in South Beach (not too far from Oracle Park) back in September.
Meanwhile, the rest of the leadership team at Birdsong includes Chef de Cuisine Yesenia Castañon, who actually got her start in pastry. She spent time at Gary Danko and Spruce before making her way here, where she began as an assistant in the pastry department before moving up the ladder to CdC. As for the front-of-the-house, it's led by Director of Operations Katie Limoges (Coast Big Sur, The Perennial, Aster, Bar Tartine,
Craigie on Main
, Hawk Inn & Mountain Resort) and Service Manager Lindsay Pelzel (Petit Crenn, Monsieur Benjamin, Lazy Bear), while Lead Sommelier duties are handled by Amy Currens, an alumna of
Sons & Daughters
, Farmshop Marin, Prospect, and Luce.

Birdsong resides in the former SoMa home of AQ Restaurant & Bar (October 2011 - January 2017), and the space has been reworked by
Studio SAINT
, a firm based out of LA and DC. The room has an unusually airy, open layout, and sports a homey, vaguely Scandinavian type of aesthetic, with loads of light wood. Capacity is around 32, and there are also two private dining rooms located downstairs.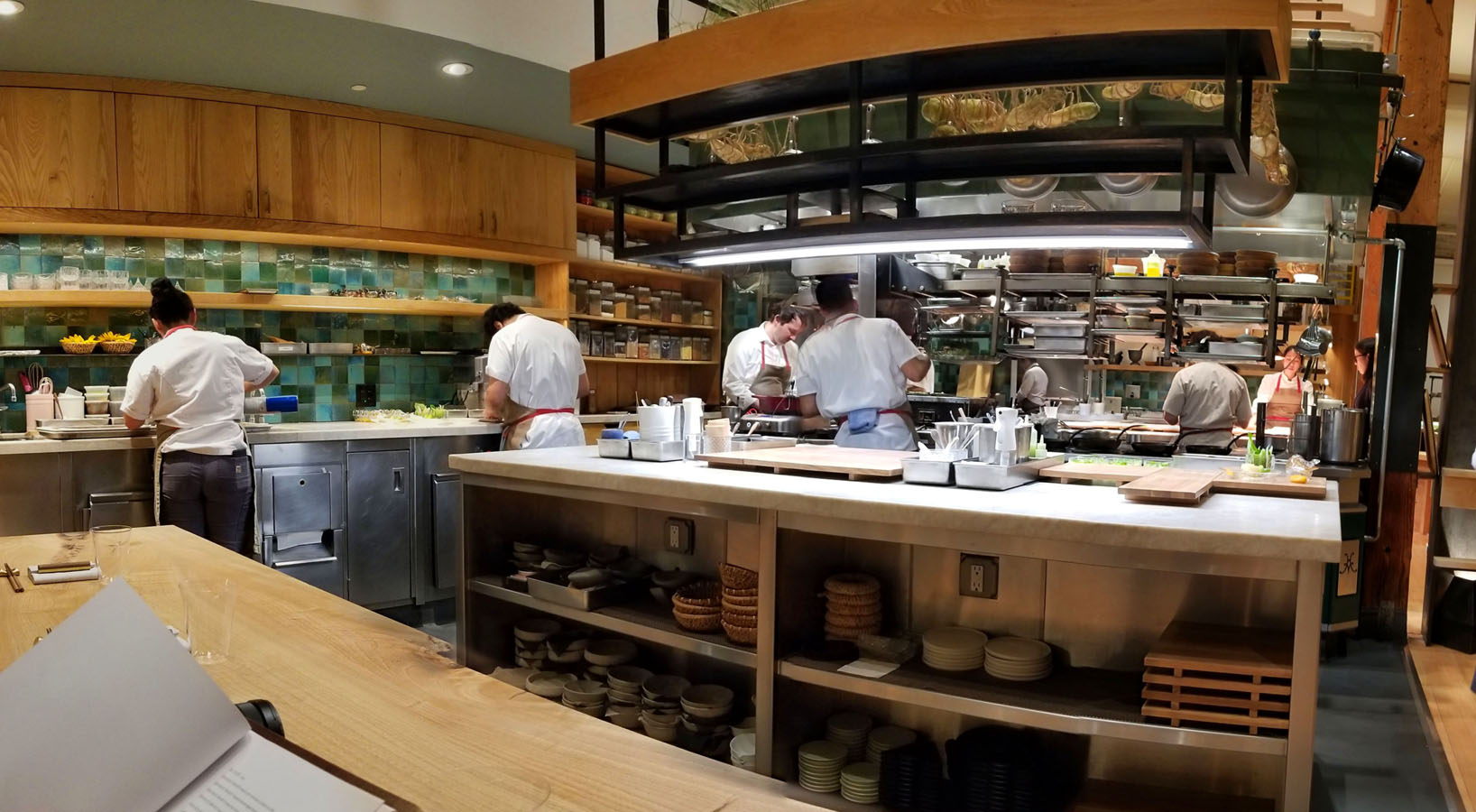 Seen here is my view from the Chef's Table, which faces perhaps the most open open kitchen I've ever encountered. Said kitchen was the work of noted designer
Alec Bauer
, who's actually responsible for the kitchens of a number of restaurants I've visited. Note the numerous suspended daikon roots, which are being held up there for aging purposes (I'm assuming so they can absorb flavors from all the cooking happening below).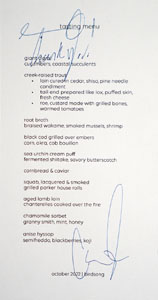 Pictured above is tonight's menu, signed by Chef Chris Bleidorn. Pricing was a prepaid $295 per person, plus 20% service, 8.625% tax, and Tock fees. To drink, there's a $165 beverage pairing offered, and the restaurant also sports a full wine list that seems to veer towards French, Californian, and PNW selections. We, however, opted to bring our own wine, paying a corkage fee of $65 a bottle (limit two). Click for a larger version.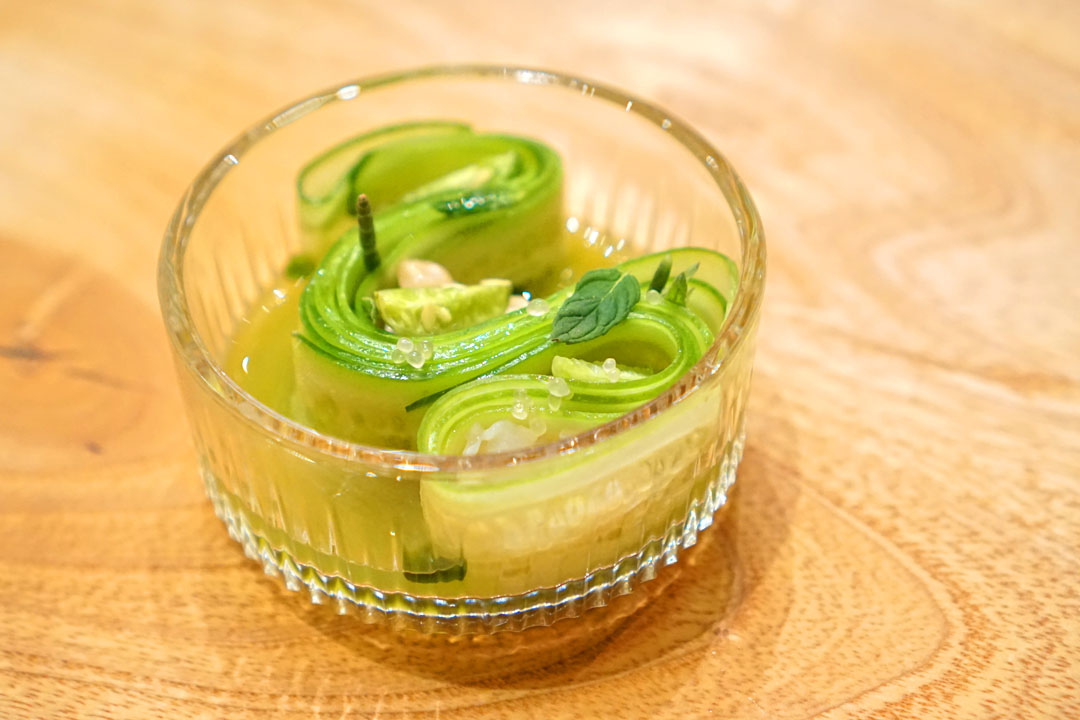 1: giant clam
| cucumbers, coastal succulents
Our first course was certainly easy on the eyes, and featured shards of crisp, oceany geoduck. The brine of the clam made a lot of sense with the refreshing crunch of Persian cucumber, and even more sense with the zippiness of mint and tomatillo. This was a fitting start to our meal, one that worked to perk up the palate, and my only quibble was that I would've liked larger pieces of the geoduck, so that its texture and salinity could've been more forcefully conveyed.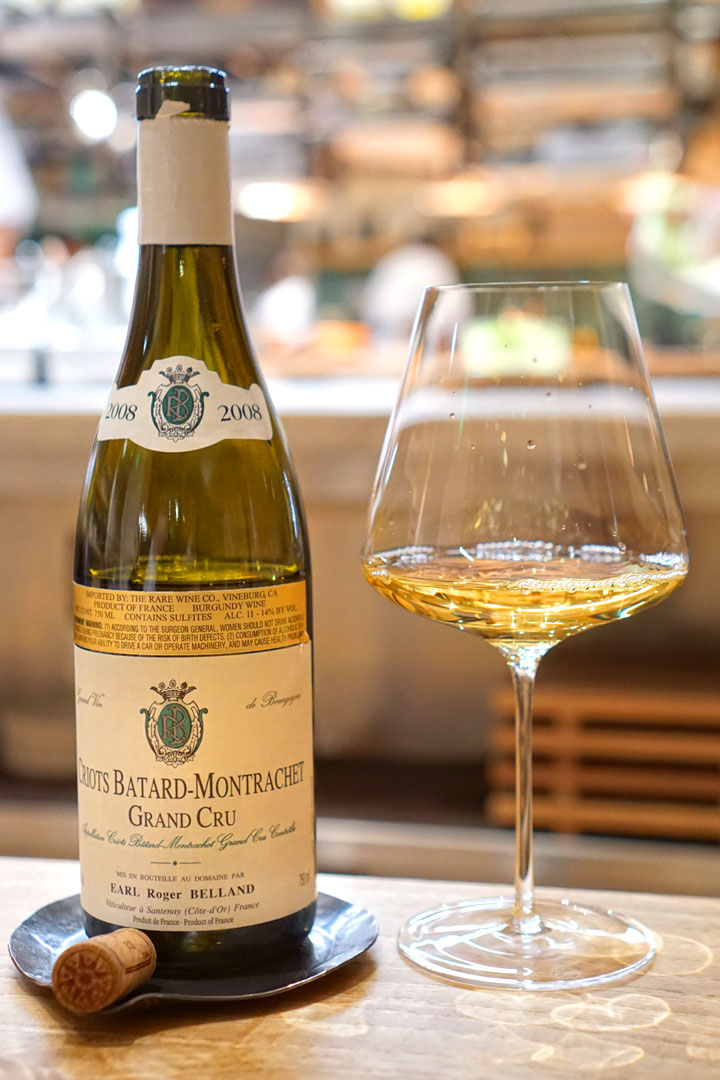 Prior to dinner, we stopped by The Rare Wine Co in Brisbane to pick up some bottles to pair with our meals, and first to drink was some white Burgundy, the
2008 Roger Belland Criots-Bâtard-Montrachet Grand Cru
. The nose here demonstrated loads of lemon curd (the most I've ever encountered) alongside pear, saline, and a touch of barnyard, and as the wine warmed, I got even more salinity and even more of that lemon, while further time in the glass resulted in the appearance of stone fruit. As for the palate, I found it generally on the round side, with loads more lemon curd joined by pineapple, minerals, and a juicy acidity, while the long, long finish was redolent of buttered popcorn. As the night progressed, even more tropical fruit appeared, as did more butter. Delicious, and a very apt pairing to our seafood courses.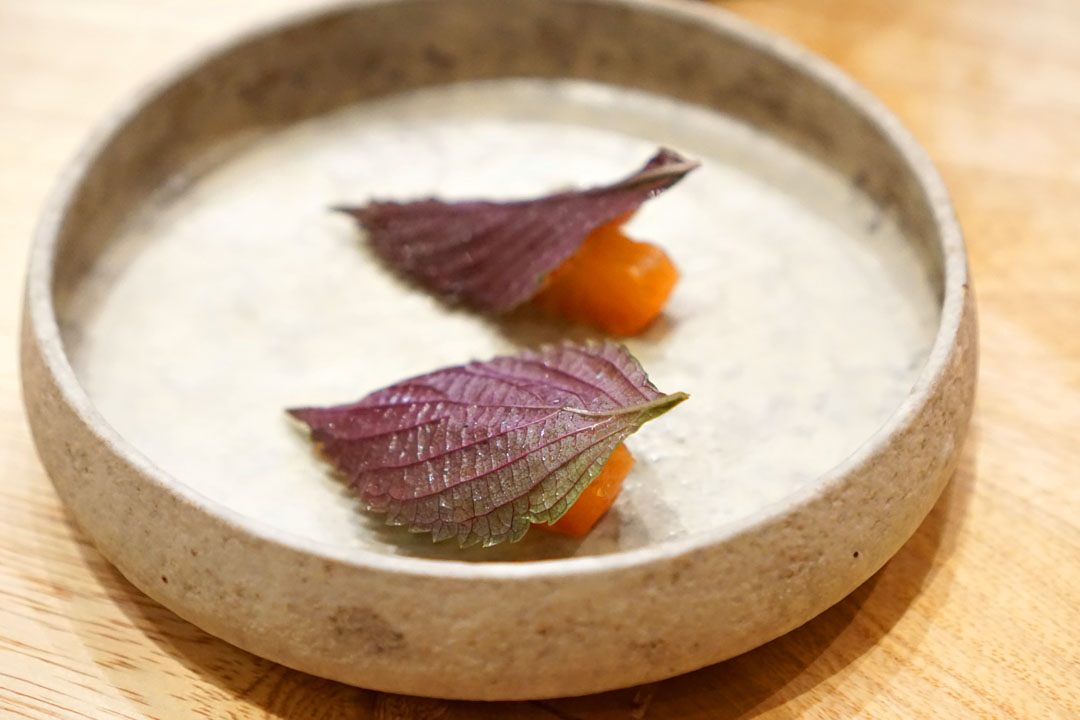 2a: creek-raised trout
| loin cured in cedar, shiso, pine needle condiment
Hitting the table at the same time were three very disparate preparations of trout. With the bites above, I loved the mintiness of the shiso up front, and how that led to the oh-so gratifying goodness of the cedar-cured fish, which demonstrated far more vigor than I was expecting. Overall, a fantastic back-and-forth between two very contrasting sets of flavors.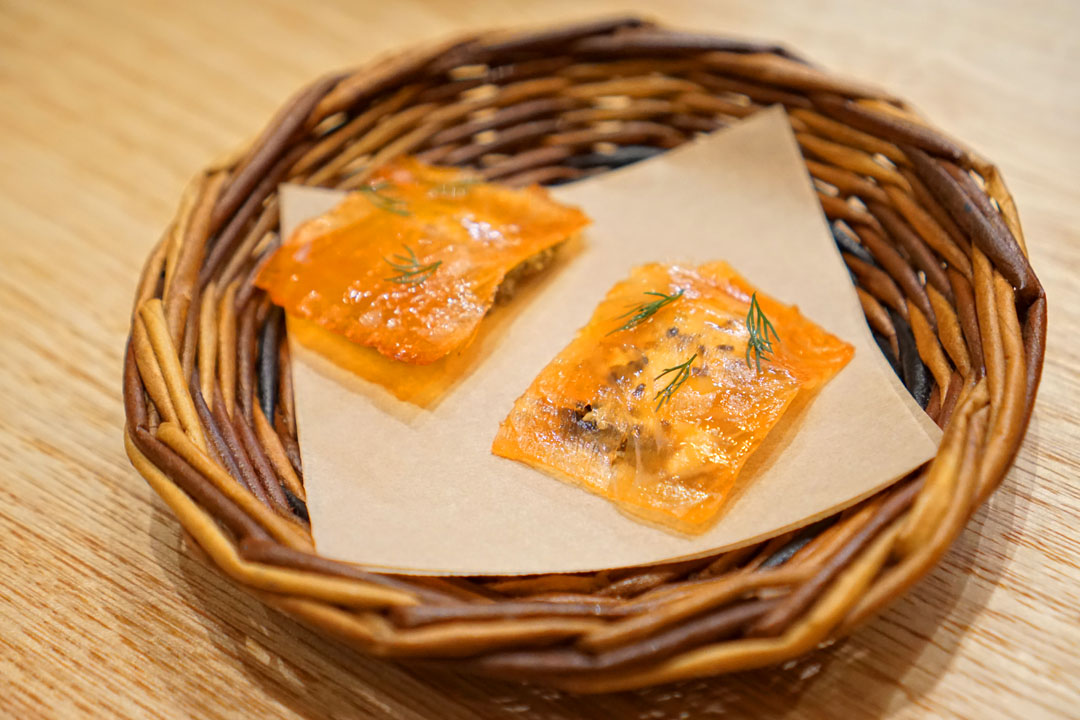 2b: creek-raised trout
| tail end prepared like lox, puffed skin, fresh cheese
Trout "lox" had a smooth, satisfying consistency, and I appreciated how its richness worked hand-in-hand with that salty, crunchy skin, all while a creamy housemade ricotta moderated everything.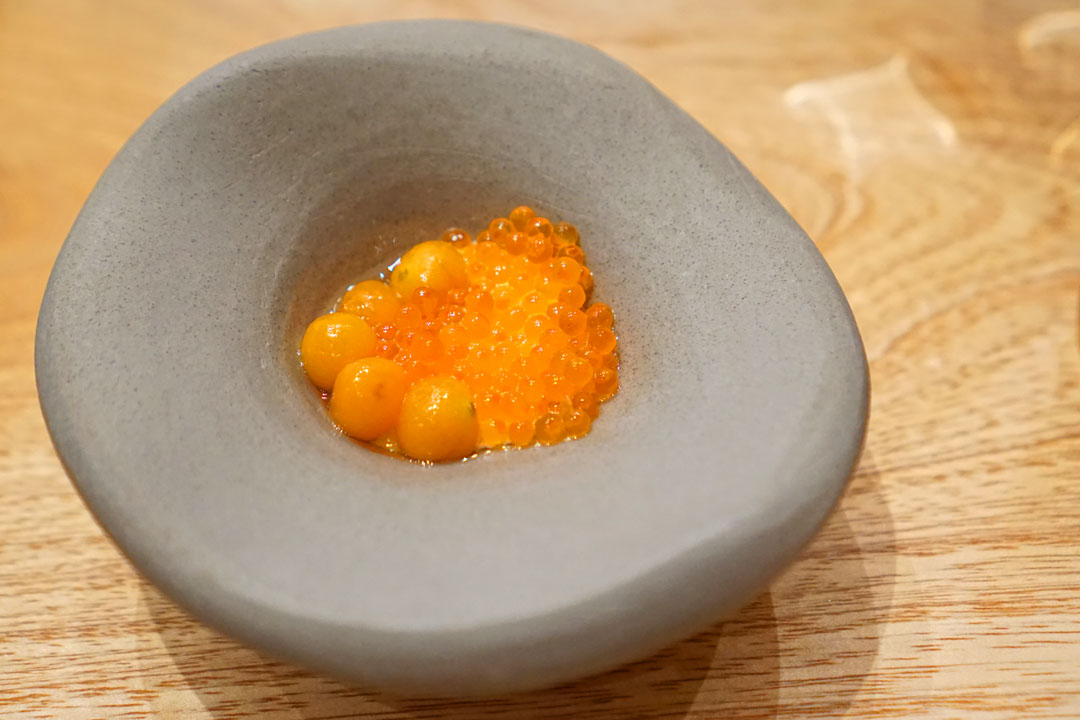 2c: creek-raised trout
| roe, custard made with grilled bones, warmed tomatoes
Trout roe was wonderfully-textured, and when combined with the bone-enriched custard, showed off a gorgeous smoky depth that was offset just enough by the tart, juicy tomatoes. My favorite of the trio.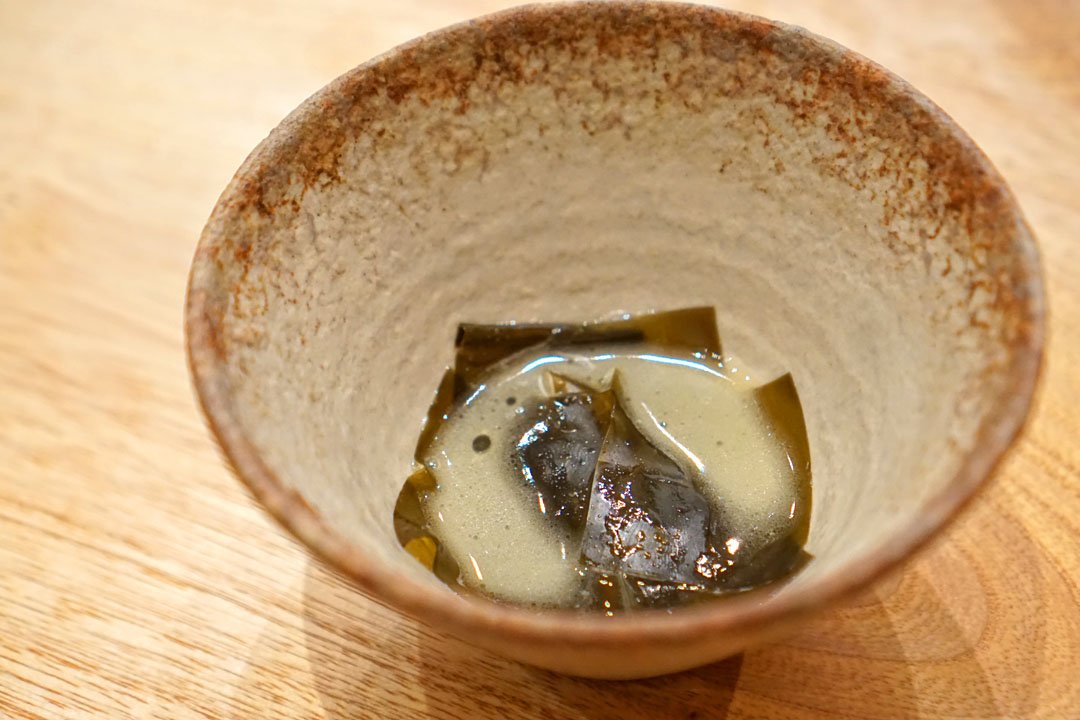 3: root broth
| braised wakame, smoked mussels, shrimp
This next course might not look like much, but it was actually one of the best things I've eaten all year. The star here was a broth made of aged root vegetables, daikon in particular. It had a real deepness, concentration, and purity, alongside an almost corn-like sweetness, and melded perfectly with the brine and umami from the mussels and seaweed. Super cool, yet comfy and heartwarming--I'd never had anything quite like this before.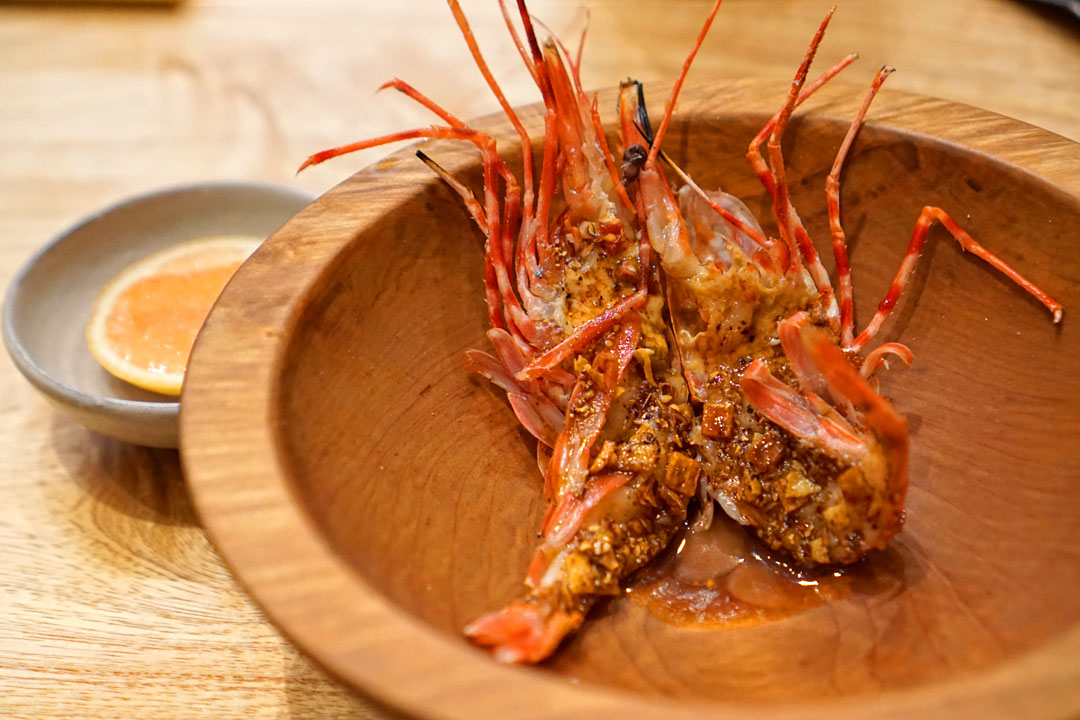 Next up was a "bonus" course featuring ember-grilled spot prawns from Washington. The shrimp were exquisite texturally, their sweet salinity at the fore, well-matched to a kiss of smoke. What took this over the top, though, was the sauce, which showed off a profound mix of heat and spice that sort of reminded me of a mix of XO and chili crisp; it managed to perfectly complement the prawns without overwhelming them. I didn't mind a squirt of pink lemon, either.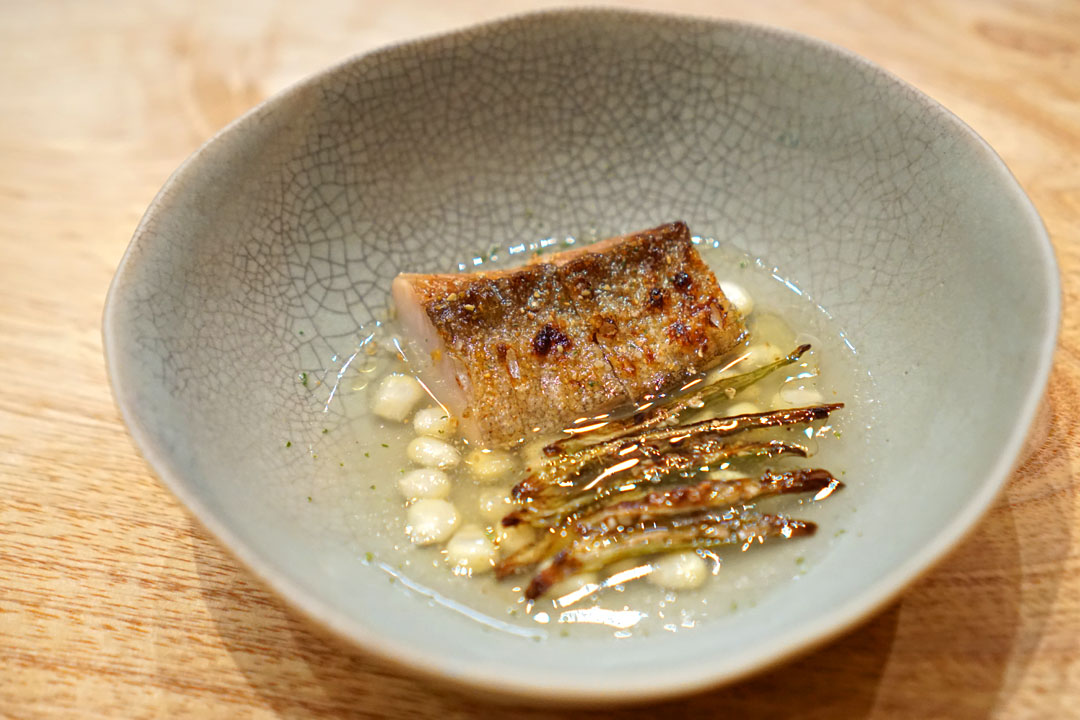 4: black cod grilled over embers
| corn, okra, cob bouillon
The five day-aged black cod was another winner thanks to its superbly crispy skin and spot-on marriage of both delicacy and robustness with a potent, smoky astringency. A corn cob broth imparted a tempering touch of sweetness to the fray, and I was a fan of the charred, well-textured okra, too.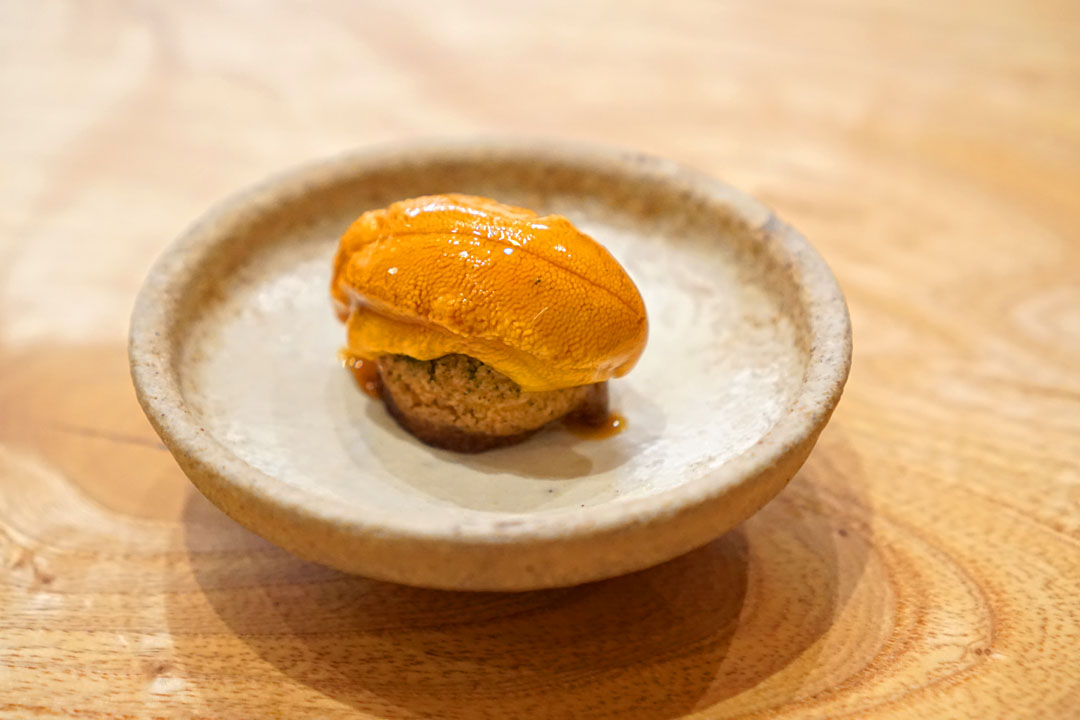 5: sea urchin cream puff
| fermented shiitake, savory butterscotch
Here we have perhaps the most intriguing bite of uni I'd ever had. I definitely got the cool, sweet, oceany qualities of the urchin up front, but the key was how this transitioned to the dark tones of the caramel-y butterscotch, which lingered long on the finish, while the woodsiness of the mushroom powder made itself known just enough. This was a showstopper, and I can see why it's considered Birdsong's signature dish.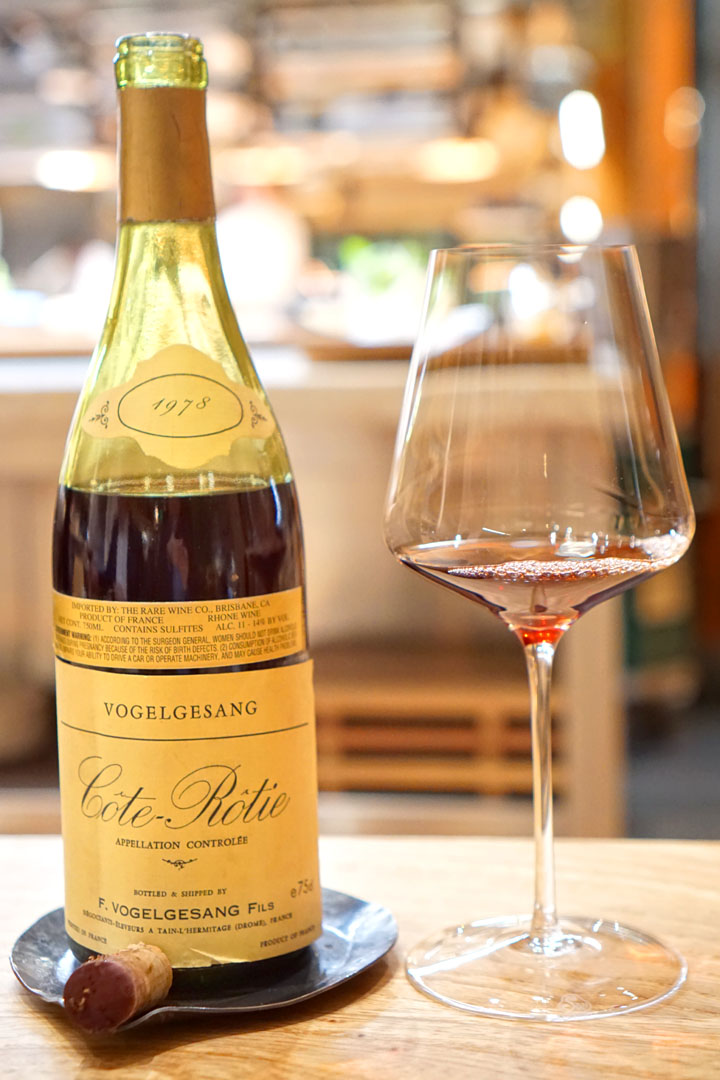 Our second bottle was the
1978 F. Vogelgesang Côte-Rôtie
, which is a bit of a mystery. I'd never heard of the producer, nor can I find any useful information about it. In fact, according to Wine-Searcher, Rare Wine Co is the only retailer in the world selling the bottling, and it doesn't even have a CellarTracker entry. If anyone out there knows more about this wine, feel free to chime in. In any case, this one was a real blockbuster thanks to its fantastic bouquet of herbed meats, earth, olive, and, with time, mushroom, all set over a base of pert berries. The palate here was silky smooth, and I found a superb blend of fruit and floral well-accented by mint and spice. As the wine warmed, said mint became even more apparent, and by the end of the night, I started tasting nutty, oxidative, almost sherry-like notes on the back end. The bottle drank beautifully tonight, even at 44 years of age, and is a testament to the legendary quality of the '78 Rhône vintage. In fact, I don't think I've ever had a better wine from the region.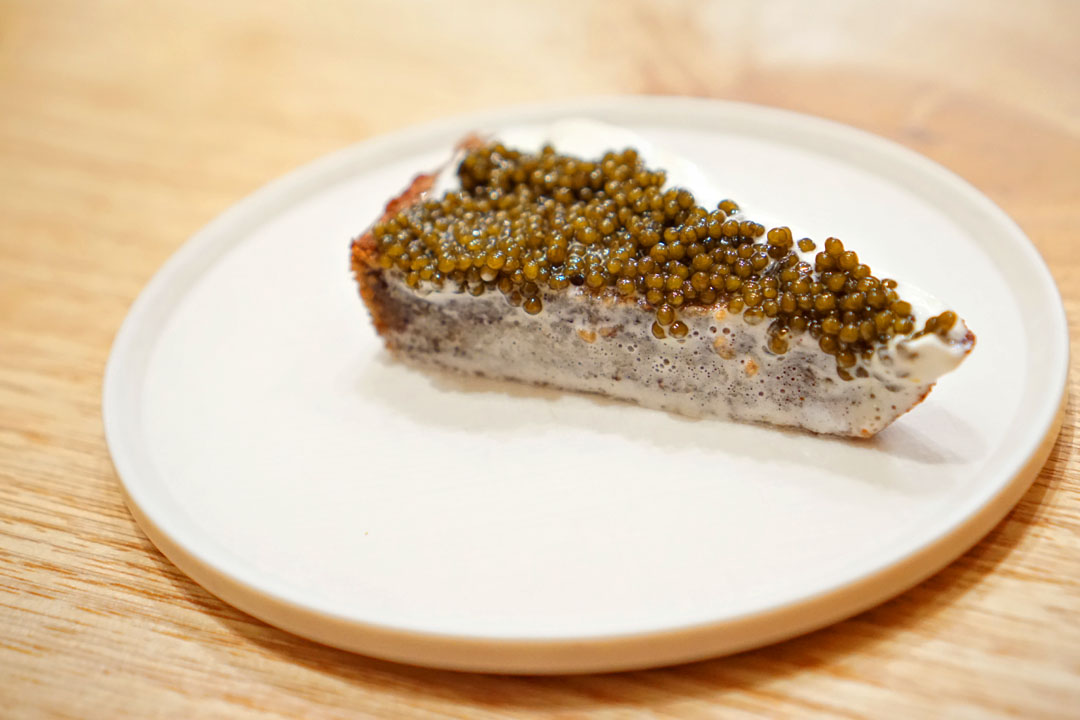 6: cornbread & caviar
Made from red corn sourced from Santa Rosa, this was simply the best corn bread I've ever had. The bread was flawless texturally, coming out moist and gritty, and taking oh-so well to a brushing of house-made butter. The crux here was how the inherent sweetness of the cornbread paired so effortlessly with the sharp saltiness from the caviar, while at the same time,
katsuobushi
-infused whipped cream softened the interaction. Damn.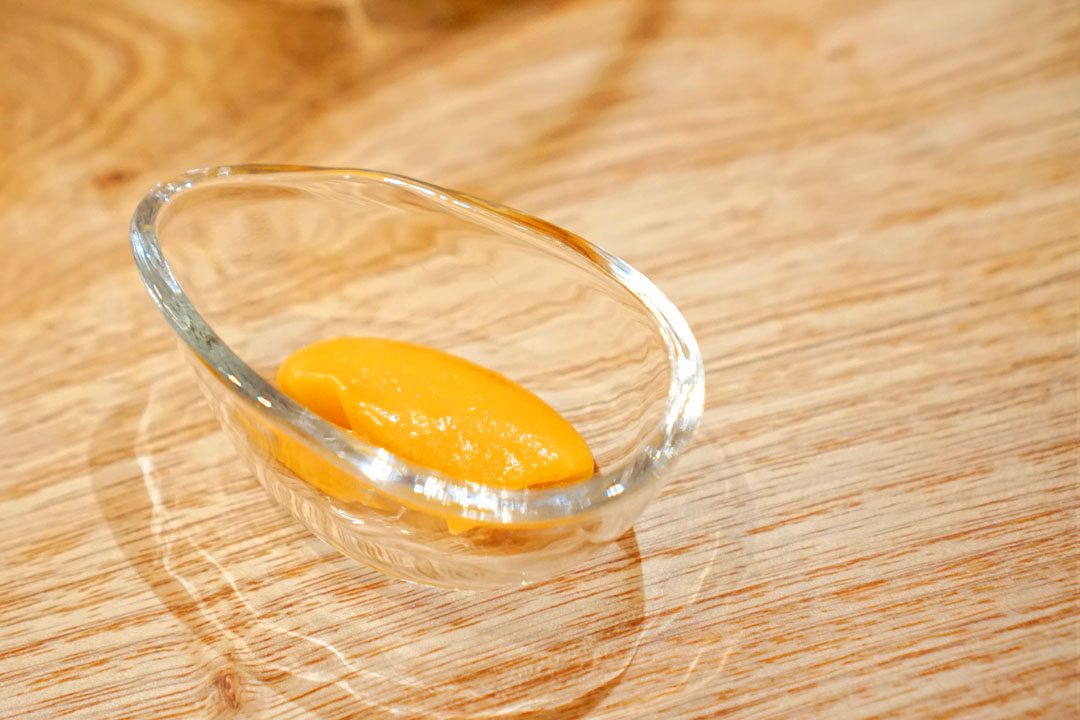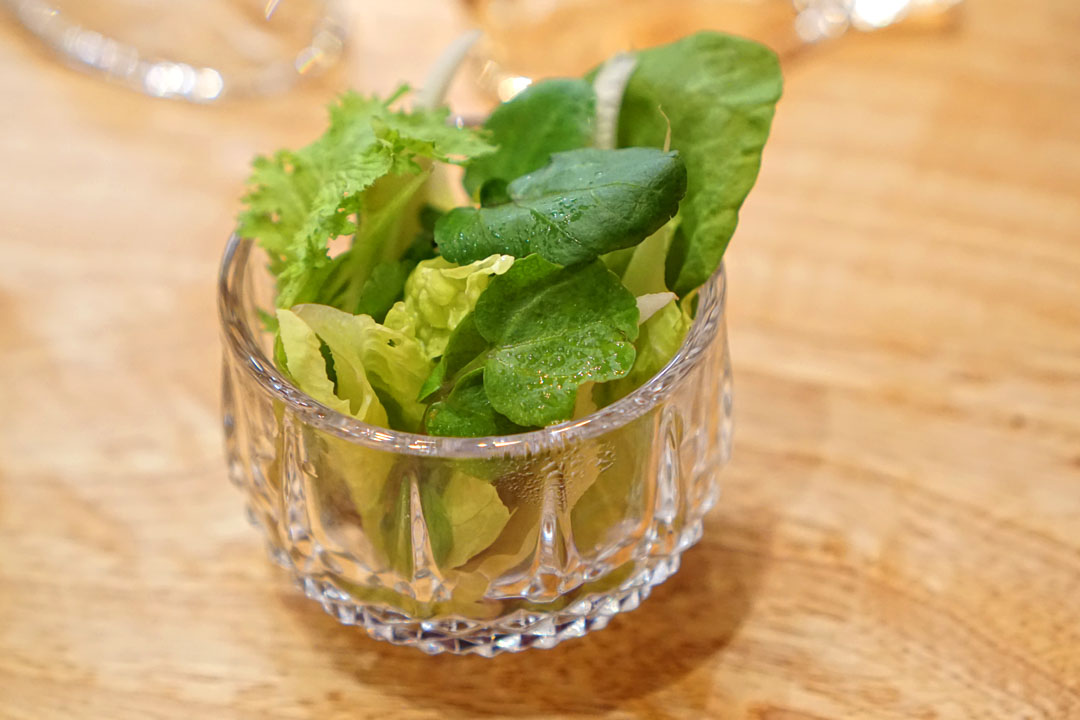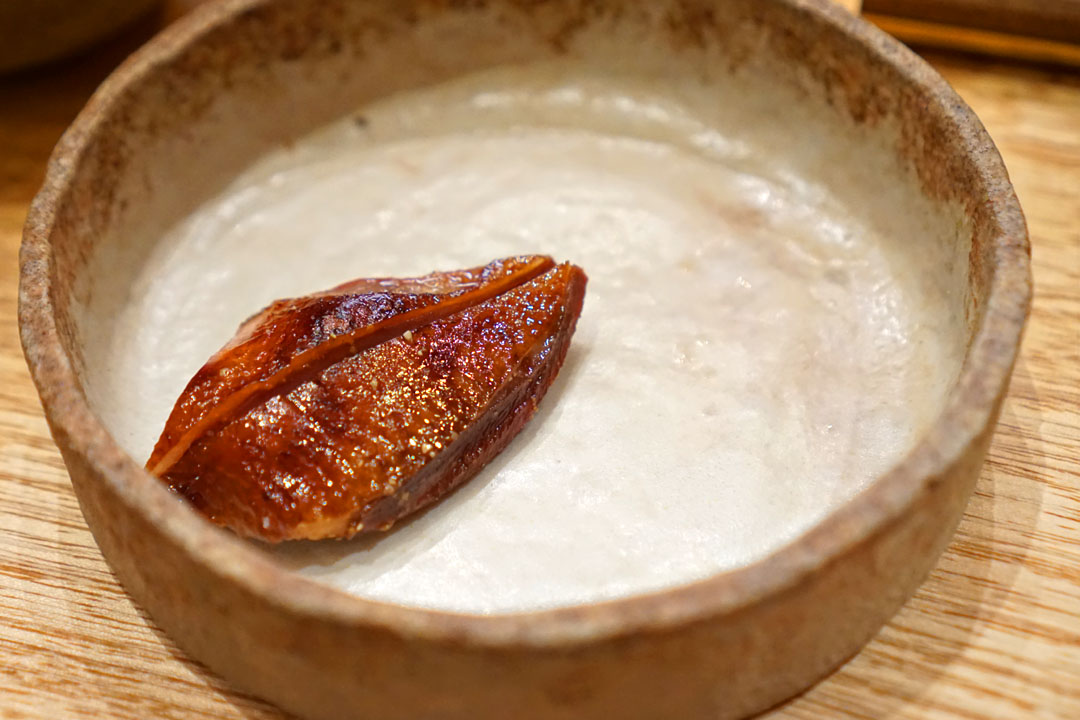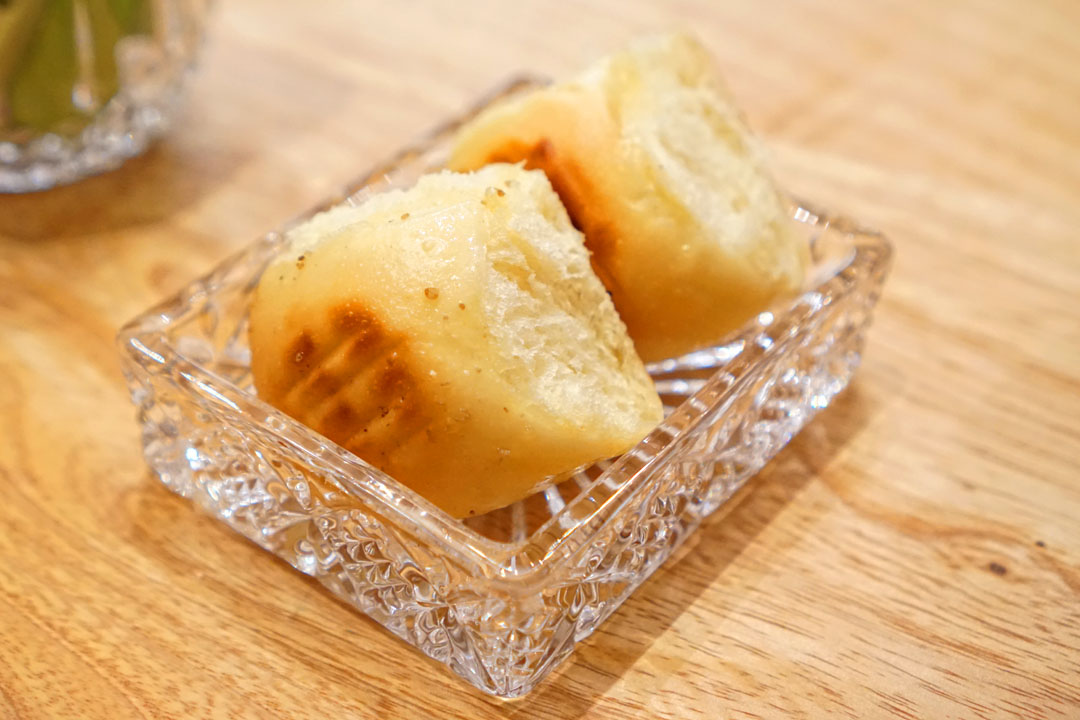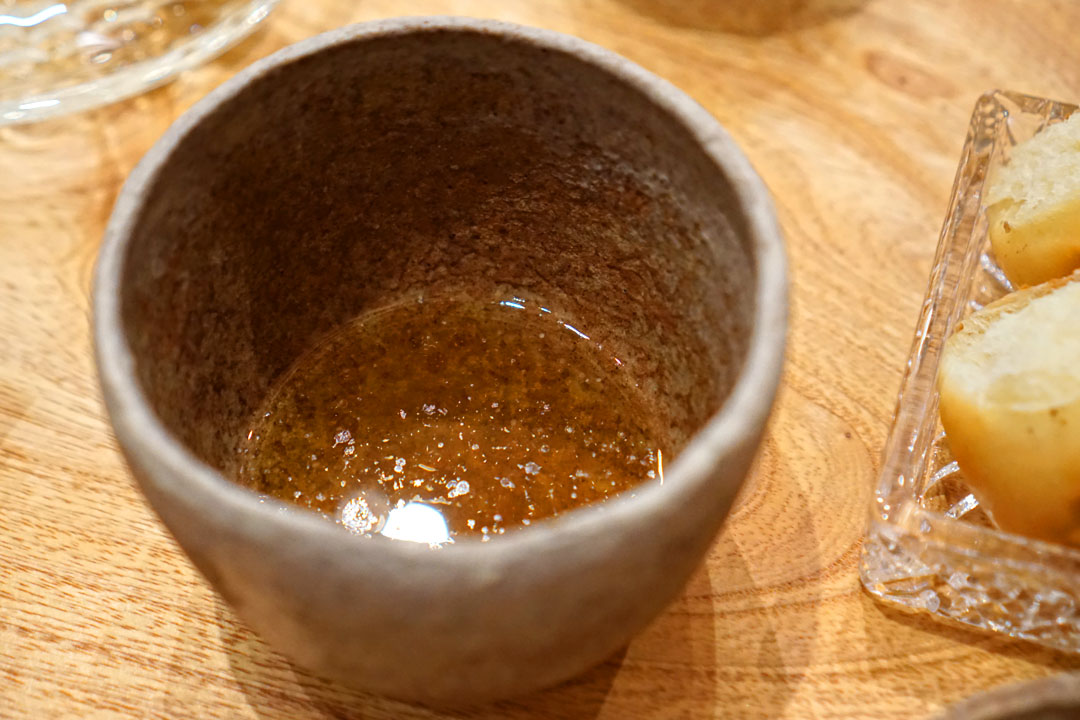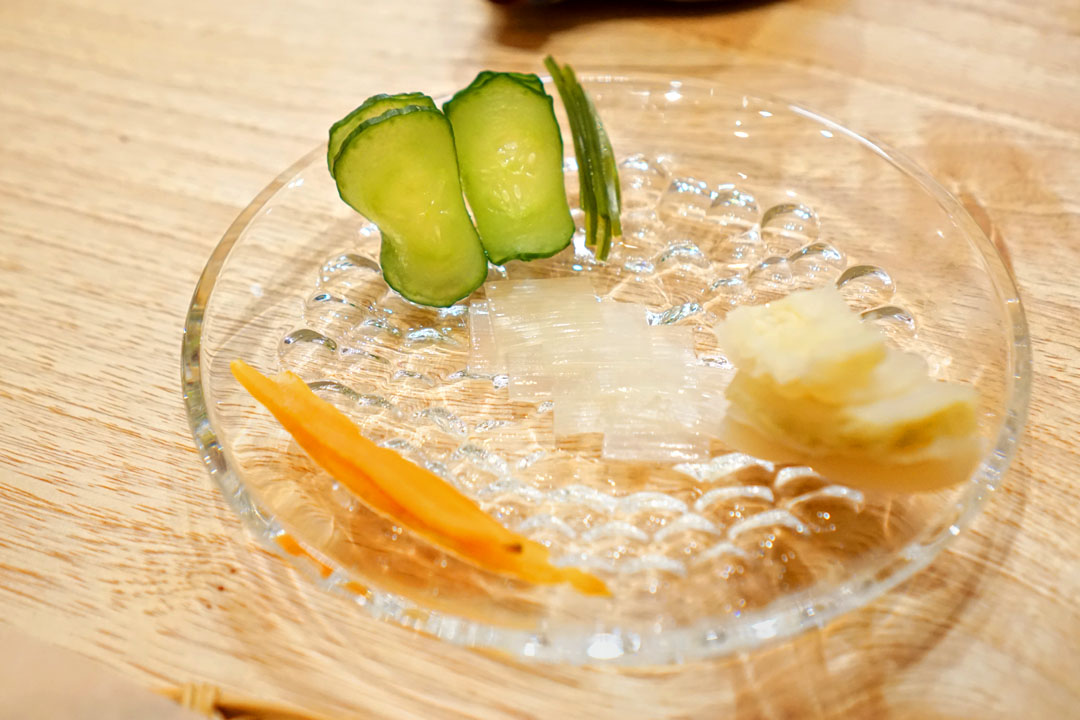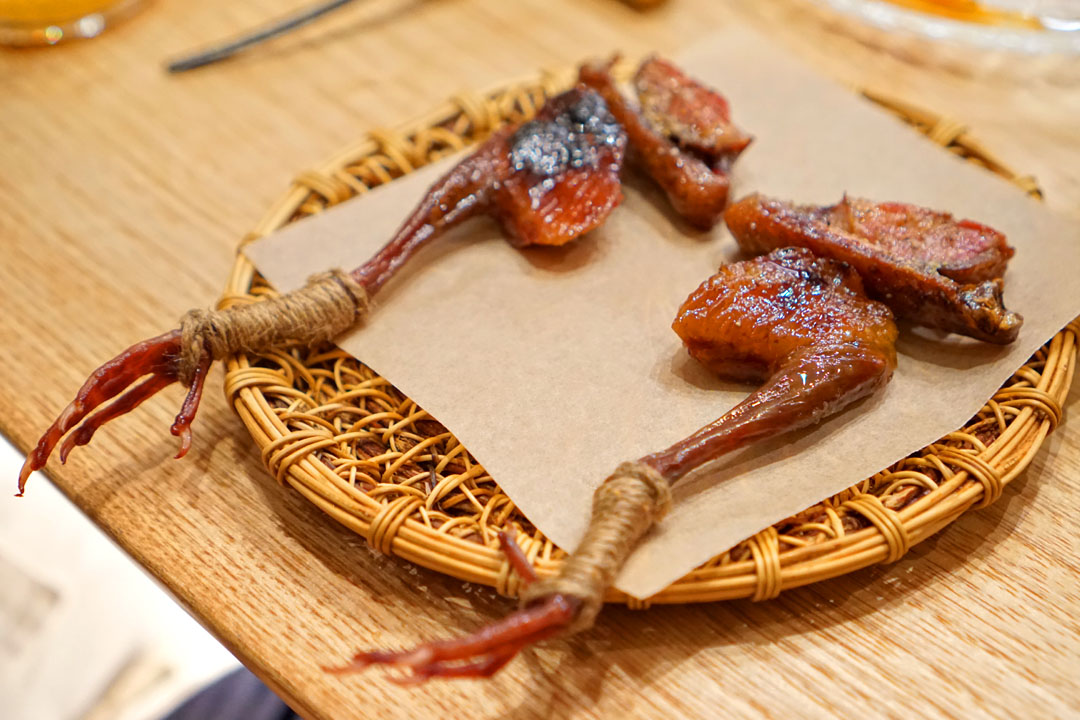 7: squab, lacquered & smoked
| grilled parker house rolls
A DIY-style course of 15 day-dry-aged squab featured no fewer than seven components. First off, the bird itself just might've been the best I've ever had, largely due to its incredible depth of flavor, spicing, and smoke, which married flawlessly with the fruity intensity of that apricot sauce. A selection of lettuces and pickled veggies helped lighten the mood, but even more crucial were those homemade Parker House rolls, which had this amalgam of sweetness and char that really served as the perfect vessel for consuming the meat. Finally, I concluded the course with hearty sips of the grilled bone broth, a fatty, full-flavored liquid with a healthy dosing of cozy umami.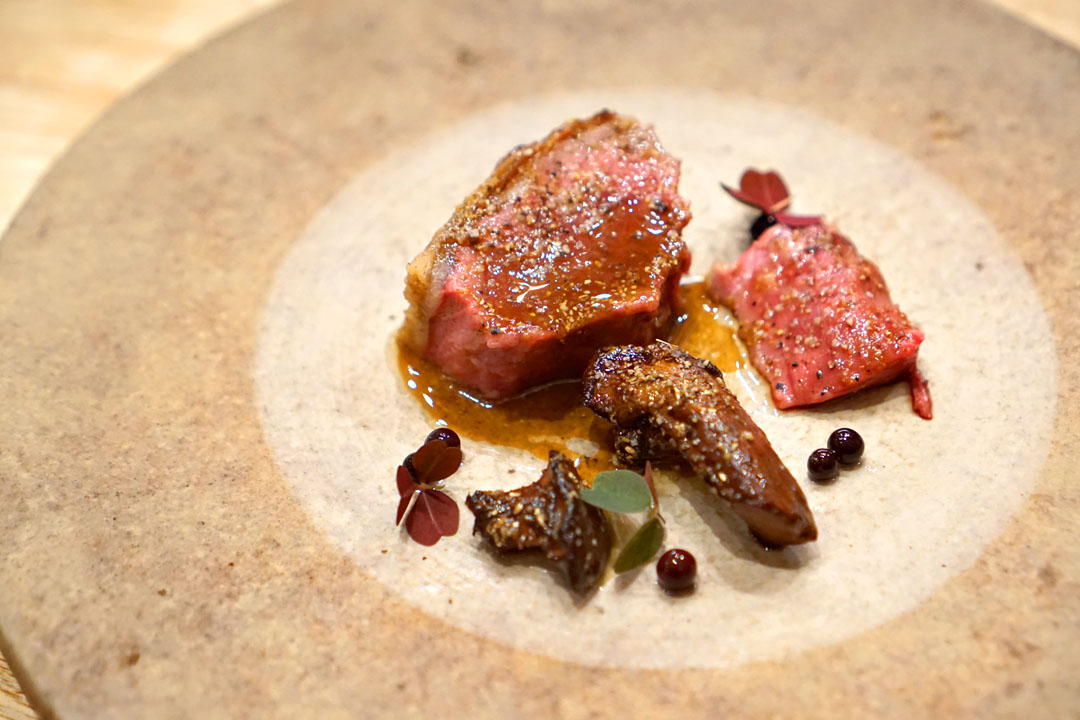 8: aged lamb loin
| chanterelles cooked over the fire
Our final savory course was this 30 day-aged Anderson Ranch lamb, which was probably the best lamb I've eaten all year. The meat had this firm-yet-juicy consistency that really spoke to me, as well as a skin that was just what I wanted in terms of both taste and texture. The loin wasn't shy about its earthiness, either, and so the beauty here was its seasoning, which had this aggressive, assertive sweet spice that reminded me of a mix of an Indian curry and Xinjiang-style cumin lamb. A stellar pairing with the Côte-Rôtie to boot.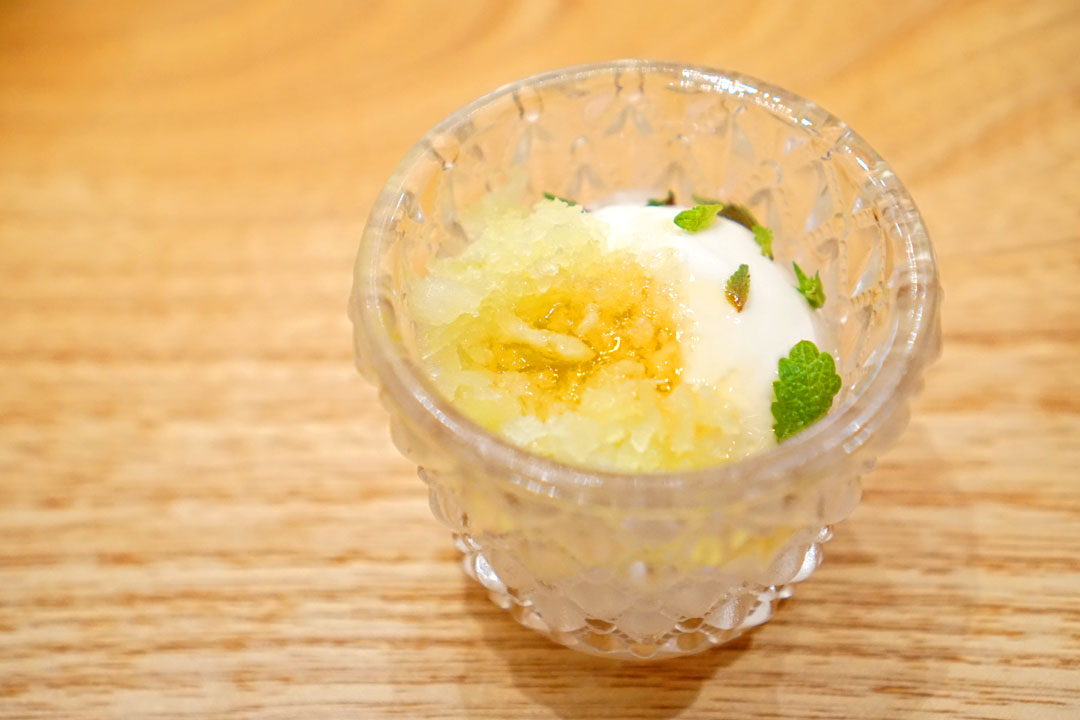 9: chamomile sorbet
| granny smith, mint, honey
Given the heft of the preceding courses, it was fitting that our first dessert served as a bit of a palate cleanser. The sorbet itself was great texturally, and had this herby, floral quality that linked up swimmingly with the brightness of the apple ice and, more importantly, the potency of that fermented honey. Loved the overarching mintiness here, too.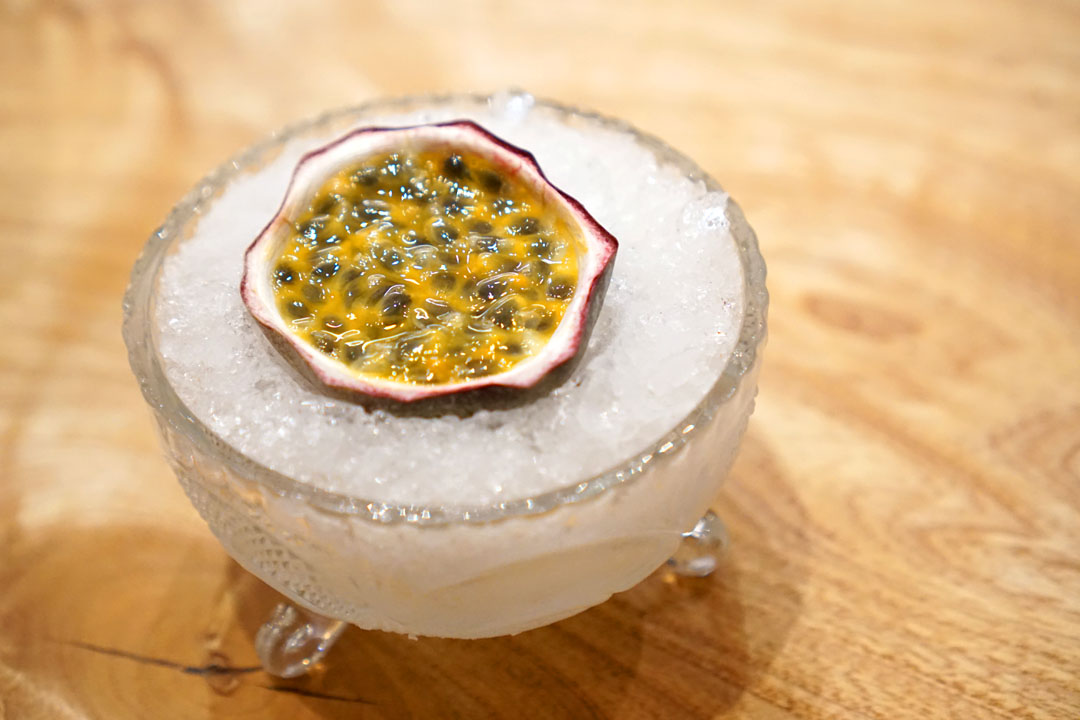 Next came another "bonus" dish: a delightfully tangy, fruity, fragrant, yet properly creamy passion fruit panna cotta.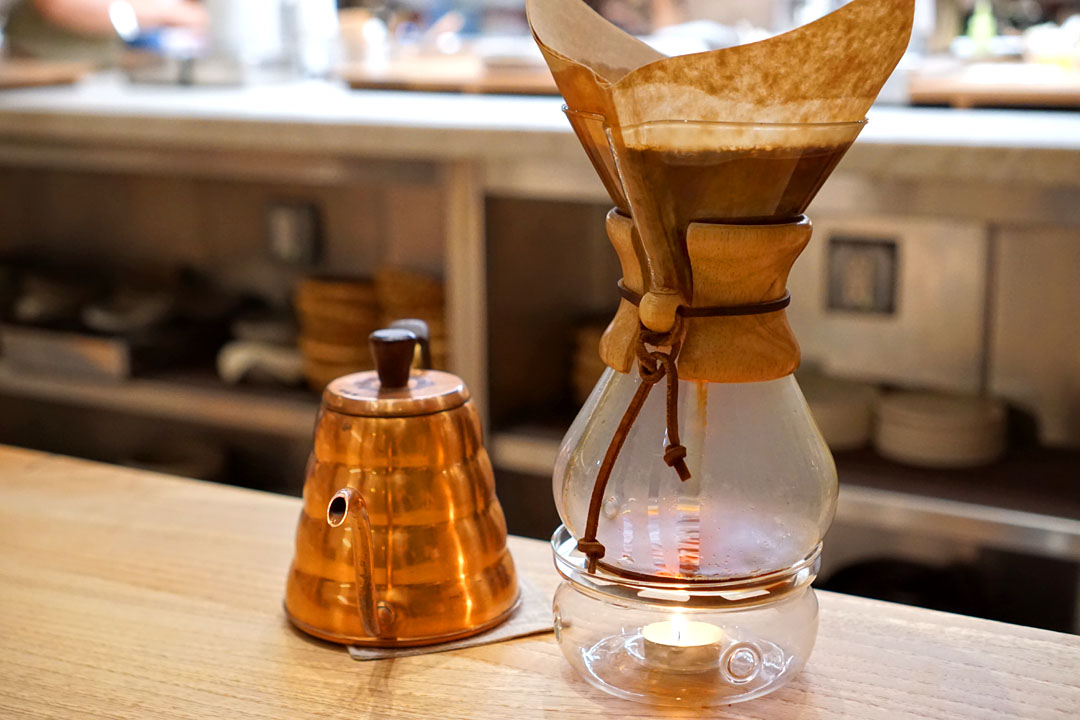 To go with our desserts, we ordered a medium-sized serving of
Sister Moon Coffee [$36]
, made pour-over style using a Chemex. I found the brew generally easy-drinking, with distinct notes of brown sugar at the forefront, but juxtaposed against tart berries and roasted nuts. We also sampled this with additions of cream and sugar.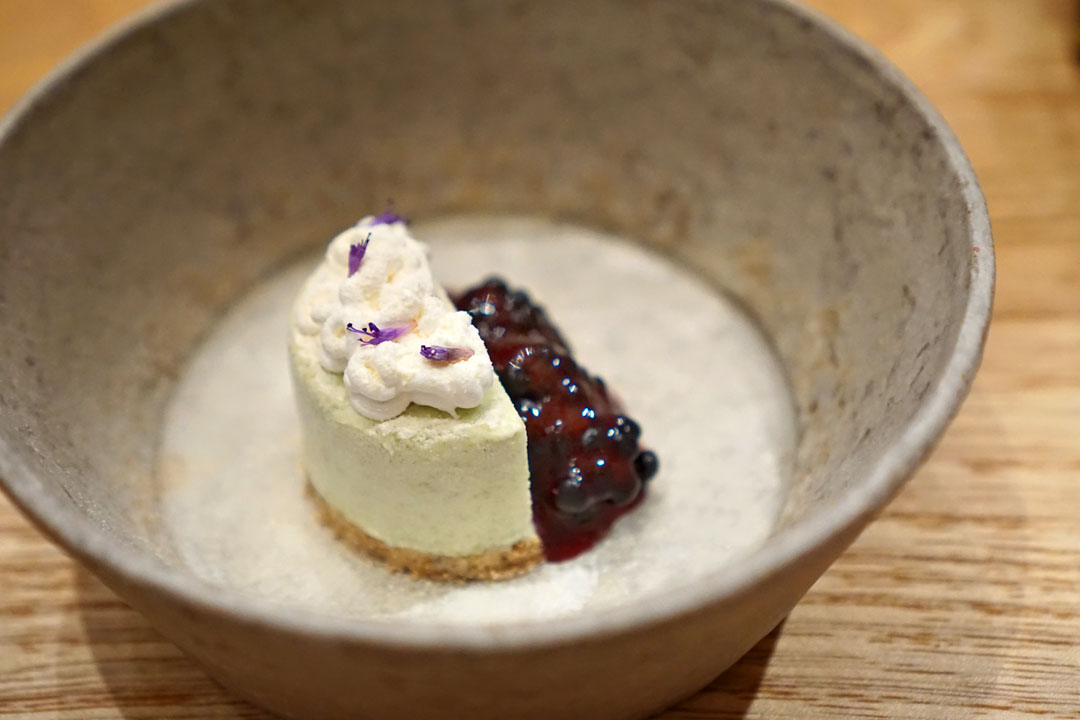 10: anise hyssop
| semifreddo, blackberries, koji
I was a big fan of our second "proper" dessert thanks to how deftly presented the semifreddo's anise-tinged flavors were. This sweet pungency combined easily with the juicy tartness of those dark berries, but even better was the counterpoint provided by that salty, savory,
koji
-boosted crust. Delish.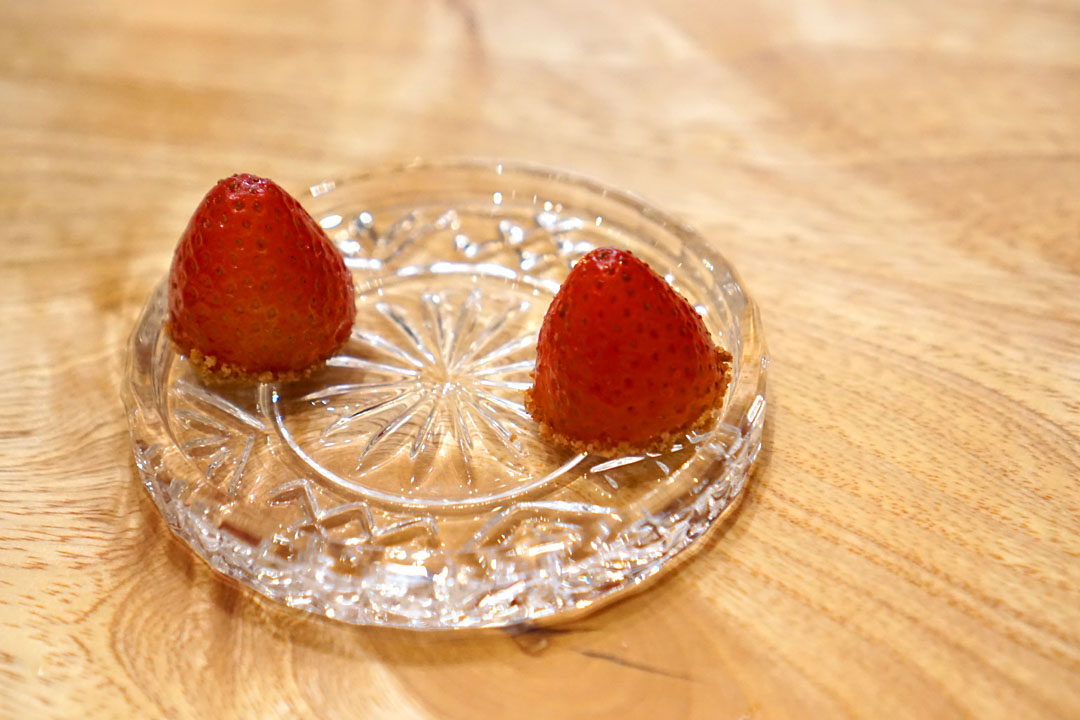 In this riff on strawberry cheesecake, the fruit was hollowed out and stuffed with Mt Tam cheese. I actually got candied, almost Starburst-esque notes up front before the creamier notes of the cake became apparent.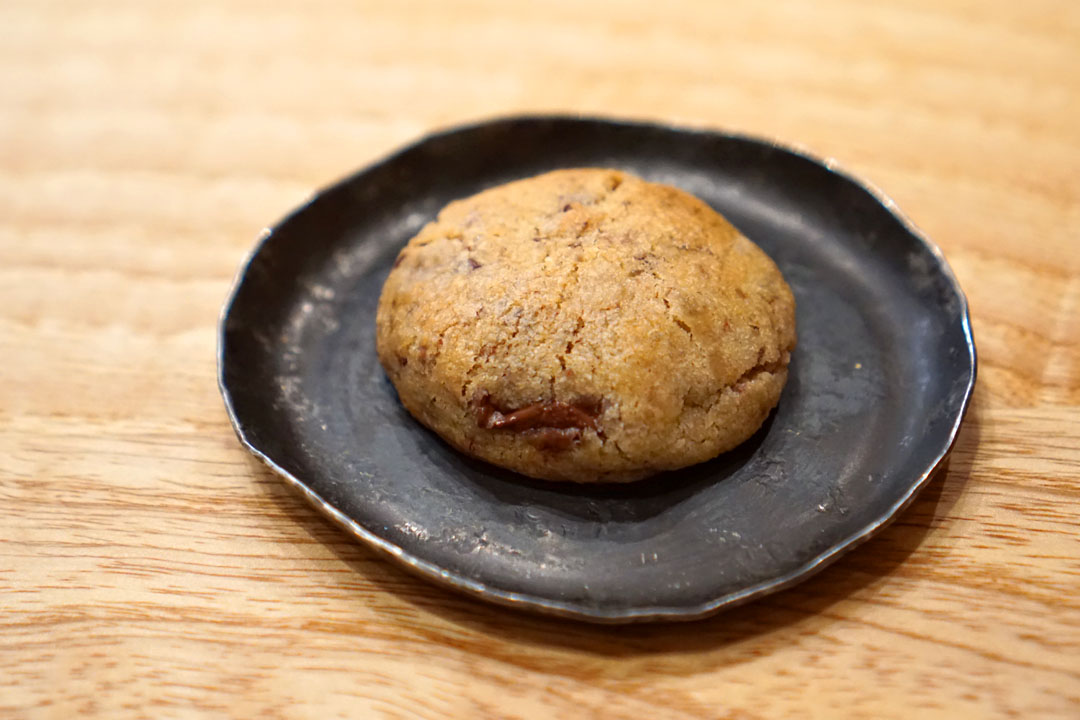 Last up was a warm, soft, gooey, freshly-baked chocolate chip cookie that worked as a "feel good" sort of closer.
A hand-written thank you card was presented at the end of the meal, which was a nice touch. Click for a larger version.
Birdsong delivered in spades with regard to both food and service, and represented a fantastic welcome back to the San Francisco dining scene, which I'd been missing for so long. Bleidorn and his team did such a great job conveying the ethos of the place, which is this elemental way of cooking that results in food that's simultaneously traditional and novel, brash, intense, and brimming with confidence. The Chef's vision of using time-tested techniques to create cuisine that's both contemporary and personal was superbly conveyed, making this a definite contender for my top meal of 2022.