Naugles (Fountain Valley, CA)
Naugle's Tacos & Burgers
18471 Mt Langley St, Fountain Valley, CA 92708
657.845.7346
www.nauglestacos.com
Fri 08/04/2023, 04:35p-05:30p

I recently had to head down to south Orange County to pick up a bottle of wine for a momentous dinner the next evening. Since I was going to be in the area, I decided to check out Naugles, a reincarnation of an American-style Mexican eatery popular in the 1970s and 1980s. I'd actually been wanting to try the place since it opened back in 2015, so yes, it took me long enough.
A brief history
: Naugles takes its name from Dick Naugle, a partner in the Del Taco Mexican-American fast food chain, which was founded in 1964. He eventually left the company to launch Naugles, and the first location opened in Riverside, CA in 1970. He then sold the business in 1979, and after a couple other acquisitions, Naugles was merged with Del Taco in 1988. The combined entity was sold once again in 1990, and by 1995, all Naugles locations were either converted to Del Taco or closed.
That was supposed to be it, but in 2006, one Christian Ziebarth wrote about the shuttered chain on his blog, which set in motion a series of events that would bring Naugles back to life. The comeback effort was in full swing by 2009, and Ziebarth was eventually joined in his quest by Joshua Maxwell and Daniel Dvorak, and the trio actually hosted Naugles pop-up events. In 2015, the partners ended up winning a case against Del Taco and were able to secure the rights to the chain's trademark, setting the stage for the restaurant's return.
Working with Chef John Smittle, the team recreated the Naugles menu, and the first Naugles revival restaurant ended up debuting in Fountain Valley in July 2015 to considerable fanfare. A second, seasonal outpost in Huntington Beach opened in May 2016 (but closed in late 2021), while Stanton launched in January 2020. The fourth Naugles is situated in Artesia, and arrived in April this year.
Inside, things are quite colorful and theme-appropriate, though do note that the decor was much drabber when the place first opened.

And here we see the menu, which about what you'd expect. Do keep in mind that Naugles also offers
all-day breakfast
.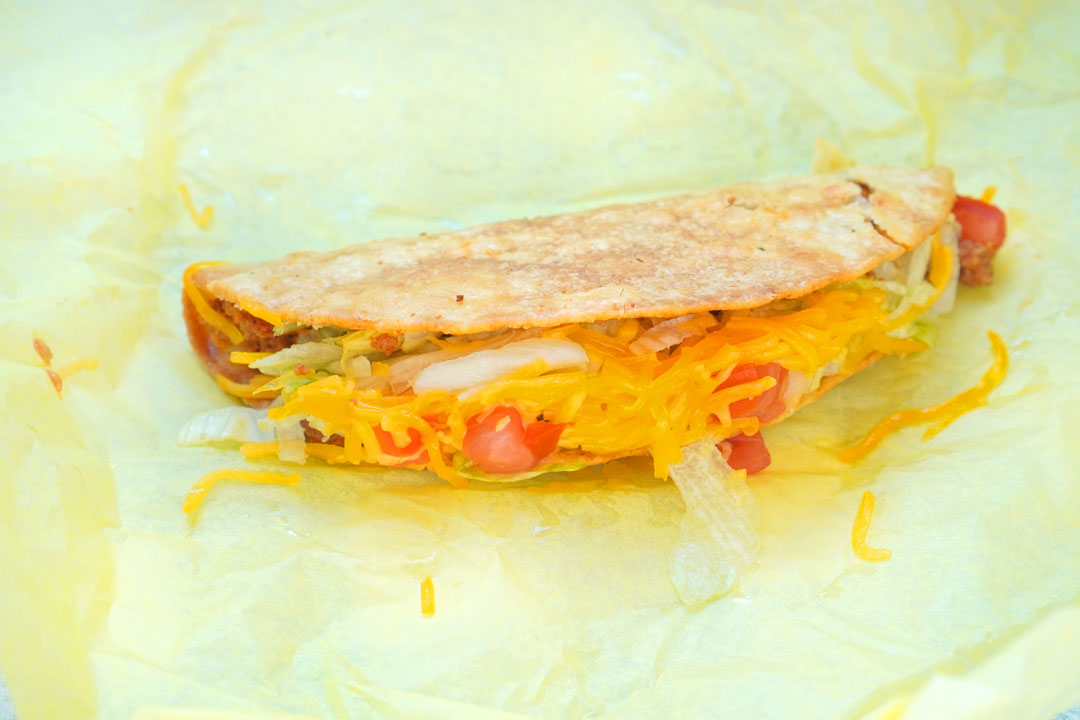 Original Taco [$2.49]
| The crispy, hard-shelled favorite: Naugles Seasoned Ground Beef, Lettuce, Cheese, Diced Tomatoes
It made sense to start with Naugles' signature item, and it wasn't a bad way to kick things off. I found the shell gratifyingly crunchy here, and enjoyed the back-and-forth between that mildly spiced ground beef and the classic combo of lettuce, tomato, and cheese. Even so, the taco did call for some salsa to tie it all together.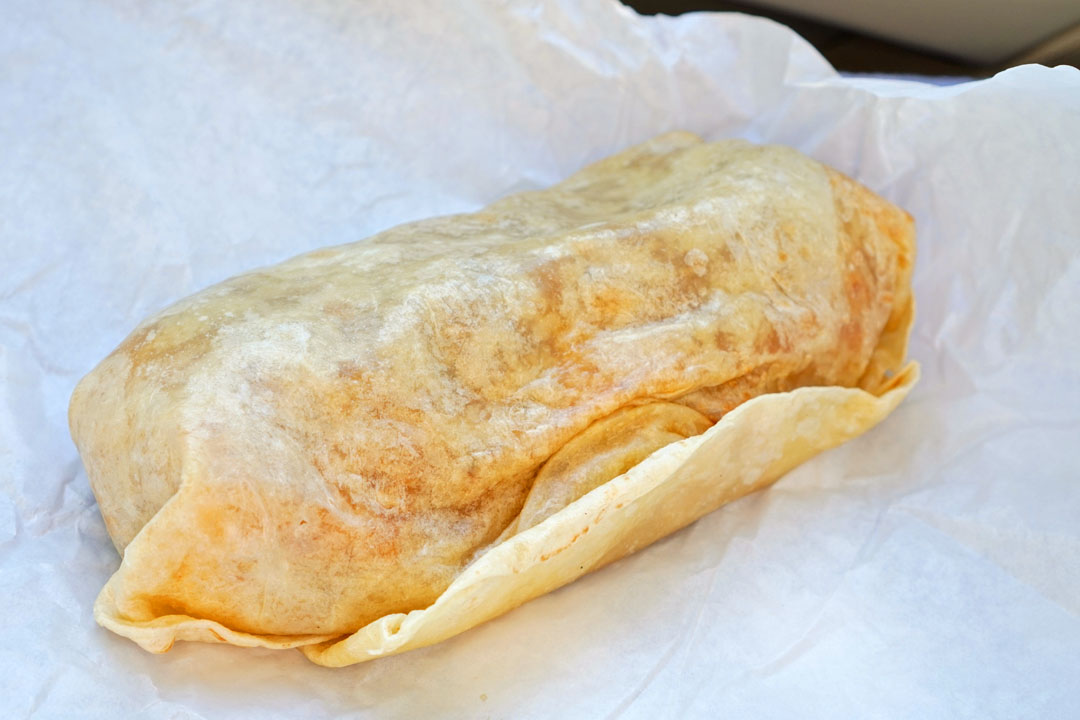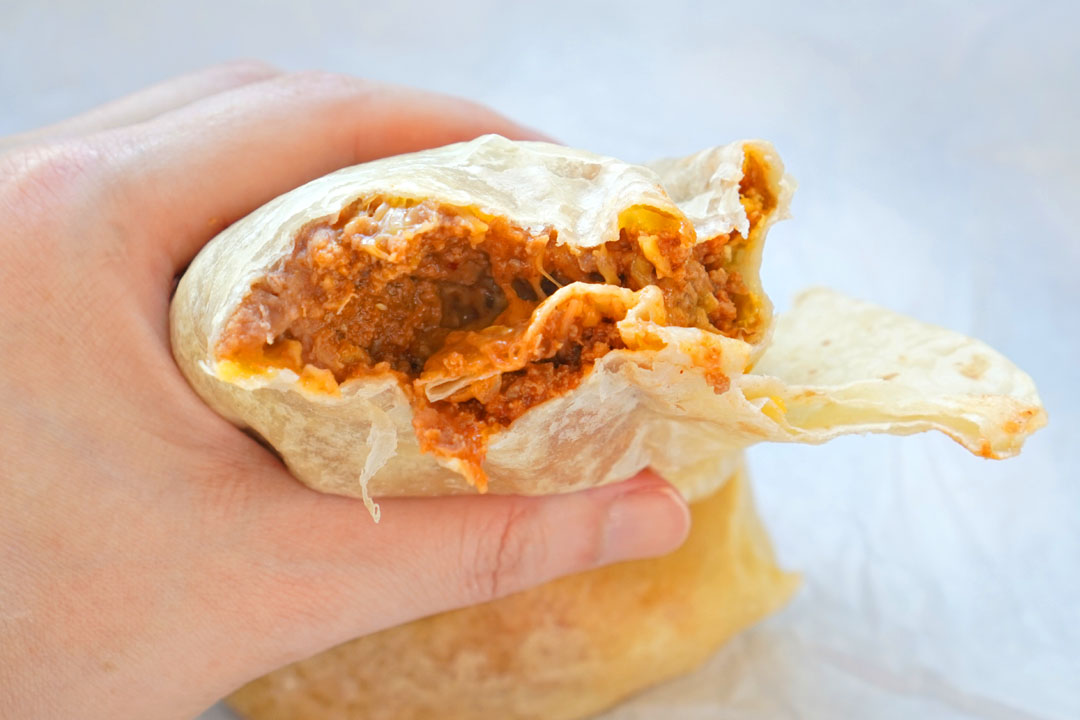 Combo Burrito [$6.86]
| Beans & Beef, Cheese and Sauce
The combination burrito highlighted a very familiar marriage of meat, cheese, and bean, and actually reminded me of the Taco Bell burritos I consumed in the 1980s. However, things quickly got a bit boring, so this really could've benefitted from some onions, or peppers, or veggies--some sort of heat or acid or brightness.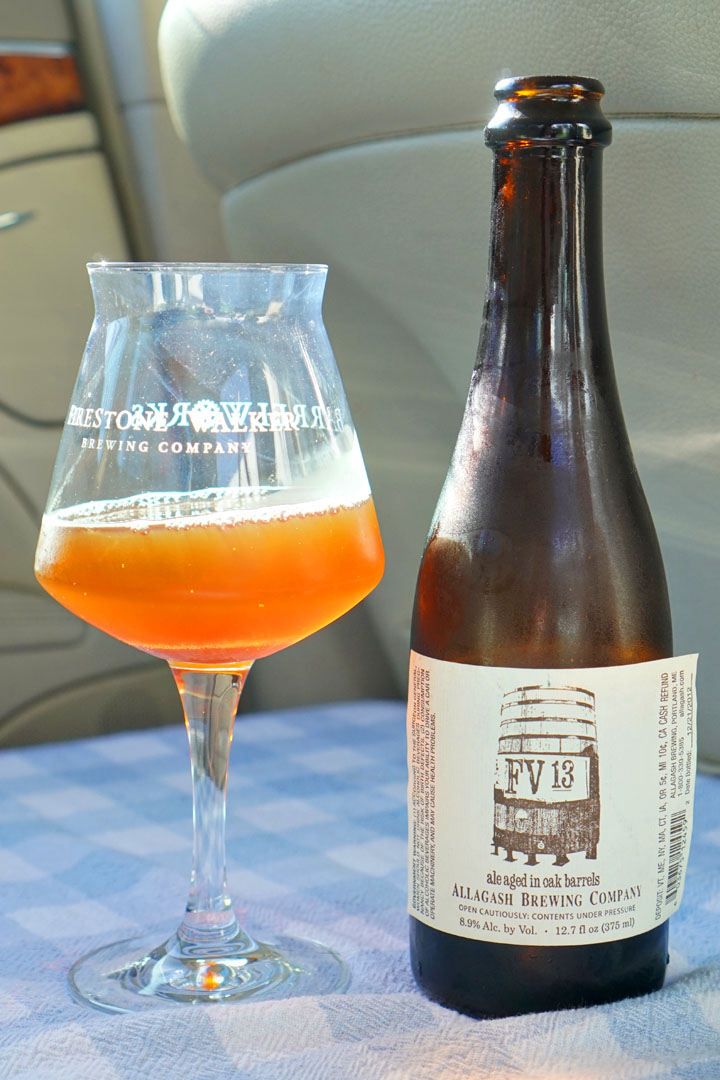 Today's first beverage was the
2012 Allagash FV 13
, a wild ale aged for four years in oak foudres. The nose here demonstrated a healthy amount of funk, commingled with cherries and apricots. On the palate, I found the beer pleasantly acidic, yet still soft and easy-going, its barnyard flavors coalescing with more sweet stone fruits in a mellow, well-aged fashion.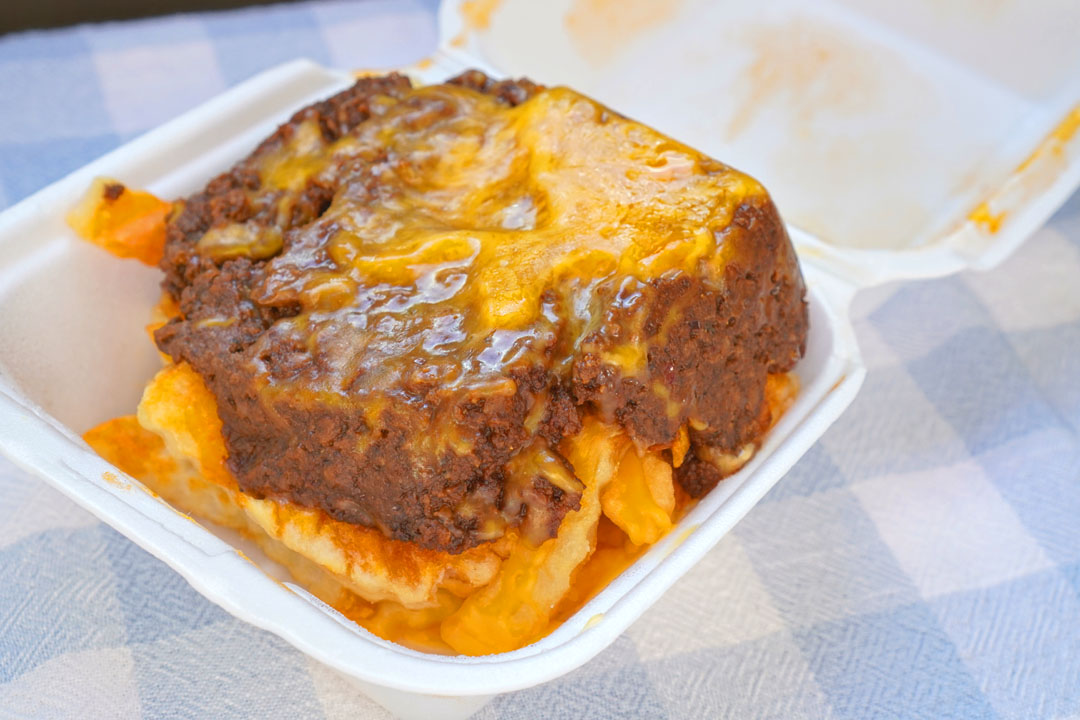 Chilli Fries [$5.49]
Given my penchant for chili cheese fries, this was a must-try for me, but sadly, left me disappointed. The chili itself ate dry and gritty, and had a bit of an acrid taste, while the crinkle-cut fries were only merely acceptable. In addition, I really wanted onion or cilantro or something to lighten the mood here. These fries can't hold a candle to those served at my benchmark:
Volcano Burgers
in Los Alamitos.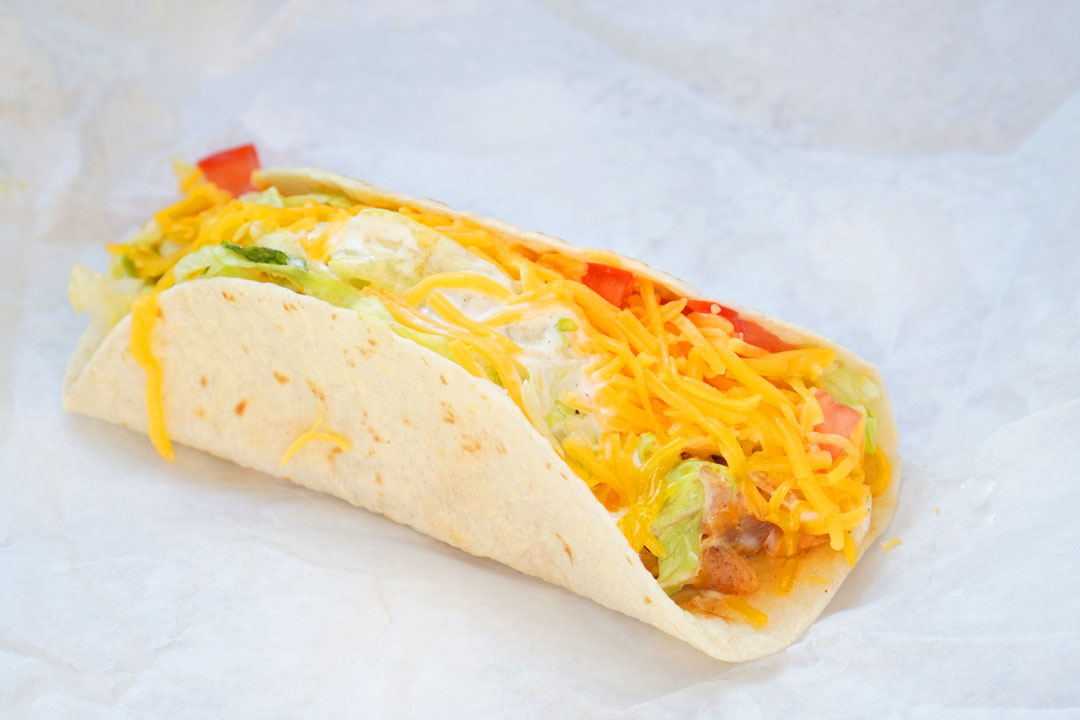 Chicken Soft Taco [$2.49]
| Lettuce, Cheese, Diced Tomatoes, White Sauce
The soft taco was about par for the course, recalling the analogous item at Taco Bell. The chicken was on the dry side though, but the white sauce did alleviate that somewhat, while also helping to bring all the elements together.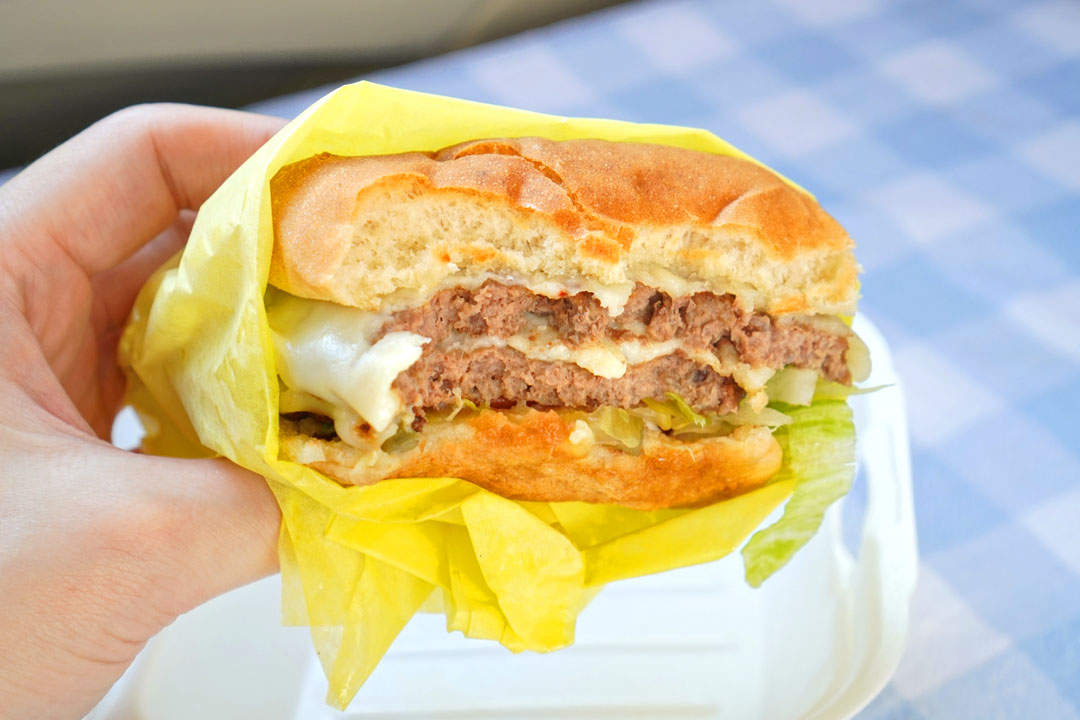 Naugleburger [$7.49]
| Two All-Beef Patties, Two Slices of Cheese, Shredded Lettuce, White Sauce, Diced Tomatoes, and Pickles
The requisite hamburger reminded me of the burgers of my elementary school cafeteria, and not in a particularly good way. The beef arrived underseasoned and lacking in char, and the Monterey Jack didn't meld very well with the meat, either. The veggies were welcomed though, especially those tangy pickles.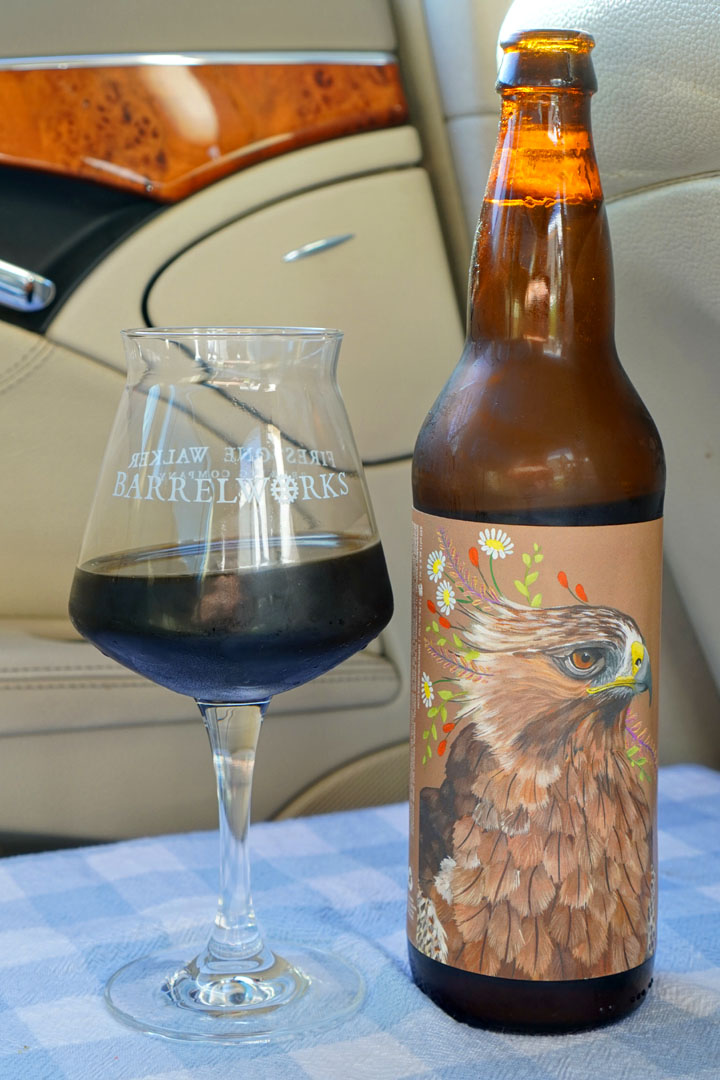 My second beer was the
2023 Horus Bizarre Boots
, an imperial stout with graham crackers, maple syrup, and pecans, created in collaboration with Casa Agria Specialty Ales out of Oxnard, CA. Interestingly, I smelled quite a bit of coconut here, along with the advertised maple and pecan. Tasting it, I found the ale smooth and silky, its initial nutty notes leading to nuances of vanilla and coconut, with a touch of sweet spice coming in on the back end (from the graham crackers I assume).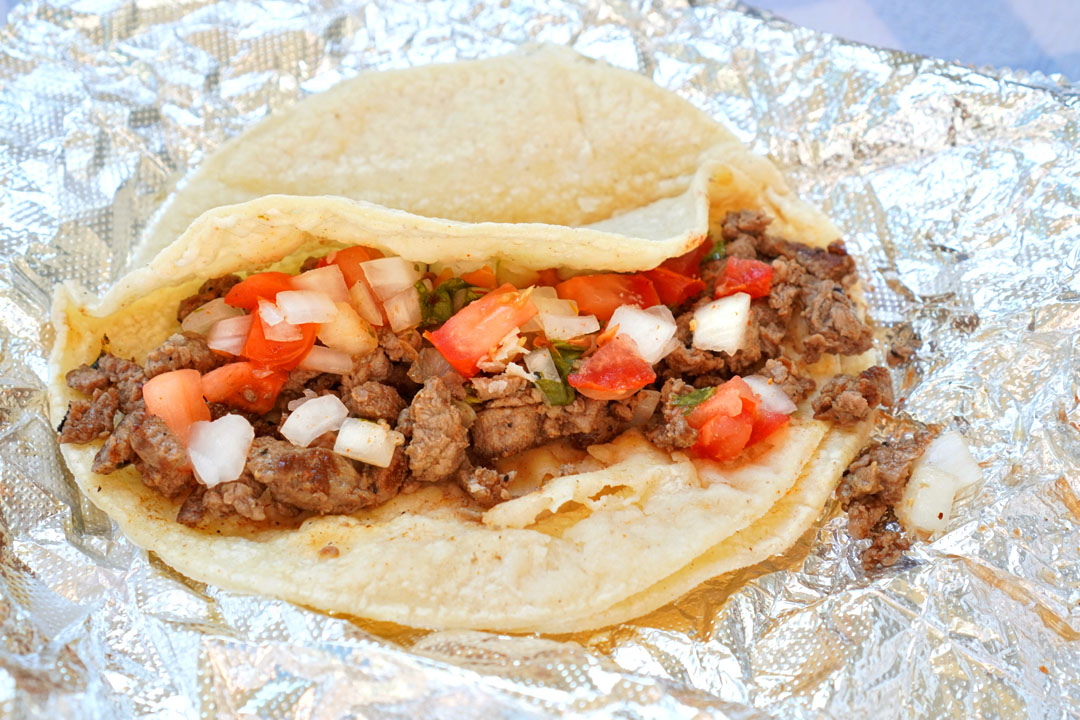 Asada Taco [$2.99]
| Grilled & marinated Steak, Pico de Gallo
A fairly by-the-book rendition of a carne asada taco also needed work. The actual steak ate chewy, and was deficient in the smoke and sear department, while the tortillas proceeded to completely disintegrate, despite being dual-layered. The pico did help things, but I wanted more acidity, more heat, more cilantro.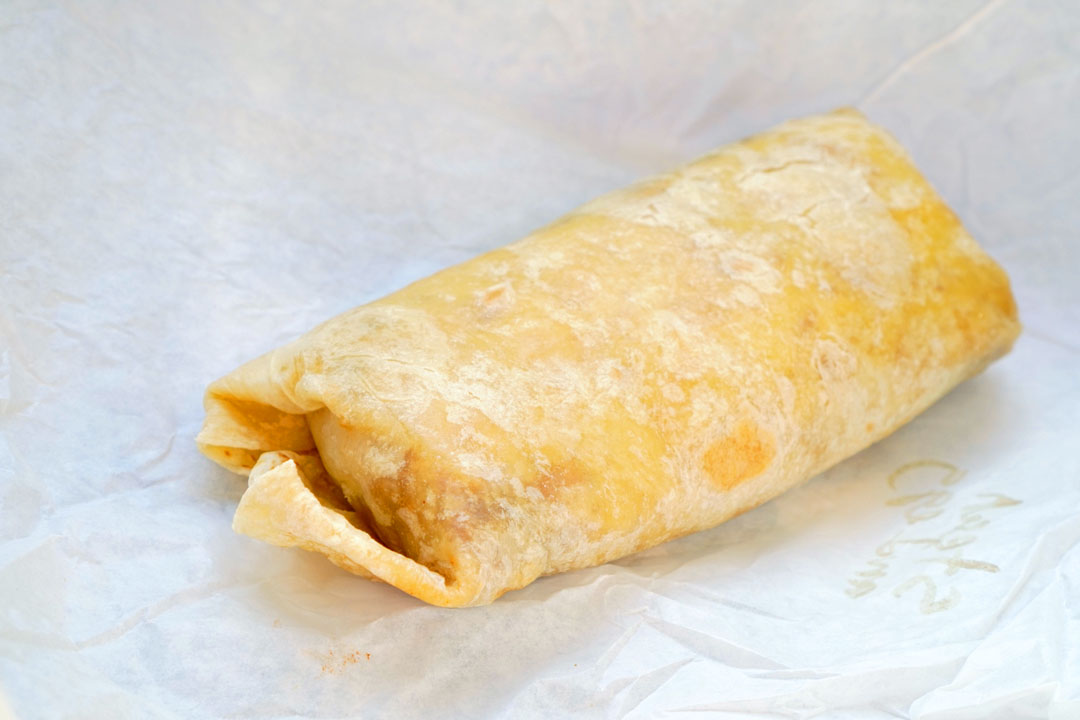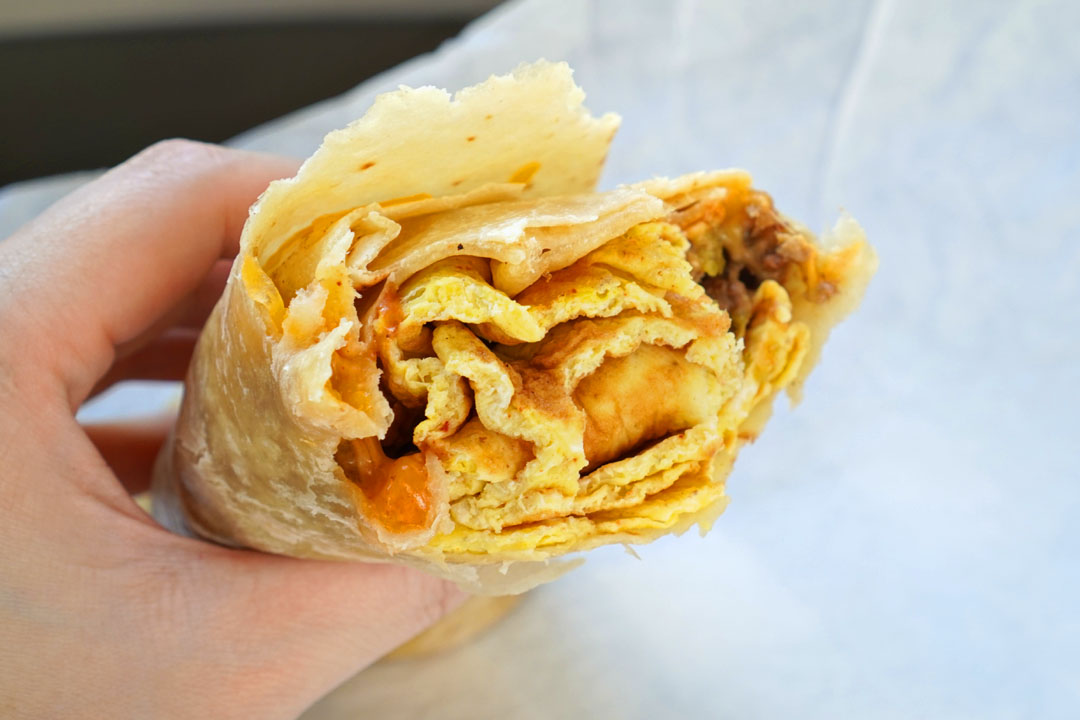 Steak & Egg Burrito [$7.25]
| Soft flour tortilla with marinated steak, fluffy scrambled eggs, grated cheese and sauce
The breakfast burrito turned out to be my favorite dish of the day. I liked the fluffiness of the egg, and how that combined with the steak, cheese, and especially the sauce, which had this almost chile verde-like quality to it. Nice tortilla, too.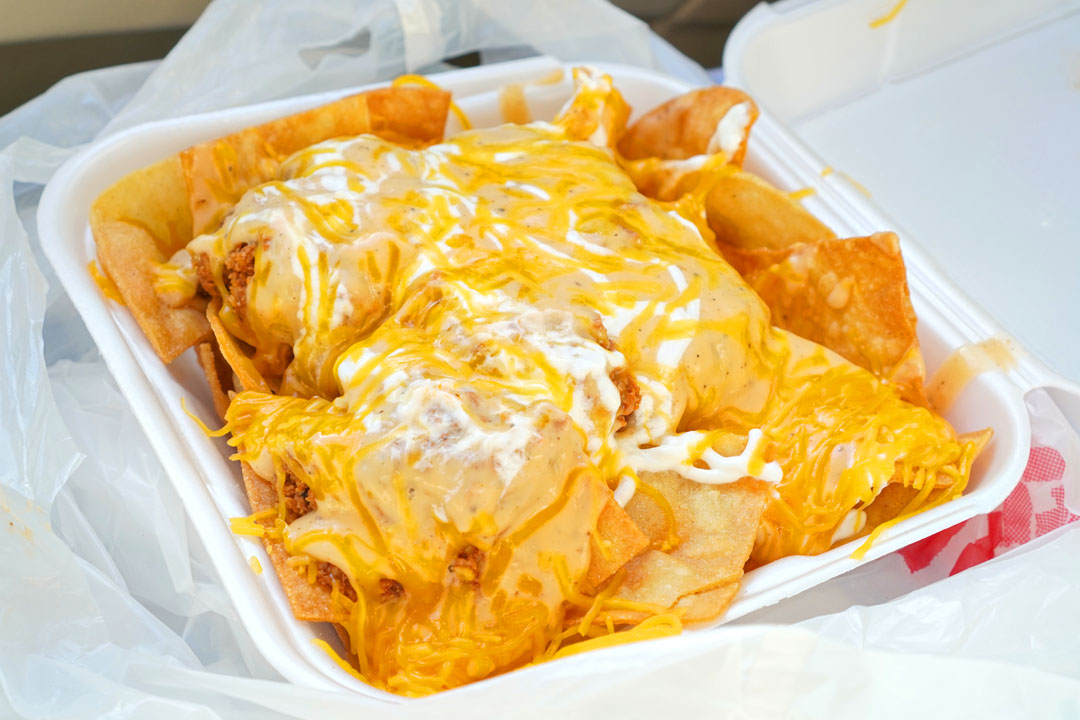 Hombre Nachos [$4.99]
| Corn Tortilla Chips, Cheese, Beans, Beef, and Sour Cream
I'm a sucker for nachos, so obviously I had to order this, but once again, I was let down. I appreciated the traditional amalgam of ground beef and yellow cheese, and the chips were on point, too. However, the dish got pretty monotonous pretty quickly, and really yearned for some acidity or heat to save things.
Given this place's cult following, I came into Naugles expecting some sort of "revelatory" fast food experience, but my meal just wasn't. The items I tried did make me reminisce about the fast food I ate as a child growing up in the 80s. In a way that's what you want, since it does hit that nostalgia factor, but at the same time, most of what I tasted today simply wasn't all that good. That being said, I'm curious to see if the team will expand the chain any further, as so far, their growth has been pretty glacial.