Test Kitchen (Los Angeles, CA) [14]
Test Kitchen
9575 W Pico Blvd, Los Angeles, CA 90035
310.277.0133
www.testkitchenla.com
Mon 09/27/2010, 07:30p-09:55p
Nestled up high in the hills surrounding Malibu,
Saddle Peak Lodge
is perhaps best known for its game-centric menu and rustic, romantic decor. Over the years, the restaurant has earned a reputation as a stodgy sort of place, but here to shake things up is Adam Horton, Saddle Peak's young, brash Executive Chef, who's been helming the kitchen for about a year and a half now. I'd had a great meal at the Lodge a while back, and really enjoyed seeing how the Chef was making his own mark on the menu. Tonight, however, Horton aimed to do even more, to stretch his repertoire even further, to, in his own words,
put a modern face on Saddle Peak traditions
.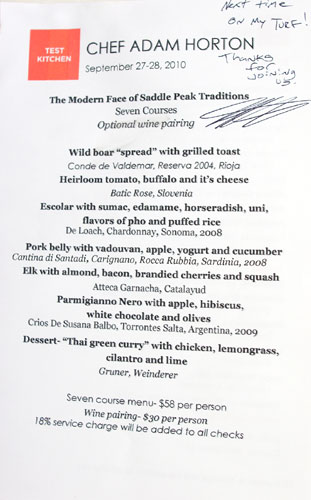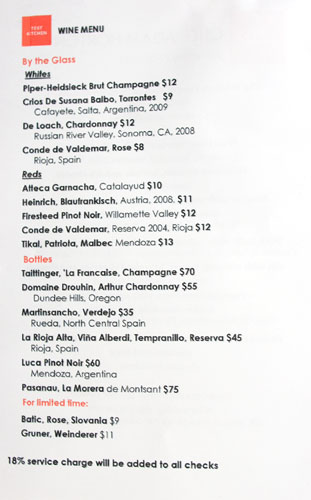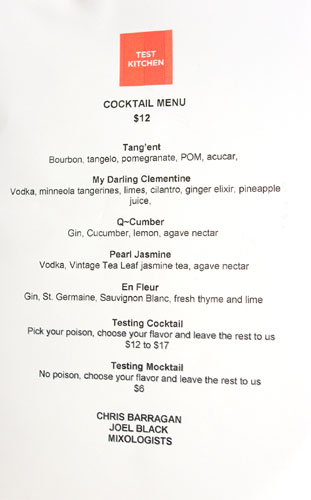 Horton's seven-course degustation was priced at a reasonable $58, plus $30 for the optional wine pairing. Cocktails, on the other hand, were the task of Chris Barragan (who oversees all aspects of beverage service at SPL), aided by resident mixologist Joel Black. Click for larger versions.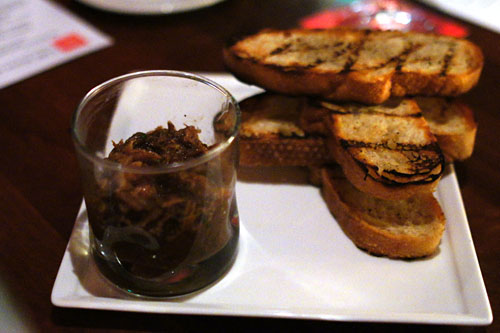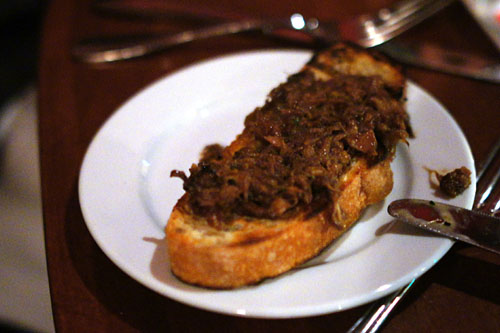 1: Wild boar "spread"
| with grilled toast
Conde de Valdemar, Reserva 2004, Rioja
We began with a cup of braised wild boar, shredded and presented in an almost rillettes-like fashion. As expected, it demonstrated plenty of dark, salty, hearty flavors, but wasn't overpowering. The slices of crusty brioche, meanwhile, served as an effective temper. Yummo.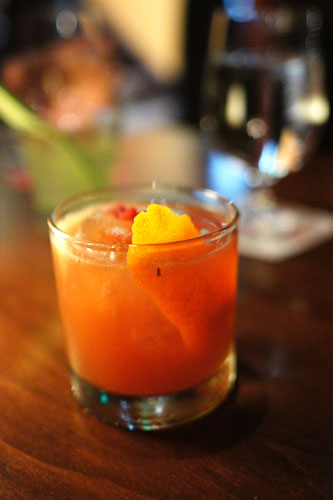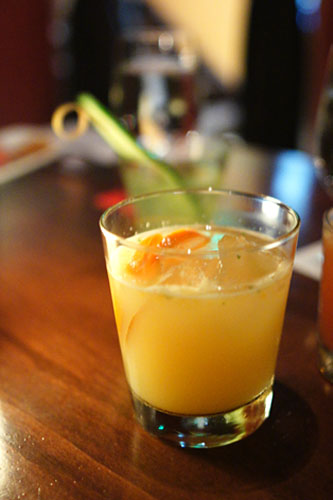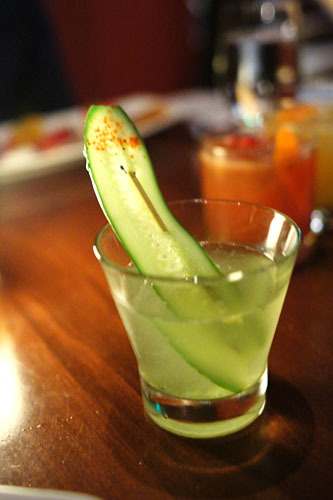 Tang'ent
| Bourbon, tangelo, pomegranate, POM, acucar
My Darling Clementine
| Vodka, minneola tangerines, limes, cilantro, ginger elixir, pineapple juice
Q~Cumber
| Gin, cucumber, lemon, agave nectar
As usual, we began with a trio of cocktails. First up was the Tang'ent, which our server described as Barragan's take on the Old-Fashioned. I rather liked it, with its sugary-citrusy notes beautifully balancing the heft of the whiskey. My Darling Clementine was my favorite cocktail of the night, with its fantastic interaction of herbaceous and saccharine, almost candy-like flavors, all over a neutral base of vodka. Rounding things out was the Q~Cumber, a classic combination of gin and cucumber kicked up a notch by the power of agave, with a bit of heat courtesy of espelette pepper.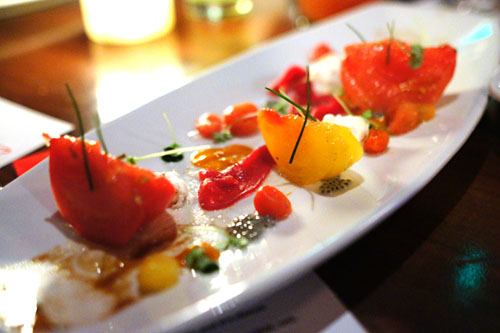 2: Heirloom tomato
| buffalo and it's cheese
Batic Rose, Slovenia
Heirloom tomato salads have been done to death, but Horton managed to pique my interest here. I loved the delectable, delicate buffalo carpaccio, and how it was so deftly augmented by the heft of the buffalo's milk cheese. The tomatoes (in regular as well as gelée form), meanwhile, provided a sweet, succulent counterpoint that aptly integrated the dish. I also appreciated the overarching, zesty tang of the basil and the deconstructed plating of the dish. Lovely.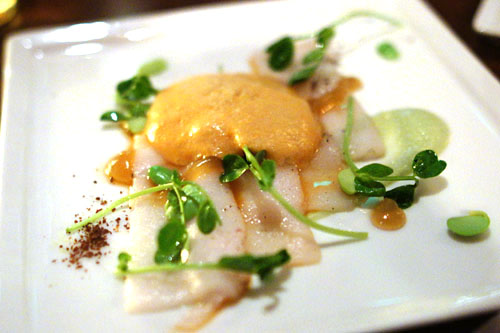 3: Escolar
| with sumac, edamame, horseradish, uni, flavors of pho and puffed rice
De Loach, Chardonnay, Sonoma, 2008
Escolar, also known as butterfish, was, as the name implies, quite buttery in consistency, with a subtle, yet still somewhat fatty flavor. However, I found the accompanying foam of mirin, apple juice, and soy a bit overwhelming; its sweet, umami-soaked sapor took the attention off the fish, which I wanted to be front-and-center. Fortunately, the sprouts and soy beans did a fantastic job in balancing things out, and I quite liked the slight heat of horseradish as well.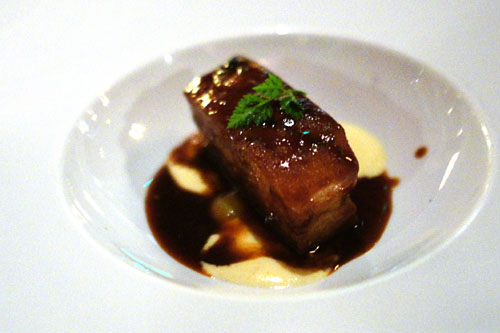 4: Pork belly
| with vadouvan, apple, yogurt and cucumber
Cantina di Santadi, Carignano, Rocca Rubbia, Sardinia, 2008
Pork belly was braised for six hours, then pressed in quasi-terrine form for nearly a day following. It showed off a faultless texture, a perfect combination of lean and fat, with a delightfully crispy skin to boot. The vadouvan--Horton's own blend--was present, but fortunately not domineering, nor was the apple. I would've liked a touch more from the yogurt, however.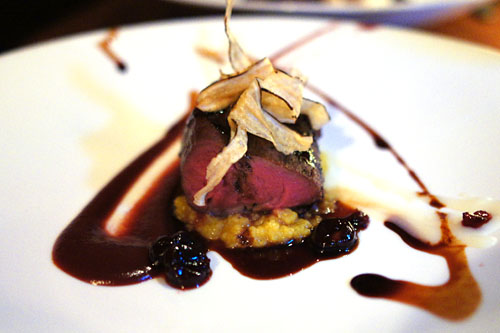 5: Elk
| with almond, bacon, brandied cherries and squash
Atteca Garnacha, Catalayud
The elk, taken by itself, was superb--suitably tender, with a immensely saporous character and just a great tinge of smokiness (it was done
sous vide
). Unfortunately, the commixture of cherries and squash was too saccharine for my tastes, distracting me from how delectable the meat was. All was not lost, though, as the almond did help restrain the dish, and I really liked the topping of crispy salsify.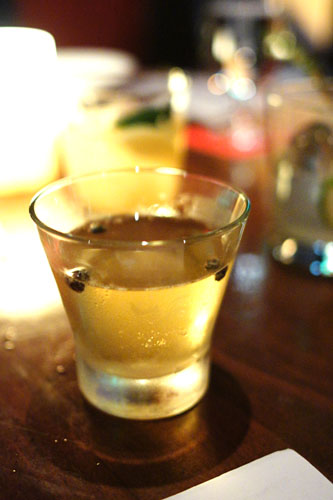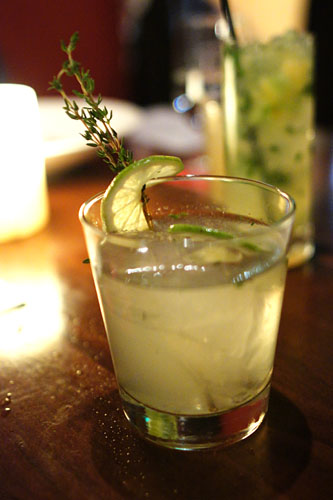 Pearl Jasmine
| Vodka, Vintage Tea Leaf jasmine tea, agave nectar
En Fleur
| Gin, St. Germain, sauvignon blanc, fresh thyme and lime
Booze, round two. I don't often see tea in my cocktails, but it worked wonders in the Pearl Jasmine, forming a gorgeous counterpoint to the potency of the vodka--absolutely lovely. The En Fleur was even better, with wonderful aromatics and an immaculate interplay between the thyme and the sweetness of the St-Germain. And let's not forget the finish, which was strangely reminiscent of lychee!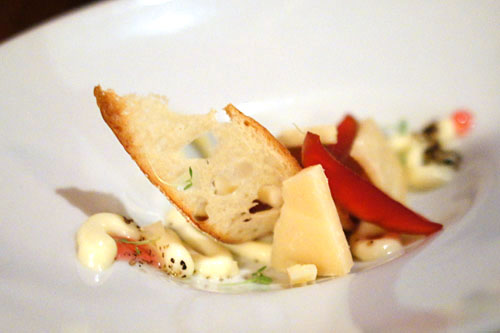 6: Parmigiano Nero
| with apple, hibiscus, white chocolate and olives
Crios De Susana Balbo, Torrontes Salta, Argentina, 2009
Next up was one of the strongest cheese courses that I've had in a while. Parmigiano Nero is a varietal of Parmesan that features a black covering of charcoal and wax, hence the "nero." The resulting cheese seemed to be more intensely flavored than your typical Parm, and had a delightful semi-hard texture as well. It was beautifully complemented by the sugary, fragrant, hibiscus-marinated apples, while the topping of dehydrated caramelized olive powder added a trace of piquancy to the dish.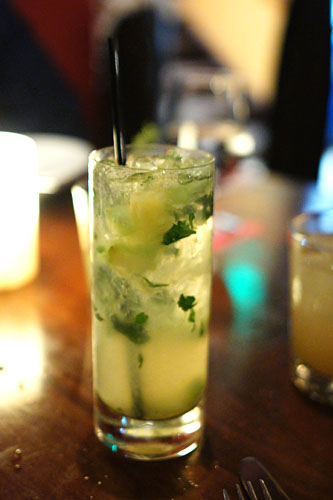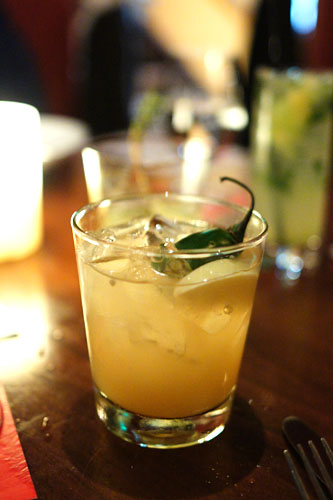 South Beach Shine
| Moonshine, lime, melon, pineapple, cilantro salsa
Burning Apples Smash
| Apple jack, jalapeno, lemon, honey, apple
Due to a bit of miscommunication at the bar, we were given two extra cocktails (not listed on our menus), not that we were complaining. The South Beach Shine was likened to a moonshine mojito, with the earthy flavor of the moonshine neutralized somewhat by the tangy bits of fruit. We also had the Burning Apples Smash, which showed off a creeping, lingering bit of heat from the jalapeno, combined with a nice citric tinge, all over an enveloping base of apple.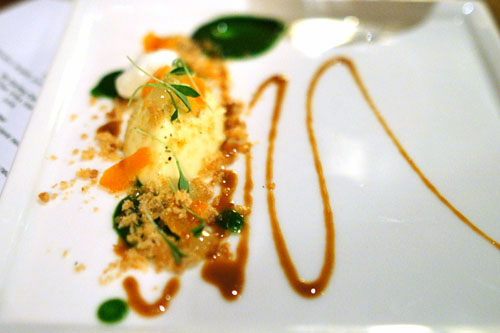 7: "Thai green curry"
| with chicken, lemongrass, cilantro and lime
Gruner, Weinderer
Saddle Peak Lodge's Pastry Chef Kasra Ajdari really went to town here, giving me my first taste of
chicken
in a dessert. The dish's aroma was definitely teeming with avian influences, which was a tad disconcerting at first. However, eating the dessert, the sweet-savory interplay actually worked out surprisingly well, while the finish was almost reminiscent of Fruit Loops! The lemongrass custard, lime-coconut foam, micro cilantro, dried carrot, and Indonesian soy sauce, meanwhile, provided the requisite Asian-inspired flavors, completing the dish. Is dehydrated caramelized chicken skin the next bacon bits?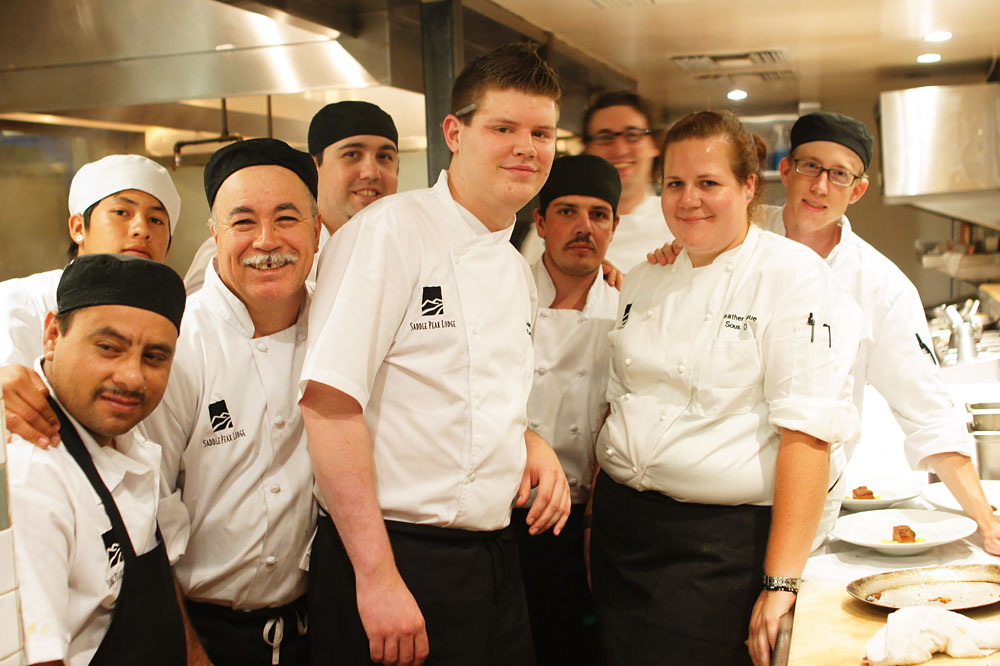 Chef Horton's crew, including Chef de Cuisine Christopher Kufek and Sous Chef Heather Bogue.
Despite a few missteps, I liked the direction that Horton was going tonight, how he was able to infuse Saddle Peak standbys with a touch of the "molecular." The food was just inventive, just innovative enough, but still managed to showcase the quintessence of what the Lodge is all about--it's about embracing the modern, while respecting the past. Hopefully, the Chef will have the opportunity to incorporate some of what he's done here in the restaurant's standard bill of fare.
Previous Test Kitchen posts: Steve Samson - Zach Pollack (9/23), Joshua Smith (9/21), Amy Pressman (9/20), Shelley Cooper (9/17), John Sedlar (9/15), Amanda Baumgarten - Dylan Hallas - Dan Moody (9/14), TiGeorges Laguerre (9/6), Vartan Abgaryan (9/4), Neal Fraser (8/31), Michael Voltaggio (8/29), Walter Manzke (8/25), Ricardo Zarate (8/24), Jordan Kahn (8/18).