Test Kitchen (Los Angeles, CA) [19]
Test Kitchen
9575 W Pico Blvd, Los Angeles, CA 90035
310.277.0133
www.testkitchenla.com
Wed 10/27/2010, 07:00p-10:45p
September 16th marked the 200th anniversary of Mexico's independence (i.e. the start of the war between Mexico and its Spanish colonizers). To celebrate this bicentennial, Test Kitchen tapped local Oaxacan restaurateur
Bricia Lopez
(Guelaguetza, Pal Cabron, Natura, Mitla) to curate a series of Mexican-inspired dinners at the pop-up.
The duo behind
La Casita Mexicana
was slated to cook here initially, but due to scheduling issues, the idea never panned out. They were replaced, thus, by an arguably even more intriguing proposition: a trio of young chefs brought in from Mexico (Baja specifically), here to cook a market-driven menu. Due to its unique geography and access to world-class product, Baja is actually one of the hot beds of contemporary Mexican cookery, and here to represent were three of its best and brightest: Diego Hernandez, Ismene Venegas, and Guillermo Barreto. Please visit the
Test Kitchen site
to learn more about the chefs.
Following the Baja threesome will be Joshua Gil, who will be previewing modern Oaxacan dishes from Bricia's upcoming eatery Mitla.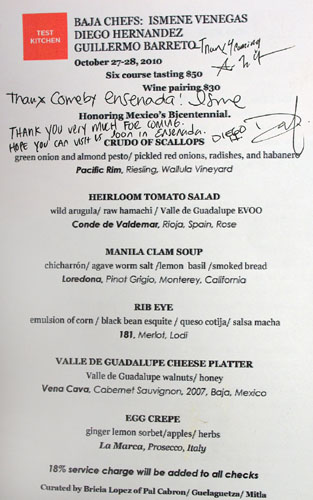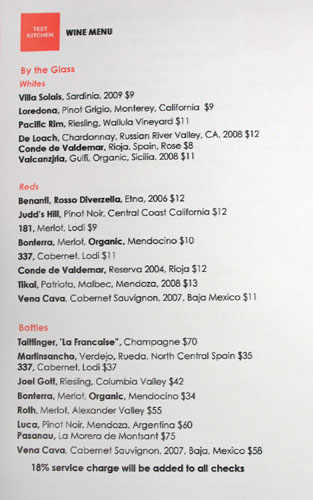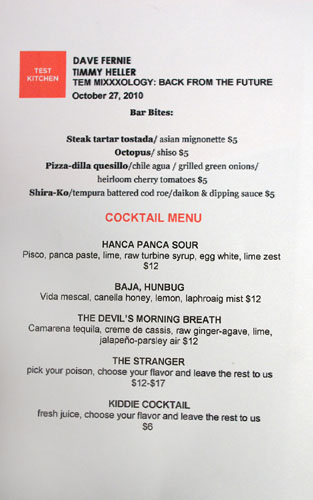 The trio's six-course menu was priced at $50, with an optional wine pairing adding another $30 to the tab. Bar bites were also on offer, naturally, and cocktails were the work of Dave Fernie and Timmy Heller. Click for larger versions.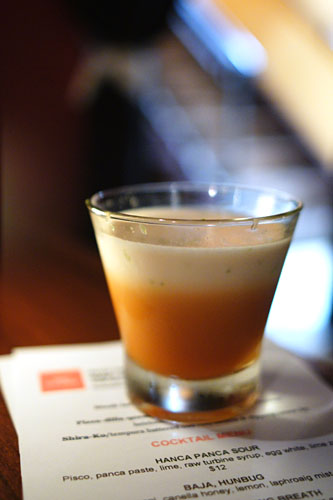 HANCA PANCA SOUR [$12.00]
| Pisco, panca paste, lime, raw turbine syrup, egg white, lime zest
I started with the Hanca Panca Sour, which had a fantastic, almost cinnamon-y nose leading to a sweet-spicy body with just a pinch of sourness from the lime. Loved the frothy, foamy head of egg white as well.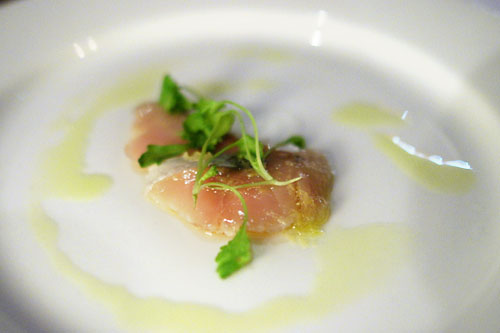 Salt-cured Spanish mackerel [$5.00]
| chive oil/ green cress
When my server offered to bring me an off-the-menu special, how could I refuse? Thus, the meal began with these slices of Spanish mackerel, dressed in greenery. What I tasted first was the unique zest of the chive oil, which then transitioned to the familiar, fishy flavors of
aji
. The brine of the fish was certainly present, and lingering, but was nicely moderated by the piquant tang of cress.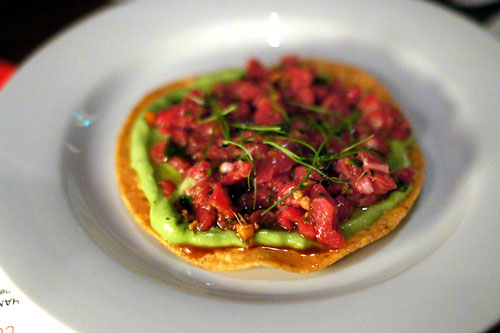 Steak tartar tostada [$5.00]
| asian mignonette
The tostada demonstrated a great balance of flavors between the savory beef and the lush creaminess of the avocado purée, all while the mignonette gave the dish a bit of piquant levity. I definitely appreciated the assertive crunch of the tortilla as well, which really did a superb job mixing things up texturally.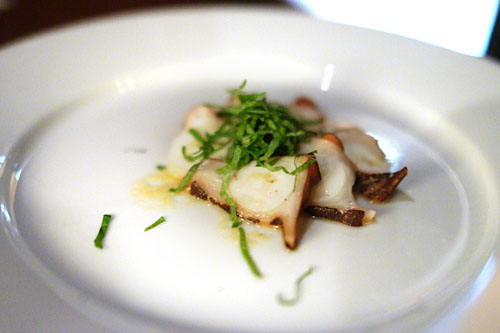 Octopus [$5.00]
| shiso
Octopus came topped with shiso and EVOO. The
pulpo
showed off a nice snappiness, and its subtly sweet brine was augmented by the weight of the olive oil. Meanwhile, the bright, minty flavors of shiso did offset the weight of the octopus, but was overwhelming at points.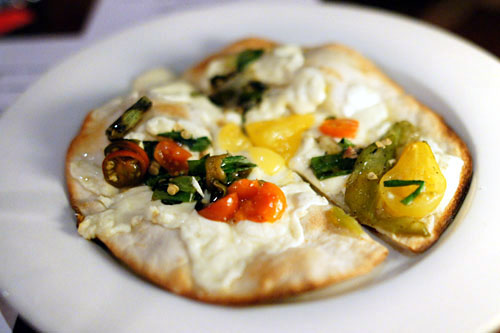 Pizza-dilla quesillo [$5.00]
| chile agua/ grilled green onions/ heirloom cherry tomatoes
My favorite of the bar bites was this wood-fired, pizza-like contraption. The
quesillo
(a sort of shredded Cotija cheese) served as a heavy, salty base to the dish, and was perfectly augmented by the spicy-sweet interplay of jalapeño and habanero chilies and tomato, with the green onion providing a bit of vegetal tang. Fantastic crispness on the crust, too.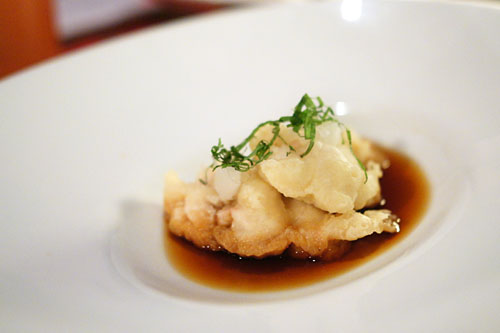 Shira-Ko [$5.00]
| tempura battered cod roe/ daikon & dipping sauce
Shirako
is a Japanese term translating loosely to "white children." It refers to the milt, or soft roe of fish, a rather intimidating proposition that I was surprised to see offered on the menu. Behind the crisp tempura batter, the
shirako
was soft and squishy in consistency, and rather mild in flavor. The accompanying dashi-soy-rice wine vinegar sauce, thus, was key in giving the dish some sweet and sour notes. I believe that this was only my second time having the delicacy, the first being at the famed
Go's Mart
over three years ago.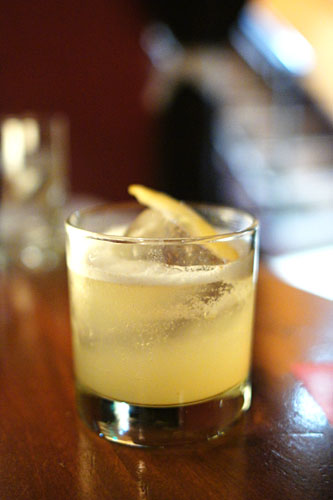 BAJA, HUNBUG [$12.00]
| Vida mescal, canella honey, lemon, laphroaig mist
The whimsically-named Baja Hunbug was also quite tasty, showing off the brazenly smoky character of mezcal in concert with the tempering sweet-sour flavors of honey and lemon. Nice!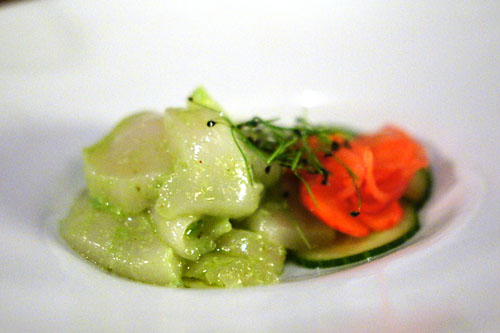 1: CRUDO OF SCALLOPS
| green onion and almond pesto/ pickled red onions, radishes, and habanero
Pacific Rim, Riesling, Wallula Vineyard
A generous mound of scallop signaled the beginning of the meal proper. Served raw, the bivalves were suitably creamy in consistency, with their mild flavor brightened nicely by an apt mix of spicy, sour, and vegetal accompaniments. Great crunch from the cured cucumber, too.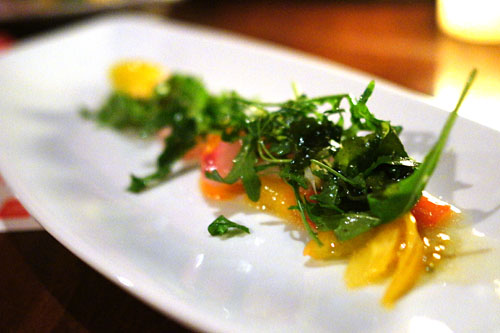 2: HEIRLOOM TOMATO SALAD
| wild arugula/ raw hamachi/ Valle de Guadalupe EVOO
Conde de Valdemar, Rioja, Spain, Rose
Pairing tomato with arugula and dressing the resulting commixture with olive oil is hardly a new concept these days, so the use of hamachi sashimi here was an enjoyable twist. The fish itself was clean-tasting, delicate, with just a hint of unctuousness. It was deftly complemented by the peppery tang of arugula, and I also liked the succulent sweetness imparted by the tomato.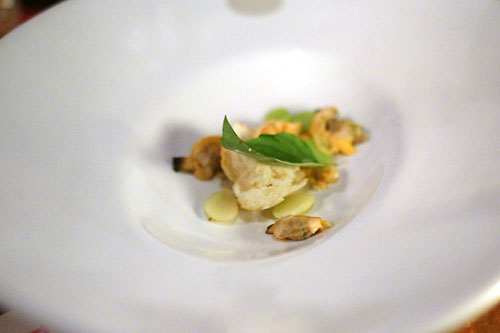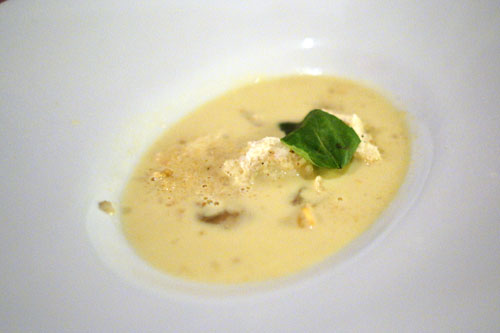 3: MANILA CLAM SOUP
| chicharrón/ agave worm salt/ lemon basil/ smoked bread
Loredona, Pinot Grigio, Monterey, California
The third course of the prix fixe was easily my favorite of the sextet. The briny, smoky essence of the soup was immensely satisfying, with the crisp chunks of chicharrón adding a fantastic, salty kick that elevated the dish even further. I wanted a piece of bread to sop up the remaining liquid!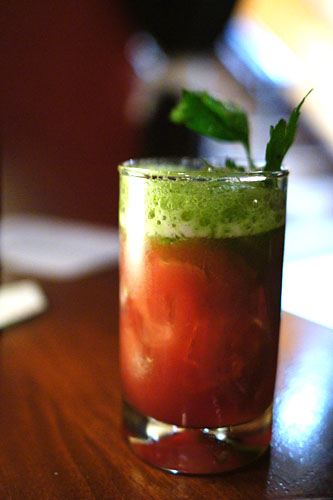 THE DEVIL'S MORNING BREATH [$12.00]
| Camarena tequila, creme de cassis, raw ginger-agave, lime, jalapeño-parsley air
What struck me about this cocktail was its immensely green, vegetal nose. On the palate, though, this was all about a base of sweetness from cassis balanced by countervailing forces of tequila and ginger.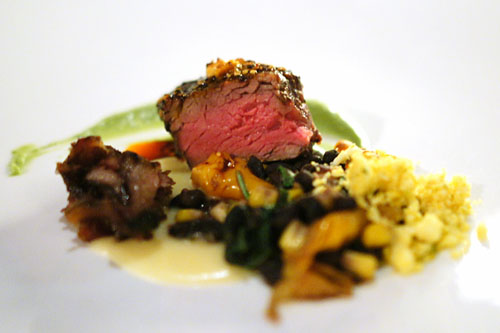 4: RIB EYE
| emulsion of corn/ black bean esquite/ queso cotija/ salsa macha
181, Merlot, Lodi
My nit with this course was that some portions of the beef were rendered overly dry, thus distractingly lacking in characteristic fat and succulence. That being said, it did demonstrate a pleasing beefiness that was expertly tempered by the earthiness of the beans, while the
macha
(chilies, sesame, peanuts) and avocado purée contributed further points of interest.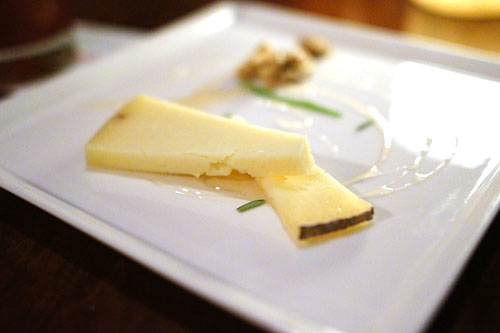 5: VALLE DE GUADALUPE CHEESE PLATTER
| Valle de Guadalupe walnuts/ honey
Vena Cava, Cabernet Sauvignon, 2007, Baja, Mexico
Our cheese course consisted of a cave-aged three-month old cow's milk
queso fresco
. Semi-firm in consistency, it showed off a soft, slightly salty, almost mozzarella-esque character that went gorgeously with the honey. Surprisingly satisfying.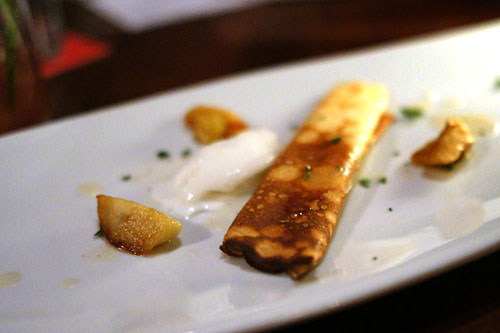 6: EGG CREPE
| ginger lemon sorbet/ apples/ herbs
La Marca, Prosecco, Italy
The crepe, expectedly, gave us a base of eggy sweetness, which, augmented by the apples, played quite well with the dessert's herbal tinge. The sorbet, meanwhile, added further levity to things, completing the dish for me.
As was the case with
Javier Plascensia's
stint here, tonight was another opportunity to witness a side of
cocina Mexicana
that's not often highlighted in this country. This is unfortunate, because, as we can see, there's a lot of great cooking going on that's remained largely invisible Stateside. Hopefully, we'll get there some day.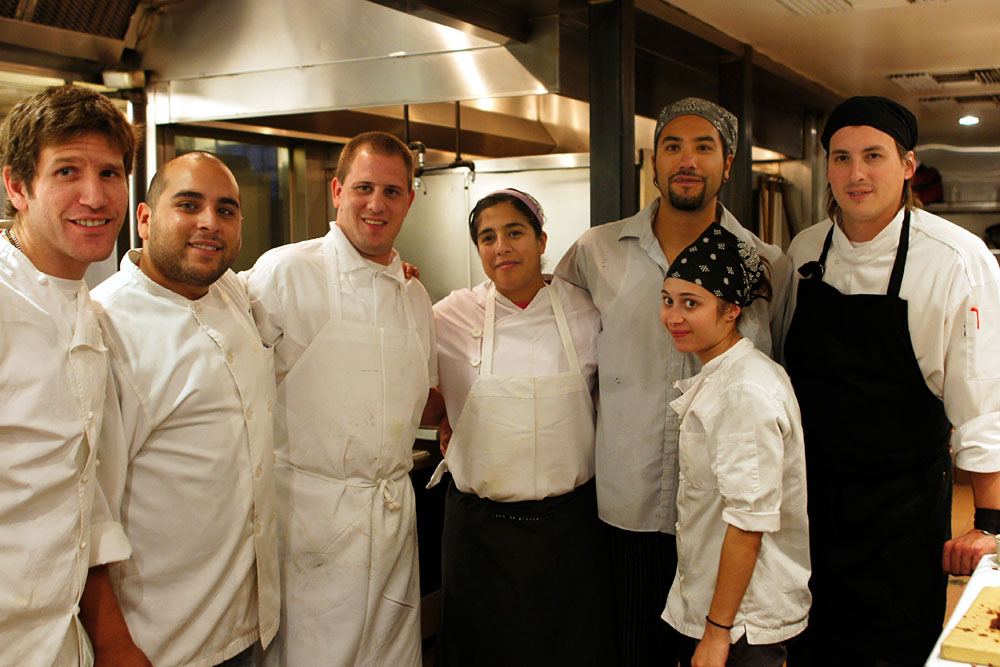 Chefs Diego Hernandez (2nd from left), Ismene Venegas (4th from left), and Guillermo Barreto (far right), along with Joshua Gil (3rd from right).
Previous Test Kitchen posts: Ricardo Zarate (10/16), Javier Plascensia (10/13), Marcel Vigneron (10/1), Suzanne Griswold - Rachael Narins (9/30), Adam Horton (9/27), Steve Samson - Zach Pollack (9/23), Joshua Smith (9/21), Amy Pressman (9/20), Shelley Cooper (9/17), John Sedlar (9/15), Amanda Baumgarten - Dylan Hallas - Dan Moody (9/14), TiGeorges Laguerre (9/6), Vartan Abgaryan (9/4), Neal Fraser (8/31), Michael Voltaggio (8/29), Walter Manzke (8/25), Ricardo Zarate (8/24), Jordan Kahn (8/18).