Benu (San Francisco, CA)
Benu Restaurant
22 Hawthorne St, San Francisco, CA 94105
415.685.4860
www.benusf.com
Wed 08/01/2012, 08:00p-12:20a
[NOTE: There's a first time for everything, and unfortunately, tonight was the first time that I'd forgotten my camera's memory card. When I saw the "NO CARD" flash on the LCD, my heart sank, and I had a sick feeling in my stomach; it took a few seconds for the shock to actually register. To attempt to remedy the situation, I searched for open electronics stores nearby, but no such luck. I asked my dining companions if they knew anyone close by with a compatible card, and even inquired with our server to see if the staff had access to one, but no dice. As such, I had to ask one of my colleagues, Shane Liu, to photograph the dishes using a camera phone. The results, regrettably, were of course suboptimal, but given the strength of the meal, I felt that they were still worthy of posting.]
My first experience at
The French Laundry
, way back in '07, remains, to this day, one of the best, and most important meals that I'd ever had. The chef in charge of the kitchen at the time was Thomas Keller's right-hand man Corey Lee, and given the sheer strength of that dinner, it came as no surprise to me when he announced his departure from the landmark restaurant two years later. Lee left to open up his first solo project, entitled Benu, named after
Bennu
, the Egyptian mythological incarnation of the phoenix. The debut of the restaurant in 2010, thus, represented a rebirth of sorts for Lee, who broke way from the constraints of TFL to bring forth his own brand of modernist American fare, imbued with a keen sense of Asian cookery and making for a unique style that simply wasn't feasible in his previous kitchen.
About the Chef
: Chef Lee was born in Seoul in 1977, the son of a graphic designer mother and engineer father, whose career brought the family--including two sisters--Stateside in 1983. Lee was raised in New York City at first, but then also lived in Connecticut and eventually New Jersey, graduating from Tenafly High School in 1995. It was then, at age 17, when he began his culinary career, accidentally no less. He needed a job, and a friend landed him a position at the new Blue Ribbon Sushi in SoHo, which had just opened at the time. Lee started out waiting tables, but was instantly drawn to the kitchen, and ended up cooking for the first time at the Bromberg brothers' other restaurant, Blue Ribbon.
After committing himself to the profession, he moved to England in 1997,
staging
at a number of places include Interlude,
Gordon Ramsay
's Savoy Grill, Marco Pierre White's Oak Room at Le Meridien Piccadilly, Pierre Koffmann's La Tante Claire, and Tom Aikens' Pied à Terre. During this period, Lee also worked in France, cooking in the kitchens of legendary chefs
Guy Savoy
and Alain Senderens. He actually received a job offer from the Michelin-starred La Grande Cascade, Jean-Louis Nomicos' place near Paris' Bois de Boulogne, but visa issues caused that opportunity to fall through. Lee, thus, moved back to Manhattan, taking up residence at Normand Laprise's Cena for a year, then moving to Lespinasse (under Christian Delouvrier) in the St. Regis for a couple more. He worked for Daniel Boulud at DB Bistro Moderne briefly before shipping out to California in 2001
Lee started out at
The French Laundry
as a
chef de partie
, and was promoted to Sous Chef in 2003. The following year, he helped open Thomas Keller's
Per Se
out in New York, then returned to Yountville in 2005 as Chef de Cuisine. It was then when Lee really began making a name for himself. In 2006, he was deemed "Rising Star Chef of the Year" by James Beard, as well as a "Rising Star Chef" by the
San Francisco Chronicle
. During his tenure there, The French Laundry was also named the top restaurant in the country by
The World's 50 Best Restaurants
, and received three stars from the Michelin guide. Lee was at the top of his game, but soon, to the dismay of many, he announced his departure from the iconic eatery in 2008, leaving for good in July 2009 to work on Benu.
Benu, as it were, was originally slated to debut in New York, but due to the Great Recession, Lee ended up in San Francisco. The decision actually worked out for the better, as the Chef was now free to leverage all the existing relationships with purveyors that he'd built up over the years, not to mention his old customer base. Lee spent over a year building up Benu, with the restaurant finally bowing in August of 2010. It was met with considerable acclaim from the get go. Michelin doled out one star right off the bat, with the deuce coming the following year. The
SF Chronicle
's Michael Bauer award 3.5 stars just three months after opening, and upgraded that rating to the full four just this February. In January 2011, the
New York Times
called Benu one of the "
10 Restaurants Worth a Plane Ride
" and the
Wall Street Journal
followed that up in October with a nomination for "
Next Big Restaurant
."
Food & Wine
, meanwhile, christened Lee "Best New Chef" for 2012, and perhaps most tellingly, notorious Bay Area food scene hater David Chang (remember
figs on a plate
?) even wondered if Benu could be the "
best restaurant in America?
"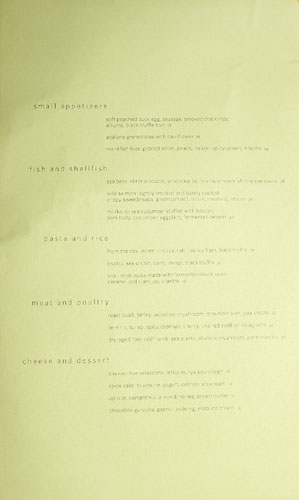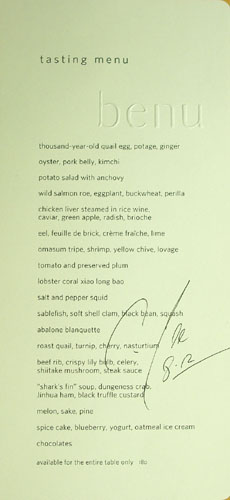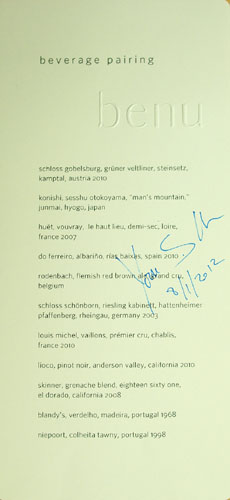 There are two dining options at Benu: à la carte and an 18-course tasting menu priced at $180, though I'm not sure why you'd go with the former here. To drink, think an optional beverage pairing priced at $130 per head, courtesy of Beverage Director Yoon Ha and Sommelier Bobby Conroy, in addition to a lengthy list of wines, sakes, and beers. Click for larger versions.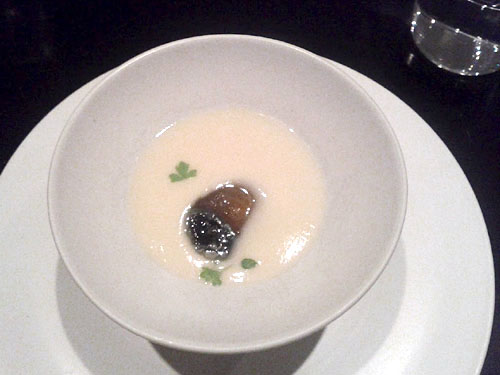 1: thousand-year-old quail egg, potage, ginger
schloss gobelsburg, grüner veltliner, steinsetz, kamptal, austria 2010
We started our adventure with Lee's homage to the Chinese century egg, a variation of which has pretty much been on the menu continuously since Benu opened. The
pidan
itself was spot on, with a delightfully gelatinous consistency and an eggy, piquant flair that intertwined beautifully with the notes of ginger present. The paired potage, meanwhile, contributed an enveloping weight and heartiness that grounded and moderated the dish.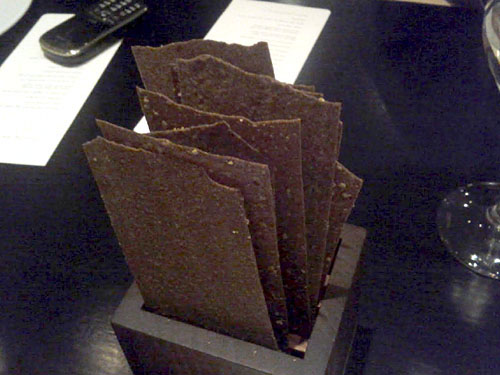 "Bread" service was composed of a thin buckwheat lavash, infused with nori and sesame. It was quite nice, somewhat reminiscent of the sesame seed flatbread at
wd~50
in fact, with a great crunch and nutty notes of sesame initially, leading to the umami-rich relish of nori on the finish.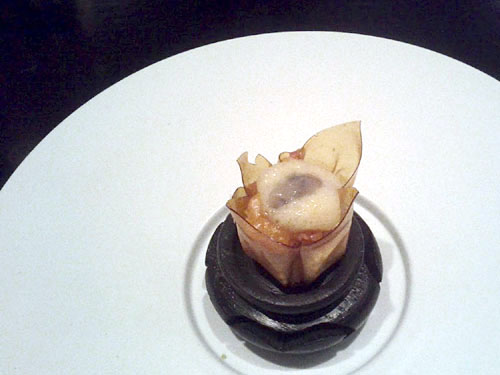 2: oyster, pork belly, kimchi
schloss gobelsburg, grüner veltliner, steinsetz, kamptal, austria 2010
The curious combination of oyster and pork made a reappearance here, not long after I'd had a tasty version at Miles Thompson's
Vagrancy Project
. Here, Lee presents a singular bite containing braised belly, oyster, kimchi crème fraîche, and kimchi foam, all encased in a container of dehydrated kimchi broth "glass." There's quite a bit of complexity that goes into this one bite, with the flavors of briny oyster and savory pork dancing back and forth on the palate, all tempered by a subtle veil of pickle-y piquancy.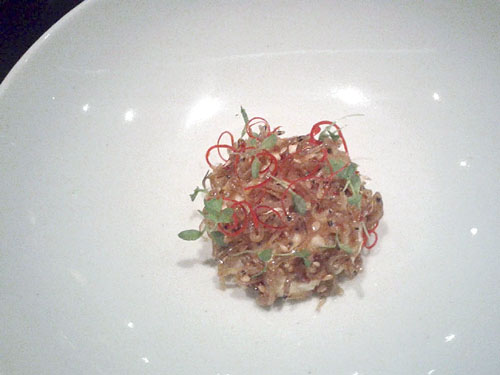 3: potato salad with anchovy
konishi, sesshu otokoyama, "man's mountain," junmai, hyogo, japan
Regular readers will know that I'm quite the potato salad fiend, and the version served tonight--made with Yukon Gold potatoes, caramelized anchovy, chili curls, and microcelery--was unquestionably the most ambitious version that I'd ever had. The dish showed off a fantastic salinity from the anchovy that recalled the dried fish snacks I used to consume as a child. The intense brine in the dish was perfectly countered by the sweetness inherent in the caramelization process, while the chilies and celery further balanced out the course. Just some laser-focused flavors here, making this one of the highlights of the meal for me.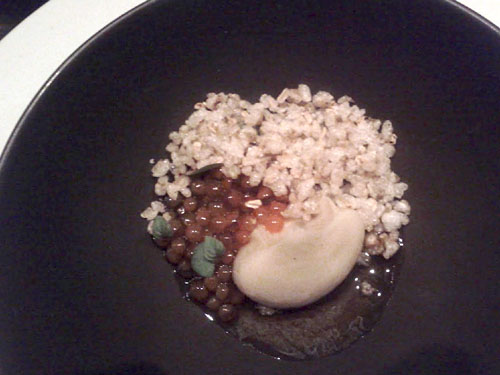 4: wild salmon roe, eggplant, buckwheat, perilla
konishi, sesshu otokoyama, "man's mountain," junmai, hyogo, japan
Here, the smokiness of the eggplant purée was deftly played against the sharp salinity of the
ikura
, making for a forceful combo that was keenly moderated by the crunch bits of buckwheat in the dish. I also appreciated the subtle whisper of shiso here, and found the course superb with the paired
junmai
sake.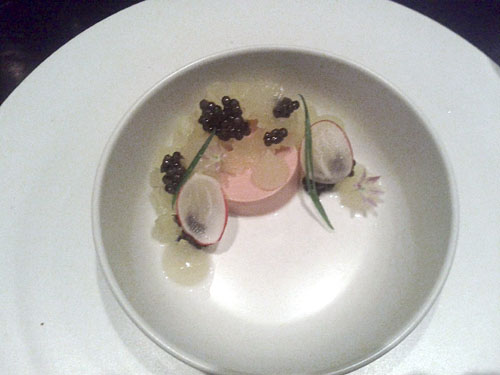 5: chicken liver steamed in rice wine, caviar, green apple, radish, brioche
huët, vouvray, le haut lieu, demi-sec, loire, france 2007
Next up was a variation on Benu's longstanding monkfish liver dish with pistachio purée and shaved cauliflower. Instead of
ankimo
, we had here a disk of the more prosaic chicken liver, but what a liver! Invigorated by a bath in rice wine, it displayed a delicate, refined headiness that crept up on the palate, augmented by salty kicks of caviar, yet toned down by the sweet, juicy, crunchy cubes of apple. And to round out the dish? A perfect slice of toasted brioche and a super smart wine pairing from the Sommelier.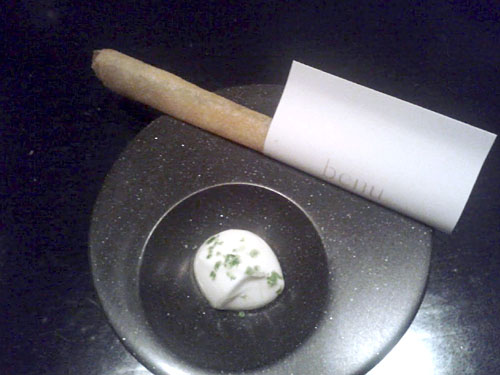 6: eel, feuille de brick, crème fraîche, lime
do ferreiro, albariño, rías baixas, spain 2010
In this whimsically-presented course, eel came rolled in a "cigarette" of crisp, flaky filo pastry (the
feuille de brick
), the slight sweetness in the dough keenly counteracting the fishy savor of the
anguille
. The straw-shaped contraption was certainly delectable alone, but I also appreciated the lushness of the crème fraîche, duly perked up with sharp accents of lime. Beautiful wine here too, with the Albariño complementing the citrus in the dish in stellar fashion.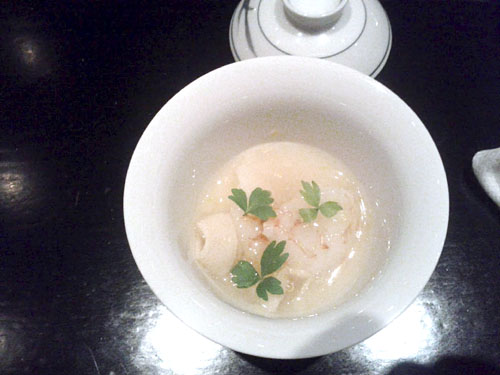 7: omasum tripe, shrimp, yellow chive, lovage
do ferreiro, albariño, rías baixas, spain 2010
The star of the show in what could arguably be my favorite course of the evening was omasum, a sort of tripe sometimes utilized in dim sum. The offal was prepared sous vide with a ginger-serrano marinade, making for an utterly tender cut of stomach that showed off an endearing, almost
yuba
-like consistency. Rock shrimp were also highlighted, their snappy texture on proud display in contrast against the silky omasum, all while a nose of ginger enveloped the entire dish, making for a finish that lingered on and on with a touch of spice. I loved the bright, focused flavors here, making this easily the best tripe dish that I'd ever eaten.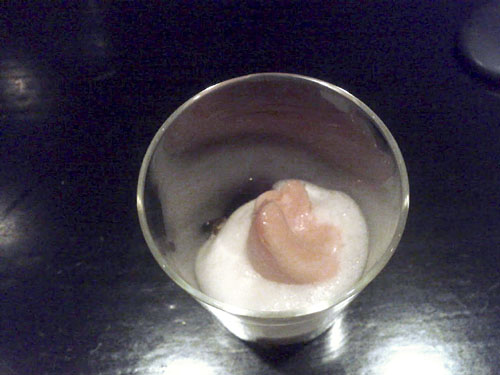 8: tomato and preserved plum
Acting as sort of an intermezzo in the progression of food was a shot of preserved plum joined by fresh tomato, jellied tomato, and whipped tomato. This was certainly a bracing kick to the palate, with the plum taking on a salty-sour
suan mei
-like essence, counterbalanced by the subtly sweet, refreshing character of the three faces of tomato.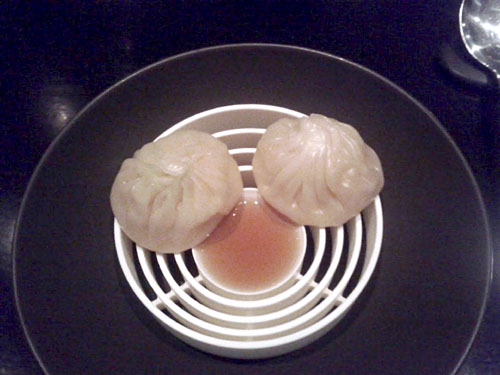 9: lobster coral xiao long bao
rodenbach, flemish red brown ale, grand cru, belgium
Call me crazy, but this might've been the best
xiaolongbao
I've ever had. Chef Lee's original version of the dish contained foie gras, but given the recent ban, lobster coral (eggs) has been substituted in its place, and with fantastic results. The roe imparted an immense depth of flavor to the dumplings, which burst instantly upon mastication, their thin skins giving way to loads of rich, briny soup on the palate. I loved the XLB alone, but the acidity provided by the black rice-banyuls vinegar dipping sauce formed a superb complement, countervailing the gravity of the dish admirably. I could've easily taken on a half-dozen more of these.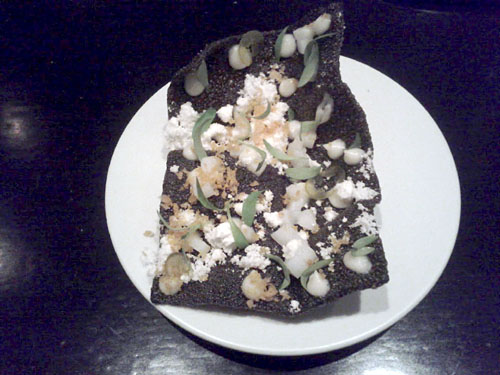 10: salt and pepper squid
rodenbach, flemish red brown ale, grand cru, belgium
This next course was, of course, a reimagination of the ubiquitous Chinese dish, a pretty big reimagination at that, composed of a squid ink chip, squid mousse, dehydrated garlic powder, dehydrated serrano powder, puréed garlic, and pickled serrano. It really did a wonderful job in smartly conveying the essence of the squid in multiple facets, and I loved the bright flavors and heat imparted by the chili here, as well as how the garlic undertones bolstered the entire chip. A fun dish, one that sort of reminded me of a shrimp cracker, but taken to the Nth level.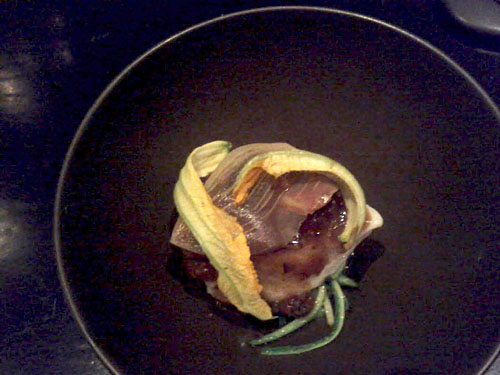 11: sablefish, soft shell clam, black bean, squash
schloss schönborn, riesling kabinett, hattenheimer pfaffenberg, rheingau, germany 2003
We had here sablefish, a.k.a. black cod, joined by squash blossom, squash ribbons, black bean, and pickled garlic, all topped with clam. The fish itself was spot on: fatty, flaky, and falling-apart tender, with a mild taste that went swimmingly with the sweet piquancy of the fermented bean. Clams, meanwhile, did a great job in adding some textural variation to the dish, and I appreciated the levity imparted by the crunchy squash as well. I loved how the wine paired with the soybean here, too.
12: abalone blanquette
louis michel, vaillons, prémier cru, chablis, france 2010
Here, Lee riffs on the classic French dish of
blanquette de veau
, substituting abalone in place of veal, and adding clove, lemon confit, and button mushrooms, all over basmati rice. It was pretty fantastic, actually, one of the highlights of the meal no doubt. It started with the rice: firm, long, distinct grains that really set the stage for the dish. On top of that, I absolutely adored the textural interplay between the mushrooms and abalone; in fact, the latter was some of the best I've had,
ever
. Also key was the overarching veil of lemon, which, along with the dish's broth, integrated everything together just perfectly. A hearty, home-y dish in some ways, yet utterly refined.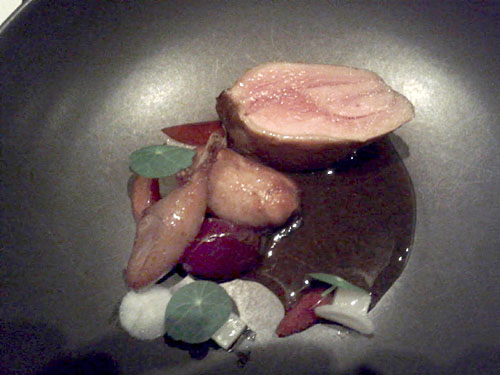 13: roast quail, turnip, cherry, nasturtium
lioco, pinot noir, anderson valley, california 2010
Moving on to the heavier courses now, we had here quail, marinated in
tamari
(soy sauce) and
Shaoxing
wine, then roasted. It was a flawlessly-cooked example of the bird, with a mouth-watering savoriness accentuated by the sugariness of cherry (which I especially enjoyed against the vanilla notes in the wine), all while turnips provided delightfully offsetting notes of bitterness to the mix, as well as a well-placed crunchiness.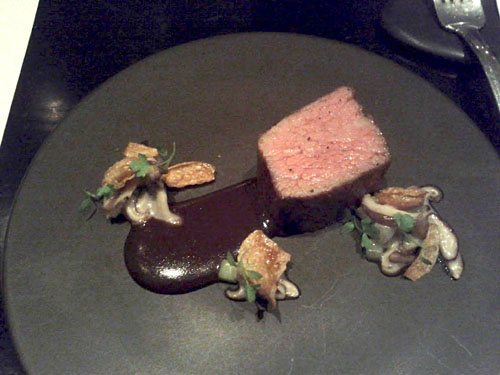 14: beef rib, crispy lily bulb, celery, shiitake mushroom, steak sauce
skinner, grenache blend, eighteen sixty one, el dorado, california 2008
Here was an absolutely gorgeous cut of beef, from Kansas' Cherry Creek Farms (I believe that was the name). The rib was beautifully marbled, with an undeniably rich, heady, positively bovine relish that was keenly matched by its accompaniments of lily bulb (which I was particularly fond of) and celery. I even liked the sweet-ish "steak sauce." My only concern here was that some of us wanted the beef to be more tender and a bit less "crunchy."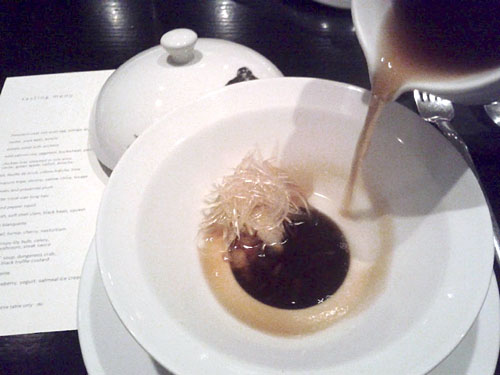 15: "shark's fin" soup, dungeness crab, Jinhua ham, black truffle custard
blandy's, verdelho, madeira, portugal 1968
And here we come to Lee's
pièce de résistance
, the one dish that the Chef is unquestionably the most known for. It's something that's been on the menu since day one, and is basically a modernist interpretation of the iconic shark's fin soup, a staple of Chinese culture oft served at wedding banquets and other such celebrations. The "mock" shark fin recalled the gelatinous consistency of the real thing, though it certainly wasn't spot on. That being said, the dish was delicious--and better than any traditional presentation of the dish I've had--a real explosion of flavors that left me wanting more. The crux of the course for me was the
Jinhua
broth, with its incredible depth and umami-soaked savor that just enveloped and enriched the entire dish. To this, we had an amazing earthiness from the truffle custard, joined by a very focused sweetness and brine from the crab, as well as a delightful tint of piquancy from the ginger. A must try.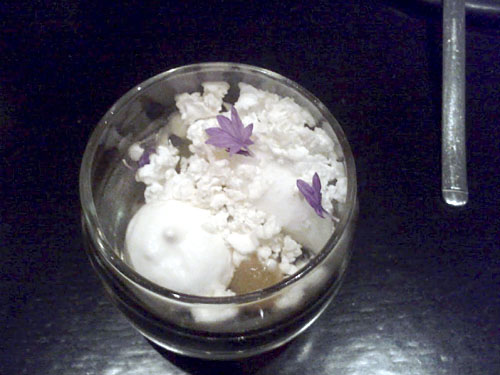 16: melon, sake, pine
With the savories dispensed with, we enjoyed a sort of pre-dessert course of sake sorbet. The sorbet was quite something, really doing a nice job in capturing the essence of the beverage. It was tasty alone, but I quite appreciated its interaction with the sugary bits of melon present, and
really
liked the overarching notes of pine in the dish.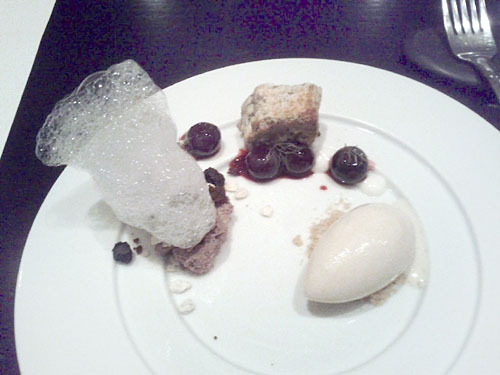 17: spice cake, blueberry, yogurt, oatmeal ice cream
niepoort, colheita tawny, portugal 1998
Our last proper course of the evening brought along this artfully-plated dessert. The herbal, spicy nature of the cake was certainly commendable, and I appreciated the integrating sweetness of the berries, but for me the hero in the dish was clearly the oatmeal ice cream. It was marvelous, proudly conveying the quintessence of oat while moderating and tying together the course. Overall, a complex, multifaceted dessert with a smart use of varying tastes and textures, along with a very laudable incorporation of a savory element.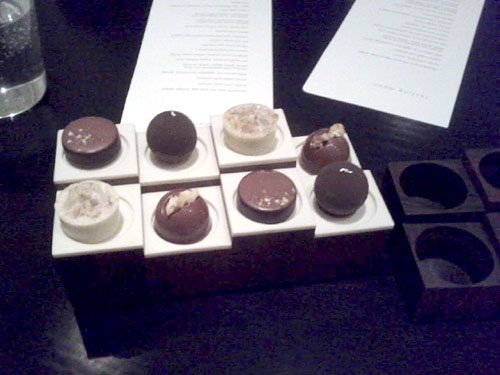 18: chocolates
Various chocolates arrived in their own custom-designed container, seemingly carved out of a single block of wood. We had a white chocolate with dried fruit and almond, a
fleur de sel
chocolate with toasted sesame and strawberry, a dark chocolate shell with cognac, and a milk chocolate with walnut, surprisingly my favorite of the quartet.
Based on my experience tonight, it's my belief that Benu deserves to be upgraded to Michelin three-star status. The meal, as well as Lee's culinary point of view, was that strong. The food shines as a testament to modernist sensibilities and contemporary aesthetics, but at the same time, draws upon the culinary traditions of Asia to pay homage to the flavors and culture of the region. Lee's style isn't overly "molecular," and the genius here is that such techniques are so seamlessly integrated into the meal--you know it's there, but it's not in your face, so to speak. This is evocative cooking, cutting edge cooking, intellectual cooking, but also
uncompromisingly delicious
cooking, and to my knowledge, there's no one else doing quite what Lee's doing at the moment, at least not in the United States. And while we're at it, let's not forget about the beverage pairings, the handiwork of Beverage Director Yoon Ha. In terms of matching with the character of the food, as well as being delicious alone, they were simply some of the best I'd ever encountered. Ha should definitely be commended for his efforts. In the end, everything just came together in near-flawless fashion at Benu, making it arguably my top meal of the year so far.
Mr. Chang
may be on to something here after all.