Gorge (West Hollywood, CA)
Gorge Restaurant
8917 W Sunset Blvd, West Hollywood, CA 90069
310.657.6328
www.gorgela.com
Wed 11/21/2012, 07:35p-10:05p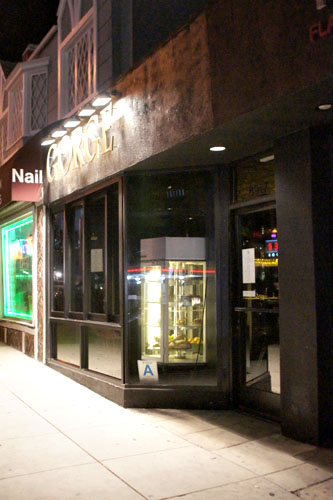 Astute readers will know that have a bit of a soft spot for charcuterie, being quite the fan of various cured meats, terrines, pâtés, sausages, and the like. As such, WeHo newcomer Gorge piqued my interest, since it's the only restaurant in the Los Angeles area I can think of that touts an almost exclusively charcuterie-focused menu. Situated in the spot once occupied by Shiro Kuro (as well as Sunset Sushi, Sushiteria, Ezo, and Koya), the restaurant-
cum
-wine bar is the brainchild of Chef Elia Aboumrad and Pastry Chef-slash-GM Uyen Nguyen, and debuted just recently on September 10th.
About the Chefs
: Aboumrad was born in Mexico City to a Lebanese family. Growing up, she took on an interest in competitive swimming at an early age, and was planning to compete at the Olympics until an injury sidelined her. Following, she began considering a career in medicine, but before starting college, took a year off and decided that her future was in the kitchen. Thus, Aboumrad moved to France and enrolled at the Ecole Lenotre, earning a whopping 34 specialty certifications and meeting her future business partner Uyen Nguyen. After graduating, she went to L'Atelier de Joël Robuchon in Paris, eventually becoming the restaurant's first female sous chef, then moved to Las Vegas in 2005 to help open both
L'Atelier
and the eponymous
Joël Robuchon
at the MGM Grand. Aboumrad worked a stint at CraftSteak during this period as well, and was later appointed Executive Chef of Mandalay Bay's THEcafé at THEhotel.
In the latter half of 2006, Aboumrad appeared as a contestant on Season 2 of
Top Chef
, earning a very respectable 4th place finish behind Sam Talbot,
Marcel Vigneron
, and winner
Ilan Hall
(who was originally slated to be a partner at Gorge). She was invited to participate in
Top Chef: All-Stars
in late 2010--while she was in the planning stages of her first solo project, a fine dining French joint in WeHo named Avec Moi--but was the first chef eliminated. Due to the early loss, Aboumrad felt humiliated, and blasted head judge Tom Colicchio,
accusing him of selling out
and causing a mini-shitstorm. With that behind her, the Chef worked various consulting and private catering gigs, all the while setting the stage for Gorge.
Chef Nguyen, for her part, was born in Bien Hoa, a city in Southern Vietnam's Dong Nai province. The youngest of six daughters, she moved to the US when she was less than two years old, settling with her family in Costa Mesa. Fascinated by her mother's cooking, Nguyen quickly took on an interest in cooking as a child, but eventually attended UC Irvine to study International Relations. During her tenure there, she participated in an exchange program in Lyon, and her four months in France reinvigorated her passion for food. Following graduation, she took a job at a local bank in Mission Viejo, but quickly realized that that wasn't the life for her, and left to study pastry at the Ecole Lenotre.
After receiving her diploma, Nguyen worked briefly at Pâtisserie Gaulupeau in Versailles before coming back Stateside in 2002. She landed in Las Vegas, specifically in the kitchens of Le Cirque at the Bellagio. From there, Fleur de Lys at Mandalay Bay was next, then an Executive Pastry Chef role at MGM's CraftSteak. Eventually, Nguyen was poached by the folks over at Caesars Palace to become opening Pastry Chef at
Guy Savoy
, and, in 2008, was named Rising Star Chef by
StarChefs
for her desserts there. She stayed at Savoy until early 2009, dropping off the radar for a couple years before emerging to work on Gorge.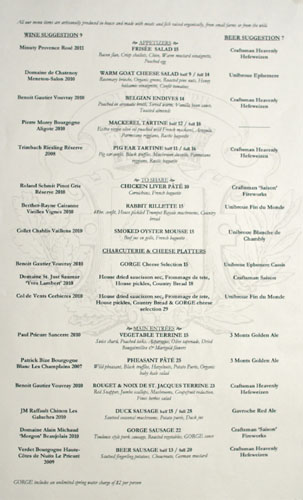 Gorge's menu, as advertised, focuses heavily on Aboumrad's various preparations of charcuterie, and pretty much every item on there is touched in one way or another by preserved meat. To drink, there's a smart selection of not-terribly-expensive wines and a smattering of beers, with course-specific pairings (a nice touch) designed by Master Sommelier Darius Allyn, who just so happens to be the Chef's husband. Click for a larger version.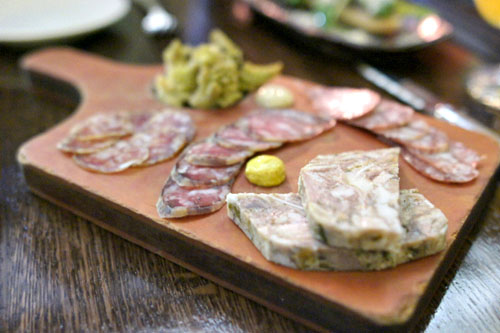 House dried saucisson sec, Fromage de tete, House pickles, Country Bread [$18.00]
Naturally, we had to begin with the Chef's charcuterie plate. It featured three types of dry cured sausage, each with different balances of herb-y, spicy, and pork-y flavors. I was particularly fond of the garlic variety, with its intense garlicky notes building toward the finish. The head cheese was commendable, classic in essence really, with a rustic, gelatinous body and hearty savor, deftly set off by a dab of the included mustard. The crunchy, pickled Romanesco broccoli, meanwhile, was a great accoutrement as well.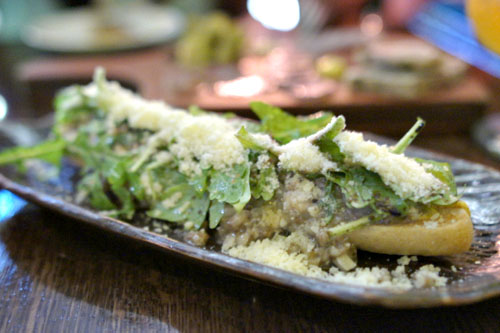 Pig Ear Tartine [$16.00]
| Pig ear confit, Black truffles, Mushroom duxelle, Parmesano reggiano, Rustic baguette
A tartine of pig ear was a favorite of the evening. The confit showed off loads of porcine goodness, duly enhanced by the earthiness of the accompanying mushrooms, while the greenery on the plate imparted a well-placed lightness to things. Texturally, I would've liked a bit more crispness on the baguette here, and perhaps some fried pig ear thrown in for good measure.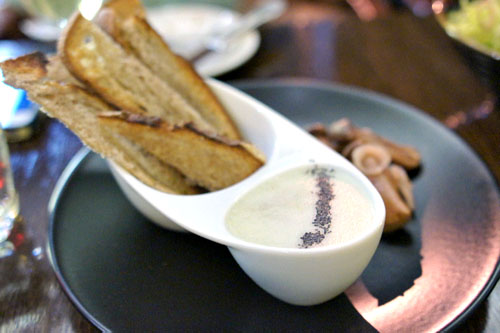 Rabbit Rillette [$15.00]
| 48hr. confit, House pickled Trumpet Royale mushrooms, Country bread
Rillettes of rabbit was on point: creamy and lush, with a certain depth and earthiness that made it a fitting spread for the accompanying toasted bread. At the same time, the pickled mushrooms acted as a tangy, textural counterpoint to the dish.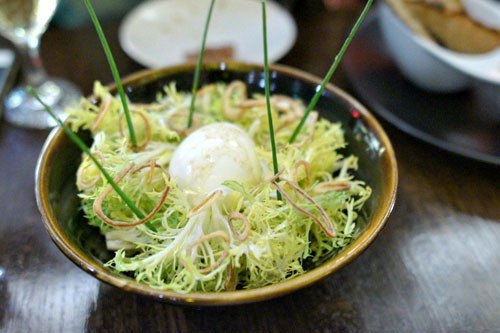 Frisée Salad [$15.00]
| Bacon flan, Crisp shallots, Chive, Warm mustard vinaigrette, Poached egg
Next up was one of the Chef's favorite dishes, a riff on the classic
salade Lyonnaise
. The lushness of the runny egg was proudly conveyed here, a creamy, enveloping element over the bitterness of the greens and the salty bacon flan, which took the place of lardons (though I wouldn't have minded some of those mixed in as well). The mustard vinaigrette, meanwhile, added a tangy contrast to the course that wrapped things up succinctly.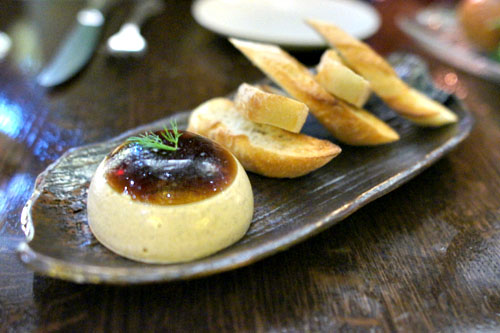 Smoked Oyster Mousse [$15.00]
| Beef jus en gelée, French baguette
The oyster mousse captured the essence of the bivalve: smoky and unabashedly saline, with a smart counterweight in the form of the umami-rich beef gelée. Lovely over the sliced baguette, and with a surprising crunch courtesy of pine nuts.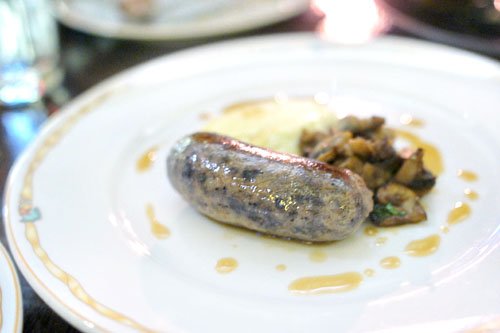 Duck Sausage [$14.00]
| Sauteed seasonal mushrooms, Potato purée, Duck jus
A sausage of
canard
really showed off the intense flavor of the duck, tempered by an herb-y zing, though I wanted a firmer, less "gritty" texture on it. Nevertheless, the earthiness of the paired mushrooms was spot on, and the
pommes purée
made sense too.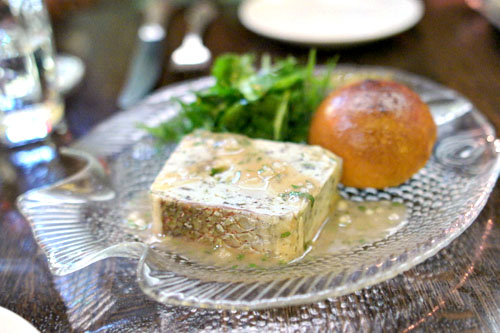 Rouget & Noix de St. Jacques Terrine [$23.00]
| Red Snapper, Jumbo scallop, Mushrooms, Grapefruit reduction, Fines herbes salad
I don't think I've ever had a seafood-based terrine, so this was a bit of a new experience for me. It really displayed the character of the
rouget
: fishy and ocean-y in character, with a subtle sweetness from the use of scallop. I appreciated the levity imparted by the citrus dressing here, but the crux of the dish for me was the
fines herbes
, which imparted an amazing astringency and lightness to the dish that complemented the terrine perfectly.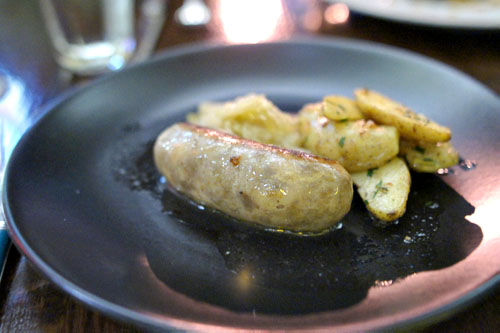 Beer Sausage [$11.00]
| Sauteed fingerling potatoes, Choucroute, German mustard
The beer sausage was just what I was expecting: rich and hearty, with a nice snap to it. The fingerlings on the side were absolutely delightful, and I enjoyed the tart, sour character of the
chouroute
as well.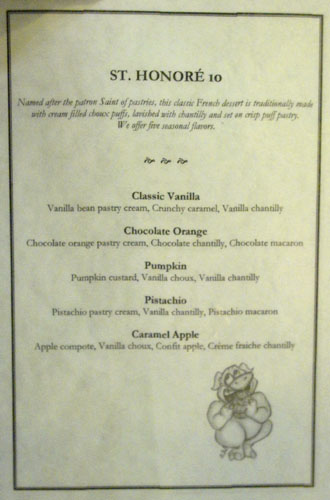 Gorge's dessert menu is interesting in that it features, exclusively, seasonal variations of only one dish: the Saint-Honoré. Named after the French patron saint of bakers and pastry chefs, the mini-cake is generally composed of a base of puff pastry and choux pastry, topped with
choux à la crème
(cream puffs) and chantilly. Click for a larger version.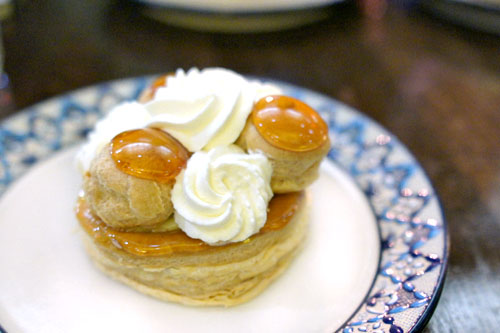 Classic Vanilla [$10.00]
| Vanilla bean pastry cream, Crunchy caramel, Vanilla chantilly
We began with the most classic of the St. Honoré cakes, and it was pretty marvelous. I loved the sheer flakiness of the puff pastry here, and how it formed a great, moderating base to the dish. The cool, creamy essence of vanilla was adroitly conveyed in both the chantilly and the profiteroles, while the sugary weight of the caramelized sugar formed a focused, crunchy counterpoint that made the dessert utterly balanced.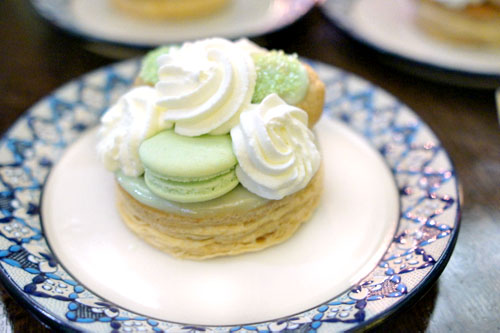 Pistachio [$10.00]
| Pistachio pastry cream, Vanilla chantilly, Pistachio macaron
The pistachio version of the St. Honoré made a strong showing too. Here, the star of the show was of course the pistachio cream, which provided a great balance of sweet and nutty flavors that paired beautifully with the pastry. I thoroughly enjoyed the incorporation of a pistachio macaron here as well, which easily stood on its own merits.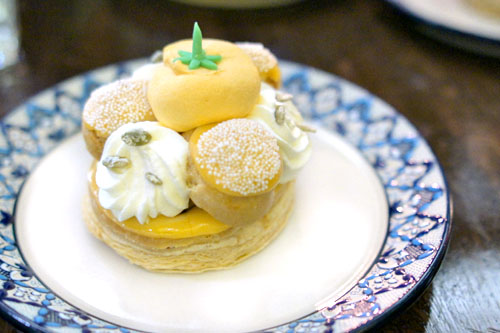 Pumpkin [$10.00]
| Pumpkin custard, Vanilla choux, Vanilla chantilly
We closed with Nguyen's seasonal St. Honoré featuring pumpkin, and it didn't disappoint either. I found it somewhat reminiscent of a pumpkin pie actually, with a great interplay between the custard and the flaky crust, and liked the use of savory
pepitas
here as well.
This Sunset Strip newcomer made a solid showing tonight. Aboumrad's charcuterie-centric menu was quite a breath of fresh air, something that I'd never really seen before and that actually brings something novel to the game. The Saint-Honorés, meanwhile, were a bite to behold as well, with Nguyen undoubtedly doing justice to the Parisian classic. Though the restaurant's format may not be for everyone due to the almost religious adherence here to prepared meat products, Gorge does seem like a lovely addition to the neighborhood, and I do hope that it can outlast its predecessors.