Willie Jane (Los Angeles, CA)
Willie Jane Restaurant
1031 Abbot Kinney Blvd, Venice, CA 90291
310.392.2425
www.williejane.com
Sun 12/15/2013, 05:20p-07:25p
[A Note on Photography: If you recall, I had my first outing with the new camera (a Panasonic Lumix DMC-GM1) at Asanebo recently. While that dinner turned out fairly promising, tonight wasn't nearly as successful unfortunately. The lighting here, at least where we were sitting, was woefully dim, and as a result, the limitations of the Panny's slow kit lens really began to show. I was shooting 1/10s exposures at ISO 3200, but the photos still came out underexposed (with low saturation and dynamic range) due to the len's small f3.5 aperture, which lets in only one-fourth the light of the 20mm f1.7 I just purchased. We'll see how that one fares in a future meal.]
The last time I dined Southern on AK was at Brian Dunsmoor and Kris Tominaga's much-lauded
Wolf in Sheep's Clothing pop-up
at Capri (the space that now houses
Salt Air
). If you recall, the two chefs eventually left Venice to launch
The Hart and The Hunter
, and their partner John Mascarenhas moved WiSC to the building left vacant by the thoroughly mediocre Lilly's French Cafe & Bar, bringing on board partner Brad Johnson from
Post & Beam
in the process. Kevin Kathman (who ran AK Supper Club, also at Capri) and Dustin Taylor were installed in the kitchen, but the restaurant was largely ill-received due to Mascarenhas' perceived commandeering of the Wolf in Sheep's Clothing name, and closed in March this year.
Given the debacle with WiSC, Johnson wisely retooled the concept, bringing in Post & Beam chef Govind Armstrong (as well as Director of Operations David Borrego) and opening Willie Jane, a Southern eatery named after Johnson's 100-year-old Georgian aunt. The placed bowed in April, and is ostensibly influenced by Armstrong's interpretation of Lowcountry cuisine, the cooking of the coastal areas of South Carolina and Georgia. Of note is the restaurant's use of produce from
Geri Miller
's Cook's Garden, a new organic, urban garden that debuted just this past June. The garden also happens to be located right next door to Willie Jane, and also counts
The Tasting Kitchen
,
Joe's
, Feed Body & Soul, and the brand-spankin-new Scopa Italian Roots among its clients.

The former WiSC space was revamped by set designer
Rae Scarton
to give it a more "Southern" feel, but the general layout remains unchanged. As seen above, we were seated in the patio dining area out back.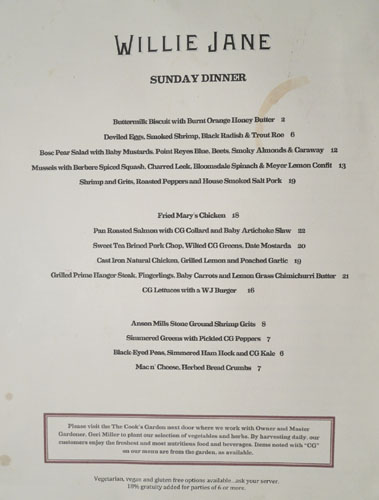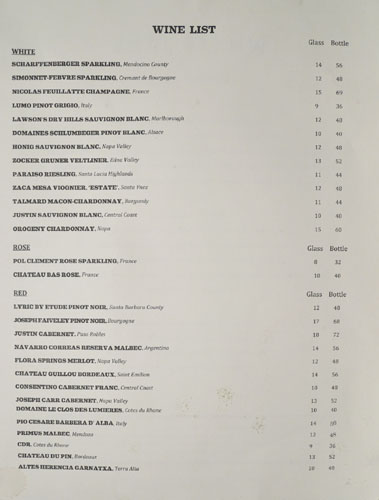 Willie Jane highlights Armstrong's take on American Southern cookery, though I have to point out that Sundays feature an abbreviated version of the menu. To imbibe, you'll find a small, value-priced wine list, and a promising selection of cocktails. Click for larger versions.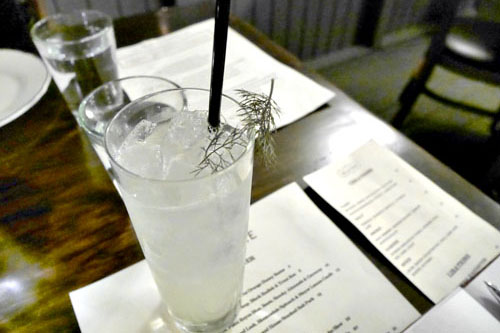 Coal Miner's Daughter [$12.00]
| Bourbon, Macerated Ginger, Lavender Honey, Lemon Juice
Garden [$10.00]
| Citron Geranium Vodka, Fennel Dill Gin, Lime, Lillet
We got started with a classic Southern cocktail in the form of the
Coal Miner's Daughter
. I quite liked it, finding the combination of smoky, boozy, and ginger-y flavors a great fit with the slight floral overtones from the lavender. The
Garden
was also a winner, reaching a great balance between the gin and vodka in a refreshing, herbaceous package.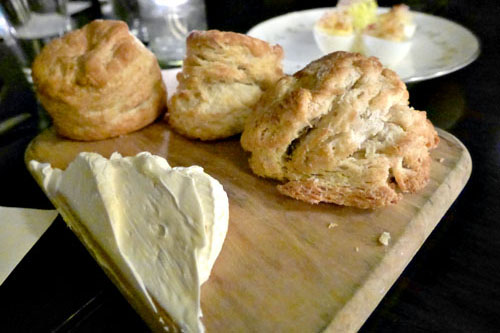 Buttermilk Biscuit with Burnt Orange Honey Butter [$2.00/each]
One thing that the team here has certainly cribbed from
Wolf in Sheep's Clothing
is their ability to make a damn good biscuit. The specimens here were certainly among the best, and biggest, I've encountered: wonderfully crisp on the outside, fluffy and soft on the inside, and flaky enough that they nearly fall apart at the touch. The butter here was superb as well, coming out sweet and lush, with the burnt citrus notes forming a great pairing to the bread.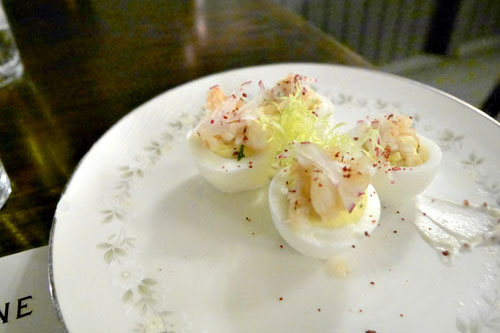 Deviled Eggs, Smoked Shrimp, Black Radish & Trout Roe [$6.00]
Being the egg slut that I am, these beauties were of course a must-order. They were surely some of the tastiest I've had, with a smoky, hammy, salty savor to them that melded gorgeously with the richness of the egg and the bursts of brightness from the radish.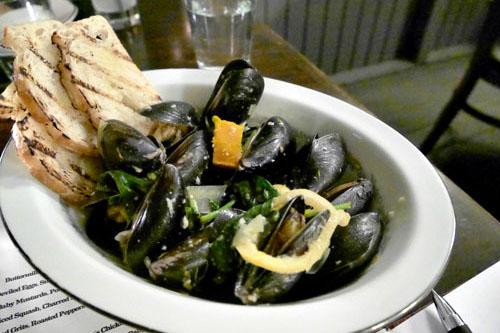 Mussels with Berbere Spiced Squash, Charred Leek, Bloomsdale Spinach & Meyer Lemon Confit [$13.00]
Mussels were also enjoyable, plump yet squishy, their ocean-y flavors tempered by the astringent smack of spinach and leek. I also enjoyed the heady, aromatic broth that remained (I should've sopped it up with my biscuit), but the squash seemed overly sweet, and really didn't add much to the dish.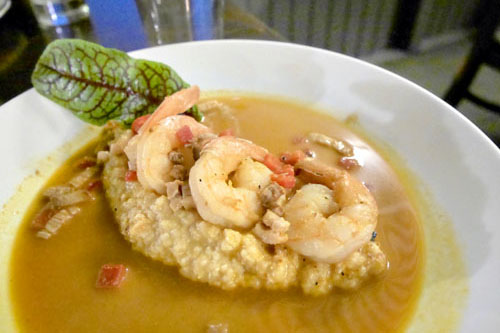 Shrimp and Grits, Roasted Peppers and House Smoked Salt Pork [$19.00]
Of course, we had to try this Low Country staple, done up here with an intriguing spice to it that really perked up the still-snappy shrimp. I was a fan of the salty pork here as well and how that intensified the dish, while the grits were comforting in their own way.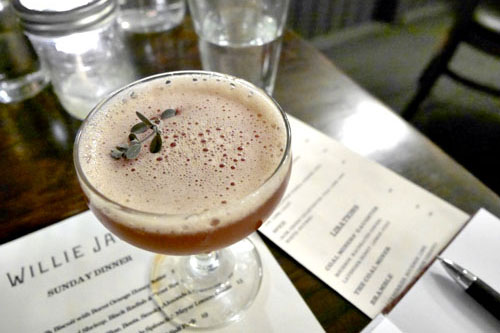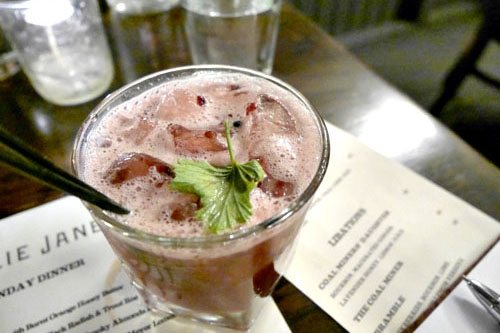 Tart [$10.00]
| Bourbon, Lemon, Peychauds, Cio Ciaro, Maple Demerara Syrup, Absinthe
Bramble [$12.00]
| Blackberries, Bourbon, Lime, Heering, Garden Lemon Verbena
More cocktails. The
Tart
was as its name would imply, but also bittersweet and boozy, with just enough sweetness to balance things out. The
Bramble
, on the other hand, was the sugariest drink of the bunch, but still eminently balanced, with the citrus and verbena really rounding out the fruitiness; this one seemed somehow particularly apropos given the food.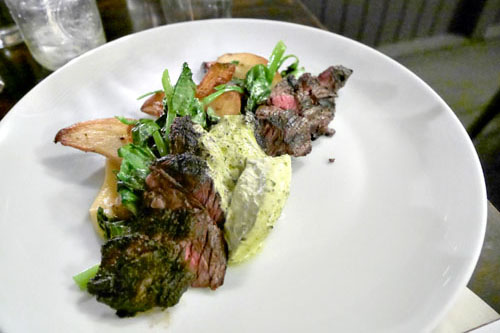 Grilled Prime Hanger Steak, Fingerlings, Baby Carrots and Lemon Grass Chimichurri Butter [$24.00]
Onglet
was classically prepared, a smoky, unabashedly beefy cut of steer that was neither particularly fatty nor tender (which is what you'd expect). It was good, though not really luxurious eatin', with the butter adding richness and complexity to the meat, while the greens and hearty potatoes really completed the plate.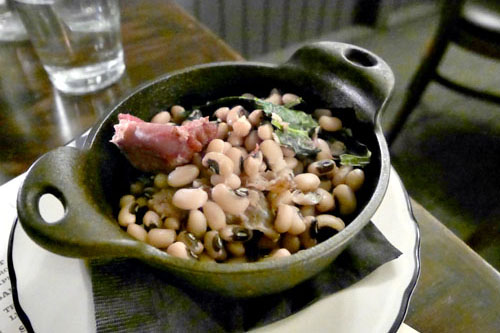 Black-Eyed Peas, Simmered Ham Hock and CG Kale [$6.00]
Peas were hearty and subtle, perhaps slightly nutty, yet firm to the bite, with the ham adding a hit of salt to the side.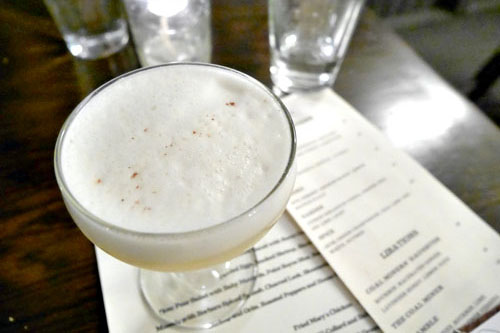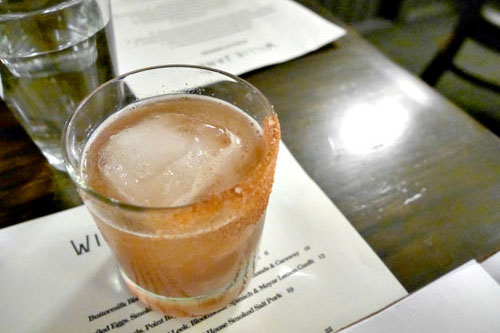 Spice [$10.00]
| Rum, Green Chartreuse, Chai, Lime, Egg White, Nutmeg
Salt [$10.00]
| Tequila, Hibiscus, Mezcal, Averna, Lime
Our last set of cocktails began with the
Spice
, one of my favorites due to its tart, boozy base paired with fantastic nuances of sweet, aromatic spice; I loved the frothiness from the egg white, too. The
Salt
, lastly, was a good one as well, the tequila-mezcal combo really coming together nicely, the smokiness of the latter really well-integrated with the floral tinge of hibiscus.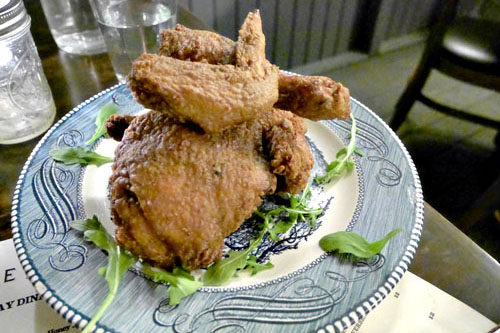 Fried Mary's Chicken [$18.00]
I have a hard time
not
ordering the fried chicken on a menu, so here we are. I found it a commendable preparation, the bird arriving wonderfully crisp, hot, and teeming with juice, the skin imbued with an undercurrent of spice complexity. Definitely worth a try.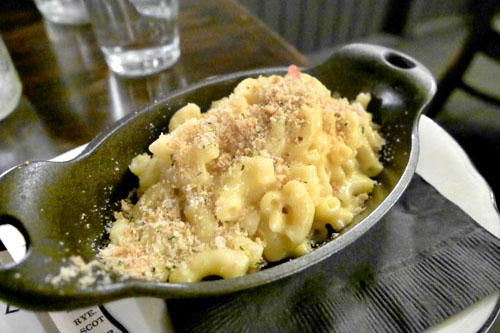 Mac n' Cheese, Herbed Bread Crumbs [$7.00]
The mac and cheese was a worthy effort, an unabashedly salty, cheesy presentation that was nicely set off by the crunchy bits on top.

We were all quite stuffed by this point, but Willie Jane's dessert menu was certainly worth a look. Click for a larger version.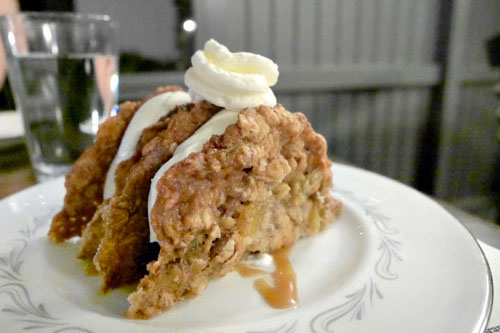 Crispy, Chewy, Golden Raisin Oatmeal Cookie Sandwich, Mascarpone Filling [$8.00]
I'm a sucker for oatmeal raisin cookies, and the examples here were spot on: chewy, sweet, and buttery. The mascarpone did a nice job as a filling, though I kept thinking about how ice cream would perhaps be an even better intermediary.
Willie Jane doesn't seem to get much love around here, and I'm not exactly sure why not. The food isn't flawless, but Armstrong's cooking here is arguably just as tasteful as what he's doing over at Post & Beam, sort of a Cal-Southern mash-up inspired by Lowcountry cookery. The cocktails are worthwhile, and it's the only Southern joint in the area, so in my eyes the restaurant's a fine addition to the line-up here on AK. You could certainly do worse.