Mardi (West Hollywood, CA)
Mardi Restaurant
8465 Holloway Dr, West Hollywood, CA 90069
323.656.4020
www.mardirestaurant.com
Tue 09/27/2016, 08:00p-10:50p

The last time I checked in with Kris Tominaga, he was running the kitchen over at Jeff Weinstein's
Cadet
in Santa Monica. That restaurant ended up shuttering at the start of the year though, but mere weeks later, Tominaga found himself back at his old stomping grounds:
The Hart and The Hunter
. This time though, he would be Group Executive Chef for all of Avi Brosh's Paligroup properties, a situation that eventually manifested itself with the debut of Mardi in June. Situated in Palihouse WeHo, Mardi functions as the hotel's main eatery, and takes over the former site of The Hall/Courtyard Brasserie, a gastropubby place that was once helmed by
Brendan Collins
,
Gary Menes
, and Michael Bryant.


As was the case before, the main dining area is uncovered, but this time around the al fresco space has a homier feel to it. There's also an adjacent covered, clubbier dining room as well.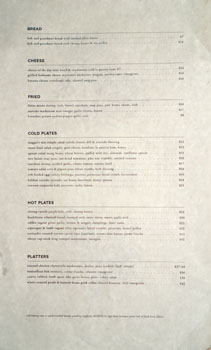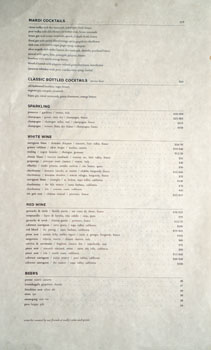 Above we see Mardi's multisectioned menu, and of course there are separate all-day offerings as well, not to mention brunch on the weekends. I do have to note that most of the food ended up being complementary tonight. I was dining with my Project by Project colleagues and it was a way for the Chef to say thanks for having Mardi at our recent Plate by Plate tasting benefit. In any case, to drink you get 10 cocktails (plus three bottled), a small Cali- and French-centric wine list put together by Wally's Wine & Spirits, and a handful of beers. Click for larger versions.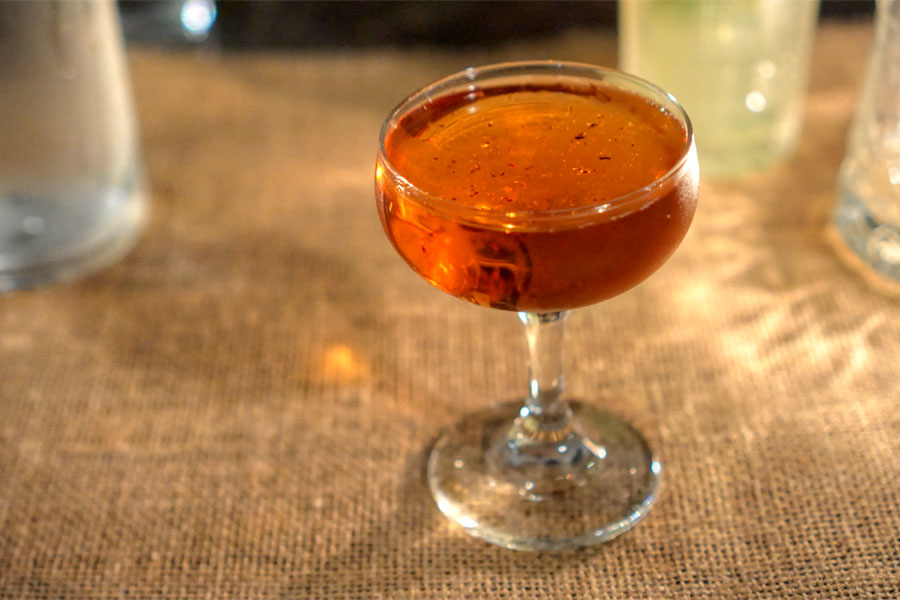 japanese whiskey [$15.00]
| with port, vanilla citrus syrup, herbal
The first cocktail ended up being my favorite. On the nose think rich, boozy, spicy, with noticeable dark fruit, while the palate showed off more port-like notes, spice, and aromatic vanilla in a viscous, well-put-together package.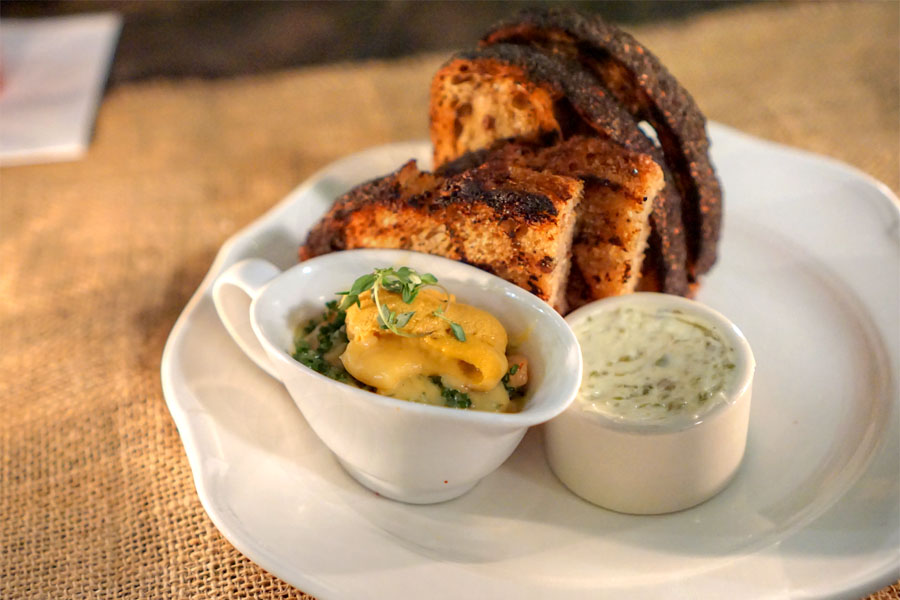 bub and grandmas bread [$12.00]
| with shrimp butter & sea urchin / smoked olive butter
I first had Bub and Grandma's bread over at
Dune
in Atwater Village and loved it, so we had to give it a shot tonight. Not surprisingly, it satisfied with its crunchiness, crustiness, and char, and paired like clockwork with both the smoky-sweet olive butter as well as the super briny shrimp butter.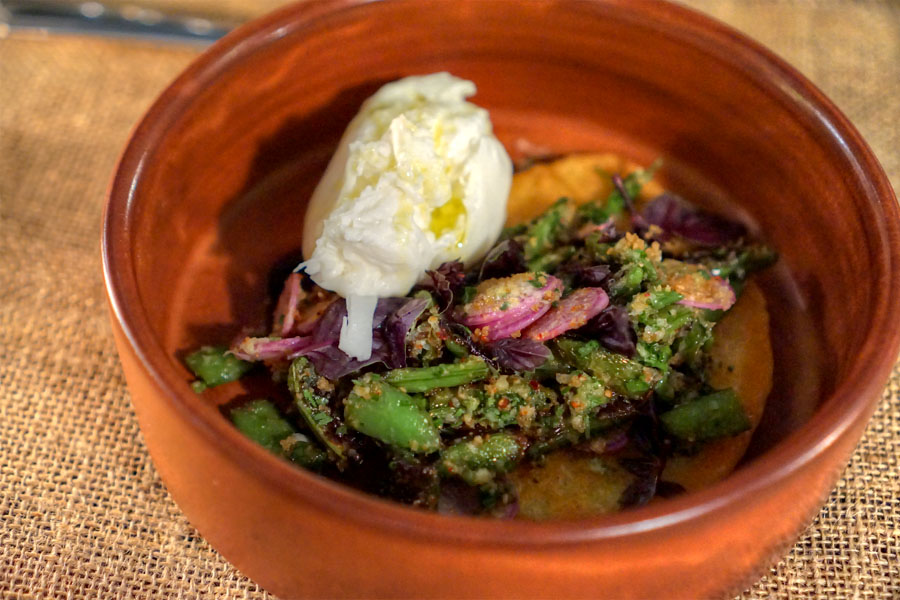 burrata cheese [$16.00]
| sourdough cake, charred snap peas
The burrata was surprise standout for me. The contrast between the cool, creamy cheese and the gritty, crisp sourdough cake really worked out, and I was a fan of how the bitter crunch of the snap peas really put the finishing touch on it all.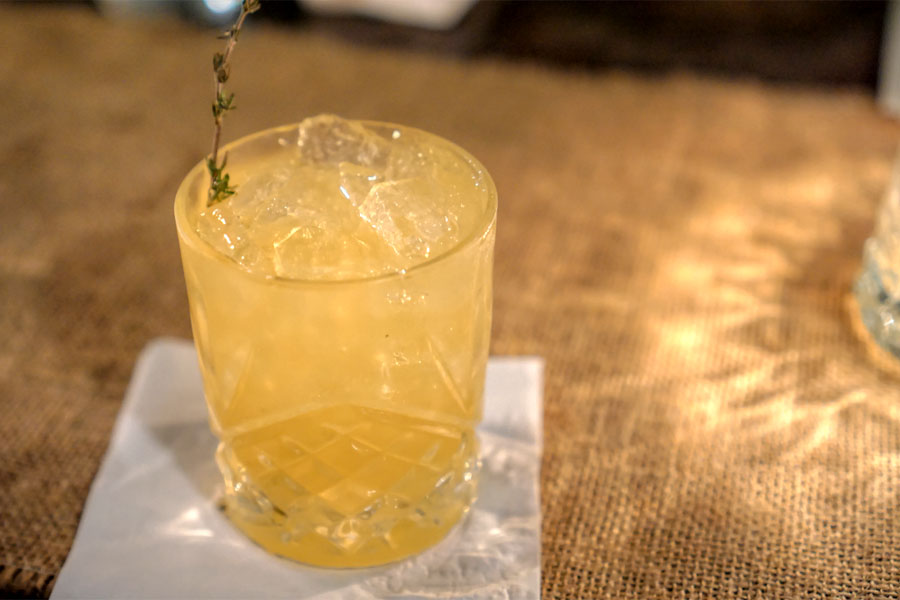 blended scotch [$15.00]
| with jalapeno-infused green chartreuse, benedictine
Sticking with whisky, our next cocktail featuring Scotch played the deep, earthy heat of jalapeño against the herbal, medicinal notes of both Chartreuse and Bénédictine.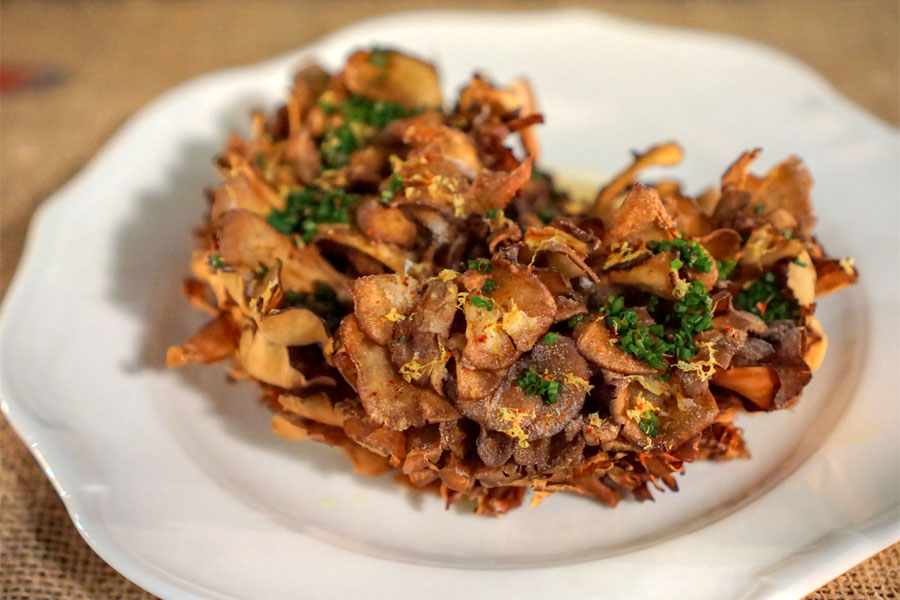 maitake mushroom [$17.00]
| malt vinegar, garlic ricotta, lemon
One of my dining companions likened this to a "fancy Awesome Blossom," though it wasn't nearly as overtly trashy. It was tasty though, with the earthiness and umami of the mushroom meshing well with creamy ricotta while lemon provided a punch of acidity.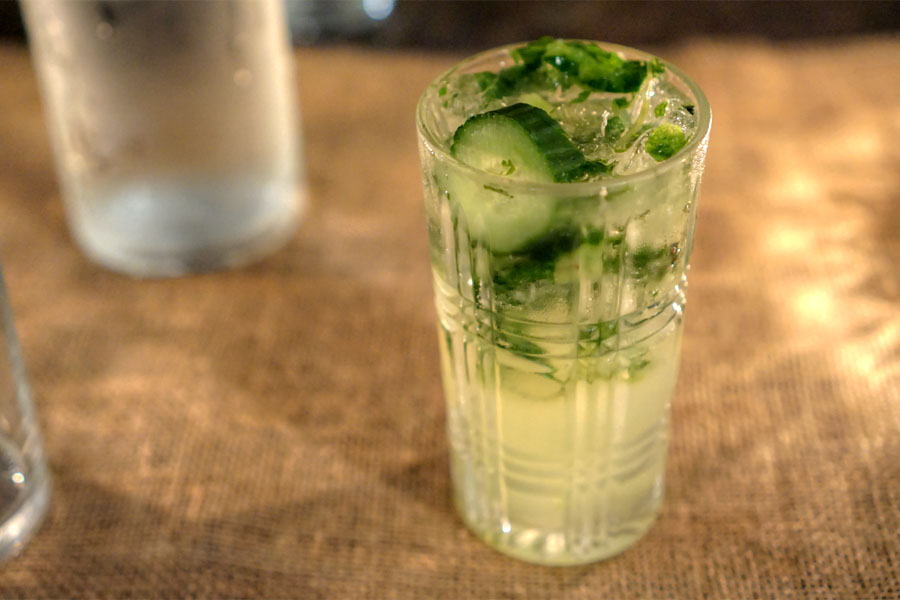 pear vodka [$15.00]
| with elderflower, cucumber-mint, house lemonade
This was an easy-drinker for sure. I found it sweet from both the pear and the elderflower, but with cucumber and mint providing a cool, refreshing component to the drink to keep it from becoming cloying.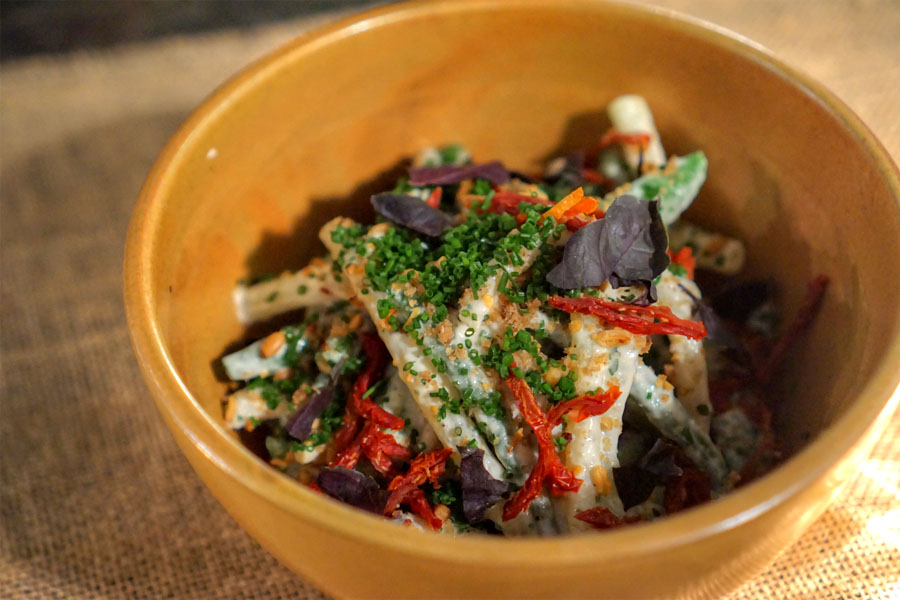 wax beans [$16.00]
| snap peas, sun-dried tomatoes, pine nut crumble, smoked tonnato
The wax beans were another favorite. I loved the crunch on the veggies, as well as how their bright flavors married with the fishy, smoky heft of the tonnato sauce.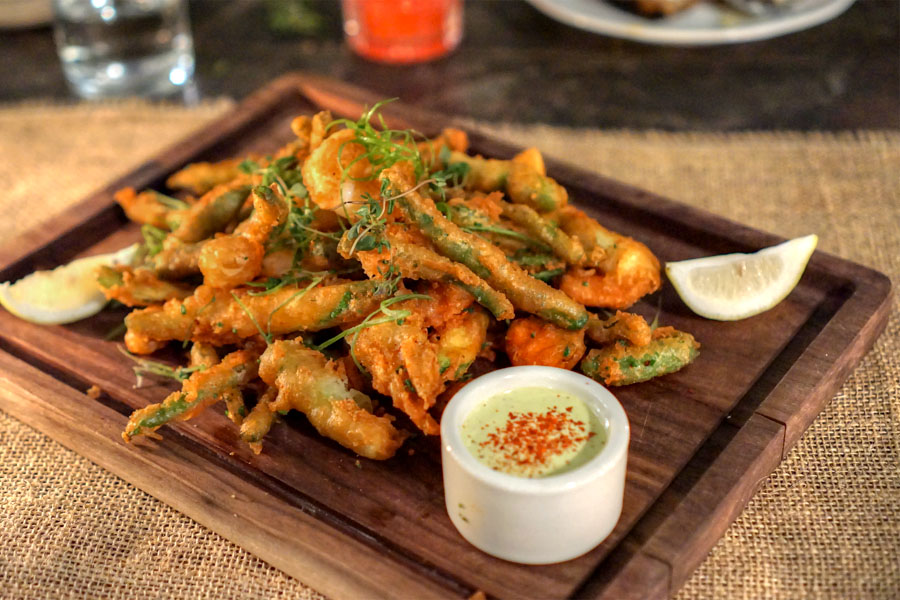 fritto misto [$16.00]
| shrimp, leek, fennel, zucchini, snap peas, pole beans, carrot, aioli
Mardi's fritto misto worked it out. Shrimp were well-textured, snappy, and not overdone, but the assortment of veggies was what really shined. The battering wasn't heavy-handed, and so I appreciated how the individual characteristics of each vegetable were preserved and conveyed. Even better with a dab of aioli and squirt of lemon, of course.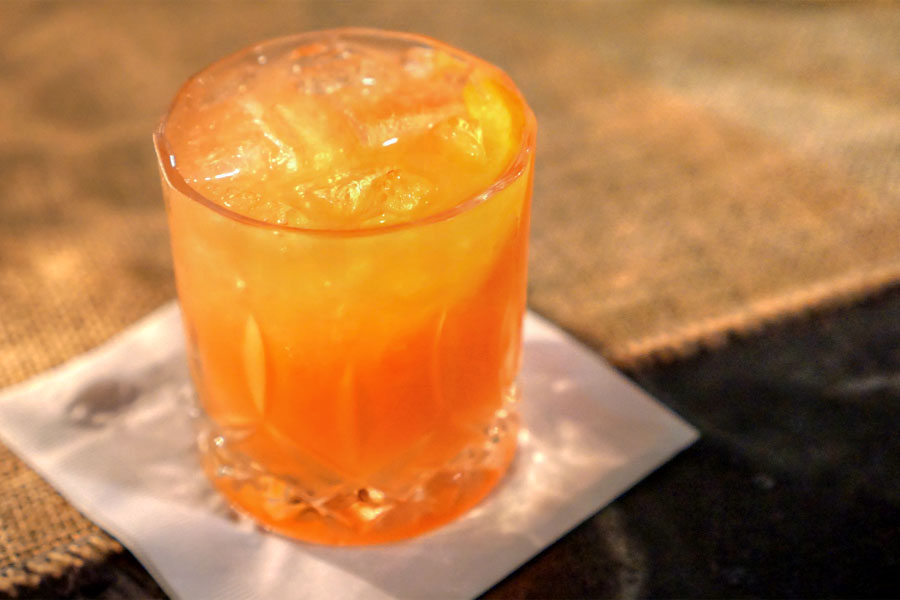 mezcal [$15.00]
| with agave, lime, pineapple, jalapeno, bitters
The requisite mezcal-containing cocktail displayed strong citrus and pineapple at first, but with a fierce smokiness appearing on the mid-palate and an even fiercer jalapeño-fueled heat coming on the finish.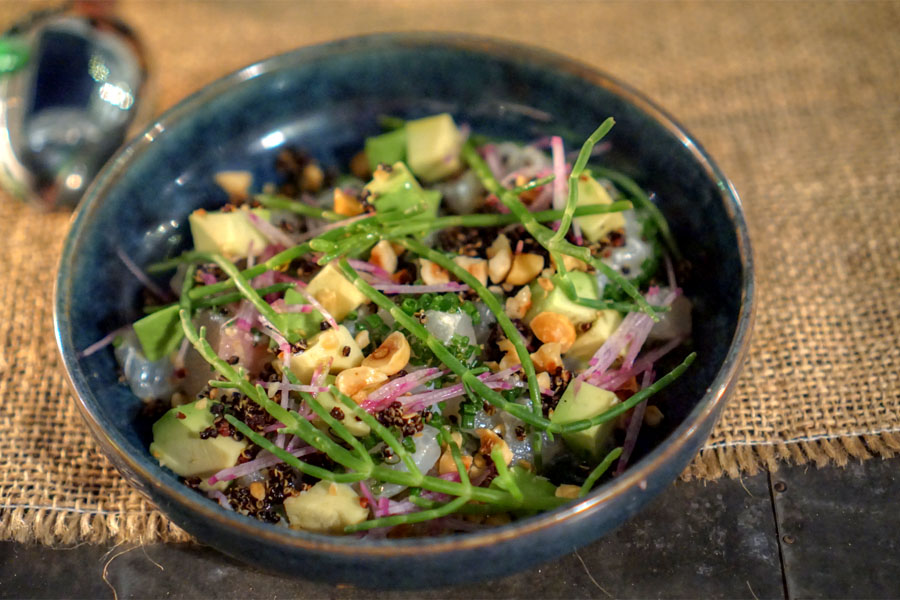 halibut ceviche [$19.00]
| avocado, sea beans, hazelnuts, honey quinoa
Halibut was accompanied by crunchy quinoa and salty sea beans, though I actually would've liked the fish itself to have been a bit more prominently presented. Nice touch of moderating lushness from the avocado however.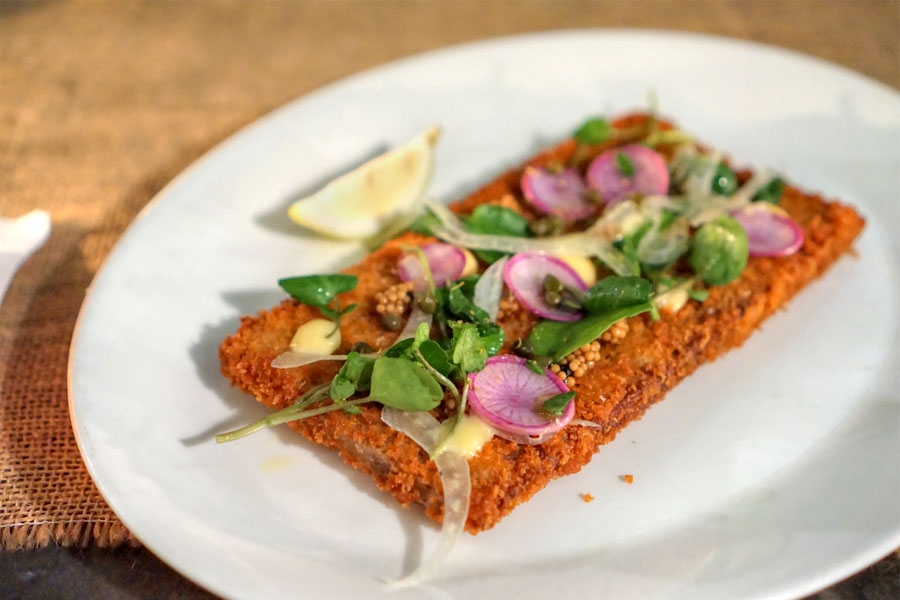 headcheese schnitzel [$20.00]
| fennel, mustard seed, sweet onion, capers, garlic aioli
This was basically a full-sized version of the dish that Tominaga served at
Plate by Plate
. Texturally, I was a big fan of the interplay between the crispy, almost fish sticks-like exterior and the schnitzel's creamy insides, while the super rich, porky flavors present were well-tempered by the combination of radish and mustard.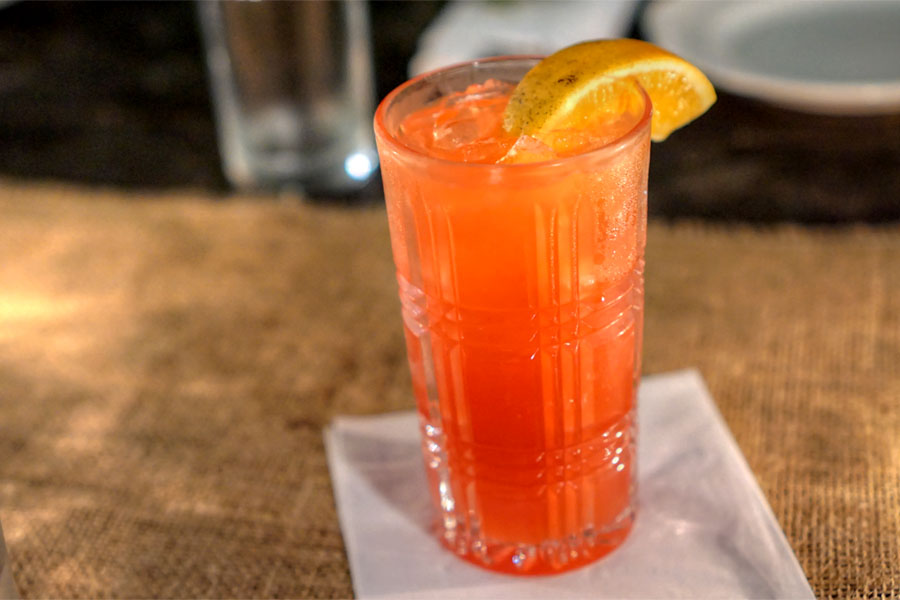 floral gin [$15.00]
| with aperol, blood orange, spritz grapefruit elderflower
This was the most refreshing cocktail that we had, an effervescent, tart, citrusy concoction that was reminiscent of either Fruity Pebbles or Flintstones Chewable Vitamins, depending on whom you ask.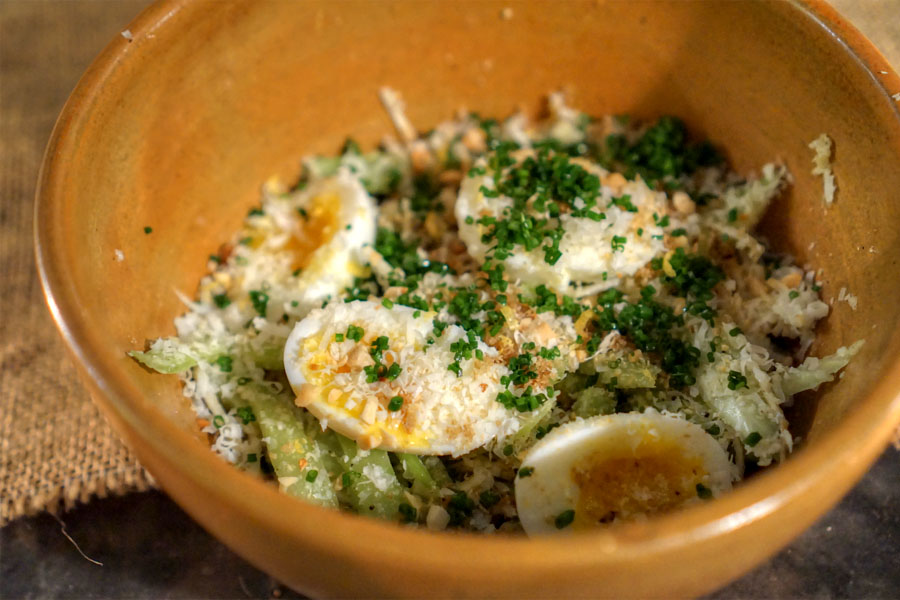 soft boiled eggs [$15.00]
| celery, bottarga, peanuts, parmesan, bread crumbs, horseradish
Eggs could've used more aggressive spicing, though they did help balance out the astringency of the celery, while Parm added an overarching saltiness to the dish. Definitely appreciated the breadcrumbs and peanuts here and how they added little pops of crunch.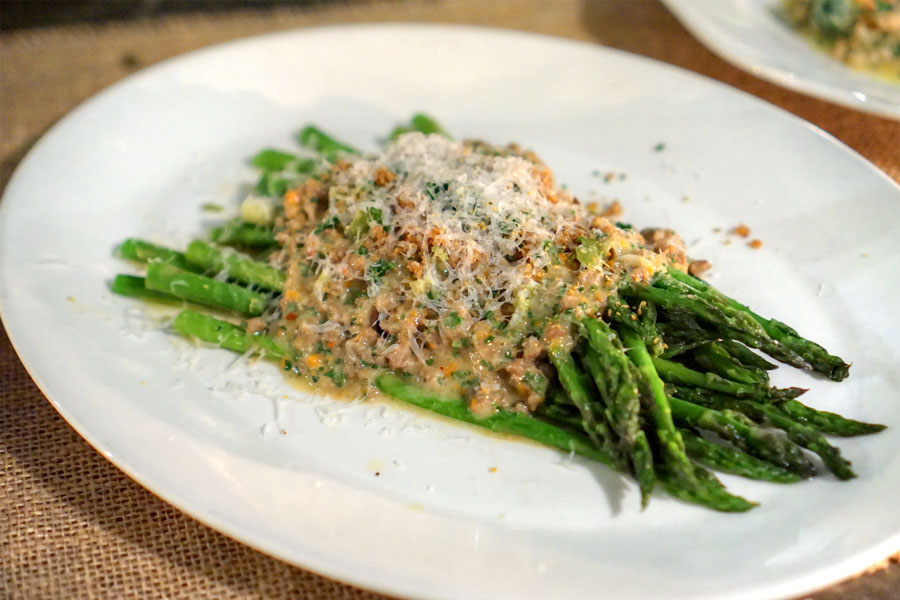 asparagus & lamb ragout [$22.00]
| olive tapenade, bread crumbs, pecorino, fennel pollen
The bitterness of asparagus and the rich, musky flavor of lamb actually balanced each other out well, and again, I was a fan of the breadcrumbs' texture.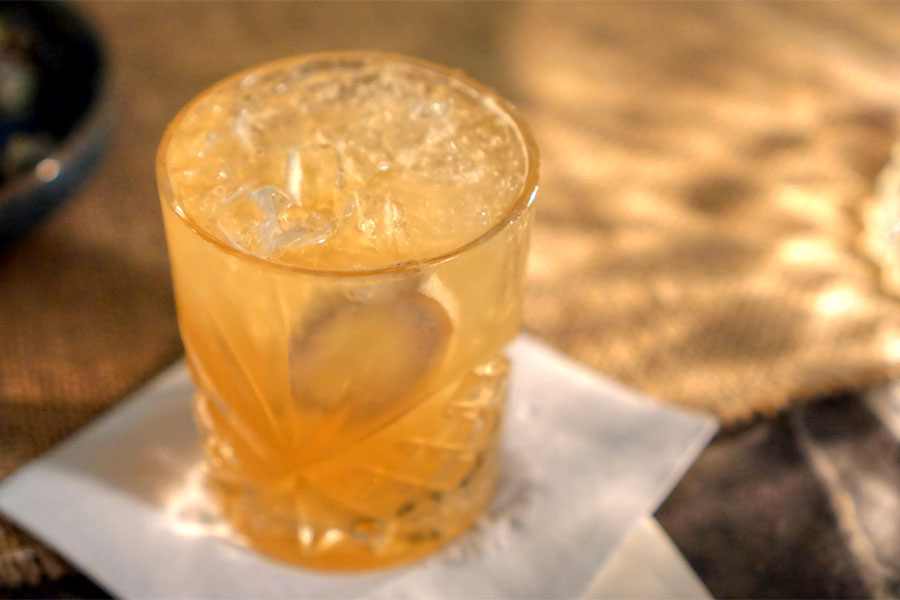 dark rum [$15.00]
| with brown sugar ginger syrup, kumquats
This rum-based cocktail was lighter than I expected, with a palpable fruitiness from the kumquat set against the sweet spice of that brown sugar-ginger syrup.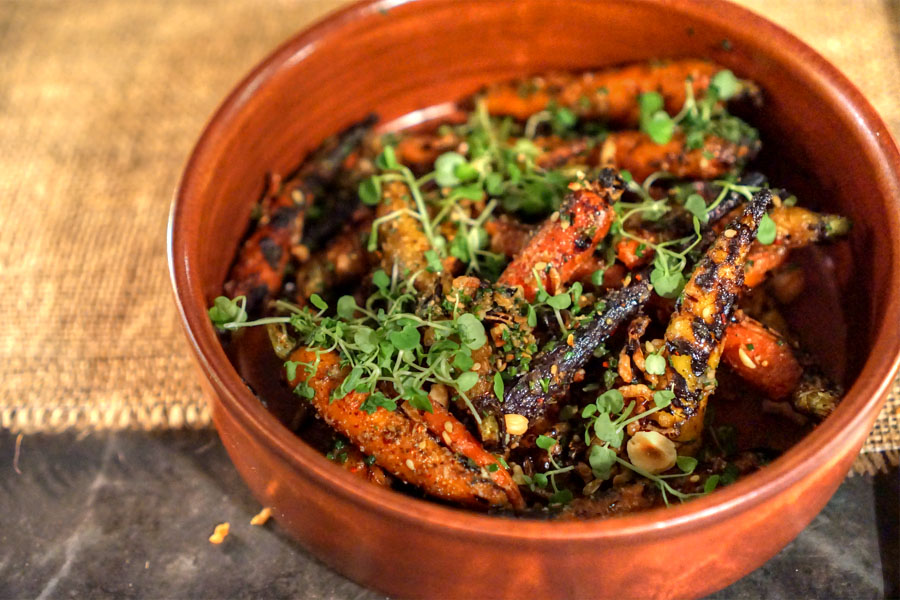 coriander roasted carrots [$13.00]
| carrot tops, hazelnuts, sesame-date butter, creme fraiche
Carrots were soft and roasty, matched texturally by the crunch of hazelnuts while that sesame-date butter added an unexpected facet to the dish.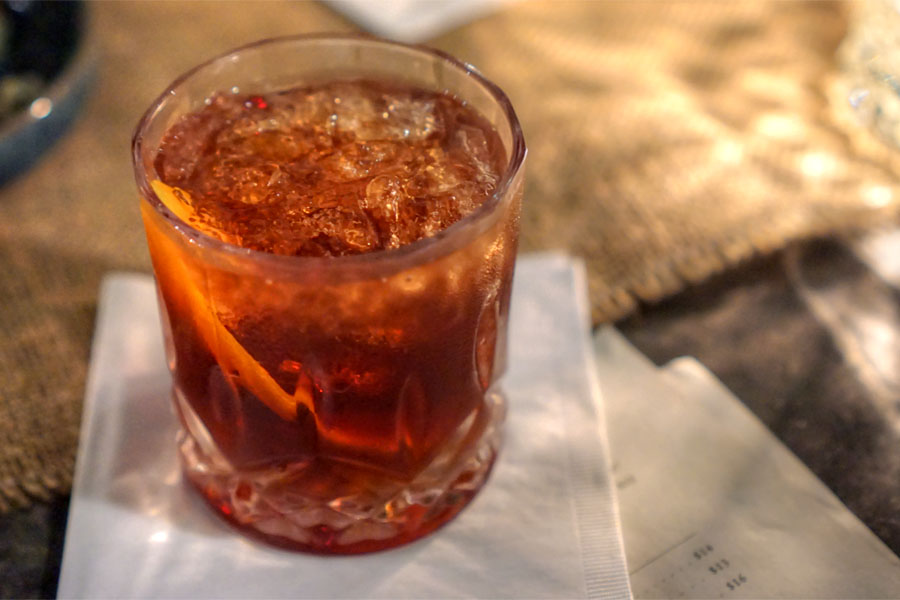 bourbon [$15.00]
| with sherry, orange bitters
Our last cocktail featured the brownest of the brown liquors. I didn't get much on the nose here, but taste-wise I found loads of dark fruit and caramel set over the booziness of the spirit, with a hint of spiciness from the bitters.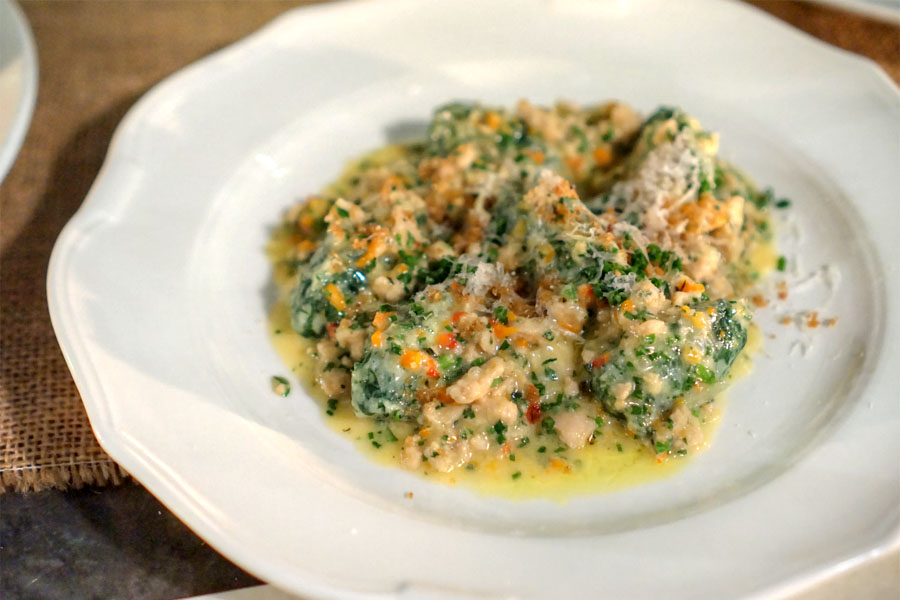 rabbit ragout [$22.00]
| green garlic, ricotta & arugula dumplings, fiore sardo
Rabbit arrived in tasty ragout form and melded beautifully with the astringency provided by the arugula. Curiously, this reminded me a bit of the rabbit meatballs Tominaga used to serve over at Cadet.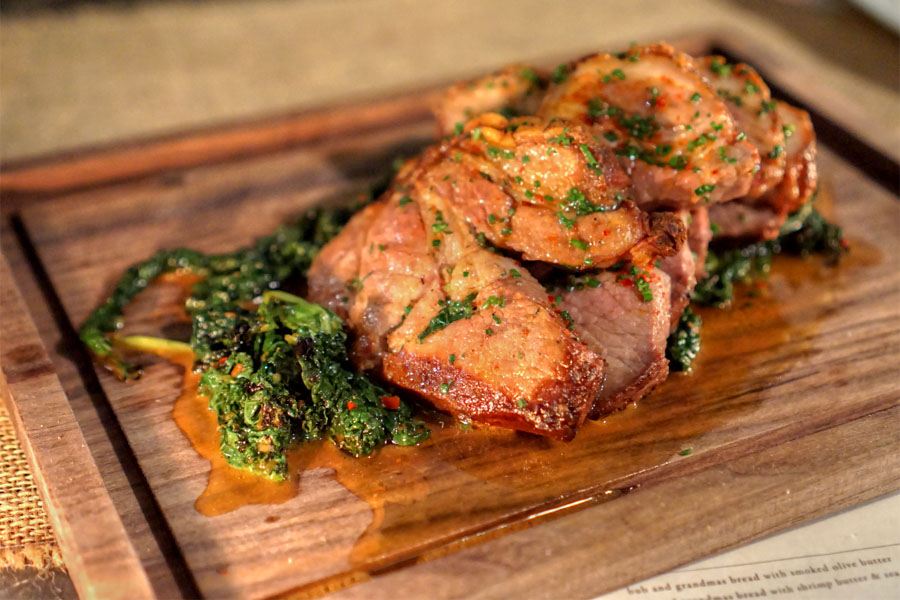 whole roasted peads & barnett farms pork collar [$42.00]
| charred brassica, chili vinaigrette
Our final savory, pork collar came out soft and almost gelatinous to the bite, and had a sweet-savory flavor profile that really called for the bitter, smoky greens on the side.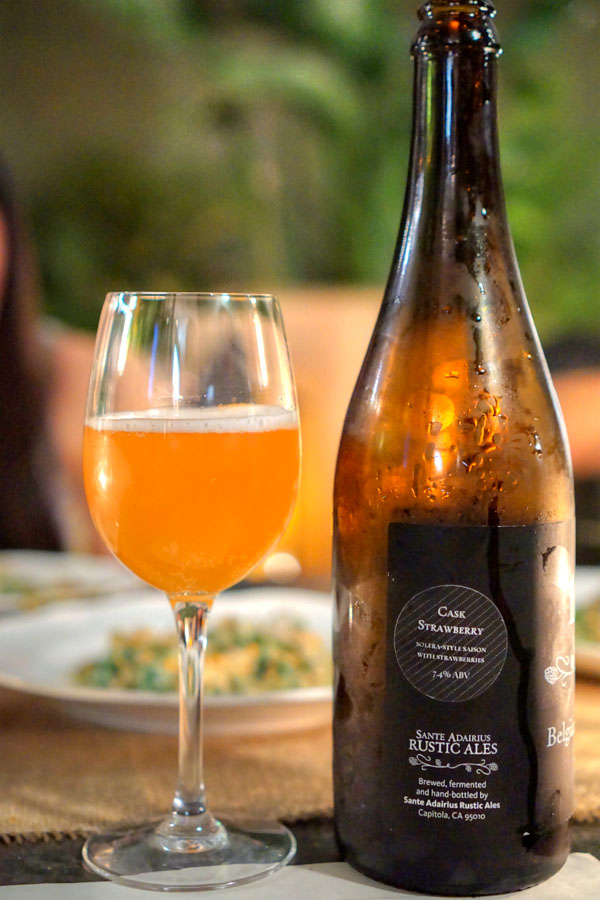 With the cocktails drunk up, we opened a couple bottles, the first of which was a solera-style saison with strawberries, the
2014 Sante Adairius Cask Strawberry
. Smelled of tart strawberry intermixed with yeast. Taste was earthy and funky, with the fruit becoming more apparent toward the finish.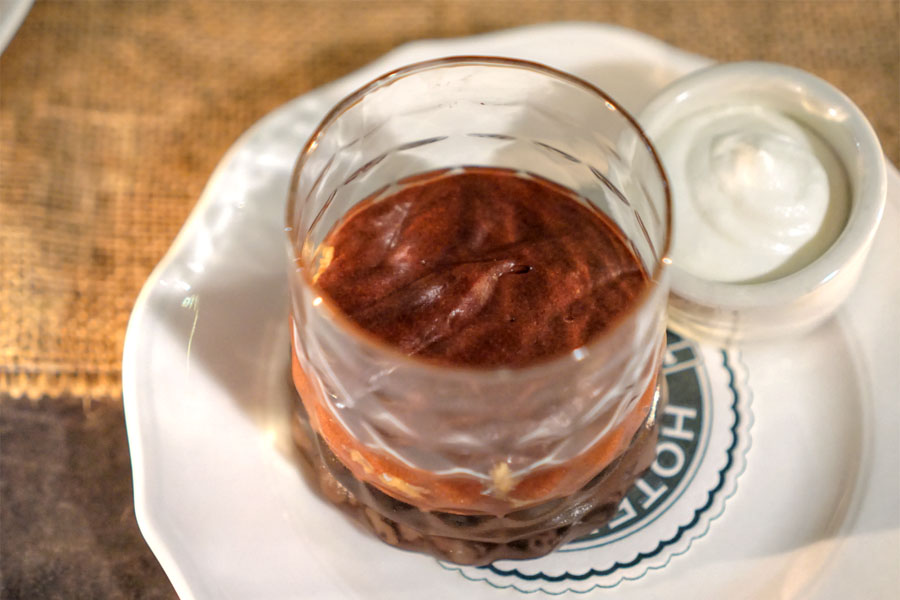 chocolate mousse
There wasn't a written dessert menu tonight (apparently the dessert program was in the middle of a revamp), so after our server recited the trio they had on offer, we decided to try all three. The first was a pretty traditional mousse: lots of chocolate, with some delightful crispy bits tossed in.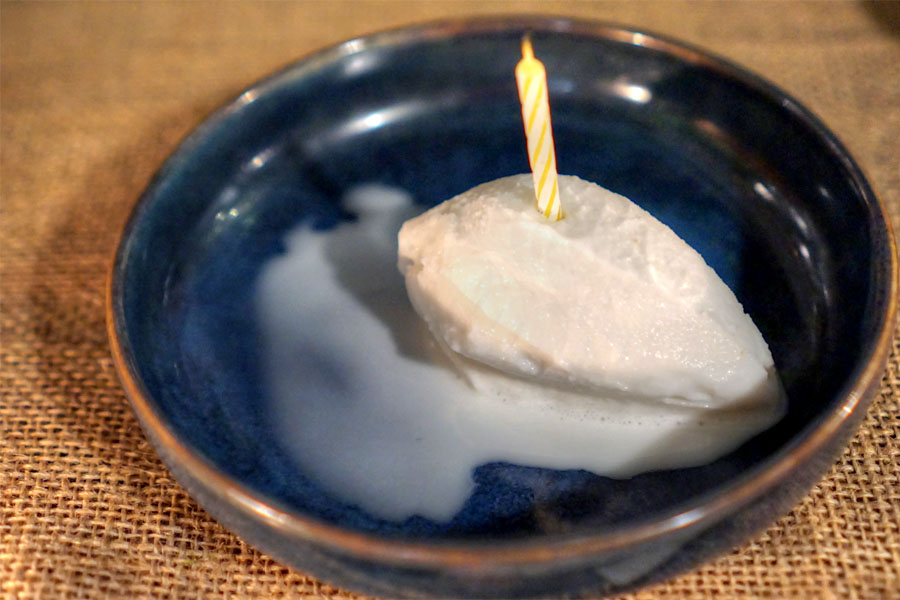 A coconut sorbet was brought out since one of my dining companions was celebrating her birthday.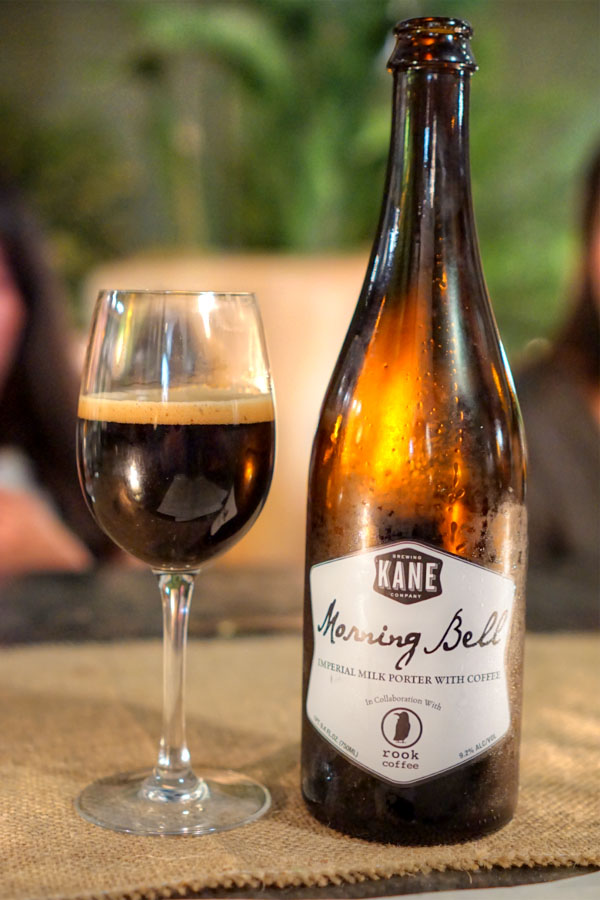 We ended with something dessert-y, the
2016 Kane Morning Bell
, an imperial milk porter with Sumatra dark roast from Rook Coffee. Nose was filled with sweet coffee, while flavor-wise, I got lots of smoke and roast over a base of smooth, sugary chocolate.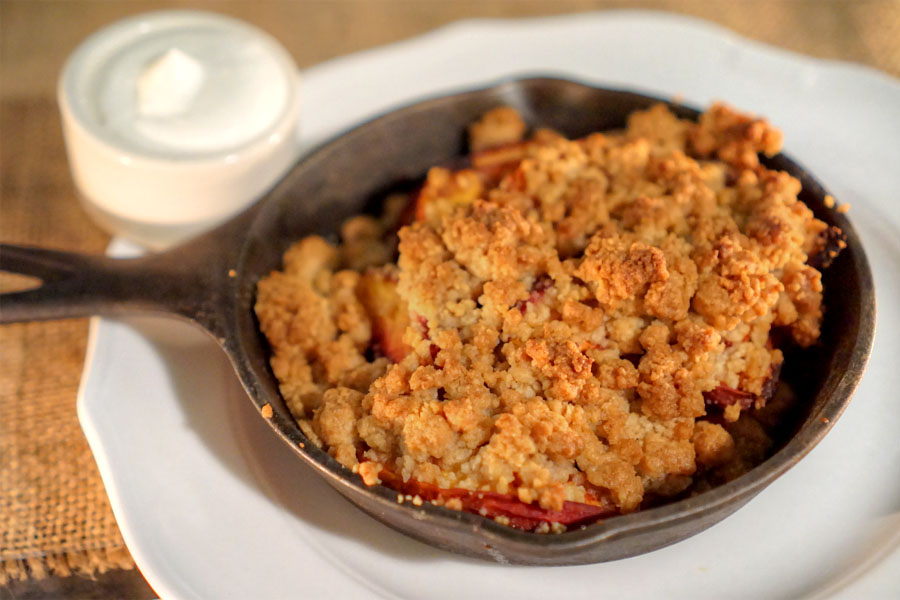 peach crumble with vanilla ice cream
Rich stone fruit and a crunchy topping made for a classic crumble, the vanilla providing a much appreciated contrast.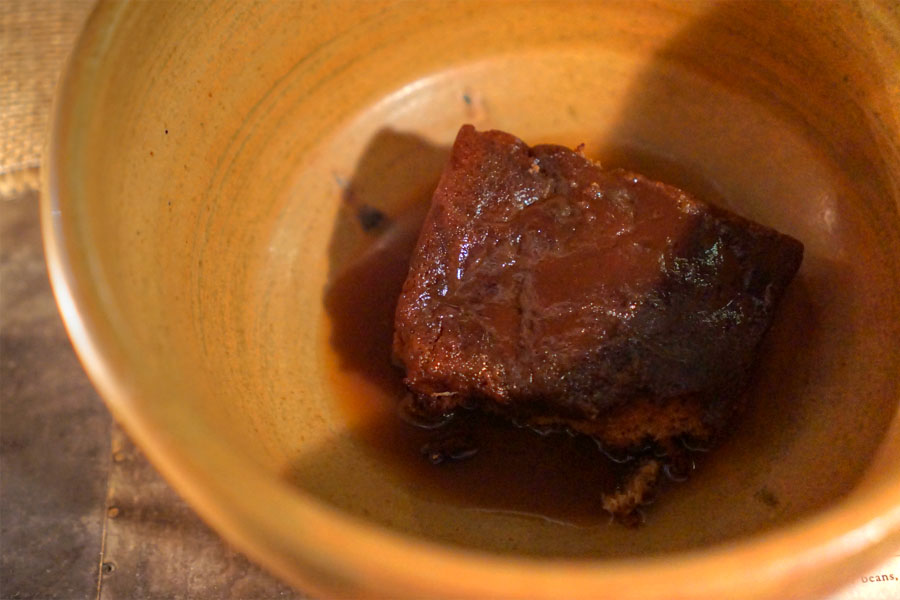 sticky toffee pudding
Lastly, the toffee pudding didn't look like much, but delivered in the taste department with its hefty caramel and dark fruit flavors, offset by a slight saltiness.
Given Cadet's recent closure, it was great to see Tominaga back in action. The cooking's perhaps a bit different than what we're used to seeing from him. It seems a bit lighter, maybe more "Californian," but certainly makes sense for the location. It was a lovely meal overall, and actually makes me want to give the Chef's other place The Hart and The Hunter another go.