Free Play (Los Angeles, CA)
FreePlay DTLA at The Fields LA
3939 S Figueroa St, Los Angeles, CA 90037
213.419.9481
www.freeplaydtla.com
Thu 12/20/2018, 07:30p-10:00p

Exposition Park's newly-constructed Banc of California Stadium debuted on April 18th this year, hosting a game between the Los Angeles Football Club and the Seattle Sounders (LAFC won, 1-0). The adjacent Fields LA food hall, meanwhile, bowed in August, and is home to a number of vendors including
Tim Hollingsworth
's fried chicken concept, C.J. Boyd's. That, however, was only the tip of the iceberg for the Otium Chef. His second, much larger project Free Play opened on October 26th on the second floor of The Fields. It's a casual, expansive, barcade-ish eatery with a kitchen run by Chef de Cuisine Lynne Tolentino, whom we last saw over at
Partido
in Highland Park.



Free Play occupies a pretty massive space that has room for nearly 500 guests. The restaurant is divided into the main dining/bar area (up to 275 seated), The Arcade (100 standing), and The Den (a living room-like environment accommodating 40 standing). There's also a patio for up to 50 guests, as well as a 14-seater Chef's Table located right in the kitchen. Games include vintage (and not-so-vintage) arcade uprights, foosball, pinball, pool, shuffleboard, and board games.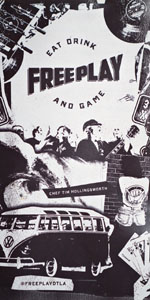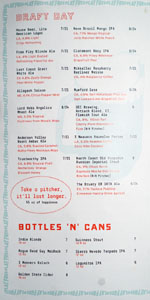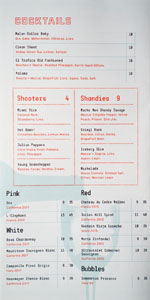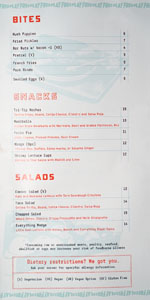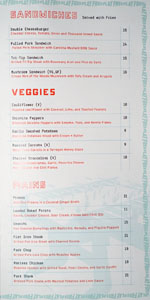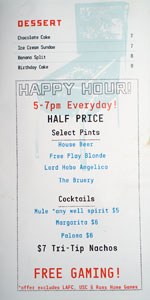 As for the menu, you get updated American bar fare with a dash of multicultural influence. Drink-wise, there are 15 beers on tap and a few more in cans/bottles, a brief wine list, and a small array of cocktails joined by shandies and shooters (the work of
Julian Cox and Nick Meyer
, apparently). Corkage was a not-too-bad $25, and we were charged only once.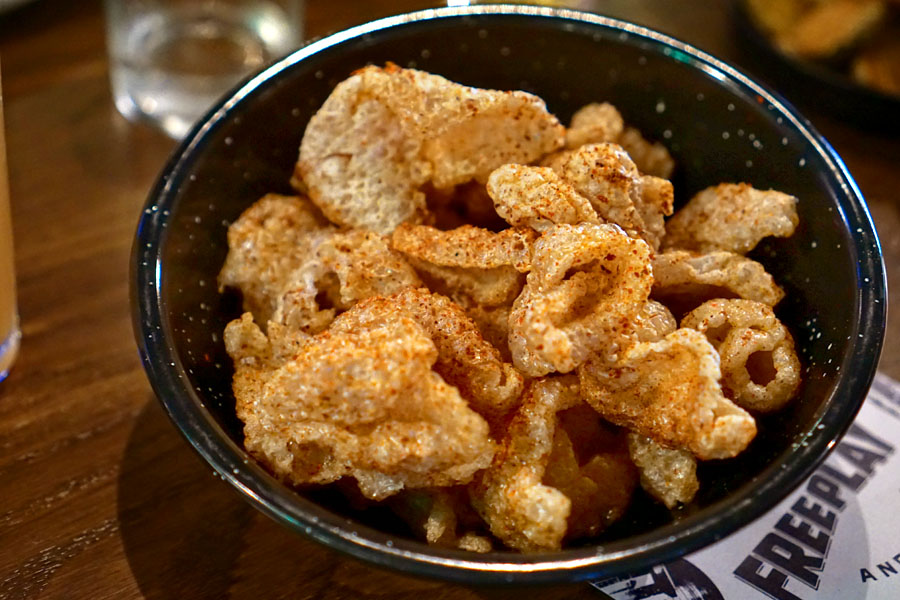 Pork Rinds [$7.00]
The pork rinds were right on the money: airy, crunchy, well-spiced, and with a lovely sour finish.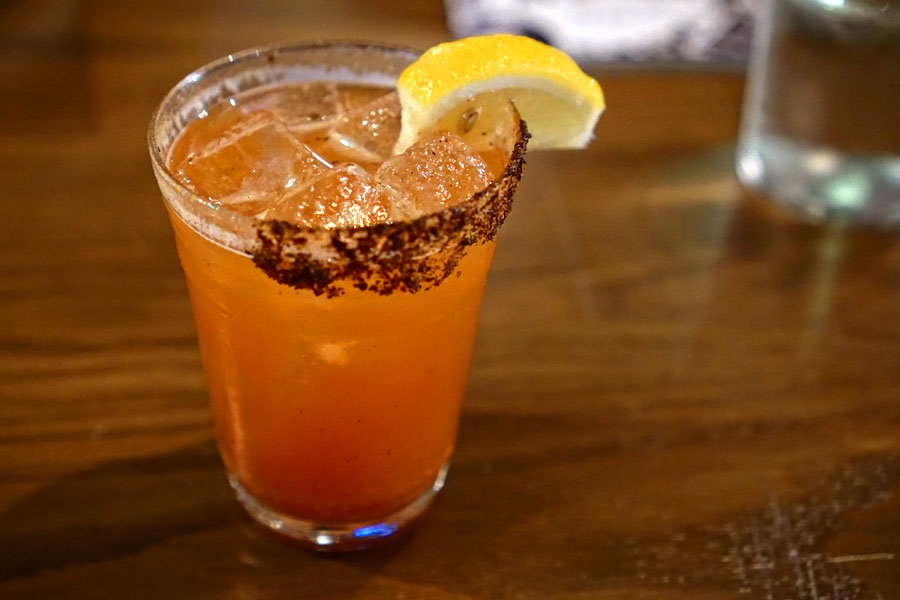 Michelada [$9.00]
| House Clamato. Smoked Salt. Citrus. Mexican Lager.
I'm actually not a huge michelada fan, but this was more palatable than most I've had. I found it light and refreshing, with a restrained tomato character finished by a punch of spice and salt. Citrus, meanwhile, served as an effective counterpoint.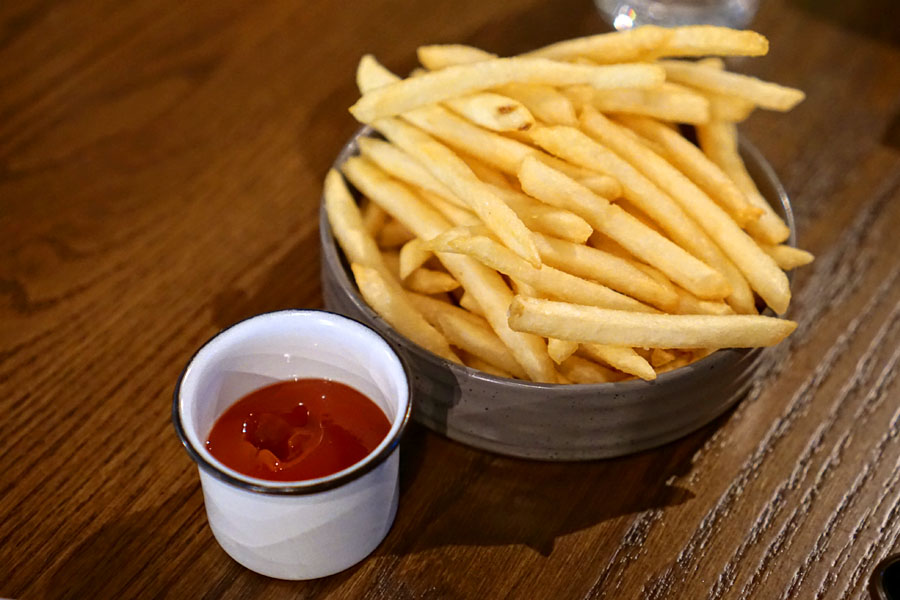 French Fries [$5.00]
Fries were almost McDonald's-esque in nature (which isn't necessarily a bad thing), though somewhat crispier I'd say.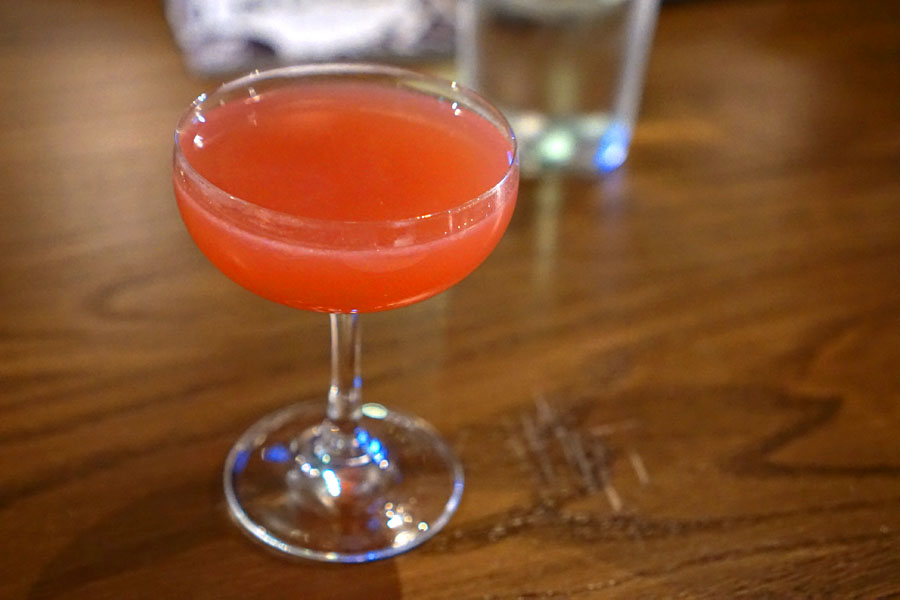 Melon Dollar Baby [$10.00]
| Gin. Sake. Watermelon. Hibiscus. Lime
This rose-hued cocktail displayed juicy, fragrant watermelon at first while the sweet, floral nature of the hibiscus came in later, joined by just a trace of alcoholic heat.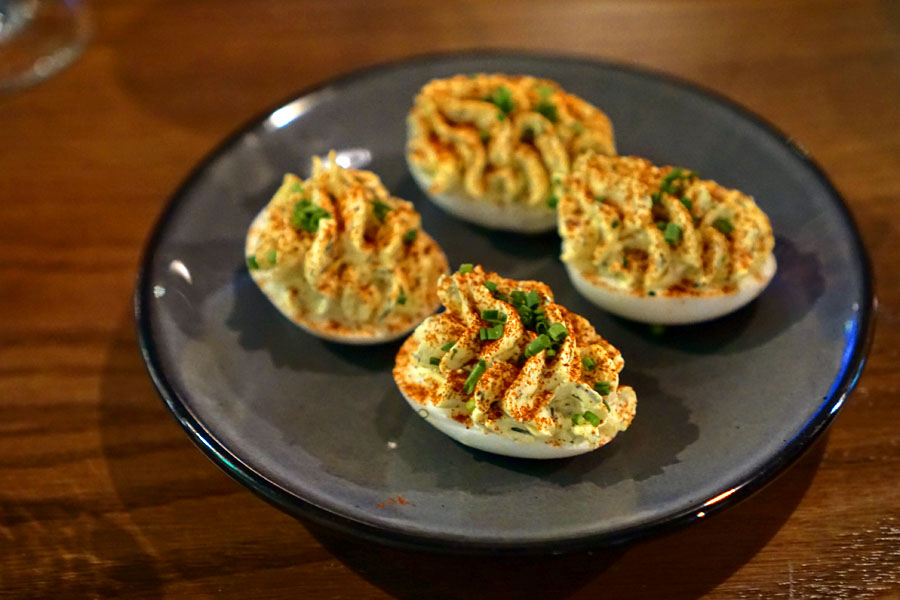 Deviled Eggs [$6.00]
Regular readers will know that I'm quite the deviled egg slut, and I must say that the ones we had tonight were superb. The key was the pickle-y tartness present, and how that played with the spices and the inherently lush, creamy nature of the eggs.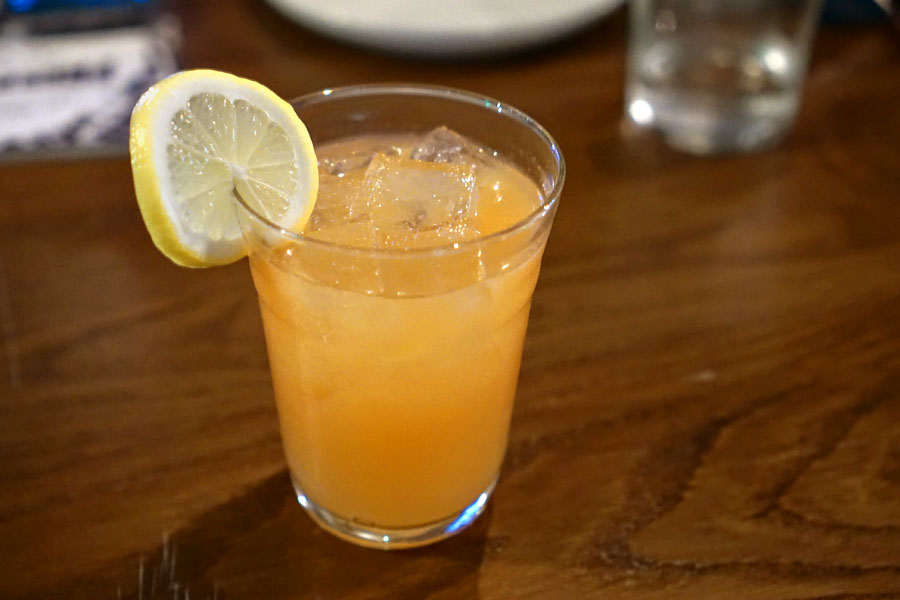 Stiegl Rock [$9.00]
| Bourbon. Citrus. Honey. Grapefruit Beer.
This
Radler
riff definitely went in a bracing, astringent direction, and came loaded with plenty of citrus and spice.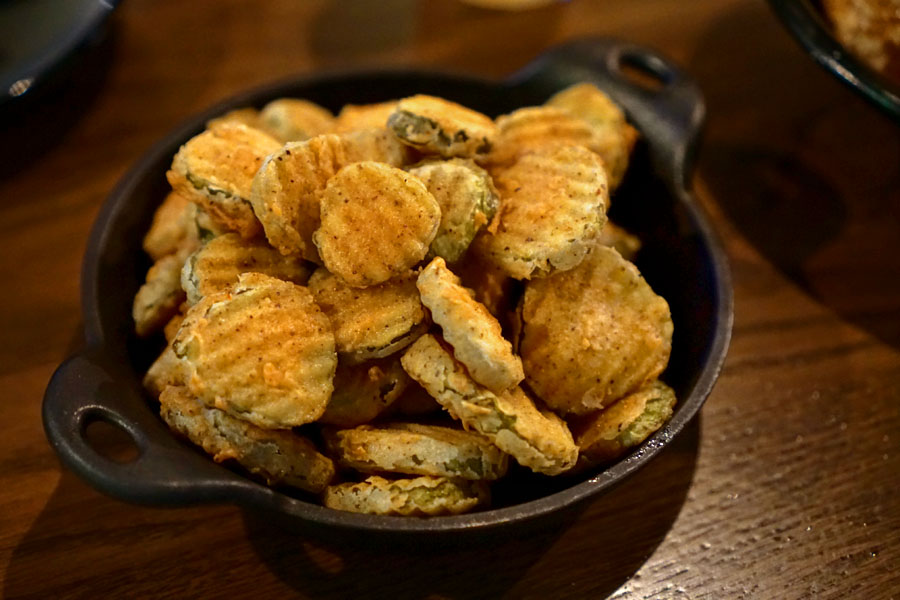 Fried Pickles [$7.00]
Pickles were tasty, and actually reminded me of a tangier version of the fried zucchini at Carl's Jr. Accompanying them, meanwhile, was what seemed like a blue cheese-ranch dip.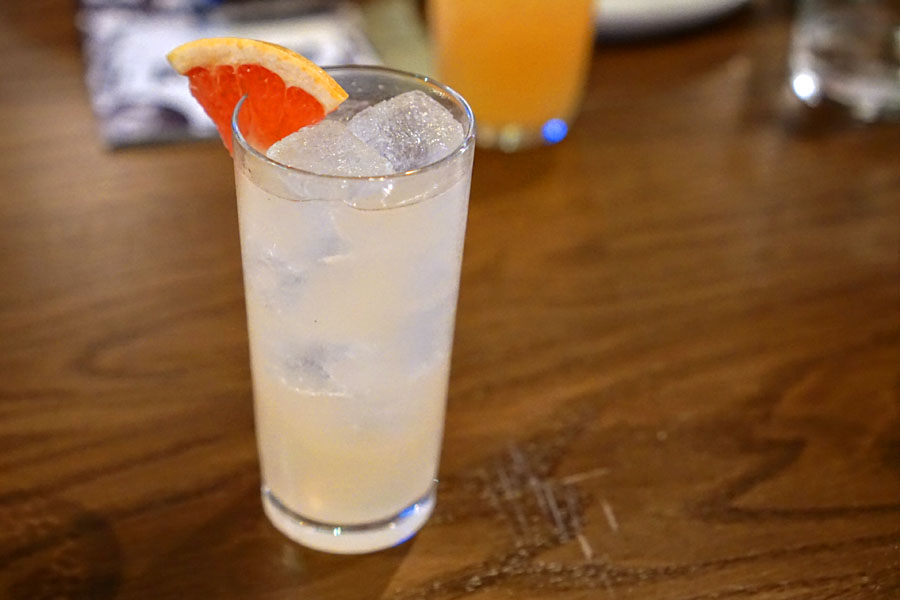 Paloma [$10.00]
| Tequila + Mezcal. Grapefruit. Lime. Agave. Soda. Salt.
The standard Paloma cocktail was given a boost by the incorporation of mezcal, which gave the drink a woodier, smokier quality to go along with its classically refreshing citrus notes. There was a definite spiciness on the finish that I didn't mind, either.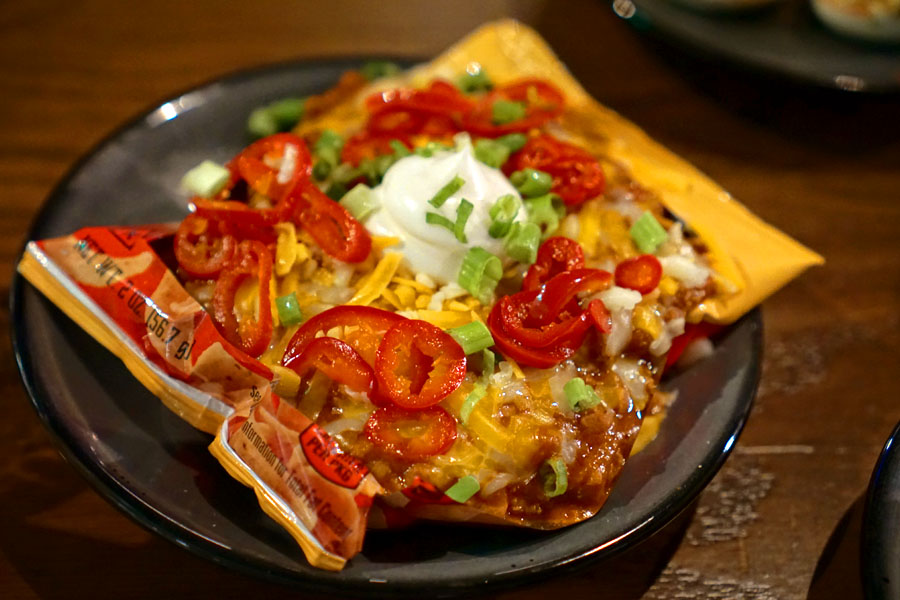 Frito Pie [$11.00]
| Chili, Cheese, Pickled Fresnos, Sour Cream
Free Play's gourmet-trashy take on Frito pie worked it out. The chili stood out to me, and just made sense with all the other toppings, while the salty, crunchy chips served as an appropriate base.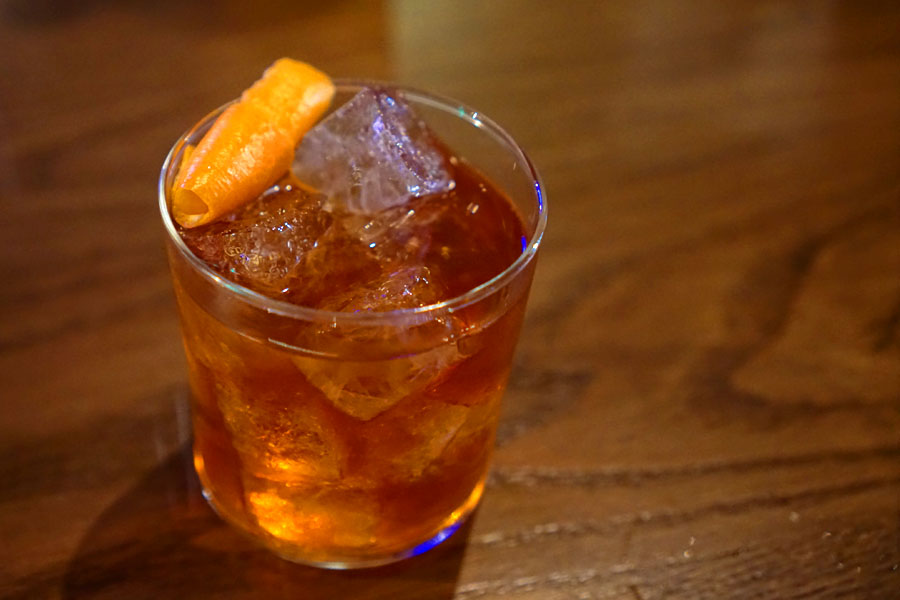 El Trafico Old Fashioned [$10.00]
| Bourbon + Mezcal. Roasted Pineapple. Barrel-Aged Bitters.
This version of the most classic of cocktails had a nose filled with citrusy spice and heat. In terms of taste, the smokiness of the mezcal definitely came through, and was complemented by the sweetness of that pineapple.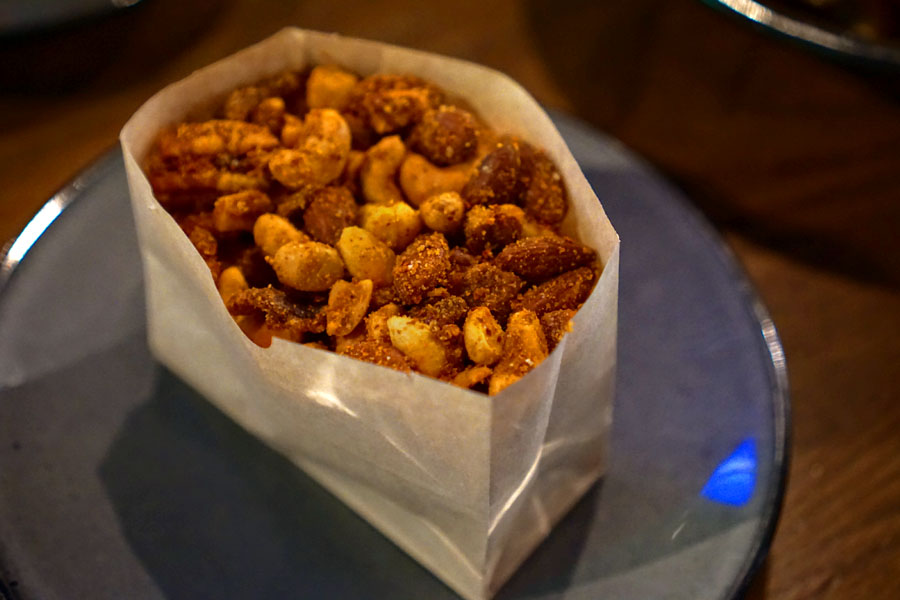 Bar Nuts w/ bacon [$4.00 + $1.00]
Nuts were well spiced, but I really didn't get much from the bacon.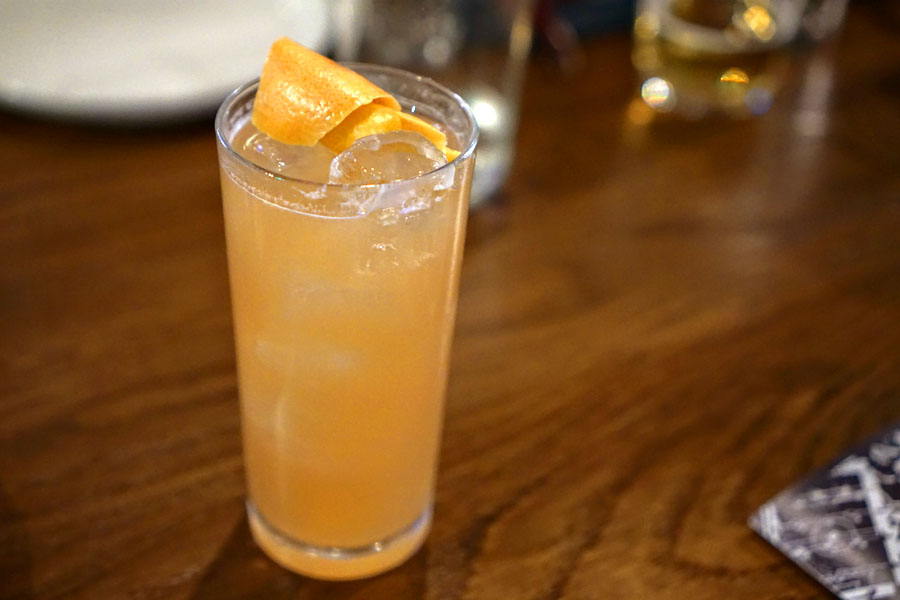 Macho Man Shandy Savage [$9.00]
| Mezcal. Chipotle Pepper. Yellow Peach. Pilsner. Slim Jim.
If we're talking about punny drink names, this was probably one of the best I've heard. It tasted pretty good, too, with loads of sweet citrus commingled with contrasting notes of bitterness and spice. Unfortunately, the advertised Slim Jim was missing, as apparently the bar had run out of the mechanically separated meat snacks.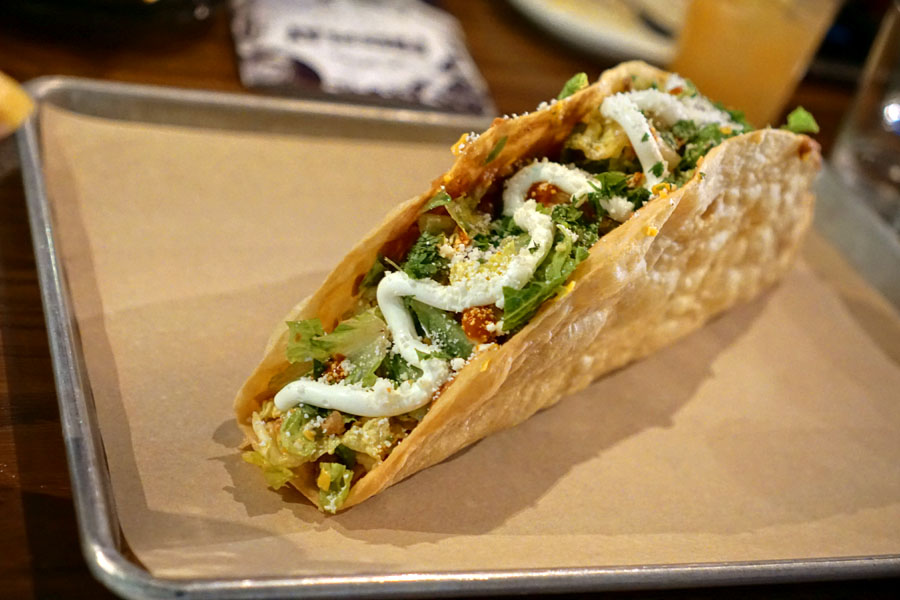 Taco Salad [$14.00]
| Grilled Tri-Tip, Beans, Cotija Cheese, Cilantro, Salsa Roja
Here we have perhaps the most whimsically-presented salad I'd ever seen, one that came in the form of a super-sized taco (measuring a good 16 inches from end-to-end I'd wager). I found it heavy on the beans, and while I did enjoy the bright crunch of the lettuce and the crispness of the taco shell, I really wanted more acidity and more heat in the dish.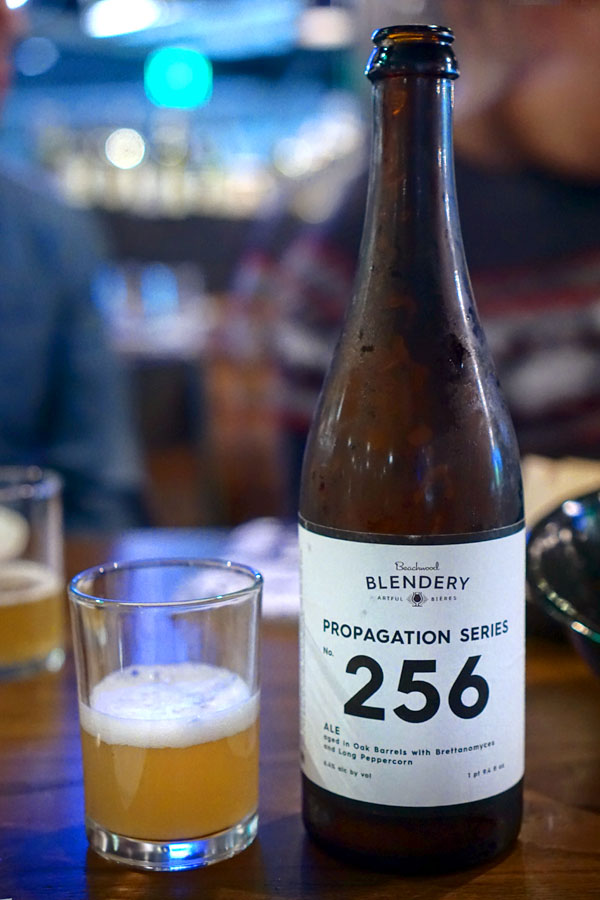 With the cocktails all drunk up, we moved on to beer, and first was the
2016 Beachwood Blendery Propagation Series: No. 256
, a saison-style ale aged in oak barrels with
Brettanomyces
and long peppercorn. It had a nose of subdued sourness and funk commixed with citrus. The palate I found tart, spicy, and earthy, with juicy stone fruit but only a smidgen of long pepper. Quite nice.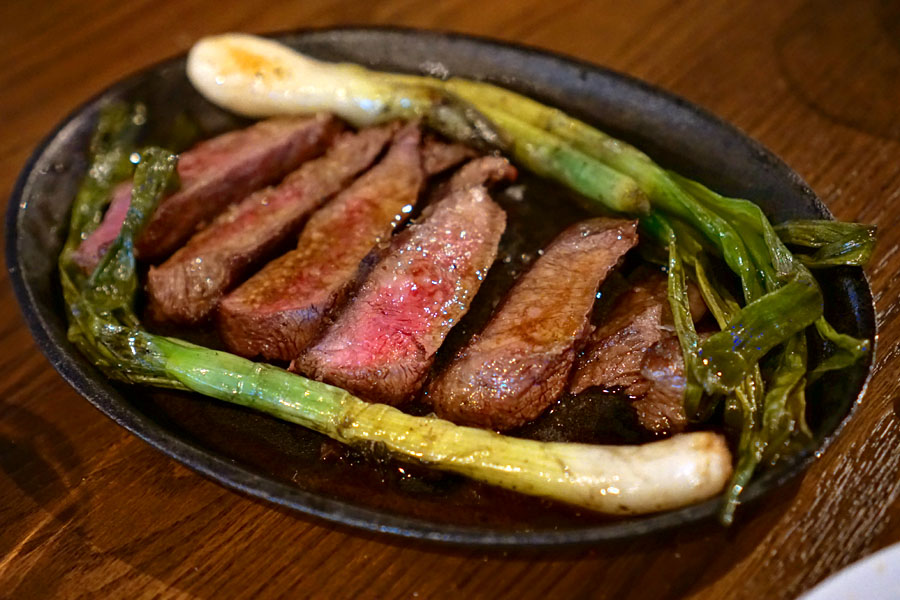 Flat Iron Steak [$21.00]
| Grilled Flat Iron Steak with Charred Onions
Unfortunately, things went awry with the steak. The first flat iron received was overcooked (we requested med-rare but it was closer to well), and had to be sent back. The kitchen's second attempt was much better in terms of temperature, but was far too salty/savory (jarringly so), though the onions did help somewhat in that regard.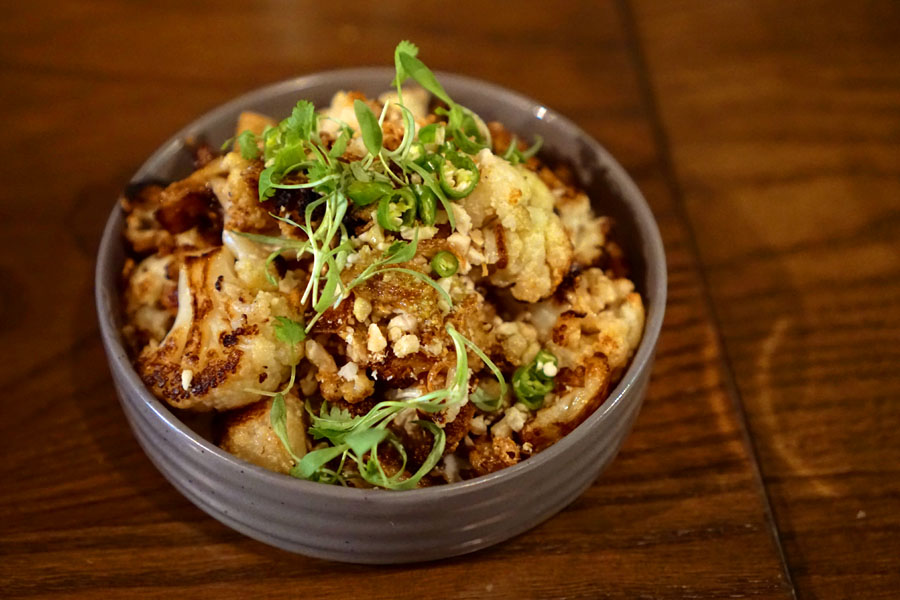 Cauliflower [$10.00]
| Roasted cauliflower with Coconut, Lime, and Toasted Peanuts
The cauliflower also disappointed. My first issue was that the vegetable was way too soft, on the borderline of becoming mushy in fact. If that wasn't enough, flavor-wise the dish was muddled, overly sweet, and lacking in acidity.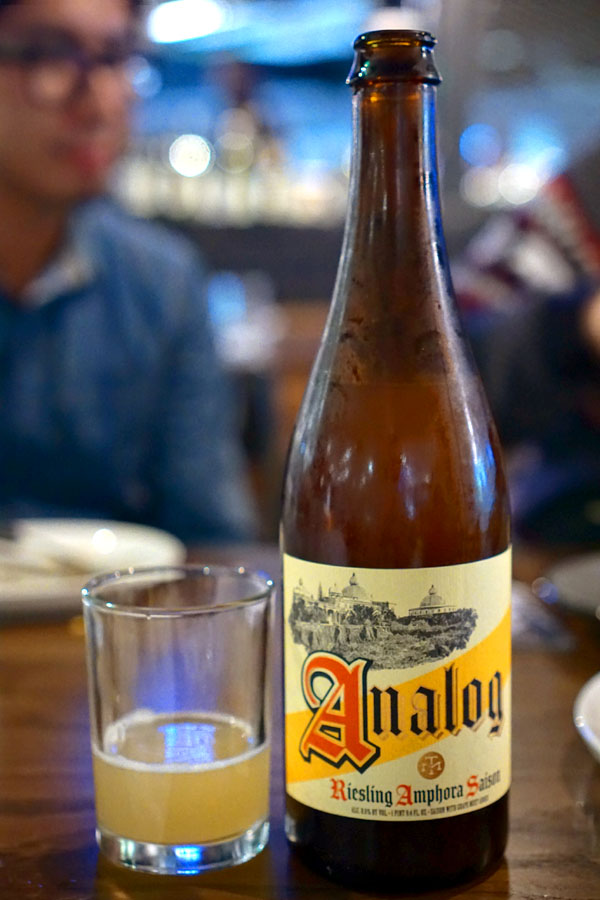 Above we see the
2018 Modern Times Analog
, a saison brewed with Riesling grape must and fermented for two months in a clay amphora with Brett, Lacto, and Saccharo. Expressive nose filled with sour, yeasty notes and fruity funk. On the palate, I got some nice wine-y qualities along with a marked minerality, more barnyard, and lots of juicy stone fruit.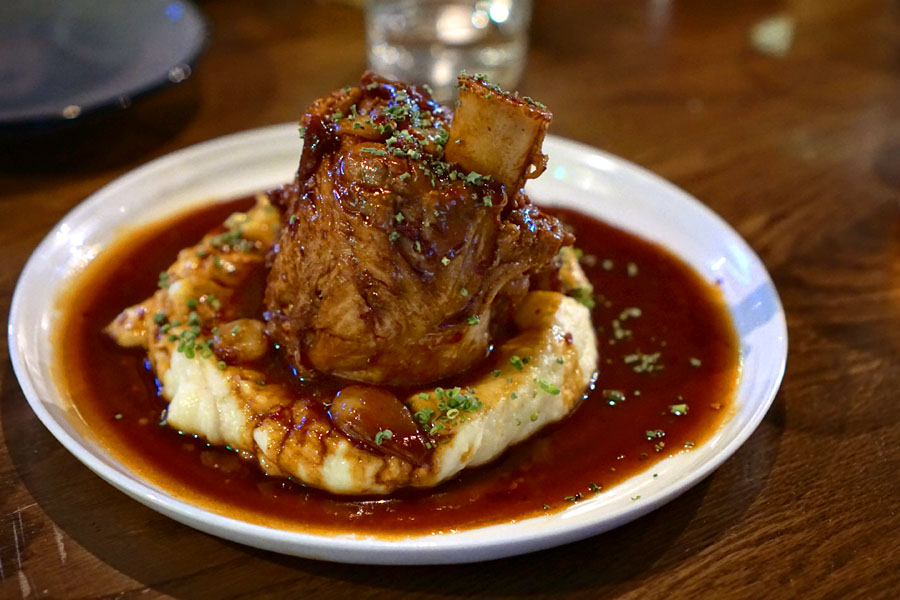 Pork Shank [$21.00]
| Braised Pork Shank with Mashed Potatoes and Love Sauce
An impressive looking shank was falling-part tender, its dark, rich flavors boosted by a healthy dose of sweet spice while the taters helped moderate everything.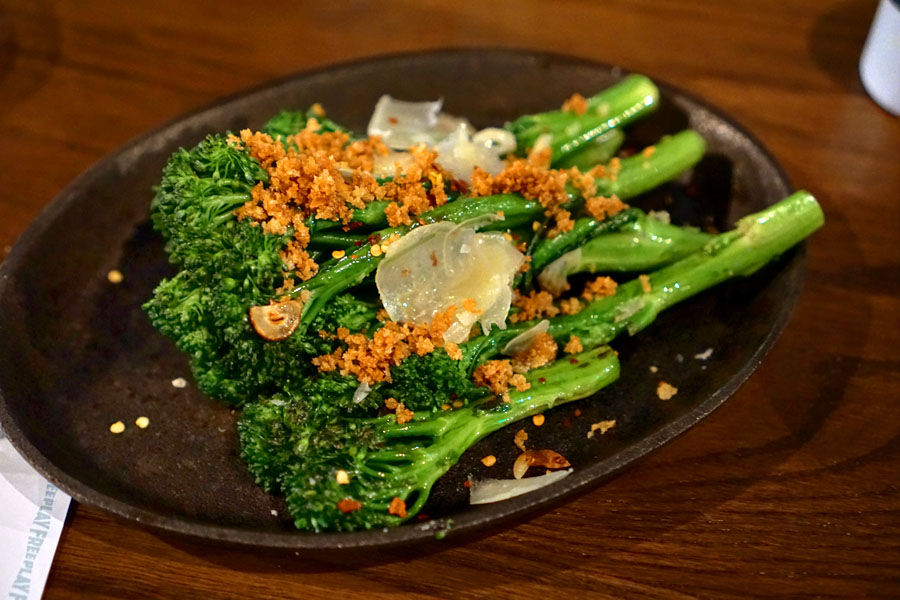 Charred Broccolini [$10.00]
| Toasted Breadcrumbs, Garlic, Pecorino Cheese, Olive Oil and Red Chili Flakes
Broccolini arrived delightfully crunchy, its bitter flavors complemented by the right amount of garlic and chili heat.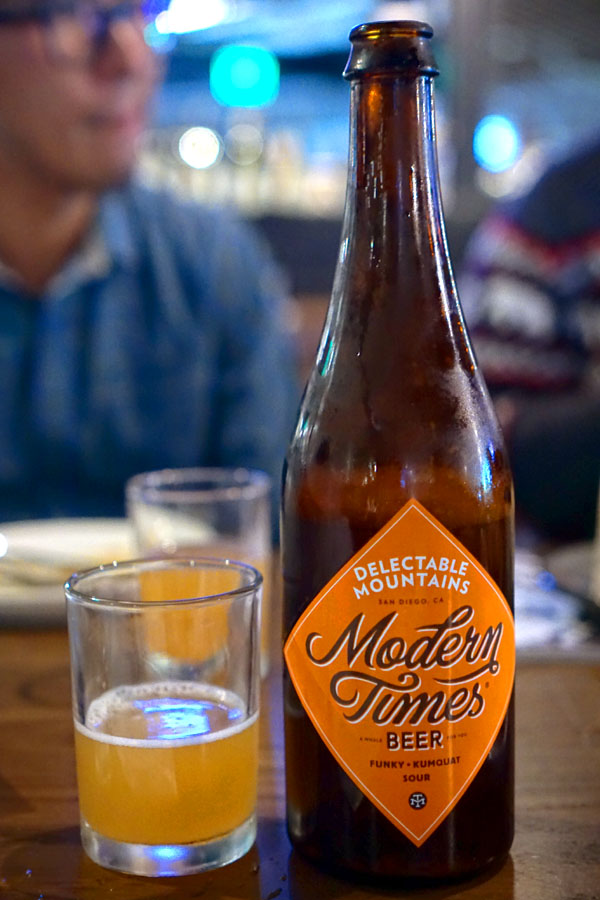 Next to drink was the
2017 Modern Times Delectable Mountains
, a red wine barrel-aged sour blonde with kumquats added. Aromas here were wonderfully multifaceted, with tons of citrus all over. The taste conveyed more kumquat in your face, along with an almost bracing "green" character and a restrained sourness.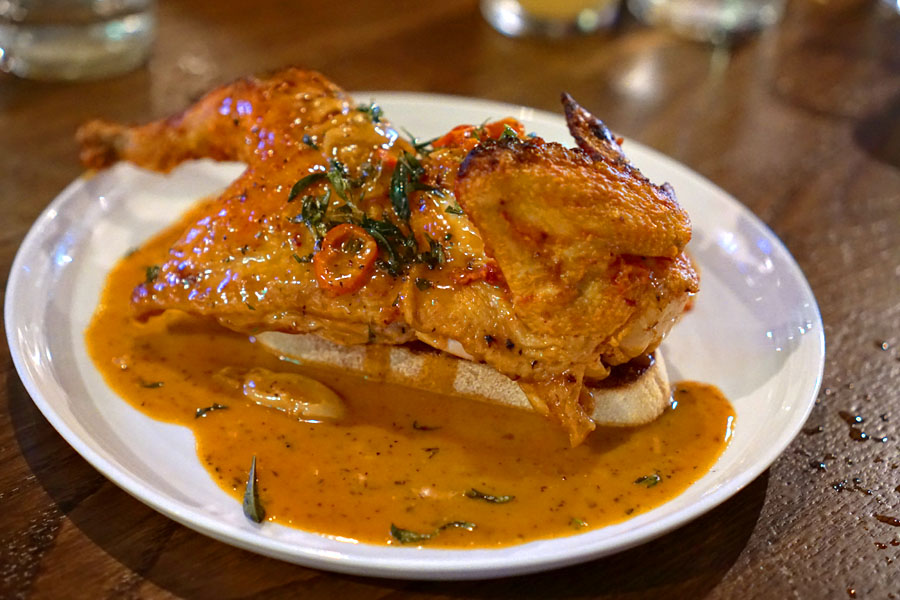 Harissa Chicken [$19.00]
| Roasted chicken with Grilled Toast, Pearl Onions, and Garlic Confit
The chicken was a surprise standout, and probably my favorite dish of the evening. I just found it super juicy, tender, and a great match with all the spicy, zippy flavors from the harissa.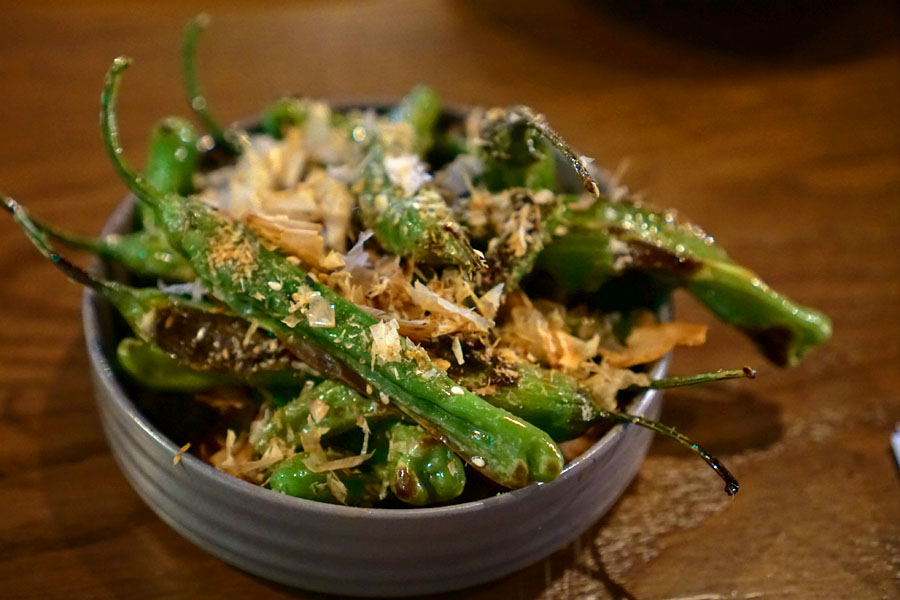 Shishito Peppers [$10.00]
| Blistered Shishito Peppers with Sesame, Yuzu, and Bonito Flakes
Shishitos were also on point with their perfect marriage of smoke and heat, the
katsuobushi
adding an extra layer of interest to the dish.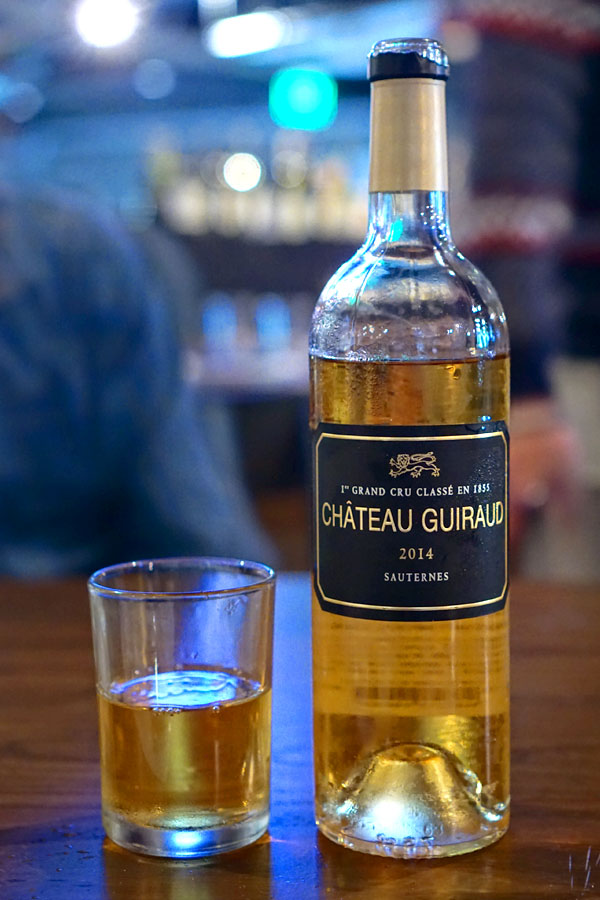 To go with dessert, we opened a bottle of Sauternes, the
2014 Château Guiraud
. The wine smelled musky and sugary, with a distinct pineapple cake character and a touch of citrus. Its palate was rich and viscous, yet vivacious, and loaded with more pineapple, honey, orange, and stone fruit, while the finish just went on and on. This one will age quite well.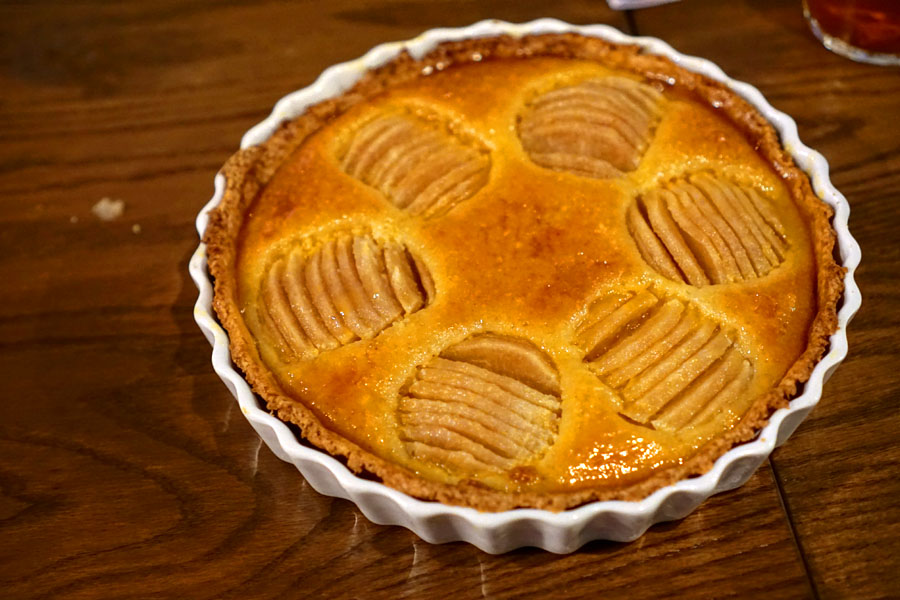 Since this was a birthday dinner, one of my dining companions baked an
Asian Pear Frangipane Tart with Guava-Passion Fruit Glaze
. The tart did an admirable job showcasing the pear, while the flaky crust reminded me of butter cookies. A fantastic pairing with the wine above.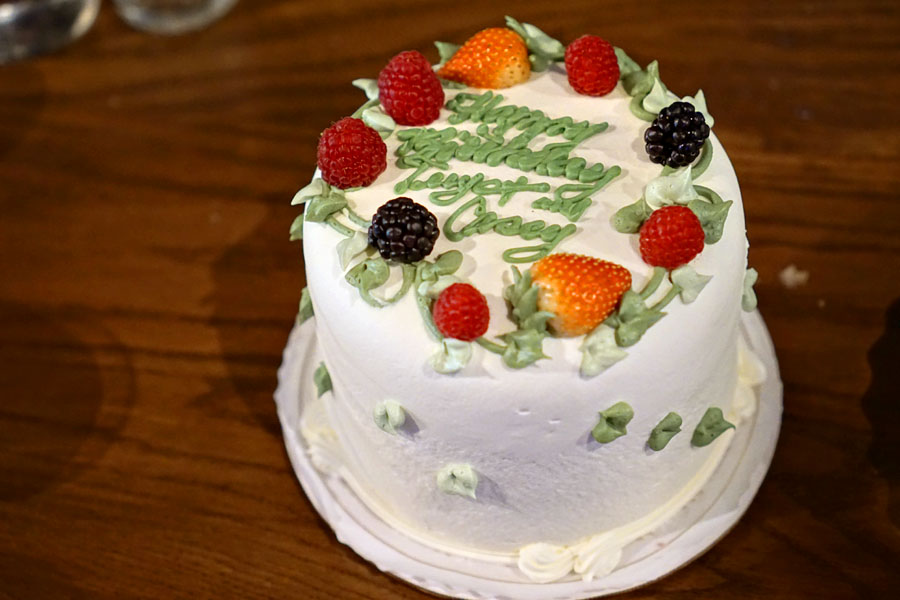 Actually, as this was a
dual
birthday, we also had a
Sweet Lady Jane Triple Berry Shortcake
. This one also delivered with its balance of tart berry and light, airy, creamy butter cake. Note that we were not charged a cake cutting fee, which was appreciated.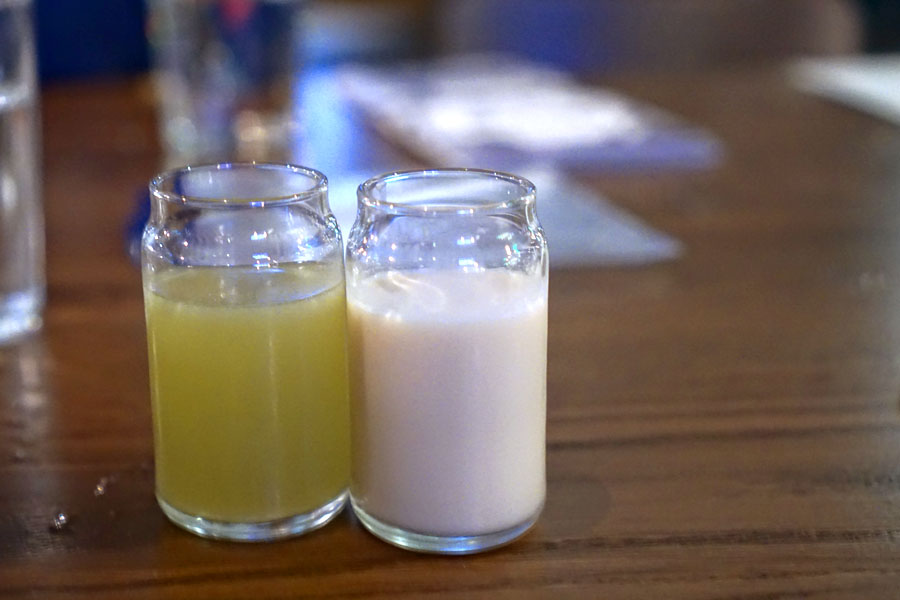 Julius Peppers [$4.00]
| Chile Vodka. Fresh Poblano. Lime. Pineapple.
Young Grasshopper [$4.00]
| Banana. Cacao. Menthe. Cream.
We ended with a couple shooters for the birthday girls. The one on the left wasn't exactly to my liking, as I found it quite vegetal and astringent. A fellow diner likened it to something one would drink as part of a juice cleanse. Our other shooter was much more enjoyable, recalling a mash-up of mint-chocolate chip ice cream and horchata.
Obviously we weren't going to get an Otium-like experience here, and so given the concept and location behind Free Play, things went pretty well this evening. There were a couple misfires to be sure, but the group seemed generally happy with the restaurant. I'm actually curious now about checking out all the other places downstairs at The Fields.