Sushi Note (Sherman Oaks, CA)
Sushi Note
13447 Ventura Blvd, Los Angeles, CA 91423
818.802.3443
www.sushinotela.com
Fri 09/27/2019, 08:30p-11:15p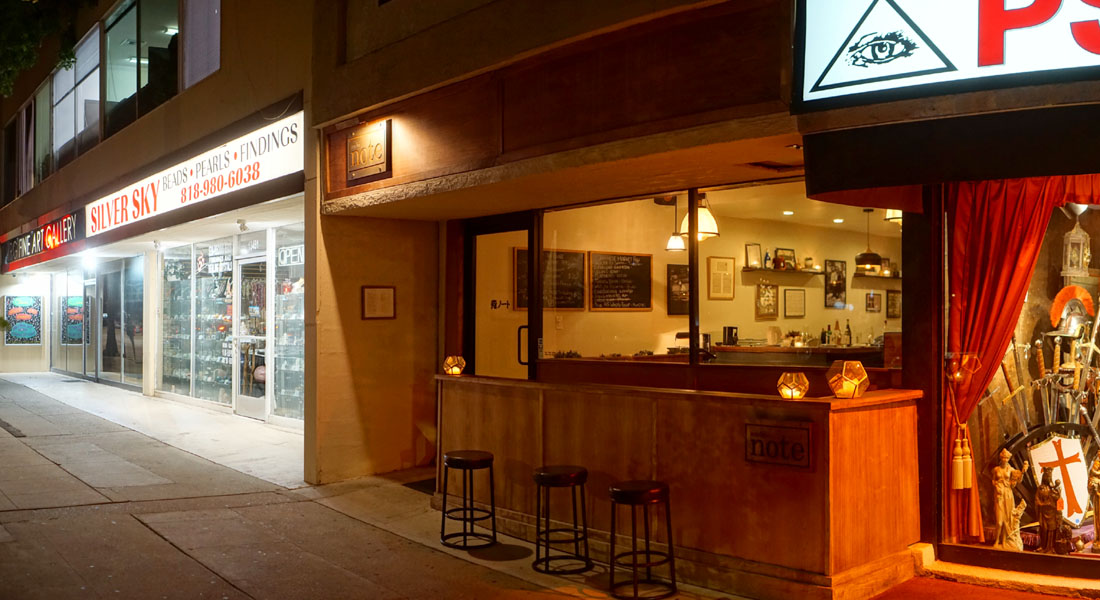 The San Fernando Valley is home to a lot of sushi restaurants, but Sushi Note, which opened last July in the former home of the late Toshio Shikami's Bizen, stands out due to its unique focus on wine. That focus makes sense when you take a look at the owners.
The place is largely the work of David Gibbs, one of the partners behind Augustine (along with Matthew Kaner and Dustin Lancaster) and Mirabelle Wine Bar (with Nick Caballero), and part of the creative team behind Syd Norman's Pour House, a bar concept onboard Norwegian Cruise Lines. Joining Gibbs in this venture is Silvia Gallo, head bartender at Augustine, as well as Andrew "Andy" Paxson, co-founder of the Simplethings fast casual mini-chain and The Bourbon Room in Hollywood.
To run the kitchen, the trio has brought on Head Chef Kiminobu Saito, former co-owner of the longstanding 4 on 6 in Encino, which had closed in May 2017. Meanwhile, joining Saito-san behind the bar is Takeshi Matsuzaki from the now-shuttered Tama Sushi in Studio City.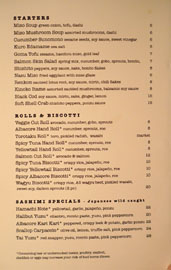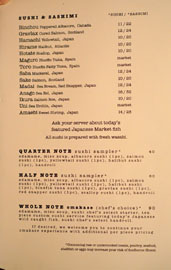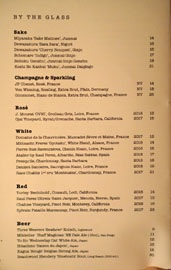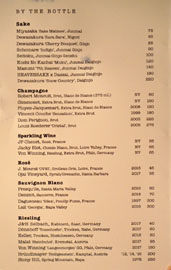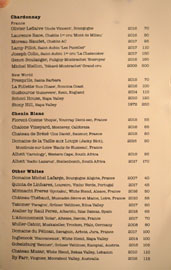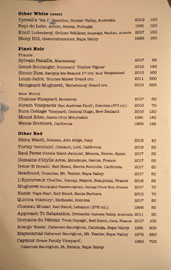 As for the menu, the restaurant has a fairly typical selection of dishes, and you can certainly order à la carte, but we were strictly here for the flagship omakase, which is priced at a reasonable $90 a head. Do pay attention to the specials on the blackboard, too. Drink-wise, you get probably the most impressive wine list I've seen at a sushi place. Curated by sommeliers Patrick Kimberlin (
SLS Beverly Hills
) and Andrew Pattison (
NoMad
,
Wally's
), it leans slightly French. There's even a wine pairing offered. And if wine's not your thing, you'll also find a small array of sakes and beers. Corkage is $25. Click for larger versions.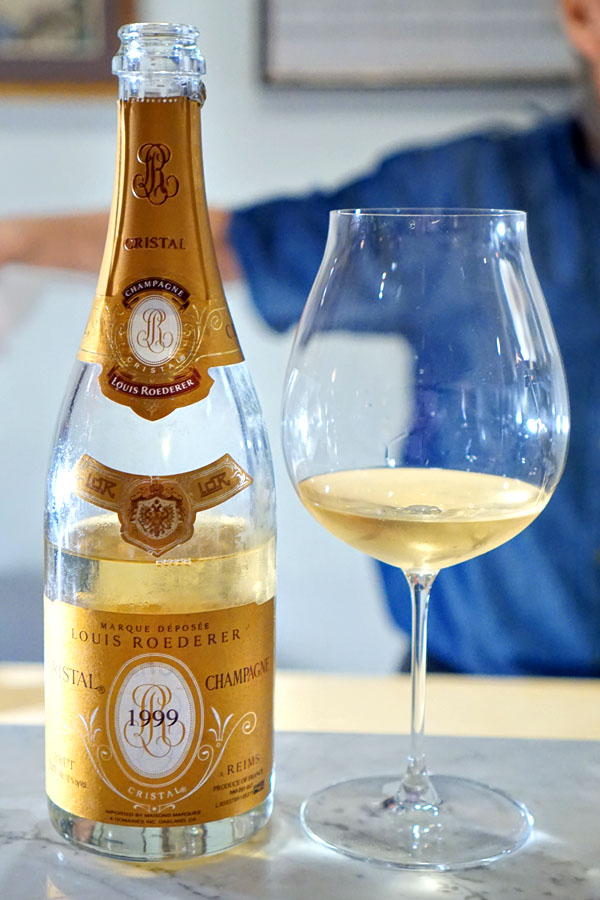 To drink, we started with some well-priced Champagne, the
Louis Roederer 'Cristal', Brut, 1999 [$350]
. The wine had an amazing nose featuring loads of barnyard and lactic funk, joined by touches of tropical fruit and toast--it smelled like a cheese plate, and I mean that in the best way possible. As for the palate, I found it deep, rich, concentrated, showing off sweet pome fruit, brioche, and minerals while the back end exhibited a distinct herbaceousness. This was delicious, vivacious, and very likely my favorite bottle of Cristal that I've had.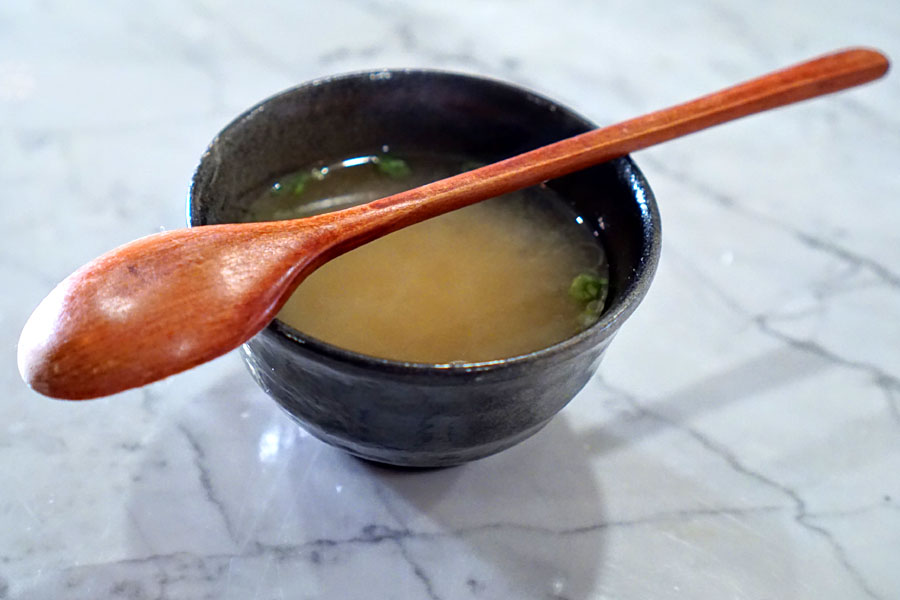 1: Miso Soup
| green onion, tofu, dashi
Our meal commenced with some
misoshiru
, a pretty classic, cozy preparation with a particularly strong zestiness from the green onion.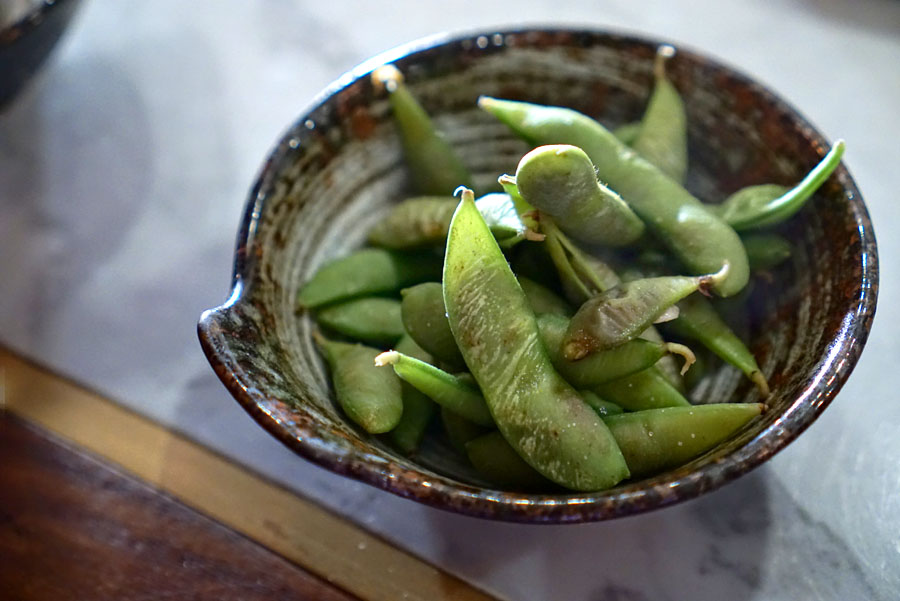 2: Kuro Edamame
| sea salt
The edamame was about what you'd expect, with a nice saltiness that I appreciated.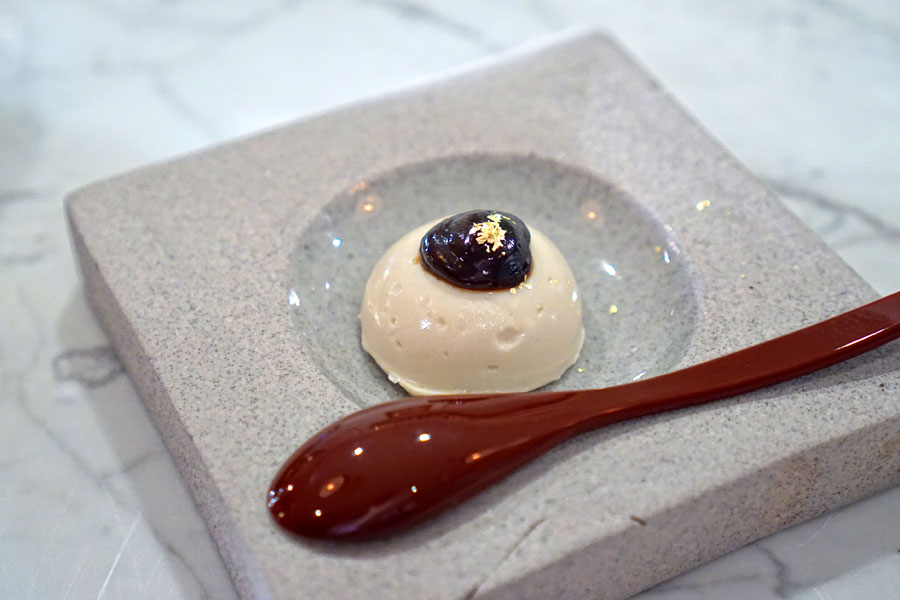 3: Goma Tofu
| sesame, hacchou miso, gold leaf
A demisphere of housemade sesame tofu ate mild and nutty, while the dark-toned miso imparted an impressive sweet-savory depth to the dish.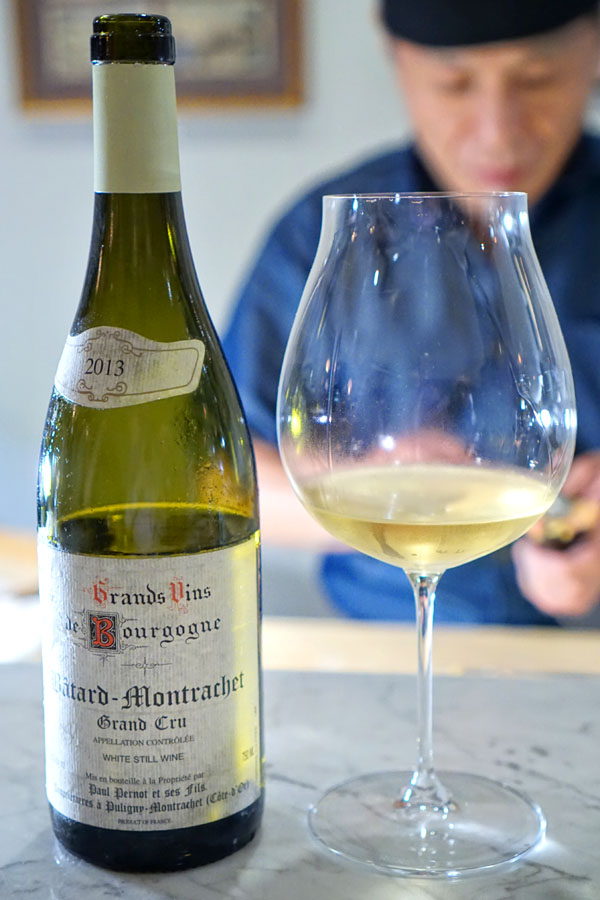 Next came a bottle of Burgundy that we'd brought, the
Paul Pernot, Bâtard-Montrachet Grand Cru, 2013
. The wine smelled fantastic, giving up boatloads of ripe, juicy grapefruit and peach; in fact, one of my dining companions even likened it to a hazy IPA. In terms of taste, think grassy and lemony and spicy, with a tinge of oxidation on the back end. Superb--probably my favorite white wine of the year.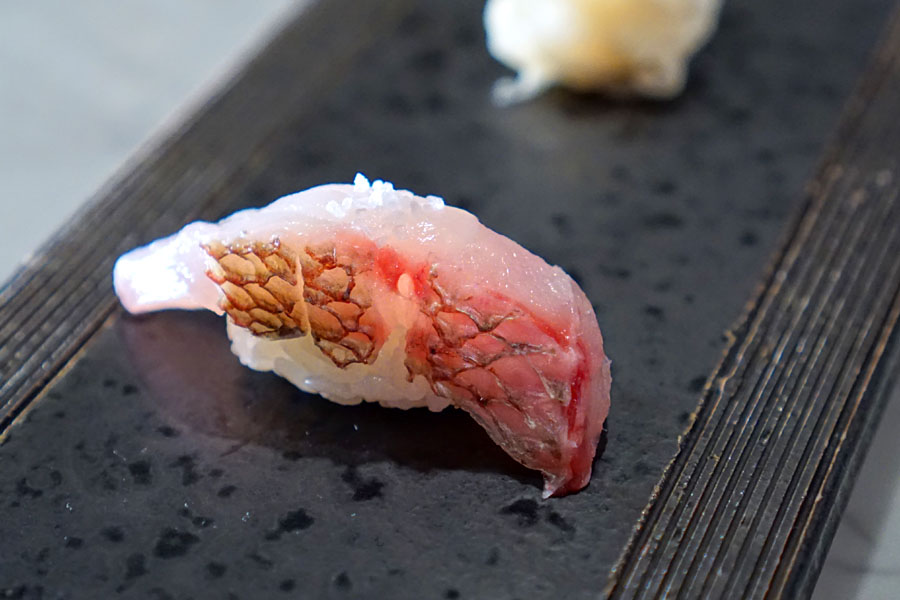 4: Tennentai
| Wild Japanese Red Snapper
The parade of sushi began with a lovely rendition of snapper. The fish came out clean and mild at its core, but was punctuated by pops of salt and sour, while the zing of wasabi made itself known throughout the finish.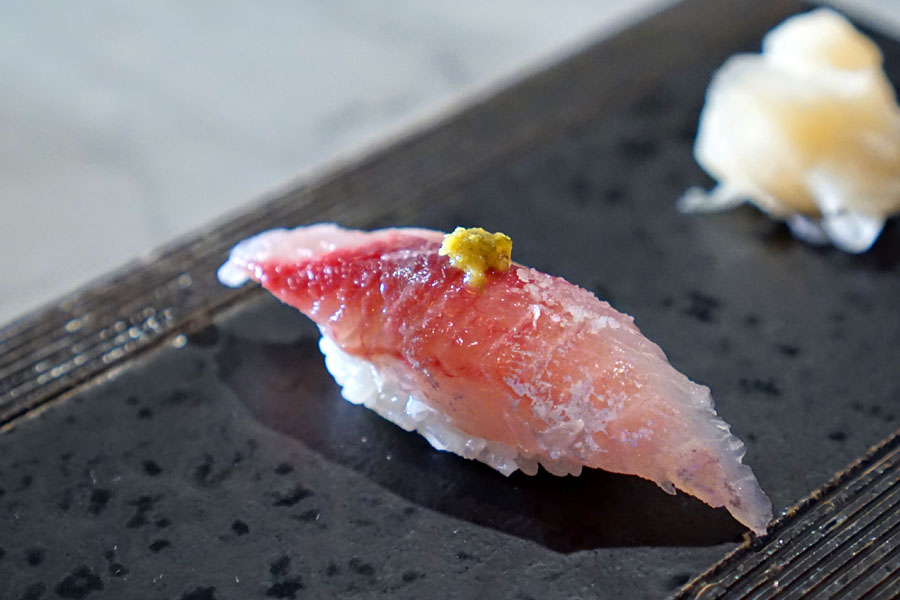 5: Isaki
| Grunt
The chicken grunt was another fresh 'n' clean fish, and worked swimmingly with its accompaniment of sour-spicy
yuzukosho
, while the 'sabi once again brought up the rear.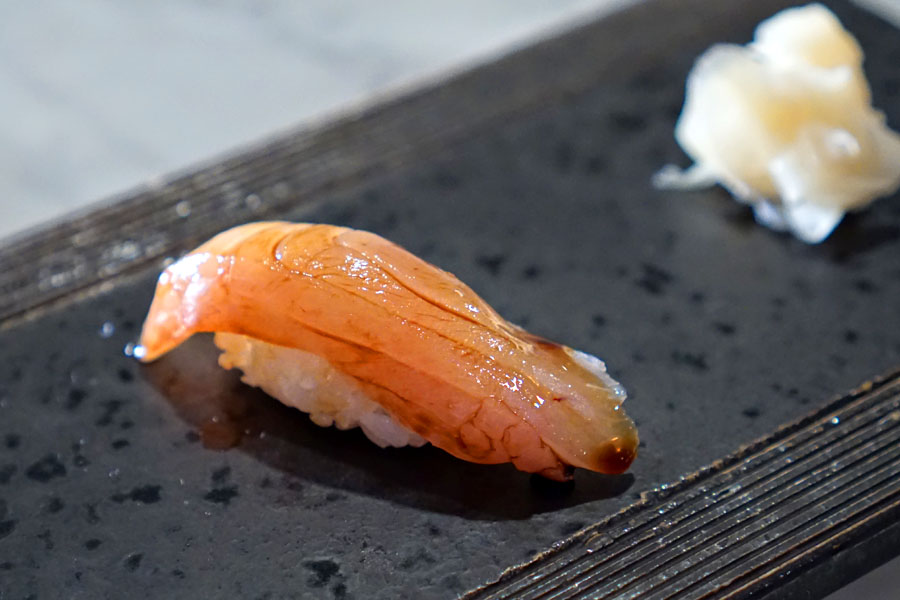 6: Kinmedai
| Alfonsino
Golden eye snapper had an excellent chew to it, along with strong soy-boosted flavors that really meshed well with the
shari
here.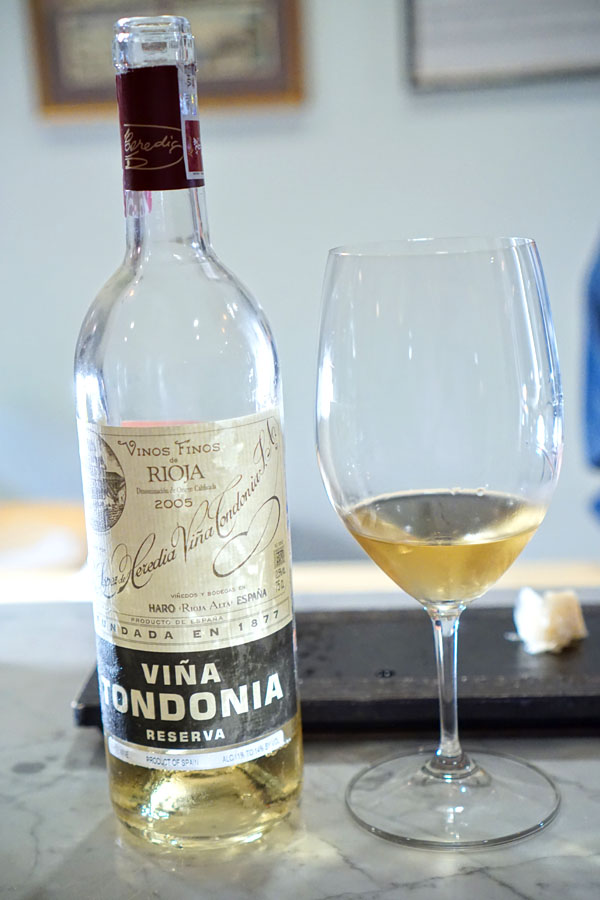 At this point, we had Pattison pair some wines for us, and he kicked things off with the
R. López de Heredia 'Viña Tondonia Reserva', White Blend, Rioja, Spain, 2005 [$???]
. The wine had a decidedly mature nose, one that veered stone fruit-y, mineral-driven, and oxidative, but also showed off tons of mustard seed. The palate, meanwhile, was soft and round, with more mustard blending with prominent spice and some fruit 'n' nuts. If you're wondering about the "$???" above, we were charged a total of $80 for three pours of this and the 'Sensation' below, but the cost wasn't broken down on the bill.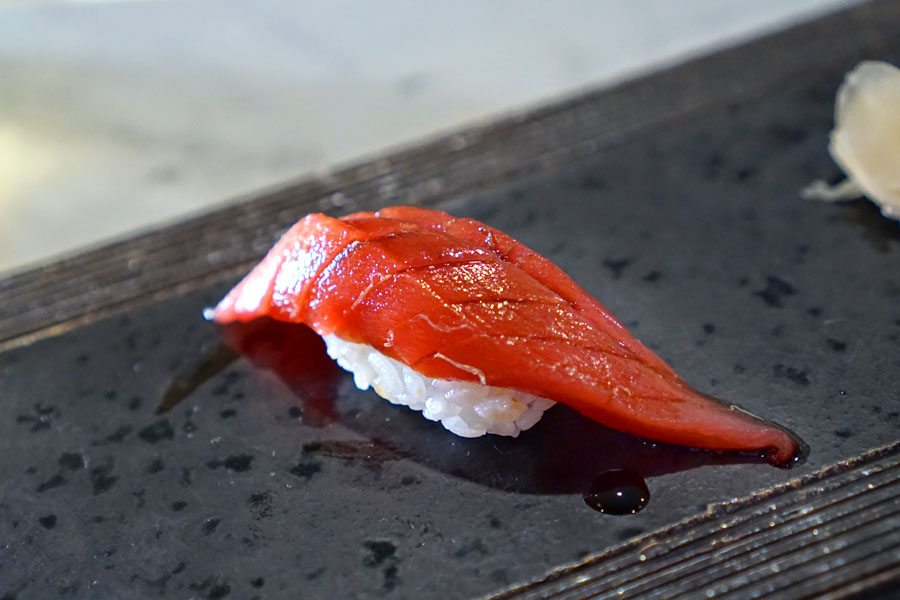 7: Maguro
| Bluefin Tuna, Spain
Akami
had its considerable amount of umami countered by the heat of wasabi, while the coolness of the rice was especially apparent here.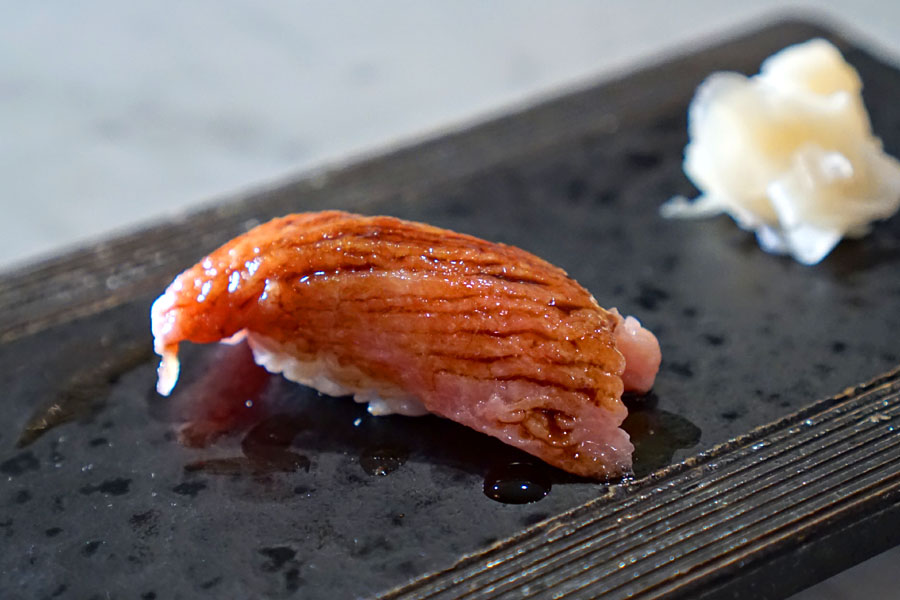 8: Toro
| Bluefin Fatty Tuna, Spain
Tuna belly was super soft to the bite, its unabashedly fatty, oily flavors complemented by a liberal dosing of soy.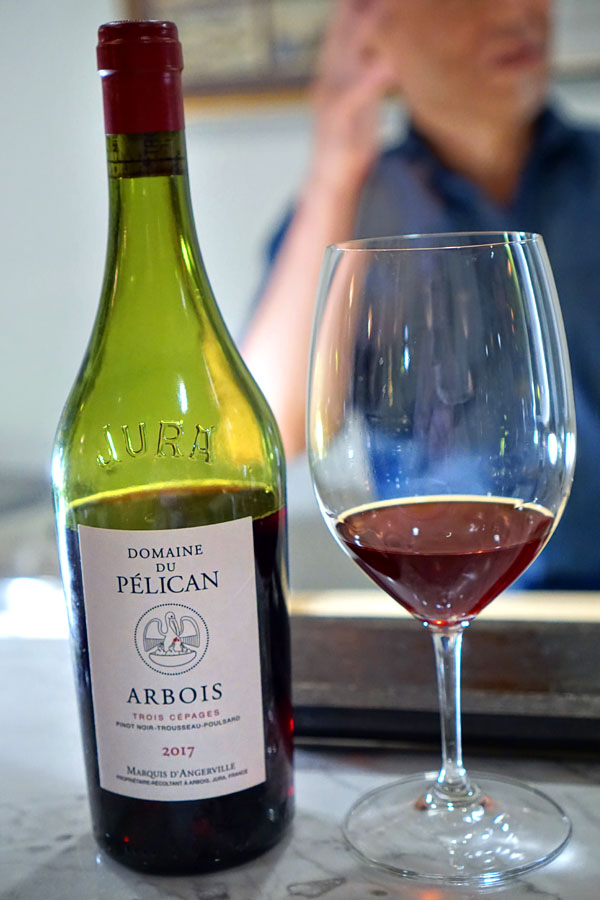 Next came a glass of the
Domaine du Pélican 'Trois Cepage', Red Blend, Jura, France, 2017 [$10]
, which went nicely with the tuna above. A blend of 65% Pinot Noir, 30% Trousseau, and 5% Poulsard, the wine had a decidedly gamy nose with lots of dry herb and traces of red fruit. In terms of taste, I found it softer than expected, with tart berry fruit up front and more of that herbaceousness coming in on the mid-palate and lingering long.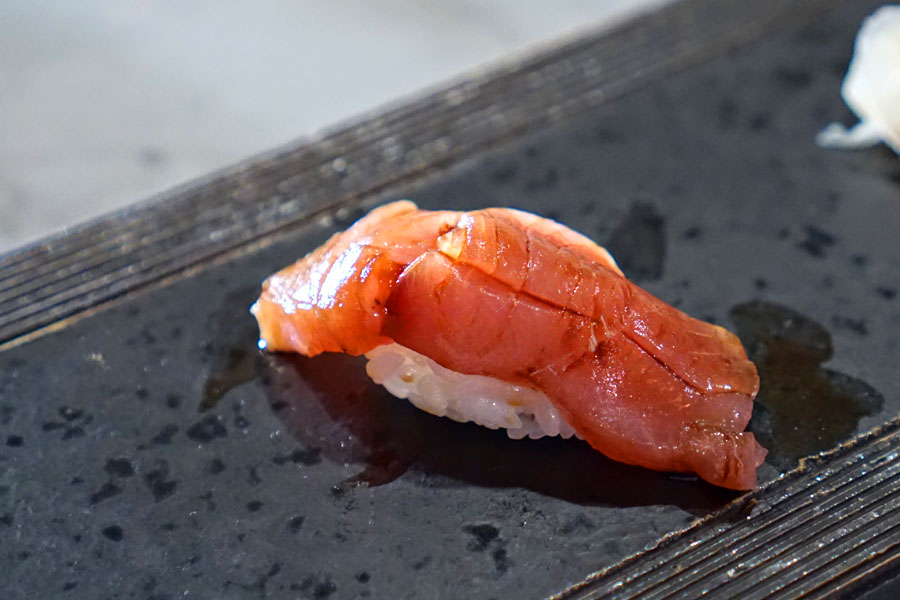 9: Buri
| Wild Japanese Yellowtail
Wild yellowtail from Kyushu conveyed some lean, focused, almost austere flavors that were complemented by the application of soy and wasabi. Great texture on this one, too.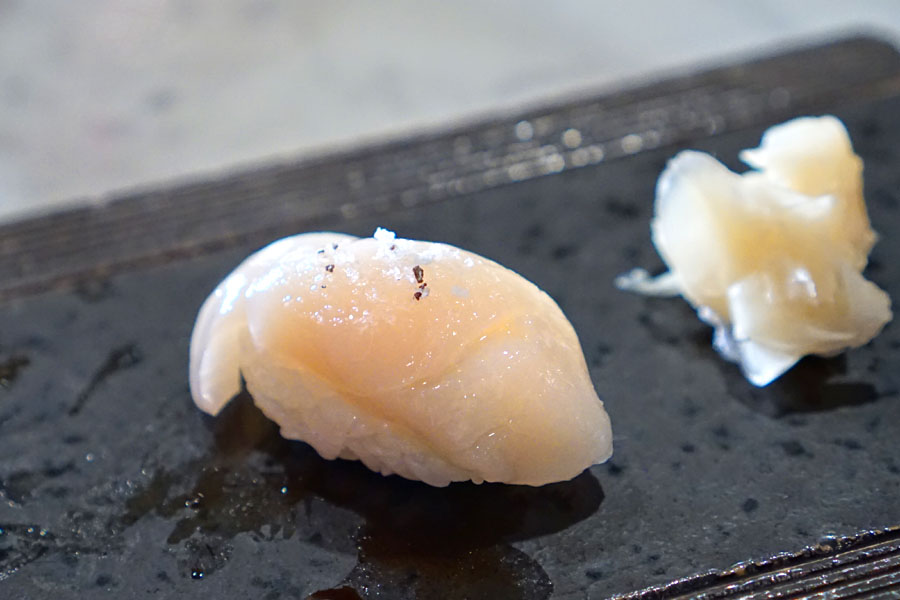 10: Hotate
| Scallop, Japan
A silky sweet scallop was augmented by the application of lemon and earthy truffle salt. Excellent with the preceding Bâtard-Montrachet.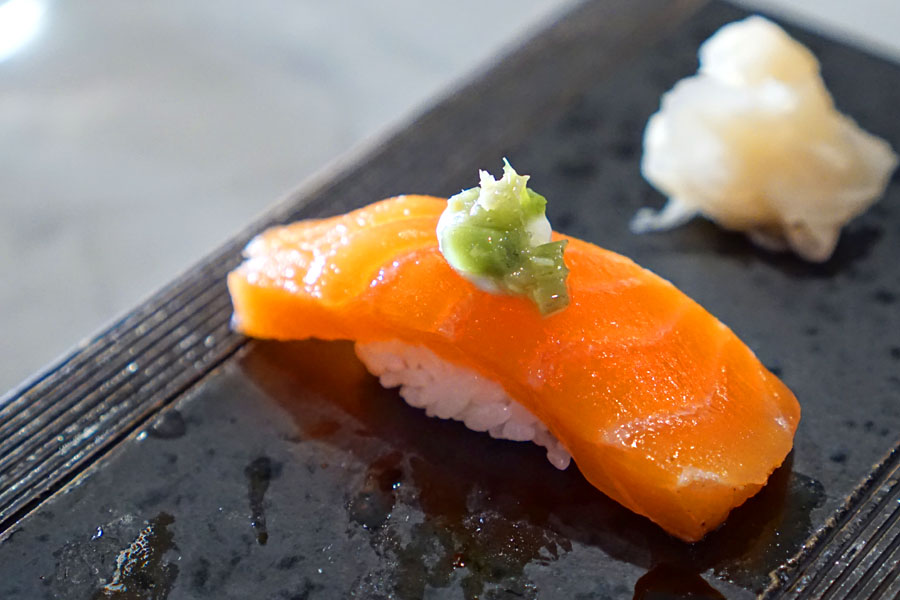 11: Gravlax
| Cured Salmon, Scotland
And now we come to the most unconventional
nigiri
of the night, largely thanks to its marriage of sour cream and wasabi. Though unusual, it was also effective, as the combo really did work over a backdrop of the fish, and I especially enjoyed how the wasabi basically served as a replacement for the traditional pairing of dill.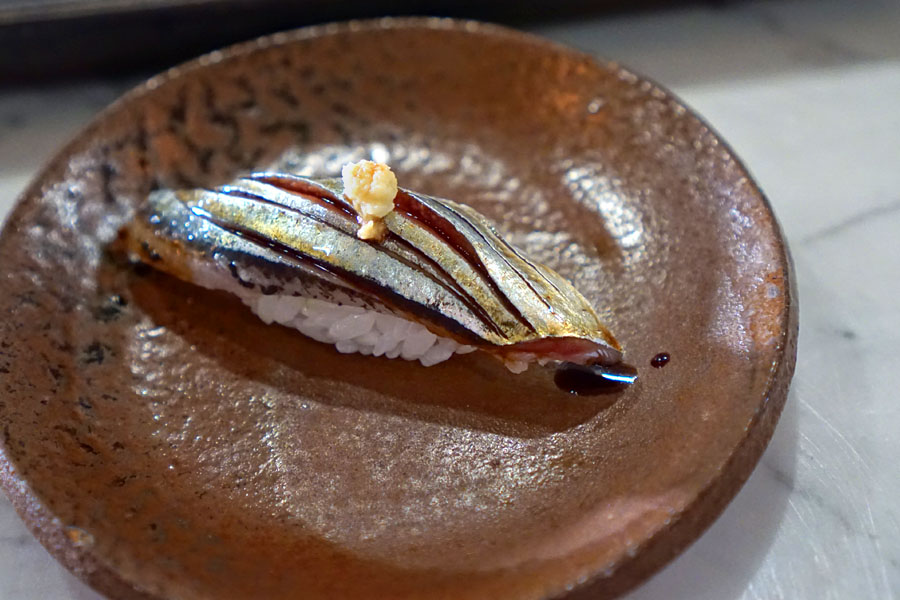 12: Sanma
| Pike Mackerel
Pike mackerel was a delight, its combination of brine and sweetness linking up beautifully with that dollop of ginger on top, all while the rice served as an especially crucial contrast.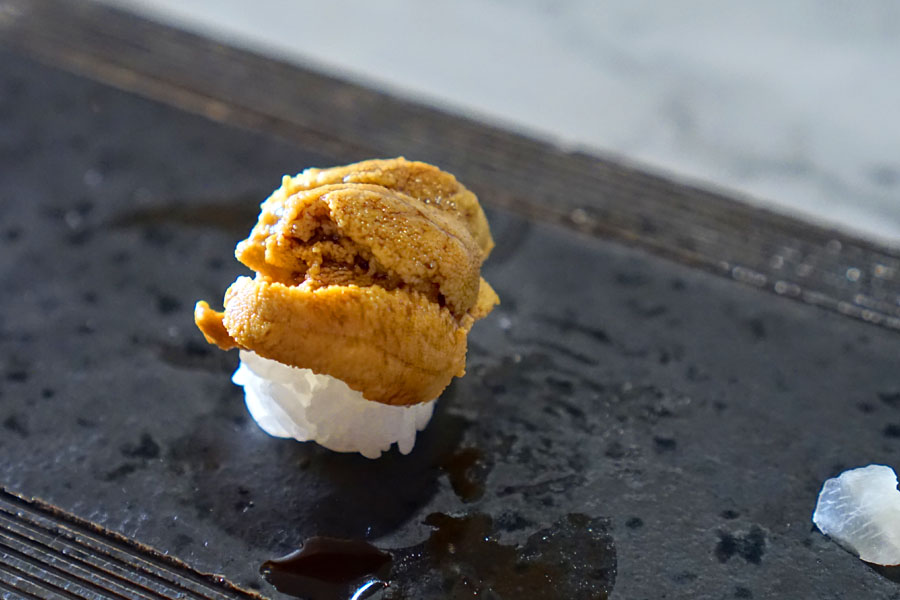 13: Uni
| Sea Urchin, Japan
Hokkaido sea urchin displayed its signature meshing of oceany brine and almost fruity sweetness, the soy serving as an accent.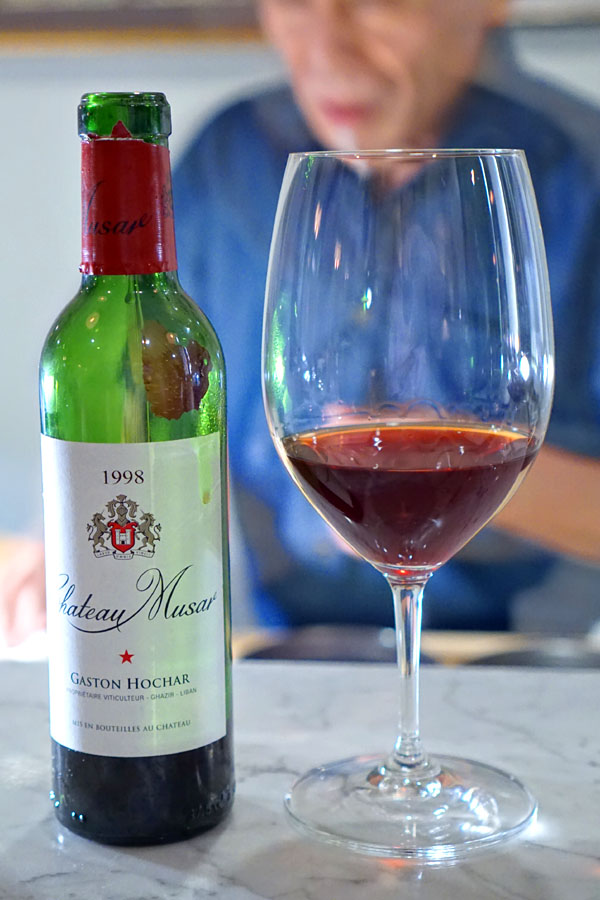 Pattison then brought out a half bottle of
Chateau Musar, Red Blend, Lebanon, 1998 [$85]
to go with the heavier courses to follow. Aromas here were of bright red fruit with some rustic, meaty notes. The palate brought cherries and stewed fruit set against a backdrop of tartness, acidity, and earth.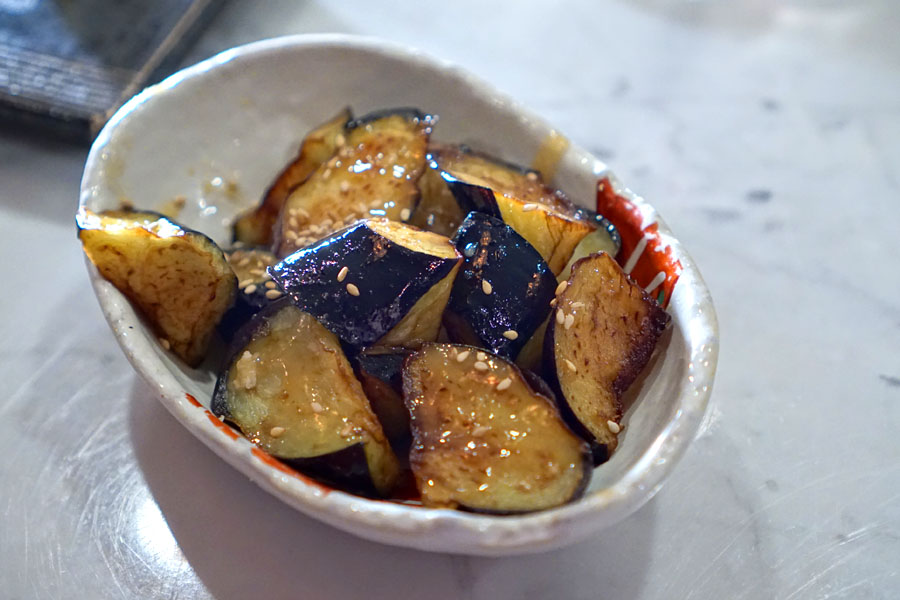 Nasu Miso [$6.00]
| fried eggplant with miso glaze
Eggplant came out well-textured, though overly sweet for my liking. In fact, one of my dining companions even described the taste here as being like an "eggplant-y churro."
14: Torotaku Roll
| toro, pickled radish, wasabi
A
temaki
featuring toro and
takuan
was pretty great, since the crunch and acidity of the radish really worked wonders against the heft of the fish.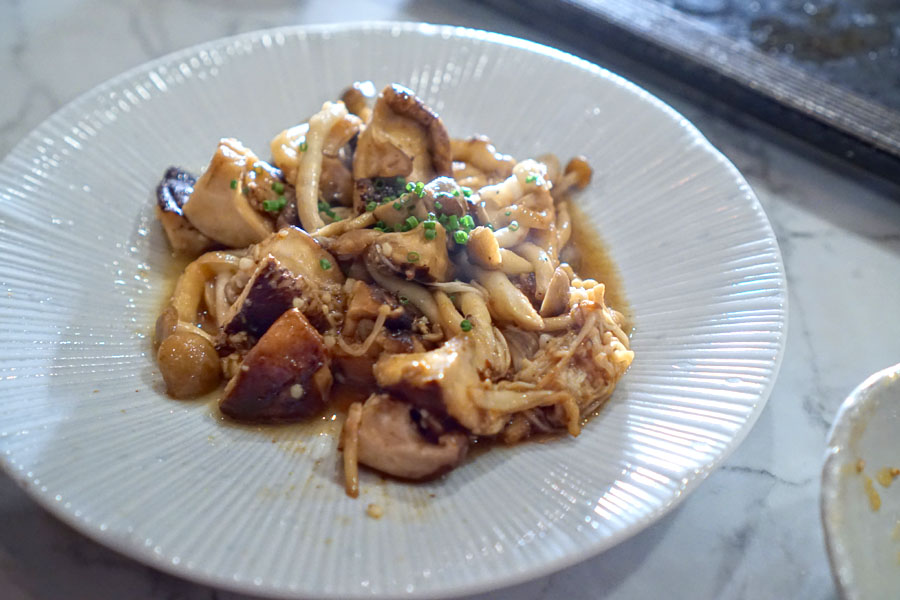 Kinoko Itame [$8.00]
| assorted sautéed mushrooms, balsamic soy sauce
A hodge-podge of mushrooms resulted in multifaceted textures and flavors that, unfortunately, went overly sweet for me.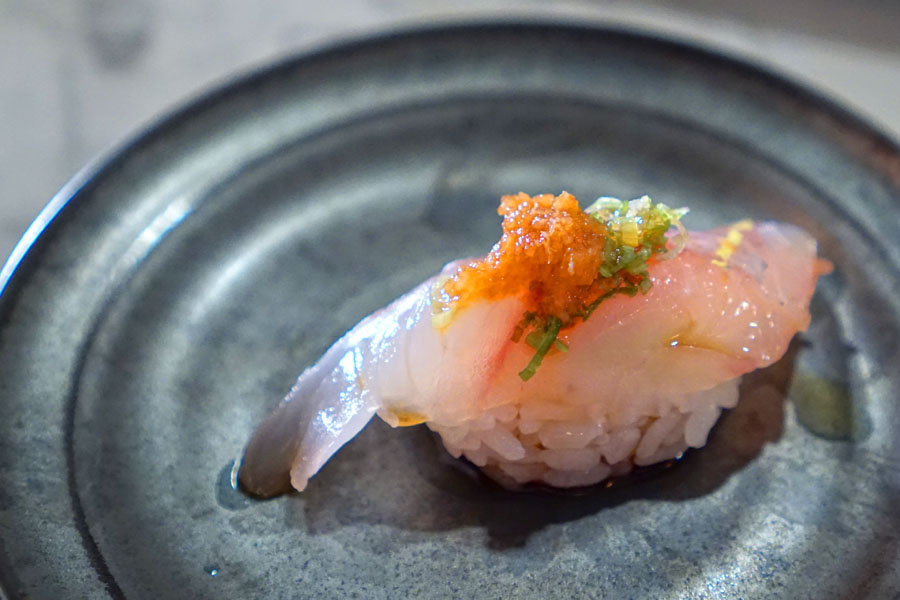 15: Itoyori
| Threadfin Bream
In this rather sauce-y presentation of golden threadfin bream, tangy ponzu and zesty scallion gave way to the unmistakable heat of wasabi on the finish.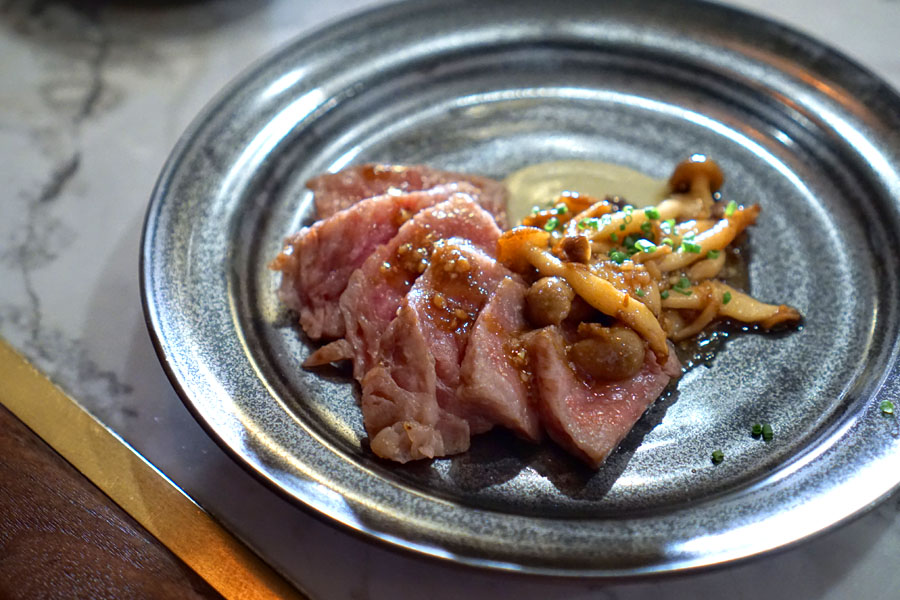 3oz A5 Wagyu Ribeye - Miyazaki [$55.00]
Miyazaki wagyu was as rich and fatty and supple as expected, but unfortunately the beef was a bit overshadowed by all the other elements on the plate.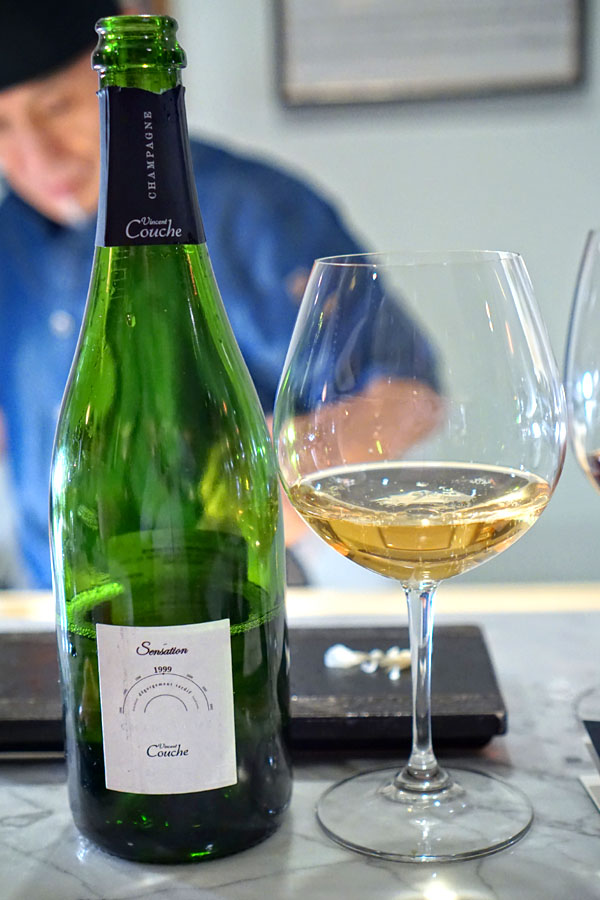 Our final wine was another Champagne, the
Vincent Couche 'Sensation', Extra Brut, 1999 [$???]
. A 50/50 blend of Chardonnay and Pinot Noir, I believe this was just disgorged last year. The nose here was rife with yellow fruit, but with a trace of oxidation and just a smidge of honey. The palate was definitely on the rich, creamy side, and had flavors of sweet brioche joined by tropical fruit and a backbone of minerality. Very nice.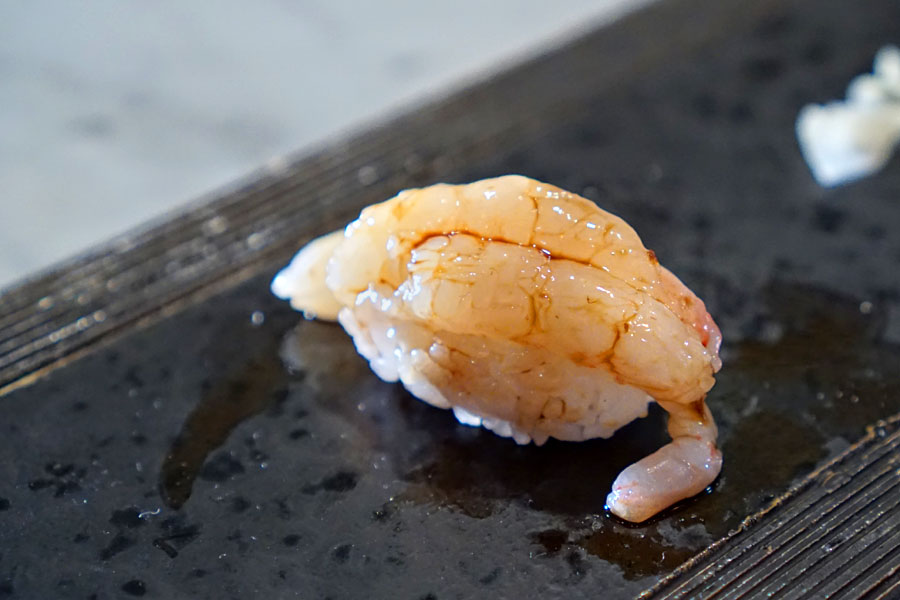 16: Amaebi
| Sweet Shrimp, Japan
The sweet shrimp was just as lush and sweet as I wanted, but with zippy wasabi keeping things interesting.
Black Cod [$15.00]
| soy sauce, mirin, sake, ginger, lemon
Gindara
was pretty textbook, a luxurious, buttery fish with plenty of savory-sweet flavors to go around.
Kamasu [$7.00]
| Barracuda
Kamasu
was taken up a notch by the piquancy of the scallion, while the finish on the fish was simultaneously clean but spicy.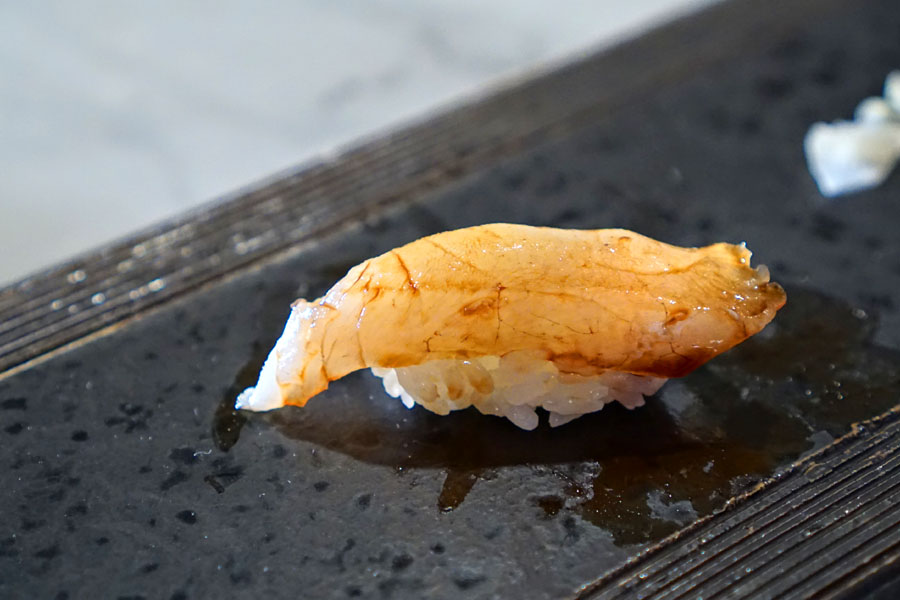 Kochi [$7.00]
| Flathead
The flat-head was a lean, firm fish with a relatively subdued flavor profile that took well to its brushing of soy, while the wasabi added further interest to the bite.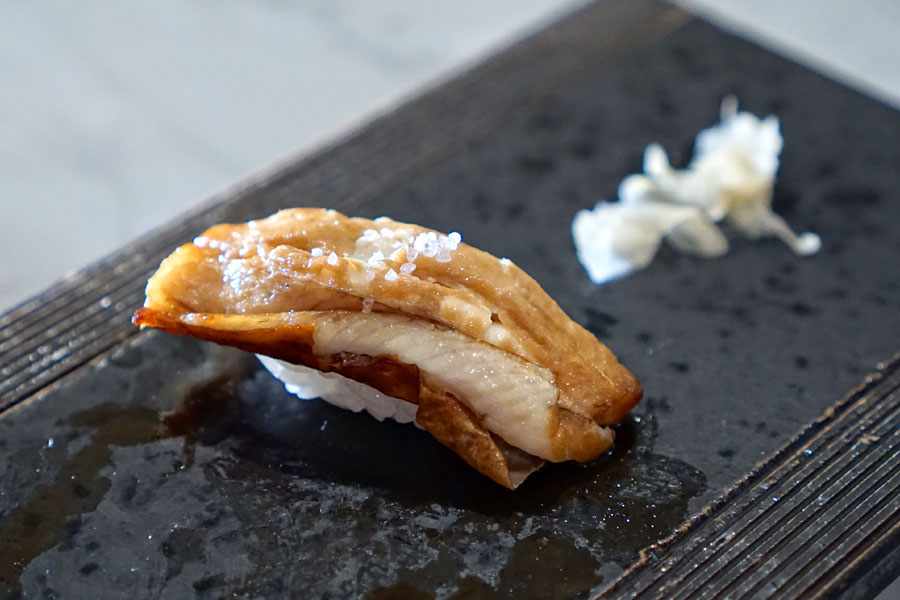 Anago [$8.00]
| Sea Eel, Japan
We ended with the sea eel, which was spot on texturally, and had a great citrusy accent to go along with its sweet-savory nature. A fitting closer.
Our meal tonight managed to be one of the most memorable sushi experiences I've had. Though the sushi itself was certainly commendable, what really made this special was the wine, and not only how good the wine was, but how well it actually paired with everything we ate. Wine is almost always overlooked in sushi bars, so it was great to see the team here try to change that.