Meteora (Los Angeles, CA)
Meteora Restaurant
6703 Melrose Ave, Los Angeles, CA 90038
323.402.4311
www.meteora.la
Sat 07/16/2022, 09:00p-12:45a

Eric Bost's
Auburn
is where I had my best meal in LA back in 2019, so you can bet that I was saddened to hear about its closure at the start of the pandemic. Following the restaurant's unfortunate shutter, I was of course curious as to what would become of the edge-of-Hollywood building where it was housed, and in the fall of 2020, it was announced that none other than
Jordan Kahn
would be taking it over. The plan was for him to turn the space into Ephemera, a sort of pop-up version of Vespertine meant to run for a few months, but that never ended up happening. Instead, by mid-2021, Kahn and his
Sprout LA
backers had decided to launch a completely new concept there: Meteora, which soft-opened at the end of June, taking a lot of us by surprise.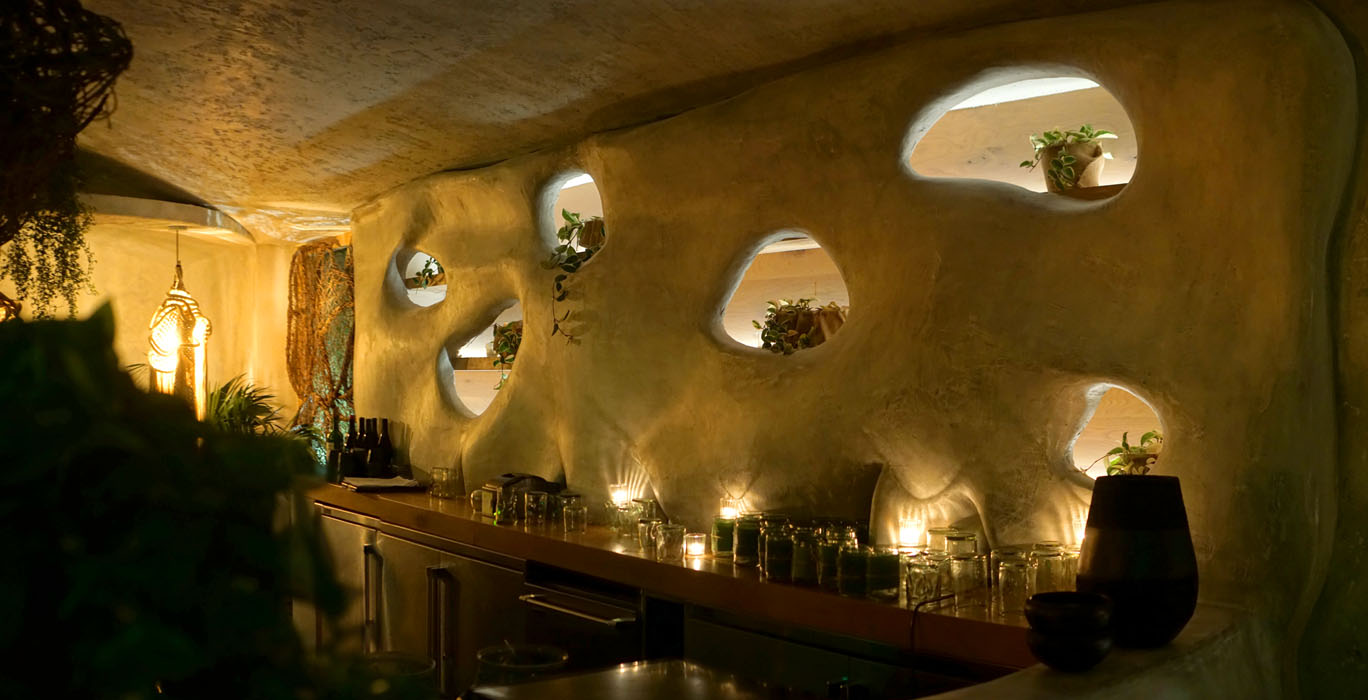 I was the first to arrive in my party, and was thus asked to wait in Meteora's bar/lounge area, which has quite the ambiance, as you can see.

As for the main dining room, you'll find plenty of vegetation, branches twisted in all sorts of ways, and what appears to be a whole lotta macramé, but you can still view the vestiges of the structure's former tenant peeking through it all. It's a bit as if Auburn got swallowed up by the jungle.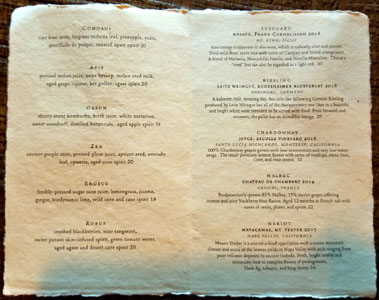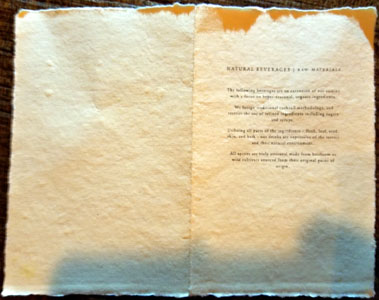 We were first presented with a beverage menu that listed some of the most intriguing-sounding drinks I've seen in a while, all of which "forego traditional cocktail methodology." There's only a smattering of wine at the moment, but a full wine list is on its way. Click for larger versions.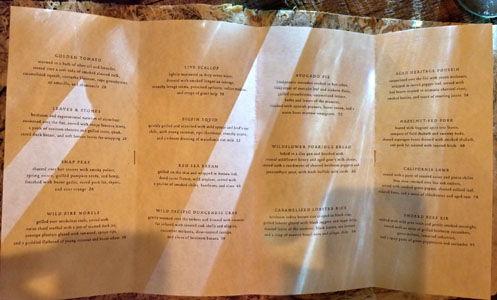 Divvied up into sections for vegetables/ocean/grains/meat, Meteora's menu is a relatively compact à la carte affair, but one with some of the most verbose dish descriptions ever. Now with most menus, I'm generally able to imagine what each dish will look and taste like, but that certainly wasn't the case here, which was great, and kept things exciting. Click for a larger version.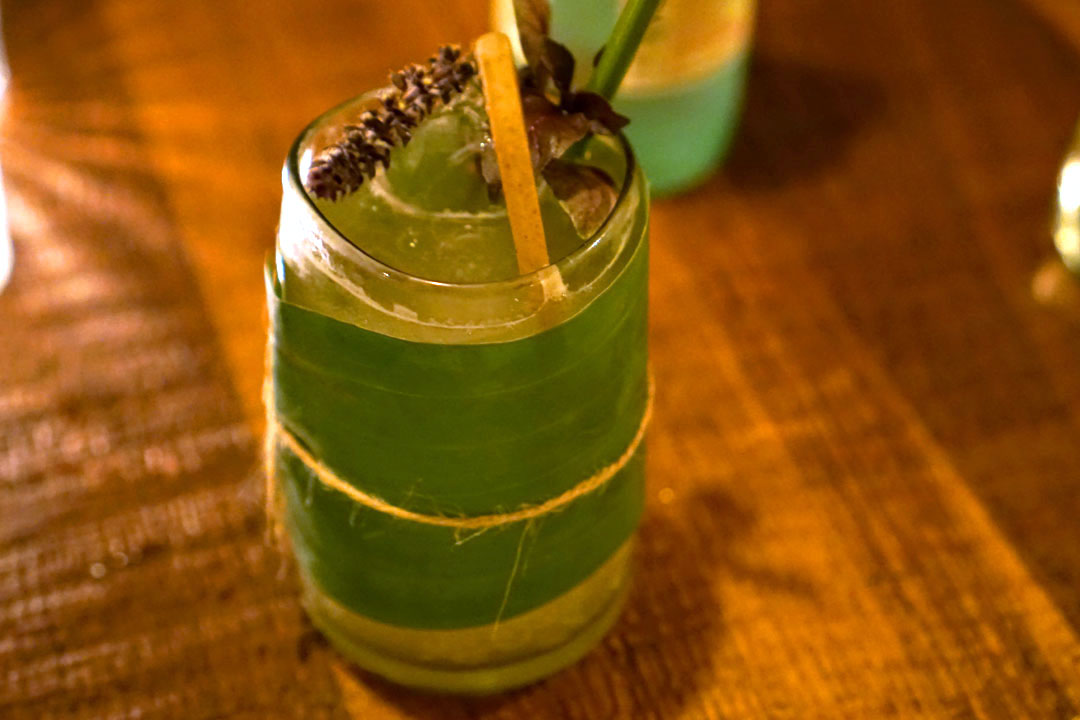 Ossum [$18.00]
| cherry stone kombucha, birch juice, white nectarine, sweet woodruff, distilled botanicals, aged apple spirit
After being presented with an apéritif of tangy, ferment-y kiwi tepache, we got into some cocktails. Our first demonstrated an undercurrent of subtle cherry flavor intertwined with sweetness from the birch, while the woodruff contributed a perfume-y, potpourri-esque fragrance that overarched the drink. I quite enjoyed it.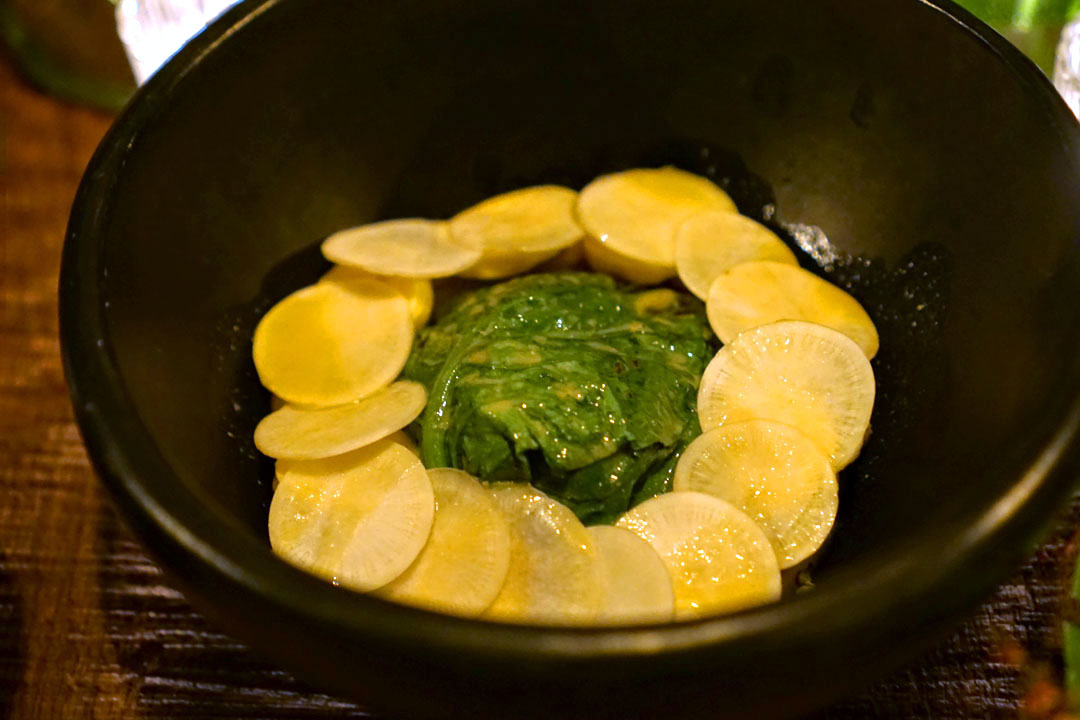 Wild Pacific Dungeness Crab [$58.00]
| gently warmed over the embers and dressed with coconut fat infused with roasted crab shells and allspice, cucumber molasses, slow-roasted turnips, and slices of heirloom banana
Food-wise, things got off to a promising start thanks to the Dungeness, which showed off a concentrated, focused crab flavor enhanced by a jus made from its head and meat. It was a joy to eat alone, but was even better when taken with the banana, a novel pairing that masterfully combined the sweetness of the two ingredients, with the cucumber molasses imparting further interest into the mix. Keeping it all in check, meanwhile, was the bitterness from the turnips and turnip greens.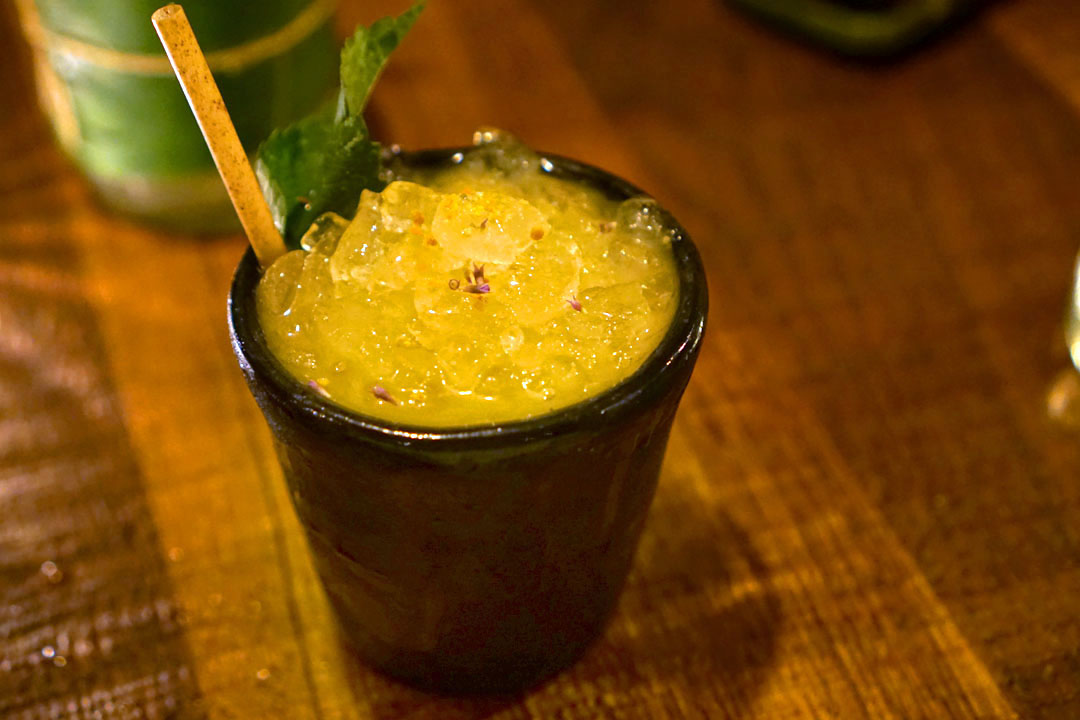 Apis [$20.00]
| pressed melon juice, anise hyssop, melon seed milk, aged grape liqueur, bee pollen-agave spirit
Next up was my favorite cocktail of the bunch. The key here was how perfectly the sweet, juicy nature of the melon was weaved into the milky fabric of the drink, all while bitter, nutty contrasts held things in balance.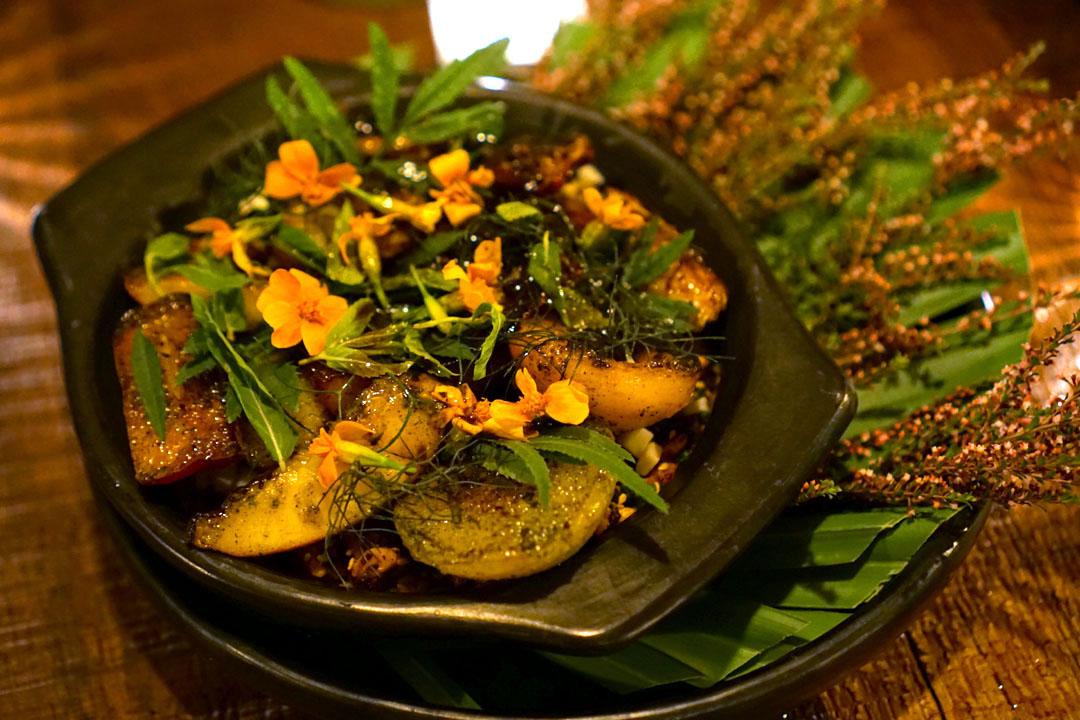 Caramelized Lobster Rice [$56.00]
| heirloom indica brown rice crisped in black clay, grilled lobster glazed with black jaggery and sugar kelp, roasted fruits of the moment, black butter, sea lettuce, and a crisp of roasted brazil nuts and aleppo chile
I'm generally quite wary of sweetness in my savories, and this dish was very sweet, but yet I didn't mind it. Somehow, the inherent sweetness of the lobster linked up surprisingly effectively with the deep, caramel-y notes present, as well as the lighter, juicier characteristics of the stone fruits. I think what made this work was the smoke and char elements, which kept the sugariness under control, and overall, the dish was just smartly seasoned, with its top layer of nutty and herby nuances being particularly crucial.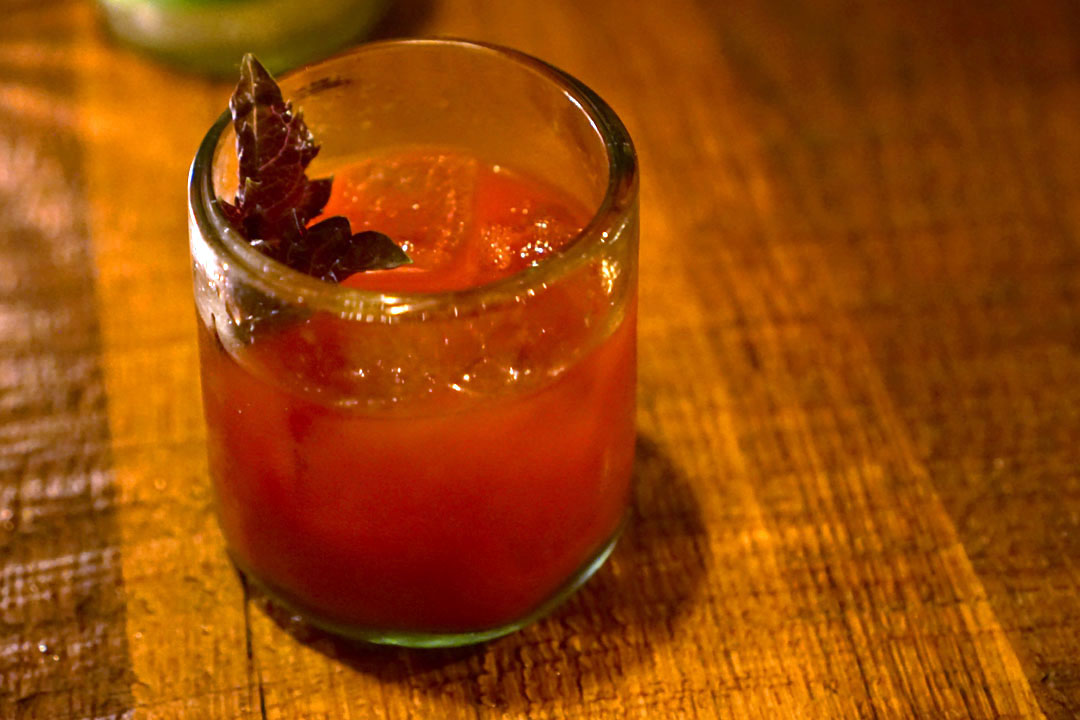 Zea [$20.00]
| ancient purple corn, pressed plum juice, apricot seed, avocado leaf, opuntia, aged corn spirit
This cardinal-hued cocktail featured a restrained-yet-palpable floral-fruity character at the fore, set over the familiar sweetness of purple corn, with the apricot seed functioning as a counterpoint.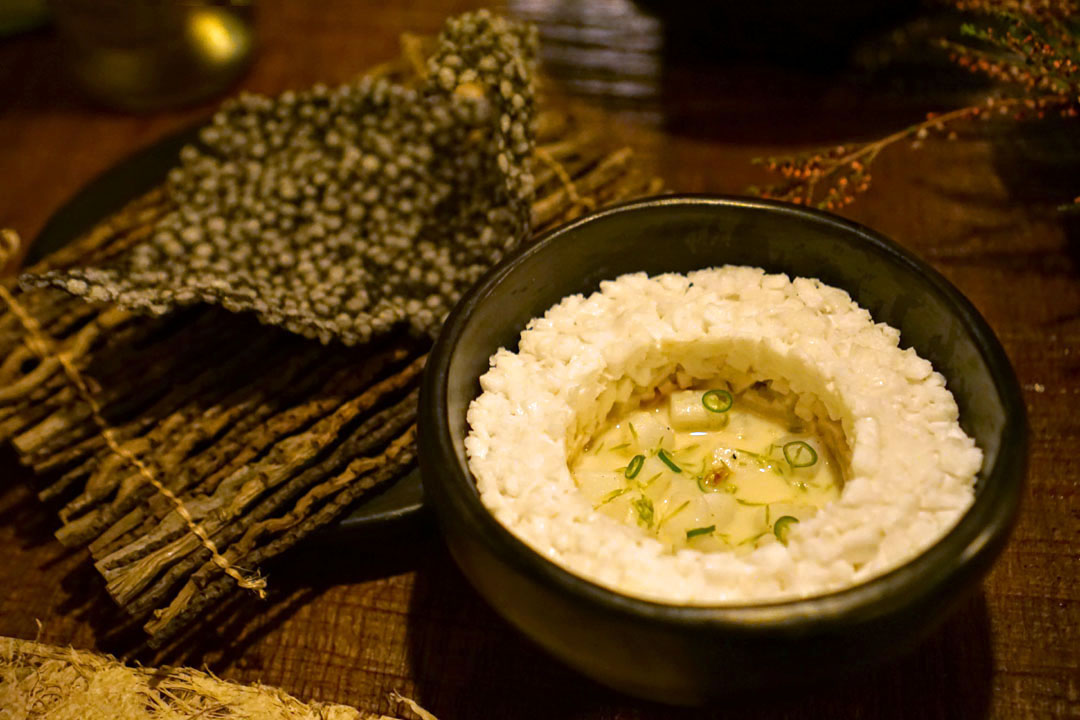 Bigfin Squid [$32.00]
| quickly grilled and seasoned with wild spruce and bird's eye chile, with young coconut, ripe cherimoya, crunchy jicama, and a vibrant dressing of macadamia nut milk
The squid was perhaps the most compelling preparation of the ingredient that I've tried. I loved how its mildly sweet taste melded with the dish's underpinning of heat and the potent, piney astringency from the spruce, which permeated the dish without overwhelming the delicacy of the bigfin. Also key was the mélange of textures and tempering effect provided by the ring of coconut-jicama-cherimoya, while the nut milk helped bring it all together. Nice hit of brine and crunch from the puffed squid ink chip, too.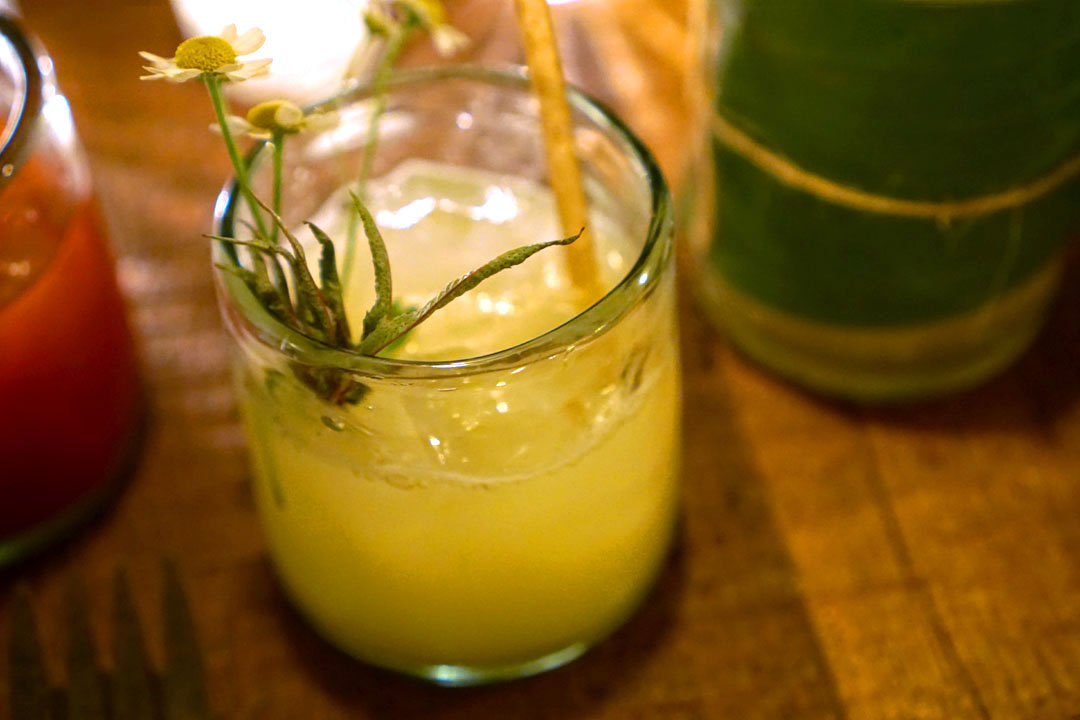 Erosus [$18.00]
| freshly-pressed sugar cane juice, lemongrass, jicama, ginger, biodynamic lime, wild corn and cane spirit
In our final cocktail, the vibrant sweetness of sugar cane married seamlessly with the unmistakable zest of lemongrass-ginger, and the lime, meanwhile, imparted a sourness that lightened things up. Do note that we requested this without alcohol, and I have to say that I didn't really miss the booze, as the drinks in general at Meteora are decidedly not on the spirit-forward side.
Wild Fire Morels [$38.00]
| grilled over smokeless coals, served with swiss chard stuffed with a jam of roasted duck jus, overripe plantain glazed with tamarind, spruce tips, and a griddled flatbread of young coconut and burnt wheat
Apparently, I was so excited to try this next dish that I forgot to snap a photo, but you can get a good idea of what it looked like
here
. When the course arrived at the table, it just seemed like a disparate collection of ingredients, but things actually came together rather well. We were instructed to wrap everything up in that substantial, well-griddled flatbread, which sort of set the stage. The woodsy morels were still the star, but layered on top was the back-and-forth between the sugary plantains and the piquancy of the spruce tip-micro turnip-pickled chard stem combination. Pretty neat.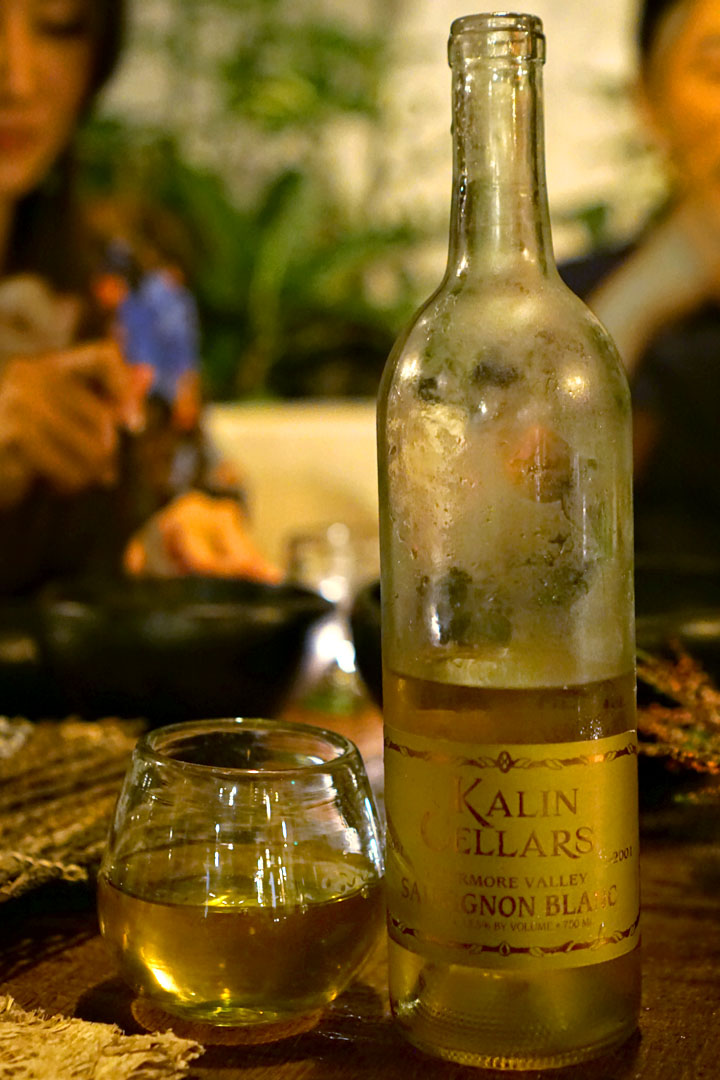 With the cocktails dispensed with, we moved on to some wine that we'd brought, the
2001 Kalin Cellars Sauvignon Blanc
from NorCal's Livermore Valley. Right off the bat, I could tell that this was quite unlike any other Sauv Blanc I've had. The nose was rich and nutty and a touch smoky, almost recalling sherry in fact. Those oxidative, nutty, nearly astringent notes continued on to the palate, where they were joined by distinct flavors of orchard fruits. A fascinating wine overall, and not a wine for everbody, that's for sure.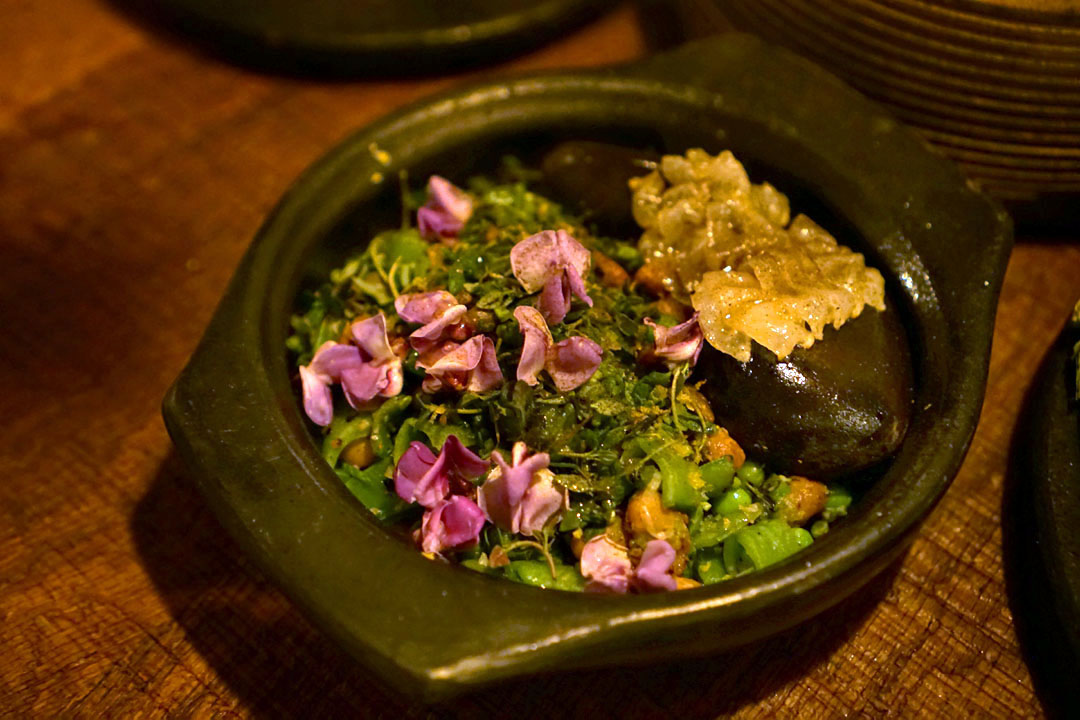 Snap Peas [$26.00]
| charred over hot stones with smoky pulses, spring onion, grilled pumpkin seeds, and hemp, finished with burnt garlic, cured pork fat, thyme, and sour orange
This next dish was a standout for me. I was a particular fan of the spicing, which almost veered Chinese-y (due to the black garlic I assume), not to mention the utilization of seeds and beans to ground the dish. And my favorite part? It was how the fat/caramelization/crispness of
ishiyaki
lardo was so expertly juxtaposed against the brightness of the peas.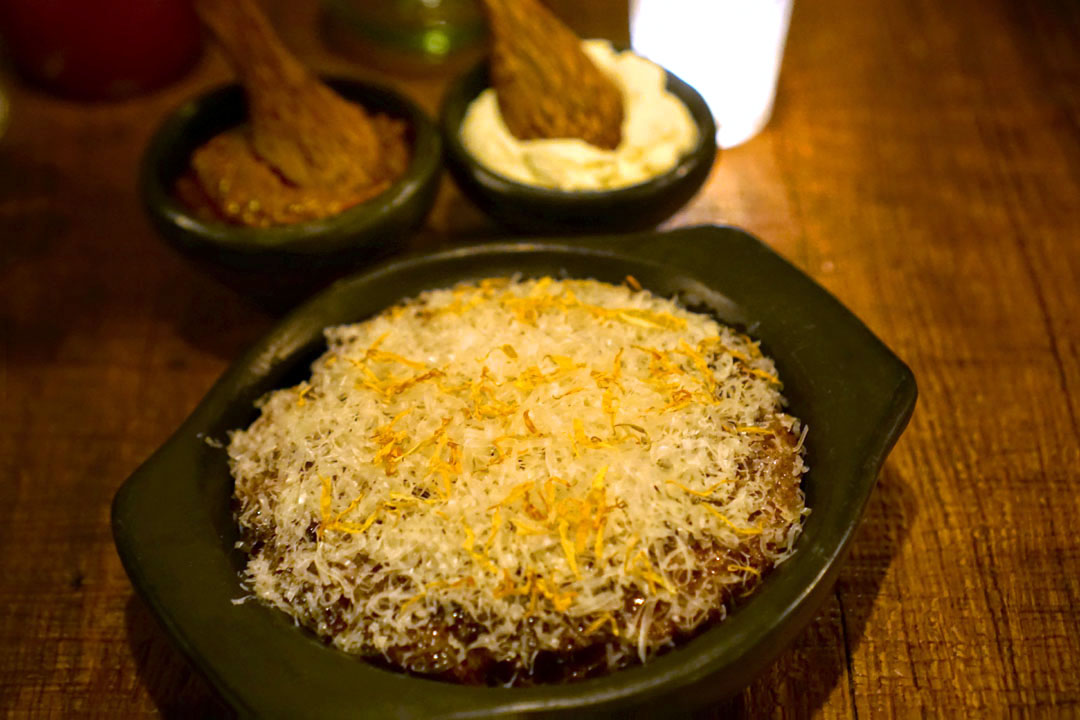 Wildflower Porridge Bread [$22.00]
| baked in a clay pan and brushed with coastal wildflower honey and aged goat's milk cheese, served with a condiment of charred heirloom peppers and passionfruit juice, with fresh buffalo milk curds
Here was bread unlike any other I've had, one with a crisp, substantial crust and a tender, yet rustic, gritty crumb. A brushing of wildflower honey right out of the oven lent a sweetness that matched up well with the grated chèvre, but things really opened up when the ricotta-like curds and nutty heat of the red pepper paste were applied--the two condiments completely changed the nature of the dish.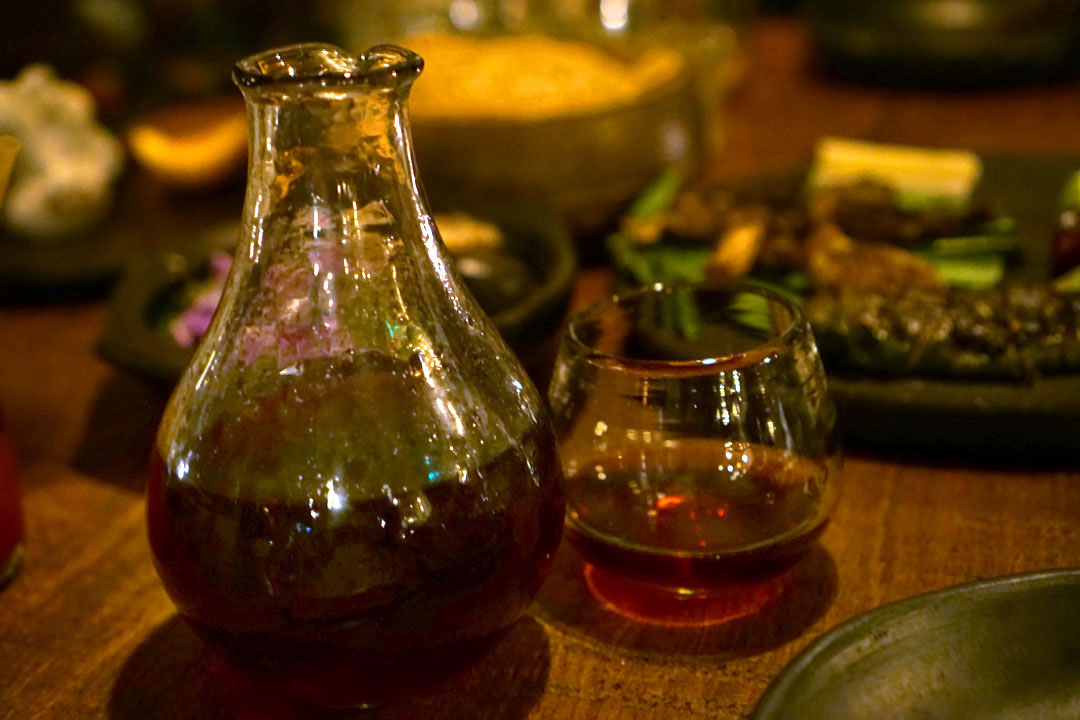 Our next wine was ordered off Meteora's (brief) list, the
Susucaru, Rosato, Frank Cornelissen 2018, Mt. Etna, Sicily
, which might be the darkest rosé I've ever had. The bouquet here really got my attention with its massive notes of super tart strawberry and flowers, laced with a touch of meatiness. Taste-wise, I found more of those tangy, fruity, floral, bittersweet, almost acerbic nuances, backed by a smidgen of funk.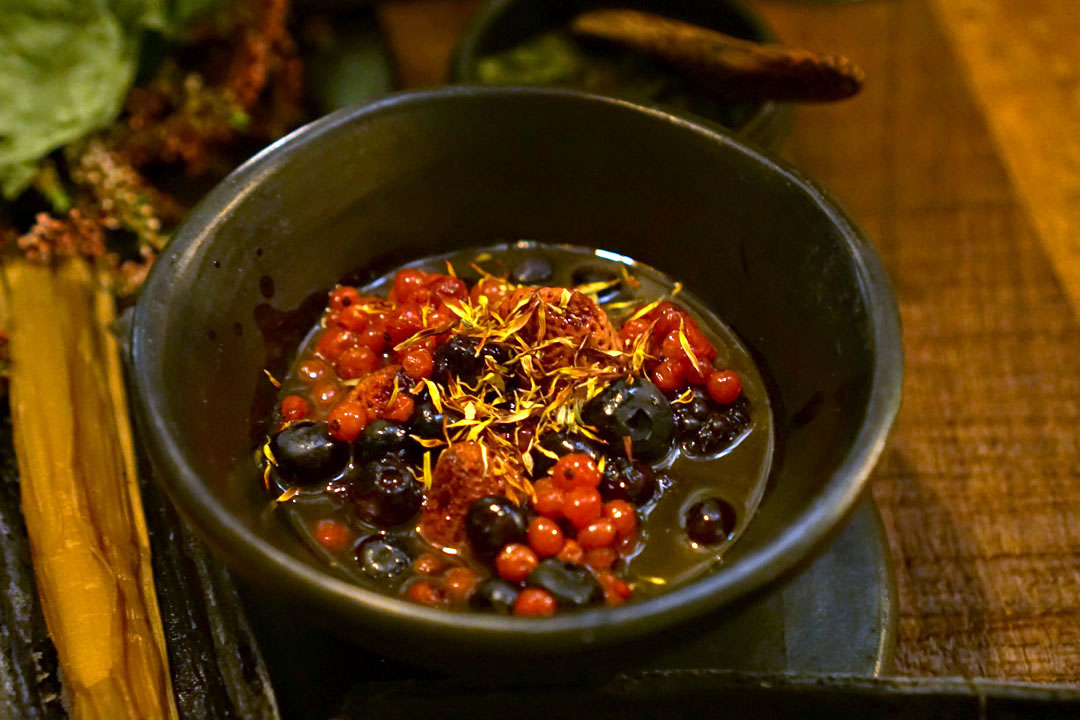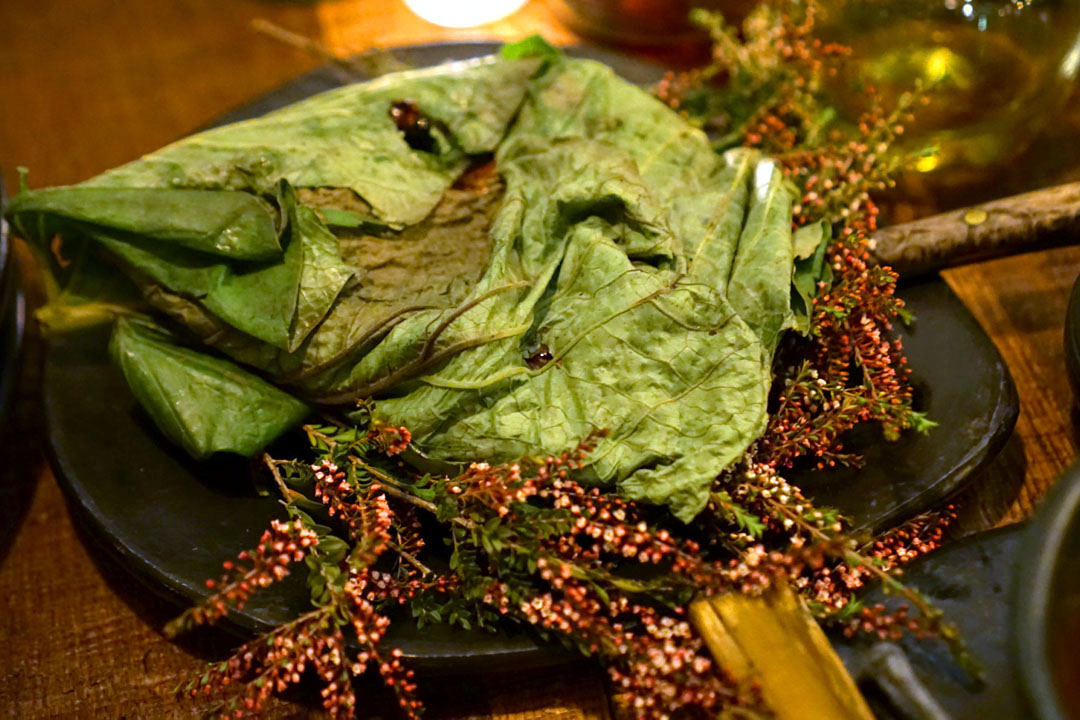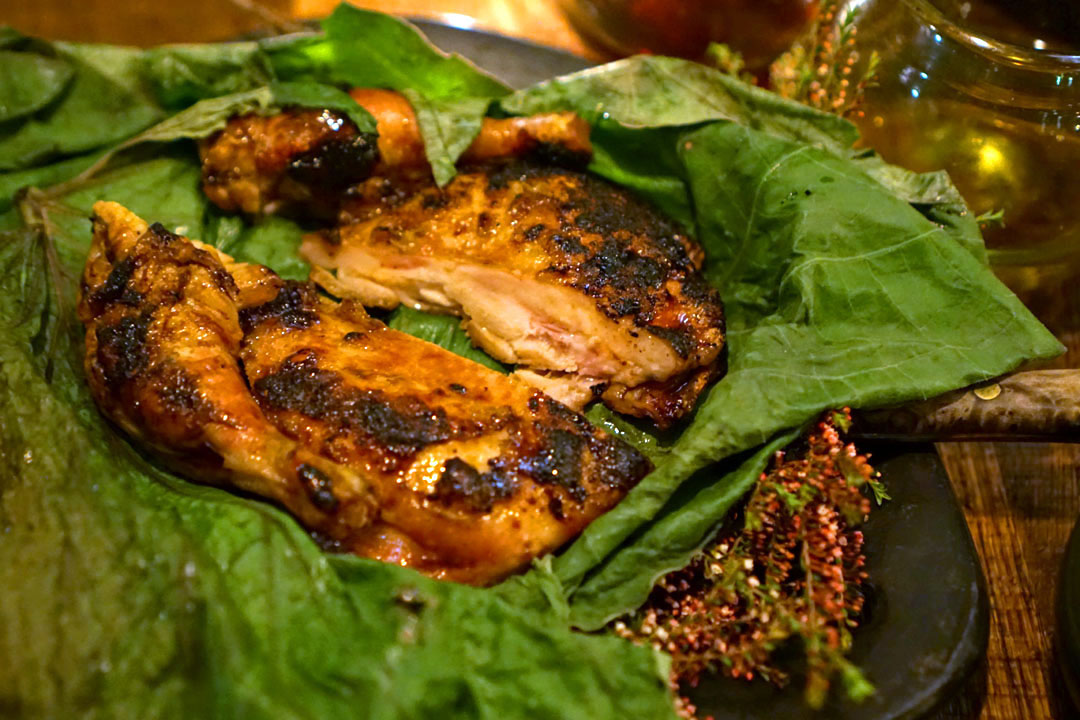 Aged Heritage Poussin [$56.00]
| caramelized over the fire with yacon molasses, wrapped in sacred pepper leaf, served with leek hearts roasted in aromatic charcoal crust, smoked berries, and a sauce of roasting juices
The poussin was impressive due to its sheer succulence, tenderness, and perfect amount of char, but even more so in how finespun, yet heady its seasoning was. The combo of hoja santa and yacón was the crux, imparting a sweet-spicy fragrance to the chicken that was evident, but still let the intrinsic goodness of the bird shine through. Soft, salt-crusted leek and smoked wild berries added further facets to the dish, but the hero was that roasting juice condiment (I believe it also contained chicken skin and sunflower seeds), which took things over the top and which I sort of wanted to put on everything.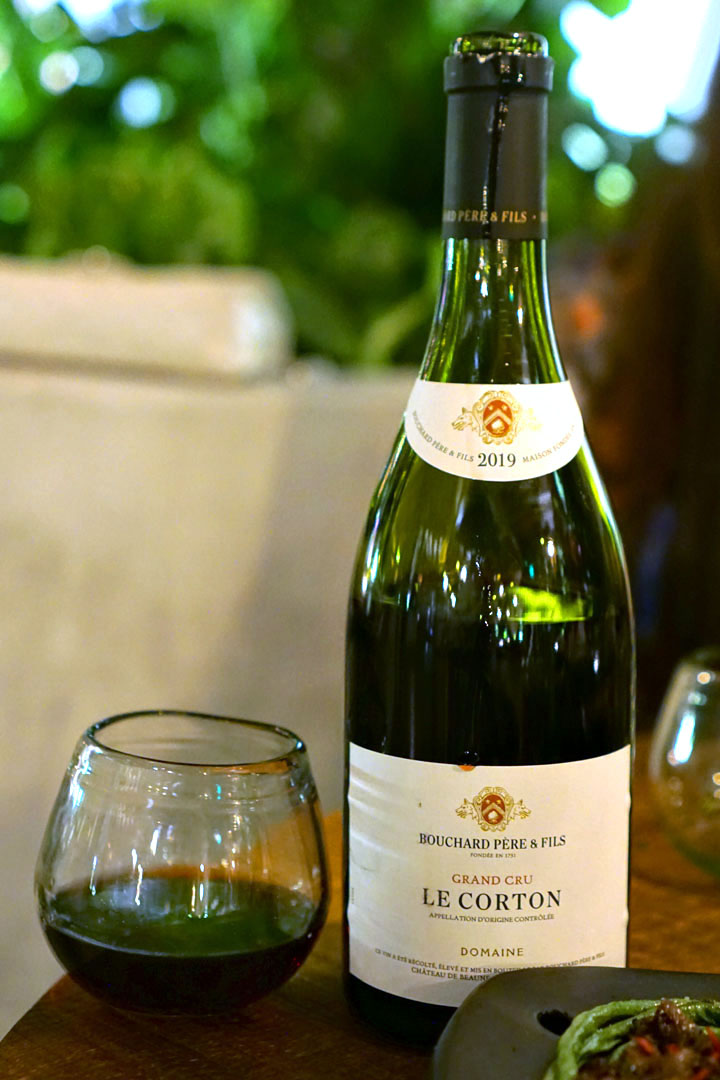 Our final wine was the
2019 Bouchard Père & Fils Le Corton Grand Cru
, also BYOB'd. This one showcased some really in-your-face aromas of smoke and nuts, backed by dark fruits, black pepper, and flowers. Tasting it, I got lots more of that nuttiness up front, leading to an explosion of jam on a sumptuous mid-palate, subsequently evened out by just enough spice and minerality. I don't usually drink Burgundy this young, so this was a very welcomed change of pace.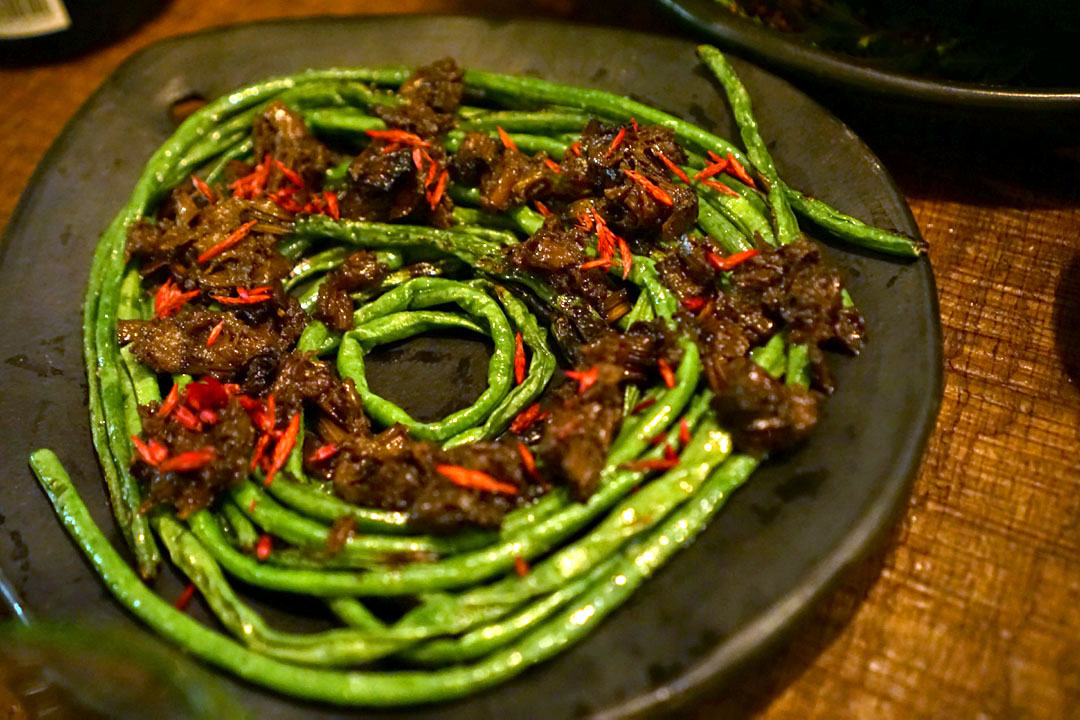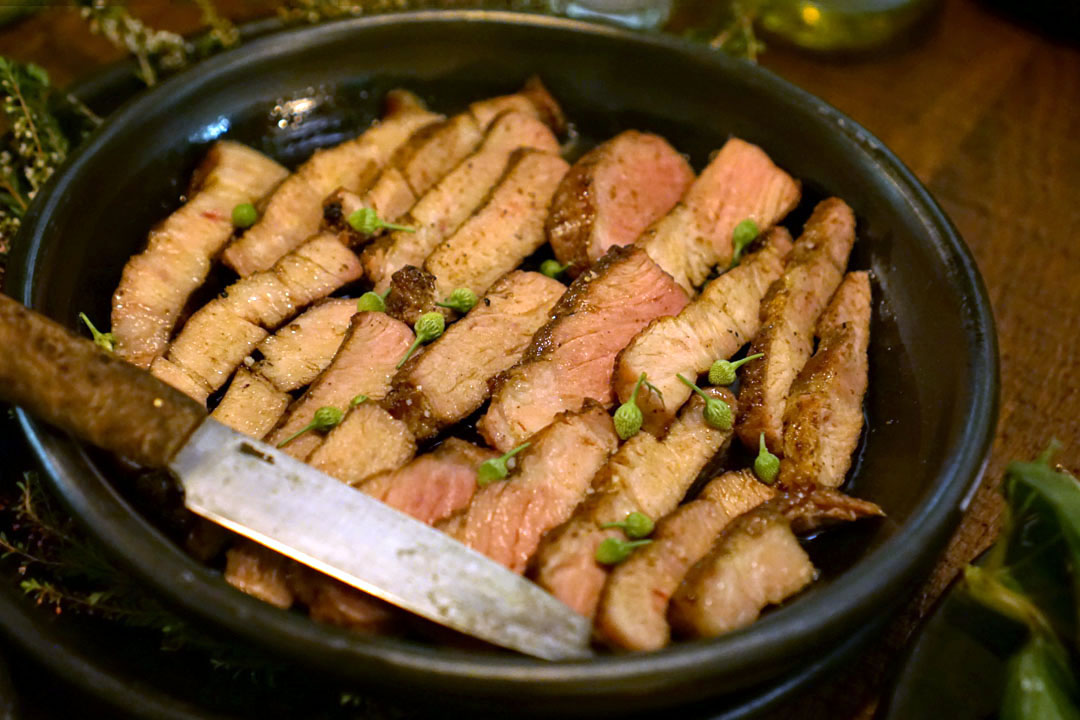 Hazelnut-Fed Pork [$68.00]
| basted with fragrant spice tree leaves, compote of field rhubarb and caraway buds, charred asparagus beans dressed with smoked rhubarb, and pork fat scented with toasted birch
In our final savory, pork arrived super juicy and oh-so tender, with a superb spicing that really let the innately porcine nature of the meat sing. It was some of the best pork I've had all year. Yardlong bean with piquant smoked rhubarb offered up some contrast, while even better was that compote, with its delightful anise-y zing.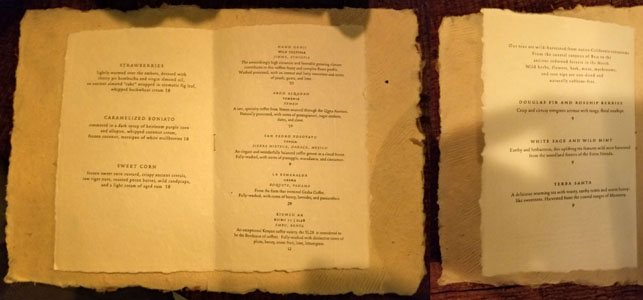 Meteora's dessert selection is surprisingly brief, but just as good of a read as the main menu, which isn't surprising given Kahn's substantial background in pastry. Click for a larger version.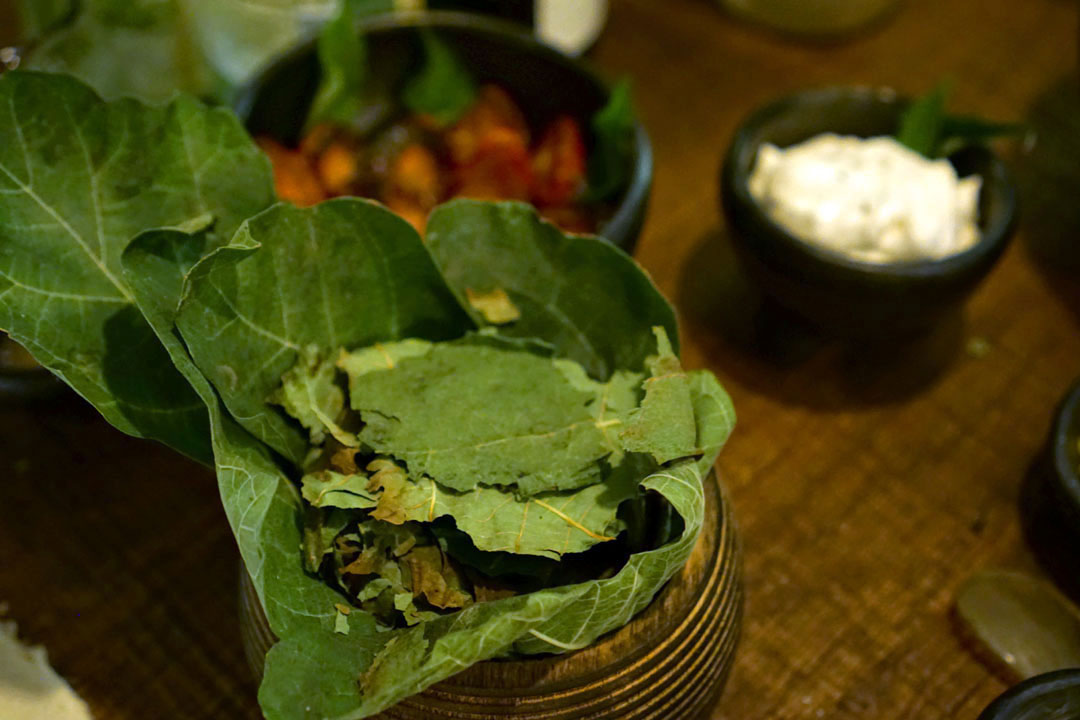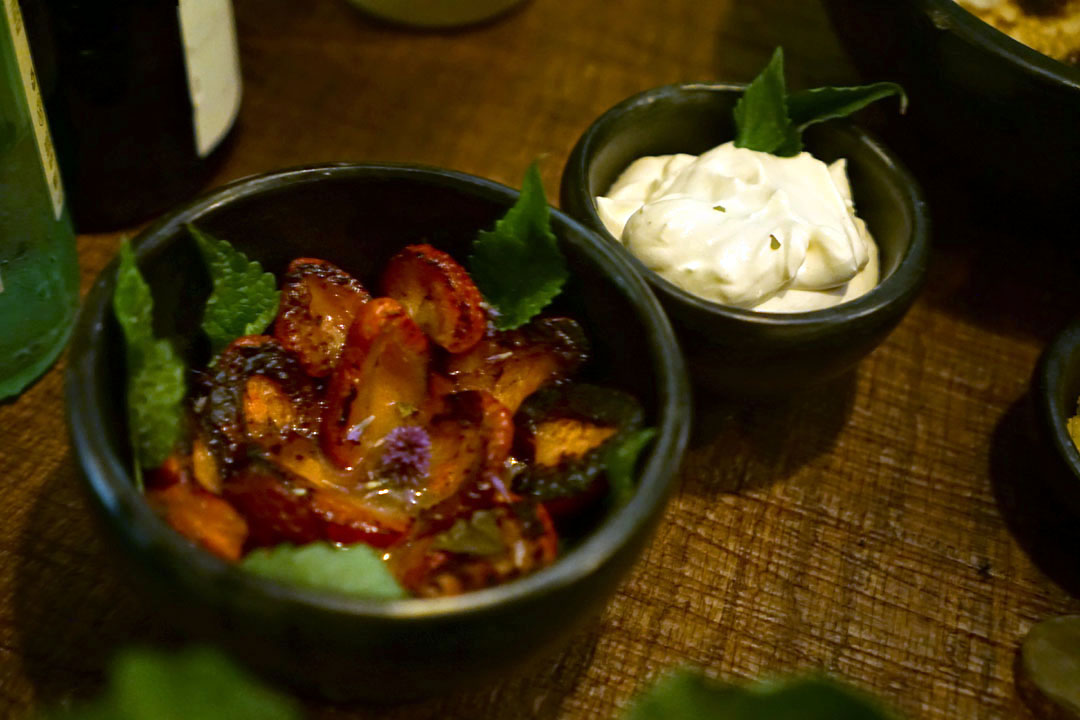 Strawberries [$18.00]
| lightly warmed over the embers, dressed with cherry pit kombucha and virgin almond oil, an ancient almond "cake" wrapped in aromatic fig leaf, whipped buckwheat cream
Warm, lightly smoky John Givens Farms strawberries were dressed with a vinaigrette of cherry stone kombucha and almond, making for a contemplative expression of the fruit. Accompanying the berries was a very dense, dry, crumbly, somewhat nutty oven-roasted "cake" of sorts. Taken together with the berries and buckwheat cream, it almost reminded me of a strawberry shortcake, but taken to the next level. Very cool.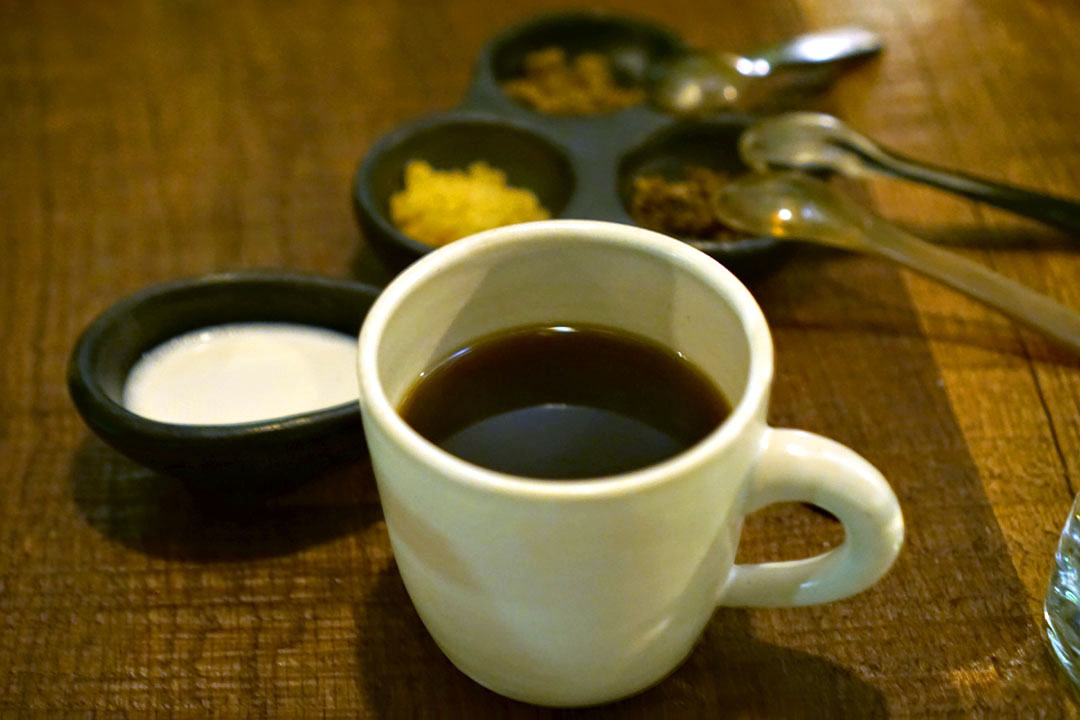 To go with dessert, I requested some coffee, the
Abdo Alqadah, Yemenia, Yemen [$19.00]
, which turned out to be the best I've had in a while. What really struck me here was how clearly the fruitiness of the brew was conveyed, while also being set against a backdrop of warm, aromatic spices. Very well-put-together.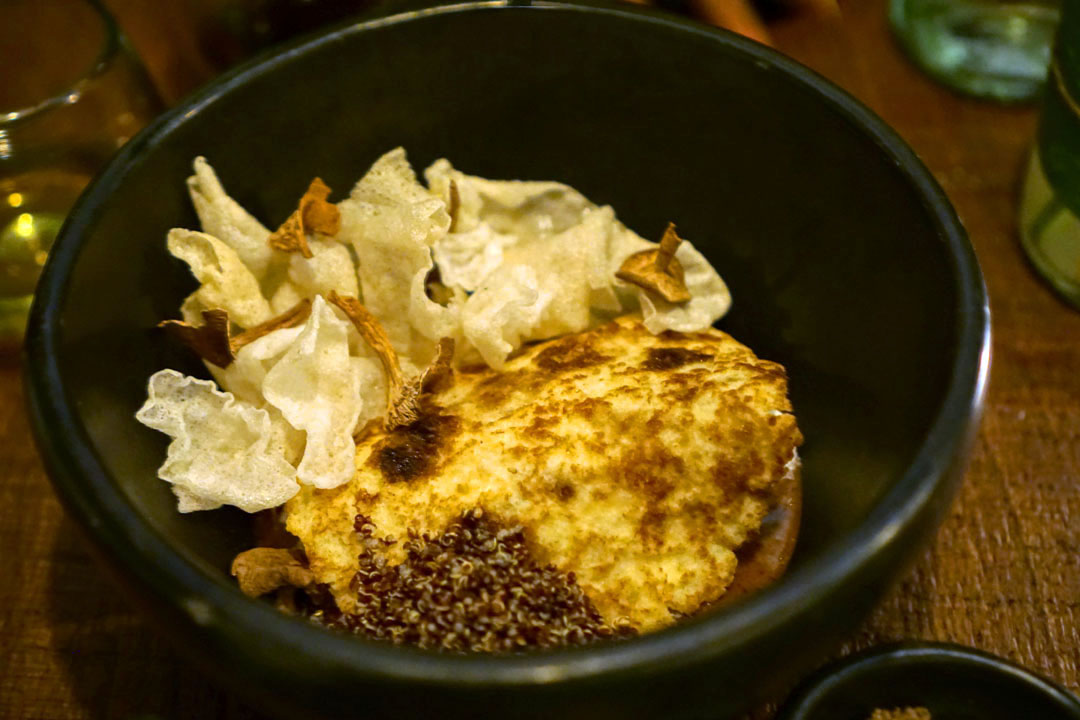 Sweet Corn [$18.00]
| frozen sweet corn custard, crispy ancient cereals, raw tiger nuts, roasted pecan butter, wild candycaps, and a light cream of aged rum
Our next dessert really came together beautifully. I appreciated how vibrantly the sweetness of the corn was expressed in the "ice cream," while dried candy caps and a rum-infused whipped cream boosted the intensity factor even further. Also present were shards of crêpe made with coconut, almond, and psyllium husk, but what really took this over the top was the one-two punch of a roasted pecan-birch syrup praline and the nutty-savory-crunch of those cereals. In addition, I'll note that the Chef stated that there was no sugar in the dish, and in fact, claimed that no refined ingredients at all are used in the restaurant.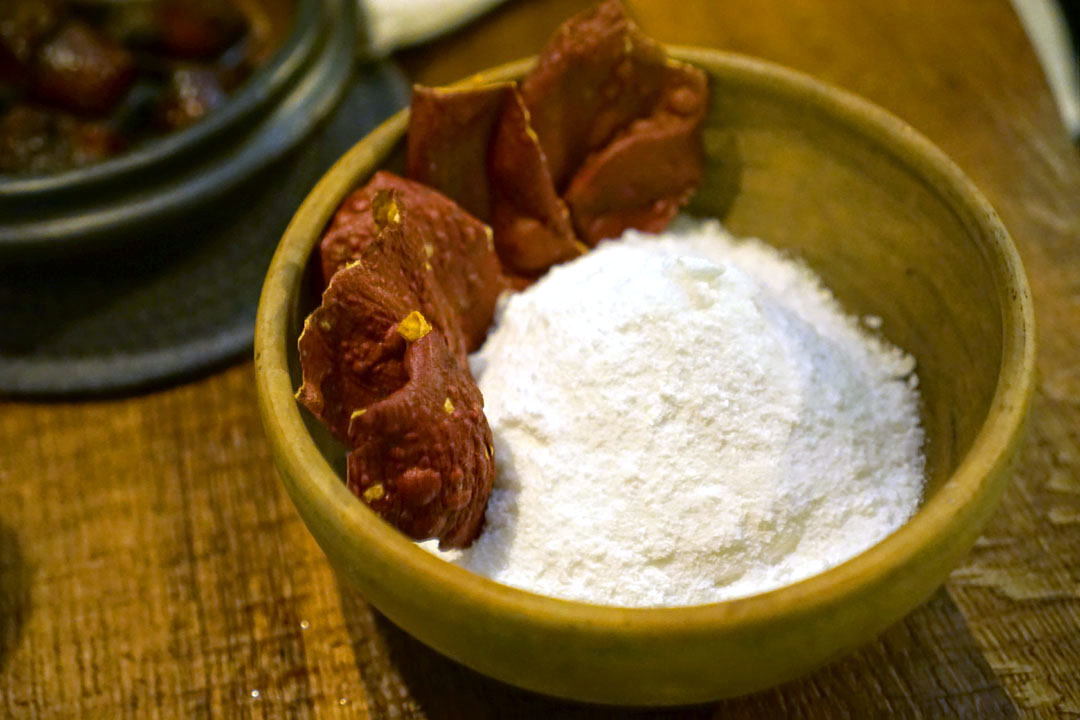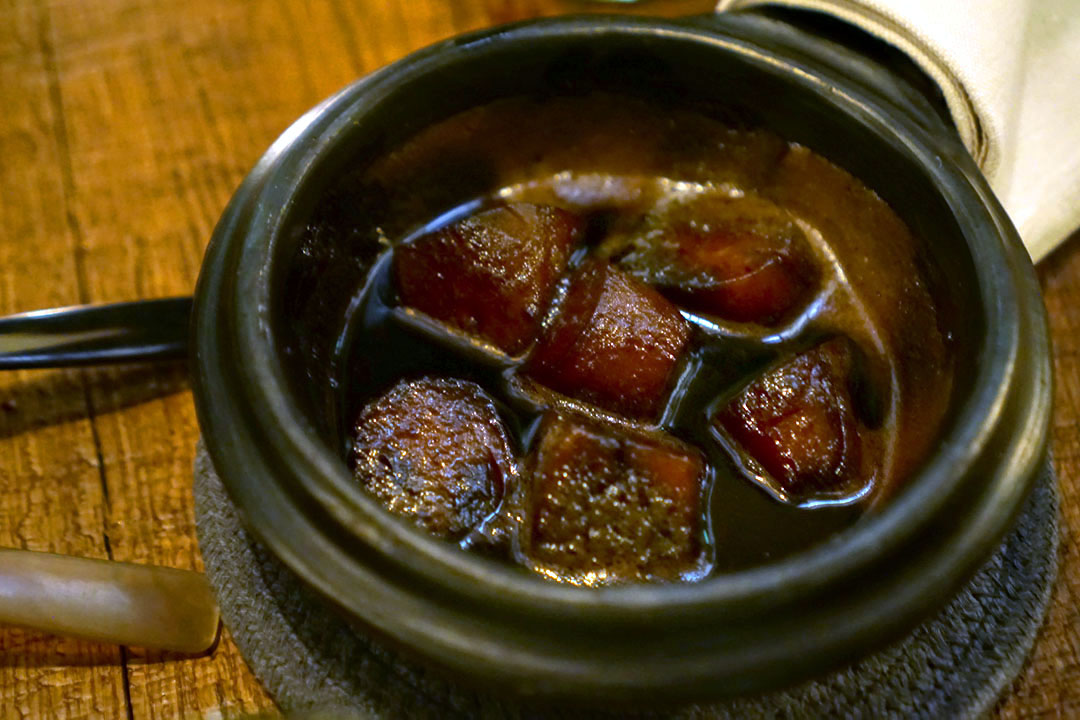 Caramelized Boniato [$18.00]
| simmered in a dark syrup of heirloom purple corn and allspice, whipped coconut cream, frozen coconut, marzipan of white mulberries
Last up was arguably my favorite of the desserts. I was a big fan of the wonderfully dark, sticky, sugary-spicy flavors of the sweet potato, and enjoyed eating it just by itself. That being said, the boniato was certainly improved with a serving of fluffy, frozen coconut, which really enlivened and elevated the dish. Nice crunch from the crispy sweet potato skins, too.
Meteora was a meal very unlike any other I've had in LA, which is an accomplishment given that I've been dining heavily in the Southland for the better part of two decades. The food here is difficult to classify, and after dinner, the descriptor that came to mind is "live fire-focused, elemental, naturalistic/modernist cooking with a pre-colonial Latin American bent." The cuisine is cerebral, yet primal, and I didn't have a proper point of reference for much of it, but I was happy to experience some legitimately new and exciting flavors. There's a lot going on in each dish to be sure, and a lot of it might not quite make sense, yet I laud Kahn and his team for attempting something truly original. I suspect that Meteora will be the most polarizing restaurant debut of 2022, from perhaps the most polarizing chef in the City.