Colibrí (Los Angeles, CA)
Colibri Pop-up at Los Balcones
1360 Vine St, Los Angeles, CA 90028
323.871.9600
www.colibripopup.com
Sat 08/19/2023, 06:00p-08:15p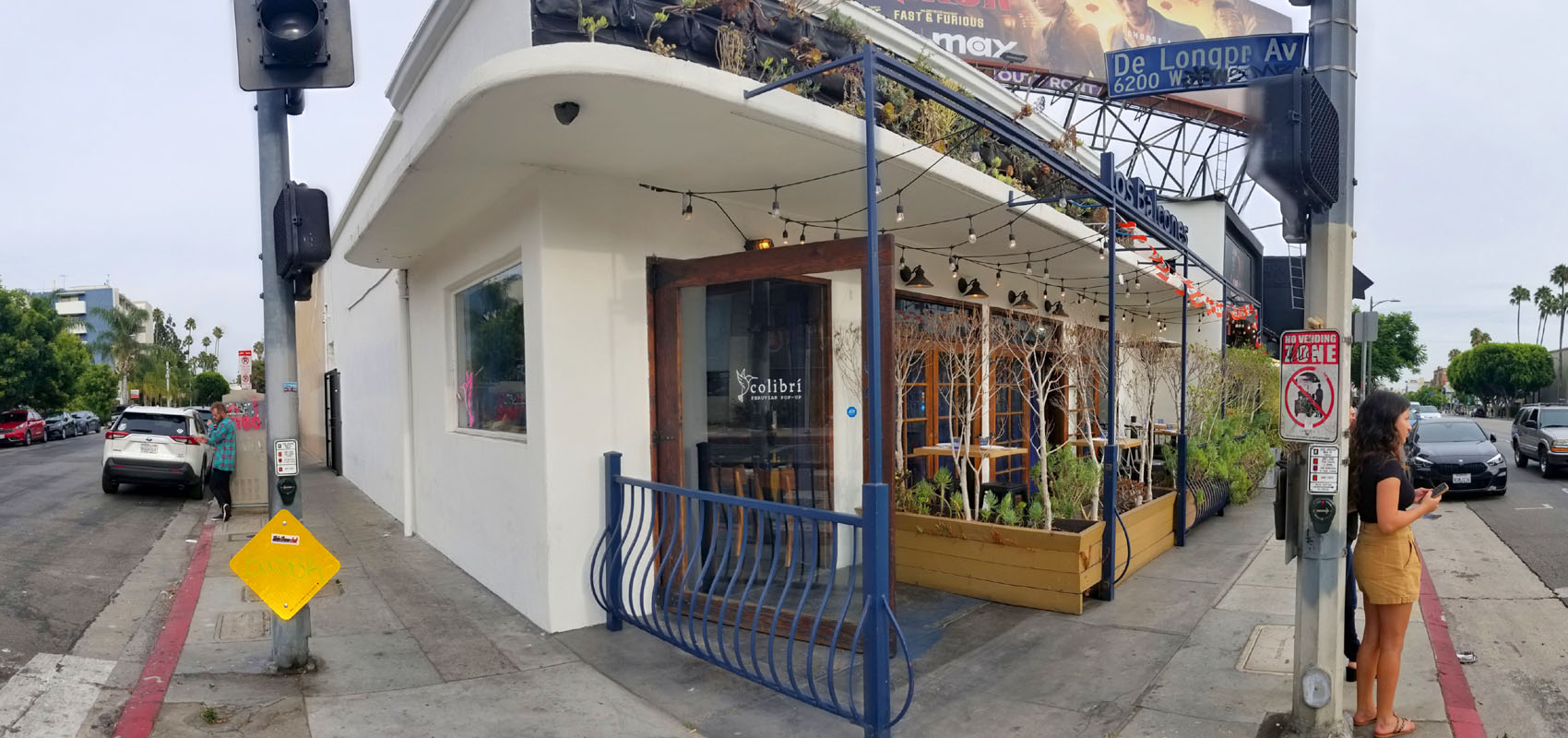 I last checked in with Ricardo Zarate back in August 2017, not long after the debut of
Rosaliné
. The restaurant had been somewhat of a go-to spot of mine in the area, and seemed to be doing well, so I was actually a bit surprised when I heard that he'd stepped away from the business. And indeed, Zarate's cooking has unfortunately been in fits and starts since then, as we can see below:
▪ In November 2017, the Chef shut down Mamacita, which was the fast-casual sister restaurant to Rosaliné, situated at the Hollywood & Highland complex.
▪ He opened the Nikkei-inspired Once at The Palazzo in Las Vegas in March 2018, but the place closed at the end of February 2020. There were also plans for an outpost in Carroll Gardens in Brooklyn, but that never came to be.
▪ Zarate helped create the menu at the Studio City location of Los Balcones (in the old
Girasol
space). The restaurant opened in December 2018, but was an early victim of the pandemic.
▪ February 2019 saw the debut of Zarate's Pikoh in Sawtelle. It started out as an all-day, non-Peruvian eatery, but pivoted to a dinner-focused Peruvian joint in September that year before folding a month later.
▪ In December 2019, the Chef teamed up with the folks behind
Mama Lion
to overhaul the food program there. His new menu launched at the start of 2020, but his involvement appeared to have lasted about two months or so.
▪ In February 2022, Zarate opened a Cal-Peruvian restaurant inside the Short Stories Hotel in Beverly Grove, but his menu there only ran for a few months.
▪ More Nikkei-style Peruvian cuisine arrived with the debut of Causita in April 2022. The place took over the former home of
Sawyer
in Silver Lake, and was created in partnership with Chris Feldmeier and David Rosoff, the guys behind
Moruno
. This one closed in December.
And this brings us to Colibrí ("hummingbird"), the Chef's latest venture. Set in Jorge Rodriguez Assereto's Los Balcones (formerly known as
Los Balcones del Peru
), the Peruvian pop-up launched in December last year. It was followed by a second Colibrí in April, located within the old Onizuka space in West Hollywood and serving Italian-influenced Peruvian fare (in partnership with
Michael Fiorelli
, no less). Given that it'd been a while since we'd had Zarate's food, a group of us decided to pay Colibrí a visit for a recent birthday dinner.

Inside, things were certainly brighter and cheerier than they were during the Los Balcones days.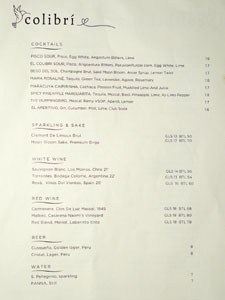 As for the menu, yet get the sort of Peruvian fare we've come to expect from Zarate, while drink-wise, think cocktails and a smattering of wine and beer. I will note that the restaurant ran out of the tiradito and churros, as well as two of the cocktails (Mama Rosaliné, El Aperitivo), which was annoying given that we were one of the first parties to be seated. Click for larger versions.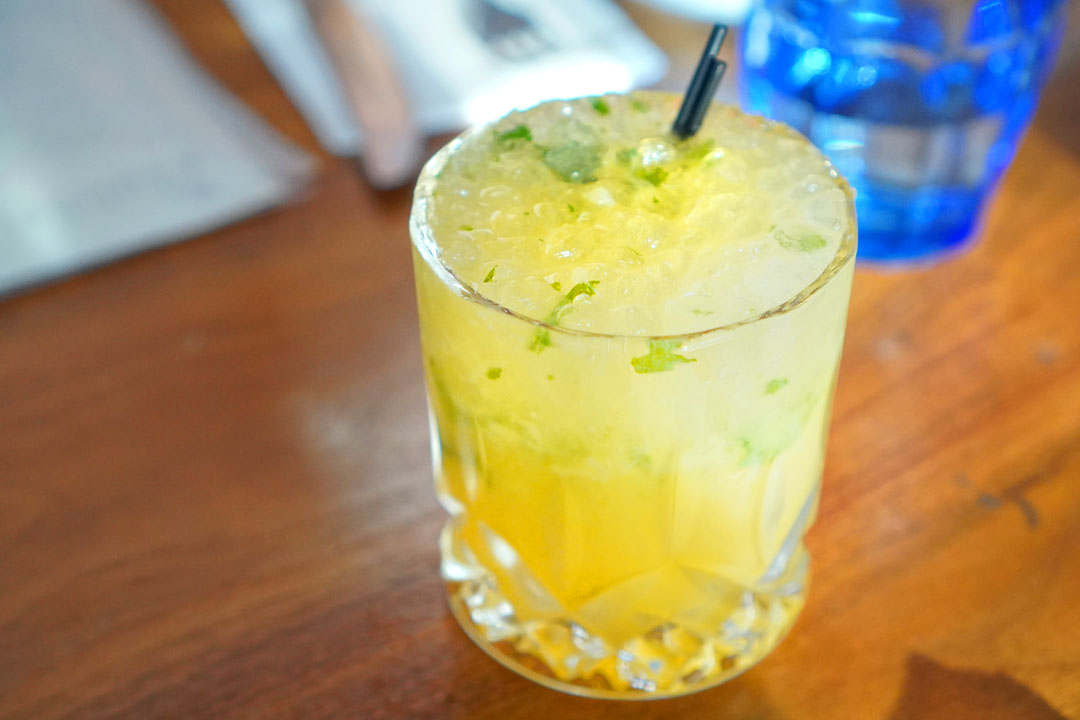 Maracuya Caipirinha [$17.00]
| Cachaça, Passion Fruit, Muddled Lime and Juice
We ended up trying all of the cocktails (that were available), and up first was this take on the caipirinha. I found it a pretty straightforward rendition of the Brazilian staple, but with an additional tropical element courtesy of the passion fruit.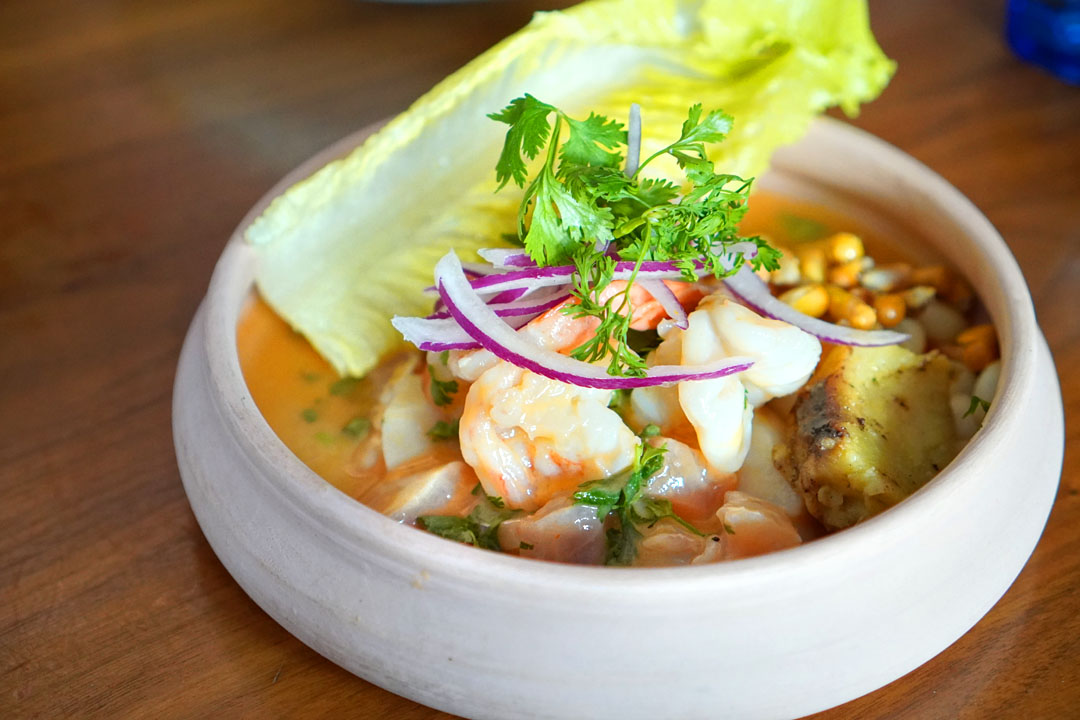 Ceviche Mixto [$22.00]
| Shrimp, Scallop, Sea Bass, Sweet Potato, Cancha Corn, Choclo, Leche De Tigre
I'm generally a fan of ceviche, but this one failed to deliver. The dish just wasn't cohesive, perhaps because it was lacking in acidity. More worryingly, there was a touch of "stale oil" character from the toasted corn that was a bit off-putting.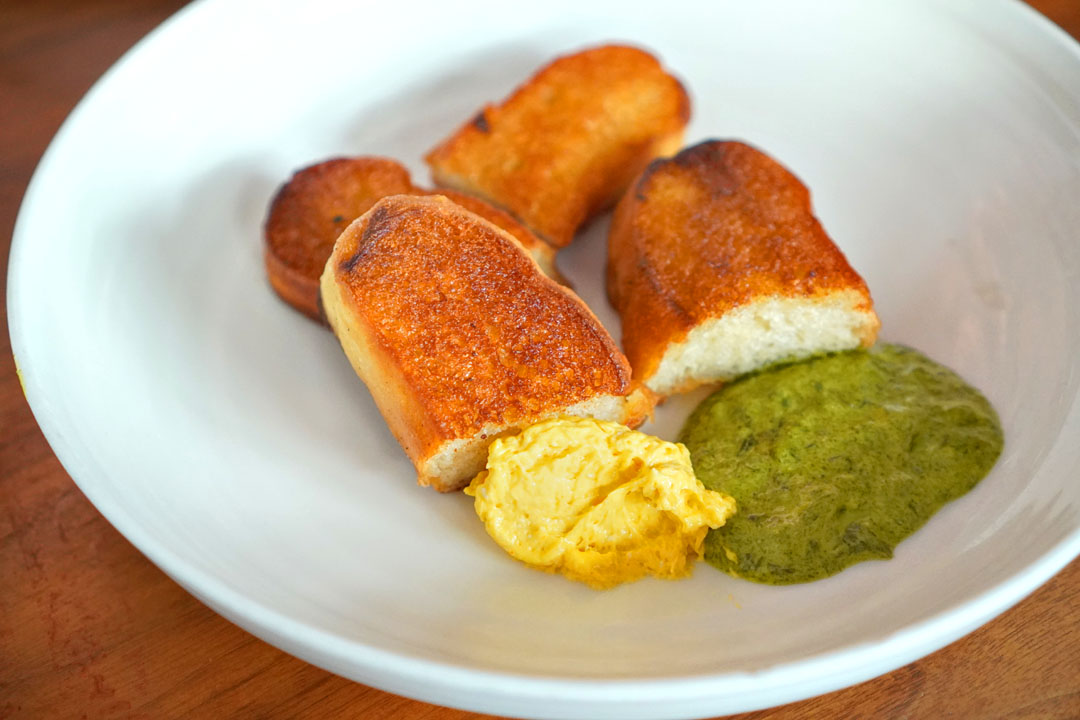 Warm Sesame Semolina Bread + Aji Amarillo & Huacatay Butter [$9.00]
Bread arrived crisp and buttery, and was quite tasty, though I didn't get much from the advertised sesame. Accoutrements included a creamy, almost cheesy ají amarillo sauce, as well as a zesty huacatay-enriched butter.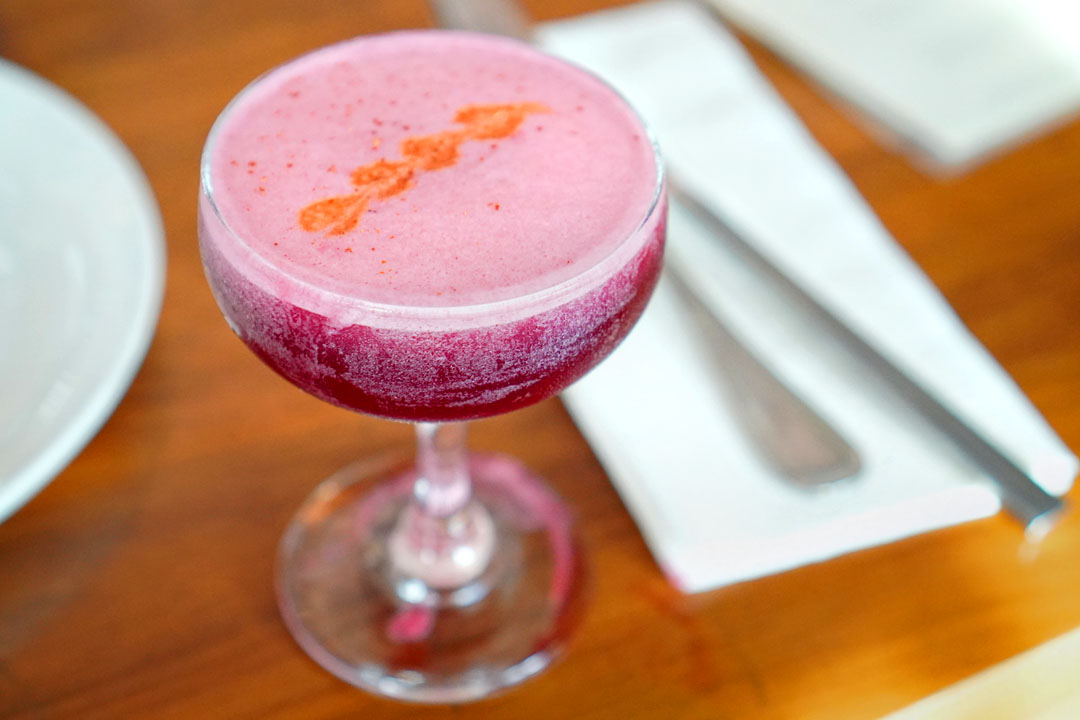 El Colibri Sour [$17.00]
| Pisco, Angostura Bitters, Peruvian Purple Corn, Egg White, Lime
Next to imbibe was a riff on the venerable pisco sour. The cocktail was actually surprisingly astringent, with a tangy, eggy quality and a nearly chocolate-y underpinning.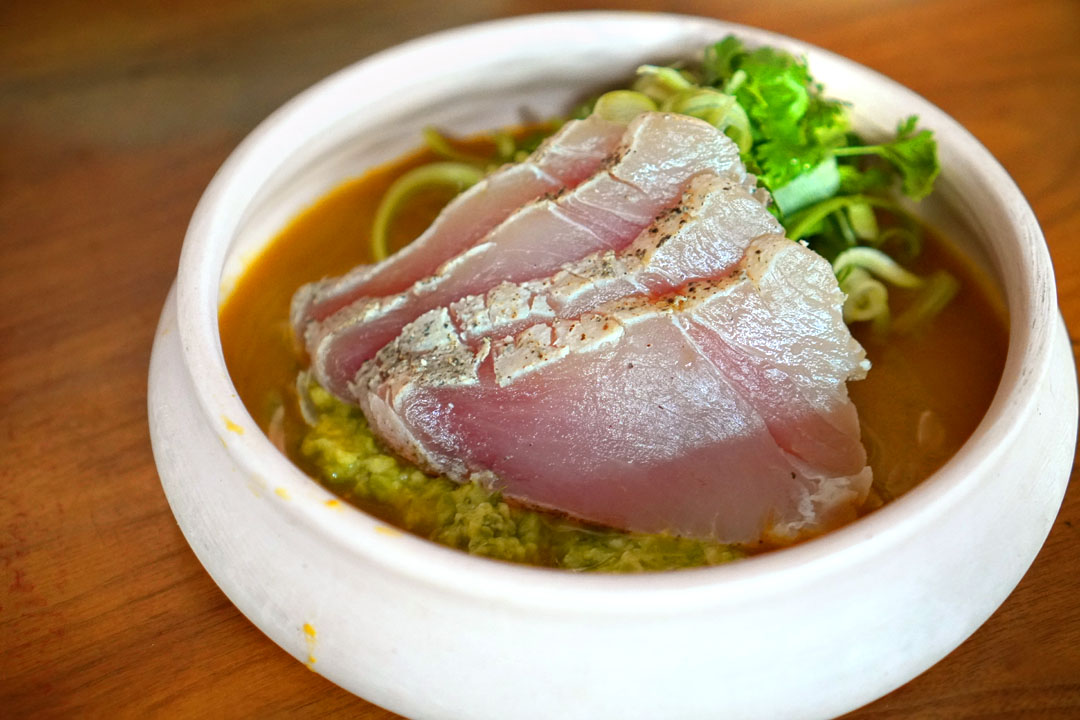 Seared Albacore [$20.00]
| Aji Amarillo Ponzu Dressing, Avocado Relish
Awkwardly large cuts of tuna were mildly seasoned, so the sourness and savoriness imparted by the ponzu was absolutely key, as were all the minty, herbaceous notes present.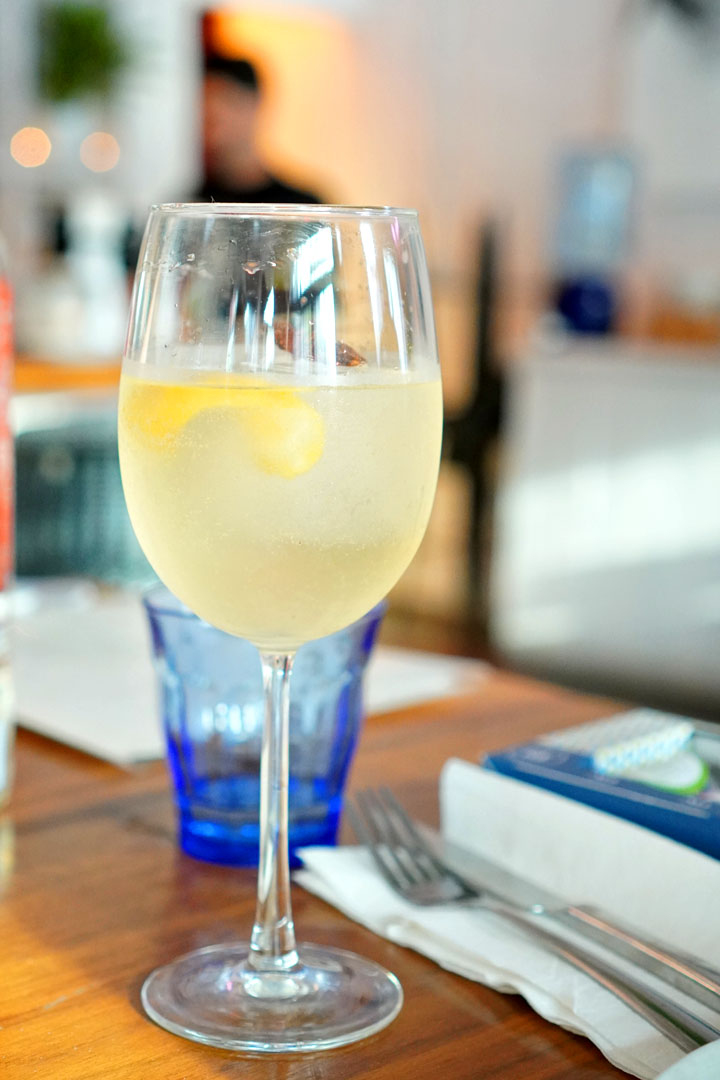 Beso Del Sol [$17.00]
| Champagne Brut, Saké Moon Bloom, Anise Syrup, Lemon Twist
Given the glass it was served in, it came as no surprise that this cocktail was on the sweeter side. Fortunately, it wasn't overly so, as the anise was pretty discernable, and I appreciated how the Champagne made itself known as well.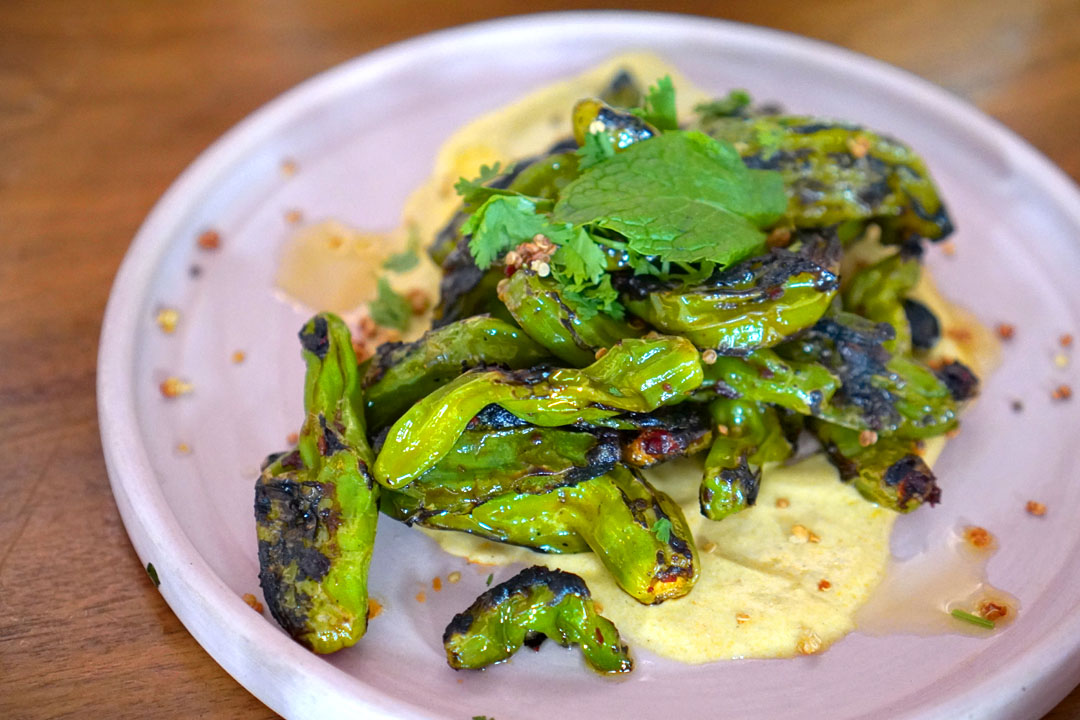 Charred Shishito [$14.00]
| Aji Amarillo Labneh, Chili, Garlic
The shishitos were some of the spiciest I've had, with a real prickly, lingering heat. The yogurt helped moderate things somewhat, and I quite liked all those nutty bits, too.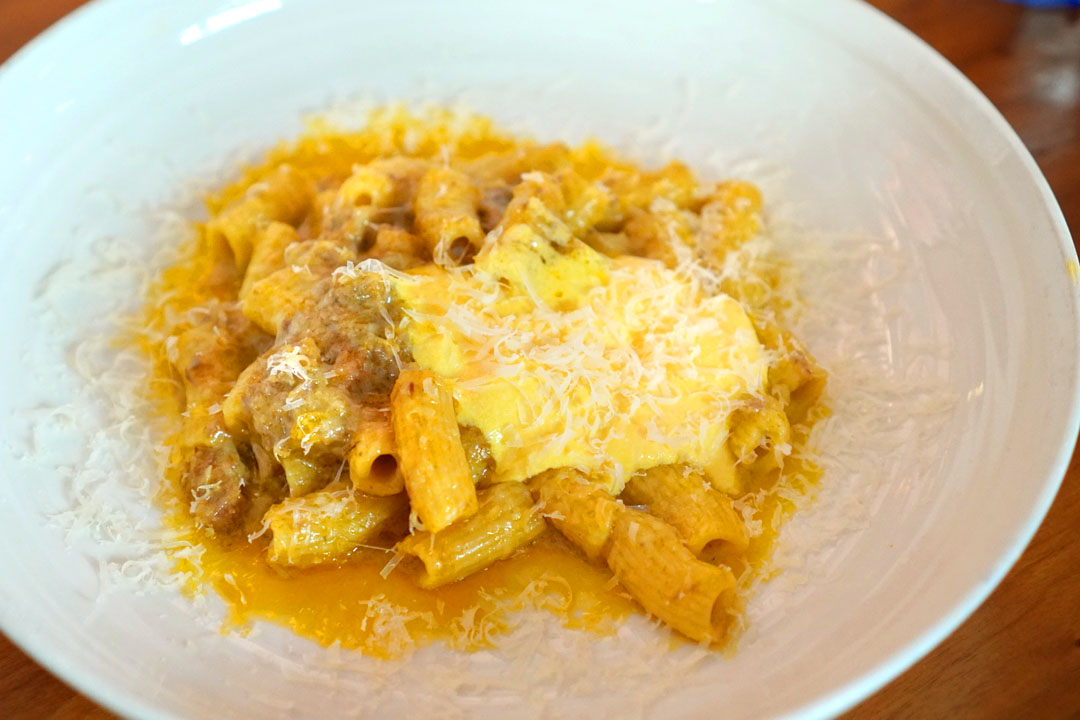 Rigatoni [$22.00]
| Beef "Ragu Stew", Huancaina Ricotta
Curiously, the evening's first pasta course reminded me of the frozen chimichangas of my childhood (especially the texture of the beef), while others in my party found it reminiscent of chili fries. That being said, we all quite enjoyed the dish.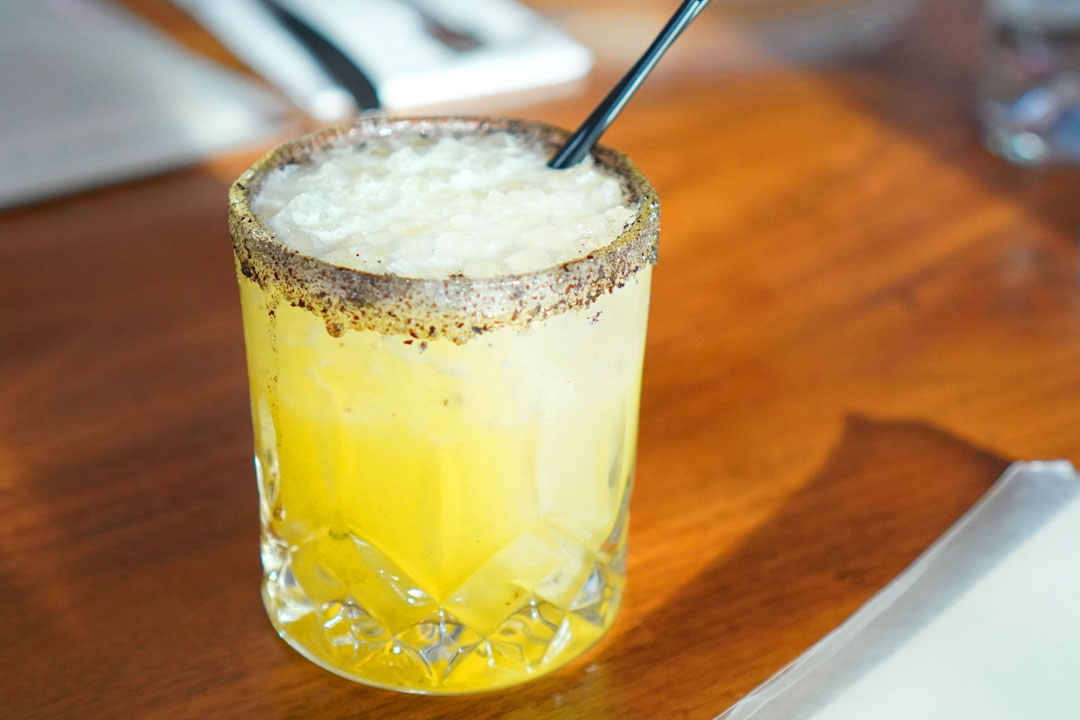 Spicy Pineapple Marguarita [$18.00]
| Tequila, Mezcal, Basil, Pineapple, Lime, Aji Limo Pepper
The next cocktail was a margarita variation, one that really packed a spicy, long-lasting punch due to the use of those chilies, with the tangy pineapple working to offset the heat.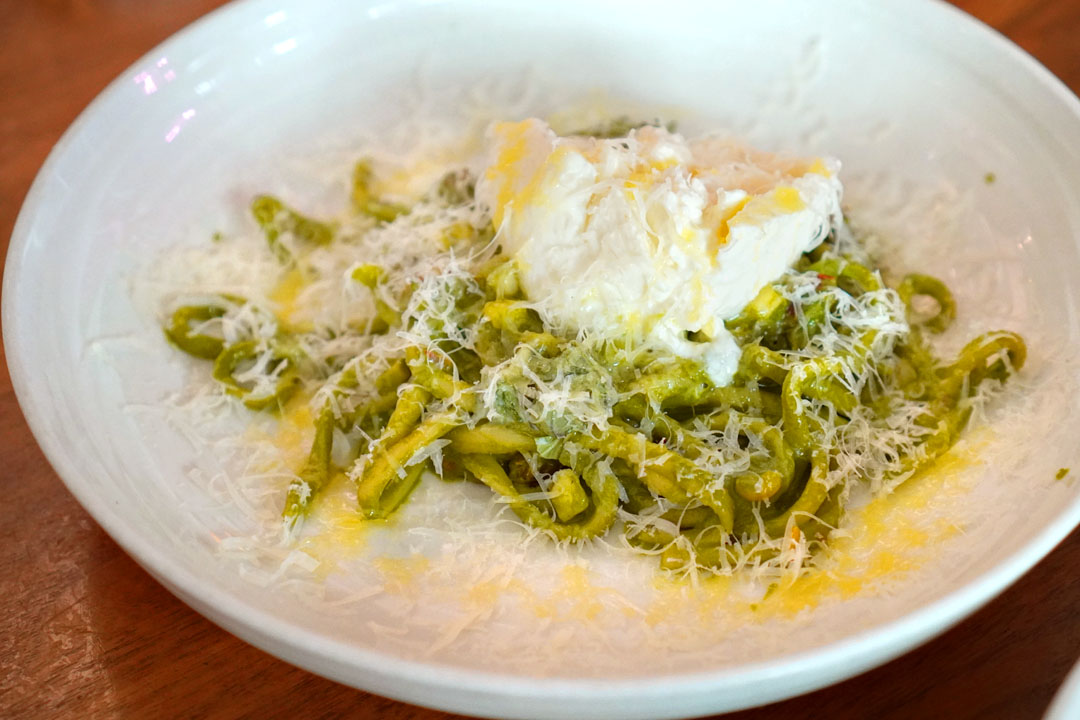 Tallarines Verde [$24.00]
| Aji Pesto, Sweet Corn, Sun Dried Tomato, Fresh Burrata
Our second pasta dish featured some well-textured noodles, and the zippy, vegetal flavors of the pesto made a lot of sense when taken with that burrata. I enjoyed the sweet finishing touch from the corn to boot.
Pisco Sour [$16.00]
| Pisco, Egg White, Angostura Bitters, Lime
A pretty much by-the-book version of the most iconic of Peruvian cocktails largely delivered. I appreciated its generally tart disposition, softened by the egg whites and accented by the bite of Angostura, but again, what stood out to me the most was the drink's cacao-like nuances.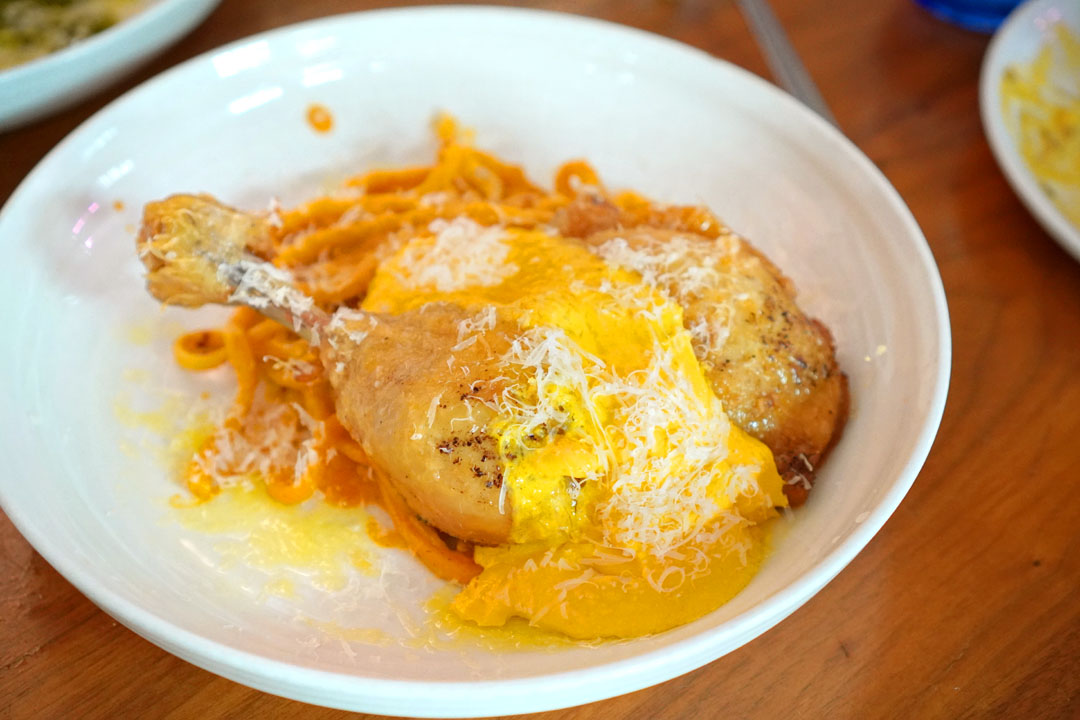 Tallarines Rojos [$26.00]
| Hand Made Bucatini, Tomato Ragu, Confit Fried Chicken, Huancaina
Bucatini showed off a lovely chew, and meshed easily with the tangy flavors that you'd expect from the tomato sauce. As for the chicken itself, I found it assertively flavored and decently textured, thus serving its purpose in the dish.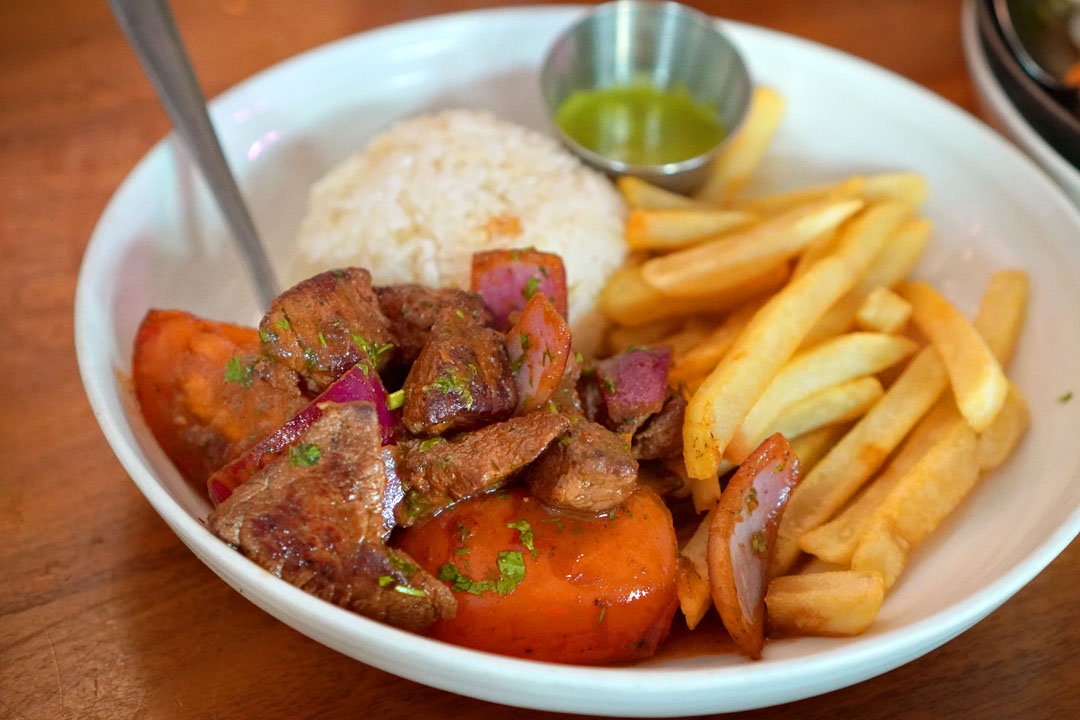 Lomo Saltado [$28.00]
| Filet, Tomato, Red Onions, White Rice, Fresh Fries, Aji Verde
Sadly, the lomo saltado was a bit of a letdown. The steak itself was reasonably tender, but I wanted more aggressive seasoning and sear. The veggies and rice were as they should be, but the fries were limp. The various elements just didn't really come together to form a whole.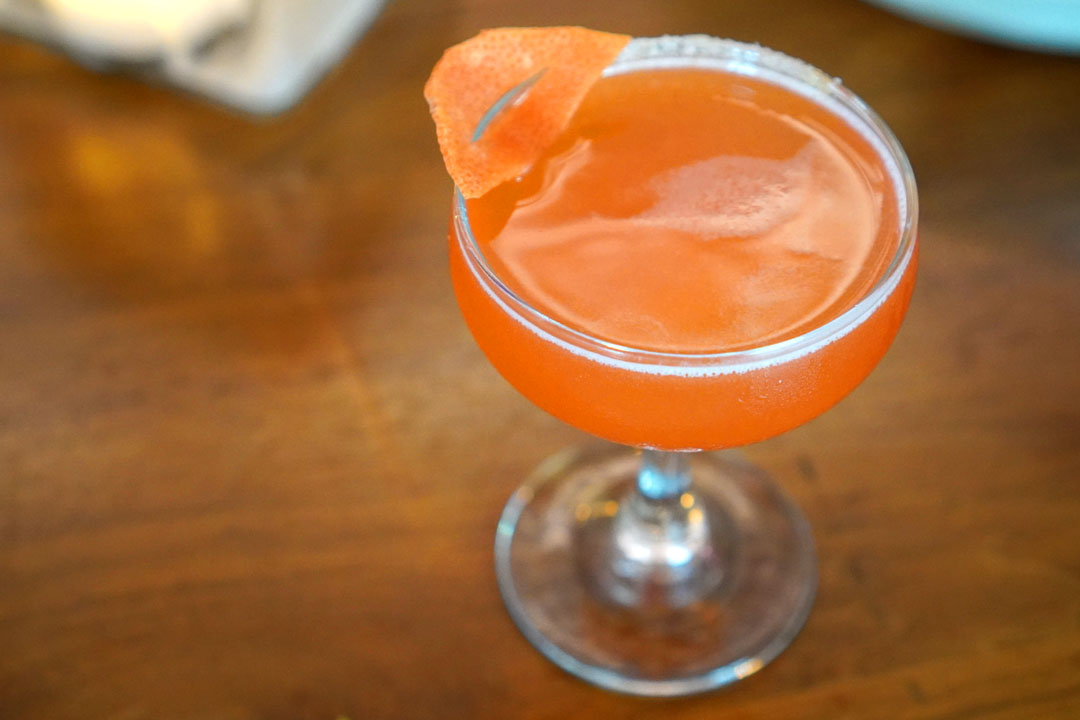 The Hummingbird [$17.00]
| Mezcal, Remy VSOP, Aperol, Lemon
The final cocktail on the list demonstrated fruity, citrusy notes right up front, but with a bitter, medicinal backbone that kept things in check.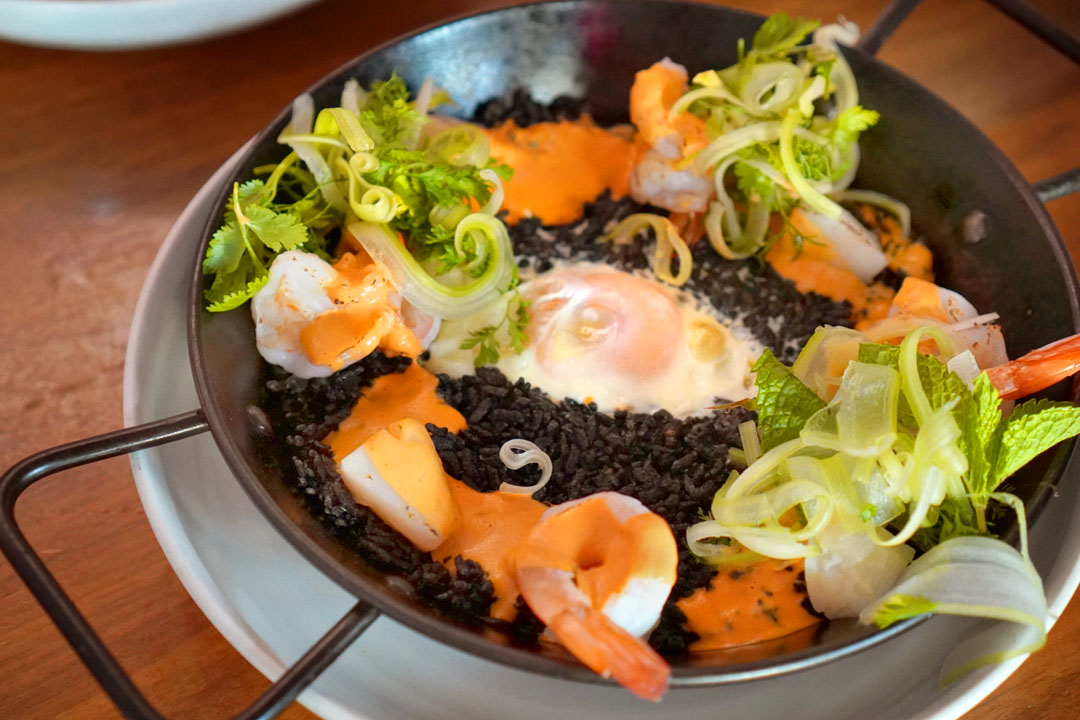 Chaufa Paella [$25.00]
| Squid ink Rice, Shrimp, Scallop, Mixed Herbs, Seafood Aioli
This mash-up of fried rice and paella didn't quite hit the mark. The rice was acceptably textured, but was lacking in socarrat, and really could've used more sear and smoke. Meanwhile, the shrimp were cooked to the right consistency, but underseasoned. Celery and mint offered up some contrast, and I didn't mind that aïoli either, but again, this was lacking in cohesion.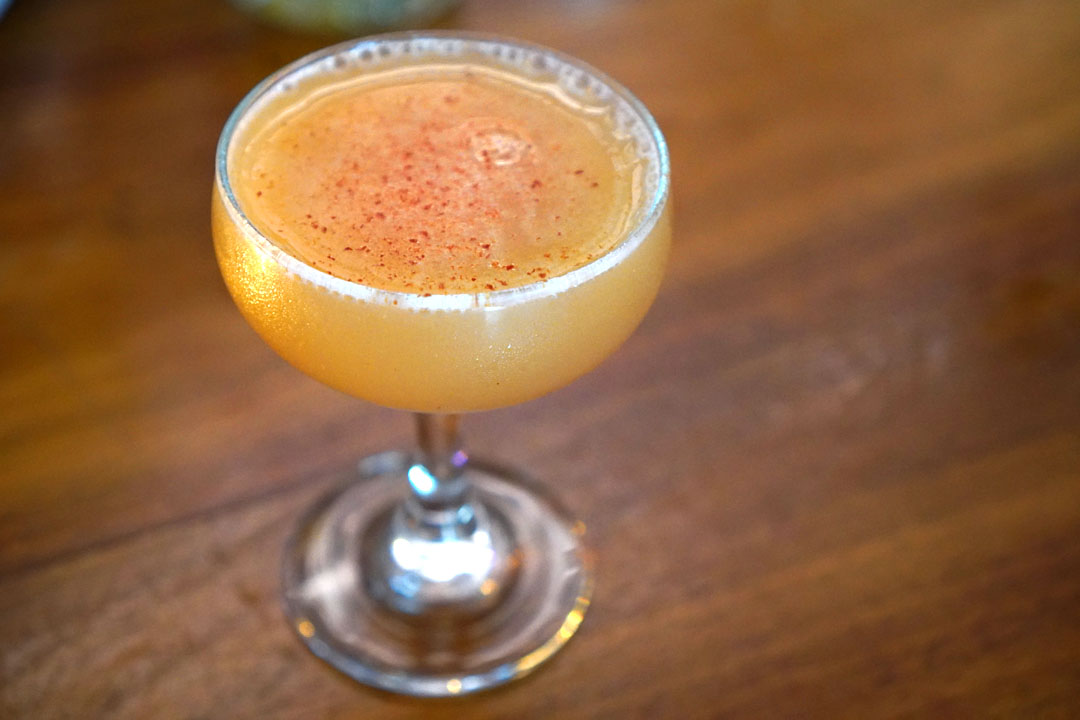 The Banana Stand [$15.00]
| Pisco, Cacao, Banana, Cinnamon
There was a cocktail special offered this evening, so of course we felt compelled to give it a try as well. It just might've been my favorite of the bunch, with its deep, sugary banana flavors perked up by smidgens of cinnamon-y spice.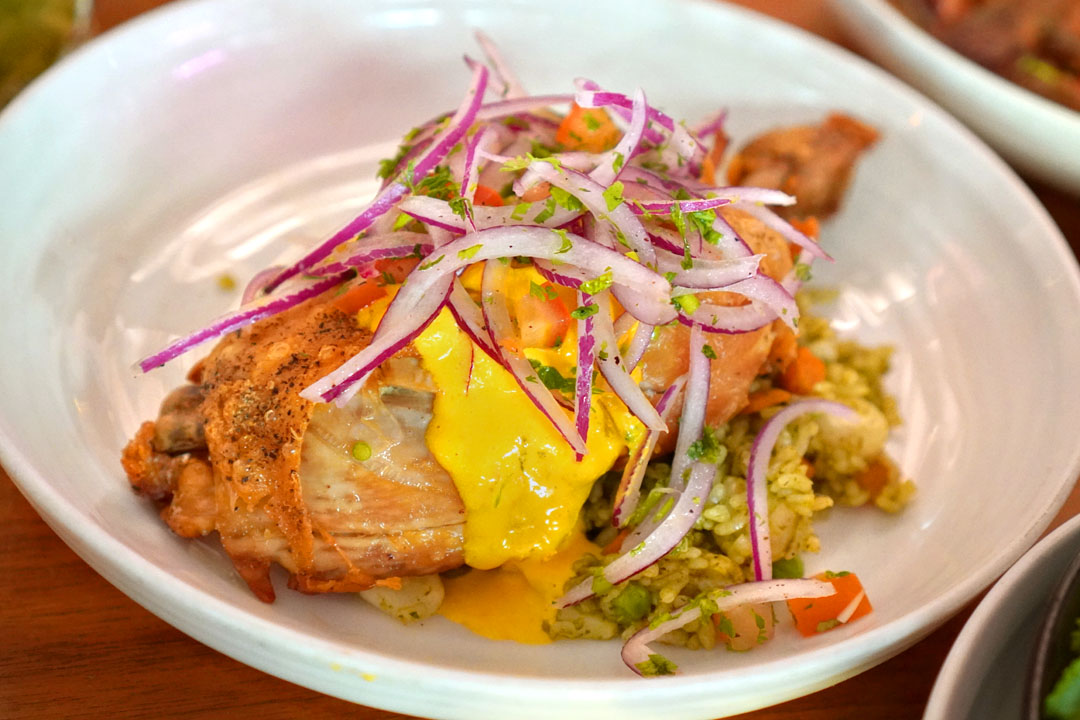 Arroz Con Pollo [$25.00]
| Fried Chicken, Green Rice, Salsa Criolla, Choclo Corn, Green Peas, Huancaina
The arroz itself delivered thanks to its fresh, zesty flavors, and I was also a fan of the further brightness imparted by the red onion and salsa criolla. Unfortunately, the pollo veered dry, though it did have some tasty skin.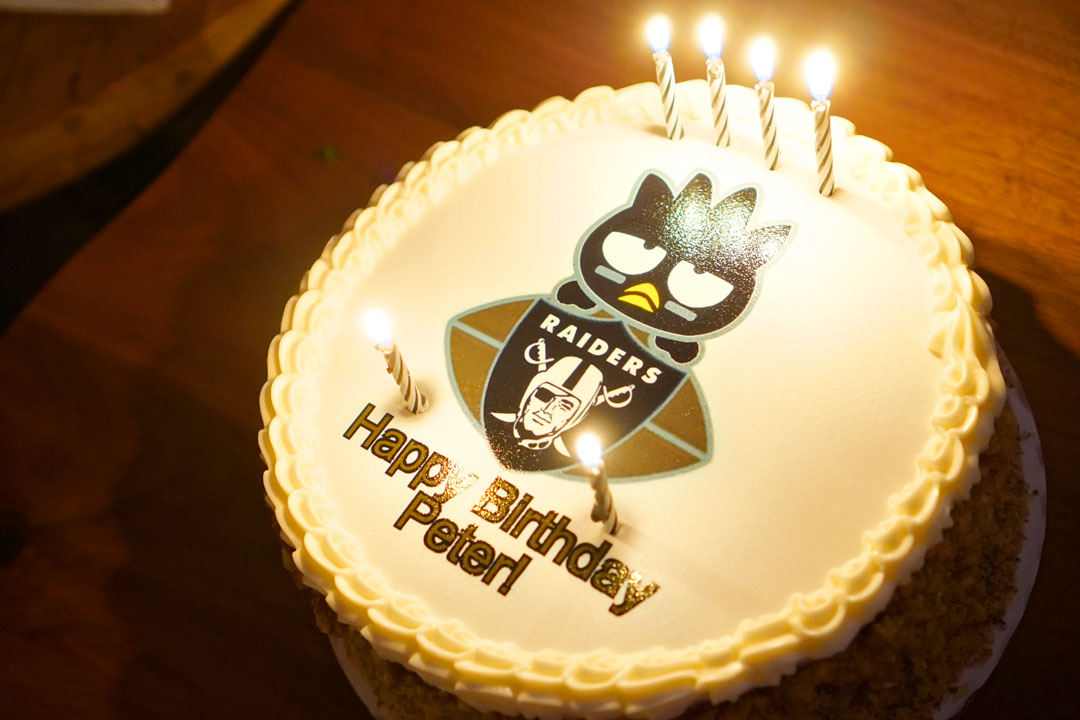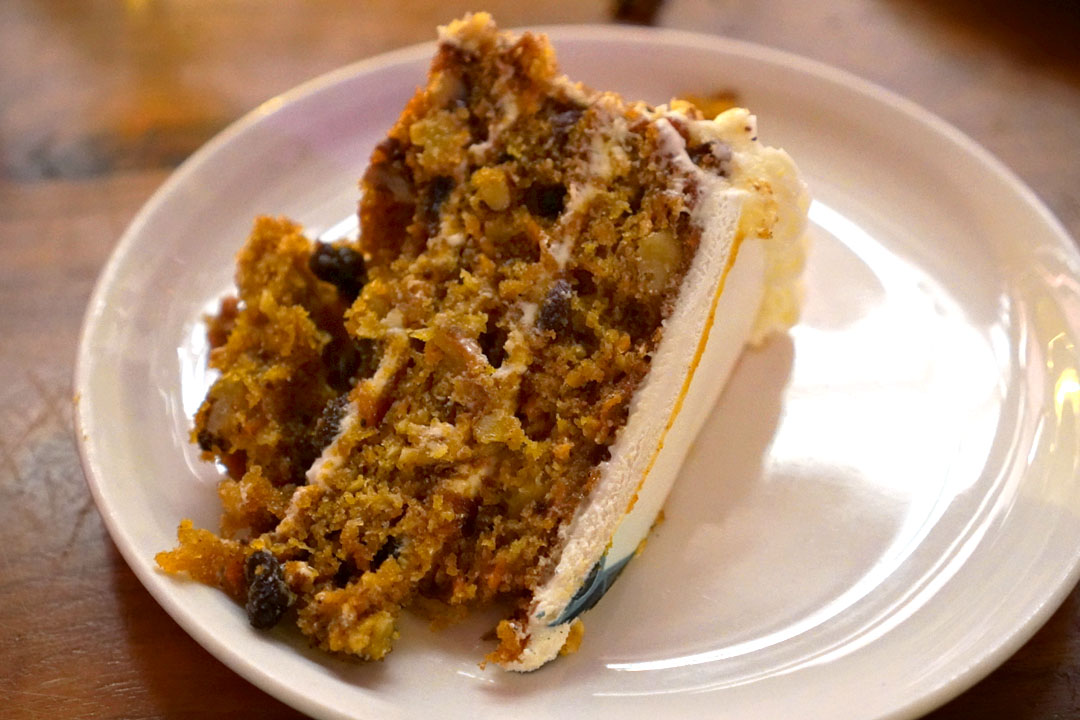 Birthday cake duties were handled by a
Classic Three-Layered Carrot with Cream Cheese Frosting
from The Shredded Carrot in Alhambra. It was actually one of the better carrot cakes I've had, and I especially liked the generous amount of raisin utilized.
I ended up having more concerns than I was comfortable with regarding the food tonight. Sadly, the cooking was not at the level I expect from Zarate, given that I'd been enjoying his cooking since 2009. As of late August, this iteration of Colibrí is closed (as is WeHo, which lasted under two months), and the Chef is looking for another location for the concept, so hopefully he can really fine tune the menu at the new spot (assuming it actually comes to fruition).