Test Kitchen (Los Angeles, CA) [4]
Test Kitchen
9575 W Pico Blvd, Los Angeles, CA 90035
310.277.0133
www.testkitchenla.com
Sun 08/29/2010, 06:15p-09:15p
Of all the Test Kitchen chefs so far--
Jordan Kahn
,
Ricardo Zarate
,
Walter Manzke
--perhaps none has been more hotly anticipated than
Michael Voltaggio
. Part of the hoopla was perhaps due to the mystery around his participation--the fact that Voltaggio's presence at the pop-up wasn't even confirmed prior to the dinner (though there were certainly a fair share of
rumors
circulating). Certainly, that Voltaggio has been notoriously tight-lipped about his future restaurant plans added to the excitement. And after my last,
epic meal
with Voltaggio, I was certainly brimming with anticipation.
Other gastronomic types fortunate enough to snag a reservation for this one-night-only affair included:
Umami Burger
mogul Adam Fleischman;
Eater LA
correspondent, former
Breadbar
manager, and ex-pastry chef
Daniela Galarza
; Diana of
Diana Takes a Bite
; Chef Jon Butler, who worked with
Walter Manzke
at
Church & State
;
Rivera's
John Sedlar (who will be previewing his upcoming restaurant sometime in the coming weeks); Ken Hwang, also from
Rivera
(who I'd met at
LudoBites
a while back);
Joy Limanon
, who will be handling some of the PR for Voltaggio; LA Times
Daily Dish
contributor
Krista Simmons
; Linden of
The Gastronomnom
; Lindsay Williams-Ross from
LAist
;
Grace's
Neal Fraser (who will be cooking here come the 31st); Ryan of
Epicuryan
; and the ever-present Ryan Tanaka (
rydka
).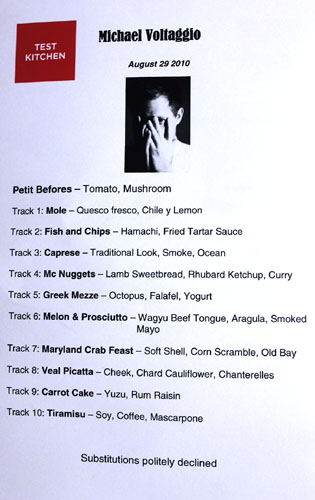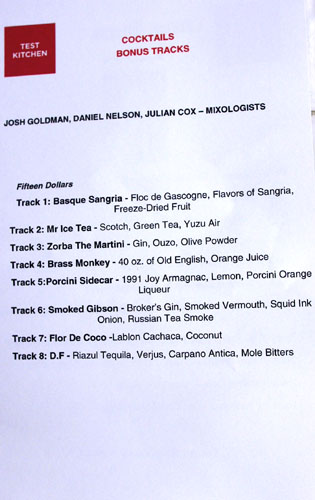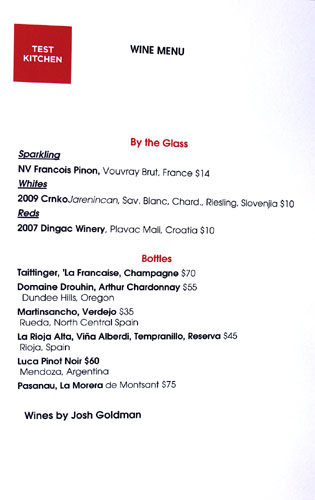 Voltaggio's deconstructivist degustation decet, dubbed
10 Tracks: Some of History's Greatest Hits
, was TK's costliest yet, priced at $69 per person. Cocktails from Josh Goldman (Voltaggio's future GM and sommelier) and beverage consultant Daniel Nelson (The Doheny,
Spago
,
Providence
, Hungry Cat), meanwhile, rang in at $15 each. Click for larger versions.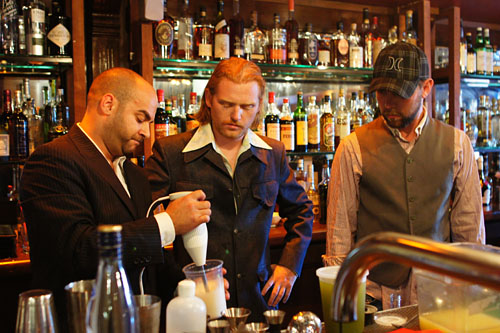 Here, Goldman shows Daniel Nelson and Joel Black on how to whip up his cocktails.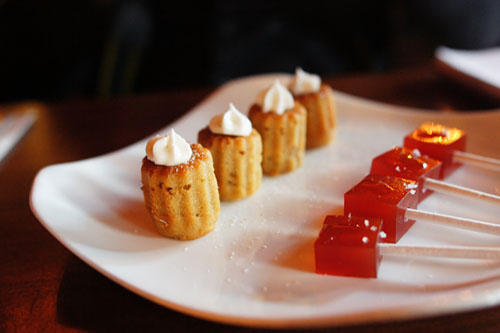 Amuse Bouche: Petit Befores
| Tomato, Mushroom
Two bites made up our amuse bouche course. First was a tomato pâte de fruit, similar to what I had at my last
Dining Room
visit. This was notably more herbaceous than I remember, showing off a classic interplay between tomato and basil, with an overarching sugariness leading to an astringent finish. More impressive, though, was the mushroom canelé, which conveyed the smoky essence of porcini beautifully, before transitioning off to the creamy, subtly sweet goat's milk cream.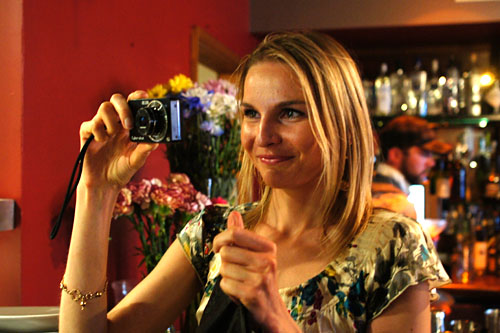 Diana Takes a Photo
.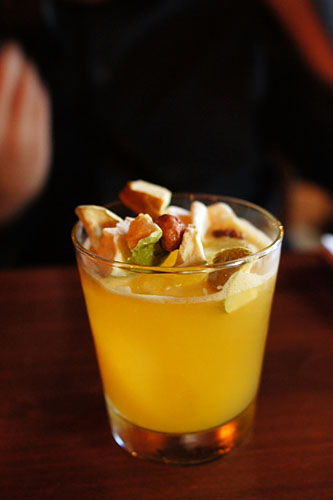 There were cocktail pairings for each savory course, so naturally we ordered one of everything, beginning with the Basque Sangria (Floc de Gascogne, Flavors of Sangria, Freeze-Dried Fruit). This was quite possibly the best sangria that I'd ever had, demonstrating light, fun, fruity flavors backed by the bright essence of Floc de Gascogne. I absolutely adored the use of freeze-dried fruit as well.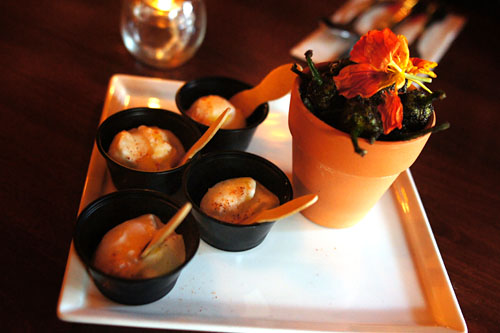 1: Mole
| Queso Fresco, Chile y Lemon
The pairing of a dark mole with queso fresco is a classic one in Mexican cuisine, and here, Voltaggio completely turns that idea upside down, pairing Padron peppers with mole "soil" and a feta-queso fresco ice cream. The mole lent smoky-sweet flavors to the otherwise spicy peppers, while the ice cream deftly tempered the whole interaction, contributing cool, creamy notes of dairy, imbued with a subtle sweetness.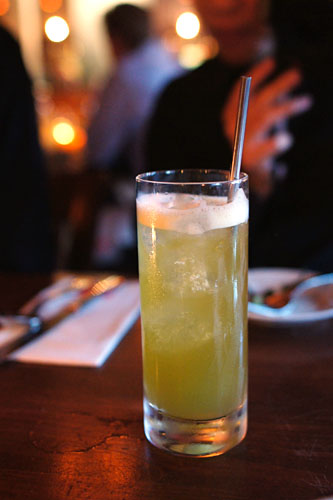 I pity the fool
...who didn't get to try our next libation, the Mr. Ice Tea (Scotch, Green Tea, Yuzu Air). This one had a lovely interaction between the potency of the Scotch and the tang of the yuzu, moderated by a bit of honey sweetness, all finishing with a slight hint of astringency from the green tea.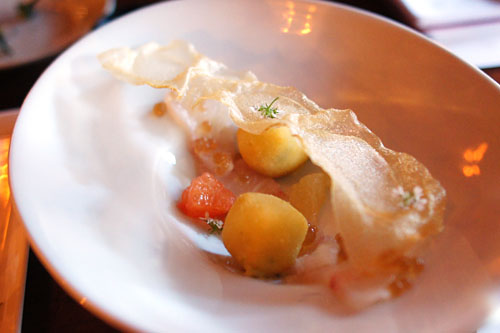 2: Fish and Chips
| Hamachi, Fried Tartar Sauce
Fish and chips is perhaps the epitome of UK casual cuisine, usually consisting of battered and fried haddock or cod, served with "steak fries" and malt vinegar. Voltaggio used yellowtail sashimi instead here, and paired it with fried tartar sauce balls, vinegar spherifications, and fried potato skin. The fish--clean, mild, and even slightly sugary--went superbly with the vinegar spheres, and even better with the tartar. I also quite enjoyed the use of potato, but I wanted to taste even more of it.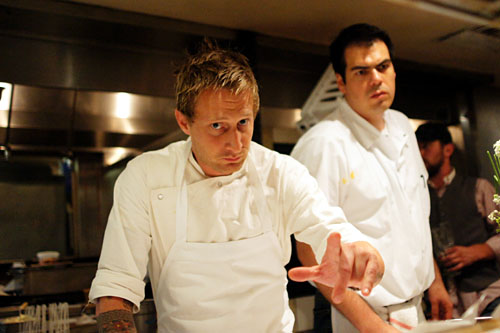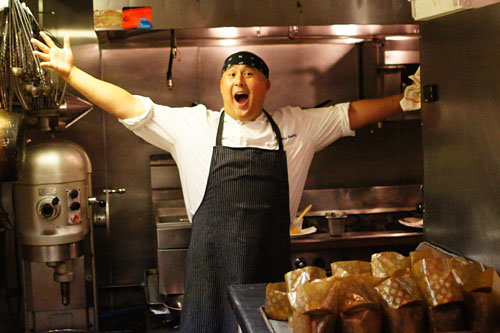 Of course,
A.J. Ramirez
was helping out in the kitchen.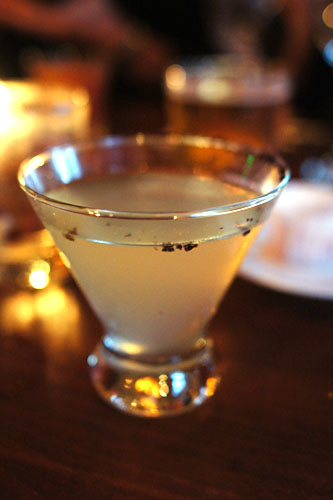 Zorba The Martini combined Gin, Ouzo, and Olive Powder to form a very strong martini indeed. I really liked its base of classic flavors, imbued with a ginger-y, herbaceous element.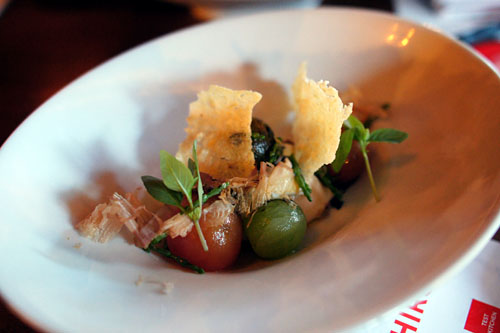 3: Caprese
| Traditional Look, Smoke, Ocean
The insalata Caprese traditionally comprises tomato, mozzarella, basil, and olive oil. I'd had a reimagined, "molecular" version before at
Saam
when Voltaggio was the head chef, so I was curious as to how he'd deconstruct the dish this time around. He turned out something completely different, using smoked mozzarella, dashi-marinated cherry tomatoes, sea beans, freeze-dried calamari, and squid ink. Think classic Caprese flavors, but tinged with an ocean-y, briny element that really perks your palate. Quite good.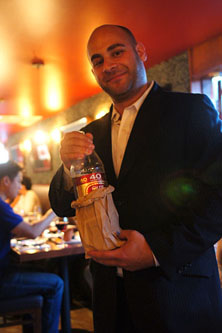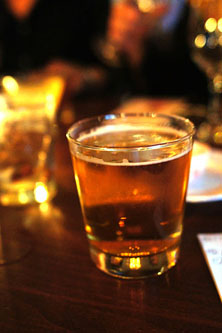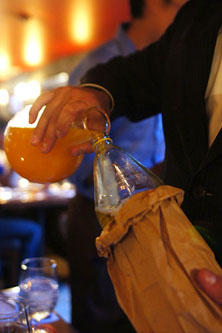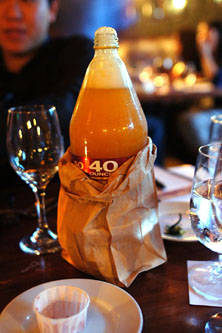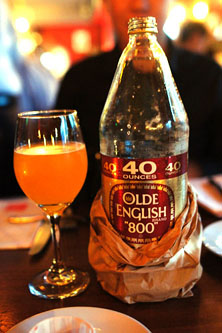 Goldman had always wanted to do this Beastie Boys-inspired drink, but couldn't do so at
The Langham
for obvious reasons. The so-called Brass Monkey was comprised simply of a paper bag-enveloped 40 oz. of Olde English, mixed with Orange Juice. The first thing that Goldman did was pour out a little liquor "for our homies," before proceeding to fill the remainder of the bottle with OJ. The concoction was actually surprisingly effective, with the juice doing a great job at moderating the bite of the O.E. Think of this as a
ghetto mimosa
!
4: Mc Nuggets
| Lamb Sweetbread, Rhubard Ketchup, Curry
What better dish to pair with Olde E than Chicken McNuggets? Well, White Castle for one. But I was raised on McD's, so naturally, I was excited to taste Voltaggio's version of this childhood staple. The nuggets, quite simply, were delectable, with a tender, creamy consistency, crisp battered skin, and a heady, deeply saporous flavor. I actually preferred them
sans
the sauce, which I found a bit too saccharine. The irony here, of course, is that the sweetbreads utilized are probably less scary than what goes into actual McNuggets! I'll take a 6-piece.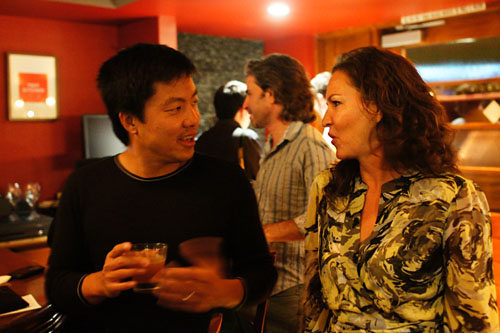 Ken Hwang from
Rivera
divulged a few previous details from Sedlar's upcoming restaurant.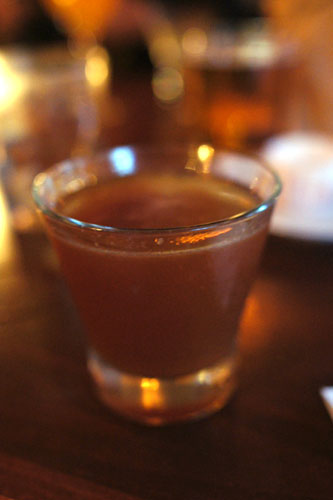 A sidecar typically comprises brandy mixed with Cointreau and lemon juice. Nelson's Porcini Sidecar (1991 Joy Armagnac, Lemon, Porcini Orange Liqueur), on the other hand, was much more intriguing, with an almost chocolate-y sweetness on the attack, bound by a bit of earthy savoriness, all under the encompassing tang of lemon.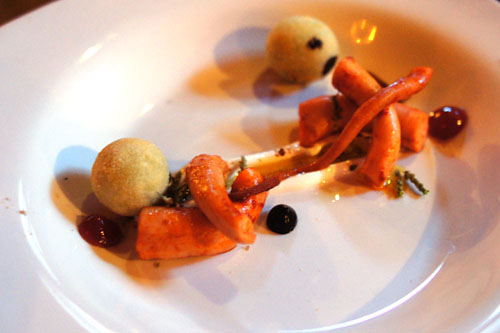 5: Greek Mezze
| Octopus, Falafel, Yogurt
Mezze
refers to small, appetizer-like dishes, popular in the Eastern Mediterranean region, with grilled octopus being a particularly popular example in Greece (see my
Zaytinya
post for a version by Voltaggio's
Top Chef
competitor Mike Isabella). The octopus here was particularly tender in texture, with a delicate brine balanced beautifully by the cool, refreshing yogurt. The falafel, meanwhile, added a nice bit of heftiness to the dish. Nice!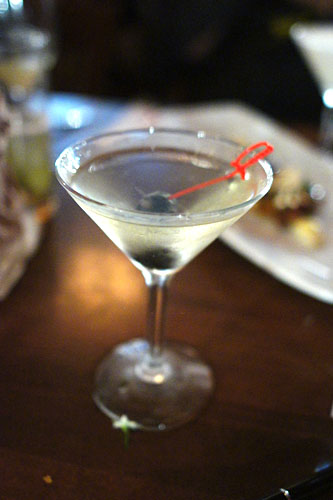 A Gibson is a variation on the gin martini in which an onion garnish is substituted for olive. Nelson took the Smoked Gibson (Broker's Gin, Smoked Vermouth, Squid Ink Onion, Russian Tea Smoke) that we had a step further, coloring the onion with squid ink and imparting the drink with a rather fitting smokiness.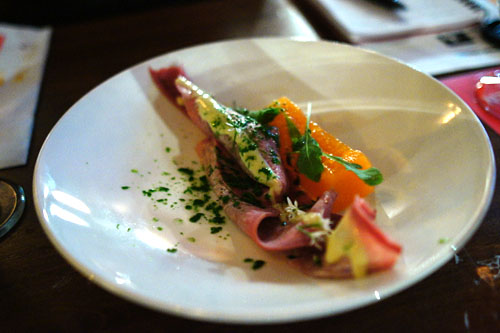 6: Melon & Prosciutto
| Wagyu Beef Tongue, Arugula, Smoked Mayo
The pairing of Prosciutto with melon is a legendary one, with the salty essence of the ham deftly playing off the sugary succulence of melon. Voltaggio, however, decided to use
beef tongue
instead, which was actually a great imitation of ham, with a smoky, savory character that I quite enjoyed. The tongue played gorgeously with the juicy sugariness of the melon, while the arugula provided a light, bitter counterpoint. To quite
Diana
(who'd never had tongue before): "Michael Voltaggio gave me tongue, and I loved it!"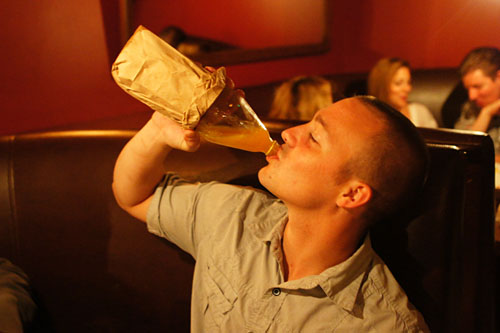 Chef Jon Butler, who assisted
Walter Manzke
during his stint at Test Kitchen, enjoys his well-deserved O.E.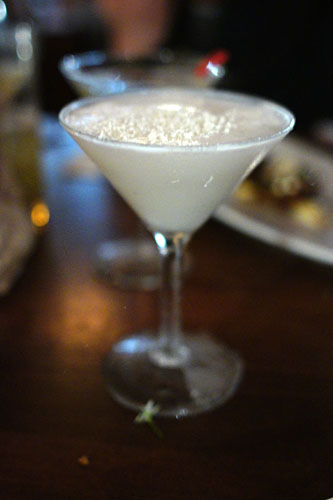 Next up was the Flor De Coco (Lablon Cachaça, Coconut), an unabashedly sweet, light libation teeming with the flavor of coconut.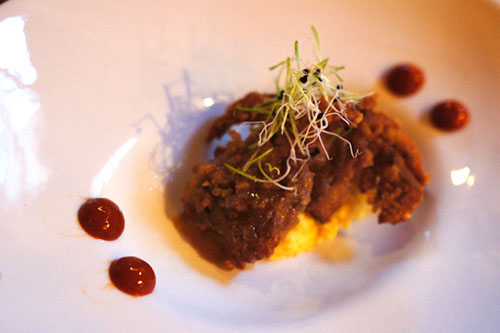 7: Maryland Crab Feast
| Soft Shell, Corn Scramble, Old Bay
Voltaggio hails from Frederick, Maryland, so I wasn't too surprised to see him pay homage to one of his state's most celebrated culinary traditions, the Crab Feast, in which Chesapeake Bay blue crabs are sprinkled with Old Bay, steamed with vinegar, and laboriously picked apart. I actually had this same dish during my blow-out meal at
The Dining Room
, and what I stated earlier still stands: "The crab itself was cooked to a faultless, crisp, onion ring-like consistency and was appropriately restrained, showing off a bit of sweetness that linked up nicely with the paired corn. The key here, though, was the Old Bay seasoning, which countered the crustacean's weight perfectly."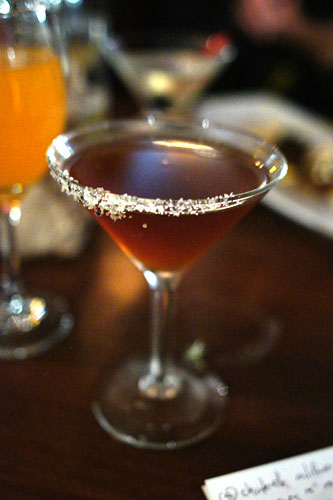 The D.F. (Riazul Tequila, Verjus, Carpano Antica, Mole Bitters) was named after Mexico's
Distrito Federal
, and thus not surprisingly, showed off a bit of south-of-the-border influence. The cocktail was one of the more fascinating ones of the evening, with a lovely, almost
suan mei
-like tartness that deftly balanced the power of the tequila.
8: Veal Piccata
| Cheek, Chard, Cauliflower, Chanterelles
Veal piccata is a classic Italian dish of sautéed thinly-sliced veal, garnished with a caper-lemon-butter sauce. The veal was clearly the star of Voltaggio's version, and was some of the tastiest that I'd ever had, with rich, dark flavors that left me wanting more. The meat was tempered by the use of chanterelles, chard, and cauliflower (didn't get much from the caper dust, though), but really, it easily stood alone. Even
Diana
, a self-proclaimed veal virgin, enjoyed it!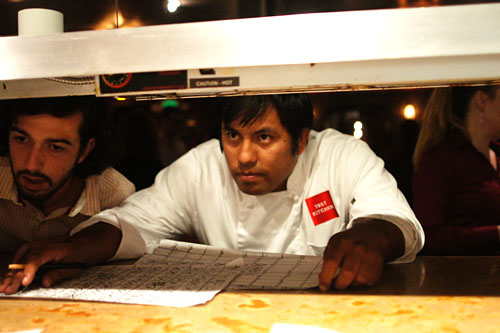 Once again,
Mo-Chica's
Ricardo Zarate
assisted at the pass.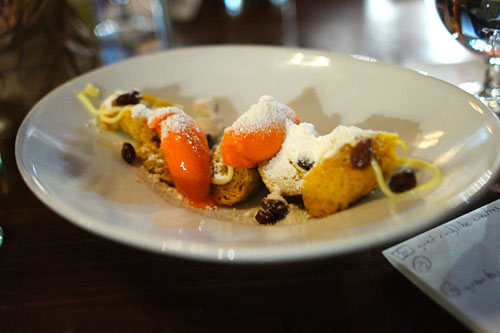 9: Carrot Cake
| Yuzu, Rum Raisin
Our first dessert was a reworked version of a similar dessert that I'd had previously at
The Dining Room
. I liked how the remarkably delicate nature of the carrot cake was intensified so cleanly by the markedly "carrot-y" sorbet, while the yuzu contributed a trace of zestiness to things. The best part, though, was the rum raisin, which added a fantastic, countervailing gravity to the dessert.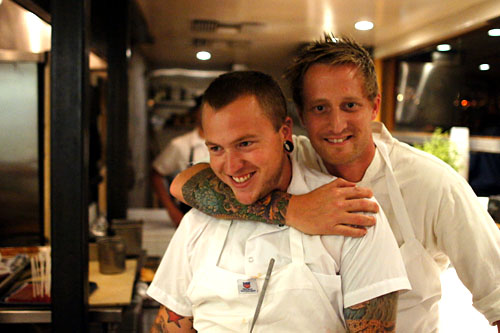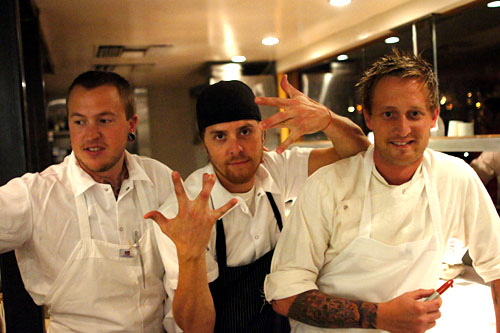 Back of the house.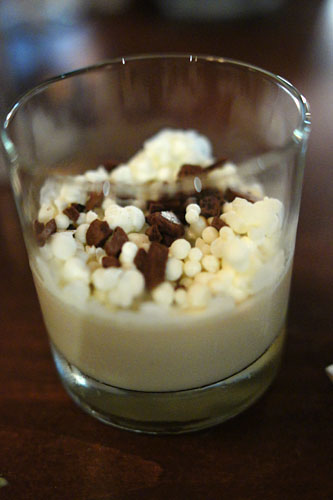 10: Tiramisu
| Soy, Coffee, Mascarpone
For our final course of the evening, Voltaggio chose to reinvent the tiramisu. It had a very apparent, yet elegant coffee flavor, which was expertly balanced by the mascarpone and chocolate-y constituents. I quite liked the textural elements in this one as well. Interestingly,
Ryan
likened the dessert to
chocolate malted crunch
!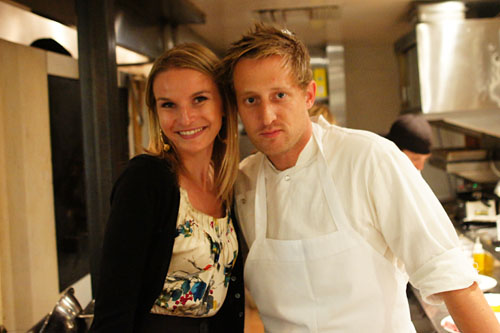 Diana
finally gets to meet her idol!
Our dining experience was marred by a few service flaws, specifically with regard to the pacing of some of the courses, as well as the pairing of the cocktails to the food. Nevertheless, the creativity, ingenuity, and
whimsy
of Voltaggio's cuisine were still clearly on display. The food this evening was more casual than the Chef's creations at
The Langham
, and my guess is that his new restaurant will veer more toward what we had here. Either way, I can't wait!