Café Pinot (Los Angeles, CA)
Café Pinot
700 W 5th St, Los Angeles, CA 90071
213.239.6500
www.cafepinot.com
Wed 11/24/2010, 07:00p-11:45p

On Monday, November 29th, Café Pinot's Kevin Meehan will be taking over the stoves at
Test Kitchen
, one-night-only. In anticipation of the event, the Chef invited me up to the restaurant to sample a tasting menu specially created to celebrate the fall season.
About the Chef
: A native of Long Island, Kevin Meehan began his culinary career working at a local restaurant in his hometown. After graduating from high school, he enrolled in the Culinary Arts program at Johnson and Wales University in Providence, RI, and during his time here, externed at Brussels' Michelin-starred L'Alban Chambon at the Metropole Hotel, under Chef Dominique Michou. Following, Meehan moved back to New York to cook for Guy Reuge at his Long Island eatery Mirabelle. During this period, the Chef also worked stints at other local restaurants to gain further experience. He eventually relocated to Los Angeles and found employment at the legendary L'Orangerie, under none other than
Ludovic Lefebvre
. Next up was
Bastide
, where he served as opening Sous Chef for the inimitable
Alain Giraud
.
After Giraud's well-publicized departure from Bastide, Meehan became Executive Chef of the short-lived Citrine. Located at 8360 Melrose in West Hollywood, the location was formerly the home of the famed Ma Maison (Wolfgang Puck's first restaurant), Tulipe, Itameshi Ya, Jozu (where
Suzanne Tracht
cut her teeth), and Hamasaku, and is where Michael Voltaggio will be opening his first restaurant,
Ink
. Following Citrine's shutter in 2005, Meehan took on the Chef de Cuisine role at
Patina
(under
Theo Schoenegger
). Interestingly, he was first introduced to Patina through an internship he had at the original restaurant on Melrose (the current home of
Providence
). In any case, Meehan stayed until March 2008, when he became Executive Chef at Joachim Splichal's now-defunct seafooder Paperfish. He replaced opening chef Yianni Koufodontis, who left after three months following a devastating
half-star review
from SIV. After the restaurant folded, Meehan moved to Café Pinot, where he currently serves as Executive Chef.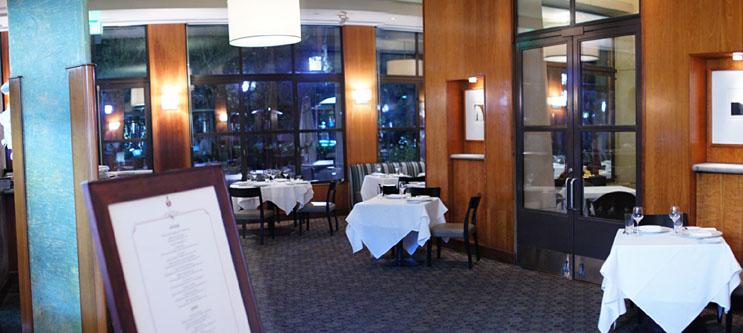 Situated adjacent to the Los Angeles Public Library's landmark central branch, Café Pinot's dining room features floor-to-ceiling windows affording diners striking views of the Downtown skyline. Weather permitting, seating is also available outdoors in the Garden Patio, next to the Library's Maguire Gardens.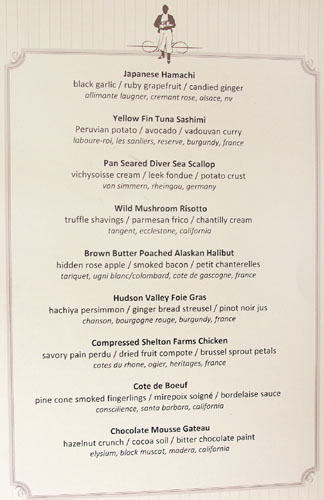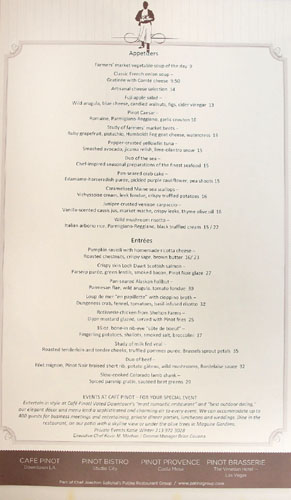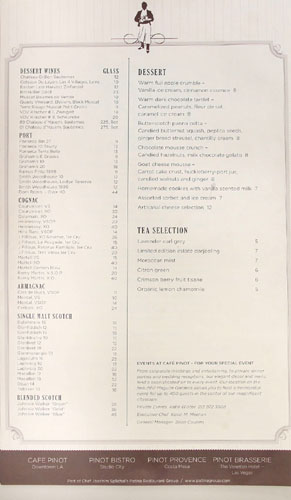 Above, we see the special nine-course menu (with wine pairing) that Chef Meehan prepared. Though not advertised, tasting menus of various lengths are actually available normally; just ask. I've also included photos of the regular menu as well for reference. Click for larger versions.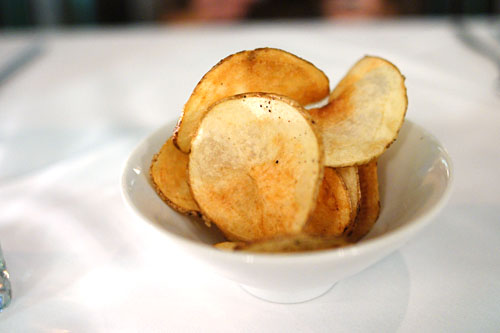 A small bowl of potato chips was quickly presented before us. They were superb, showing off a wonderful bit of saltiness and an absolutely lovely crisp yet pliant consistency.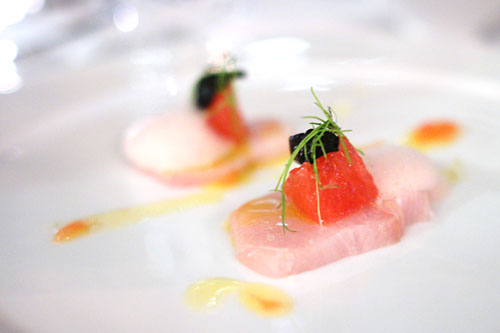 1: Japanese Hamachi
| black garlic / ruby grapefruit / candied ginger
allimante laugner, cremant rose, alsace, nv
Our first course of hamachi was suitably clean-tasting, with just a slight bit of unctuousness augmented by the weight of olive oil. The citric sweetness of the grapefruit was an apt pair to the yellowtail, while the black garlic added an even more saccharine focal point to the dish.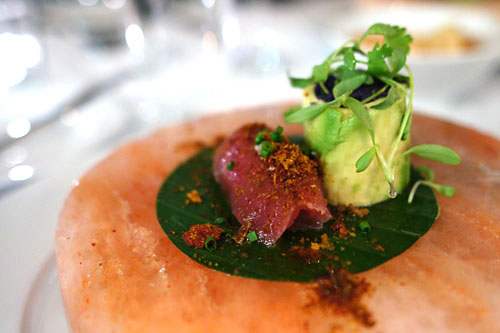 2: Yellow Fin Tuna Sashimi
| Peruvian potato / avocado / vadouvan curry
laboure-roi, les sanliers, reserve, burgundy, france
Tuna came out on a massive disk of salt; I resisted the urge to lick it and instead tucked into the yellowfin. The vadouvan spice was an interesting counter to the relative mildness of the fish, but the key here for me was the Peruvian potato, which, in concert with the creamy avocado, did a fantastic job in moderating the dish. I appreciated the lovely bitter tang from the greenery as well.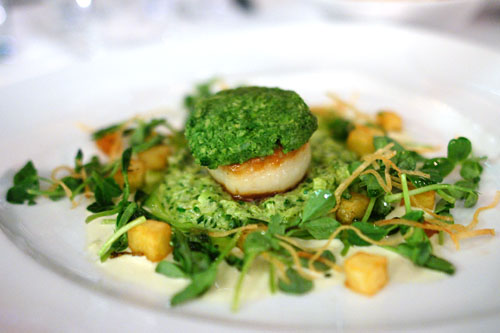 3: Pan Seared Diver Sea Scallop
| vichyssoise cream / leek fondue / potato crust
von simmern, rheingau, germany
Next up was arguably my favorite course of the evening. The scallop was expertly cooked, showing off a fantastic bit of brine that was perfectly balanced by the bright, vegetal astringency of the greens (pea shoots?). At the same time, the use of potato grounded things, and lent the dish a certain weightiness that was much appreciated. Very nice.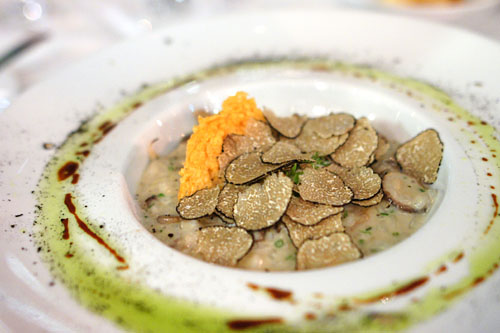 4: Wild Mushroom Risotto
| truffle shavings / parmesan frico / chantilly cream
tangent, ecclestone, california
As regular readers might know, the best risotto I've had came from my first visit to
Patina
over three years ago. Coincidentally, Meehan was the restaurant's Chef de Cuisine at the time, so it may very well have been him that turned out that infamous bowl of rice. Well, he did it again, presenting us with a risotto that was comparable to the 2007 version. The dish conveyed a wonderful luxuriousness, a certain amount of creaminess that was deftly augmented by the use of the Parmesan crisp. At the same time, I loved the interplay between the earthy mushrooms and the heady savor of the black truffles, making for a very well balanced risotto indeed. Immensely enjoyable.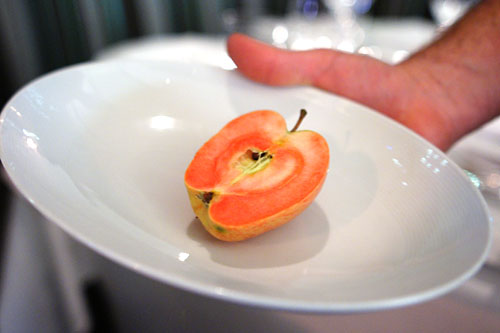 Before our next course came out, Chef Meehan presented us with a Hidden Rose apple, a red-fleshed varietal from Oregon just coming into season in November.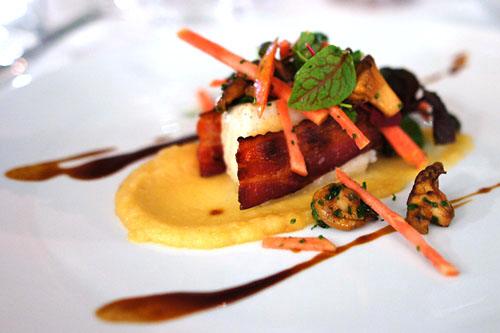 5: Brown Butter Poached Alaskan Halibut
| hidden rose apple / smoked bacon / petit chanterelles
tariquet, ugni blanc/colombard, cote de gascogne, france
Halibut came cooked to a supple, somewhat flaky consistency and was expectedly mild in flavor, a canvas for the other ingredients on the plate. I really appreciated the smoky saltiness imparted by the crisp strips of bacon, as well as the umami-rich taste of the chanterelles. However, I found the aforementioned Hidden Rose apple rather sugary, cloying in its sweetness.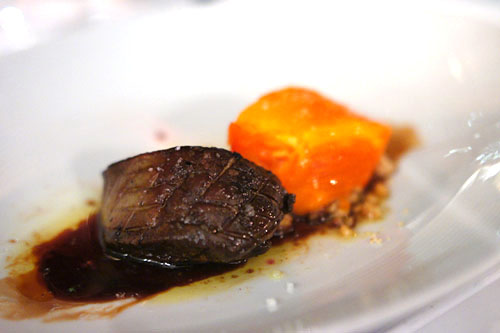 6: Hudson Valley Foie Gras
| hachiya persimmon / ginger bread streusel / pinot noir jus
chanson, bourgogne rouge, burgundy, france
Foie gras arrived seared to a near-perfect consistency, and showed off the extraordinarily rich, musky, buttery flavors that I was expecting. However, the paired persimmon and streusel especially were too saccharine for my tastes, masking the character of the foie somewhat.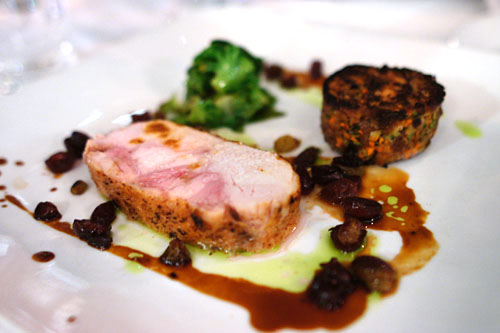 7: Compressed Shelton Farms Chicken
| savory pain perdu / dried fruit compote / brussel sprout petals
cotes du rhone, ogier, heritages, france
This next dish, designed to evoke the traditional flavors of Thanksgiving, instantly reminded me of a chicken dish that I had recently at
LudoBites
. Given that Meehan worked for Ludo at L'Orangerie, perhaps I shouldn't be surprised. The chicken was comprised of both white meat and dark meat sections, joined together using meat glue (à la Ludo). The result was a juicy, succulent, tender bird with a fabulously herbaceous flavor. The pain perdu, meanwhile, served as a hearty "stuffing," and I thoroughly enjoyed the astringency contributed by the Brussels sprouts.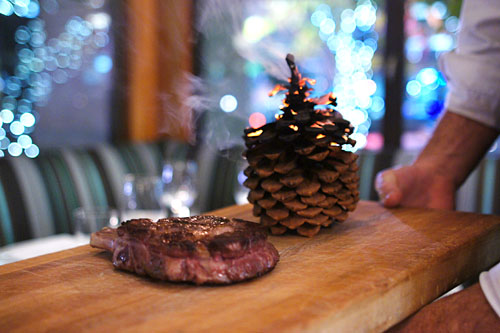 A smoldering pine cone from our next course.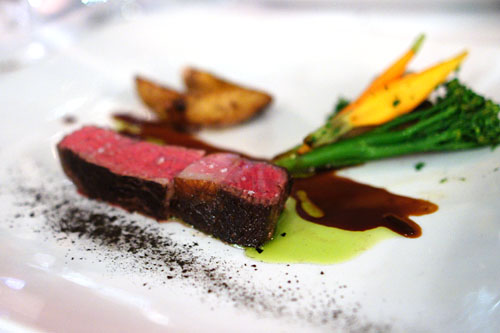 8: Cote de Boeuf
| pine cone smoked fingerlings / mirepoix soigné / bordelaise sauce
conscilience, santa barbara, california
Rib steak was beautifully cooked, tender, with a great crust, and teeming with bovine sapor. The meat easily stood by itself, though the veggies did help counter the sheer gravity of the beef. Of note were the fingerlings, with their rich, rustic, smoky savors pairing superbly with the meat.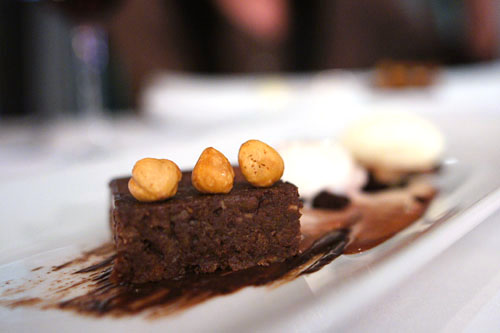 9: Chocolate Mousse Gateau
| hazelnut crunch / cocoa soil / bitter chocolate paint
elysium, black muscat, madera, california
Chocolate cake was tasty, with dark, sweet flavors nicely accented by the nutty crunch of hazelnuts. The paired ice cream, though not unexpected, was certainly a welcomed counter.
Despite a too-sweet preparation of foie gras, this was nonetheless an enjoyable meal overall. There were some great dishes presented tonight, and it was fun to see a bit more creativity and flair from Chef Meehan's repertoire. If you find yourself at Café Pinot, I urge to you put aside the standard menu and give him carte blanche.