Manresa (Los Gatos, CA) [2]
Manresa Restaurant
320 Village Ln, Los Gatos, CA 95030
408.354.4330
www.manresarestaurant.com
Fri 08/03/2012, 08:30p-12:55a

It had been nearly four years since I'd dined at
Manresa
, David Kinch's seminal eatery tucked away in the foothills of the Santa Cruz mountains. As such, I figured that I was long overdue for a revisit, to see how the Chef's signature "highly personal haute cuisine" had changed over the years, especially with the evolution of the restaurant's relationship with Cynthia Sandberg's eminently biodynamic Love Apple Farms. It was a fitting ending to my recent Bay Area trip.
About the Chef
: Kinch was born in Philadelphia, but raised in the Big Easy, New Orleans, a setting with a rich culinary backdrop that certainly made a lasting impression on the young chef. He began his professional restaurant career in 1977 at the age of 16, working under the legendary Paul Prudhomme at the even more legendary Commander's Palace. From there, Kinch enrolled at Johnson & Wales University, graduating with honors in 1981. The following year, he secured a position in New York at Maurice at the Hotel Parker Meridien, cooking under none other than Christian Delouvrier, and then took over the kitchens at La Petite Ferme, a small French country restaurant in the City. In 1984, Kinch left for Europe, working a stint at Hotel del la Poste in Beaune, France under Marc Chevillot for a year. He later returned to NYC, and started cooking at the whimsically-named, yet cutting-edge Quilted Giraffe. After a few years there, he moved to Japan, where he consulted on the opening of an American restaurant at the Hotel Clio Court in Fukuoka.
Kinch came back Stateside in 1989, and took up residence as the Executive Chef at Silks at the Mandarin Oriental in San Francisco. His tenure there was brief, however, and by 1990, he was already back in Europe, cooking his way through a number of notable places: Schweizer Stuben in Wertheim, Germany; Marc Meneau's L'Espérance in Saint-Père sous Vézelay, France; and Pedro Subijana's Akelarre in San Sebastian, Spain. The Chef once again returned to Northern California, taking the reins at Ernie's in San Francisco in 1993. Two years later, he would finally debut his own restaurant, opening Sent Sovi in Saratoga with partner/GM Aimee Hebert. The place was well-received--Kinch even earned the Rising Star Chef award from the
Chronicle
in 1996--but the duo sold it in 2001.
The Chef premiered the ground-breaking Manresa, set in a former residence in Los Gatos, in the summer of 2002 to considerable critical acclaim. In 2005, Manresa made an appearance on
Restaurant
magazine's list of the World's 50 Best Restaurants (at #38), and later that year, Michael Bauer gave the place a glowing four-star review. The next year, Kinch formed an exclusive partnership with the nearby
Love Apple Farms
, further cementing the Chef's commitment to local, sustainable produce, and in 2007, Manresa received two Michelin stars, a rating that it has kept since. In late 2008, the Chef filmed an episode of
Iron Chef America
, in which he handily defeated Bobby Flay in Battle Cabbage. 2009 saw Kinch consult on the opening of Bonny Doon Vineyard's Cellar Door Café, which ended up being helmed by former Manresa Sous Charlie Parker (who's now in charge at
Freddy Smalls
here in LA). James Beard came knocking in 2010, giving the nod to Kinch in the form of the "Best Chef: Pacific" award, while the French Culinary Institute's Bay Area campus made him a dean in May 2011. Soon thereafter, he was deemed
GQ
's "Chef of the Year," and secured another four-star rating from Michael Bauer in December last year.
For 2012, Manresa has popped up once again on the 50 Best Restaurants list, this time re-entering at #48. And in May, Kinch named a new Chef de Cuisine: the 26-year-old Jessica Largey, who started at the restaurant in 2009 as a line cook. Interestingly, the two were actually introduced back in 2008, during a
5x5 Chefs Collaborative Dinner at Providence
. Largey was working at Providence at the time, and helped Kinch (the evening's guest chef) prepare his vadouvan mussels dish. They kept in touch after the encounter, with Largey actually
staging
at Manresa that fall. She returned to LA to cook under Paul Shoemaker at
Bastide
, but its closure forced her back into Kinch's arms the next year.
One new promotion deserves another, though, and Manresa's got a new Pastry Chef as well. She's Stephanie Prida (also 26-year-old coincidentally), and hails from Chicago, where she worked at
L20
, Ria, and Blackbird. Prida replaces Belinda Leong, who herself was hired on to supplant Deanie Hickox (former
Ubuntu
Pastry Chef and ex-wife of Jeremy Fox, who decamped for
Coi
) back in September 2010.


Keeping with the theme of new staff, the dining room is now overseen by General Manager Bobi Adle (Frances, Bistro 45, Murano, Water Grill, Merchants Wine Bar), who started at Manresa in January. Actually, the space itself is new, having undergone a complete renovation in May last year. It's now much more contemporary, less country, and additions include a new smaller, secondary dining room, as well as a bar/lounge area. Responsible for the revamp were
Sterry Architecture and Sunnyhills Studio
, as well as the Chef himself.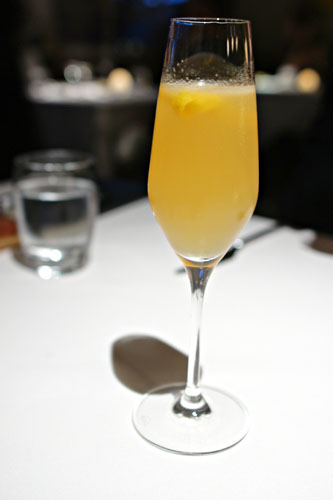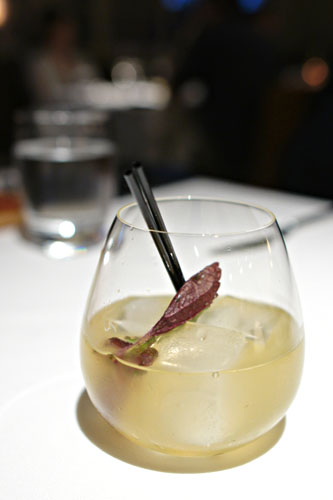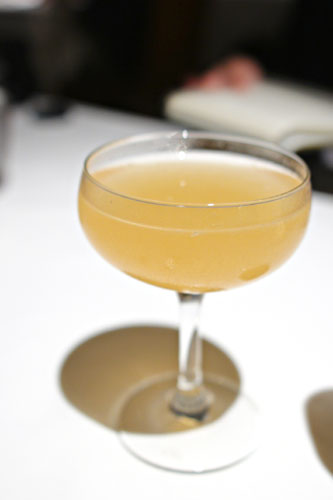 Santa Cruz 75 [$20.00]
| Osocalis Brandy / Lemon / Love Apple Farm Honey / Diebolt-Vallois Blanc de Blancs Brut Champagne
Shizuka [$16.00]
| Hendrick's Gin / Tonic / Green Chartreuse V.E.P. / Love Apple Cucumber / Love Apple Shiso / Aloe
Smoke Signals [$14.00]
| Del Maguey Mezcal Vida / Luxardo Maraschino Liqueur / Tamarind Infusion / Lime
Since we arrived early, we ordered up a trio of cocktails from the newly installed bar. First up was the Santa Cruz 75, ostensibly a take on the classic French 75, typically made with gin, Champagne, and lemon. Manresa's version substituted brandy for gin, and added some honey for good measure, resulting in a refreshing, effervescent drink, with a lovely sweetness initially leading to a slightly astringent character on the close. My favorite of the troika was the Shizuka (Japanese for "quiet" or "calm"), which showed off a fantastic mix of candied and herbaceous flavors, with a touch of tea-like essence on the finish--very complex, very well-integrated. Finally, there was the Smoke Signals, with its huge dose of smoky mezcal melding nicely with the sweet spice of tamarind, all moderated by the fruity taste of Maraschino.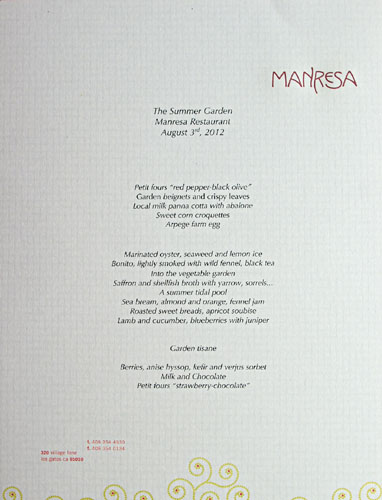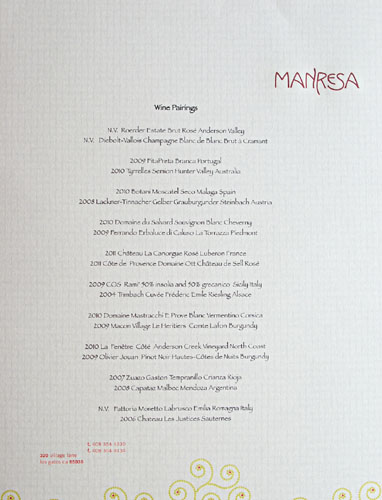 As far as Manresa's menu goes, guests are given the choice between a four-course prix fixe for $125 and a considerably longer "Seasonal and Spontaneous" tasting menu, priced at $175. Beverage pairings for the degustation from Wine Director Jeff Bareilles ring in at $98 for the standard set, or $175 for premium wines; we sampled both options. Click for larger versions.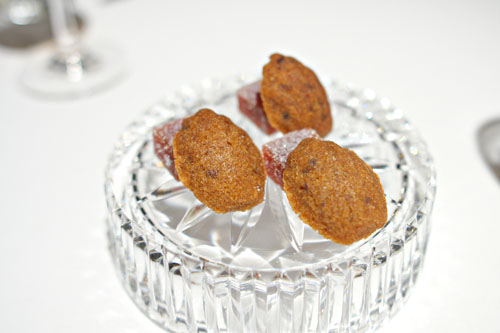 Amuse Bouche 1: Petit fours "red pepper-black olive"
N.V. Roederer Estate Brut Rosé Anderson Valley
N.V. Diebolt-Vallois Champagne Blanc de Blancs Brut à Cramant
As is the norm at Manresa, the meal kicked off with a duet of mini-madeleine and
pâte de fruit
. The madeleine this evening was of the black olive persuasion, and was very subtle, with a satisfying sugariness laced with just a touch of olive-y savor, increasing in intensity toward the finish. The bell pepper fruit jelly was similar in effect, with a very focused, brilliantly pepper-y zing tempered by a well-placed sweetness.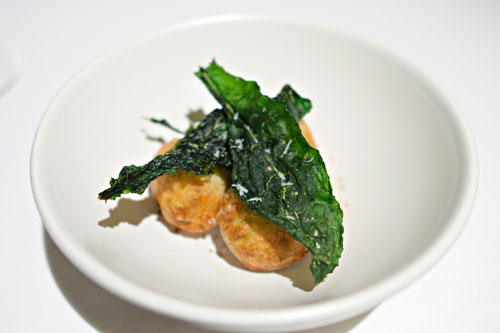 Amuse Bouche 2: Garden beignets and crispy leaves
N.V. Roederer Estate Brut Rosé Anderson Valley
N.V. Diebolt-Vallois Champagne Blanc de Blancs Brut à Cramant
Beignets were excellent, wonderfully fluffy on the inside, and with a mouth-watering, yet somewhat bitter character that conveyed a somewhat Asian-y slant to it.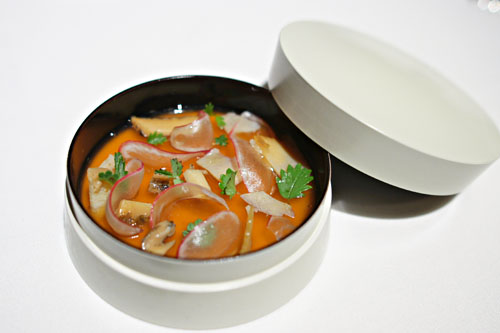 Amuse Bouche 3: Local milk panna cotta with abalone
N.V. Roederer Estate Brut Rosé Anderson Valley
N.V. Diebolt-Vallois Champagne Blanc de Blancs Brut à Cramant
Next up was perhaps the most involved "amuse bouche" that I'd ever encountered. We had here a panna cotta of raw milk, topped with an abalone gelée impregnated with slices of abalone and French breakfast radish. It was
mahvelous
, with a gorgeous interplay between the mild, tangy cream and the umami-laden, dashi-esque jelly. Abalone, meanwhile, was spot on: perfectly supple, yet firm in consistency, with a subtle, sweet brine that I found completely endearing.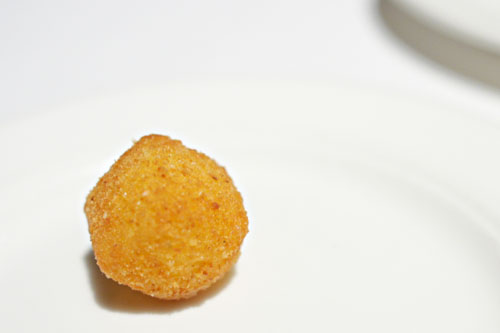 Amuse Bouche 4: Sweet corn croquettes
N.V. Roederer Estate Brut Rosé Anderson Valley
N.V. Diebolt-Vallois Champagne Blanc de Blancs Brut à Cramant
The meal's only real misstep was the sweet corn
cromesquis
, which was
completely missing its filling
, meaning that it was just an empty shell of corn.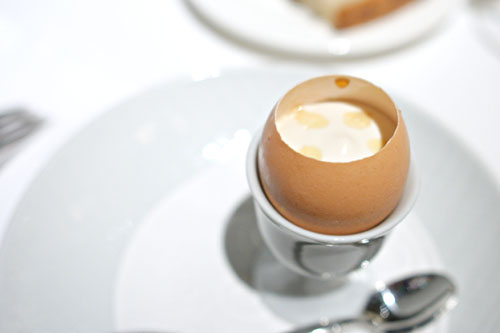 Amuse Bouche 5: Arpege farm egg
To make up for the croquette-related slip-up, the kitchen sent out their rendition of Alain Passard's famed Arpège egg, ostensibly as a "bonus" course. The version here incorporated sherry vinegar and maple, and was just as delightful as I remember, with the lush, soft yolk conveying a wonderful egginess that was subsequently balanced by the contrasting sweet and sour overtones in the dish.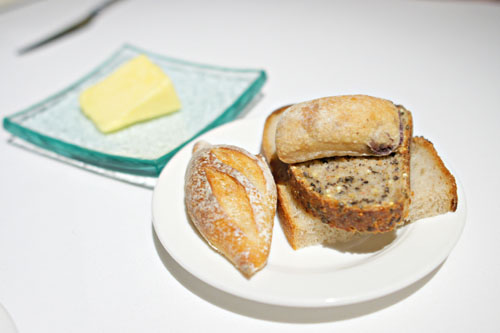 Four varieties of bread were on offer: multi-seed,
levain
sourdough, baguette, and black olive-rosemary, all served with a homemade butter.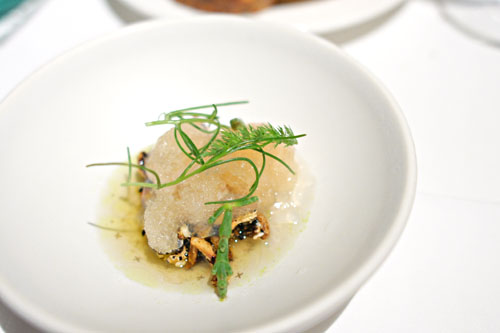 1: Marinated oyster, seaweed and lemon ice
2009 FitaPreta Branco Portugal
2010 Tyrrell's Semillon Hunter Valley Australia
Our first course proper brought out smoked oyster, along with a Meyer lemon granita, seaweed, and granola. The sheer brine and smoke of the bivalve was very apparent from the get-go, intermingled with the savory smack of the granola as well as the bracing, tempering cold of the granité. The finish, meanwhile, displayed a certain nuttiness that I found reminiscent of Corn Nuts interestingly enough.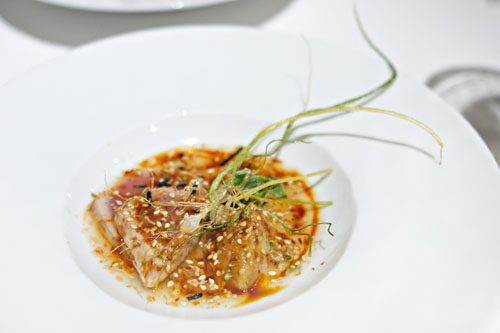 2: Bonito, lightly smoked with wild fennel, black tea
2010 Botani Moscatel Seco Málaga Spain
2008 Lackner-Tinnacher Gelber Grauburgunder Steinbach Austria
Kinch's skipjack tuna was superb, served seared here with smoked eggplant and black tea. In fact, the balance between the fish and the smoke in the dish was perfect, and I loved the interaction between the tangy leek and lingering tea notes present. We even soaked up the remaining liquid with our bread. Overall, a wonderful way to brighten up the often times trite dish of "seared tuna."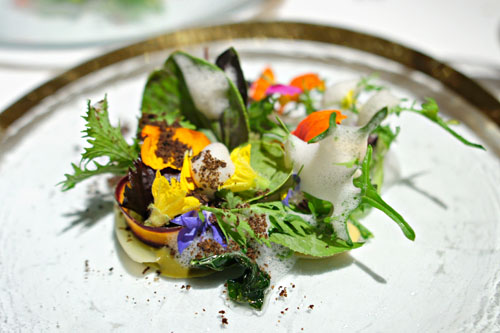 3: Into the vegetable garden
2010 Domaine du Salvard Sauvignon Blanc Cheverny
2009 Ferrando Erbaluce di Caluso La Torrazza Piedmont
Here we see one of Kinch's signature dishes, his homage to
Le Gargouillou
of Michel Bras (variations of which have become a staple on many a
haute
menu!). It is a composed "salad" of sorts, a mishmash of various leaves, buds, roots, and flowers, each lovingly prepared and presented on a base of dehydrated chicory root "dirt," then topped with a vegetable juice foam. The end result was a fascinating, contemplative examination in multifaceted tastes and textures--a real celebration of the garden that should be experienced.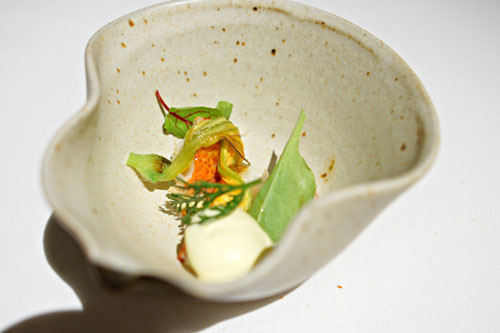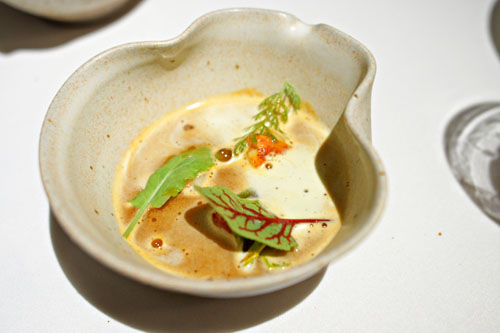 4: Saffron and shellfish broth with yarrow, sorrels...
2011 Château La Canorgue Rosé Luberon France
2011 Côtes de Provence Domaine Ott Château de Selle Rosé
This Mediterranean-inspired fish soup was delightful: hearty and heartwarming, with an intensely aromatic, ocean-y relish from the enveloping bisque-esque broth. The lobster was on point, too, snappy and supple, with a lip-smacking savor that paired swimmingly with the tangy combination of sorrel and yarrow. Yum.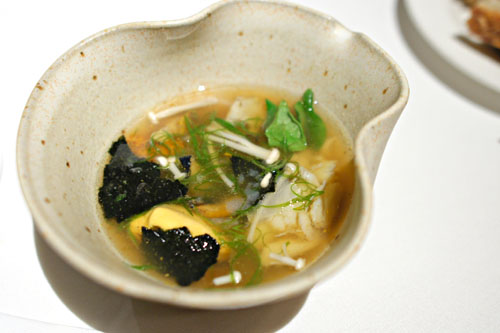 5: A summer tidal pool
2009 COS Rami 50% insolia and 50% grecanico Sicily Italy
2004 Trimbach Cuvée Frédéric Emile Riesling Alsace
Another one of Kinch's most well-known dishes, his seasonal "tidal pool," was even more satisfying. We had here, set in the headiest of broths (an explosion of earthy, umami goodness featuring
enokitake
mushrooms, scallion, and seaweed), a threesome of sea urchin, abalone, and mussel. I loved how each and every item here was distinct and true-to-form, yet contributing to an overall sense of time and place, capturing the very essence of the ocean. Simply wonderful; a must try.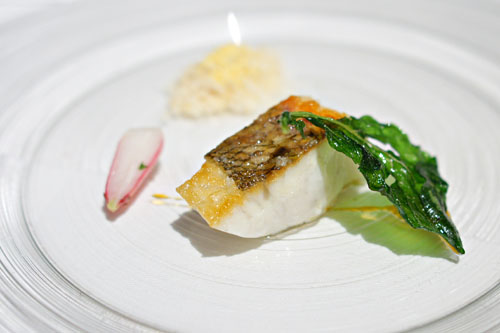 6: Sea bream, almond and orange, fennel jam
2010 Domaine Maestracci E Prove Blanc Vermentino Corsica
2009 Mâcon Villages Le Héritiers du Comte Lafon Burgundy
Japanese sea bream was absolutely flawless, and came accompanied by garlic purée, candied orange zest, and
gomashio
. The fish itself showed off a fantastic brine, and I adored its perfectly crisp, savory skin. The orange zest, meanwhile, lent an overarching citrus-y tinge to the dish that I enjoyed, while the countervailing crunch and bitterness of the radish was much appreciated as well.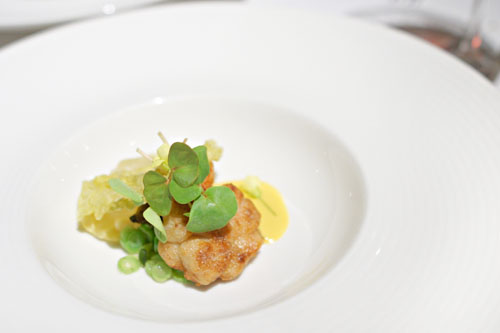 7: Roasted sweet breads, apricot soubise
2010 La Fenêtre À Côté Anderson Creek Vineyard North Coast
2009 Olivier Jouan Pinot Noir Hautes-Côtes du Nuits Burgundy
It had been a while since I'd had a good sweetbread, so I was quite looking forward to this course. It did not disappoint, as the veal was right on: crisp on the outside, yet with a creamy, lush interior and a wonderfully satisfying savory flair. At the same time, the apricot-onion soubise added a touch of piquancy to things, and I loved the levity imparted by the pickled cabbage here.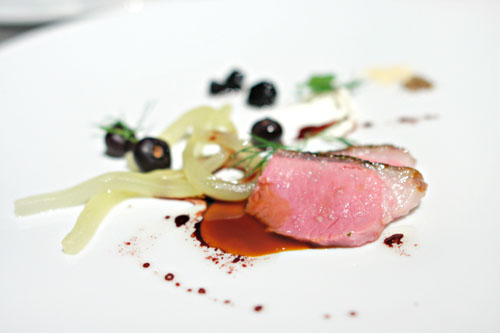 8: Lamb and cucumber, blueberries with juniper
2007 Zuazo Gaston Tempranillo Crianza Rioja
2008 Capataz Malbec Mendoza Argentina
In our final savory course, the Chef aimed to recall the essence of gin by pairing lamb with juniper, cucumber, and blueberry. I'm not so sure if that aspect was successful, but it was a tasty course nonetheless. The meat itself was expertly prepared, with a tender bite and savory, ovine character that went surprisingly well with the zesty notes of juniper. Cucumber, meanwhile, adding a tempering element to the course, as well as a much-needed crunchiness.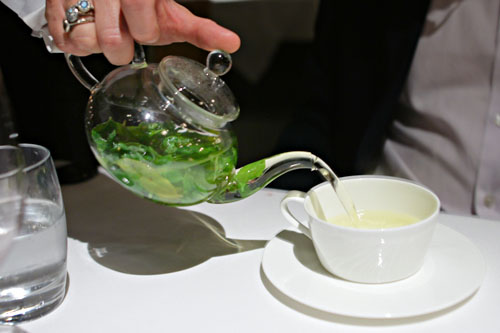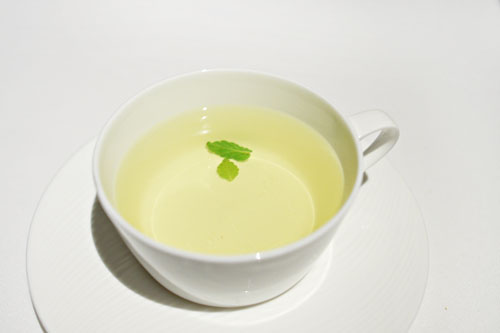 Intermezzo: Garden tisane
To cleanse our palates, we enjoyed an herbal tea containing mint, lemon balm, lemon verbena, hyssop, and chamomile.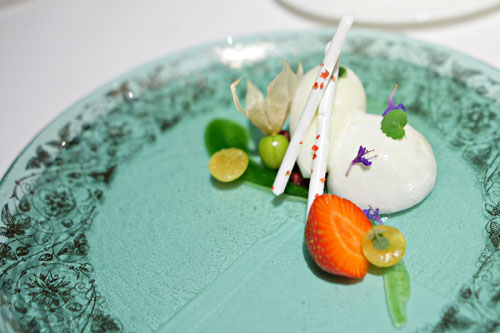 9: Berries, anise hyssop, kefir and verjus sorbet
As a pre-dessert, we had sorbet of verjuice, paired with Love Apple Farm berries, anise hyssop, and
kefir
(not to be confused with
kaffir
). The bright, acidic flavors of the sorbet were deftly moderated by the tangy, lactic, yoghurt, while the mix of fruit and hyssop provided an undercurrent of sweetness and herbaceousness that permeated the dish nicely.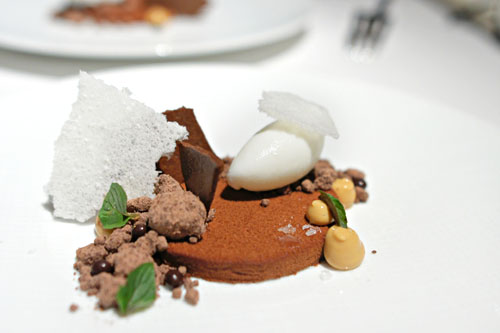 10: Milk and chocolate
N.V. Fattoria Moretto Lambrusco Emilia Romagna Italy
2006 Château Les Justices Sauternes
Our dessert proper showcased variations of milk and chocolate, and featured a buttermilk sorbet, milk meringues, a
dulce de leche
custard, cocoa nib pearls, chocolate mousse, and dehydrated chocolate mousse. It really was quite lovely, highlighting the various facets and faces of both milk and chocolate, and showing how the two elements interact so naturally despite some unconventional forms. Great mintiness here, too.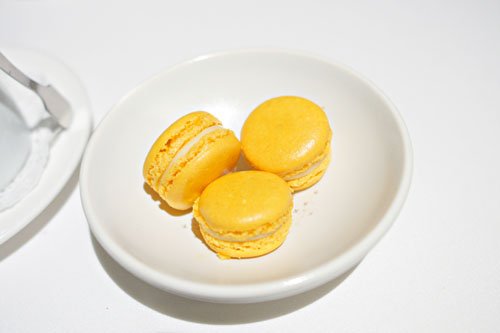 Next up were some pretty amazing apricot-chamomile macarons--fruity, but with a subtle floral undertone.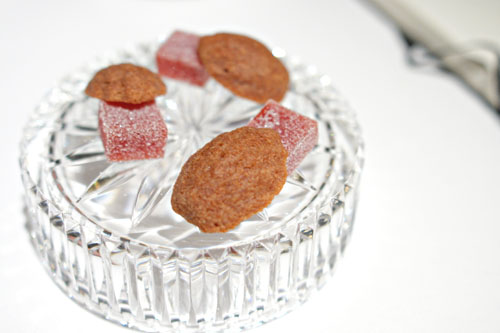 Mignardises: Petit fours "strawberry-chocolate"
We closed as we opened with a pairing of madeleines and
pâtes de fruits
, this time only with chocolate and strawberry flavors on the fore.
Manresa delivered with flying colors, making our dinner here one of my best of the year no doubt. The restaurant really is a testament of David Kinch doing what David Kinch does best, that is, presenting the very height of local, seasonal, ingredient-driven cooking, but with a decidedly modern slant and refinement, all the while successfully evoking a true sense of place or
terroir
. It's this one-two punch that makes Manresa truly special, and it's my prognostication that three stars will be in Kinch and company's future.