Piccalilli (Culver City, CA)
Piccalilli Restaurant
3850 Main St, Culver City, CA 90232
424.298.8540
www.piccalillila.com
Sat 02/29/2020, 07:45p-10:20p
Apparently I don't get out to Culver City much, as it's been a year since I've reported on any place here. That being said, there are still certainly spots I need to try in the area, and one that recently appeared on my radar is newcomer Piccalilli. Named after a sort of pickle-based condiment, the restaurant opened in mid-January, and serves Cal-Asian fare with a Lowcountry influence. Chef/Owner duties are split between Macks Collins and Bryan Kidwell, while William Sasiela and Constance Mackinson (Collins' parents I believe) are also on board as partners.
About the Chefs
: George Mackinson Collins hails from South Carolina, though he spent much of his childhood in North Carolina, Maryland, and New Jersey. He started cooking with his mom at an early age, and knew that he wanted to become a chef by the time he was 10. His first restaurant gig came at the age of 16, and after high school, he attended the Culinary Institute of America at Hyde Park, graduating in 2008. Collins found employment at Chambers Walk Cafe & Catering in Lawrenceville, NJ, then cooked at Jasna Polana country club in Princeton. He transitioned to Rouge et Blanc in Manhattan's South Village around May 2011 as sous, then took over the kitchen at the start of 2013 when Head Chef Matt Rojas left. It was here where Collins would meet Kidwell.
Bryan Christopher Kidwell was born and raised in Reston, VA, and is of part Okinawan ancestry. He got his start in the culinary business at Indigo Landing in Alexandria, where he served as a line cook. He would eventually make his way to Rouge et Blanc, where he worked with Collins for four years, the two of them leading the kitchen cooperatively and serving southeast Asian-inflected fare. During a family meal, one of the dishwashers made them a
pambazo
, a sort of dipped sandwich from Mexico, and the two were instantly hooked. They decided to capitalize on the idea, and in early 2016, moved to Los Angeles to start work on the Mad Pambazos food truck in partnership with Joseph Drewer.
The truck debuted in July 2016 (shortly before Collins married girlfriend Michelle Woo) and was fairly successful, but things came to a halt on August 19th, 2018 when Kidwell suffered a major accident. While doing flips on the beach, he landed on his head, severing his spinal cord, which temporarily paralyzed him. After months of rehabilitation, he was able to walk (though not easily), and subsequently got married to longtime girlfriend Sofia Lares in March 2019 (they'd pushed the date back three months). During this whole period, Collins and Kidwell were thinking about starting their own place, and in February 2019, it was announced that they'd be opening up a spot called Wild Child in Culver City. The name was later changed to Piccalilli (I'm guessing due to the proximity of Wild Child Gym down the street), and the restaurant ended up bowing at the start of this year.
The front-of-the-house at Piccalilli is run by GM Melissa Lambert. Her first industry job was at her uncle's spot Cafe Matou in Chicago, where she served as line cook and dabbled in pastry. She later moved to New York to attend the CIA, which is where she met Collins. She achieved her associate degree in Culinary Arts in 2006, and her bachelor's in Culinary Arts Management in 2008. After graduation, Lambert moved back to Chicago and worked for Jean Joho, and in March 2010, became a server at One Sixtyblue. In February 2012, she landed a lead line cook position under Chris Pandel at Balena, but left after only two months. Following, she moved back to the FOH and secured a server gig at Piccolo Sogno, where she developed an interest in wine. Two years later, she decamped for the Chicago outpost of Eataly, specifically the wine bar-ish section called La Piazza, but was out by January 2015. Lambert then relocated to LA, where she worked for King's Seafood Company in Long Beach. She reconnected with Collins when Mad Pambazos was launched, and followed him to Piccalilli.

Piccalilli takes over the old Pieology Pizzeria, which was actually the home of Gregg Fleishman Studio in a previous life. The space was redone by
Preen Inc
, the same firm behind the likes of Yapa,
Tesse
,
Howlin Ray's
,
Odys + Penelope
,
Hatfield's
, and Akasha. The vibe here is definitely on the tropical, colorful side, and there's even a large, heavily-vegetated patio out front, too.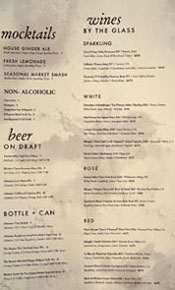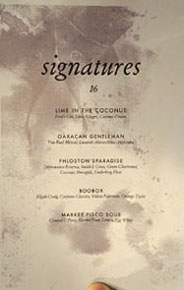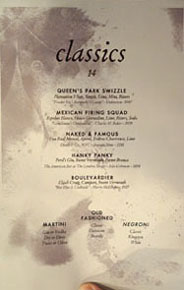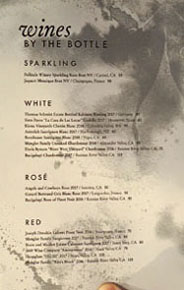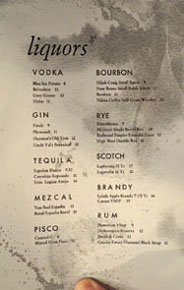 The menu here is pretty tight, and reads well with its decidedly pan-Asian leanings mixed with an American Southern bent. To drink, you get about a dozen cocktails, a small selection of reasonably priced wines, and a few relatively interesting beers. Corkage is $30 I believe, though I didn't make use of it. Click for larger versions.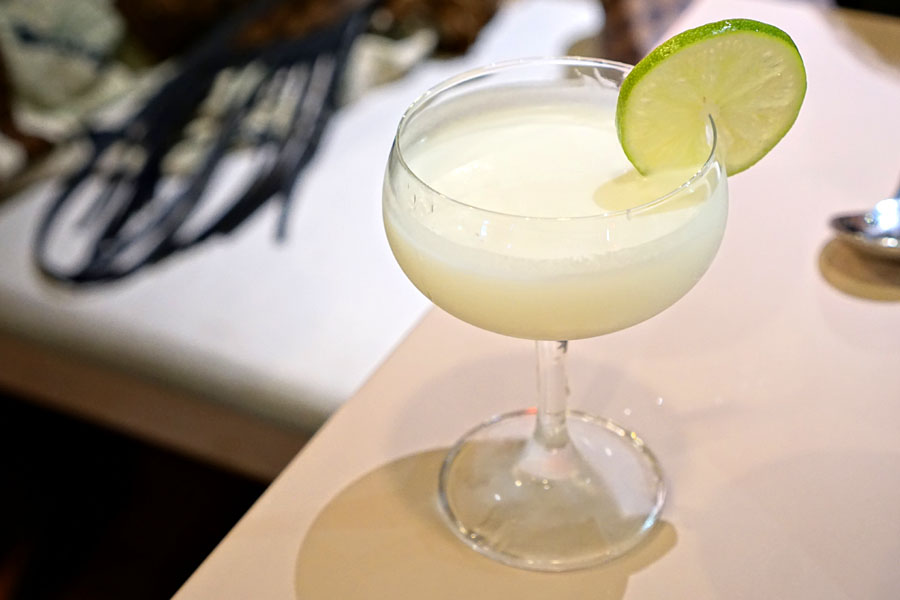 Lime in the Coconut [$16.00]
| Ford's Gin, Lime, Ginger, Coconut Cream
We ended up going with cocktails this evening, and the first fit the theme of the restaurant rather well. The drink was certainly creamy in terms of mouthfeel, while flavors were gingery and citrusy at first, with a touch of herbaceousness, while coconut served as a sweet, tropical base.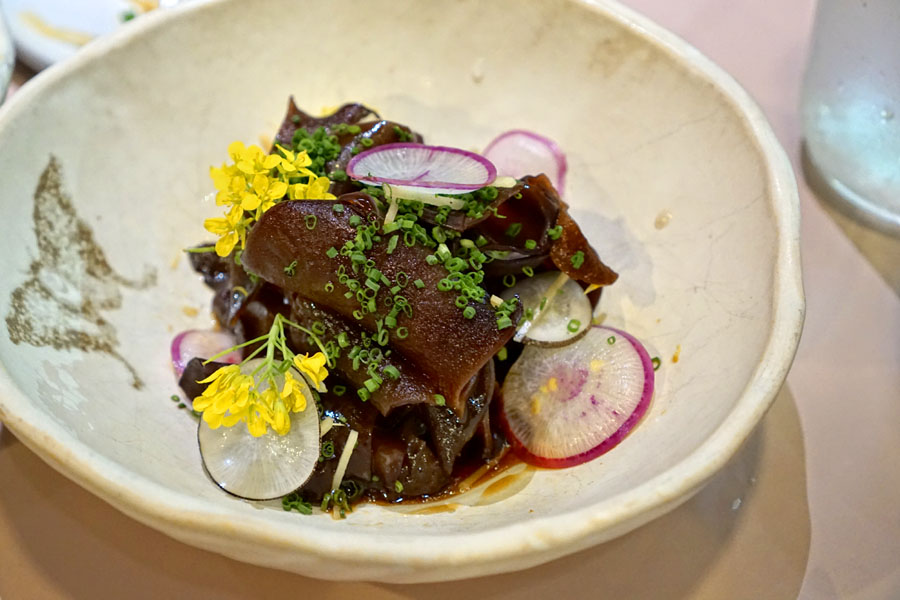 Wood Ear Mushrooms [$9.00]
| Sweet Soy, Black Vinegar, Ginger
Mu er
'shrooms had the crisp, snappy texture I'm accustomed to, but weren't nearly as slippery. Meanwhile, flavors veered in a savory, tangy direction, with a definite herbal note and lots of zesty ginger.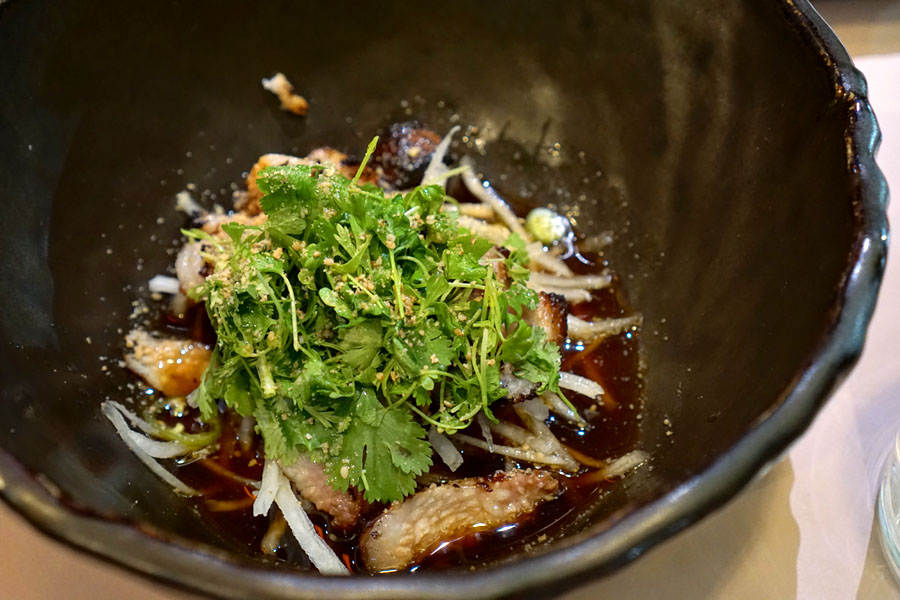 Miso Pork Jowl [$16.00]
| Tiger Salad, House Ponzu
This Thai-inspired jowl managed to be a favorite of mine. The pork was well-textured, with a bit of a fatty crunch to it, and conveyed a welcomed savoriness alongside just a hint of smoke. Ponzu added further hits of tartness and umami to the mix, and I liked the brightness imparted by the greens and papaya, not to mention the creeping heat in the dish. Also key was the use of what I believe was rice powder, which provided a bit of nuttiness as well as a sort of tactile sensation on the tongue.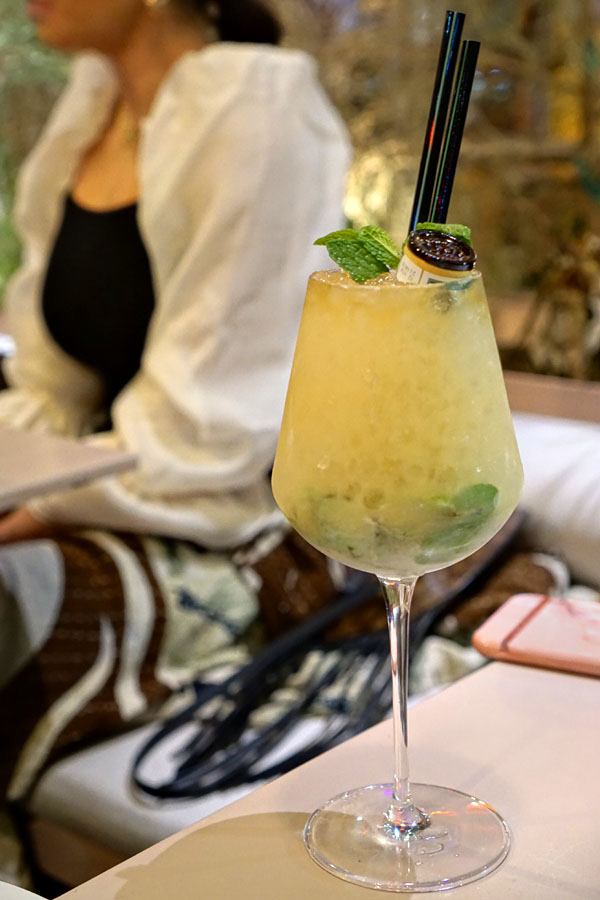 Fhloston's Paradise [$16.00]
| Diplomatico Reserva, Smith & Cross, Green Chartreuse, Coconut, Pineapple, Underberg Float
This next cocktail was tropical tasting, with distinct pineapple undertones, yet also quite rum-forward, bitter, and medicinal. My favorite part actually was the herbal, very familiar, vaguely Asian-y element from the Underberg.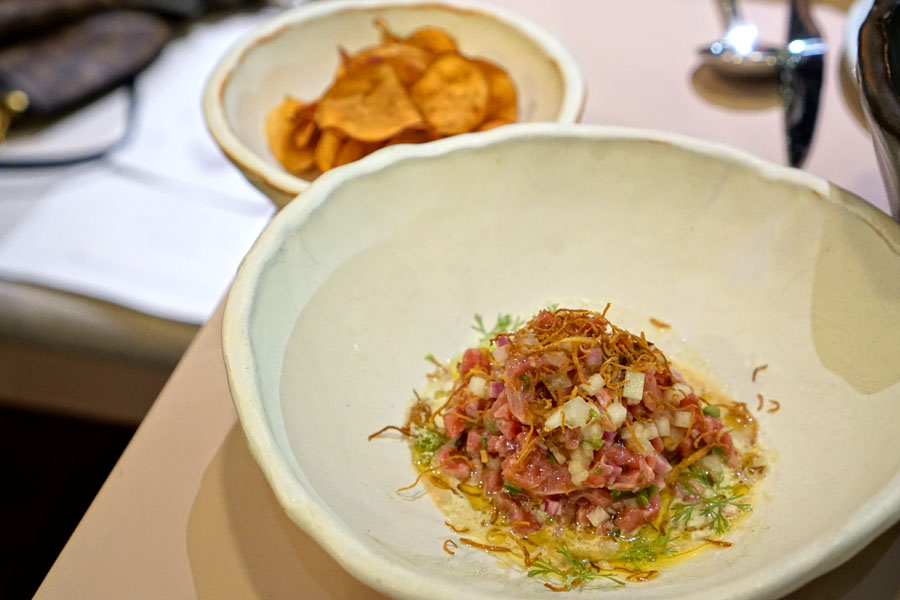 Beef Tar Tar [$18.00]
| Shishito, Wasabi, Kohlrabi, Crispy Ginger, Yuzu Aioli
The tartare was another standout, and one of the more interesting preparations I've had in a while. There was a marked "fruitiness" to the meat, one leading to herbal notes and a growing heat, while the fried ginger sprinkled on top imparted a deep savoriness. Very well integrated overall, with a nice textural contrast from those chips, too.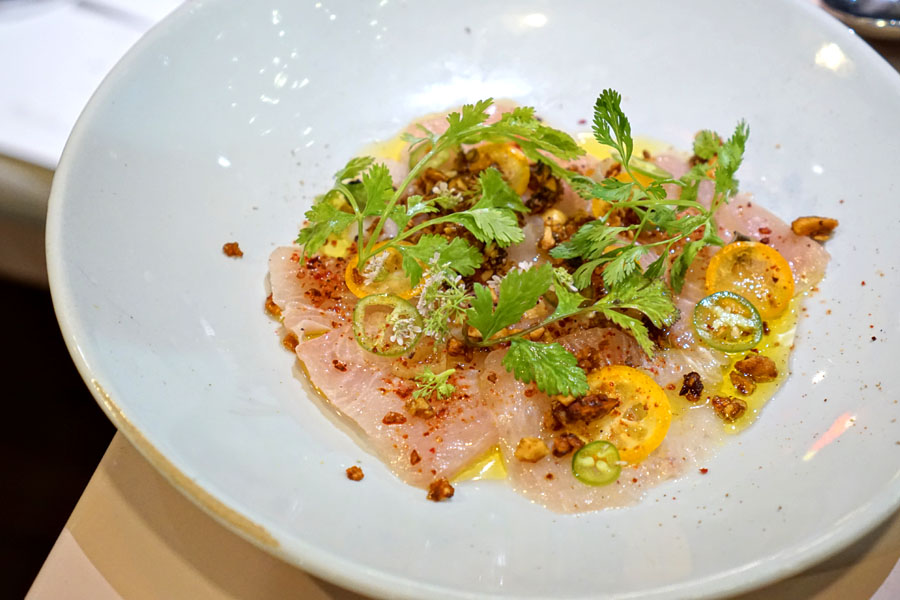 Hamachi Crudo [$17.00]
| Market Citrus, Sichuan Peppercorn, Glazed Peanuts, Cilantro
Cuts of yellowtail were especially fatty, and meshed effortlessly with the herby, nutty forces in the dish. I would've liked more spice, more
mala
from the Sichuan peppers, though.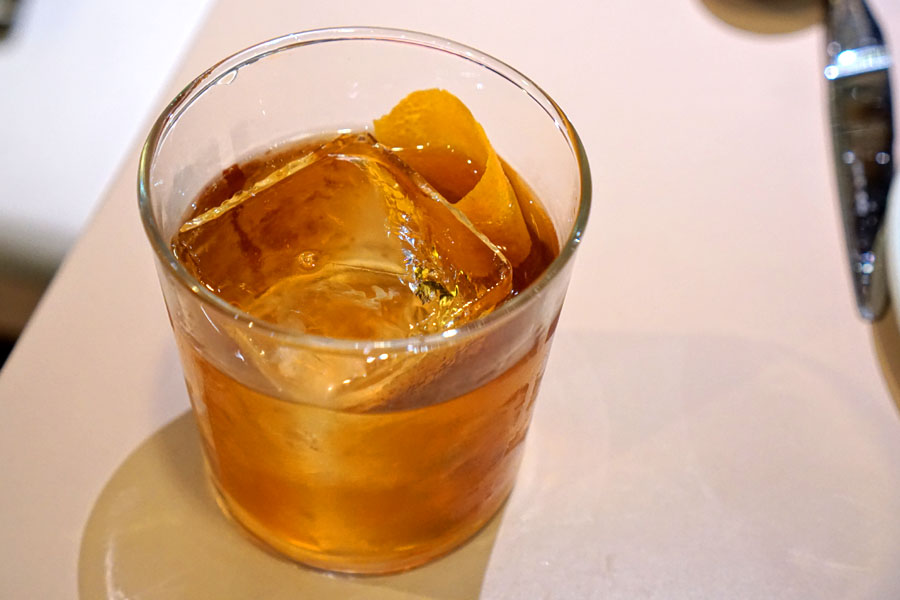 Boobox [$16.00]
| Elijah Craig, Carpano Classico, Velvet Falernum, Orange Twist
Next came what was the most spirit-forward of our cocktails. The nose on this one was actually pretty subdued, with the falernum making itself known the most, perked up by a bit of citrus. Tasting it, I got a good amount of sweet spice commixed with some acerbic notes, all layered on top of the potency of bourbon.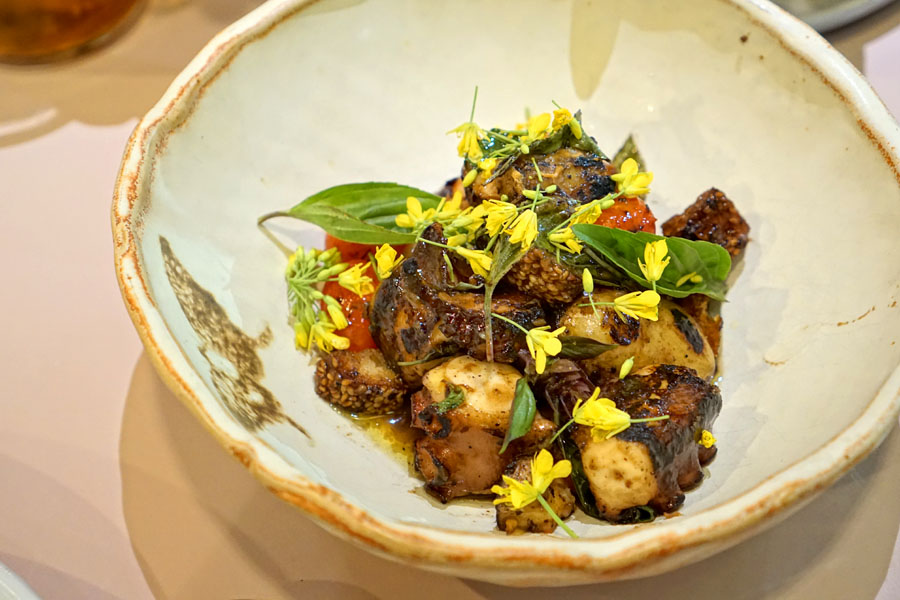 Octopus and Heirloom Tomato [$21.00]
| Garlic Croutons, Roasted Fingerlings, Black Vinegar Sauce
Octopus was a tad chewier than I prefer, but was still delicious, giving up a cozy sort of savoriness and spice that was boosted by the use of that black vinegar. Potatoes worked here for contrast, and I loved the aromatics from the basil. Interestingly, taken all together, the dish was actually pretty reminiscent of Thai fried rice!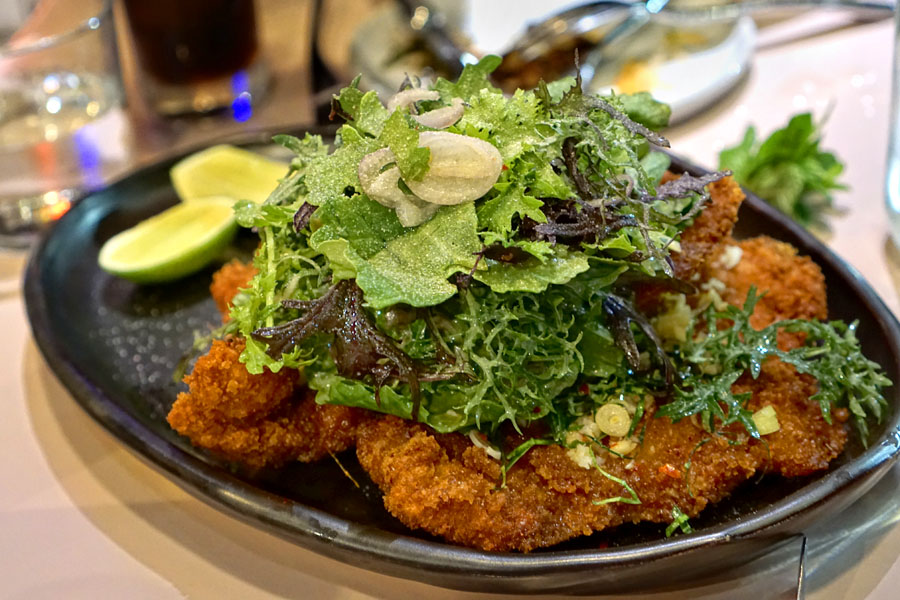 Bangkock Chicken Katsu [$24.00]
| Thai Chili Vinaigrette, Aromatic Chicken Fat, Market Greens
Chicken katsu was spot on thanks to its gratifyingly crispy crust and juicy, succulent meat; in fact, it had a substantialness to it that almost recalled a pork version of the cutlet. The greens on top worked great to lighten and brighten the dish, but even better was that excellent chili-boosted vinaigrette, which had a very familiar, homey sort of depth of flavor to it.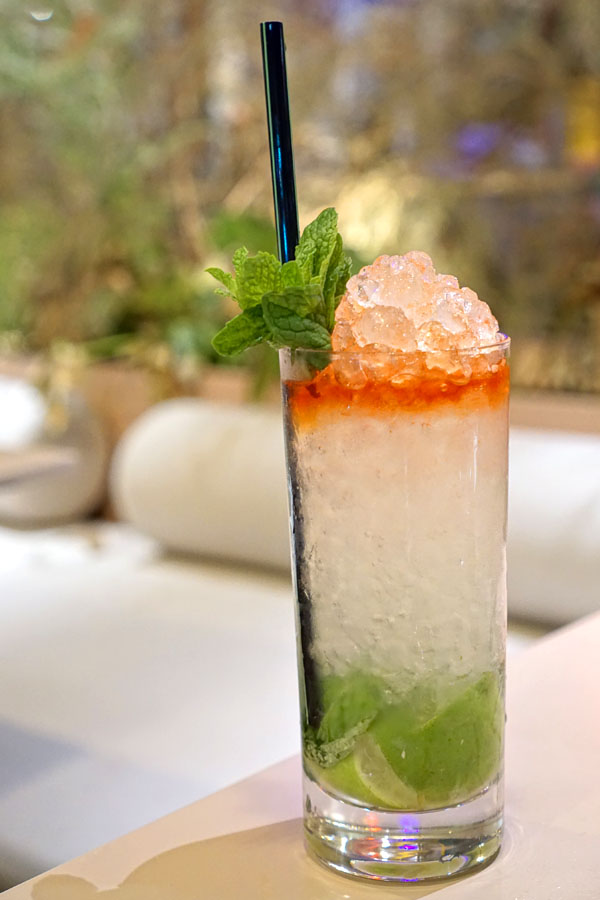 Queen's Park Swizzle [$14.00]
| Plantation 3 Star, Simple, Lime, Mint, Bitters
This classic, multilayered cocktail displayed a balance of sweet, sour, bitter, and minty notes in a pretty easy-drinking package, all punctuated by a slight astringency from the bitters.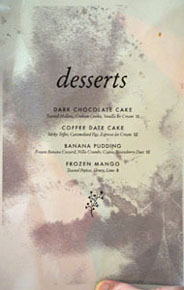 Piccalilli's desserts seem a bit less Asian-y than the savories. Click for a larger version.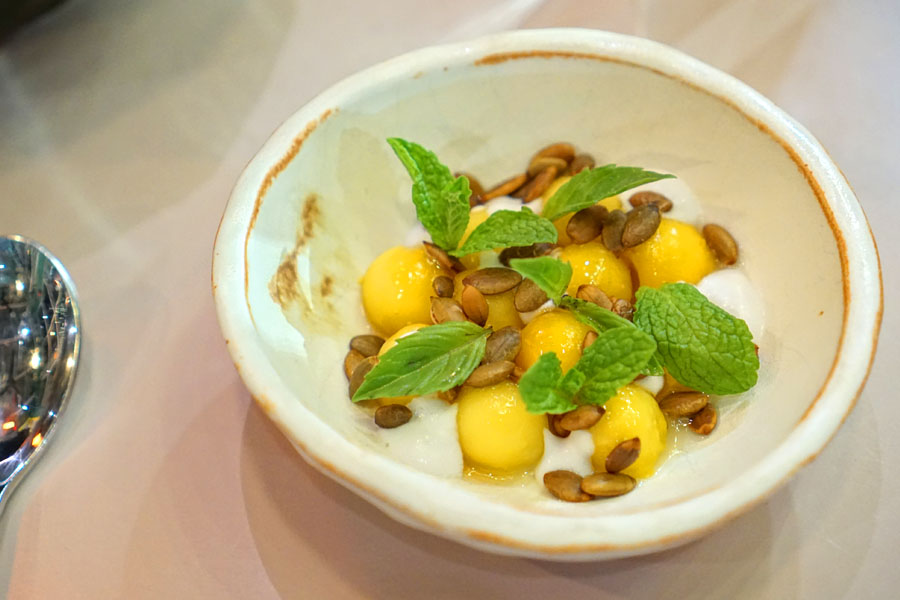 Frozen Mango [$8.00]
| Toasted Pepitas, Honey, Lime
In our first dessert, spheres of mango had an intriguing consistency that was a mix of firm and pliant. The fruit had its inherent flavors augmented by the presence of lime and honey, but the key here was the use of those pumpkin seeds, which added a delightful crunch and nuttiness to the fray.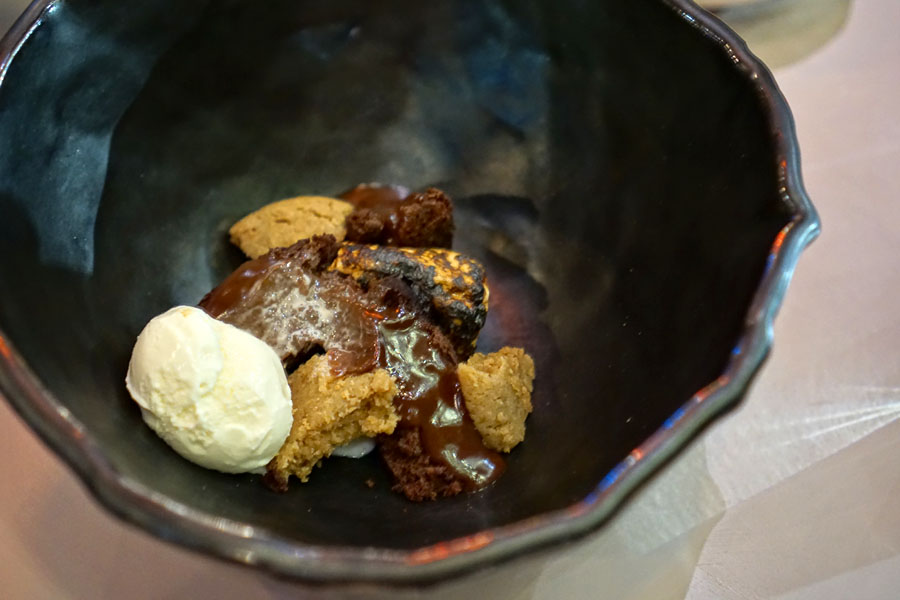 Dark Chocolate Cake [$11.00]
| Toasted Mallow, Graham Cookie, Vanilla Ice Cream
We ended with a rather moist chocolate cake, one with some wonderfully classic, satisfying flavors at play, but presented in an updated manner. I was especially fond of the spicy nature of the graham cookies here, and the ice cream really did help tie everything together.
I wasn't sure quite what to expect with Piccalilli, but I ended up very much enjoying my meal here. The Chefs do a commendable job in the kitchen, blending Asian and Low Country cookery in an effective manner that's fun, fresh, and fascinating; this dinner made me want to try more of their food. This spot is a great addition to the sometimes lacking Culver City dining scene, and I imagine that this could be a go-to restaurant of mine if I lived in the area.