Hotville Chicken (Los Angeles, CA)
Hotville Chicken & Chops
4070 Marlton Ave, Los Angeles, CA 90008
323.792.4835
www.hotvillechicken.com
Fri 03/27/2020, 07:00p-08:40p

Ever since the launch of
Howlin' Ray's
a few years back, LA has been infatuated with Nashville hot chicken, and that enthusiasm hasn't really subsided. One of the latest entrants in the space is Hotville Chicken, which debuted in December inside Baldwin Hills Crenshaw Plaza (a stone's throw from
Post & Beam
). What sets this place apart from all the others is that it comes to us from Kim Prince, a scion of the very same Prince family that popularized hot chicken over 80 years ago.
A bit of history
: It's uncertain when hot chicken was invented, but it seems to have been known among Tennessee's African-American community since at least the late 1800s. As far as the Prince family is concerned, it all started with one James Thornton Prince III, a farmer who also happened to be quite the womanizer. According to the family, one of his many girlfriends once made him an extra-spicy fried chicken breakfast as revenge for possible infidelity, but much to her dismay, he ended up really enjoying it. Eventually, he and his brothers decided to create their own restaurant serving the dish, opening BBQ Chicken Shack around 1936.
Their first location was at Jefferson and 28th in Nashville, but the business moved a few years later to Hell's Half Acre, not far from Ryman Auditorium. That building was later removed to make way for the City's library, so the Shack moved a second, and then a third time to Charlotte and 17th. When Thornton died in the 1970s, his brother Will took control of the business, and he later had to move the restaurant to Clarksville Pike and 28th. After Will's passing, his wife Maude had her cousin and his wife, Bolton and Francis Polk, manage things for a while, but they left to open Columbo's Chicken Shack in the late 1970s. Will's son Bruce and his wife Wilhelmina were also involved, but in 1980, their daughter Andre Prince Jeffries (the current owner) took over despite never really working at the restaurant.
Upon taking the reins, she renamed the place Prince's Hot Chicken Shack, and in 1982, added different heat levels. In the summer of 1989, Jefferies had to relocate to 123 Ewing Drive due to landlord issues, and was able to operate there for nearly 30 years. However, in late December 2018, a car crash and subsequent fire damaged the building that housed Prince's, and the eatery ended up shuttering permanently. Fortunately, back in September 2016, Jefferies had started a second location at 5814 Nolensville Pike, while a food truck incarnation of Prince's opened in August 2019 at the 6th & Peabody development, so Nashville didn't ever have to go without their hot chicken.
So how does Kim Prince fit into the picture? Well she's the niece of Andre Prince Jeffries, and thus the great-great niece of patriarch James Thornton. Kim spent much of her childhood working at the Clarksville location of Prince's. In the 80s, she moved to the Antelope Valley with her family, and her father even served hot chicken at Lancaster's California Poppy Festival. Apparently, the Prince family had wanted to expand to the Southland for years, and this intent was first revealed back in 2013. However, it took until late 2016 for Kim to launch Hotville Chicken on Feastly. Then, in January 2017, Hotville began serving in Chinatown, Saturdays only, at the shuttered Michael J's Pizzeria & Bar (which is where
David Féau
was popping up back in '15).
That August, Kim expanded to weekday lunch service, but had to close the pop-up the following month due to issues with the space. Despite the setback, she continued to appear regularly at places like Glendale Tap, State Brewing Co in Gardena, and
Beer Belly
in Long Beach throughout 2018 and 2019, while also making one-off appearances here and there. She then partnered with Greg Dulan (of Dulan's on Crenshaw fame), and the two took over the old Michelle's Country Diner in fall 2019. After some minor renovations, Hotville Chicken ended up dropping on December 17th, and was positively reviewed by Tejal Rao of the
New York Times
just a month later.

Hotville resides in a rather capacious building that was previously home to Michelle's Country Diner as mentioned above, and a Fatburger before that.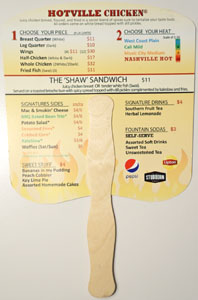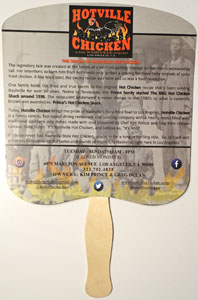 The menu's simple enough, listing chicken in various formats alongside a number of sides. There are four standard degrees of spice, though Prince did mention that you can request an even hotter off-menu option that one of the employees deemed the "toe tag." Note that the menu is mounted on a wooden stick, and thus doubles as a fan (which could be handy at the higher heat levels). Click for larger versions.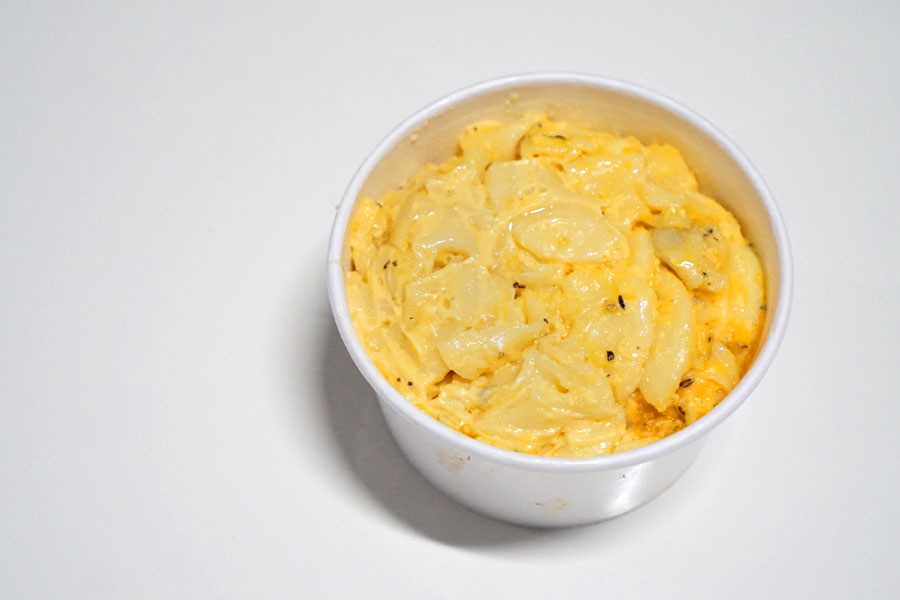 Mac & Smokin' Cheese [$4.00]
I made my way through a number of the side dishes this evening. The macaroni and cheese featured soft, slippery pasta with a not-over-the-top cheesiness and some crunchy browned bits included on the bottom.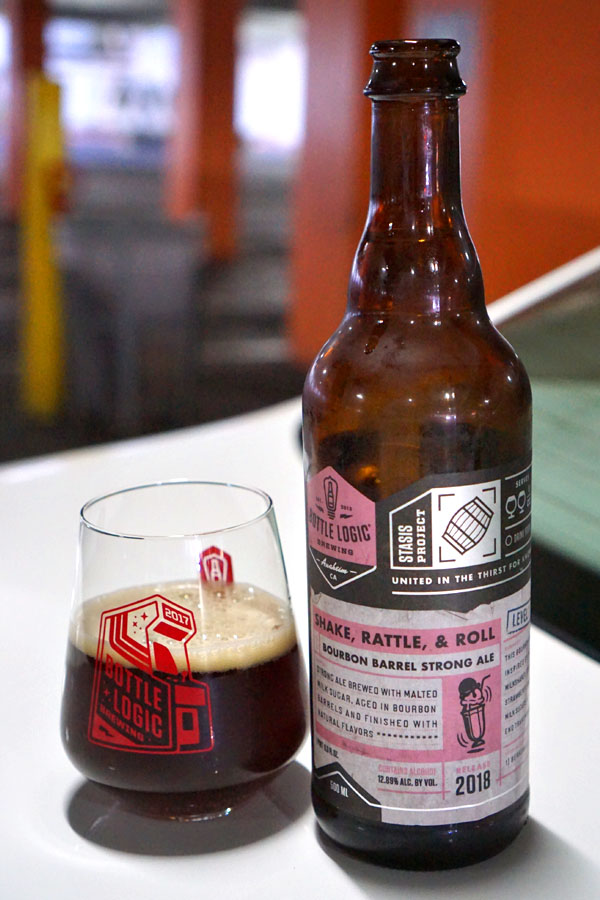 Our first beverage was the
2018 Bottle Logic Shake, Rattle, & Roll
, a strong ale brewed with malted milk sugar, aged in bourbon barrels, and finished with flavors of chocolate, strawberry, and vanilla. Nose here was of intense strawberry with vanilla hiding underneath, while the taste brought more fruit up front, leading to malty chocolate and fragrant vanilla, while the finish showed off even more strawberry. The beer was inspired by a Neapolitan milkshake, and I think it did a pretty commendable job in that regard.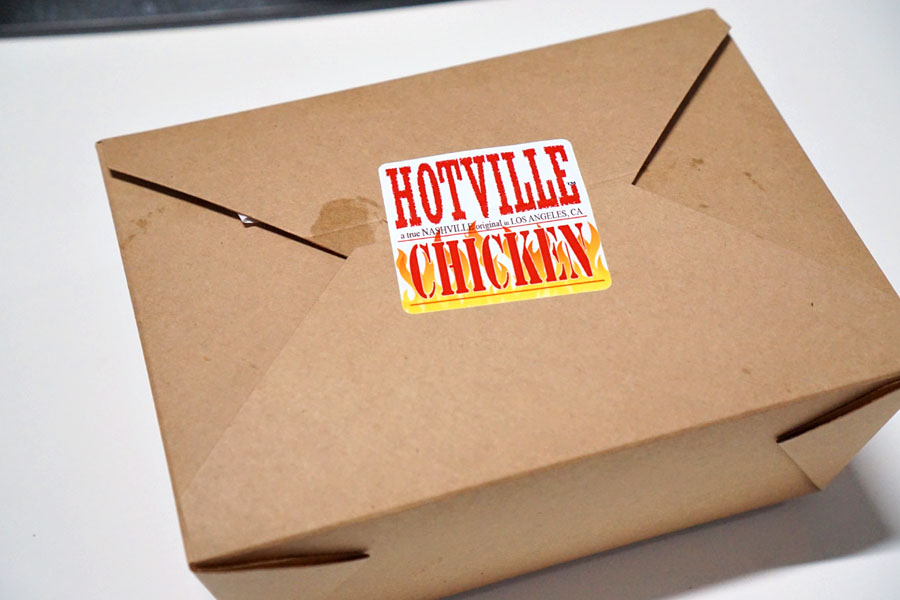 Here we see the restaurant's to-go packaging, replete with custom sticker.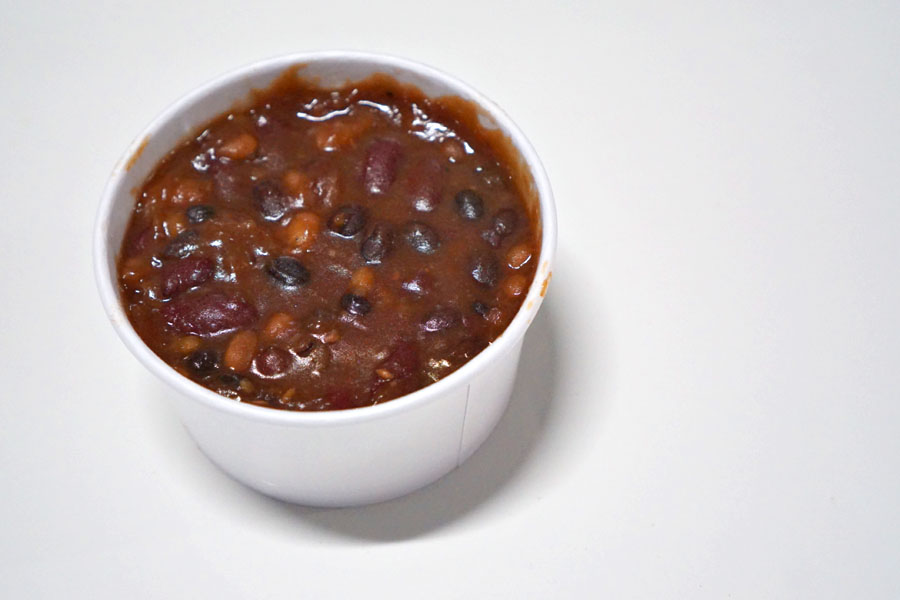 BBQ Baked Bean Trio [$4.00]
Beans displayed a forceful sweetness that was perhaps a bit much, but this sugariness began to make more sense when the dish was enjoyed with the fiery chicken. My favorite facet here was the use of three different types of beans, which gave the side a much appreciated variation in texture.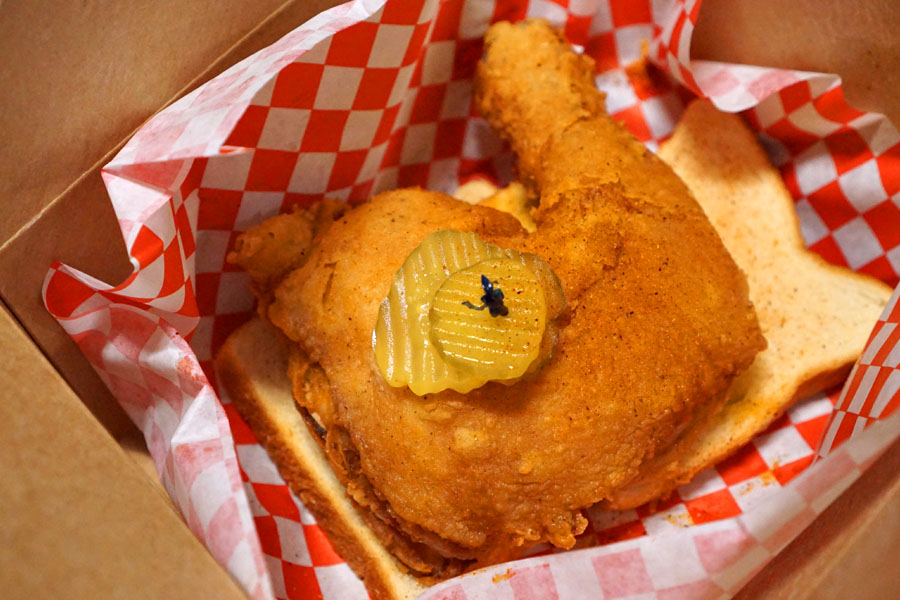 Leg Quarter (Dark) - West Coast Plain [$10.00]
My first order was dark meat, unspiced, so that I could get a sense of the cookery of the chicken itself. I found the meat as juicy and tender as I was looking for, and also appreciated the skin, which was well-seasoned, crisp, shattery. Classic and comforting, this was just an inviting preparation of fried chicken that really let the inherent deliciousness of the bird shine.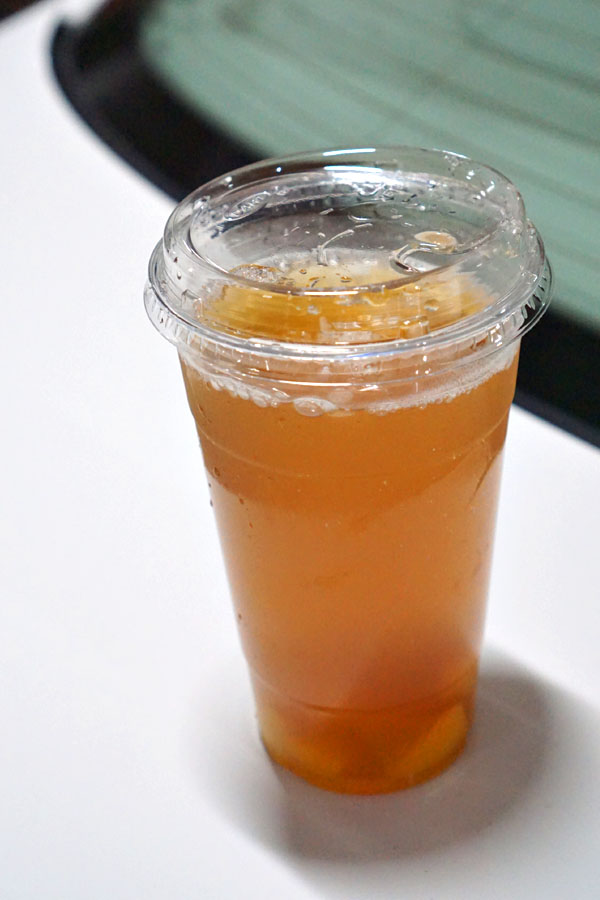 The
Southern Fruit Tea [$4.00]
represented a marriage of classic tea flavors with a heavy dosing of tropical fruit (thanks to those bits of pineapple and peaches(?) on the bottom).
Potato Salad [$4.00]
This was a fairly traditional rendition of potato salad, one with a familiar creaminess to it along with a modicum of mustard-y zing.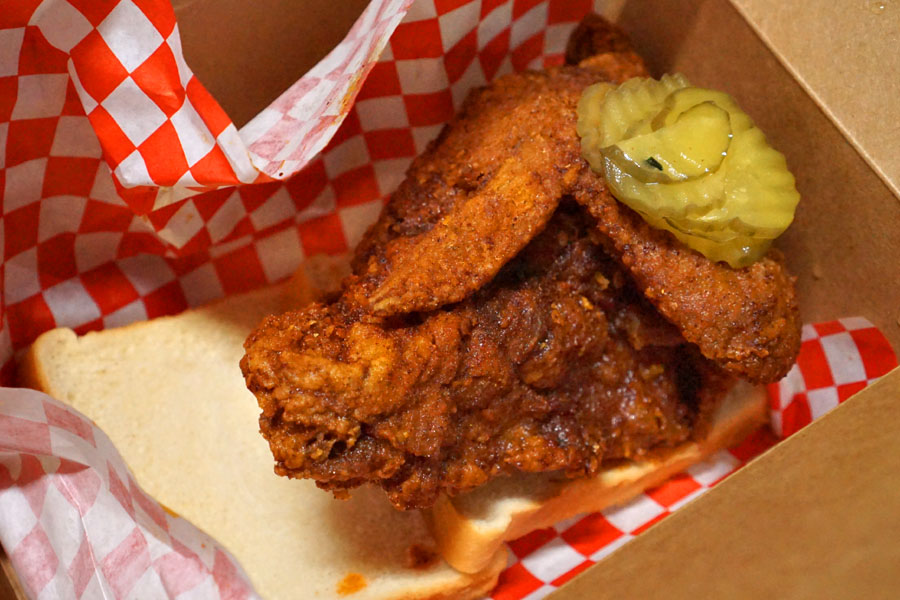 Breast Quarter (White) - Cali Mild [$11.00]
Not surprisingly, the white meat didn't match the dark for succulence, but the breast was still tasty in its own right, while the wing was just what I wanted. The skin, meanwhile, was even crunchier than with the thigh, and was of course where most of the spicing resided. There was a persistent but not overwhelming amount of heat here, and you can still taste all of the chicken, so this is the level I'd recommend for most people.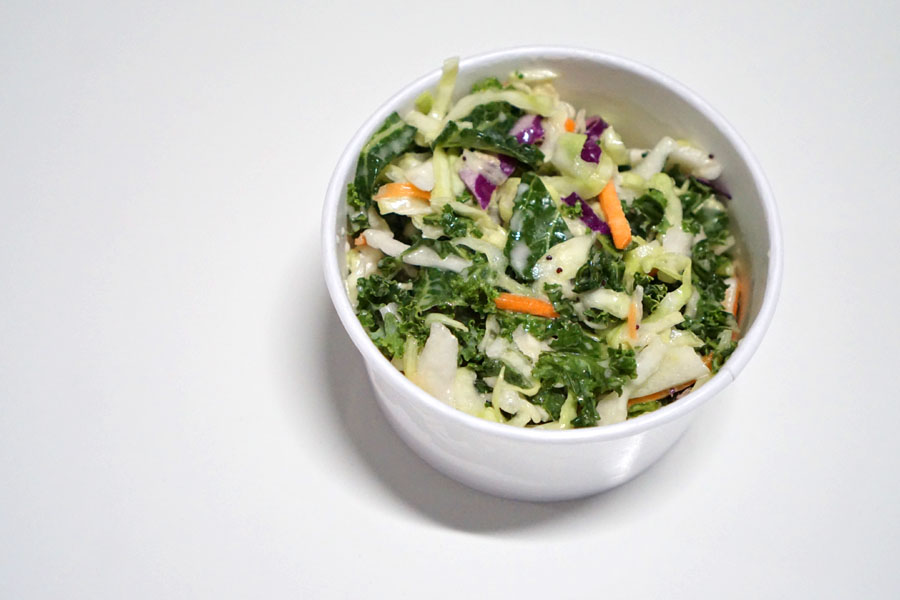 KaleSlaw [$3.00]
Given that I'm not generally a huge fan of kale, I liked Hotville's take on coleslaw much more than I thought I would. There was a lovely, gratifying sort of crunch to the veggies, along with a touch of creamy sweetness, but the key was actually that kale, which imparted this bitter, earthy complexity to the dish that really worked.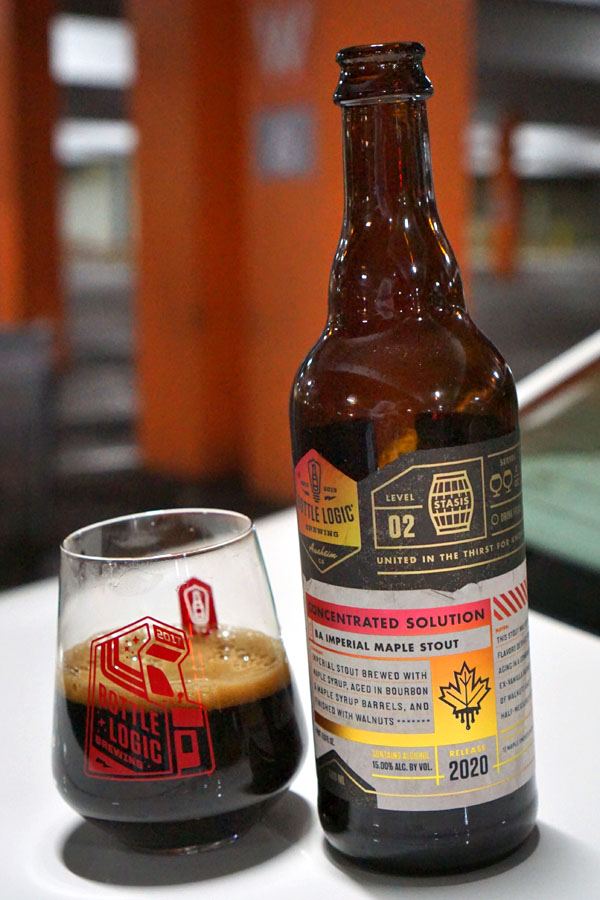 Next to drink was the
2020 Bottle Logic Concentrated Solution
, an imperial stout fermented with Bascom Family Farms maple syrup, aged in bourbon/maple/vanilla barrels, then finished with walnuts and more maple syrup, created in collaboration with Mikerphone Brewing out of the Chicago area. The beer had an appealing aroma filled with sweet spice layered over malty maple. On the palate, I found this super soft and silky, showing off a base of smooth maple-y sugariness joined by chocolate and warm spices, though very little of the advertised walnut. Surprisingly easy-drinking.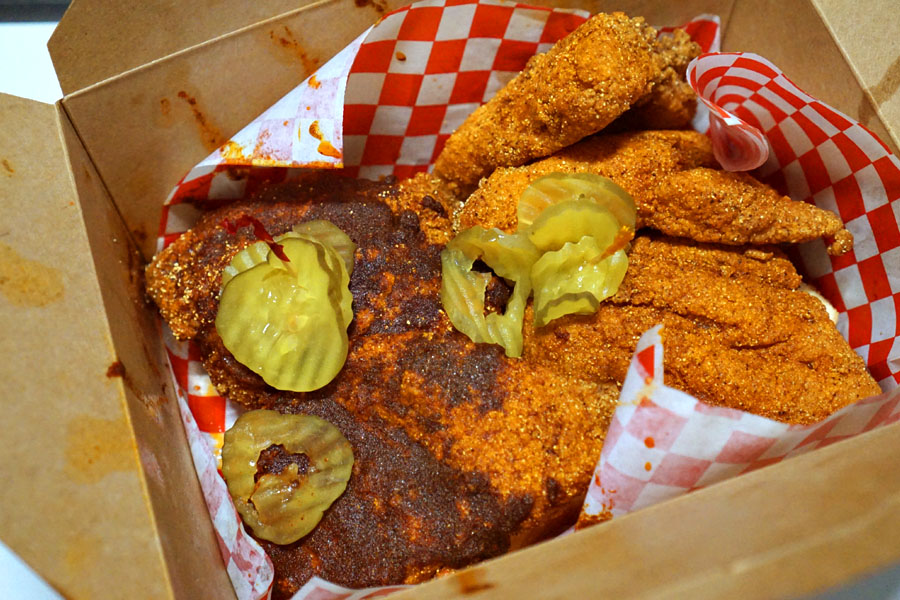 Fried Fish (Swai) - Music City Medium / Nashville Hot [$11.00]
With the chicken done with, I moved on to the hot fish, which featured flaky, moist flesh encased in a crunchy, gritty cornmeal crust. I requested a mix of the remaining two heat levels. Surprisingly, the "Music City Medium" really didn't taste much different than the "Cali Mild," so I'm left wondering if the kitchen perhaps underspiced the fish. On the other hand, the "Nashville Hot" was a big step up. I felt the heat immediately, and it did not go away easily. It was a sharp, prickly sort of spice, one that really grew and lingered, and resulted in me sweating quite a bit and getting a runny nose. This one was definitely more about pain than pleasure.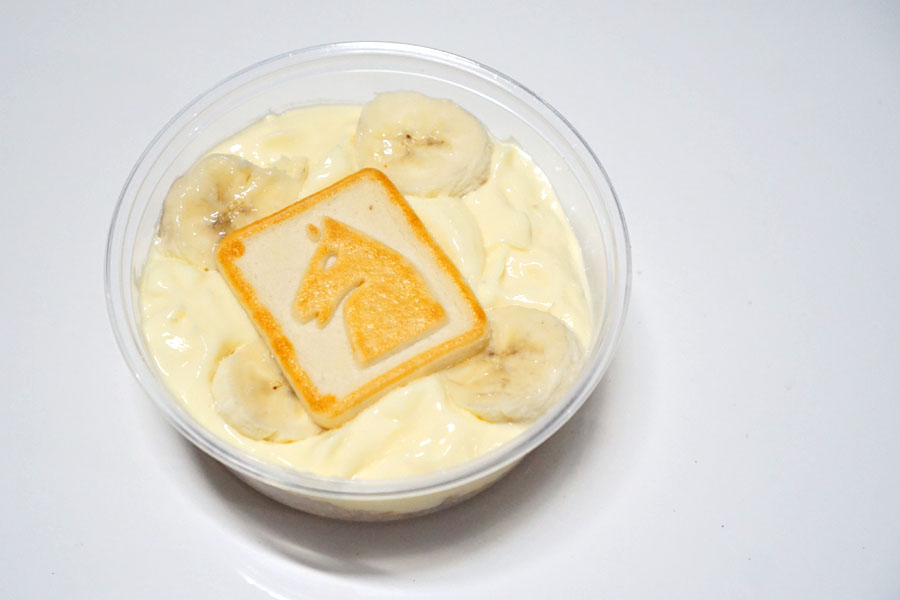 Bananas in my Pudding [$4.00]
The banana pudding certainly helped cool things down, thankfully. I was a big fan of its pure, creamy banana flavors, set over a sugary, crumbly crust, while the cookie on top provided even more textural variation. Yum.
Though I wish I could've eaten here under better, non-coronavirus circumstances, I have to say that I was rather satisfied with my meal at Hotville. Spicing aside, this is just some mighty fine fried chicken, with some worthwhile sides to boot, and I must also point out that the service was especially hospitable. As I mentioned above, LA is in the midst of a hot chicken craze, but Hotville seems to somehow transcend all that. After all, the Prince family is who popularized the dish to begin with, and I do hope this place can stick around once Angelenos inevitably move on to the next food trend.