Hatchi at Breadbar (Los Angeles, CA) [3]
Hatchi at Breadbar
10250 Santa Monica Blvd, Los Angeles, CA 90067
310.277.3770
www.breadbar.net
Thu 06/24/2010, 07:30p-10:30p

When we last caught up with Walter Manzke, he was closing out his tenure at
Church & State
. The former
Bastide
chief was instrumental in establishing C&S as one of Los Angeles' premier bistro destinations, but unsurprisingly, the challenge of preparing
escargots de Bourgogne
day in and day out grew tiresome, and the Chef yearned for something that would allow him to get more "creative." Since leaving the restaurant, Manzke has been hard at work fine tuning the concept, lining up investors, and scouting out locations for his first solo venture (along with doing some
consulting
along the way), but precious few details have emerged about the place. Would he stay close to his French roots, or venture towards Asia, a mix of both? I was hoping that Hatchi would provide some clues.
My dining companions for this meal included Fiona of
Gourmet Pigs
(who provided the reservation--thanks!), Helen of
I'm Hungry and Proud of It
, and Mike of
Right Way to Eat
(who taught me a new term tonight--UBD, or Unofficial Blogger Date). However, given that this was a
Walter Manzke
dinner after all, LA's foodie cognoscenti turn out in droves; this was easily the largest turnout I've seen,
ever
. Here's the list (apologies to anyone I may have missed): Aaron of
The Savory Hunter
, Alana N. (
lushseaweed
), Andrea of
The Foodie Traveler
, Austin of
Living to Eat
(he's also a Pastry Cook at Westside Tavern), Bill of
Street Gourmet LA
, longtime kevinEats reader and
Modern Family
crew member Brian Resnick (apparently, they're working on an episode inspired by my food blogging antics!), aspiring restaurant impresario
Brian Saltsburg
, Daniel of
Exploratory Dégustation
, David "the modernist" C. from
Yelp
,
Famished Foodie
, Felicia of
The Food Ledger
, Freda of
Potatomato
, Hong of
Ravenous Couple
(
sans
Kim),
Ivan
, Jacqueline "ItsMeCoffeeGirl" C from
Yelp
, legendary restaurant reviewer and producer
Jay Weston
, Chef Jon Shook from
Animal
, Josh of
Food GPS
, Josie of
Uncouth Gourmands
, Julie Wolfson from
LAist
, Lesley Balla from
Tasting Table
, Lesley Bargar Suter from
Los Angeles Magazine
, Liberty Huang from
Boobs4Food
, Linden of
The Gastronomnom
, Liz of
Food She Thought
, Pam of
Rants & Craves
, Matt of
MattBites
, Matt of
Mattatouille
, Nicola of
Marathon Appetite
, Noelle of
Drink 'n' Dive
, Patrica of
Life with a Whisk
, Rachael Narins from private supper club
Chicks with Knives
(who will be cooking at Hatchi in August), Ryan of
Epicuryan
, photographer-foodie-Twitterato
Ryan
,
Father's Office
mogul Sang Yoon,
Weezermonkey
, Shauna of
The Minty
, Shawna Dawson from
Sauce LA
, Stephanie of
Stuffy Cheaks
,
Tin
(who I'd met at
LudoBites
), Tony of
SinoSoul
, Yelper
Vinh
(who I ran into on my last
Hatchi
visit as well),
Wasima
, and last but certainly not least, Zach of
Midtown Lunch
. Whew!
For the uninitiated, Hatchi is a series of one-night-only dinners at BreadBar in which a special guest chef prepares an octet of dishes, priced at a reasonable $8 each. Past participants have included (in order of appearance): Debbie Lee (Jun '09),
Michael Voltaggio
(Jul '09),
Roberto Cortez
(Aug '09), Remi Lauvand (Sep '09), Eda Vesterman (Oct '09), Waylynn Lucas (Nov '09), Marcel Vigneron (Dec '09), Ricardo Zarate (Jan '10), Iso Rabins (Feb '10), Kumiko Yagi/Ramon Perez (Mar '10), Saul Cooperstein (Apr '10), and Brian Redzikowski (May '10). Next Month, Makoto Okuwa of
Sashi
fame will serve as the guest of honor, while August brings us the dames of
Chicks with Knives
.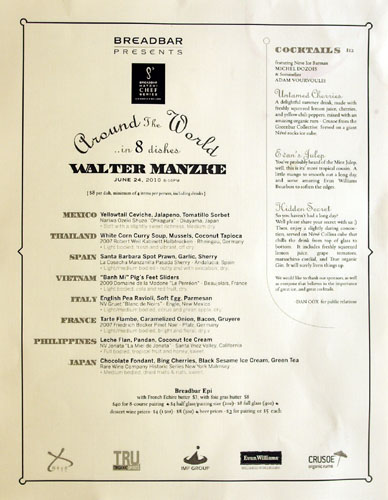 Here we see the night's menu--"Around the World"--which, as the name implies, features gastronomic influences from no less than eight different nations. In addition to the victuals, former
C&S
bartender, Névé Ice founder, and "drink smith" Michel Dozois offered up a troika of cocktails priced at $12 each, while wine pairings [$40] were the task of Adam Vourvoulis (who met Manzke during his tenure at Bouchee in Carmel). Click for a larger version.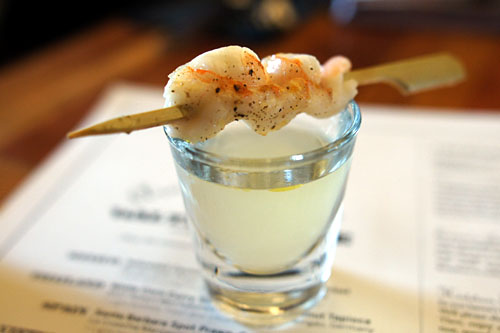 Amuse Bouche: "Shrimp Cocktail"
We began with the Chef's interpretation of a classic shrimp cocktail. I devoured the shrimp in one bite, and loved its snappy texture and subtly sweet-briny savor, complemented by a bit of bitterness from the char. I then shot the remaining vial of liquid, a great jolt to my palate showing fantastically complex, vegetal, and citric flavors over a wonderfully tangy base.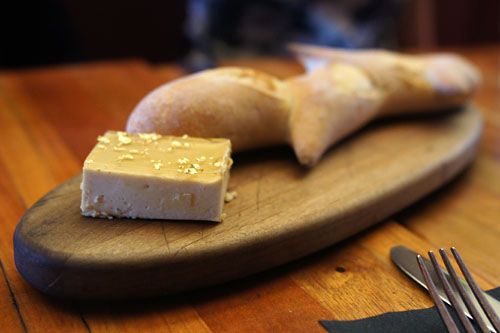 Bread Bar Epi [$8.00]
| Foie Gras Butter
Since we were at
Bread
Bar and all, I would've thought that the bread would be complementary. That being said, I suppose you're not paying for the bread, but for the magnificent
foie gras
butter (as if butter needed to become even more decadent). The essence of foie was actually fairly subdued, a flighty hint of liver-y goodness that added an undeniable depth, a certain gravity to your typical bread 'n' butter. What was great was that the foie only made itself known in the midpalate, while the finish was all about that sticky sweet gelée (honey?) on top.
This may have been the best butter I've ever had
. There was also an option to order the epi with French Échiré
beurre
[$3], but why?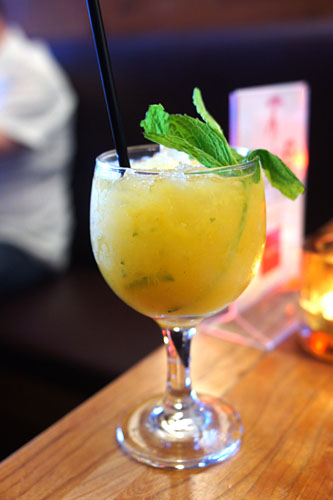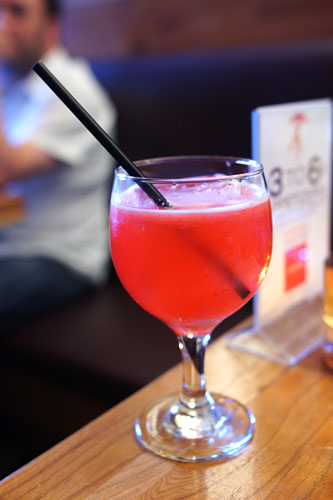 I was curious about Dozois' cocktails (I never got to experience his handiwork at
C&S
), so I promptly ordered up an Evan's Julep, sort of a tropical take on the classic Mint Julep, with mango juice mixed in with the Evan Williams Bourbon. I quite liked the interplay between the mint and the mango's unabashed sweetness, but the finish was strangely medicinal for me. Helen, meanwhile, had an Untamed Cherries, made with lemon juice, cherries, yellow chili peppers, and an organic rum, Crusoe from the Greenbar Collective. This one showed plenty of cherry on the attack, but the finish was all about that lingering heat from the pepper.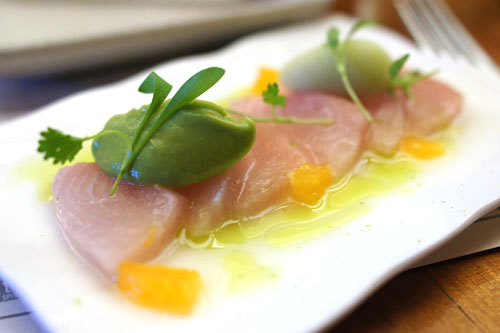 Mexico: Yellowtail Ceviche [$8.00]
| Jalapeno, Tomatillo Sorbet
Nariwa Ozeki Shuzo "Ohkagura" - Okayama, Japan
Our first proper course takes us south of the border. Let's start with the yellowtail, which was supple, weighty, a bit fatty, just as it should be. The cilantro in the amalgam bestowed a lightness, a green counterpoint to the heft of the fish, while the tomatillo added a prick of tartness, and the citrus bits, a touch of sweetness. Nice!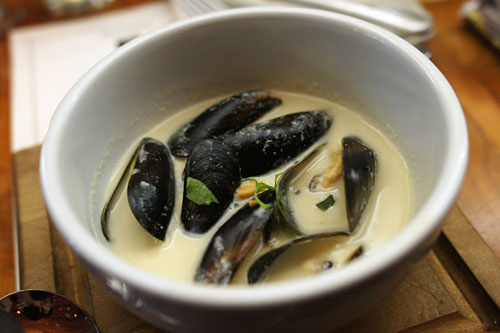 Thailand: White Corn Curry Soup [$8.00]
| Mussels, Coconut Tapioca
2007 Robert Weil Kabinett Halbtrocken - Rheingau, Germany
This soup effectively channeled the heady, pungent, piquant essence of a Thai
tom kha
soup. The corn provided somewhat of a sweet base to the dish, but the crux of course was the brine imparted by the mussels. Meanwhile, the tapioca contributed a bit of textural play, while its coconut flavor effectively moderated the power of the course.
Some of the best mussels I've had in a while
.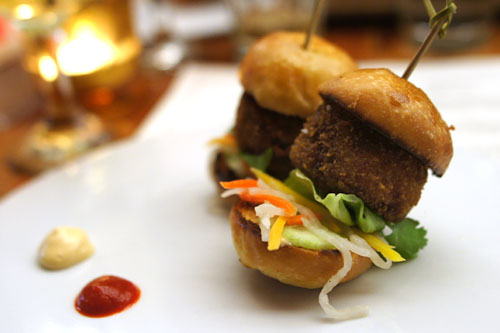 Vietnam: "Banh Mi" Pig's Feet Sliders [$8.00]
2009 Domaine de la Madone "Le Perréon" - Beaujolais, France
The humble, ubiquitous
bánh mì
: I've had a haute version at
BondSt
, a burger-ized version at
The Six
, but this is the first one that I've seen made with
pieds de cochon
. This was arguably my favorite dish of the night, as I absolutely adored the rich, succulent patties of pork-y goodness, encased in delectable panko-crusted shells. As tasty as the meat was, the inclusion of pickled veggies was essential, their tartness playing a perfect foil to the heft of the trotters. The sliders easily stood on their own, but I did enjoy applying the two paired sauces--one appeared to be some kind of aioli, while the other reminded me of Sriracha--as well.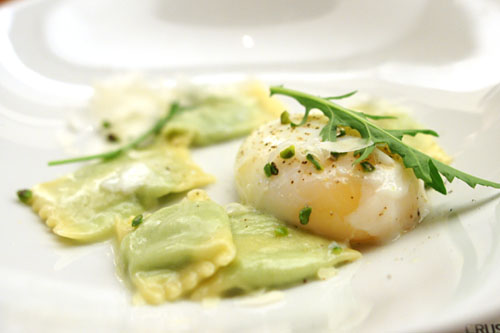 Italy: English Pea Ravioli [$8.00]
| Soft Egg, Parmesan
NV Gruet "Blanc de Noirs" - Engle, New Mexico
Peas, Parm, pasta, and poached egg. It's hard to go too wrong with these ingredients. Upon mastication, the light, bright flavors of the peas vigorously burst forth from their ravioli wrappers, where they met with the luscious, creamy richness of egg, augmented by the weight of Parmesan. I would've liked some more saltiness from the cheese, though.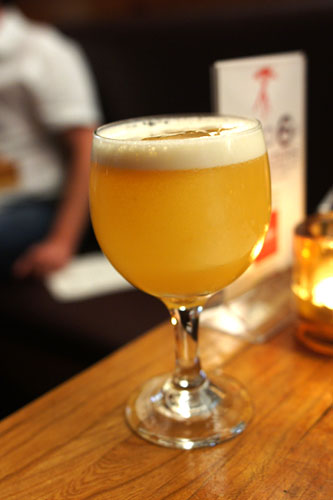 At this point, I requested the third cocktail of the night, which looked somewhat liked a goblet of
witbier
! Rather, it was the Hidden Secret, comprised of lemon juice, grape tomatoes, maraschino cordial, and True organic Gin. This was easily my favorite concoction of the night; I loved its complex mishmash of spicy, herbal, and sour flavors--excellent.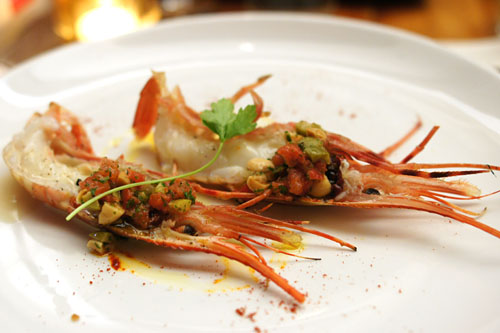 Spain: Santa Barbara Spot Prawn [$8.00]
| Garlic, Sherry
La Cosecha Manzanilla Pasada Sherry - Andalucia, Spain
Santa Barbara spot prawns seem to be the restaurant ingredient
du jour
these days, and here, Manzke uses them in his interpretation of the classic tapas dish
gambas al ajillo
. Unfortunately, one of my prawns was a bit overdone, but the other was perfect: sweet, snappy, and oh-so briny (reminded me of
Providence's
). I really enjoyed the prawns alone, and thus, for me, the accoutrements weren't even necessary.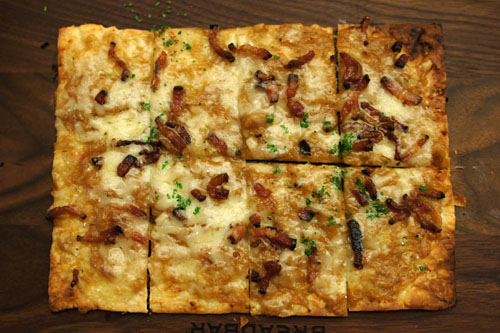 France: Tarte Flambe [$8.00]
| Caramelized Onion, Bacon, Gruyere
2007 Friedrich Becker Pinot Noir - Pfalz, Germany
For his final savory of the night, Manzke returns to his old standby country, France, and an old standby dish from
Church & State
,
flammkuchen
. Originating near the Alsace region, the
tarte flambée
comprises a thin layer of bread, topped with various accompaniments, and baked in a wood-burning oven. The result is a pizza-esque contraption, with a delightfully crisp crust. Here, I enjoyed the interplay between the salty bacon and soothing Gruyère, but found the caramelized onions a touch sweet for my tastes.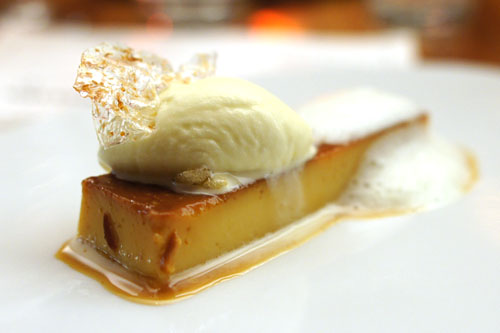 Philippines: Leche Flan [$8.00]
| Pandan, Coconut Ice Cream
NV Jonata "La Miel de Jonata" - Santa Ynez Valley, California
Our first dessert was the Filipino take on the omnipresent crème caramel. The flan was somewhat denser than usual, with a stronger eggy note than I'm accustomed to. However, it was deftly balanced by the use of pandan and coconut, both of which lent a sweet, floral character to the dessert that really livened things up. Surprisingly good!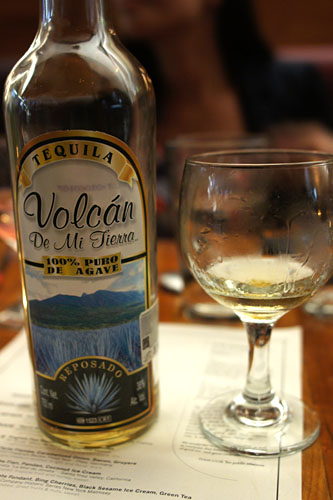 At this point, Bill was kind enough to pour me a bit of the tipple that he had brought: the Volcán de mi Tierra Tequila Reposado. I generally don't drink too much tequila, but this really was
quite
delicious, with a nose full of vanilla, which continued onto the palate, where it was joined by lovely nutty, woody flavors. Provecho!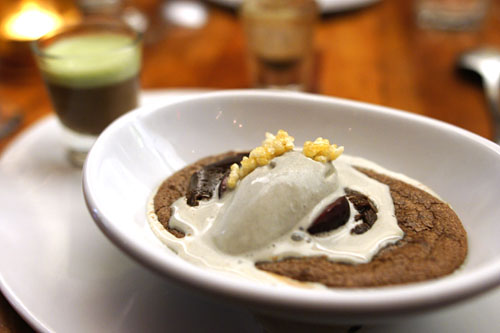 Japan: Chocolate Fondant [$8.00]
| Bing Cherries, Black Sesame Ice Cream, Green Tea
Rare Wine Company Historic Series New York Malmsey
We end our culinary voyage in Japan. The combination of chocolate and cherries is a classic one, but Manzke kicks things up a notch with the inclusion of
kuro goma
and
matcha
. The sesame ice cream provided a slightly nutty component the dessert that played nicely with the chocolate, while the green tea added a tinge of astringency to the mix.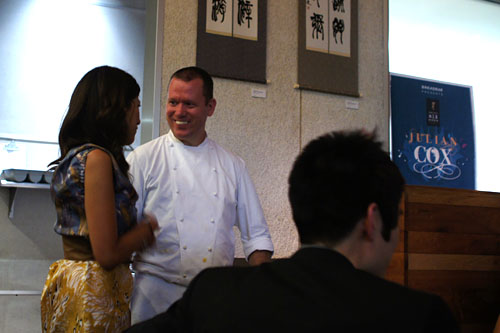 Chef Manzke chats it up with Josie--just look at that smile!
Though I appreciated the calibre of cuisine Manzke was creating over at
Church & State
, I always knew that he was capable of--and wanted to do--more. With regard to the Chef, I
once wrote
that "I still yearn for a stage where he can cook with the inexorable flair, unbridled enthusiasm, and relentless ingenuity that I know he has in him." It looks like that time may have finally come. If the experience at Hatchi is any indication of the character of Manzke's new restaurant, then my high hopes are justified, and you can bet that I'll be there in earnest, opening night, of course.