Table 21 at Volt (Frederick, MD)
Table 21 at Volt
228 N Market St, Frederick, MD 21701
301.696.8658
www.voltrestaurant.com
Wed 07/07/2010, 06:50p-10:45p

Due largely to their one-two win on the last season of
Top Chef
, the
Voltaggio brothers
--Bryan and Michael--have been thrust to the forefront of our collective culinary minds. Not surprisingly, given that the younger Voltaggio is based in Los Angeles now, I've had the opportunity to experience his cuisine a number of times: first at
The Bazaar
, then at
Saam
, at
Hatchi at BreadBar
, and finally twice at
The Dining Room
. Of course, I've been curious about Bryan's restaurant Volt as well, but seeing as how it's located in his hometown of Frederick, Maryland, getting there was naturally going to be a bit more difficult.
A recent business trip to the DC metropolitan area, though, afforded me a prime opportunity to visit Volt, and through a fortuitous turn of events, I was even able to secure a seat at the restaurant's ridiculously-hard-to-get-into Table 21,
which is pretty much booked solid through the middle of 2011
. For the uninitiated, Table 21, launched on December 21, 2008, is an eight-seater counter (expanded from a 4-top in early 2010) directly facing Volt's gleaming, open kitchen. Like the rest of the restaurant, it takes cues from Bryan's local, sustainable, seasonal interpretation of modern American cuisine, but with additional influences garnered from the pages of the molecular gastronomic cookbook.
About the Chef
: As mentioned above, Voltaggio spent his childhood years near and around Frederick, and, via his mother and grandfather's home cooking as well as the family garden, was exposed to the joys of local, high-quality food at an early age. By his teenage years, he had already decided to dedicate his efforts toward a career in the kitchen. Starting as a busboy at the local Francis Scott Key Holiday Inn (helmed by Chef Michael Aleprete), Voltaggio took up a position in the kitchen upon completing a vocational program at Gov. Thomas Johnson high school (Michael started out at the Inn, too). He attained a Sous Chef position here, then transitioned to one of the hotel's properties in Pennsylvania, where he was Executive Chef by the age of 20.
Seeking to expand his culinary horizons, Voltaggio enrolled at the CIA in Hyde Park, and during his tenure here, worked at the nearby Hamilton Inn in Millerton. After graduating in 1997, Voltaggio
staged
at several Manhattan restaurants before securing a job with mentor Charlie Palmer at Aureole (where he had externed). Voltaggio cooked at Aureole from 1998 to 2003, growing and maturing tremendously, and rose to the position of Sous Chef, under Gerry Hayden and then Dante Boccuzzi. Interestingly,
Top Chef
Season 2 winner Ilan Hall worked under Voltaggio during this time, and was the one who initially got him interested in the show. In any case, in May 2003, Charlie Palmer opened his eponymous steak place in Washington, DC, and tapped Voltaggio to serve as its opening Executive Chef, but not before sending him off to cook at the Michelin two-star Pic in Valence, France.
The Chef achieved considerable success at Charlie Palmer Steak, and Voltaggio was made a partner in late 2006. However, the desire to open his own place soon took over, and in 2007, he left Chef Palmer's side after nine successful years. Joining forces with Hilda Staples (an ex-PR director at Ogilvy and former lobbyist), Voltaggio opened Volt in July 2008 to considerable fanfare, fanfare that has become even more strident after his appearance on
Top Chef
. Rounding out Voltaggio's team at Volt is Sous Chef Graeme Ritchie (CIA, David Burke & Donatella, Charlie Palmer Steak under Voltaggio), Beverage Director Neil Dundee, and General Manager Christopher Roberts.

Volt is situated on the first floor of Frederick's historic Houck mansion, an 1890s brownstone that was transformed to suit Voltaggio's vision by DMS|Perla (Design Management Studio of Charles Perla), the firm in charge of designing Charlie Palmer Steak. The restaurant accommodates up to 70 guests, 38 in the Main Dining Room, 20 in the Chef's Dining Room, and 12 in the Conservatory, overlooking the courtyard and gardens. Above, we see the view from Table 21,
the best seat in the house
.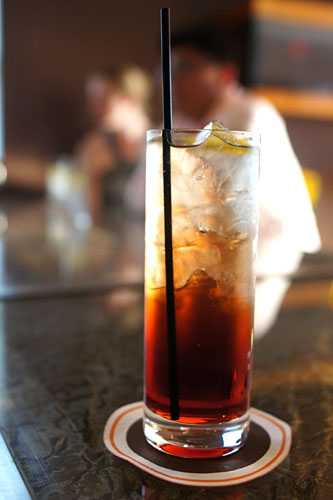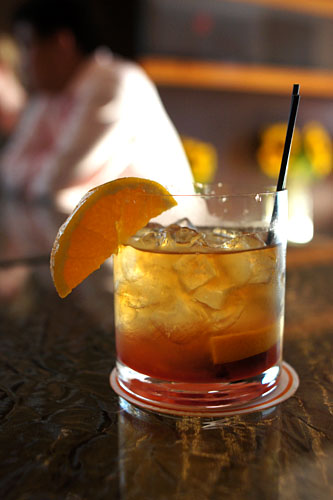 Arriving a bit early for our reservation, we wandered over to the bar and ordered up a duet of old-school cocktails. I had the Americano [$8], made with Cinzano sweet vermouth, Campari, club soda, and an orange slice. My dining companion, meanwhile, went for an Old Fashioned [$8], comprised of Buffalo Trace Bourbon, muddled cherry, orange, sugar, bitters, and soda water.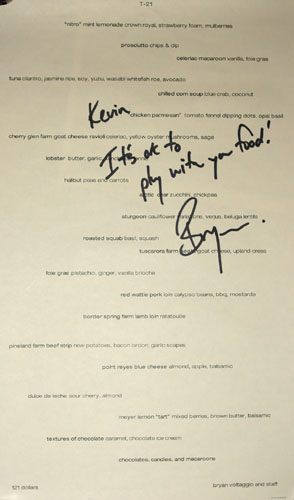 Pictured above is Table 21's 21-course degustation (click for a larger version). In case you're wondering, unlike at
Alinea
, the positioning of the menu text bears no significance (I had to ask). Other dining options include six-course Kitchen and Market Vegetable Menus at $95 plus $50 for wine, à la carte selections in the Main Dining Room, and a bar menu in the Lounge. Lunch is also served.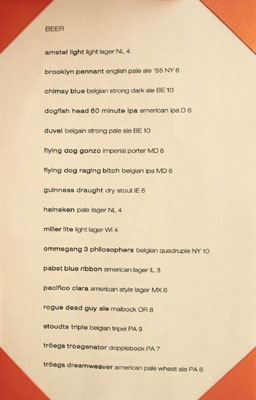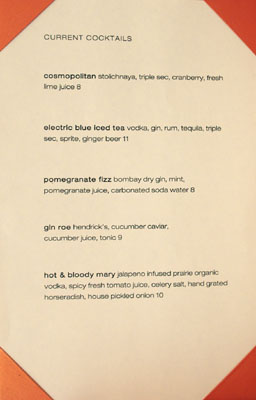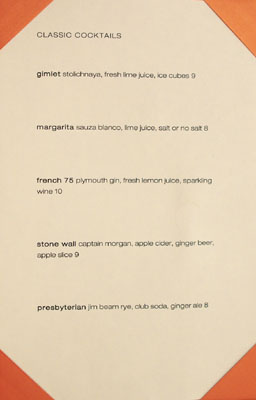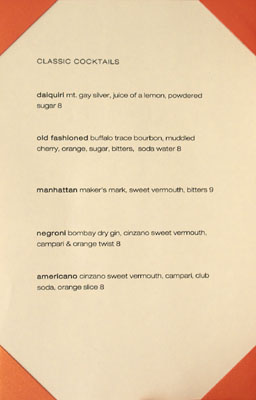 Here, we see the beer and cocktail offerings; click for larger versions. Volt has a surprisingly extensive selection of beers, so we requested a beer pairing (à la
Sage
), chosen by Neil Dundee.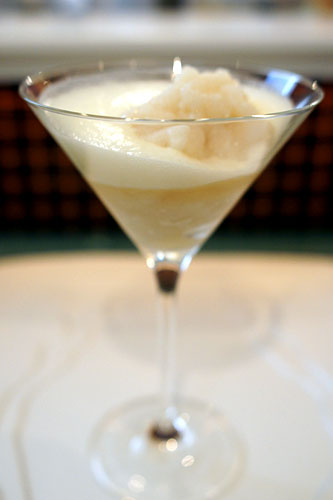 1: "nitro" mint lemonade
| crown royal, strawberry foam, mulberries
Table 21's gauntlet usually begins with a welcome cocktail, and tonight was no exception. I loved the interplay between the mint and fruitiness of the rest of the drink, while the Crown Royal added a countervailing gravity. Overall, a light, fun, fitting, festive summer libation to pique the palate.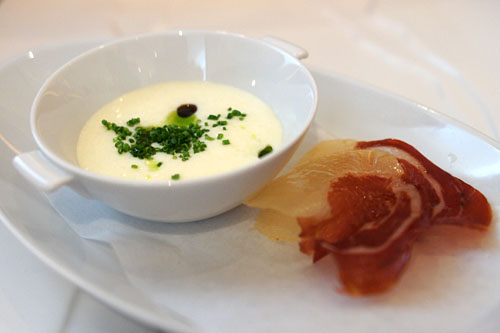 2: prosciutto
| chips & dip
Voltaggio's "chips & dips" has become a mainstay on the Table 21 menu, and with good reason. You might expect freeze-dried prosciutto to have a jerky-like consistency, but rather, it was delightfully crisp, light, and unabashedly salty. The chips were delectable alone, but the relatively levity of the creamy potato foam, perked up by bits of chive, simply took the dish to another level. I wanted more!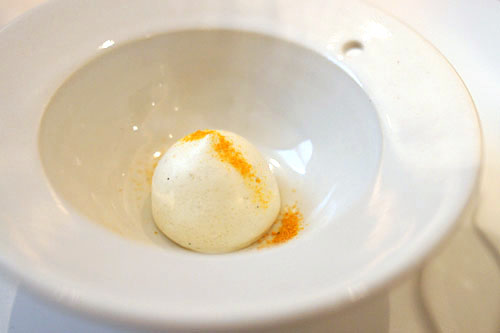 3: celeriac macaroon
| vanilla, foie gras
Next we have perhaps the best singular bite of the meal. I loved the macaron's light, subtle character, and how the foie gras mousse burst forth so forcefully upon mastication, instantly coating my palate with the sweet essence of liver, tempered by a sprinkle of orange powder. Excellent.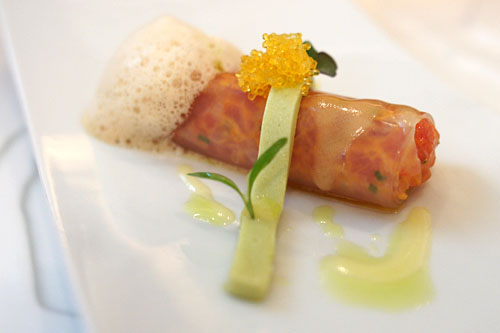 4: tuna
| cilantro, jasmine rice, soy, yuzu, wasabi whitefish roe, avocado
Here we have another one of my favorite courses. Tuna tartare is almost clichéd these days, but Voltaggio's interpretation here was one of the most inventive, and best, versions I've had. Consuming the yellowfin, jasmine rice gelée, wasabi roe, and soy air together recalled a sort of reimagined
nigirizushi
, while the avocado mousse added a creamy, luscious accent to the amalgamation. I also appreciated the use of microgreens, with their sharp prick of herbaceousness that really set off the tuna.
Our first beer pairing was the Dream Weaver Wheat [$6], from Tröegs Brewing Company out of Harrisburg, Pennsylvania. It was an American pale wheat ale, somewhat similar to your prototypical hefeweizen, with lovely spicy-citrus notes backed by a pleasing bitterness.
5: chilled corn soup
| blue crab, coconut
Following was a great summer soup of cool, saccharine corn, tarted up with a bit of hibiscus and coconut. The potage worked beautifully in augmenting the crab's inherent sweetness, while the use of coconut contributed almost a Thai-inspired tinge to things.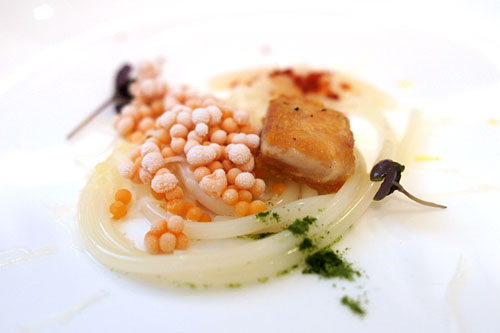 6: "chicken parmesan"
| tomato fennel dipping dots, opal basil
Here, Voltaggio channels the deconstructive stylings of Homaro Cantu at
Moto
and succeeds with flying colors. Think of your classic parmigiana, but with frozen tomato and fennel "dots" in place of the marinara sauce, and Parmesan "noodles" substituted for mozzarella. The chicken is the sole element that remains somewhat traditional: tender, savory, and oh-so succulent, it was not unlike a haute chicken nugget! When taken together, the various ingredients did an amazing job in conveying the quintessence of chicken parmesan;
everything just works
.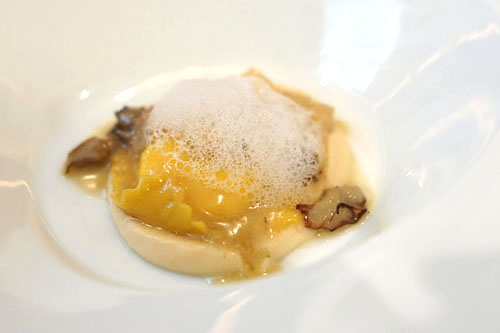 7: cherry glen farm goat cheese ravioli
| celeriac, yellow oyster mushrooms, sage
The kitchen steps back a bit for this next course, a fairly straightforward presentation of chèvre ravioli. I really savored the great goat cheese flavor of the pasta, and appreciated how its heft was countervailed by the bright flavors of the sage air and celeriac especially. The mushrooms, meanwhile, added a certain earthy gravity to the fray.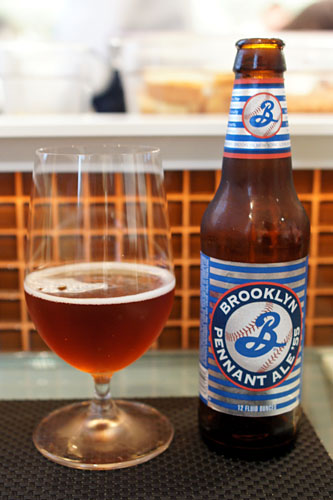 From Brooklyn Brewery comes our next brew, the Pennant Ale '55 [$6], and English pale ale with delightfully nutty notes over a crisp backbone of malt. Nice!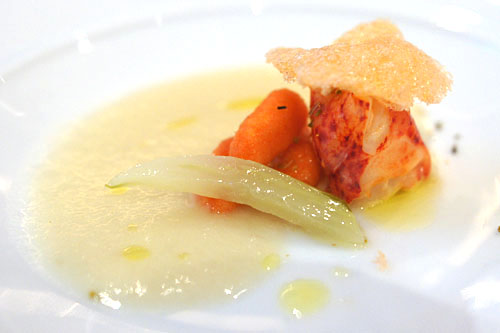 8: lobster
| butter, garlic, sunchoke, fennel
The flavors at play here were actually
quite
classic. The Maine lobster, expectedly sweet and briny, was dressed up with the application of butter. More lobster sapor came in the form of gnocchi, while the sunchoke broth and fennel served as a compensating force.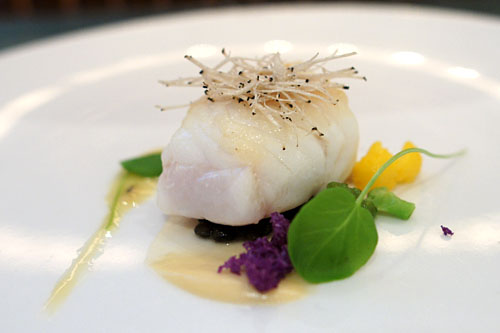 9: sturgeon
| cauliflower variations, verjus, beluga lentils
I don't get to have sturgeon too often, which is a shame, as I absolutely adored the fish's firm, flaky flesh here. Its briny bouquet and savory smack were beautifully balanced by the earthiness of the paired lentils, while the summer truffle vinaigrette provided an amazing, lingering finish.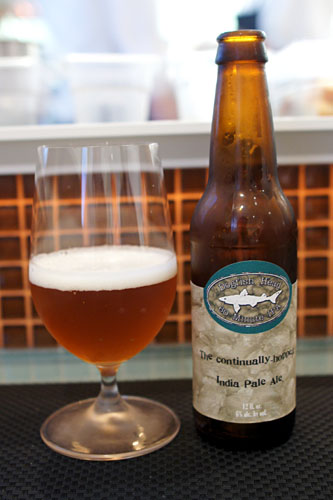 Milton, Delaware's Dogfish Head Craft Brewery is responsible for our next beer pairing, the 60 Minute IPA [$6]. An American version of the pale ale, it was a bit more palatable than your typical IPA, with loads of spicy, herbaceous character, and just enough hoppiness to balance things out.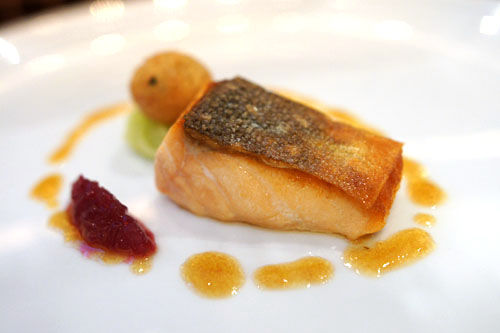 10: arctic char
| zucchini, chickpea
The char itself demonstrated a salmon-like relish (they're in the same taxonomic family), with a soft, salty, succulent flesh accented by a delectably crisp, saporous skin. I quite enjoyed the chickpea hushpuppy, as well as the cool, vegetal counter of the cucumber and zucchini. The red onion marmalade, meanwhile, provided an acerbic bite, but had to be used in moderation.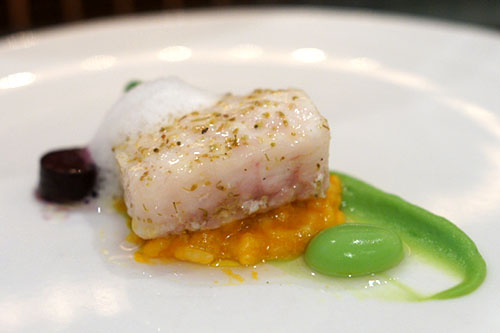 11: halibut
| peas and carrots
This was one of the weaker dishes of the night for me. Indeed, the halibut was perfectly cooked, but the carrot risotto simply proved far too sweet, easily overwhelming the fish's delicate flavor (though I did like the disk of dragon carrot). I enjoyed the bright, green flavors of peas (in purée and spherification form), as well as the coriander air, but even they weren't enough to save the course.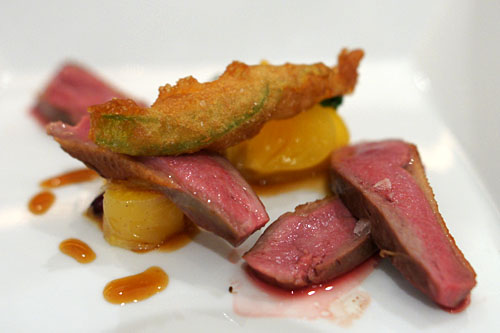 12: roasted squab
| basil, squash
Squab rarely disappoints, and indeed, this was a very strong preparation of the bird, with faultless flavor and texture. I also relished the firm, crunchy bits of potato, as well as the tempura'd squash and basil. Interestingly, when everything was eaten together, the dish almost took on a character not unlike that of a reconstructed baked potato--nice!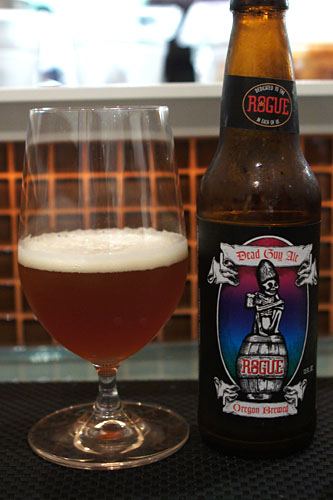 The Dead Guy Ale [$8] is a Maibock from Rogue Brewery of Newport, Oregon. This was an eminently drinkable, well-integrated beer with a great bit of astringency, tinged by malty sweetness.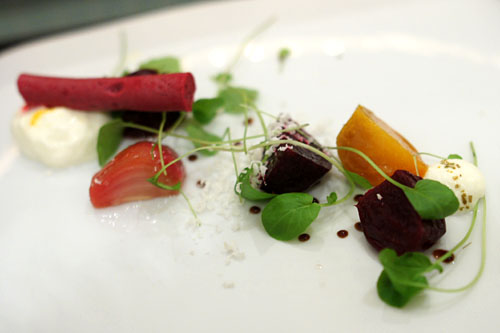 13: tuscarora farm beets
| goat cheese, upland cress
Beets are my bane, so it's always a pleasant surprise when they're made palatable. The beets, organic from Pennsylvania, were served simply sliced, but also in meringue form. I definitely appreciated the neutralizing effect of the tangy goat cheese, as well as the spicy, pungent flavors of the cress.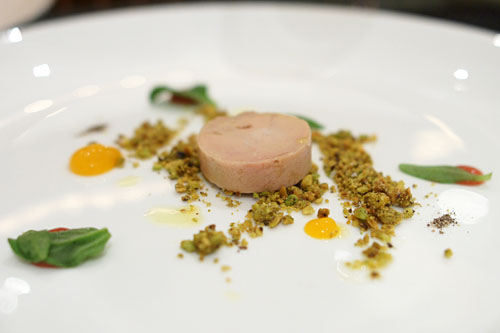 14: foie gras
| pistachio, ginger, vanilla brioche
Hudson Valley foie gras came in stout cylinder form, surrounded by pistachio, kumquat, strawberry, and rhubarb. Taken alone, the foie was delightfully delicate at first, but with a lingering liver-y flavor that grew stronger with time. The sweetness imparted by the various fruits was certainly effective, but the best part of the dish was the pistachio. Its offsetting nuttiness was unique and simply stunning, making for one of the best preparations of foie gras terrine that I've had in a while.
15: border spring farm lamb loin
| ratatouille
Here was lamb loin, roasted and braised, with spinach, kalamata olive, squash, and a "ratatouille" of fennel, red pepper, and eggplant gelées (which beautifully conveyed the character of the vegetables). The braised preparation was suitably tender, barely requiring any chewing, with a fantastic "egg roll"-like wrapper. However, I liked the roasted version even better, with its juicy, salty, savory, supremely satisfying smack, deftly moderated by the panoply of vegetables present.
16: red wattle pork loin
| calypso beans, bbq, mostarda
The Red Wattle is one of the leaner breeds of hog, a fact that was very evident on the plate. The meat was firm and dense, but imbued with a fantastic, immensely gratifying pork-y flavor. I really liked the earthiness imparted by the calypso beans and white bean purée, but found the kumquat mostarda overly saccharine for the pork.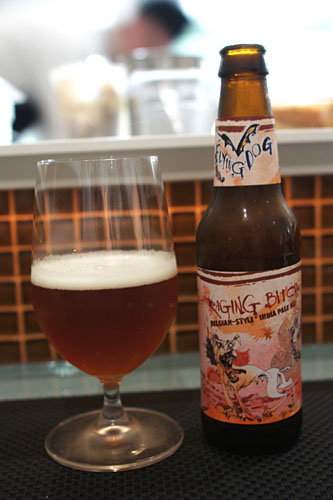 The last beer of the night was also my favorite. Produced a stone's throw away from Volt in Frederick, the Flying Dog Raging Bitch Belgian IPA [$6] showed off gorgeous flavors of dark fruit and herbs, with just enough hops to make it utterly balanced.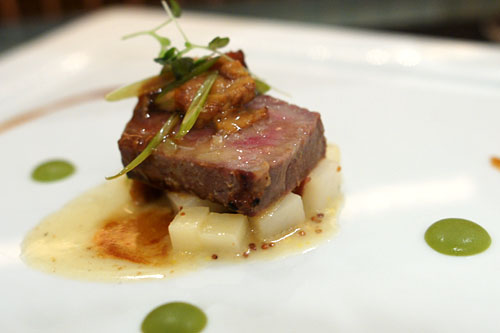 17: pineland farm beef strip
| new potatoes, bacon lardon, garlic scapes
Our final savory brings us a lovely rectangle of strip loin, delectably salty with a great lingering beefiness, kicked up a notch by the application of applewood smoked bacon. I liked the dark flavors imparted by the chanterelles, as well as the subtle tang of the paired Pommery mustard. The potatoes, meanwhile, were absolutely key in moderating the interaction.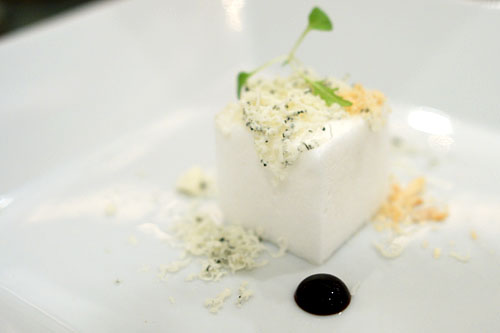 18: point reyes blue cheese
| almond, apple, balsamic
With his cheese course, Voltaggio shows us a
Jordan Kahn
-esque type of creativity and innovation not commonly seen with fromage. I loved how the cheese was shaved, a perfect way to present its pungent disposition. The crux of the dish, however, was the cube of green apple sponge, which had a subtle tartness that went marvelously with the blue (it also hid a sphere of marcona almond butter in the middle!). The balsamic, at the same time, added a dark, tangy counterpoint. This was easily one of the best cheese courses I've ever had.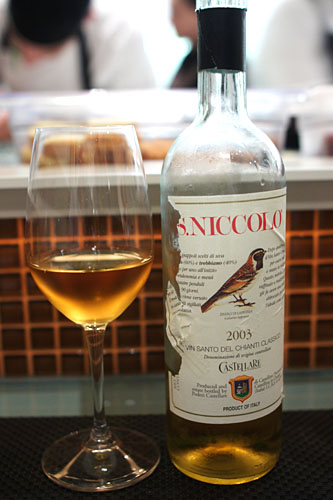 For our final pairing, Dundee poured us an off-the-menu wine, the 2003 Castellare di Castellina Vin Santo del Chianti Classico S. Niccolò. This was a sweet tipple, but with an almost savory undertone, tinged by a bit of citrus-y acid and hints of raisin.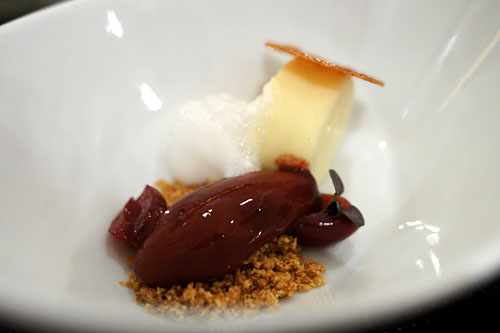 19: dulce de leche
| sour cherry, almond
Voltaggio is his own Pastry Chef, and started us off with a dulce de leche cheesecake, paired with white chocolate, almond crumble, almond milk air, stewed sour cherries, and cherry sorbet. The cake was nicely complex, with a wonderful bit of savoriness that played admirably with the unabashedly sour-sweetness of the cherry, accented by just a touch of nuttiness, courtesy of the almond.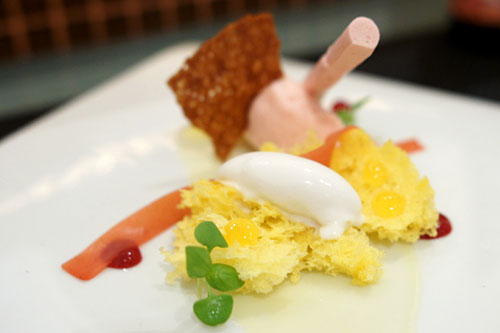 20: meyer lemon "tart"
| mixed berries, brown butter, balsamic
A strangely beautiful dessert, this comprised a reinterpreted lemon "tart" accompanied by strawberry whip, strawberry meringue, coconut sorbet, and a balsamic tuile. I loved the interplay of the various tastes and textures present, finding the lemon-coconut-strawberry interaction particularly appealing. The "bread" here, meanwhile, reminded me of the "Aerated Brioche" that I had at
The Dining Room
.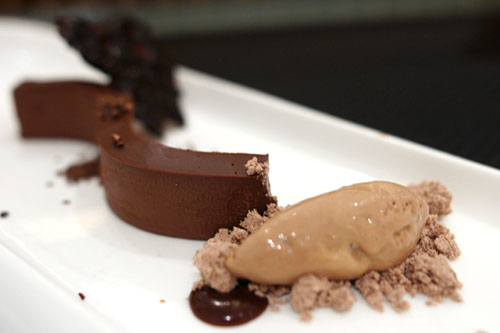 21: textures of chocolate
| caramel, chocolate ice cream
In terms of the sweet stuff, Voltaggio is arguably best known for his flexible chocolate ganache, which he showed off during
Top Chef
's Restaurant Wars episode. I appreciated its restrained sweetness, and how the bits of raw cacao contributed an apparent bitterness to the dessert, while adding a textural element as well. The chocolate ice cream, meanwhile, worked quite well with the ganache, and I loved the slight savoriness from the chocolate tuile.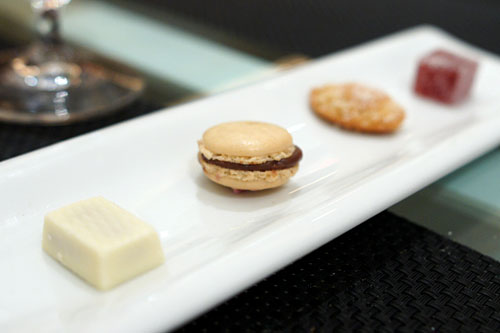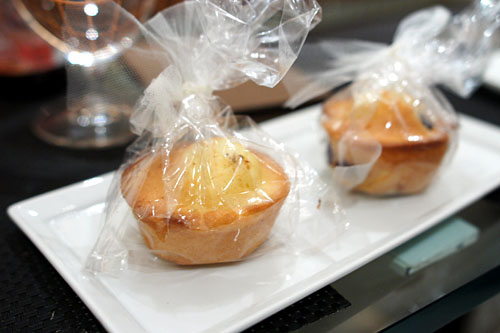 To close, we were presented with a quartet of mignardises: white chocolate with sour cherry, almond macaron with chocolate and cardamom, madeleine, and raspberry pâte de fruits. We were also provided blueberry muffins to take home, but we ended up consuming them on the spot!
From start to finish, Table 21 proved to be an amazing gastronomic experience. Voltaggio was able to fully convey his culinary aesthetic of contemporary American cooking, serving up a litany of sophisticated dishes imbued with both classic and progressive flavor combinations, deeply stepped in traditional, fundamental technique, but also highlighted by experimental, innovative methods as well. Not once did I feel that he let technique compromise ingredients or taste. Clearly then, despite what we may have seen on
Top Chef
, Michael isn't the only Voltaggio who's adept at busting out the liquid nitrogen and antigriddle, the agars, the spherifications and the foams, all when called for, of course.