Relate at Bistro St. Germain's (Encinitas, CA)
Relate at Bistro St. Germain's
1010 S Coast Highway 101, Encinitas, CA 92024
858.367.3709
www.relaterestaurant.com
Wed 02/02/2011, 07:00p-10:10p

You can blame
Ludo
. After all, it was he who engendered our current fascination with the pop-up restaurant. It was almost inevitable, really, that the trend of the ephemeral eatery would move down south toward San Diego. The brainchild of former
LudoBites
Sous Chef Dan Moody, Relate, housed inside breakfast spot
St. Germain's Cafe
, is the county's first pop-up, and will run Tuesdays through Saturdays, February 3rd through the 26th. I, along with several other bloggers, were invited down to a preview dinner prior to the grand opening.
About the Chef
: The 30-year-old Chef is a native Southern Californian, raised in the tony enclave of San Marino. Moody's fascination with cooking and eating began at a young age, and after graduating from Torrey Pines High School (his family moved to Del Mar Heights before his senior year), the Chef enrolled at the Culinary Institute of America at Hyde Park. During his time at the CIA, Moody externed for Ludo at Los Angeles' famed bastion of French cookery, L'Orangerie. After completing his degree in 2000, he stayed on as a line cook for 18 months, dabbled in catering, cooked briefly at Rancho Valencia and Fairbanks Ranch Country Club in Rancho Santa Fe, and worked a stint at Christopher Gross' eponymous Restaurant out in Scottsdale, Arizona. Wanting a change of pace, Moody decided to attend Arizona State University; he earned a degree in economics, and subsequently worked in financial services for four years.
The kitchen beckoned, of course, and Moody was once again drawn toward his first love. He established the
RelationChef
brand, then got back in contact with Ludo, who had left L'Orangerie in 2002. Moody was able to secure a
stage
at
LudoBites 3.0
, then served as Sous Chef for the following three iterations. In September 2010, Moody struck out on his own, cooking his own suite of dishes during a well-received night at
Test Kitchen
. Since that time, the Chef has been busy preparing for
Relate
, his first solo venture set in the up-and-coming town of Encinitas. Moody selected St. Germain's Cafe because the owner, Roy Salameh, is in the process of transforming the restaurant in to a more ambitious
Bistro
St. Germain's. It's a win-win for both parties.

The room was filled with friends, family, and media, including Elliott of
F for Food
and Holly of
Seeking Delicious
, as well as locals Bobby and Stephanie of
Gourmands Review
and the new food forum
The Communal Table
.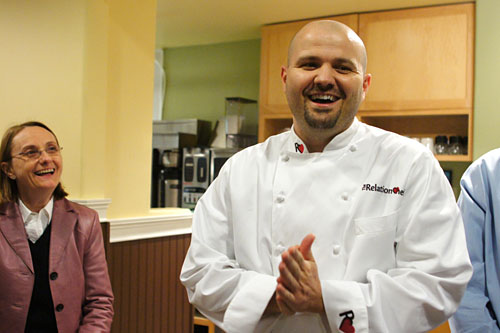 A quick pre-dinner chat with the Chef. Note that the lady in the photo is none other than Moody's mother! Dad was there as well, taking plenty of pictures.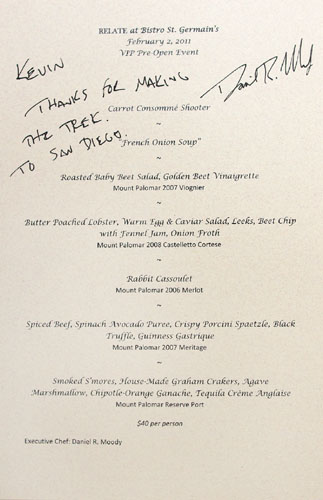 Moody describes his food at Relate as contemporary French-influenced, with some classic American and Asian flair thrown in for good measure. The restaurant offers up a daily prix fixe menu of around five courses, normally priced at a reasonable $55, plus $15 for wine pairings from Temecula's
Mount Palomar Winery
. Click for a larger version.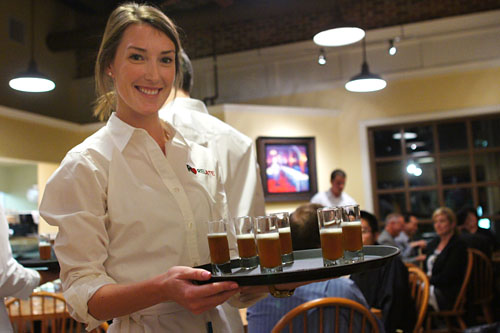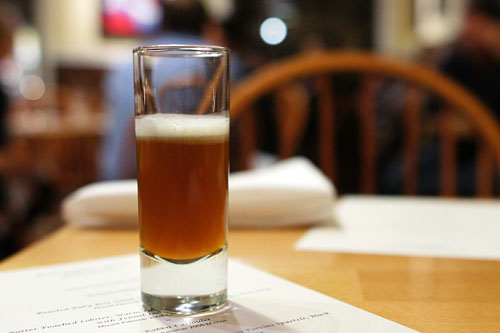 Amuse Bouche: Carrot Consommé Shooter
For this course, Moody began with carrot juice, which he then put through the whole consommé-making process, replete with the use of egg white and mirepoix (an onion, carrot, celery blend). This resultant commixture was filtered and clarified, then topped with a ginger-infused milk foam. Shooting down the consommé, I noted an intensely ginger-y nose leading to a good interplay of carrot and milk on the palate, all finishing with a slight hint of the mirepoix. A quick jolt to awaken the palate.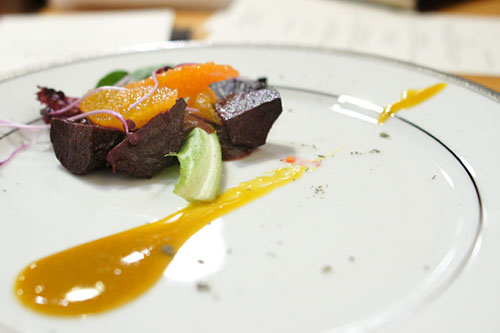 1: Roasted Baby Beet Salad, Golden Beet Vinaigrette
Mount Palomar 2007 Viognier
Here, roasted beets were paired with lettuce, cinnamon and Dijon-beet vinaigrettes, cara cara oranges, purple radish, and a cherry-yam-lavender purée. I have quite the disdain for beets, but they were certainly serviceable here, nicely textured and imbued with a spicy sweetness. The key for me was the use of radish and lettuce, as both components helped to temper the distinct sugariness of the root vegetable.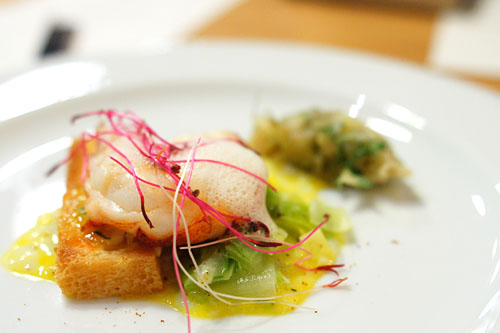 2: Butter Poached Lobster, Warm Egg & Caviar Salad, Leeks, with Fennel Jam, Onion Froth
Mount Palomar 2008 Castelletto Cortese
Lobster arrived showing off pleasant snappiness and its inherent sweet brine. I really appreciated how the crustacean worked with the lusciousness of the egg yolk and the tangy leeks. Meanwhile, the Melba toast served to ground the dish, and the magenta microgreens adding a great tinge of pepperiness to the fray. My only issue was with the fennel jam, which I found rather sugary.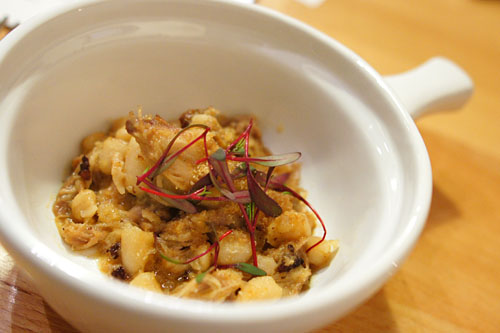 3: Rabbit Cassoulet
Mount Palomar 2006 Merlot
The cassoulet managed to be my favorite course of the night. Paying homage to the Chinese new year, Moody used plenty of rabbit here, as well as duck confit and sausage, all topped with bull's blood beet fronds. Think rich, hearty, mouth-watering flavors, accented by just a hint of piquancy from the greenery; this is how cassoulet should taste. I could've eaten a much larger bowl, and Elliott even commented: "it kinds of hugs you!"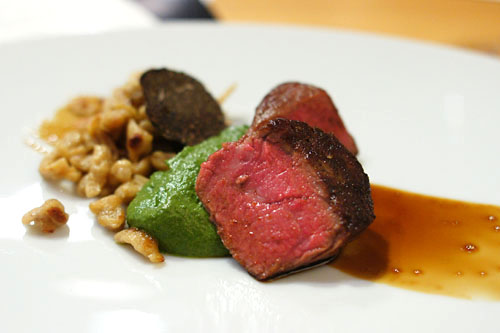 4: Spiced Beef, Spinach Avocado Puree, Crispy Porcini Spaetzle, Black Truffle, Guinness Gastrique
Mount Palomar 2007 Meritage
Our final savory course brought us Moody's signature dish. The meat came spiced with chipotle, ancho, coffee, ginger, cinnamon, and clove, and as a result, demonstrated a lovely beefiness accented by a great bit of creeping, lingering spice. As the same time, the avocado did an admirable job in balancing the weight of the beef, and the spaetzle added body and substance to the plate. I didn't feel that the truffle was absolutely necessary, however (though I certainly didn't mind it!). Quite nice.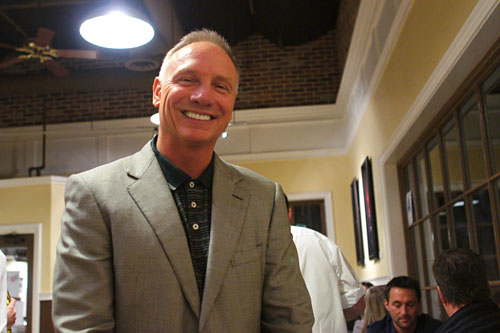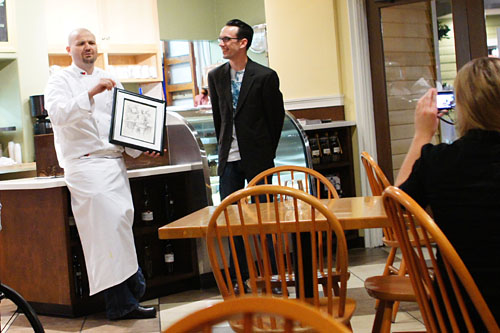 Before dessert was served, James Thorn of
Exclusive Collections
art gallery introduced local artist
Christopher M
, whose artwork is currently displayed at Relate. Known as "The Painter of Chefs," Christopher then proceeded to present Moody with a portrait of the Chef examining his knives.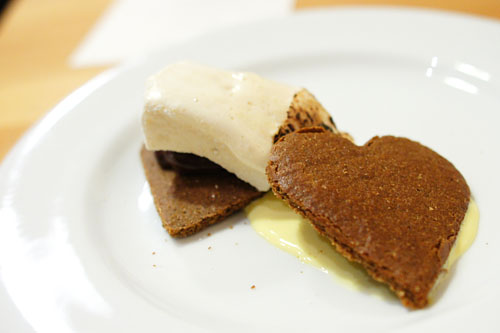 5: Smoked S'mores, House-Made Graham Crackers, Agave Marshmallow, Chipotle-Orange Ganache, Tequila Créme Anglaise
Mount Palomar Reserve Port
I fully expected Moody to serve his signature cheesecake for dessert, but instead, he opted for some s'mores, a version of which he'd presented previously at
LudoBites
. The s'more remained faithful to the idea of the original, displaying a deft interplay of marshmallow, chocolate, and graham cracker. However, the dessert also had a nice citrus tinge to it, as well as a distinct flavor from the use of agave. I also appreciated the smokiness imparted to the dish (meant to recall a campfire), courtesy of
The Smoking Gun
.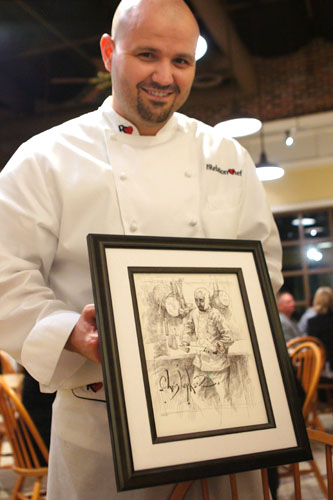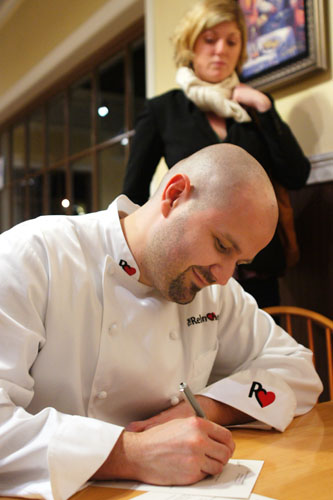 At the end of the meal, Moody came by to say thanks, sign some menus, and show off his mug, immortalized.
All in all, a promising preview of San Diego's first pop-up eatery. Moody sent out a solid suite of dishes that managed to hit the spot nicely. Certainly, the cooking here isn't as adventurous as what he was putting out at
LudoBites
, but then again, I'm not sure if that would fly down here. Given the culinary conservatism prevalent in these parts, this is probably the right mix of contemporary and classic. It'll be interesting to see how Moody's cuisine develops over the course of the run.