LudoBites 8.0 at Lemon Moon (Los Angeles, CA)
LudoBites 8 at Lemon Moon
12200 W Olympic Blvd, Los Angeles, CA 90064
310.442.9191
www.ludobites.com
Wed 01/18/2012, 06:00p-09:40p

I think they finally got it right.
Indeed, rather than enduring an hour long exercise in "F5" futility in front of the computer, praying to god that Opentable doesn't crash, hopeful diners were instead treated to a leisurely lottery for this eighth iteration of Ludovic Lefebvre's seminal, ephemeral, pop-up, touring restaurant, held this time around at
Lemon Moon
, the breakfast-lunch place of
Melisse
's Josiah Citrin and Jiraffe's Rafael Lunetta. We could enter the
Urbanspoon
drawing any time during a 24-hour period starting on the 11th, with winners selected (pseudo) randomly by computer the following Friday, for sporadic seatings from the 18th to February 22nd.
That being said, I
still
failed to get a reservation, for the second
LudoBites
in a row (according to Krissy, there was about a 5% chance of getting in). Fortunately, six seats are held nightly for walk-in diners, and we earnestly took advantage of those spots. Surprisingly, they were ridiculously easy to obtain: you could've come in at 7:00 and have been accommodated at the bar.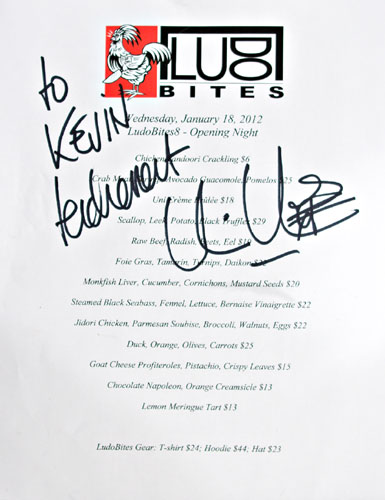 The LudoBites menu definitely has a more luxurious, seafood-centric focus this time around, and the prices reflect it. Click for a larger version.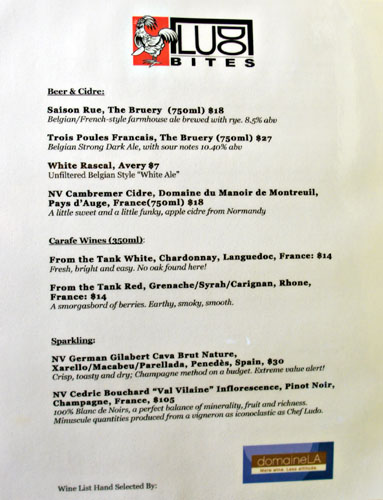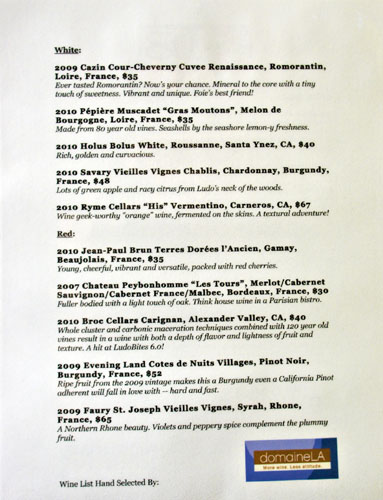 To drink, Jill Bernheimer of
Domaine LA
has selected a small list of reasonably-priced wines (and a smattering of beers) to pair with the food. Corkage, meanwhile, is set at $18 per bottle. Click for larger versions.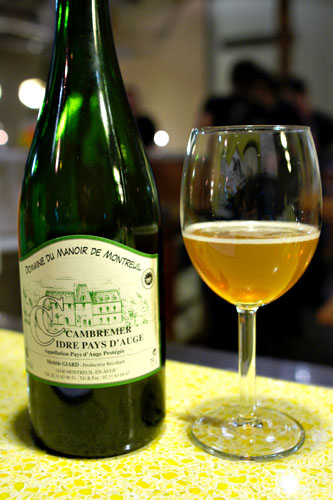 We began with the superb
NV Cambremer Cidre, Domaine du Manoir de Montreuil, Pays d'Auge, France [$18]
. This was an apple cider from Normandy, and showed off a lip-smacking sweetness initially, followed by a countervailing tartness and finished with a marked barnyard character that I really enjoyed. Sommelier Whitney Adams of
Brunellos Have More Fun
, described it as "Martinelli's with funk." Or, just think of it as adult apple juice.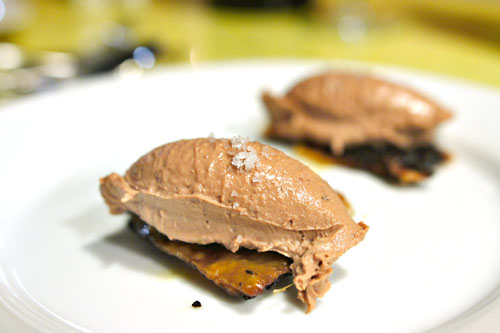 Chicken Tandoori Crackling [$6.00]
When I read the menu description for this, I was thinking that we'd be getting a bowl of chicken skin
chicharrones
. What we actually got, however, was even better. I loved the intense, heady relish of the chicken liver mousse, accented beautifully by a sprinkle of sea salt. It was delicious alone, but the key here was that crisp skin, with its fantastic savoriness that augmented the mousse perfectly. An explosion of concentrated chicken-y goodness on the palate.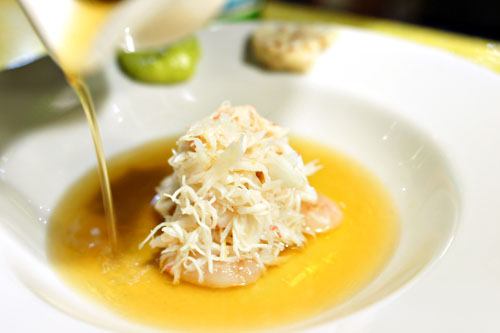 Crab Meat, Shrimp, Avocado Guacamole, Pomelos [$25.00]
A mound of hairy crab was the hero in this dish, with a lovely, sweet brine that formed a really neat interaction with the sugary, banana-infused guacamole. The sweet shrimp, meanwhile, added further salinity, as well as a textural contrast, and I greatly appreciated the accompanying umami-laden broth as well. I could've done without the pomelo, though, which added a citric bitterness to the fray that I didn't think was necessary.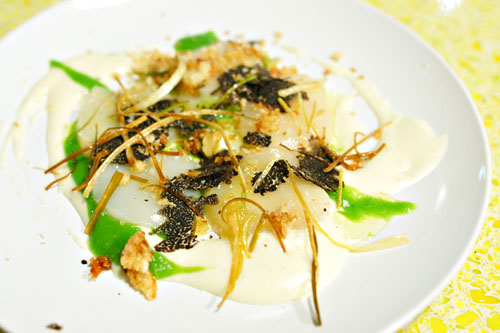 Scallop, Leek, Potato, Black Truffle [$29.00]
One of our favorites was Ludo's deconstructed take on vichyssoise, which is basically a hearty soup of potato and leek. I loved the wonderfully rare slices of scallop here, and how they worked with the crispy, savory bits of leek and potato, with the whole amalgam tied together by that creamy, luscious sauce. Interestingly however, I didn't even think that truffle was needed here, given the strength of the other flavors at play.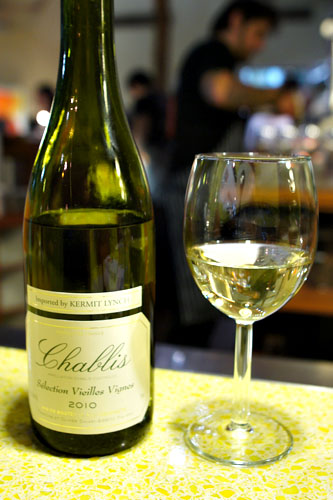 With our cider dispensed with, we moved on to the
2010 Savary Vieilles Vignes Chablis, Chardonnay, Burgundy, France [$48]
. This was rather nice as well, with a tasty, citrus-y acidity and slight grassy character backed by a subtly savory base of minerality.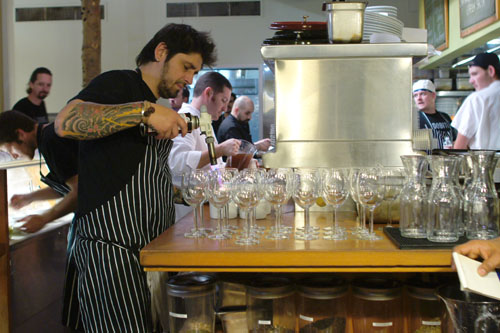 Ludo torching our next course.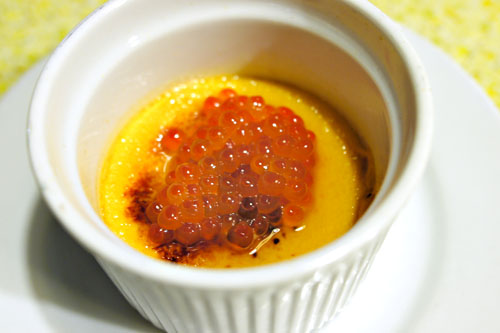 Uni Crème Brûlée [$18.00]
Our sea urchin crème brûlée conveyed a smart interplay of saccharine and saline flavors, with the essence of uni forming a light veil of brine over a sweet custard base, all perked up by pricks of salt from the dish's topping of salmon roe. I especially appreciated the sugary, caramelized crust on the course, and how the sweetness here lingered long on the palate.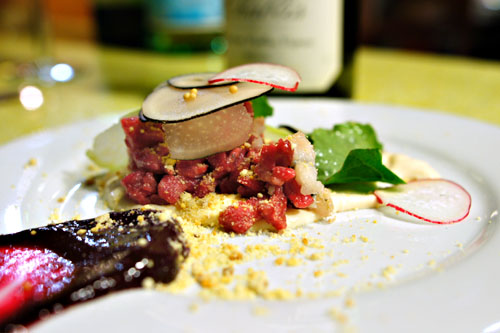 Raw Beef, Radish, Beets, Eel [$19.00]
Next up was easily one of the most interesting tartars that I've had. Raw beef was spot on by itself, but deftly augmented by a touch of fishiness from the smoky bit of eel mixed in. At the same time, I adored the countering piquancy from the horseradish mayo, as well as the crunchiness imparted by the bread crumbles. Finishing things off was the light, bright astringency of the radish, which worked wonders in cutting the heft of the dish. My only concern was the beet-balsamic coulis, which I found gratuitous.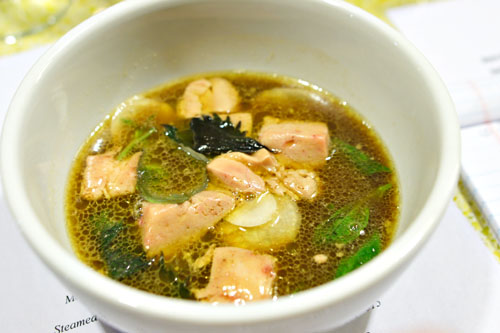 Foie Gras, Tamarind, Turnips, Daikon [$22.00]
Ludo's known for his facility with foie, and here again, he demonstrated as much. The liver itself was cooked to a marvelously supple, silky consistency, actually reminding me of the transcendent foie gras shabu-shabu at
Urasawa
. Its taste was so subtle, so refined, yet remarkably profound at the same time, forming a perfect foil to the broth. And what a broth! It arguably outshined the foie, with its delicious mix of sweet, sour, and herbaceous flavors, amped up by the fattiness of the liver. My favorite course of the evening.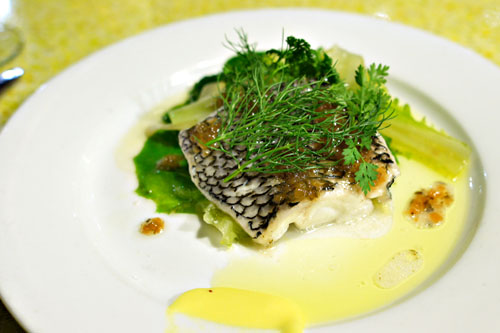 Steamed Black Seabass, Fennel, Lettuce, Bernaise Vinaigrette [$22.00]
Sea bass made for a surprisingly strong dish as well, with the fish showing off a tender, yet flaky consistency and a tasty relish that paired swimmingly with the tart, tangy smack of the accompanying vinaigrette. Meanwhile, I also appreciated the licorice-tinged kick of the fennel fronds, as well as the crisp, light flavors of the Girovac'd lettuce.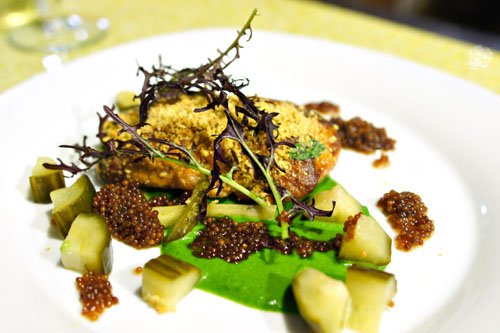 Monkfish Liver, Cucumber, Cornichons, Mustard Seeds [$20.00]
Here was without a doubt one of the most creative preparations of
ankimo
that I've ever seen. A large lobe was presented in glorious form, displaying a wonderfully cooked consistency that I found rather endearing, and delicious, with smoky, slightly astringent flavors playing off the richness of the liver wonderfully. It easily stood on its own merits, but I enjoyed the tempering tanginess imparted by the pickles and mustard seeds as well.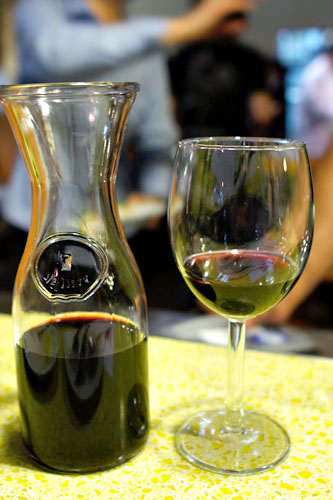 At this point, it was time to move on to a red, and we went with a carafe of the
From the Tank Red, Grenache/Syrah/Carignan, Rhone, France [$14]
. This was a pretty straightforward, easy-drinking wine, surprisingly smooth, with a good mix of dark fruit, smoky, and spicy flavors.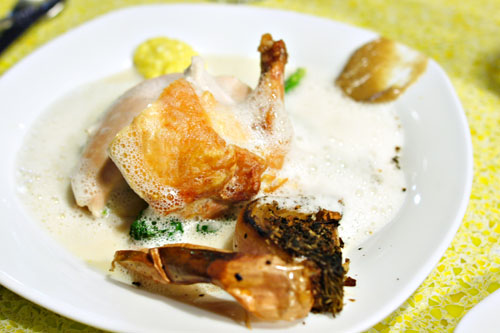 Jidori Chicken, Parmesan Soubise, Broccoli, Walnuts, Eggs [$22.00]
Our first real meat course of the evening brought roast chicken, and certainly, Ludo knows his way around
coq
. The meat was just stupendously tender, moist, and tasty, with a wonderfully crisp, salty skin to boot. I also appreciated the additional weight and complexity imparted by the cheesy, slightly sweet soubise, as well as the vegetal crunch of the broccolini. My only complaint was the walnut, which seemed distracting and superfluous.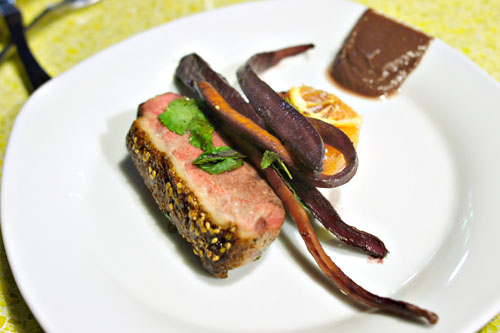 Duck, Orange, Olives, Carrots [$25.00]
Here, Ludo paid homage to the classic French dish of
canard à l'orange
. The bird itself was nicely cooked, supple, and juicy, with a lovely duck-y savor and delightfully crisp skin. I actually enjoyed the sweet, tangy flavors contributed by the orange here, and even the olive worked in moderation. Carrots, meanwhile, served to brighten and lighten the dish.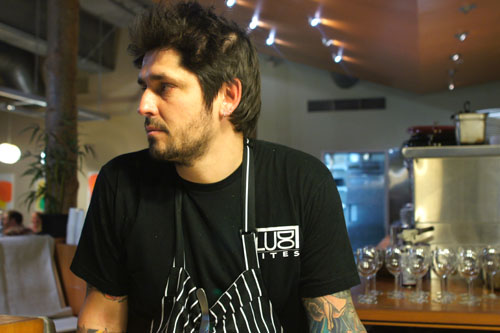 Looking pensive.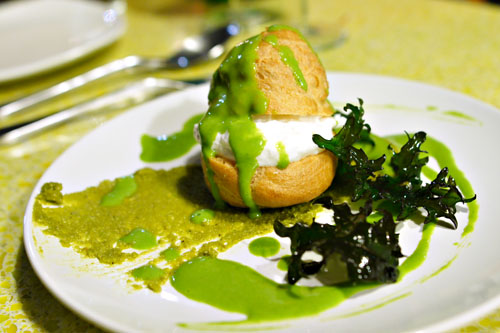 Goat Cheese Profiteroles, Pistachio, Crispy Leaves [$15.00]
Our cheese course consisted of a
chèvre
cream puff basically. The profiterole conveyed a great bit of lactic tanginess, which actually paired amazingly well with the saltiness imparted by the pistachio, while the greenery added a surprising, yet somehow fitting vegetal character.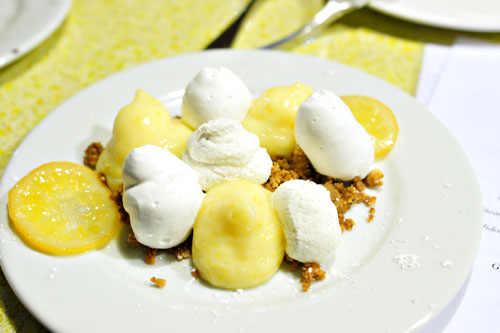 Lemon Meringue Tart [$13.00]
A lemon meringue tart was much better than I expected, showing off a perfect blend of sugary and sour flavors, all beautifully integrated by the fantastically buttery pie crust crumbles.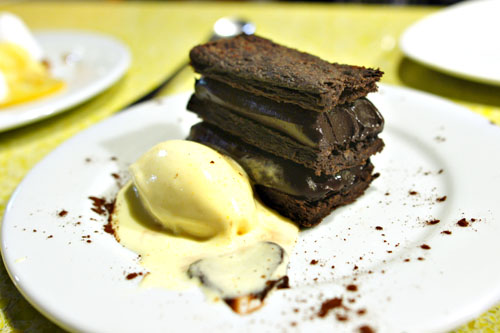 Chocolate Napoleon, Orange Creamsicle [$13.00]
We ended the dinner with a dish apparently inspired by a catering gig Ludo did for Clippers point guard Chris Paul. Think classic flavors here of not-too-sweet, slightly bitter chocolate and tart, creamy orange. It worked.
The kitchen did a bang-up job tonight, serving course after course of some of the best, most consistent food Ludo's ever put out. As we all know, meals at LudoBites can have definite highs and lows, so I was pleasantly surprised and how strong each dish was. The cooking just seemed more confident, more refined, more robust than I was expecting, which was absolutely great. Meanwhile, service, coordinated by
Michael Nemcik
, was on point as well, which is commendable for opening night. All in all, I do no hesitate in calling this the
best LudoBites ever
.

Previous LudoBites posts: v7.0 at Gram & Papas, LudoBites America, v6.0 at Max [1], v5.0 at Gram & Papas [1], v4.0 at Gram & Papas [1], v3.0 at Royal/T [2] [1], v2.0 at Breadbar [1]
.