Ronan (Los Angeles, CA)
Ronan Restaurant
7315 Melrose Ave, Los Angeles, CA 90046
323.917.5100
www.ronanla.com
Fri 03/15/2019, 07:45p-10:05p
A recent birthday dinner brought me to Ronan, a new-ish spot in the Fairfax District that opened last September. An Italian-inspired restaurant featuring shared plates and wood-fired pizzas, it's the work of the husband-and-wife team of Daniel Cutler and Caitlin Cutler (née Coyne).
If Daniel's name seems familiar, it's probably because he was the Chef de Cuisine at Steve Samson and Zach Pollack's late, great
Sotto
, and was famously responsible for helming the restaurant's massive, Stefano Ferrara-designed pizza oven. You may not know that he also worked at Pollack's first solo project,
Alimento
in Silver Lake. Meanwhile, Caitlin Coyne boasts General Manager experience at the likes of
Hatchet Hall
, Alimento, and Sotto, and was also a pastry prep cook at Santa Monica's Huckleberry (where she helped make desserts for
Rustic Canyon
). Prior to that, the Notre Dame grad worked in finance at the firms Viper LLC, Barclays, and Lehman Brothers. She actually met Daniel at Sotto, and the two ended up getting married in November 2016 in Santa Barbara, and announced Ronan at the start of 2018.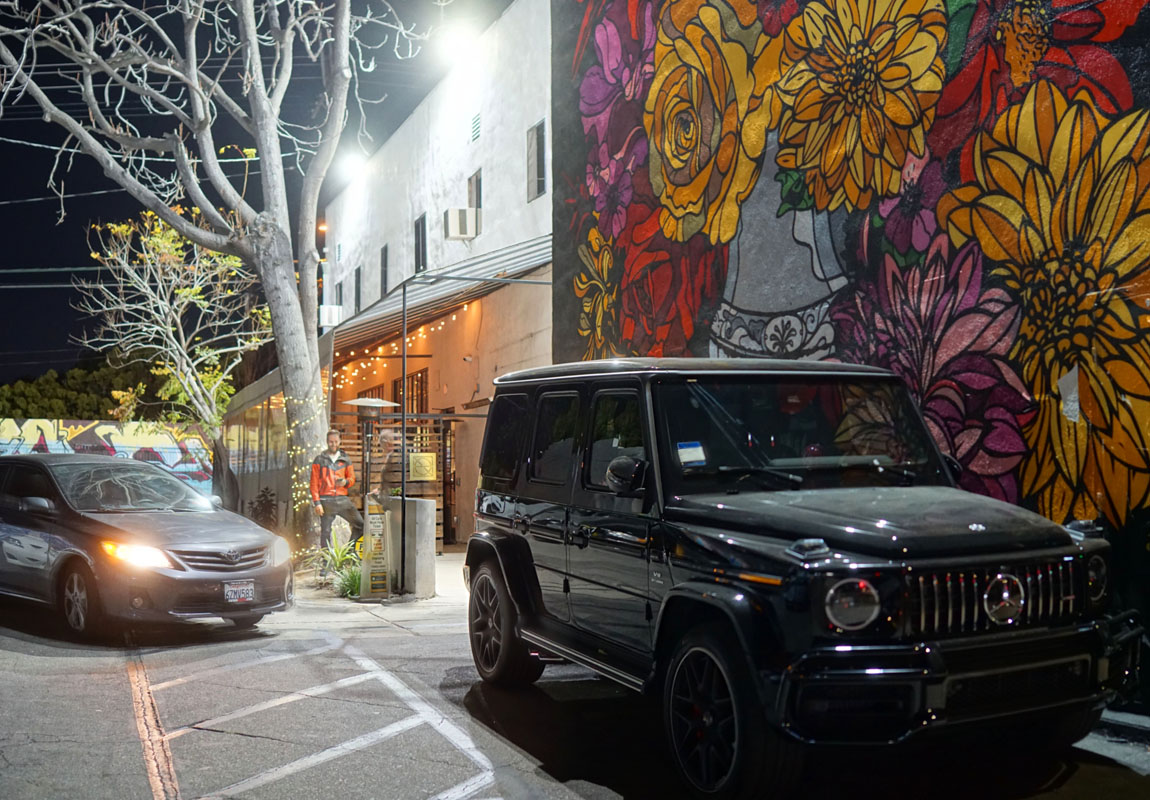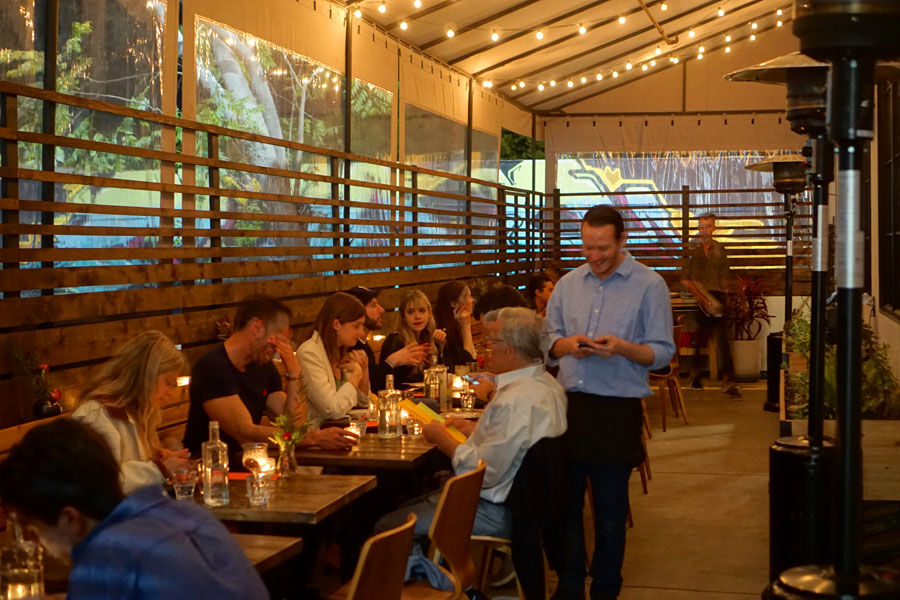 As seen in the first photo, the building that houses Ronan now sports a colorful floral mural painted by local artist
David Flores
. The restaurant resides in a room that was previously the back section of Mao's Kitchen (2007), while the front section is currently used by AALA Gallery. Prior to that, the structure was home to Tommy Tang's (1995), a Thai joint-slash-sushi bar, as well as French brasserie The Lipp (1993) and Mel 'n' Rose's coffee shop (1987). Ronan was penned by
Michael Groth
, and also features woodwork by
Third Life Design
. Total capacity is around 70, which includes the patio.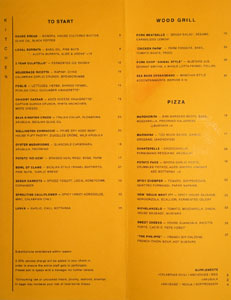 Food-wise, Ronan offers an array of shareable plates, joined of course by those Neapolitan-inspired pizzas. Delivery, somewhat surprisingly, is offered via
Caviar
. To drink, you'll find a small but interesting Old World wine list curated by Caitlin, a few beers, and some great-sounding cocktails created by none other than Nick Meyer (Tesse, The Fields, Tartine,
Otium
, Rose Cafe,
Barrel & Ashes
,
Brilliantshine
,
Petty Cash
,
Short Order
,
Picca
,
Bestia
,
Rivera
). Click for larger versions.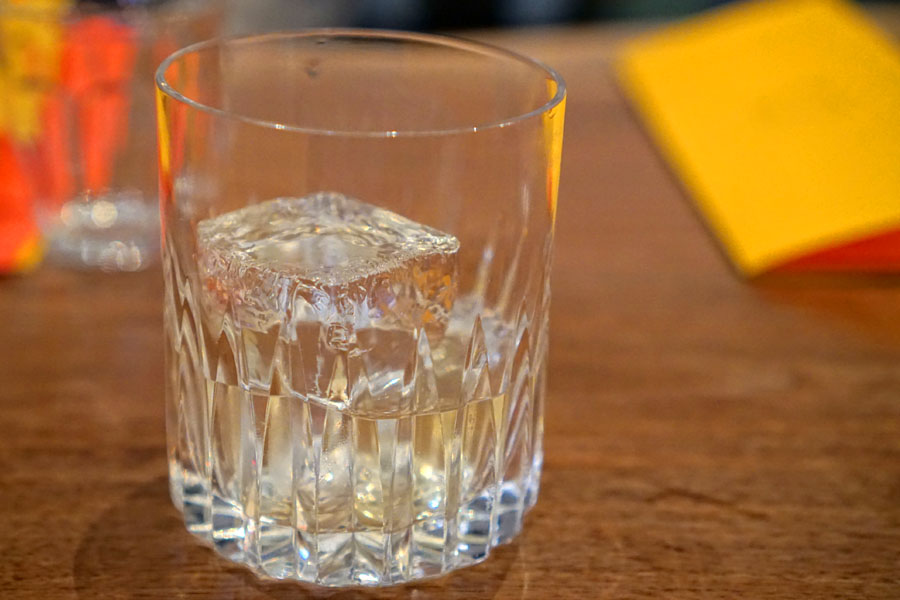 The Huntsman [$15.00]
| Rye, Cognac, Rum, Clarified Milk, Apples, Persimmon, Spices
Our first cocktail was a milk punch-like concoction that smelled of ripe apple and brown sugar, hiding a booziness underneath. Upon tasting, I got more of that apple, commixed with warm, sweet spice in a soft, smooth, surprisingly easy-drinking package.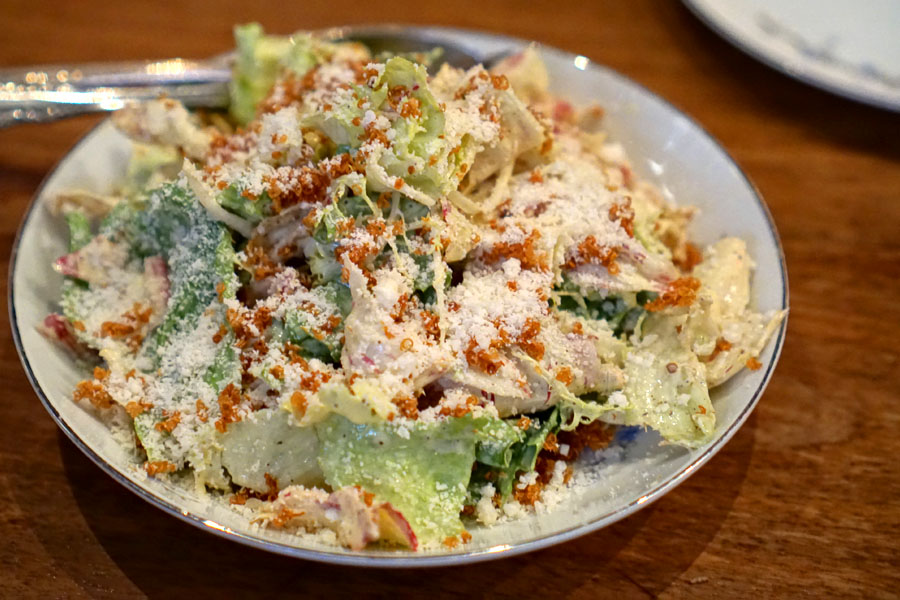 Chicory Caesar [$15.00]
| Aged Cheese Vinaigrette, Captain Quinoa Crunch, White Anchovies, More Cheese
This was a smart take on the classic Caesar, showcasing creamy, cheesy elements balanced by the crunch of quinoa and the bitterness of the veggies, all while anchovy imparted an oceany accent to things.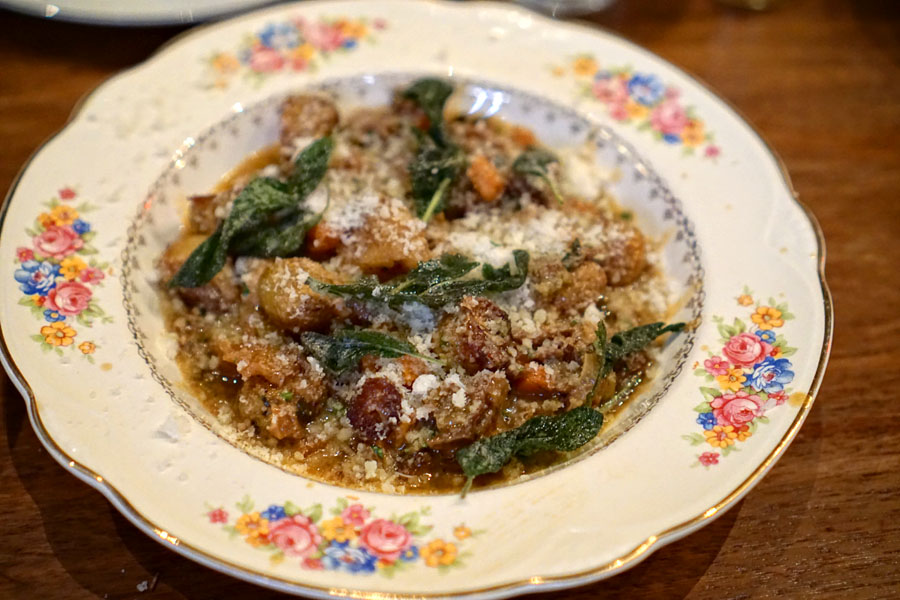 Potato 'No-Cchi' [$17.00]
| Braised Veal Ragu, Sage, Parm
Potatoes were hefty and substantial in this next course, which was brimming with the dark, robust flavors of that veal ragù. It was a homey eating experience, with a touch of sage to lift the dish.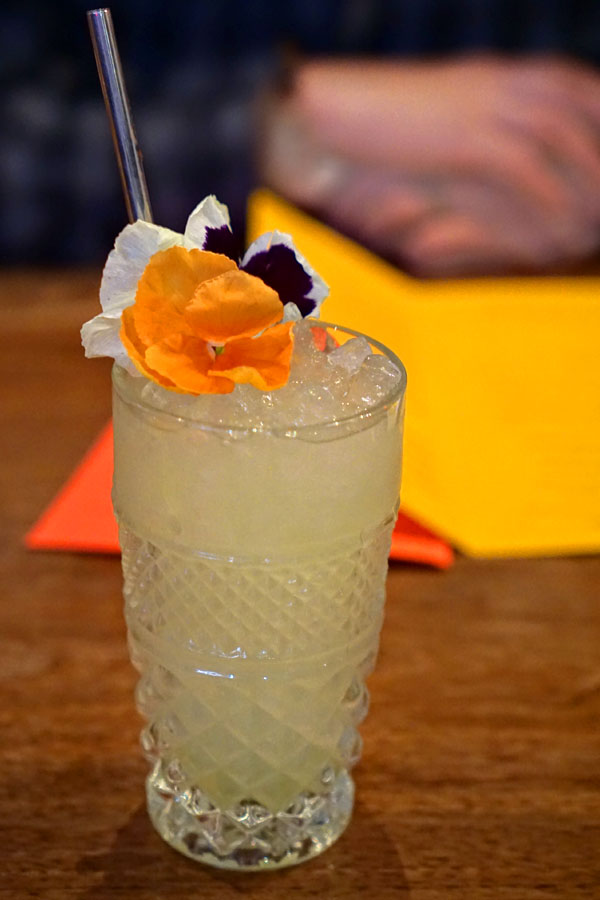 Let's Have a Kiwi [$15.00]
| Mezcal, Kiwi, Jamaican Rum, Lime, Green Chartreuse
Despite its name, this cocktail really didn't convey very much kiwi at all. It wasn't bad though, instead giving us a generally fruity character commingled with the herbaceousness of Chartreuse while the mezcal offered up a smoky bite.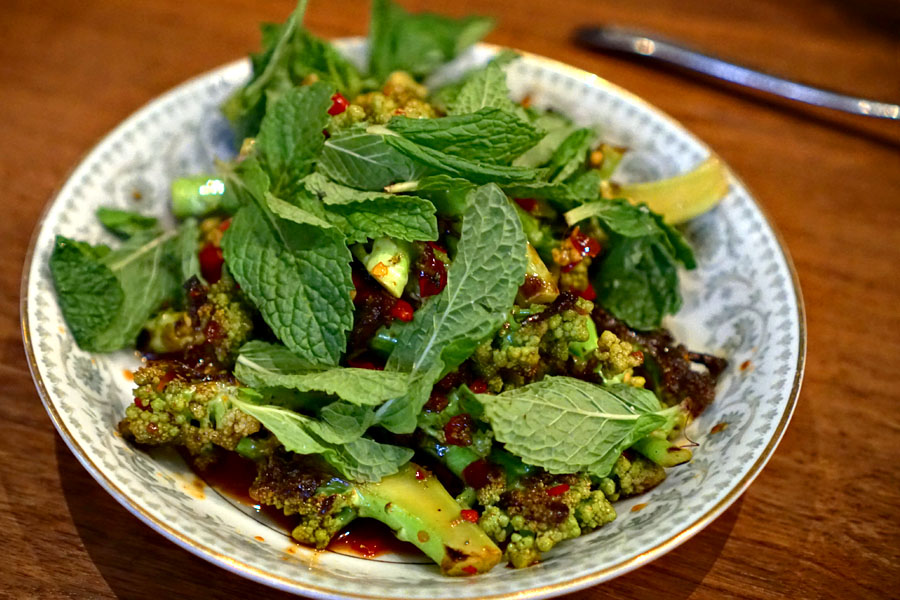 Sprouting Cauliflower [$15.00]
| Spicy Honey Agrodolce, Mint, Calabrian Chili
The sprouting cauliflower managed to be my favorite dish of the evening, thanks to its perfect balance of sweet and spicy flavors, all layered over a backdrop of bitterness from the vegetable. It was a winning combination for sure, one further perked up by the application of mint.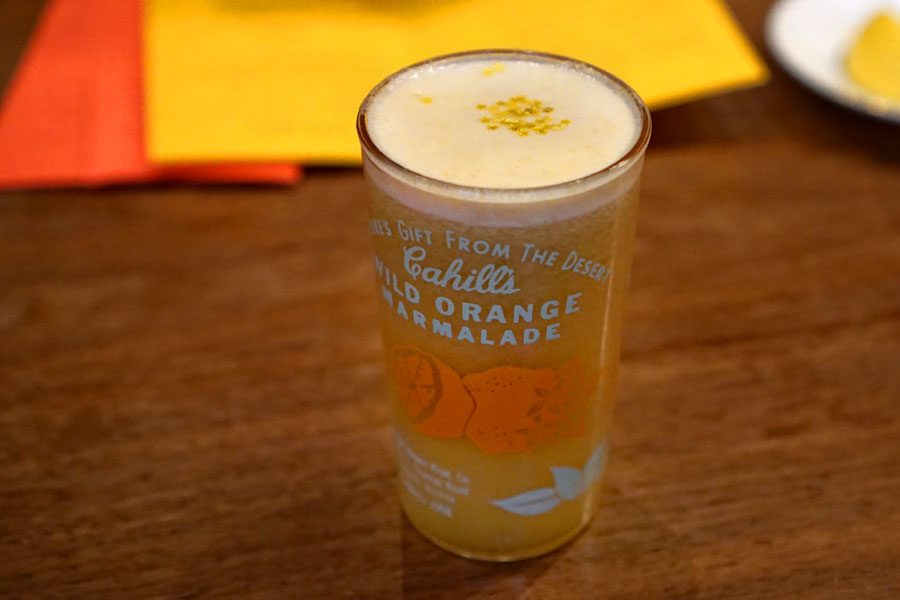 Marmalade Back [$15.00]
| Bourbon, Housemade Orange Marmalade, Foro Amaro, Aranciata, Egg White
Next came the most memorable (in a good way) cocktail that we tried. It had a relatively restrained nose, basically a blend of citrus and egg white. Its taste, though, was much more intense, with tons of rich, ripe citrus all over the place, cut by the herbs and bitterness from the amaro.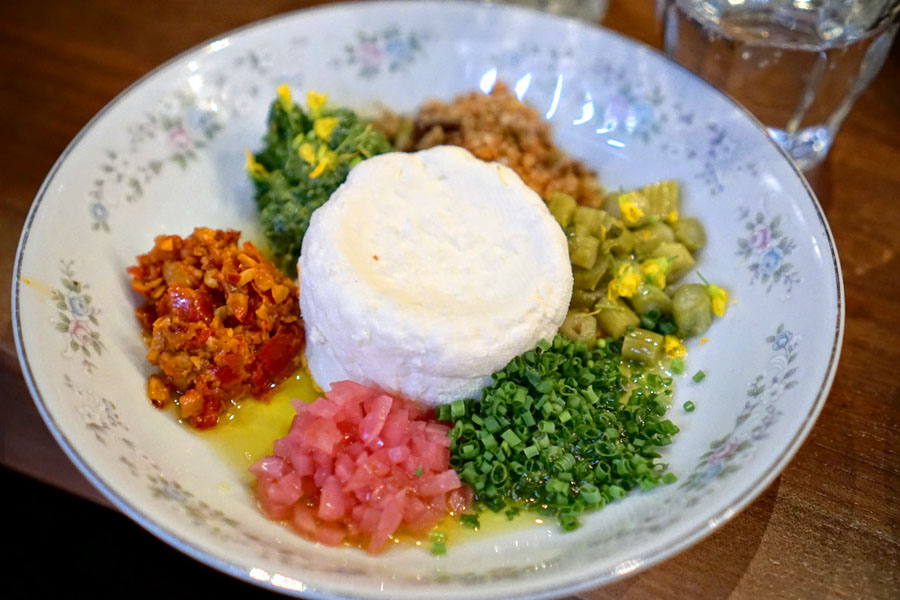 Housemade Ricotta [$15.00]
| Rapini
2
, Chive, Calabrian Garlic Crunch, Breadcrumbs
A stout cylinder of homemade ricotta was as creamy as expected, with a mild sweetness and a slightly gritty consistency. It was fairly benign by itself, but really shone when taken with its various accoutrements, which leaned toward the piquant side.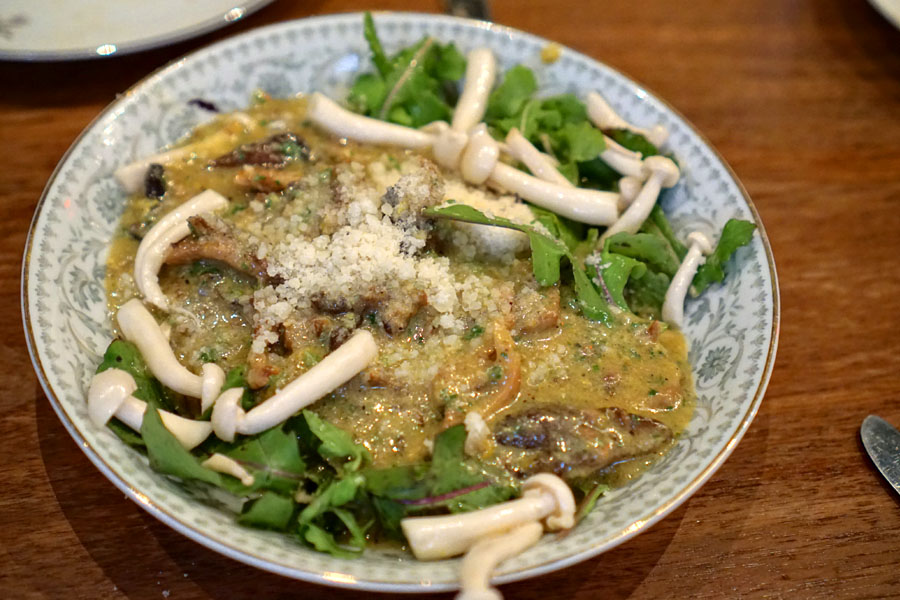 Oyster Mushrooms [$16.00]
| Guanciale Carbonara, Arugula, Pecorino
Snappy, relatively mild 'shrooms were accompanied by a cheesy, salty, herby carbonara sauce that wasn't shy about the guanciale. Arugula, meanwhile, provided a mix of peppery, bitter flavors for some semblance of balance.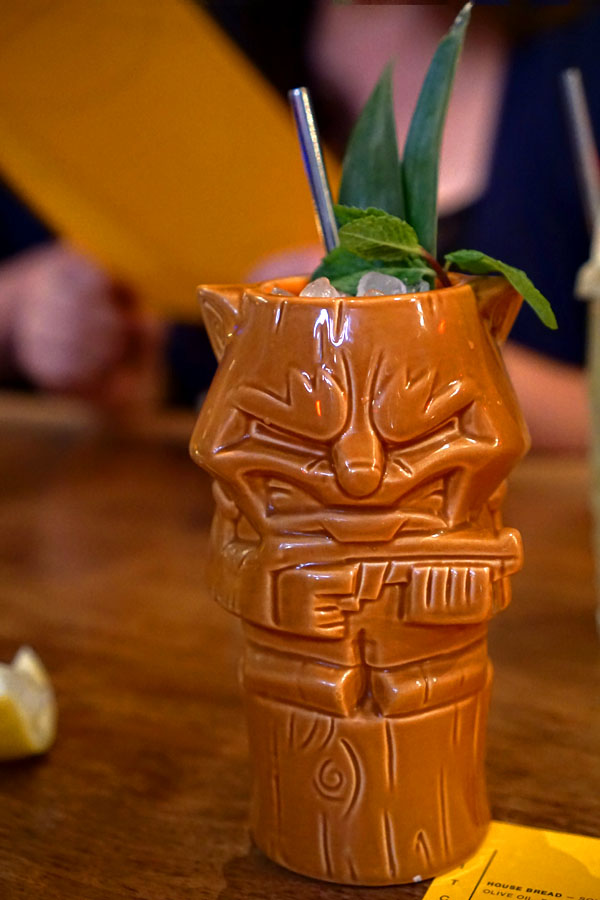 Tiki, Do You Love Me? [$15.00]
| Japanese Whisky, Yuzu, Coconut, Pineapple, Sherry
This very obviously tiki-inspired cocktail was super viscous on the palate, and gave up flavors of sweet tropical fruit and lingering coconut, with nary a trace of the sherry or whisky.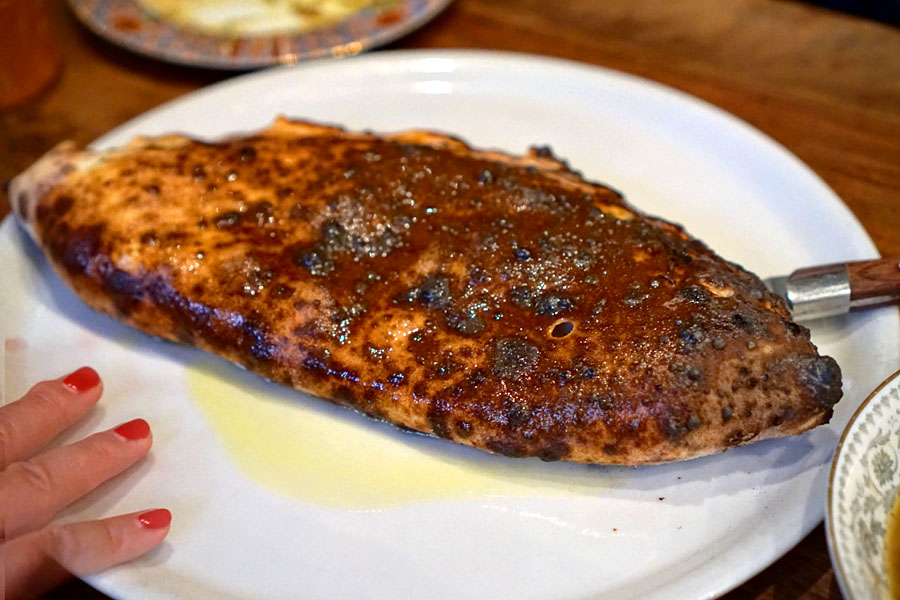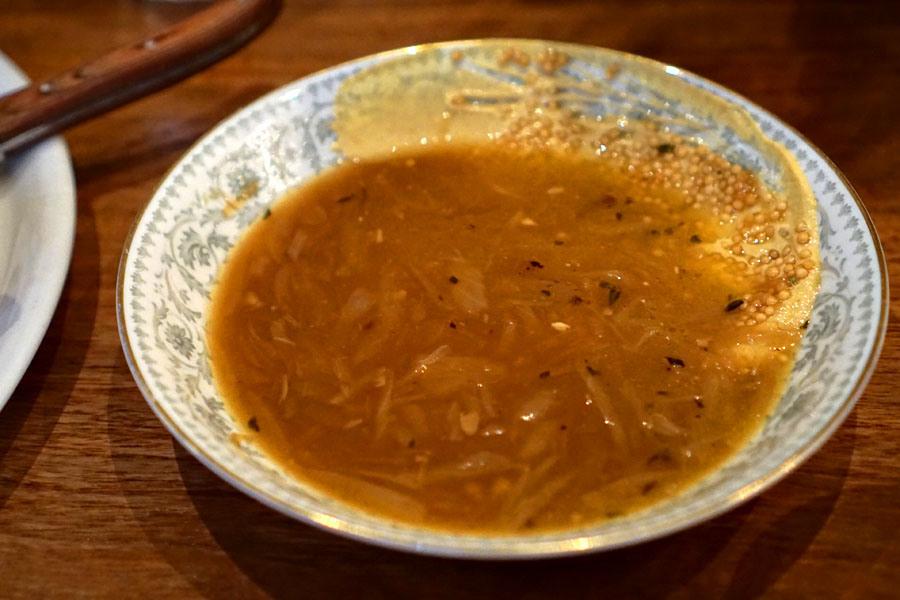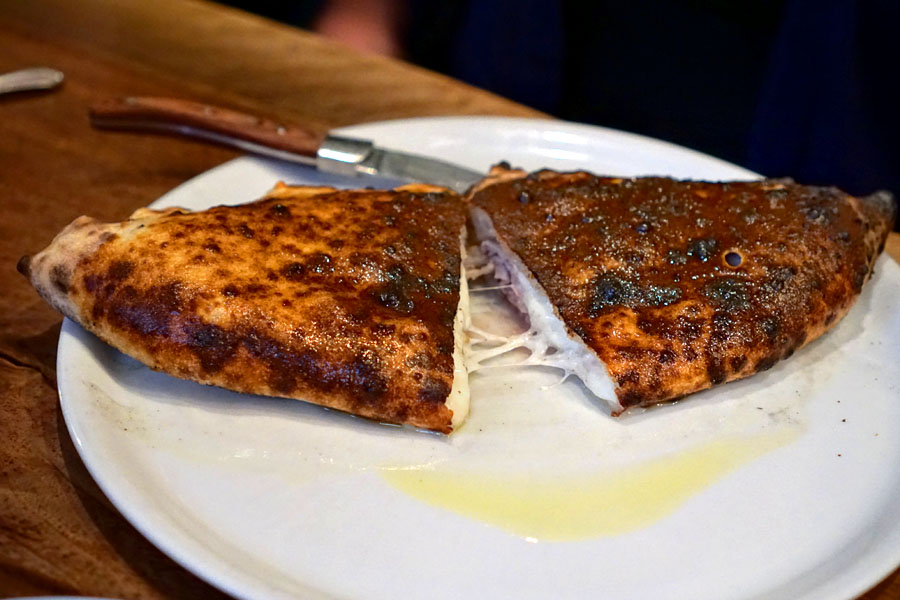 "The Philippe" [$27.00]
| French Dip Calzone, French Onion Soup, Hot Mustard
It's unclear if the French dip sandwich was invented at Cole's or Philippe's, but judging by the name of this dish, it appears that Ronan's proprietors favor the latter. In any case, this was a satisfying little number, with roast beef and Swiss coming together in harmony, then accented by the calzone's char bitterness. The included onion soup added further potency to the mix, and even more appreciated was the heat of that mustard.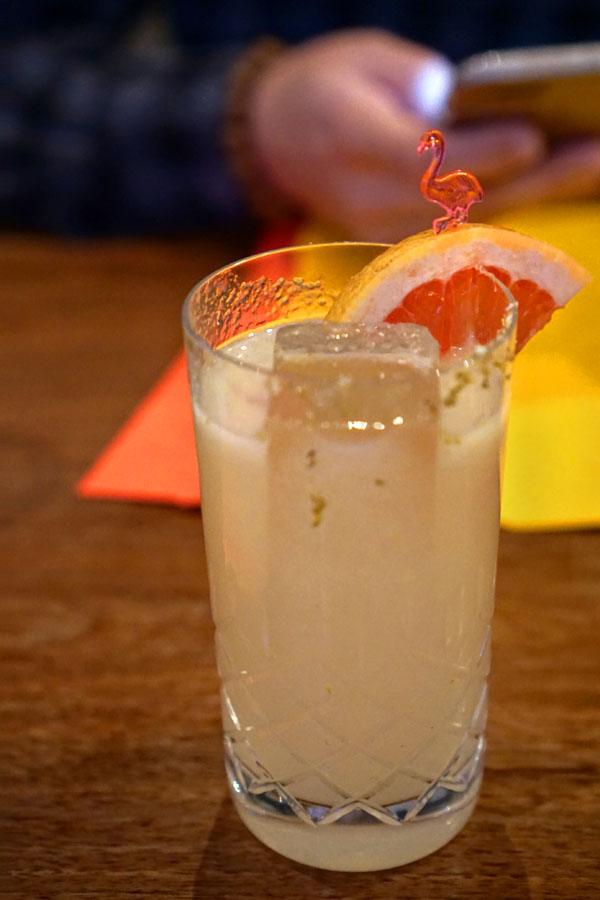 Rickey Menáge [$15.00]
| Grapefruit Three Ways, Fennel Three Ways, Ford's Gin, Seltzer
This delightfully punny cocktail was a smart reworking of the classic rickey. It smelled spicy and savory, while the taste was all about that fennel, tempered by sweet-tart notes of citrus and a touch of herbaceousness on the finish.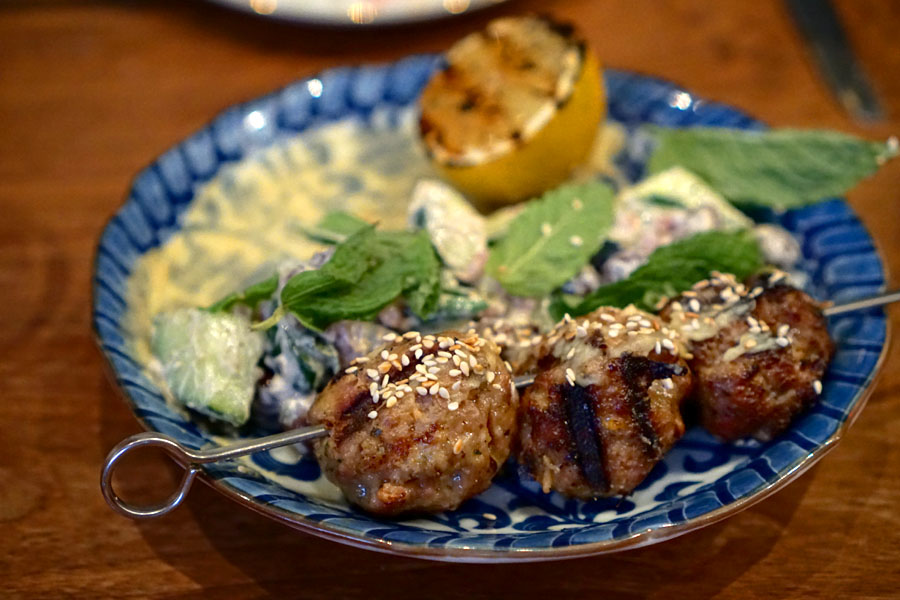 Pork Meatballs [$16.00]
| 'Greek Salad', Sesame, Caramelized Lemon
2
Meatballs definitely had a Middle Eastern bent, and came out somewhat rustic in style, well-seasoned, and tasting sort of like kofta kebabs. Nice brightness from the greenery on the side, too.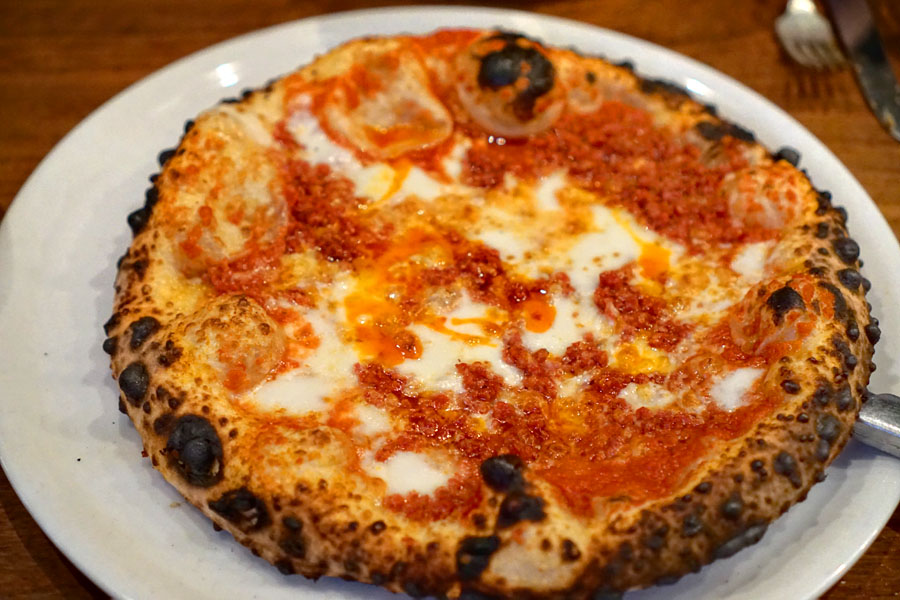 Spicy Chomper [$22.00]
| Tomato, Soppressata, Quattro Formaggi, Paper Napkins
Our first pie was a fun one, featuring a prickly, lingering spice that reminded me of the Jeno's frozen pizzas of my childhood. Moderating that heat was a pillowy, well-charred crust that conveyed the right amount of bitterness.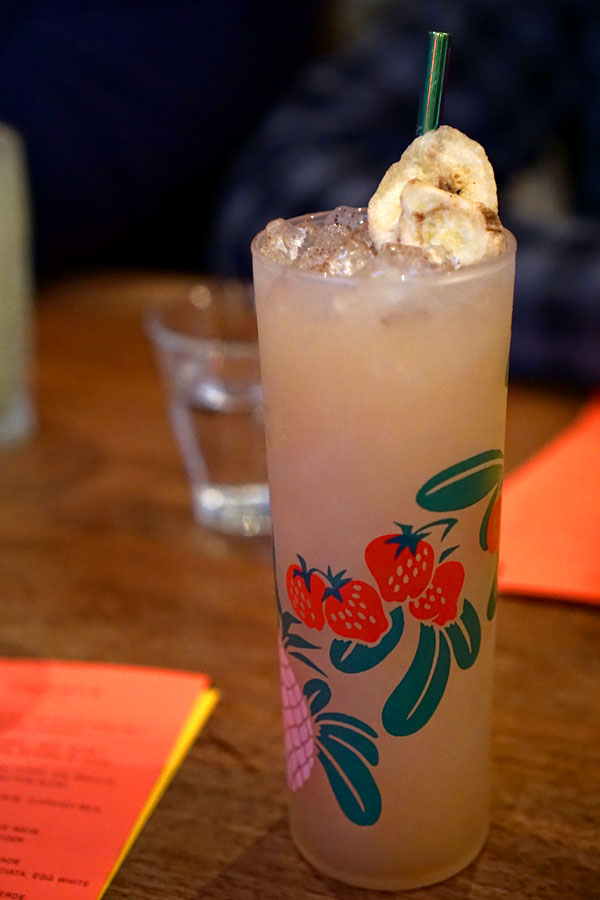 Chimpin' Ain't Easy [$15.00]
| Diplomatico, Appleton 12, Macadamia, Banana Phosphate, Lime, Spice
This fancifully-monikered cocktail was another standout. On the nose I got a sort of savory, spicy character, which was a bit unexpected. In terms of taste, it was intensely fruity, with boatloads of banana joined by notes of brown sugar and a great nuttiness from the macadamia.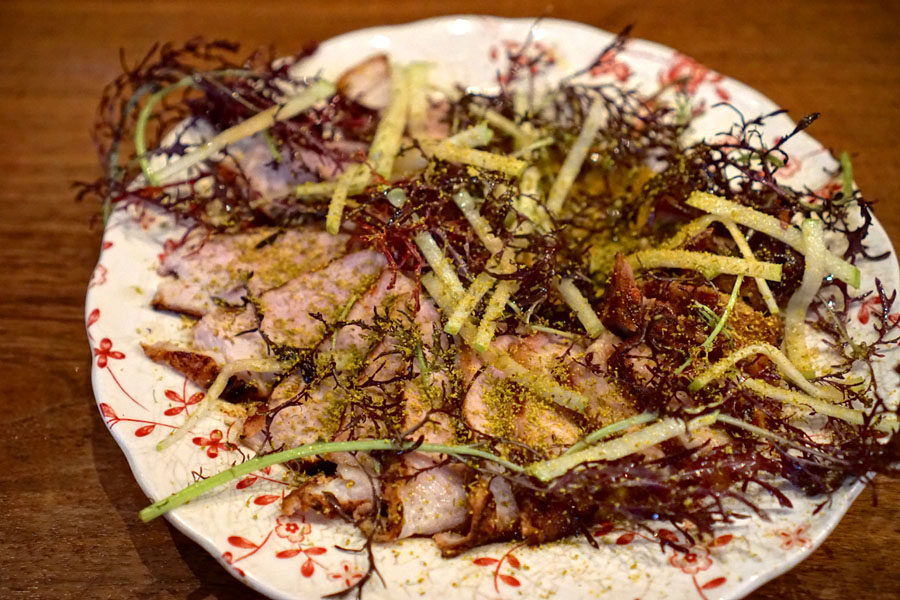 Pork Chop "Animal Style" [$38.00]
| Mustard Jus, Granny Smiths, A Whole Lotta Fennel Pollen
This was a rather untraditional preparation of pork chop. The chop itself was well-seasoned and pretty delicious, and worked well with the batonnets of apple present (pork and apple is a classic pairing), while more interesting was the spicy-sweetness of all that fennel pollen. My concern here was that the meat was cut rather thin, which I think made it drier than it should've been.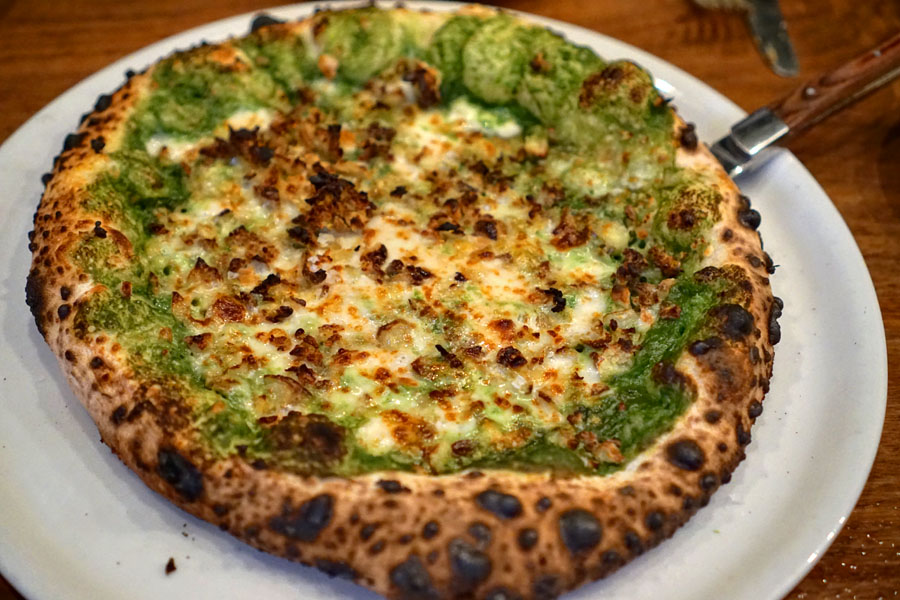 Potato Face [$19.00]
| Green Garlic Pesto, Crumbled Potato, Aged Sherry Vinegar
Despite its name, our second pizza could've actually used more potato. That being said, what little there was certainly worked, and I loved the sheer garlickiness of the pie. Yum.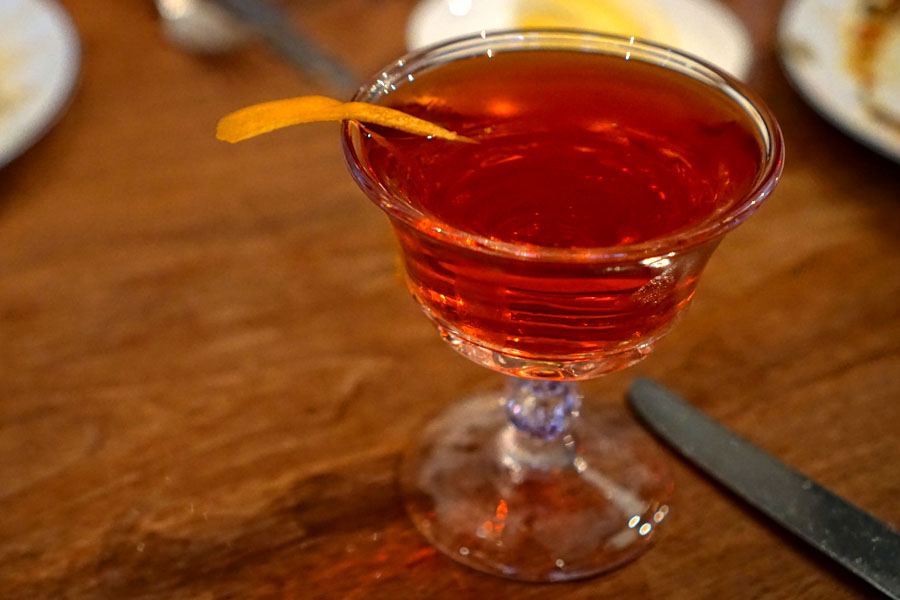 Amari Stoudemire [$15.00]
| Campari, Cynar, Gin, Braulio, Cocchi Americano, Orange Bitters Blend
In terms of punny cocktail names, this was one of the better ones I've seen. The drink showed off a classic bittersweet flavor profile that was reminiscent of a Negroni, but with more complexity, fruit, and herbaceousness.

A small selection of desserts is joined by a long list of after dinner drinks. Click for a larger version.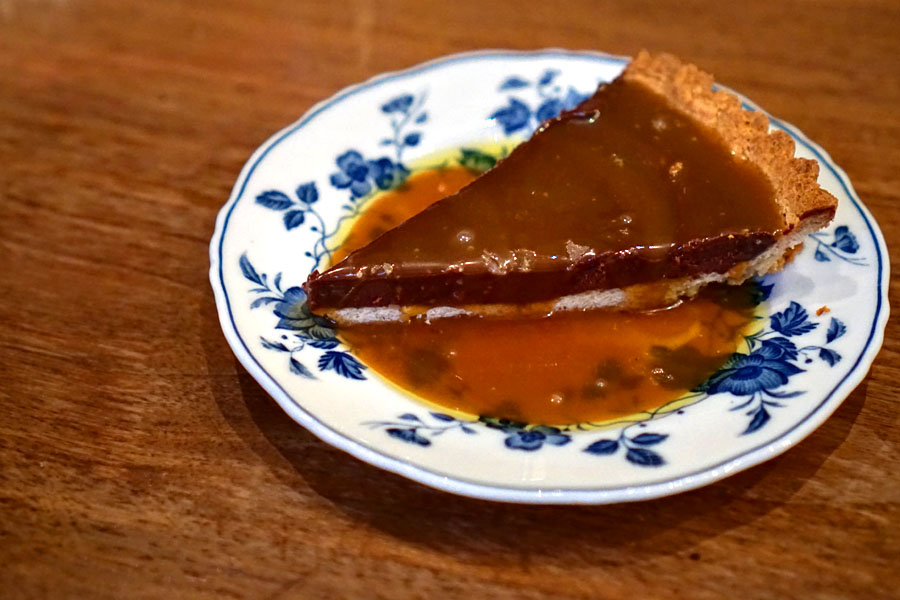 Rye or Die [$9.00]
| House Milled Rye Crust, Rye Caramel, Dark Chocolate, Rye Mist
A rye-focused pie was super sweet, displaying loads of dark fruit and brown sugar flavors along with a sort of grainy consistency. Nice crust here, too.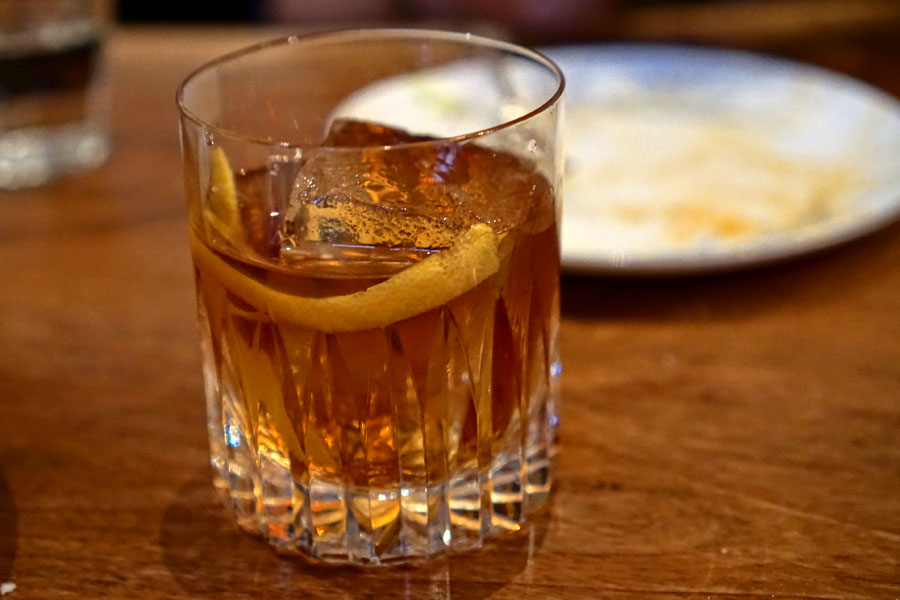 Lone Warrior [$15.00]
| Suntory Toki, Baller Single Malt, Rucolino, Amaro Angeleno, Demerara
Our final cocktail was definitely the booziest of the bunch, showing off the duo of whiskies in concert with lots of brown sugar, bitter, medicinal, and nutty notes.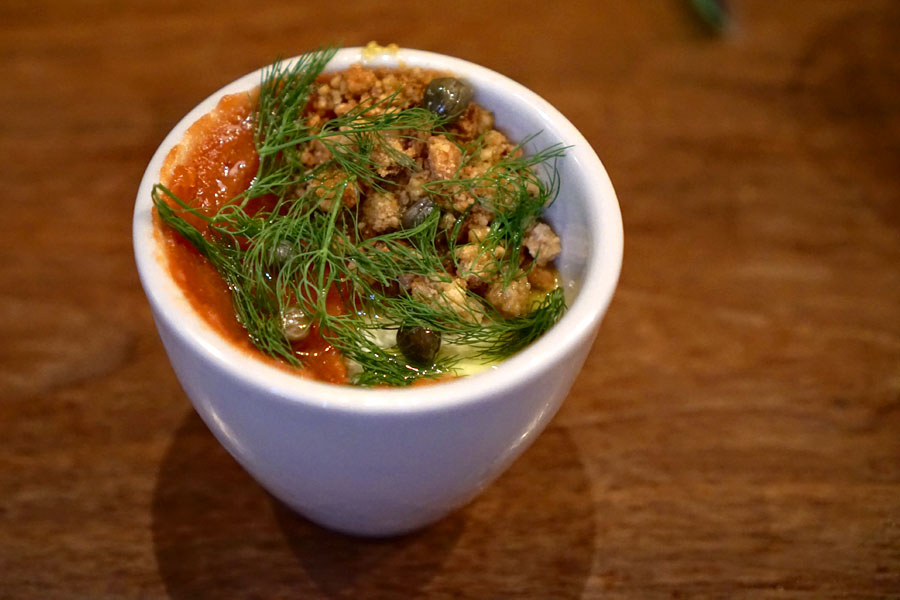 Greek Yogurt Pudding [$9.00]
| Strawberry Guava, Macadamia Nut Streusel, Wild Fennel, Caper
A cool, creamy yogurt pudding served as a stage for a back-and-forth between the fruit and the sharp anise-y notes of fennel. I appreciated the crunch of the streusel here, but I didn't get much from the capers, which actually may not be a bad thing.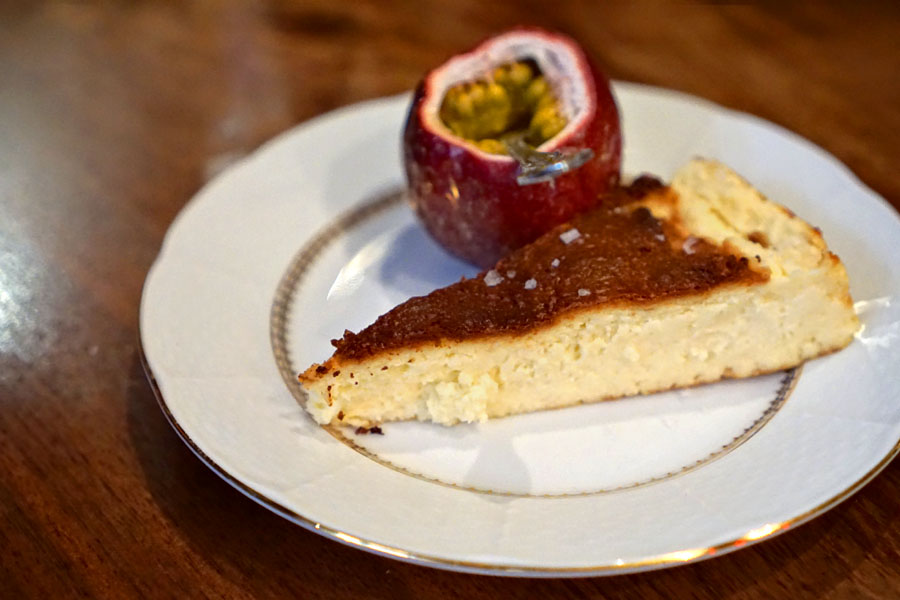 Wood-Fired Cheesecake [$9.00]
| Passionfruit au Natural
Thanks to its salty, savory notes, you really got the "cheese" in the cheesecake here. The passion fruit wasn't strictly necessary for me, though I didn't mind the tartness it imparted. My favorite of the desserts.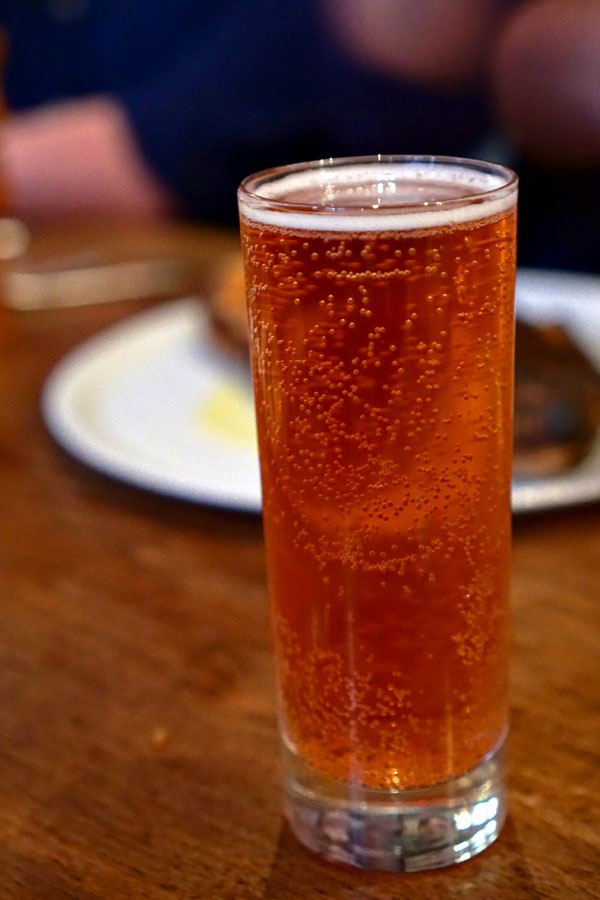 We finished with some beer, the
Cranberry Quince White Ale, North Coast, Ft. Bragg [$6]
. I found this quite "wheaty," with ripe, fragrant flavors of the advertised fruit set against a pleasant tartness and acidity.
I think everyone in the birthday party was pretty happy with our dinner at Ronan, with just a few relatively minor gripes here and there. Though the restaurant may be nominally Italian, the kitchen isn't afraid to get creative, and often times the results are genuinely worthwhile, which is the crux of this place. As for the pizzas, they hit the spot, and are a reasonable homage to what you could've gotten at Sotto back in the day. So overall, a solid debut from the Cutlers.