Plate by Plate 2011 (Los Angeles, CA)
Plate by Plate 2011
214 S Main St, Los Angeles, CA 90012
www.platebyplate.org/la/
Sat 08/06/2011, 05:45p-10:00p

This past Saturday, August 6,
Project by Project
hosted its ninth Annual Tasting Benefit,
Plate by Plate
, at the
Vibiana
cathedral in Downtown LA. Project by Project is a nationwide tax-exempt volunteer organization centered on issues relating to the Asian-American community. Every year, PbP selects a non-profit to partner with, and this year, it's the
Asian Youth Center
, a local community group focused on providing social services to recent immigrant youth. As always, Plate by Plate showcased the culinary talents of some of LA's most popular eateries, as well as a wide variety of libations from a bevy of purveyors.

The calm before the storm: T-15 minutes and things are relatively subdued in the kitchen.

Assembly for the group photo, just minutes before things got crazy.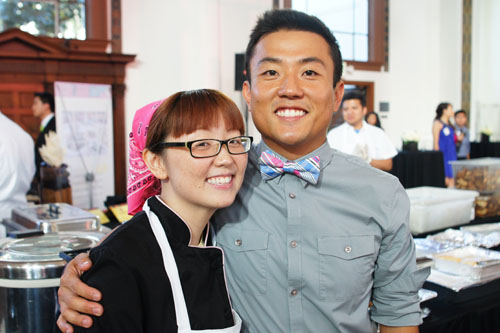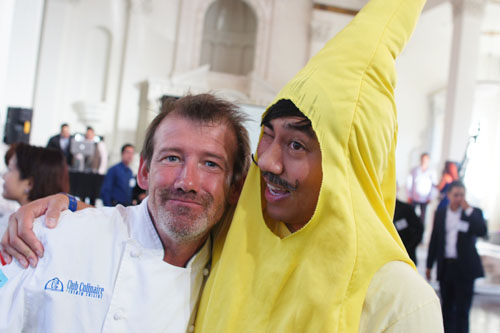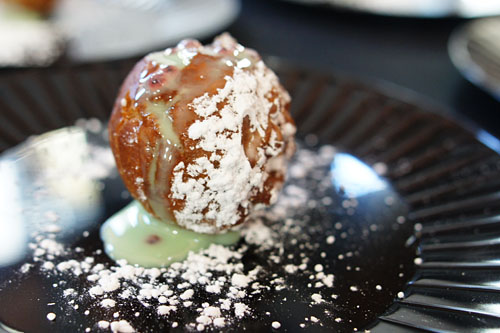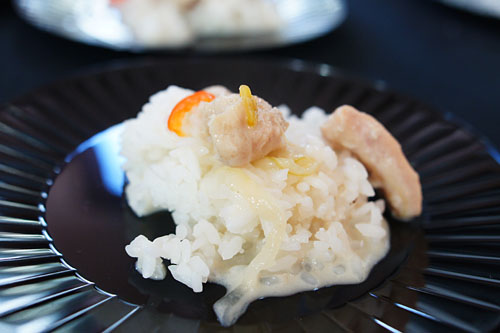 Somewhat fittingly, the first table I visited was
Starry Kitchen
. Aided by a debonair bow-tied
Matt Kim
, the wife-and-husband team of Thi and Nguyen Tran (in his formal banana suit regalia) was on-hand to present their
Pandan Donut Holes
and
Malay Coco Pineapple Chicken
.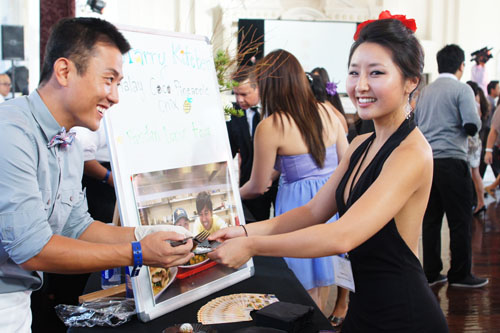 PbP's Manager of Past Partner Relations
Yulree Chun
brings her sexy back. I'd be smiling too if I were Matt.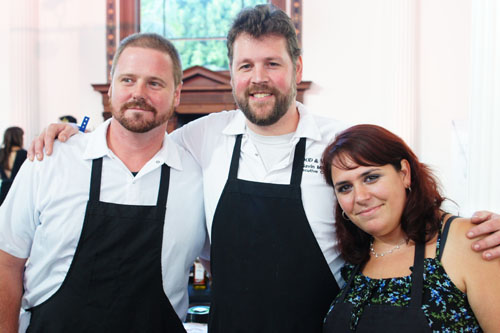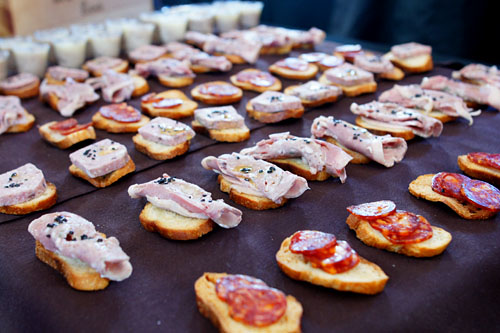 Next up was
Wood & Vine
, Hollywood's hottest new eatery. Executive Chef Gavin Mills was joined by his wife Jessica, along with Sous Chef Chris Ostray, and the trio put forth a mouthwatering spread of W&V's housemade charcuterie:
Housemade Chorizo
,
Duck Galantine
,
Pork Rillettes
, and
Port and Foie Gras Pâté
. Note the straying eyes on Chris--perhaps he caught a glance of Yulree!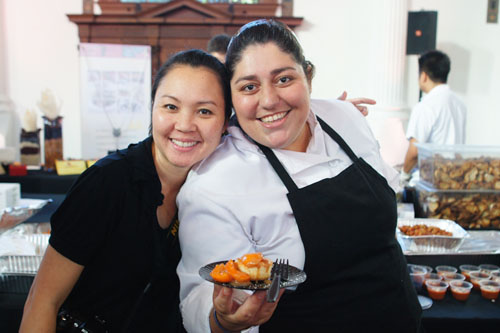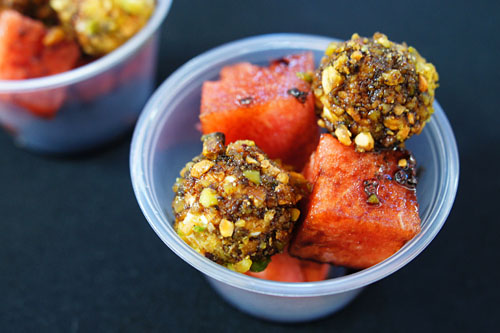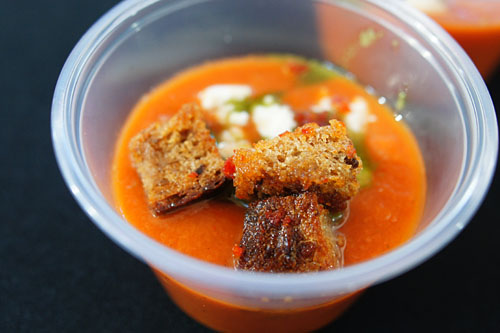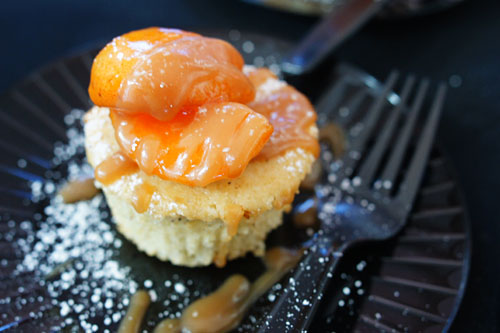 Joined by event planner Betty Lang of
Vanda Events
,
Chef Anahita Naderi
went above and beyond with her trio of dishes:
Goat Cheese & Watermelon Salad
,
Chilled Tomato Gazpacho
, and
Spiced Apricot Cake with Salted Caramel
. In addition to tending to the catering business, the two are currently collaborating on a underground dinner series called
Hidden Dinner
.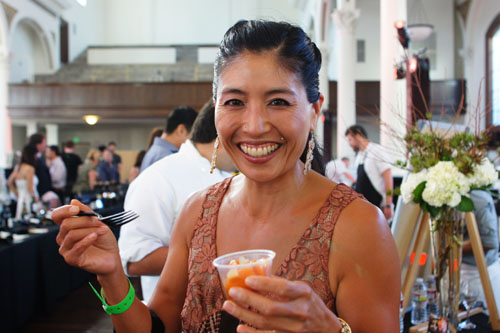 Ani Phyo
certainly seems to be enjoying Anahita's melons.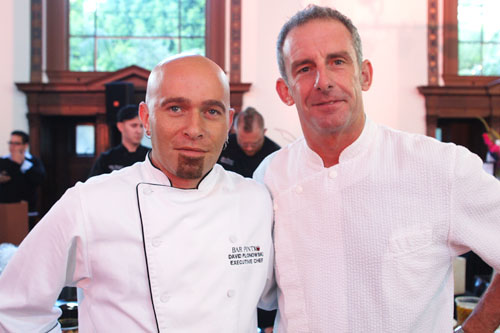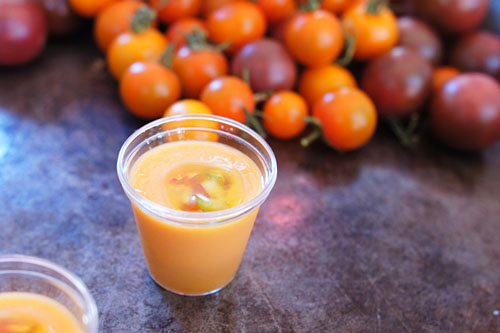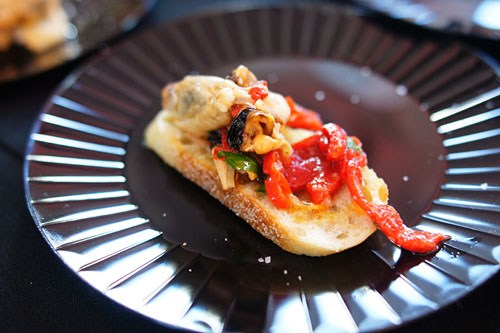 Bar Pintxo
's Executive Chef David Plonowski was joined by owner
Joseph Miller
, and true to the restaurant's tapas-centric form, the duo whipped up
Gazpacho
and a
Tostada of House Conserved Carlsbad Mussels, Roasted Piquillo Peppers, Shallots, Crushed Garlic, 25 yr Sherry Vinegar, Lemon Essence & Oleostepa Oil
.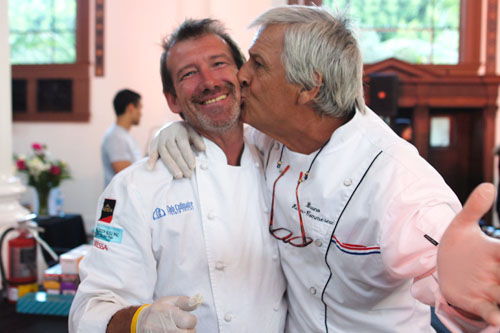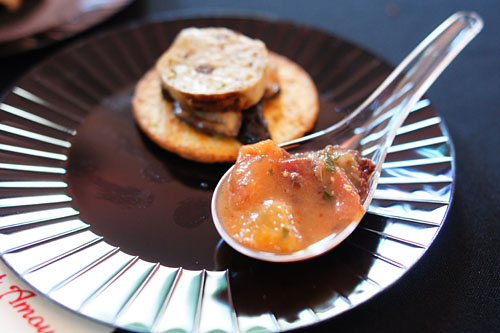 Le Saint Amour
's Bruno Herve-Commereuc and his "partner" threw a true sausage fest, with both a
Boudin Noir with Cippolini Peach Relish
and a
Boudin Blanc with Shitake Mushrooms
.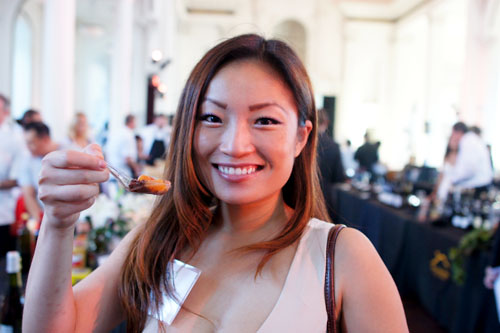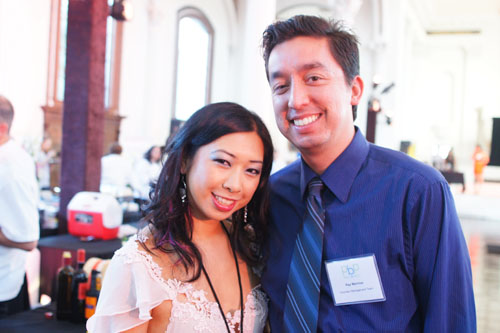 Left
: PbP Director of Fundraising Katherine Lee loves her some of Bruno's
boudin
.
Right
: PbP's Manager of Team & Leadership Development Audrey Lo, along with PbP Volunteer Management team member Ray Warriner.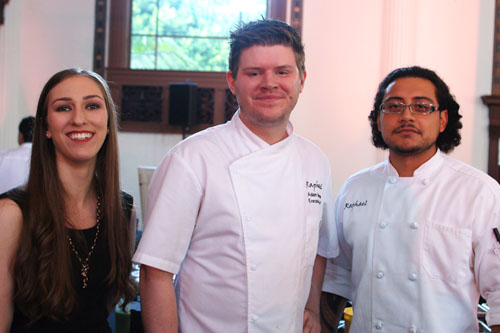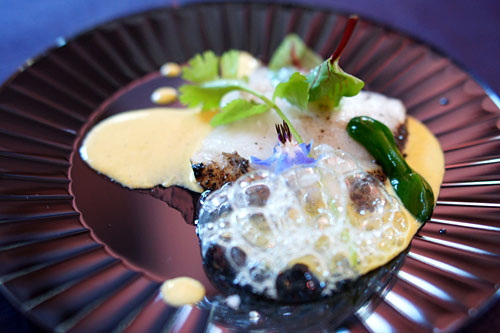 One of the most visually arresting plates of the night,
Escolar Tataki with Burnt Lemon, Yogurt, Chile and Cucumber
was the word over at
Adam Horton
's
Raphael
. Joining the Chef was restaurant co-owner Shoshana Raphael and cook Louis Rivera.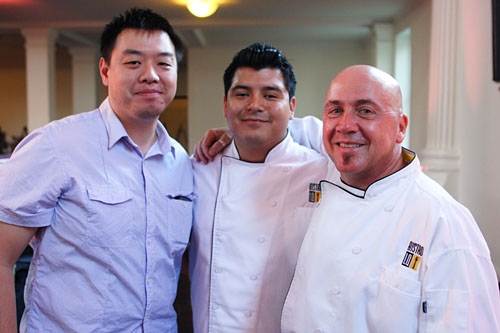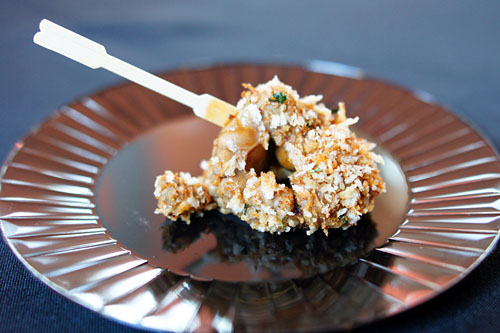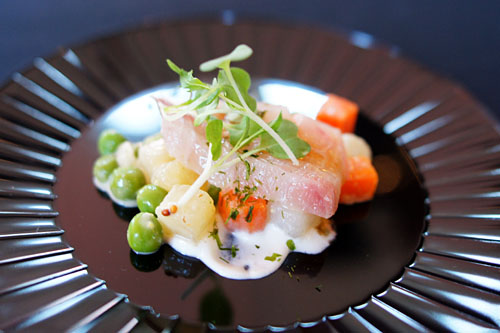 Laurent Quenioux
was accompanied by the recently-hitched
Julian Fang
, as well as long-time compatriot Daniel Vasquez. Food-wise, we're talking
Lamb Sweetbreads, Chipotle Glaze
and
Hamachi, Uni Russian Salad, Yuzu Kosho
.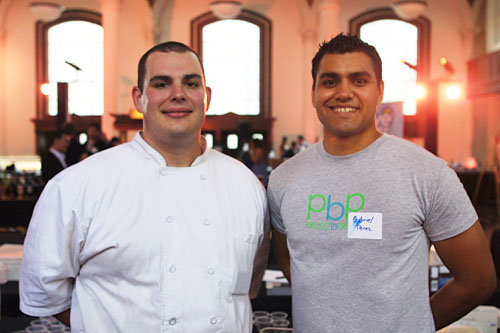 In Seakyeong Kim's absence,
Charlie Palmer at Bloomingdale's
was represented by Sous Chef Nick C, who put out a
Foie Gras Foam with Spiced Cherry Compote
.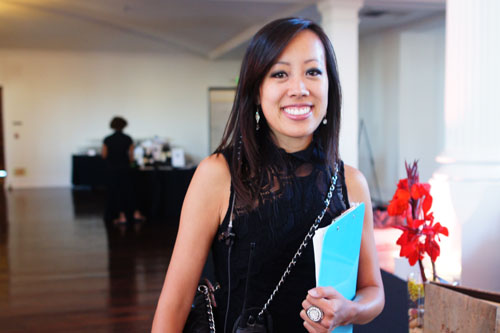 Two of our industrious PbP ladies: Co-Manager of Restaurant Relations
Ann Nguyen
and Beverages team member
Catherine Kim
.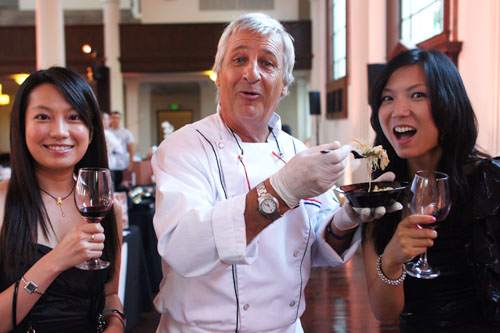 He likes being the meat in
this
sandwich.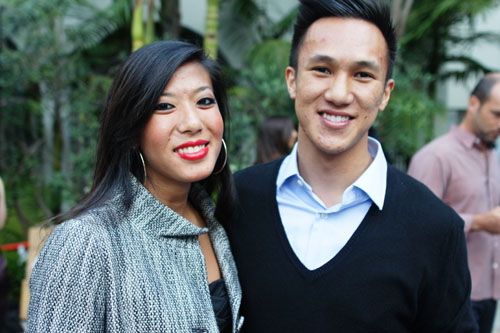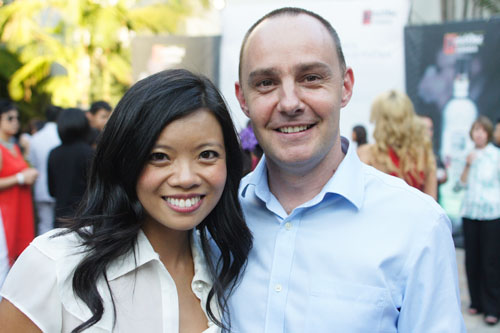 Left
: Moving outside into the VIP space, I immediately ran into Victor Nguyen, one of the winners of my
Plate by Plate Ticket Giveaway
--see, people really do win these things!
Right
: Stephane Bombet with his new assistant, Huffington Post contributor
Lien Ta
.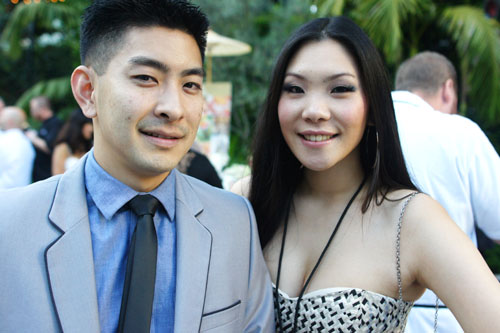 PbP Manager of Event Production
Helen Kim
with her beau.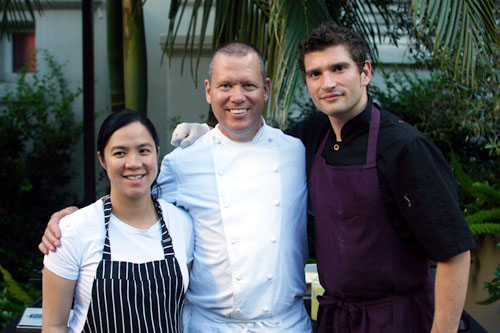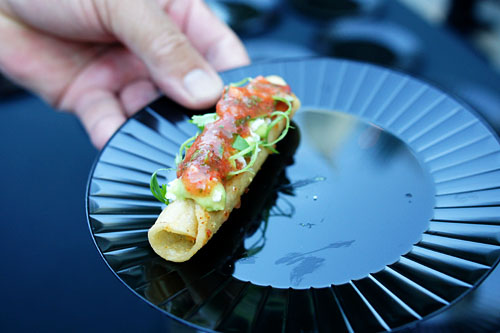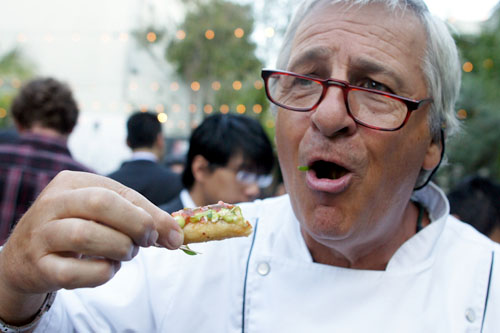 Aided by wife Margarita Manzke and Perry Pollaci,
Walter Manzke
fried up some
Potato Dorado
for us to enjoy. Think of a
flauta
, but with finesse--Nguyen and our friend from Le Saint Amour both seemed to enjoy it!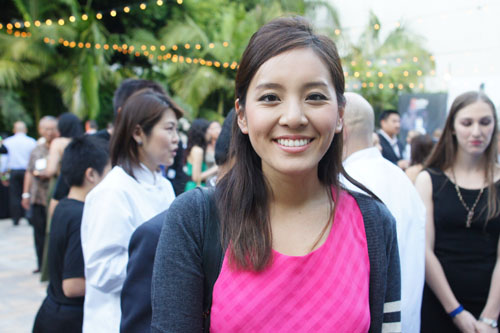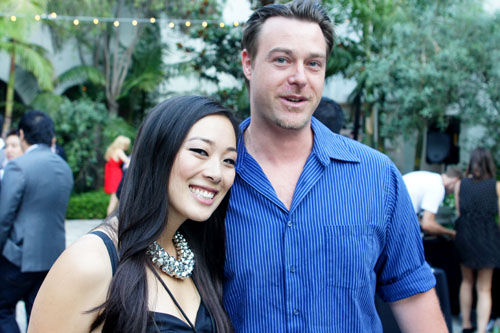 Two of PbP's media partners:
Audrey Magazine
editor
Janice Jann
, looking as lovely as ever, along with
Grubstreet
's Hadley Tomicki.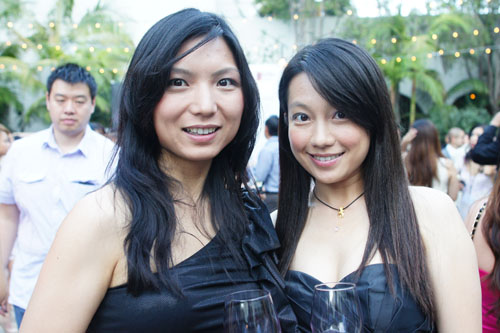 PbP volunteers Rose Zhu and Melody Chang, photobombed by
Julian
.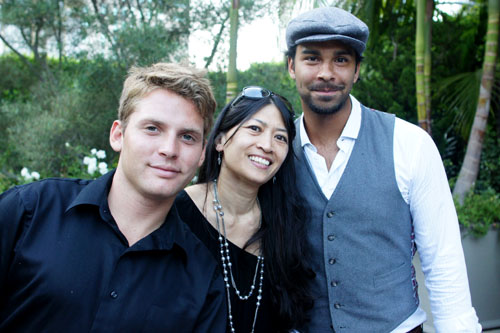 Sotto
was represented by famed barman Julian Cox, who churned out a refreshing
Sicilian Sling with Gin, Aperol, peach, fresh lemon juice, and Peychaud's bitters
. Assisting was Sotto GM/partner Dina Pepito and a rather young-looking barback.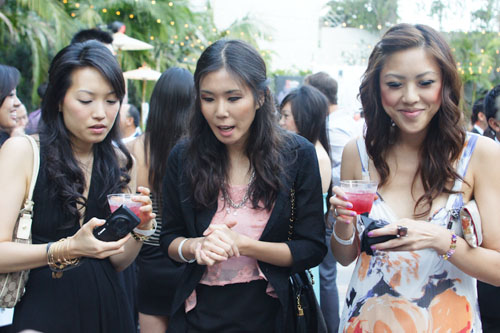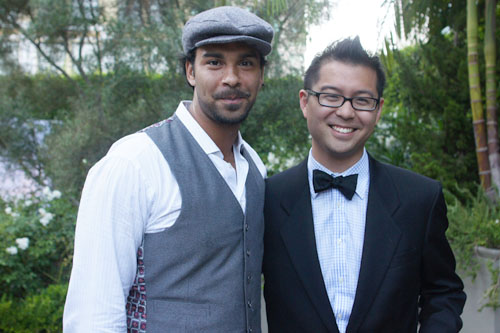 Left
: Three ladies get their fill of Cox.
Right
: JC with PbP's dapper Director of Leadership Development Trevor Chang.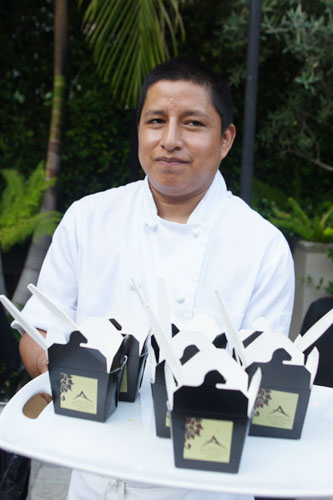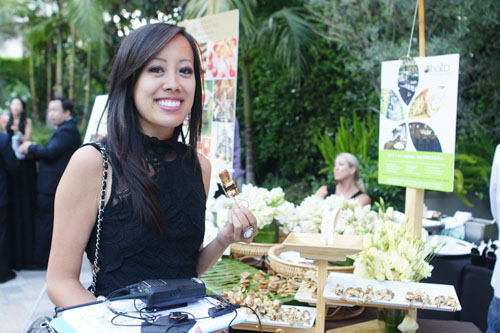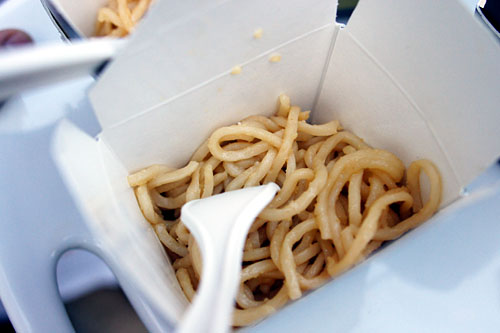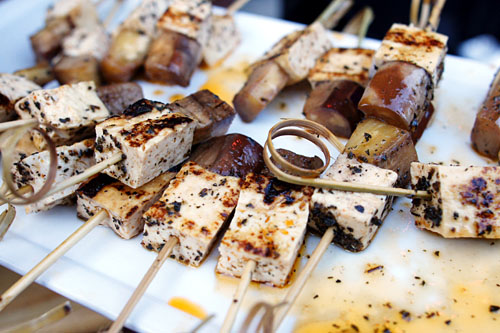 An Catering
brought their much-hyped
Garlic Noodles
, while
Tiato
had some
Eggplant Tofu Skewers
.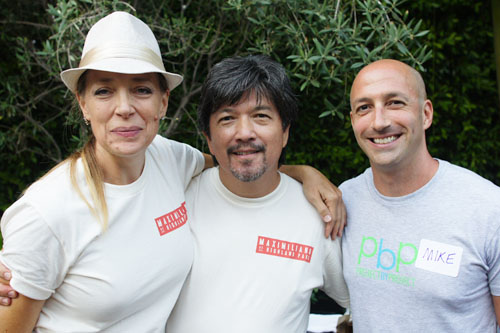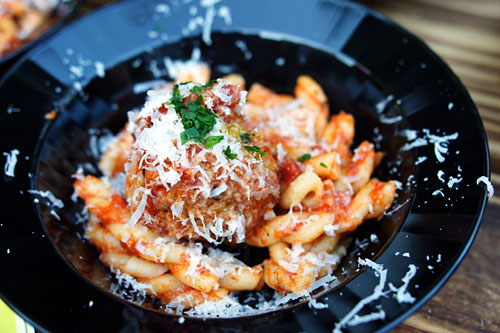 Andre Guerrero and Jan Purdy from
Maximiliano
dished out bowls of
Genelli with Marinara Meatball Sauce and Reggiano Parmesan
. Look out for Maximiliano to debut in Highland Park in the near future!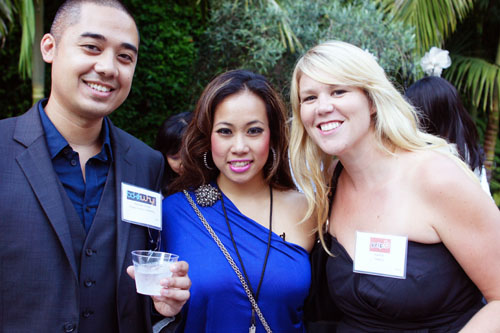 More media: PbP Manager of Multimedia
Marian Bacol-Uba
with Kaywan Shiraz from
Bakit Why
and Katie B from
Yelp
.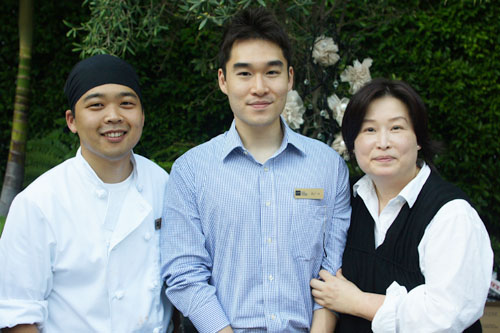 Four Seasons Catering
is perhaps best known for catering the recent, much-publicized
Choi
-
Fang
nuptials. Here, owners Billy and Polly Ha, along with Chef Don, served up a duo of Korean-inflected dishes:
Kimchi and Mozzarella Rice with Masago Mayo Sauce
, and
Spicy Braised Chicken and Potatoes with 'Kochujang' Sauce
.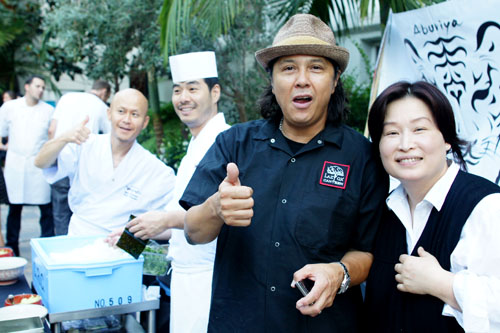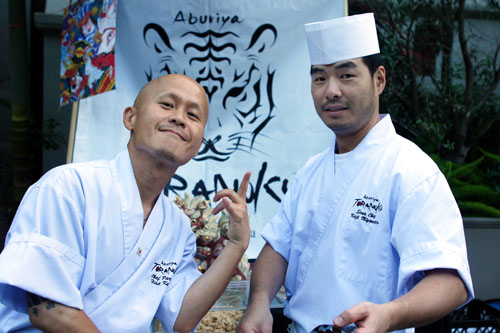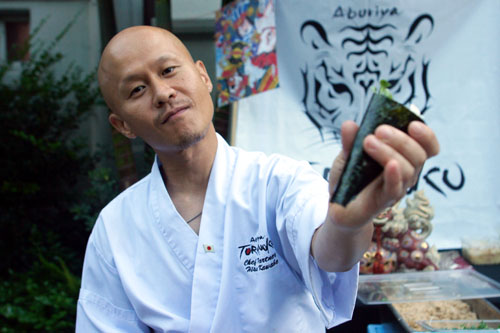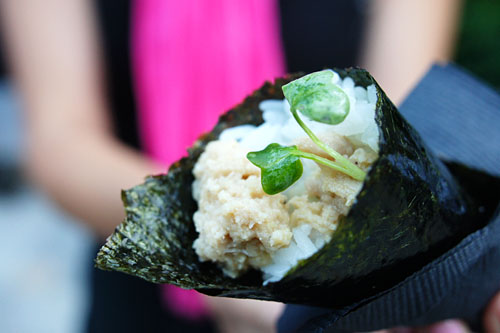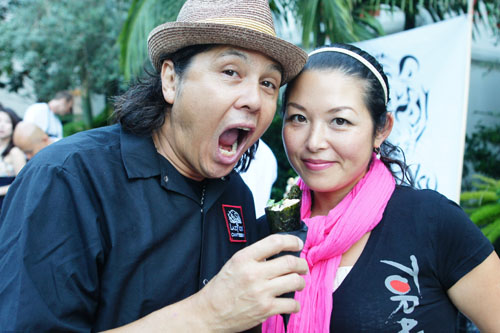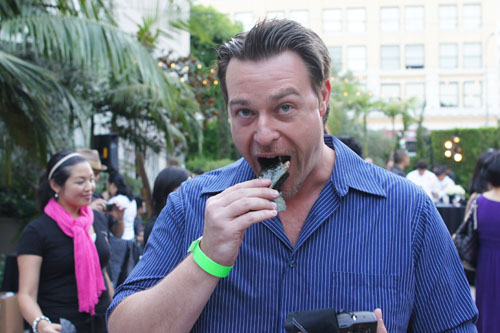 Polly was lamenting the fact that she couldn't deep fry her Kimchi-Mozz balls, so I took her over to Walter Manzke's station to show her how he was doing it using an induction burner and cast iron pot. Next door to Manzke was
Aburiya Toranoko
. Owner Michael Cardenas was on hand, as was Executive Chef Hisaharu Kawabe and Sous Chef Koji Miyamoto, both of whom were furiously churning out
Marinated Albacore Hand Rolls
.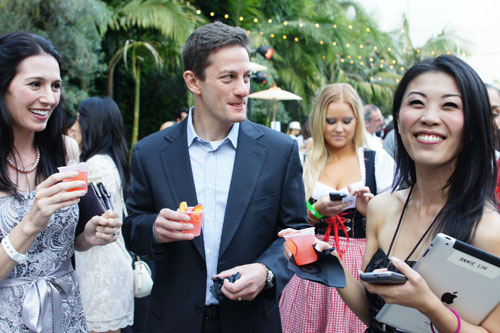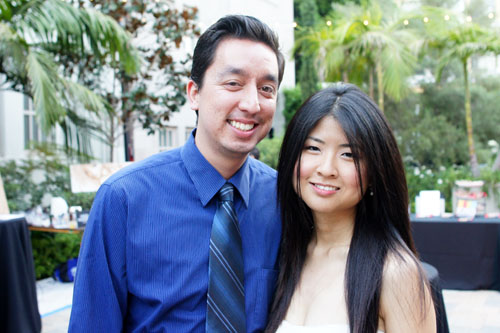 Left
: PbP's inimitable Director of Operations, Annie Lin, mixes things up.
Right
: Ray Warriner and his date Theresa.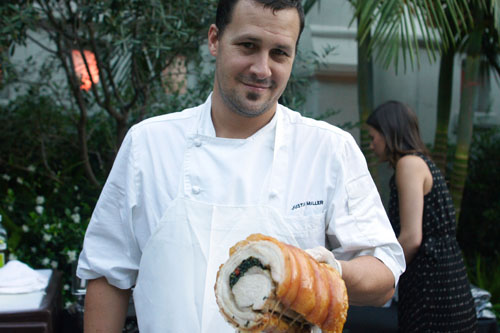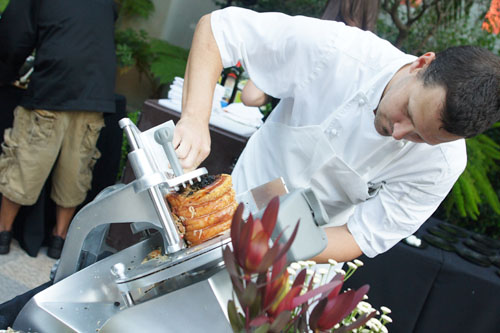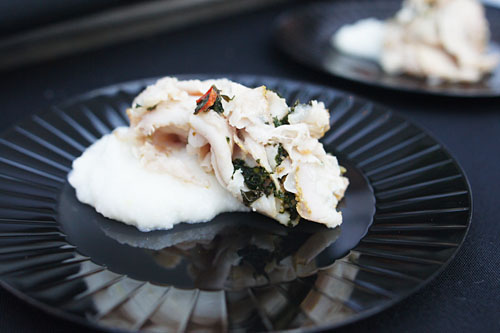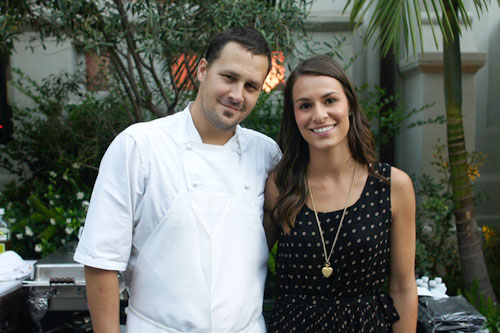 Pizzeria Ortica
's CdC Justin Miller knows how to handle his meat, as demonstrated in his delightful
Porchetta with Soft Polenta
. The pretty Lauren Pretty agrees.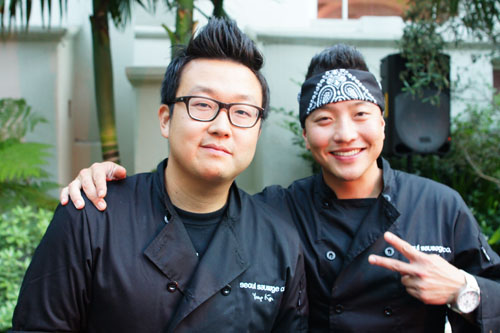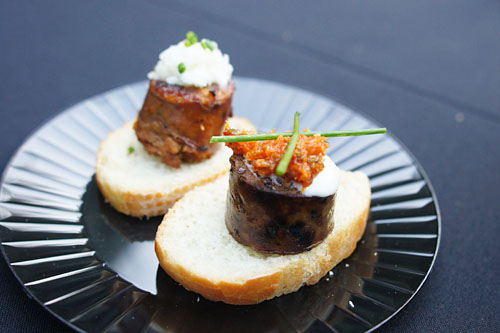 Seoul Sausage Company
was repped by partners Yong Kim and Chris Oh, and the two offered up their
Kalbi Sausage (100% All beef kalbi flavored sausage served with kimchi-kraut and garlic jalapeno aioli)
, as well as a
Spicy Pork Sausage (Pork sausage flavored with traditional korean spices served with apple cabbage slaw)
.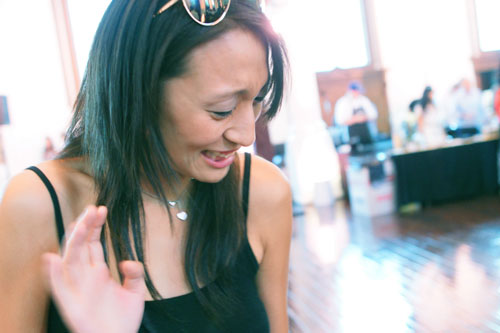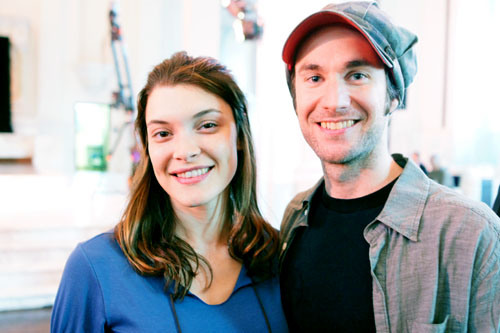 Stepping back inside, I ran into none other than newlywed
Christine Fang
(née Choi), accompanied by
Eva Card
and LA hottest underground chef, Craig "
Wolvesmouth
" Thornton (who hopefully will participate in the tasting next year!).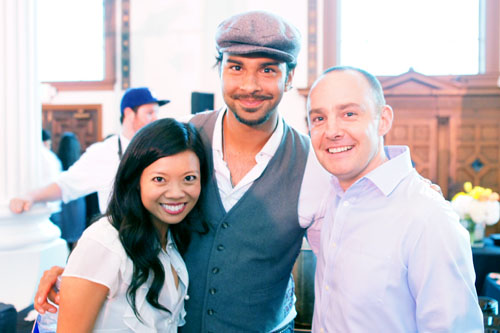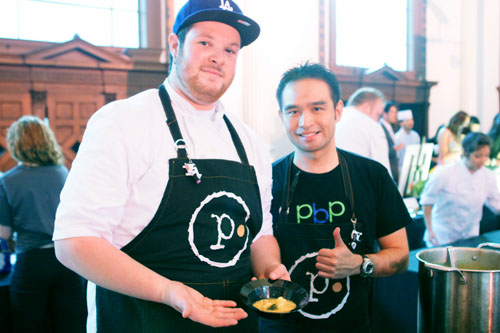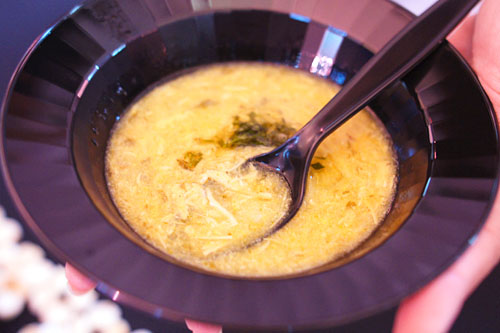 Picca
was my first stop, and though Ricardo Zarate wasn't present, Stephane Bombet, Julian Cox, Lien Ta, and chefs Zak Glasserman and Ming Chon were holding down the fort just fine. A hearty
Chicken Cau Cau
was just what Esther Tseng of
e*star LA
needed.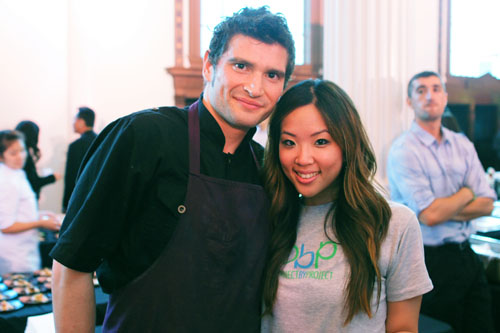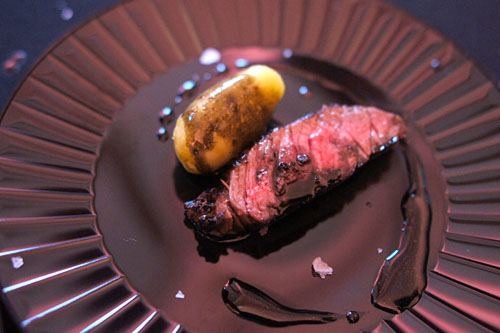 I didn't catch David Féau at
The Royce
unfortunately (I saw him earlier in the evening), but Perry Pollaci, who we last saw helping Walter Manzke out,
was
there. From what I heard from other diners, their
Wagyu "Au Poivre", Baby Yukon-Pearl Onion
was one of the favorites of the night.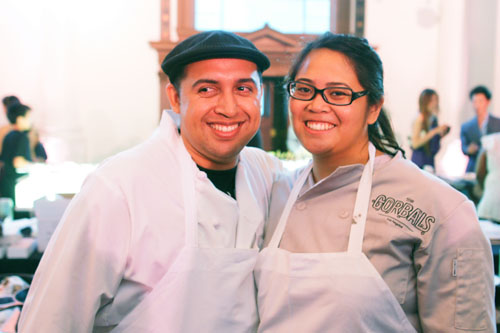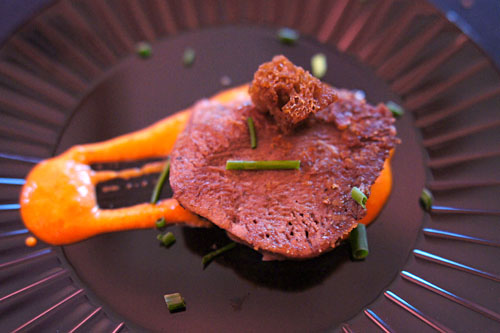 The Gorbals
sent Manuel Cisneros and Sabel Braganza in place of Ilan Hall, and the two were able to turn out a toothsome tidbit of
Tongue with Romesco
. Note Cisneros' shifty eyes--looks likes he checking out some hotties!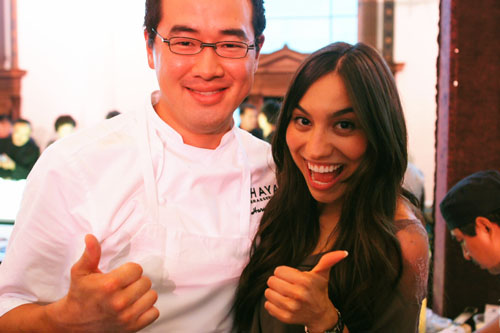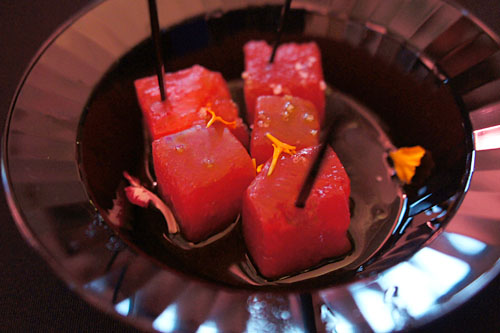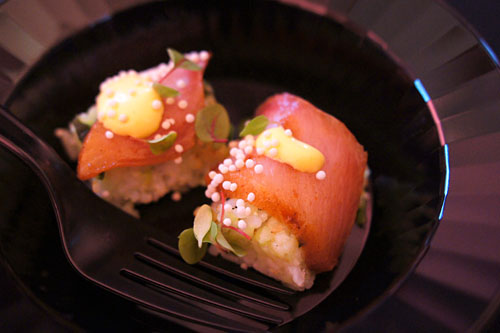 Chaya Brasserie
's Haru Kishi and Sara Baldoni doled out plates of
Compressed Watermelon Cubes, Basil Oil
and
Hamachi Mole Pressed Sushi, Aji Amarillo Aioli
.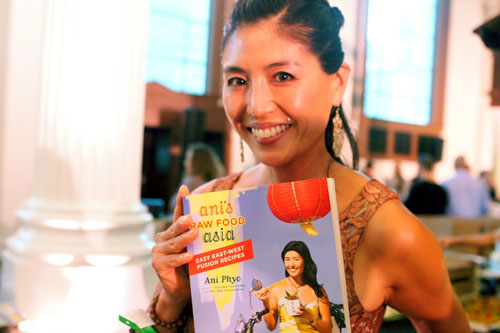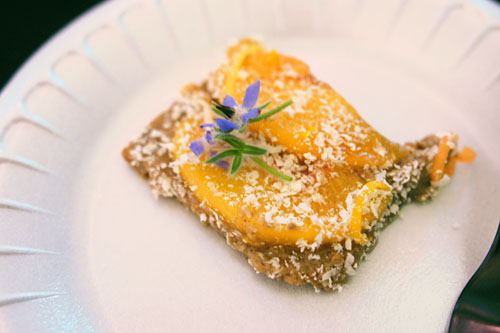 Working alongside Chaya was
Ani Phyo
with her vegan, gluten-free, but fortunately not
flavor
-free
P.C. Cobbler
.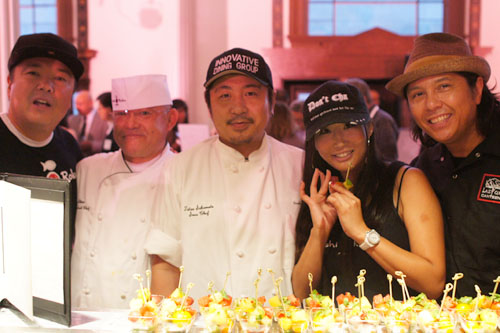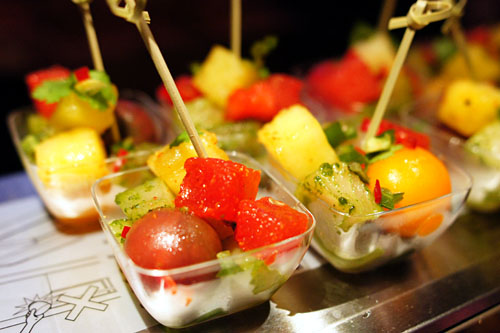 Sushi Roku
was manned by
IDG
's VP of Operations Tom Cardenas, Executive Chef Hiroshi Shima, Sous Chef Tatsu Sakamoto, eye candy Yui Higashijima, and once again, owner Michael Cardenas. To eat: a refreshing
Hamachi with Heirloom Tomato and Watermelon
.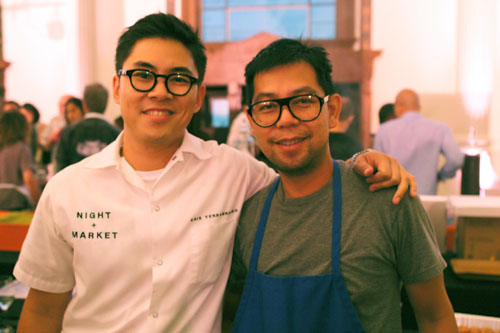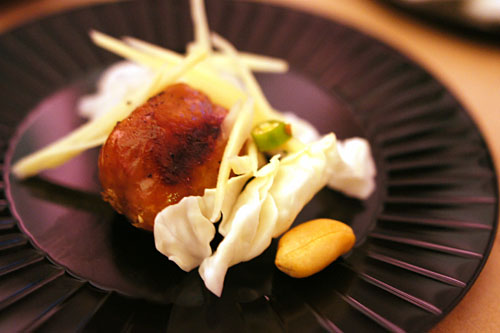 Night + Market
held its own with
Grilled Isan Sour Sausage, Bird Eye Chile, Ginger, Coconut Sticky Rice
. Chef/Owner Kris Yenbamroong and Sous Chef Chris Napaamporn made 650 spheres of the fermented sausage, and
still
managed to run out early. Love the specs on those two!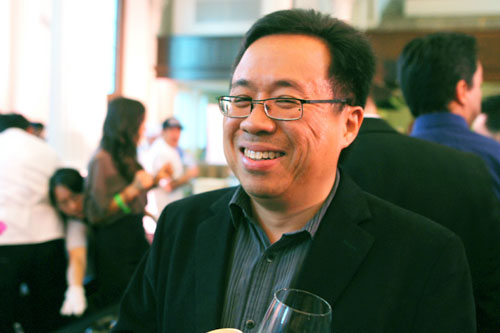 Left
: Perennial Plate by Plate fixture
Sherwin Goo
.
Right
: PbP Director of Volunteer Management Jennifer Sul and friends.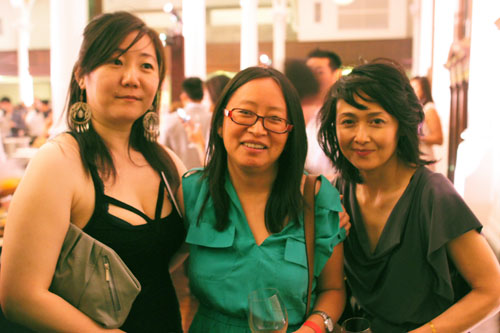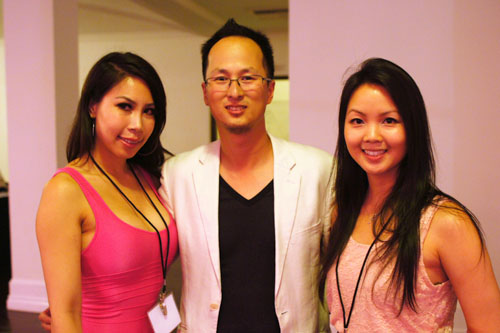 Left
: PbP Events team member Ruth Shen and compatriots.
Right
: PbP Beverages team members Betty Mac and Cassandra Lamb, along with Ed Kwon of
A Hop, Skip, and a Jump
.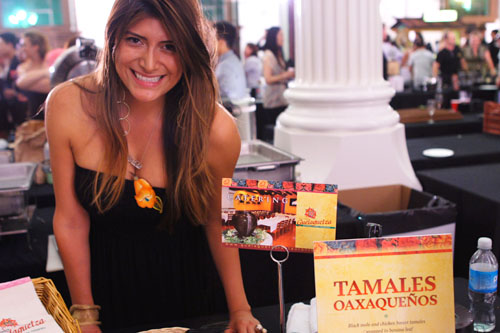 The ever-ebullient
Bricia Lopez
was here for
Guelaguetza
, as were her helpers Martha Martinez and Aaron Salomon. They were serving up
Tamales Oaxaqueños
, black mole and chicken breast tamales wrapped in banana leaf.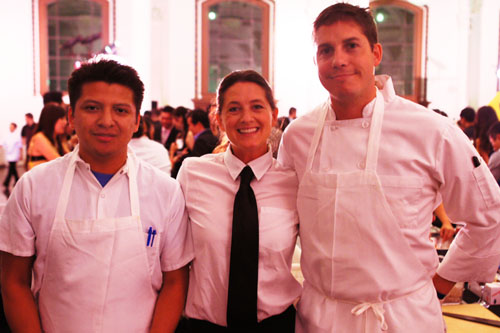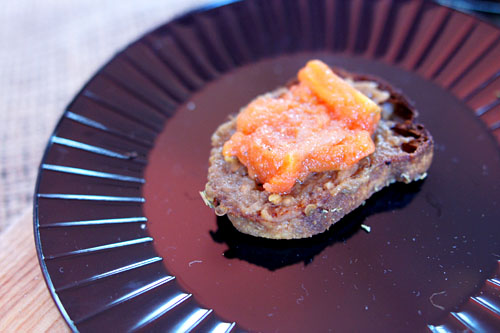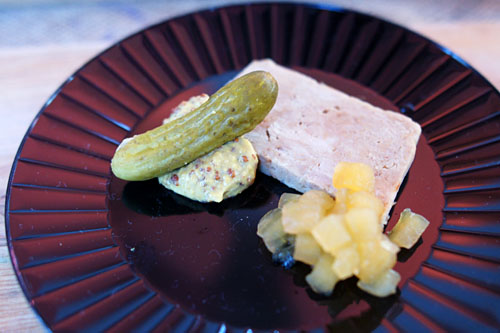 Church & State
had
Eggplant Caviar with Tomato Compote on Toasted Baguette
and
Veal Rillettes with Apple Chutney
. Head chef Jeremy Berlin wasn't in, but Gerardo Nuñez, Kelly McAuliffe, and Charlie Skidmore did a fine job in his absence.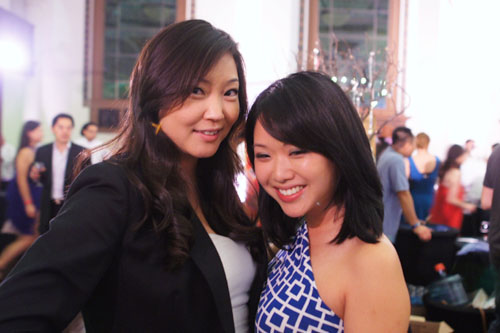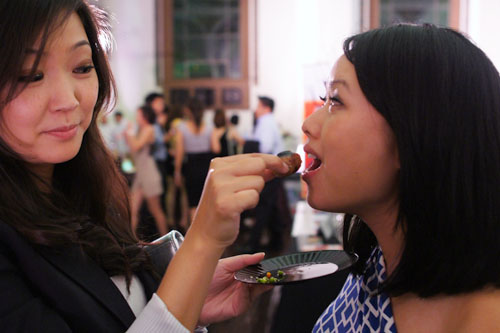 Joanna Park of
LA in Stilettos
made a rare appearance without her sister Grace. She was, however, joined by another Park, Janet of
Iced Cupcakes and Cookies
.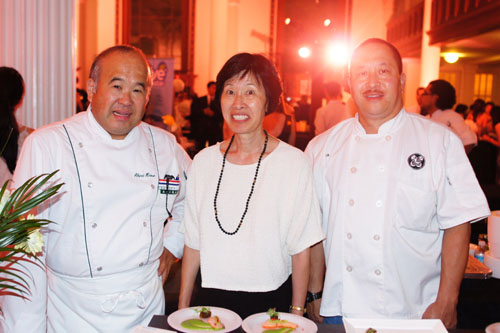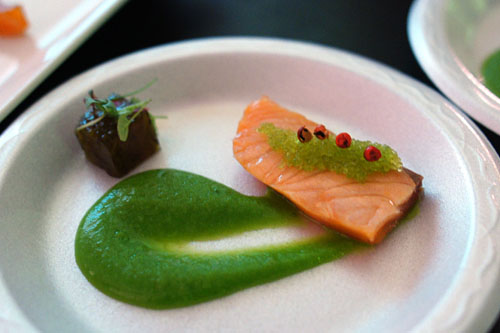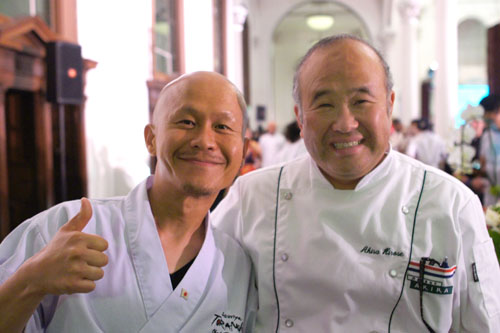 Akira Hirose's eponymous
Maison Akira
presented a
Côté Seared House Smoked Schottische Salmon with Broccoli Yuzu Kosho Coulis and Mozuku Aspic
.
Toranoko
's chef Hisa Kawabe approves.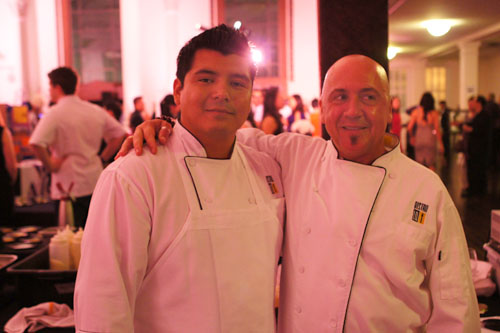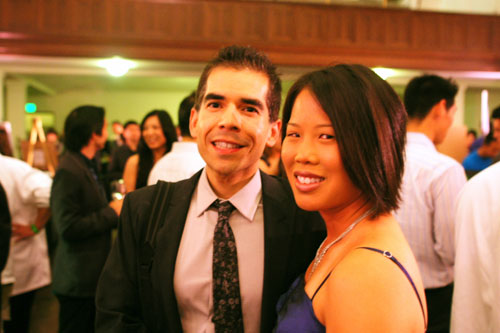 Left
: Hey, what's Chef Quenioux looking at?!?
Right
: Dan Sosa of
Exploratory Degustation
with Fonda Chang.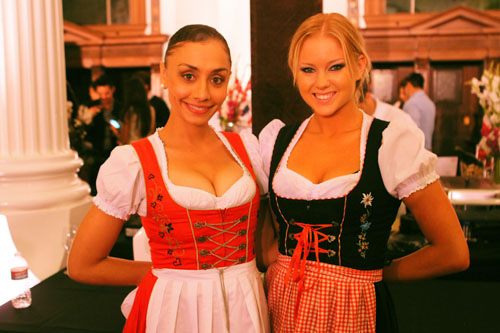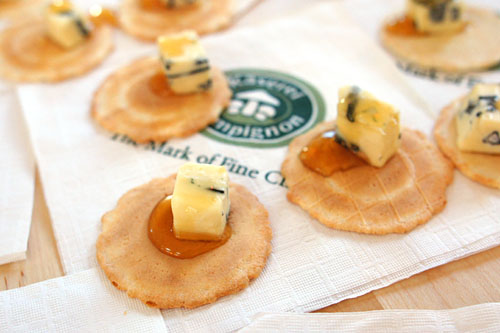 The cheese wenches of
Champignon
put forth samples of their
Cambozola Black Label
, a Bavarian triple cream soft ripened cheese with bleu cheese veins, served on a cracker with a touch of honey; as well as their
Rougette Bavarian Red
, a Bavarian washed rind cheese, served on a cracker with a touch of balsamic reduction.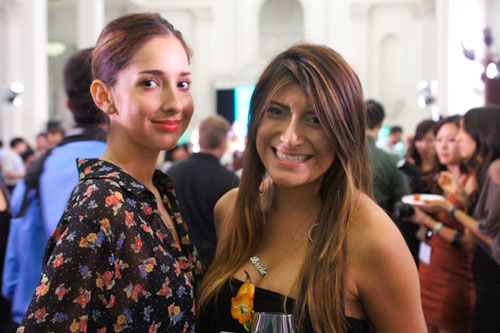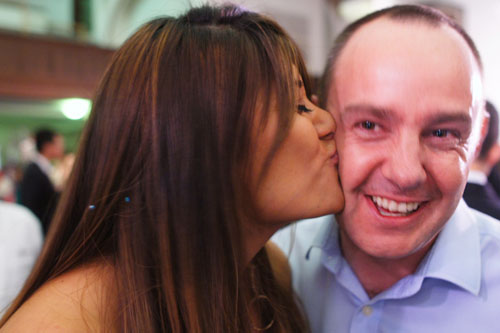 More Bricia! Let's just say that Stephane didn't mind me snapping multiple takes of the second photo.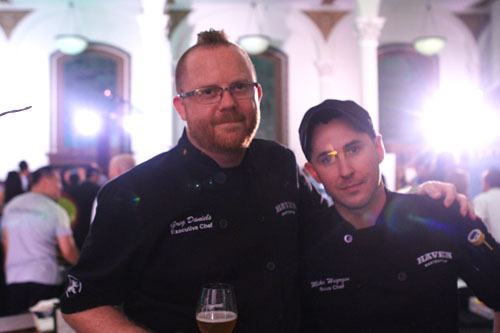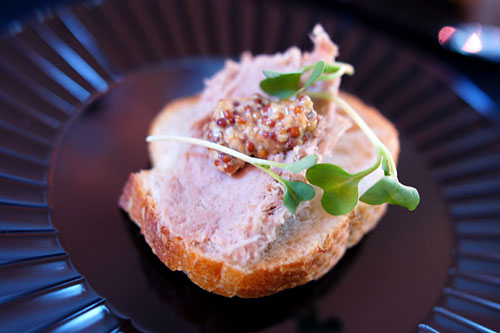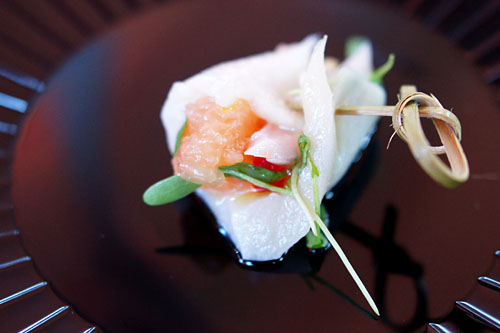 Haven Gastropub
's two entries were well received:
Pork Rillettes, Housemade Beer Mustard, Micro Dijon, Artisan Bread
and
Hiramasa Crudo, Ruby Red Grapefruit, Fresno Chili, Pickled Shallots, Micro Peppercress, Pink Salt, Arbequina Oil
. Representing were Executive Chef Greg Daniels and Sous Chef Mike Wegrzyn.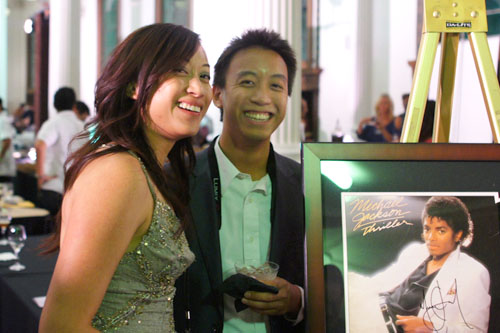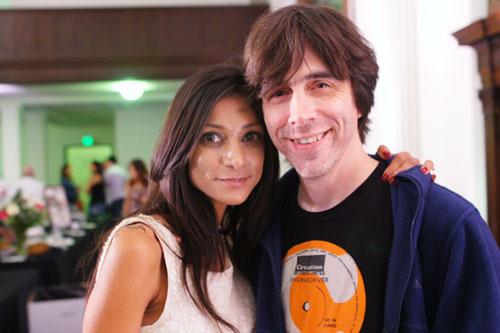 Left
: Looks like somebody won the Michael Jackson autographed copy of
Thriller
! That's PbP Partner Outreach team member Jackie Fung and brother Kenny.
Right
: OC PR princess
Mona Shah
(
Haven Gastropub
,
Taco Asylum
, Rustica, Sol Cocina,
Bruxie
, Lucca) and fiancé.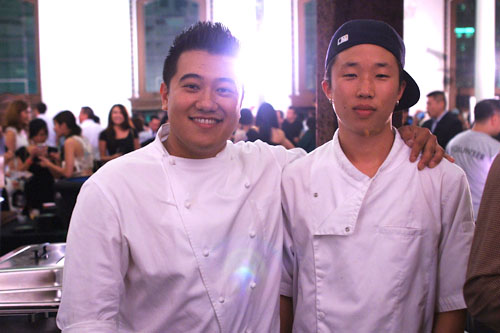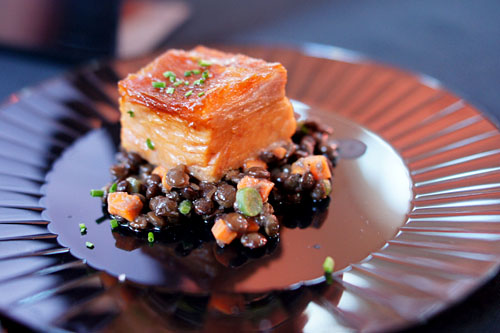 La Cachette Bistro
is now headed up by Dong Choi, who most of us probably remember from
David Myers
' Comme Ca. Working with Jacob Hong, he submitted a
Braised Kurabota Pork Belly, Beluga Lentils, "Soupe de Poisson Provencal"
.

Last year
, I was able to attend Plate by Plate as a media partner, but this time around, my relationship with the organization went even deeper. I was brought on as an external advisor to the restaurant relations team, basically helping the group select and recruit participants for the tasting event. However, communications was made difficult by my not being an "official" member, so I was subsequently absorbed into PbP's steering committee. As such, I now have a much deeper understanding and respect for the time and effort that goes into planning the event, and can honestly say that we had a better benefit this year. Here's to an even more awesome 2012!