ink. (Los Angeles, CA)
Ink Restaurant
8360 Melrose Ave, West Hollywood, CA 90069
323.651.5866
www.mvink.com
Wed 09/21/2011, 06:00p-09:30p

Make no mistake; with apologies to
Son of a Gun
, Michael Voltaggio's Ink (orthographized as
ink.
) is the most hotly anticipated opening of the year. As such, reservations were only slightly less arduous to secure than those for
LudoBites
, and the first month's run sold out in less than an hour. Hell, even
Sherry
had difficulty in scoring a ressie; given the whole
Red Medicine
debacle, perhaps it
would
be more prudent of her to go about the process in a more transparent manner.
No matter, Ink will be Voltaggio's first real restaurant, and the name alludes to a sense of permanence as much as it does to the Chef's famously tattooed bulk. Here, Voltaggio aims to transcend mere Modern American cooking to create what he calls "Modern Los Angeles Cuisine," wherein haute cookery is taken out of the traditional constructs of fine dining and infused with the varied culinary traditions that make up the city of LA.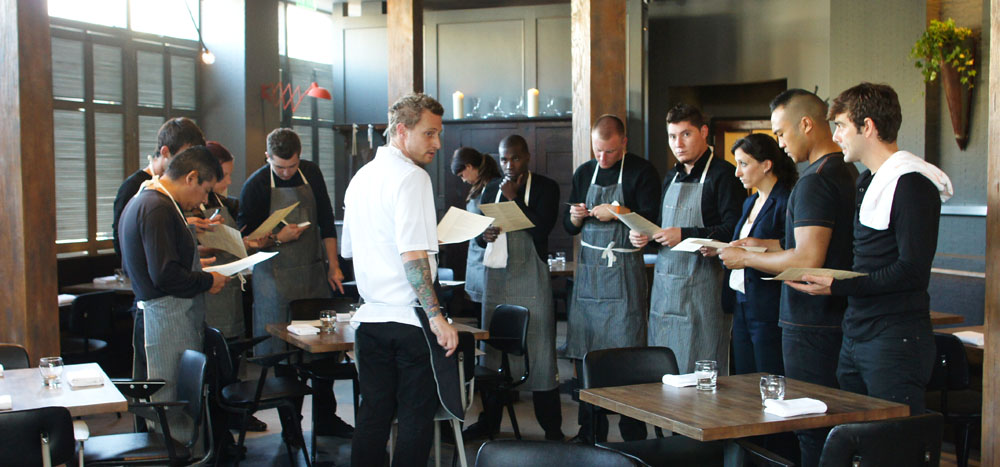 About the Chef
: Voltaggio grew up in the small town of Frederick, Maryland with brother
Bryan
and sister Staci. His parents divorced early on, and the three children were largely raised by their mother
Sharon
. However, Voltaggio eventually went to live with his father, and became quite the troublemaker. He was straightened out, though, when he started working as a busboy at a restaurant where Bryan was a cook. Voltaggio was 15 at the time, and quickly became enamored with the kitchen--he had found his calling. At age 19, the young Chef started an apprenticeship at The Greenbrier, a luxury resort in White Sulphur Springs, West Virginia. He excelled there, and graduated as one of the youngest chefs ever to complete the program. Immediately afterward, he went to work at the Ritz-Carlton in Naples, Florida, where he would meet his mentor Arnaud Berthelier, who helped the Chef establish his modernist-leaning style. From Florida, Voltaggio went to Charlie Palmer's Dry Creek Kitchen in Healdsburg, California; he was Chef de Cuisine there, and even managed to score a Michelin star for his efforts.
In 2006, he returned to The Greenbrier to head the kitchens at Tavern Room, and stayed on when it reopened as Hemisphere in 2007. It was also during this period where Voltaggio would get married and sire two little girls (he has since separated). Following, in 2008, the Chef moved to Los Angeles to open José Andrés'
The Bazaar
, where he achieved considerable acclaim, even garnering a rare four-star review from the
LA Times
(which was widely regarded as a mistake, even by the Chef himself). Voltaggio left the restaurant to compete on Season 6 of
Top Chef
, winning the series ahead of his brother Bryan and as arguably the strongest competitor ever on the show. With the win in hand, he then took up residence at
The Dining Room at The Langham
. As staid as The Dining Room was, it never really fit in with Voltaggio's style, and thus it came as no surprise when he left in July 2010 to work on Ink.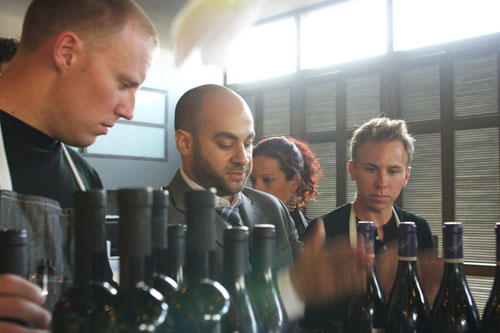 Second-in-command at Ink is Chef de Cuisine
Cole Dickinson
, perhaps most well known as the only chef in town with more tats than Voltaggio. Dickinson also began his restaurant career as a teenager, and at age 17, was working as a busboy at Dry Creek. He eventually made his way into the kitchen, where he cooked under none other than CdC Michael Voltaggio. When Voltaggio moved to West Virginia to work at The Greenbrier, Dickinson followed, and when Michael relocated back to LA to take the reins at Bazaar, Cole was right there behind him. Dickinson's six years with Voltaggio is augmented by stints at Heston Blumenthal's Fat Duck, Laurent Gras'
L2O
, as well as at
Wolfgang Puck
Catering. Also in the kitchen at Ink are Sous Chef
Douglas Rankin
, Langham alums
AJ Ramirez
and
Klein Debow
, in addition to ex-
Drago Centro
Pastry Chef
Jashmine Corpuz
.
The front-of-the-house, meanwhile, is the charge of General Manager-
cum
-Beverage Director
Josh Goldman
. Goldman started out bartending in college, but really cut his teeth in the industry at Bin 8945, where he worked under the notorious
David Haskell
. From there, he served as GM at Walter Manzke's
Bastide
, and would follow the Chef to
Church & State
. Once Manzke left C&S, he teamed up with Voltaggio at The Dining Room, and remains with him here at Ink. Joining Goldman is bartender extraordinaire
Devon Espinosa
, who comes to Ink fresh (and I mean fresh--his last day was August 28th) out of
The Tasting Kitchen
in Venice, where he spent three years.

Ink sits on some hallowed ground. 8360 Melrose is the site of the legendary Ma Maison, where Wolfgang Puck first made a name for himself in the late 70's, and also housed the likes of Tulipe, Itameshi Ya, Jozu, Citrine, Kumo, and Hamasaku. After Hamasaku folded, the Michael Ovitz-owned space sat empty for two years before Voltaggio took over. The dining room retains Hamasaku's sushi bar, but has been otherwise reimagined by
Clifford Fong
as a sort of industrial-chic artist's studio, seating 60 in the main dining room, another 10 in a private room, plus 10 more at the bar.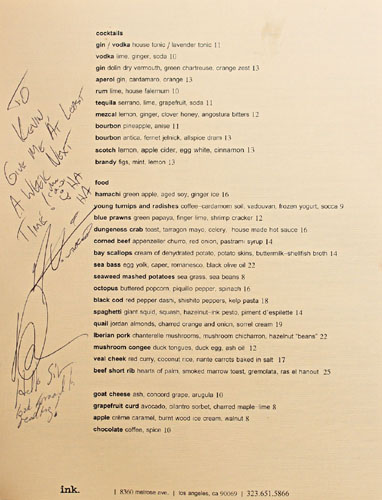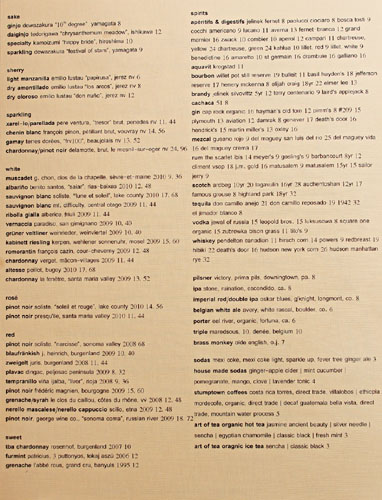 Ink's menu comprises a well-edited list of small plates, meant for sharing of course. Servers recommend three plates per person, but we basically ended up ordering two of everything for our party of four (i.e. running the gamut). To drink, think classically-inspired cocktails, a smattering of beer, interesting sodas, and a smart, eclectic wine list curated by Goldman. Click for larger versions.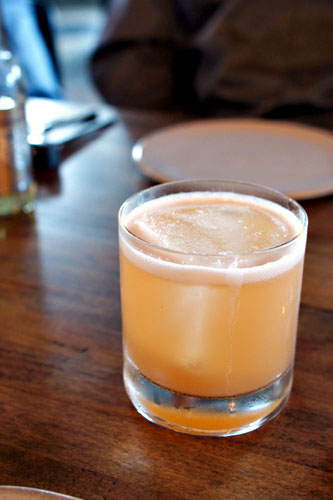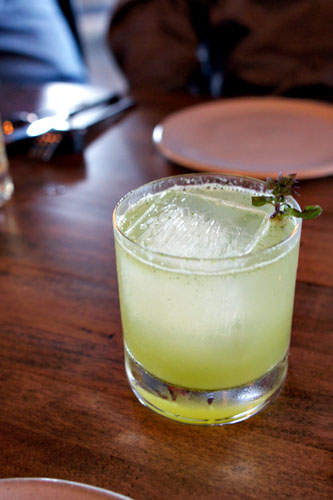 mezcal [$12.00]
| lemon, ginger, clover honey, angostura bitters
gin [$13.00]
| dolin dry vermouth, green chartreuse, orange zest
tequila [$11.00]
| serrano, lime, grapefruit, soda
Naturally, we had to try all the cocktails, and we started off with a threesome. My favorite in this first round was the mezcal, which showed off a delightfully woody, sweet character that played off the ginger and bitters faultlessly. The gin, on the other hand, was a much boozier affair, with a strong base of liquor deftly accented by notes of orange and herbs. The tequila, meanwhile, conveyed a great bit of heat from the serrano, as well as a pleasing citrus-y tang, but I really wanted to taste more from the actual tequila.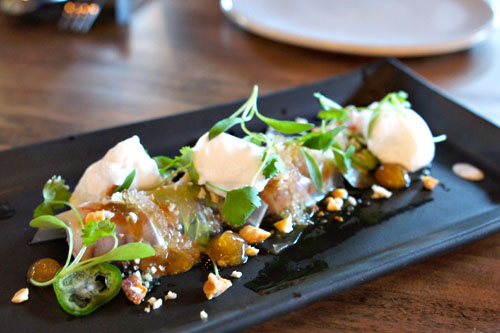 blue prawns [$12.00]
| green papaya, finger lime, shrimp cracker
Prawn arrived cooked through, but not overdone. It paired well with the various greenery, with the coconut providing an overarching sweetness to the dish that sort of tied everything together. My favorite element here, though, were the candied nuts (pecan I believe), which added a lovely earthiness and crunch to the dish. Taste-wise, there was a lot going on here--sweet, sour, and savory flavors that, when all taken together, channeled the flavors of Thailand.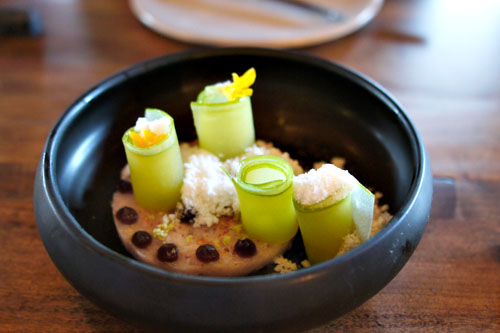 hamachi [$16.00]
| green apple, aged soy, ginger ice
Hamachi tartar arrived in disk form, its rich, creamy, fatty relish pairing with the aged soy to invoke the essence of sushi or sashimi. Ginger provided overtones of piquancy, while the apple contributed a marked sweetness and juicy crispness to the fray, but was a touch overwhelming for me, dominating the yellowtail at times.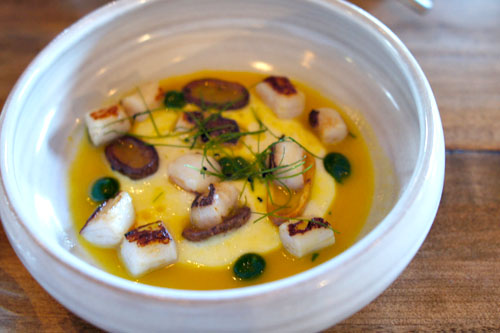 bay scallops [$14.00]
| cream of dehydrated potato, potato skins, buttermilk-shellfish broth
I was pleasantly surprised at how this dish turned out, given that I often find bay scallops disappointing. They were pretty spot on in terms of consistency, and still conveyed a natural salinity that played well with the buttermilk-shellfish broth. The key here, though, was the potato, which contributed a great bit of savory flair that paired beautifully with the scallops.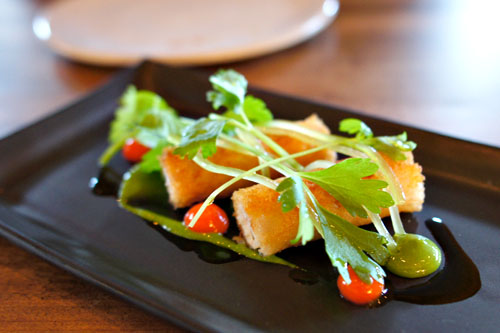 dungeness crab [$16.00]
| toast, tarragon mayo, celery, house made hot sauce
Our next dish could be thought of as Voltaggio's take on crab toast. Texturally, it was perfectly fried, and I loved how the sweetness of the crab was highlighted here, yet deftly countervailed by the mayo and hot sauce. The veggies, meanwhile, added a great touch of levity to the mix. Definitely one of my favorites of the meal, with a bit of dim sum flair to boot.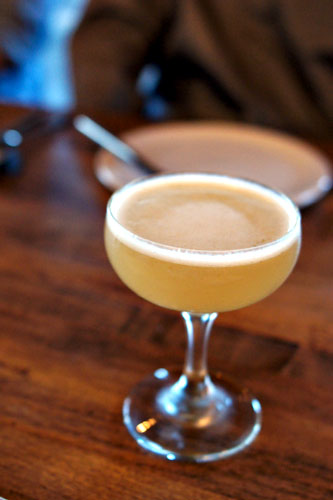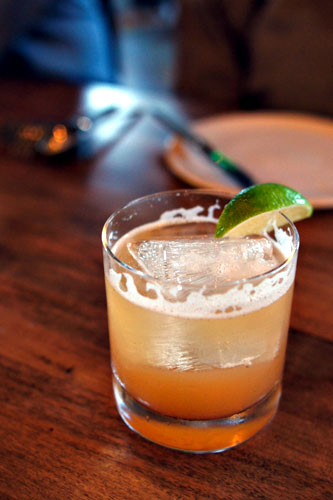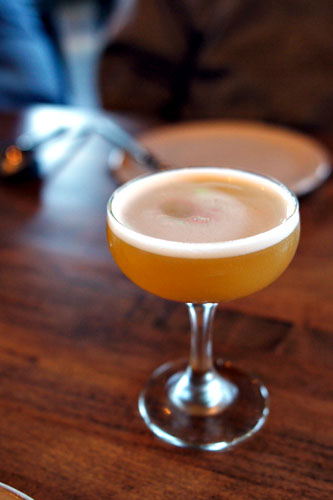 rum [$10.00]
| lime, house falernum
gin/vodka [$11.00]
| house tonic/lavender tonic
bourbon [$11.00]
| pineapple, anise
Our next cocktail troika began with Ink's take on the classic daiquiri, replete with lush, tropical flavors balanced by the complexity of the booze. The gin & tonic was certainly serviceable, though I wasn't particularly blown away by it. Better was the bourbon cocktail, with its sweet spice and delicious fruity character.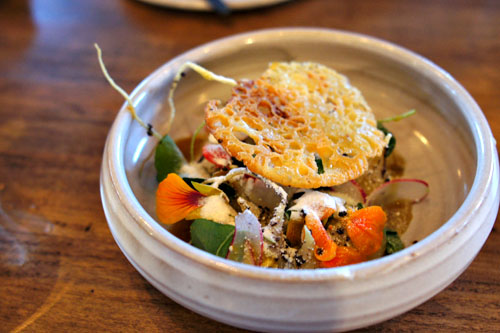 young turnips and radishes [$9.00]
| coffee-cardamom soil, vadouvan, frozen yogurt, socca
Though it may not look the part, this dish was seriously reminiscent of Indian food. The bright, bitter, succulent veggies were deftly countered by the strong flavors of the coffee and cardamom, while the vadouvan spice helped to integrate the dish. My favorite part was the
socca
, a sort of chickpea cake that added a wonderful crunch and savoriness to the course.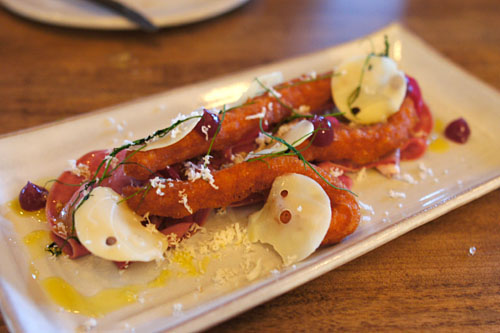 corned beef [$14.00]
| appenzeller churro, red onion, pastrami syrup
Corned beef, meanwhile, was superb, one of the strongest dishes on the menu. The beef itself was all sorts of delicious, with a great meaty savor balanced by a keen touch of piquancy. The pairing with Swiss cheese was spot on, and I loved the texture imparted by the "churro," as well as the countervailing tartness of the red onion.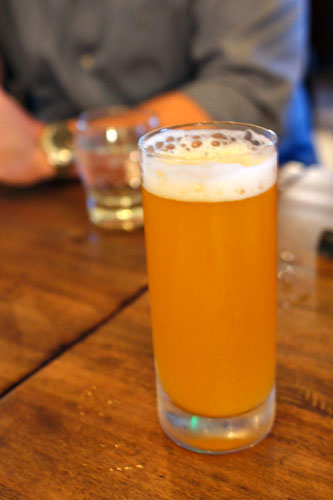 brass monkey [$7.00]
| olde english, o.j.
At Voltaggio's run over at
Test Kitchen
, Josh Goldman debuted his Brass Monkey, basically a mixture of Olde English and orange juice. Previously, Goldman actually brought out a 40-oz bottle of the malt liquor, poured out a little for his homies, then filled the void with OJ. We were hoping for such theatrics tonight, but no dice unfortunately. Flavor-wise though, this was faithful to the original, with the juice doing an admirable job in tempering the bite of the O.E. Like I said before:
ghetto mimosa
.
octopus [$16.00]
| buttered popcorn, piquillo pepper, spinach
The octopus course is a holdover from Voltaggio's days in
Pasadena
, and represents the Chef's take on the classic Spanish dish
pulpo á galega
. The cephalopod was prepared in a pressure cooker, resulting in a soft, supple, yet still satisfying consistency. Its immense, savory brine was nicely accented by the subtle heat of the piquillo, while the popcorn purée took on the role of boiled potatoes in the traditional dish, adding a palpable heft that played off the levity of the spinach beautifully.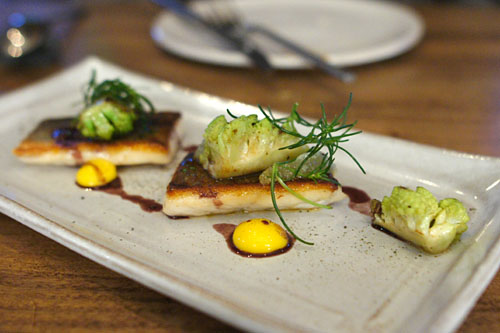 sea bass [$22.00]
| egg yolk, caper, romanesco, black olive oil
Sea bass was excellent, with tender, juicy, briny flesh perked up by a wonderfully crispy skin. The fish was delectable alone, but I also appreciated the weight imparted by the egg yolk, as well as the superb vegetal contrast of the Romanesco broccoli. Lovely citrus accent here as well. Very nice.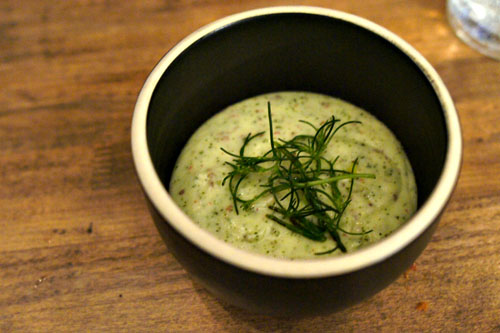 seaweed mashed potatoes [$8.00]
| sea grass, sea beans
It's hard to go too astray with mashed potatoes, and indeed, this was no exception to that rule. The potato was undeniably creamy, with a lush flavor that was deftly accented by the ocean-y relish of the various plant life here. Yum.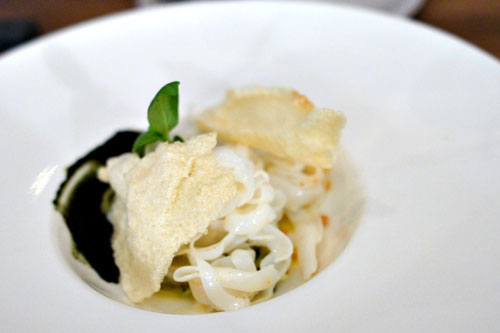 spaghetti [$14.00]
| giant squid, squash, hazelnut-ink pesto, piment d'espelette
Squid noodles showed off a delightfully crisp, snappy texture that I rather enjoyed. They were pretty mild on their own, so the pesto was absolutely key, adding a profound depth and complexity that really made the dish for me. Loved the shrimp chips as well.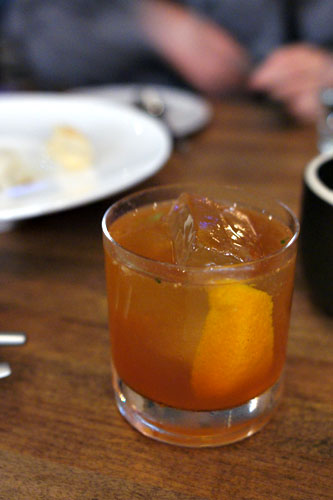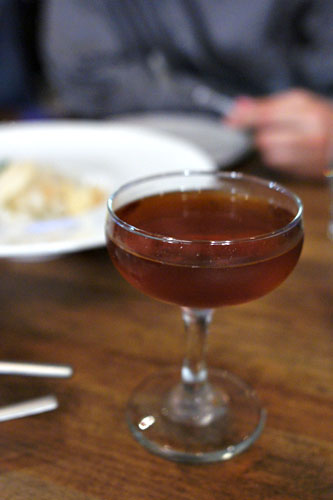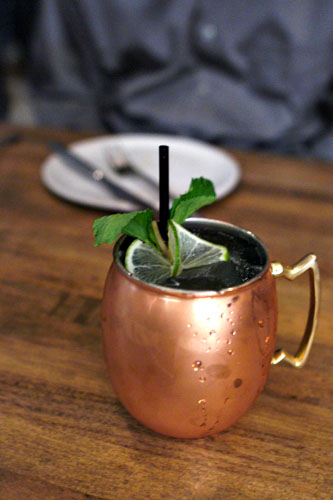 aperol [$13.00]
| gin, cardamaro, orange
bourbon [$13.00]
| antica, fernet jelinek, allspice dram
vodka [$10.00]
| lime, ginger, soda
The Aperol cocktail was quite enjoyable, a light, refreshing libation with classic bittersweet flavors expertly keying off the orange. The bourbon was similarly tasty, with a great interplay of spice and bitterness over a boozy base of the whiskey. My favorite of the trio was Espinosa's take on the Moscow Mule; I loved its bright ginger and lime notes over an effervescent commixture of soda and vodka.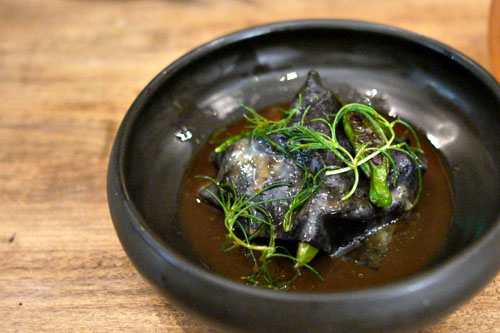 black cod [$18.00]
| red pepper dashi, shishito peppers, kelp pasta
Black cod was buttery soft, with a rich, hefty savor that was nicely tempered by the peppery dashi and spicy shishitos. I wasn't as keen on the kelp pasta however, which didn't quite jive in the dish in my eyes.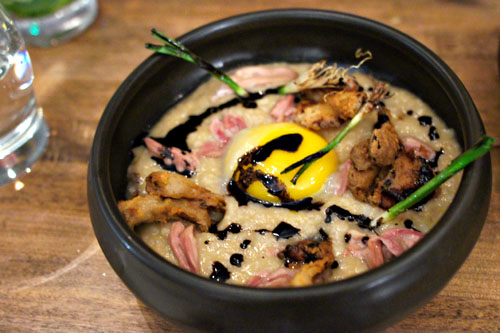 mushroom congee [$12.00]
| duck tongues, duck egg, ash oil
The mushroom congee was easily one of the best porridges that I'd ever had. I adored the silky smooth consistency of the rice, and reveled in its umami-laced sapor. The egg, meanwhile, raised the luxuriousness factor even further, and I really enjoyed the savoriness imparted by the duck tongue as well. Just a great mélange of tastes and textures--something that I could eat a big bowl of.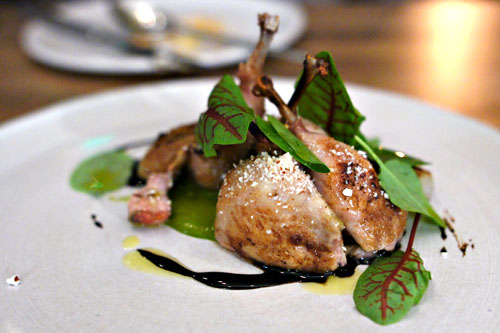 quail [$19.00]
| jordan almonds, charred orange and onion, sorrel cream
Quail, also, was pretty amazing, a tender, succulent, immensely flavorful bird that was absolutely delicious on its own. However, I also loved the tanginess of the sorrel here, as well as the sweet-nutty accent from the almonds. Another favorite of mine.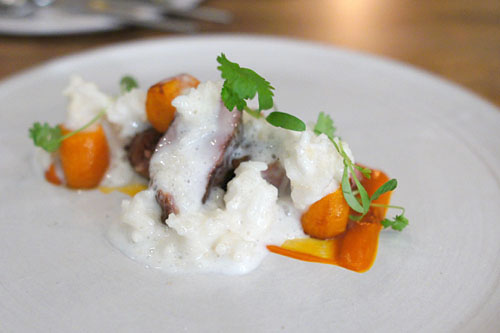 veal cheek [$17.00]
| red curry, coconut rice, nante carrots baked in salt
Veal was basically falling-apart tender; I barely needed to chew. It was one of the better preparations that I've had, conveying a rather deep, dark flavor that actually paired nicely with the curry. The carrot worked here, and surprisingly, the coconut rice wasn't overwhelmingly sugary either; it had a fantastic crispness too.
At this point, we opted to order some wines by the glass to pair with the heartier courses to follow:
blaufränkisch j. heinrich, burgenland 2009 [$10]
, a delightfully fruity wine from Austria;
plavac dingac, peljesac peninsula 2009 [$8]
, from Croatia;
tempranillo viña ijalba, "livor", rioja 2008 [$9]
; and the
gamay terres dorées, "frv100", beaujolais nv [$13]
, which I first discovered under Goldman's tutelage at
Church & State
.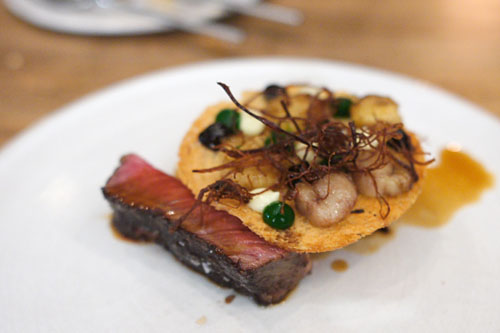 beef short rib [$25.00]
| hearts of palm, smoked marrow toast, gremolata, ras el hanout
Beef short rib was actually my least favorite course of the night. The meat itself was pretty much faultless, and stood alone, but I felt that it got lost with all the other strong ingredients in play, while the marrow contributed unneeded heft to the beef. I wanted something to add more brightness and levity to the dish.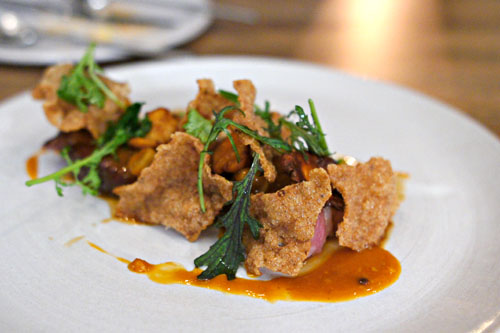 iberian pork [$22.00]
| chanterelle mushrooms, mushroom chicharron, hazelnut "beans"
Our final savory course brought us a brilliant cut of
jamón ibérico de bellota
. It was another favorite of mine, demonstrating a beautiful porcine goodness that played perfectly with the tangy "deconstructed" romesco sauce. At the same time, the mushroom chips amped up the flavors even another notch while adding a great crunchiness to the dish, and I really appreciated the tempering lightness of the greenery.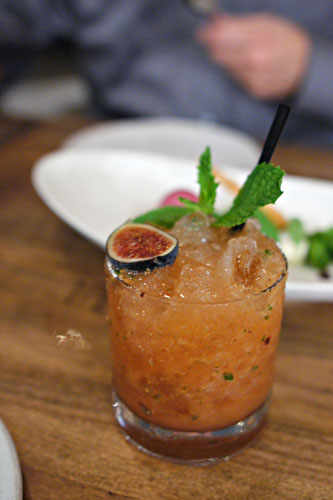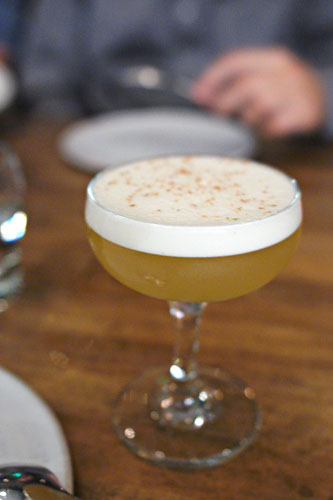 brandy [$13.00]
| figs, mint, lemon
scotch [$13.00]
| lemon, apple cider, egg white, cinnamon
Our server recommend that we pair the last two cocktails on the list with the desserts. I quite liked the brandy concoction, with its delicious mix of subtle fig and mint flavors that paired wonderfully with the booze. The scotch, on the other hand, sort of tasted like Christmas, with a sweet spiciness that was beautifully complemented by the frothy egg.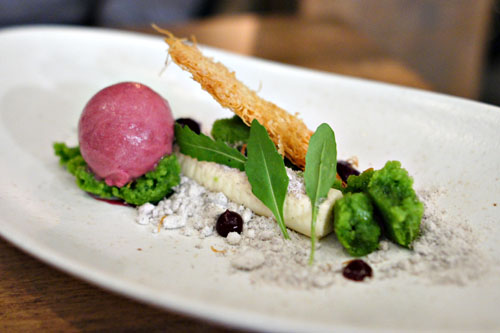 goat cheese [$10.00]
| ash, concord grape, arugula
Time for some
fromage
. Goat cheese was delightfully tangy, and just worked wonders with the arugula, ash, grape, and that fried thingamajig there. Gorgeously well-integrated, and one of the most interesting, and best, presentations of cheese since Jordan Kahn's pioneering work at
XIV
.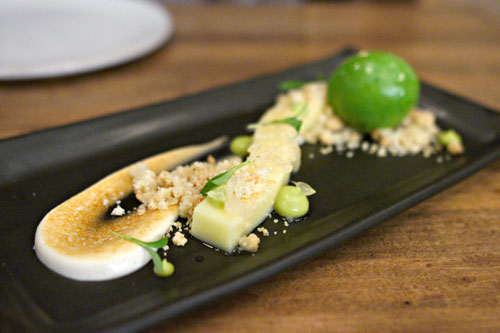 grapefruit curd [$8.00]
| avocado, cilantro sorbet, charred maple-lime
Grapefruit was also quite neat, with a definite tartness that was somewhat moderated by the astringency of the charred maple. The avocado served to add some weight and body to the dessert, but the crux of the dish was that amazingly verdant cilantro sorbet, which contributed a keen herbaceousness that played off the citrus gorgeously.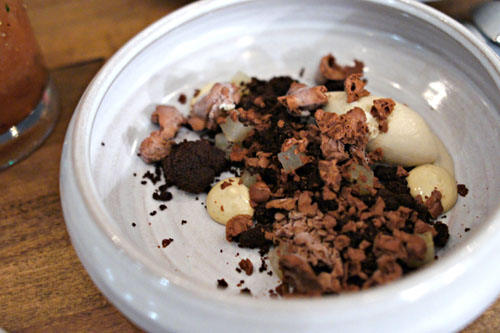 chocolate [$10.00]
| coffee, spice
Chocolate was nicely tarted up by the addition of spice and the bitterness of coffee, allowing me to sort of see the various facets of cacao. Although tasty, this dessert didn't quite reach the lofty heights of its peers.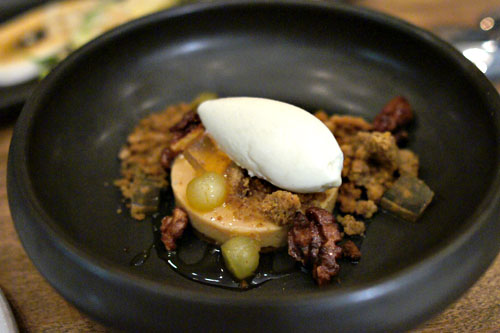 apple [$8.00]
| crème caramel, burnt wood ice cream, walnut
We ended with an apple dessert that was pretty marvelous. The apple was clearly the star of the show here, but I loved how its flavor was so adroitly amped up by the sugary crème caramel. At the same time though, the wood ice cream and walnut added smoky, savory notes to the fray that balanced out the sugar beautifully. Great textures too.
Well, the wait was worth it. Voltaggio is back with a vengeance at Ink, churning out food that's undeniably haute, expertly executed, beautifully plated, yet whimsical and playful. The cooking is irrefutably complex, with scads of the modernist flair that the Chef is known for, but familiar and strangely comforting at the same time. Despite being opening night, service was totally on point as well, with dishes coming out at a good clip, but never to the point of becoming rushed. If this is the future of Los Angeles cuisine,
then sign me up
. My next target: Ink's 8-seater omakase bar, which is slated to open in a month or so...